Situated on seventeen acres of alpine meadow on Green Mountain near the small town of Granite Falls, Wa. is Paca Pride Guest Ranch.
In the meadow, alpacas graze on tufts of green grass and mill around a small barn. In the garden, chickens cluck and scurry through growing vegetables.
Making it even better? The backdrop to this scene is Mt. Pilchuck along Mountain Loop Highway.
Paca Pride Guest Ranch
Some links in this post may be affiliate links. If you make a purchase through one of these links, we may earn a small commission at no extra cost to you. Please see our

disclosure policy

for more detail.
So, where can you camp with alpacas in Washington?
Behind the field with lots of alpacas is a large yurt. In front of the main log cabin are two covered tent platforms with a communal eating area and fire pit.
Next to the cabin are bathrooms, a yurt, and a grassy field for tents. It's clear this isn't a manicured hotel landscape; it's a working farm that's reinvented the camping experience.
What is the Paca Pride Guest Ranch?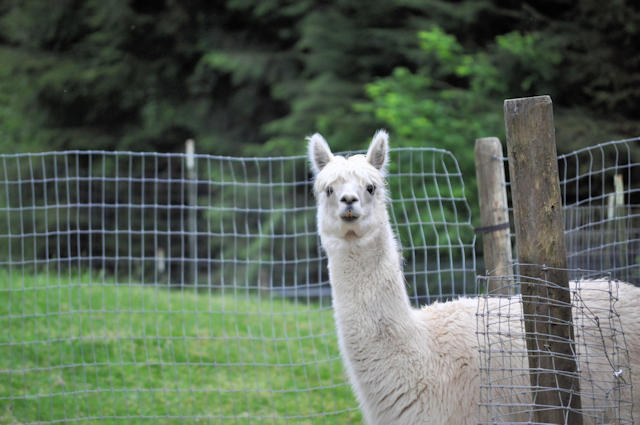 Last year, I had the pleasure of being hosted at Paca Pride Guest Ranch, which is owned by David Capocci. He runs the ranch as a permaculture farm.
What is permaculture farm? "It's all about factoring the humans out and putting Mother Nature back in," said Capocci.
Everything on the ranch is done so that he―the one farmhand―can run it by himself. As such, everything has a purpose.
The clovers growing in pots on the deck will go out to the pasture. The alpacas mow the pasture to maintain its alpine state. Alpaca poop and hay create new soil for the garden. Chickens provide eggs (which campers can buy).
Alpacas (and one resident llama) provide fiber for clothing, and each year Capocci knits "Name Series" hats.
My Review of Paca Pride Guest Ranch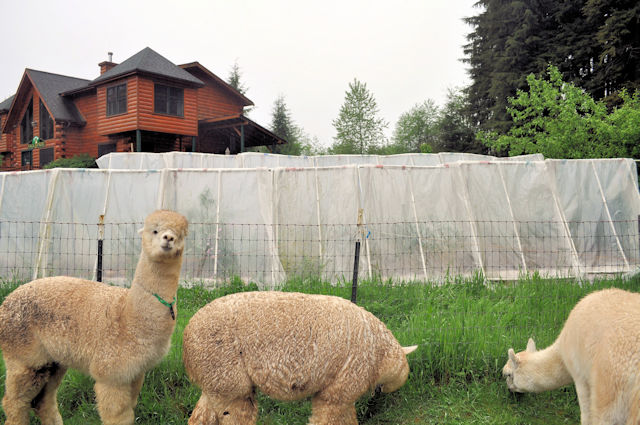 I stayed in the only guest room, which has a queen-sized Tempurpedic bed covered with plush comforters and a private bathroom.
There are also two yurts.  One is furnished with a queen-sized bed with a futon couch and a blue flame heater for chilly nights.
The larger roundhouse yurt is furnished with tables, a futon, bookshelves, projector screen and lots of outlets, and is good for large groups, family reunions or group retreats.
For campers, there are covered tent platforms and a grassy field for extra tents. Everyone has access to the communal fire pit, eating area, bathrooms, showers, and an outdoor covered kitchen with hot and cold running water, ample counter space (some available kitchenware and gadgets), a four burner gas stove, a gas grill, tables, and chairs.
What Does Camping with Alpacas in Washington Cost?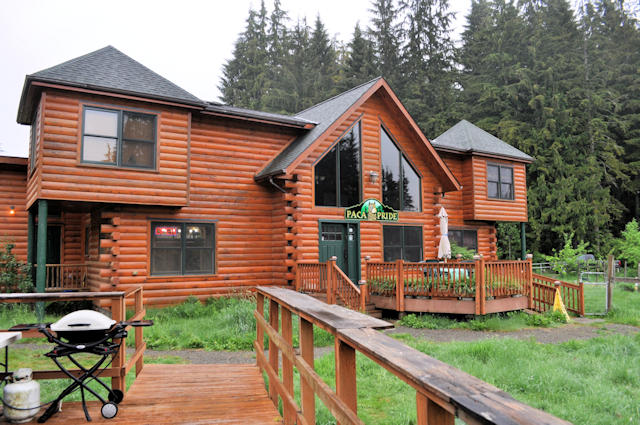 At the time of writing, here are the prices for various room types at Paca Pride Guest Ranch.
Guest Room: $89 a night, with a queen-size bed, personal bathroom, and shower.
Guest Yurt:- $79 a night, queen-sized bed, futon, and electricity.
Tents on the covered platform: $35 per platform, up to 3 tents (This is a great option if the forecast calls for rain. That way your things stay dry.)
RVs/Trailers (only part of a group rental and must be self-contained): $20 a night
Taking a Farm Tour at Paca Pride
One of the things I enjoy most about traveling is learning. So it might not surprise you that one of my first questions was,"When are the farm tours?" The farm tour takes the shape of morning chores.
Each morning, Capocci invites guests to help with morning chores. It's not required if you stay, it's just an added bit of fun.
The morning I was there about 12 of us (children and adults) showed up for morning chores. We learned that alpacas create their own latrine area, and their poop helps create soil.
We raked up last night's hay and poop and put it in "Muck Alley," where new soil is created. We put out fresh hay and barley sprouts in feed bins.
Capocci showed us how he moved the chicken tractor, which is a small enclosed hut that houses the baby chicks and turkeys on the meadow, and after it was positioned, he laid down fresh hay and new feed.
Then, we moved the alpaca herd to the back yard for grazing. First, Capocci put us into position along the garden bed, and we stood with our arms stretched out on either side of us.
Then Capocci locked the fence along the road and using the words "paca, paca" called the herd, and we steered them past the garden beds to the back yard with our hands out and said, "hup up, hup up."
Seconds later, they were all secure. The final task of our farm chores―gathering eggs. The very excited children collected 10 eggs that morning.
Paca Pride Guest Ranch Walking Tour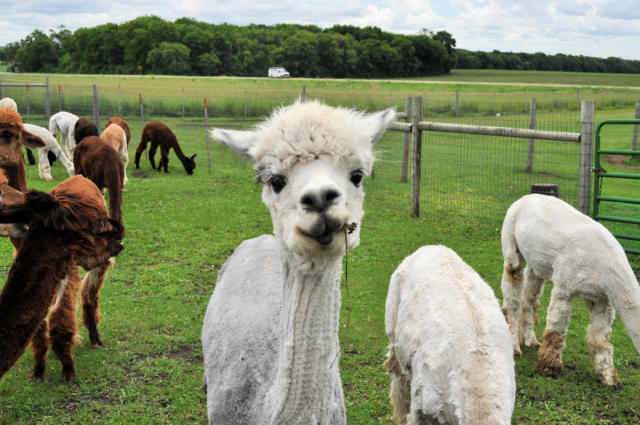 Another highlight of the stay was the walking tour of the property. The same group that helped with chores showed up for the tour which wanders through the woods on one side of the property.
Along the way, Capocci pointed out blueberry bushes, a towering big leaf maple, and conks. The history nerd in me geeked out that one part of the trail followed the old wagon wheel roads used during the gold rush in the 1890s.
We were told local stories like the local policeman who spotted Sasquatch on the road not far from Paca Pride. The hike stopped near the end of the property, and we walked up the pasture toward the large yurt and back to the barn.
By the end of my stay, my head swarmed with terminology like, winter sacrifice paddocks, carbon sequesters and fodder, which gave me not only a deeper understanding about what it takes to run a permaculture farm but a real admiration for one who is passionate about that lifestyle.
Pros of Staying at Paca Pride
The variety of camping options (covered platforms, open field, guest room, yurt).
All guests check-in, which means the area is more secure (I have heard the campgrounds along the Mountain Loop Highway have had tent break-ins).
You get to learn about an Alpaca Farm!
Outdoor kitchen with running water and stove.
Farm fresh eggs for purchase.
Communal areas allow you to visit with other campers.
Getting to help with farm chores.
The ranch is a 12-minute drive from Granite Falls, WA (grocery store, restaurants, and museums).
Hot coffee and tea are available inside the cabin in the morning.
Hot shower.
If you want to go home with some alpaca wear, there is a small onsite store.
Every year, Paca Pride Guest Ranch invites the public to Shearing Day.
Cons of Staying at Paca Pride
Limited cell phone reception (that includes many if not all of the areas along the Mountain Loop Highway).
If you are looking to camp but not engage with anyone, this might not be the place for you.
Animals make noises, and if you are a light sleeper, or like to sleep in, this might not be the place for you.
Campsites are $8-$10 more than the campsites in Mt. Baker-Snoqualimie National Forest, but for me when you add in the convenience of a kitchen and hot shower it's worth it.
Would I stay at Paca Pride Guest Ranch again? Yes!
Next time, I'd love to stay in the yurt or camp. I really liked the learning aspect of the ranch, and how close it is to the Mountain Loop Highway and all the great hikes along it.
It's the perfect base camp for exploring the area.
Best of all, Granite Falls is a 12-minute drive away if you need to restock up on supplies or want to dine out.
Mountain Loop Highway Advice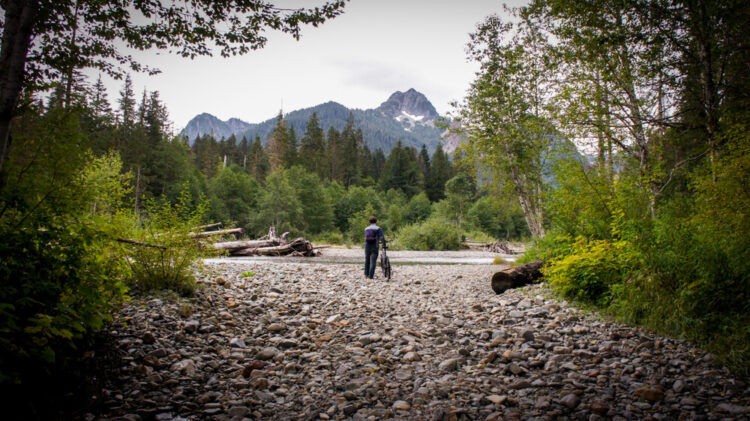 Paca Pride Guest Ranch is about a 12-minute drive to the start of the Mountain Loop Highway. Capocci knows the area very well and is happy to suggest activities suited to your party!
I would also suggest making a stop at one of these two locations: Green Gables and Verlot Public Center. At Green Gables ask for Edith. She's hiked the area for over thirty years and her wealth of knowledge is exceptional! We also have a guide to Mountain Loop Highway hikes here.
If you are unsure of what trail to hike, she'll guide you. If you've forgotten a leash for your dog or need a trail snack, the store has them. If you've hurt yourself on a hike and need help, she'll keep you warm until aid arrives. It is also the only spot to get a meal and supplies before entering the park!
At the Verlot Public Service Center, day passes can be purchased at the automatic pay station. If you plan to visit again purchase an annual $30 Northwest Forest Pass inside.
If you have time, check out the museum which is dedicated to the area's gold rush history. Helpful Forest Service and volunteer staff are available to answer questions about hiking, camping, and road closures on the seasonal portion of the highway.