Just like summer brings the sweet smell of the fragrant purple lavender, fall in Washington means beautiful sunny sunflower fields to explore and to find that perfect location for your fall Instagram photo.
Throughout Washington, you can find several fields that are open to the public for flower picking and festivals.
Below you will find some of the most delightful sunflower fields in Washington, along with festivals, some tips on how to get that great photo, and when (and where) to take that weekend sunflower getaway.
Many of the fields make this adventure a terrific family adventure and more than just snapping a picture or two.
So, hop in the car, and enjoy these beautiful sunflower fields in Washington.  
Best Time For Washington Sunflowers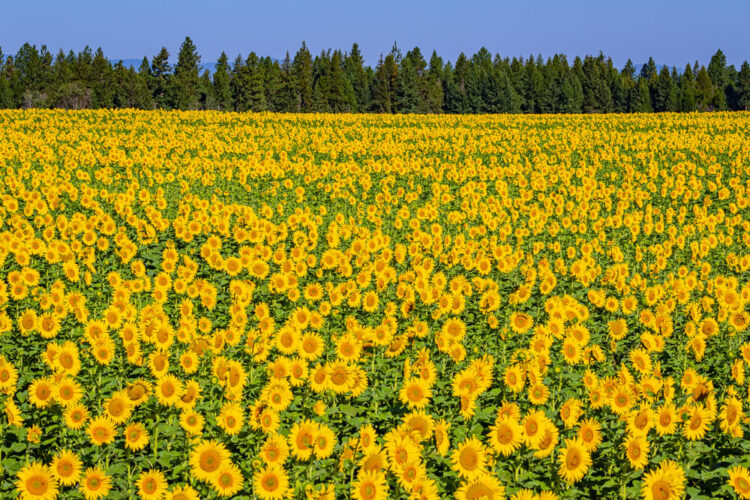 Some links in this post may be affiliate links. If you make a purchase through one of these links, we may earn a small commission at no extra cost to you. Please see our

disclosure policy

for more detail.
Each year is slightly different, depending on sun (always fickle in the PNW!) and rain conditions, but the sunflowers usually peak in mid-August.
However, many of these farms have late-blooming sunflowers, which perk up around September or October — just in time for fall and pumpkin patch season!
If you go too early, the blooms will still be small; too late, and you will be looking at small, closed up sunflowers instead of the golden petals beaming towards the sun
Best Time To Take Washington Sunflower Photographs
Don't let the late summer heat keep you from the marvelous splendor of the sunflower fields in Washington!
Head out early in the morning, before the summer temperature gets too hot, so you can properly enjoy the sun-loving flowers.
The early morning hours around sunrise are also one of the best times to take those magical sunflower pictures as they face east and reach towards the rising sun.
 The Best Washington Sunflower Fields Near Seattle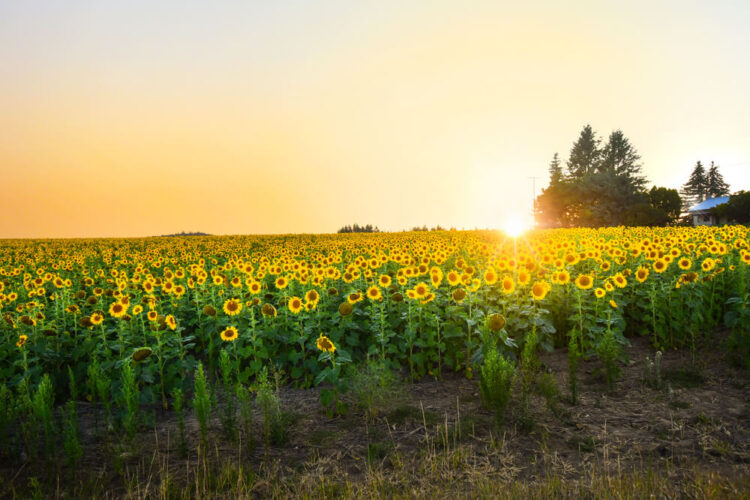 Birch Bay Home Farm
Address: 8020 Kickerville Road, Blaine WA 98230
Hours: 8:00 AM – 7:00 PM daily
Distance from Seattle: 100 miles (1¾ hours drive)
At the Birch Bay Home Farm, you will find a two-acre sunflower field with more than 12 different kinds of sunflower, the perfect place to take a sunflower-laden stroll. The farm allows both casual and professional photography during their open hours.
While here picking your sunflower fall bouquet, take time to pick some fresh vegetables from the fields or blueberries right off the bushes. You can even pick some zinnias to mix in with the sunflowers for a more colorful bouquet.
Check their website for when they will have their sunflower festival! It is usually a weekend event towards the end of August. The festival generally runs from 10:00 AM – 5:00 PM on both days.
Your family will have a blast strolling through the fields, enjoying live music, browsing local vendors' wares, and stopping at various food trucks for their specialties.
They also have a petting zoo, tractor train rides, and multiple games for the kids.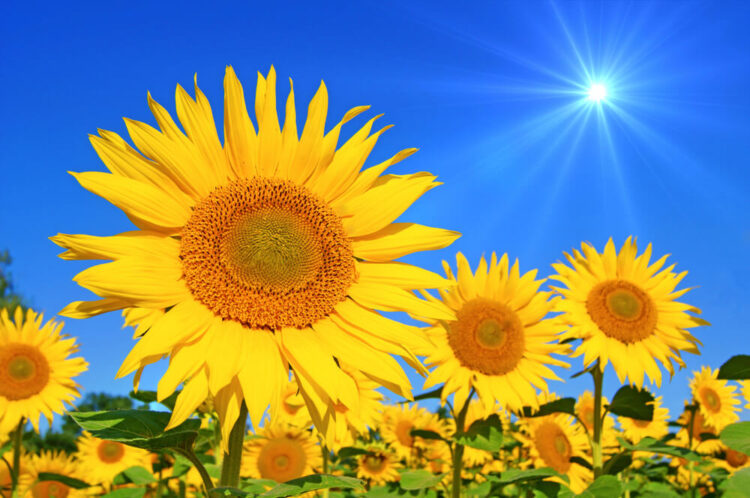 Bob's Corn & Pumpkin Farm 
Address: 10917 Elliott Rd, Snohomish, WA 98296
Sunflower Experience Dates: August 15 – 30
Hours: 10:00 AM – 6:00 PM
Cost: $10 on weekdays, $15 on weekends
Distance from Seattle: 30 miles / 35 minutes
You will find 12-acres of 37 varieties of beautiful sunflowers blooming at Bob's farm on a late August afternoon. 
This is the largest U-pick sunflower field in Washington, and it's also one of the closest sunflower fields near Seattle, so it's quite a popular destination.
During the second half of August, get your ticket online and wander through the blooming fields, where you can also cut a bouquet to take home with you.
You will have to choose between the traditional yellow sunflowers for your arrangement, you can opt to have some red and orange sunflowers mixed in.
You will also have a choice of size – do you want the large-headed sunflowers or a bunch of smaller ones? So many decisions to think about as you stroll through the beautiful Washington sunflower fields!
While there, check out the craft vendor's booths as well as grab some delicious snacks — you'll definitely find some sunflower snacks to nibble on.
Fresh Flower Farm
Address: 28235 W Valley Hwy N, Auburn, WA 98001
Distance from Seattle: 20 miles / 25 minutes
When you are interested in a fresh-cut floral arrangement, Fresh Flower Farm is a great option for sunflowers near Seattle.
Owners Pao Chia and Yee Hang create beautiful arrangements from the flowers from their sunflower fields. They offer various fresh-cut flowers from which to choose!
This sunflower field near Seattle is great for those looking for a quick late summer Seattle day trip.
Maris Farms
Address: 25001 Sumner Buckley Hwy, Buckley, WA 98321
Distance from Seattle: 40 miles / 1 hour
Cost: $12 – $16 per ticket
The Maris Farm invites guests into their eight acres of sunflower fields near Seattle during their Annual Sunflower Days, usually from the middle of August through September.  
Spend at least part of a day strolling through the colorful fields that will be filled with more than twelve different varieties of sunflowers. The field will definitely not be all yellow, so come out to see some of the other colors sunflowers can be!
You will need to purchase a ticket online for the Sunflower Days. The ticket entitles you to walk through the fields, head to the hilltop to look down on the fields, take a wagon ride, and of course — bring home a sunflower.  
While you are there, you may want to head to the pumpkin patch and pick up your fall pumpkins! You can also purchase additional flowers to brighten up your home.
Mountainview Blueberry Farm – Berries and Blooms Festival
Address: 7617 E Lowell Larimer Rd, Snohomish, WA 98296
Distance from Seattle: 30 miles / 40 minutes
Cost: $13 – $16 a ticket – purchase your ticket online.
With Mount Baker visible to the north, farmers Keith and Janet Stocker's Mountainview Blueberry Farm has nine acres of blueberry bushes and 25 varieties of sunflowers just outside beautiful Snohomish, WA.
During the blueberry and sunflower season, they have the Berries and Blooms Festival, where you can enjoy sunflowers and pick blueberries.
The Snohomish sunflower fields make a perfect setting for your iconic fall photos with Mount Baker and the Cascade Mountains in the background.
You can pick, purchase, and take home a bounty of sunflowers and produce. Admission to the festival includes a pint of berries during this time — a delicious deal!
The Best Sunflower Fields in Olympia, Washington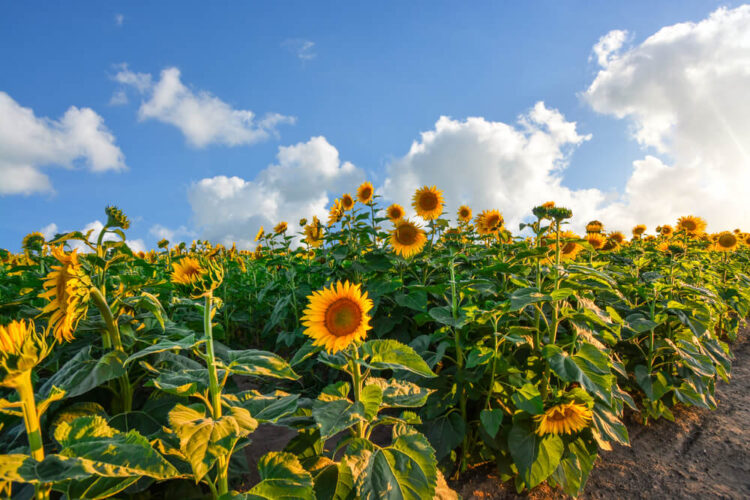 Rutledge Corn Maze – Sunflower Festival
Address: 302 93rd Ave SE, Olympia, WA 98501
Distance from Seattle: 70 miles / 1 hour 15 minutes
Dates: First 2 weekends of September
Cost: $16 for Adults, $10 for children 5–11, free for kids under 5. Purchase tickets online.
Purchase your Sunflower Festival ticket online to walk through the three fields of sunflowers which cover three acres in Olympia, WA.
You will be sure to take loads of pictures in each of their distinctively different fields. You will want photos with the classic six-foot-tall yellow sunflowers blooming around you in the Big Field of Yellow!
Then head to the Field of Beauty, where the sunflowers may be smaller, but with 25 different varieties, you will want pictures of both the white and red sunflowers, along with all the colors in between. Even though these sunflowers are ornamental, you will find a wide variety of bloom sizes.
In the Giants field, you will find the 12-foot tall sunflowers looming over you as you feel like a dwarf!
Your festival ticket includes a wagon ride and one sunflower.
Also on-site will be food vendors, live music, and plenty of other sunflower items for purchase.
Before you leave, make sure you head to the sunflower platform, where you can take great pictures overlooking the sunflower field!
Schilter Family Farm Sunflower Experience 
Address: 141 Nisqually Cutoff Road SE, Olympia, WA 98513
Distance from Seattle: 50 miles / 1 hour
Dates: Mid-August – September
Cost: $10 – $16. Advanced tickets required.
The 5-acre Sunflower Experience at Schilter Farm boasts over 30 sunflower variations in various colors and sizes.
When you arrive, hop on the wagon that will take you to the beautiful fields. Here you can spend the day wandering the sunflower fields in Olympia. Be sure to use some of the photo props to get those Instagram photos to share!
It will be a hard decision which one you want to cut to take home. If you can't decide, extras are available for purchase. 
When you return from exploring the fields, you can relax under the tents with a delicious summer treat or playing some yard games.
The Best Sunflower Fields in Southern Washington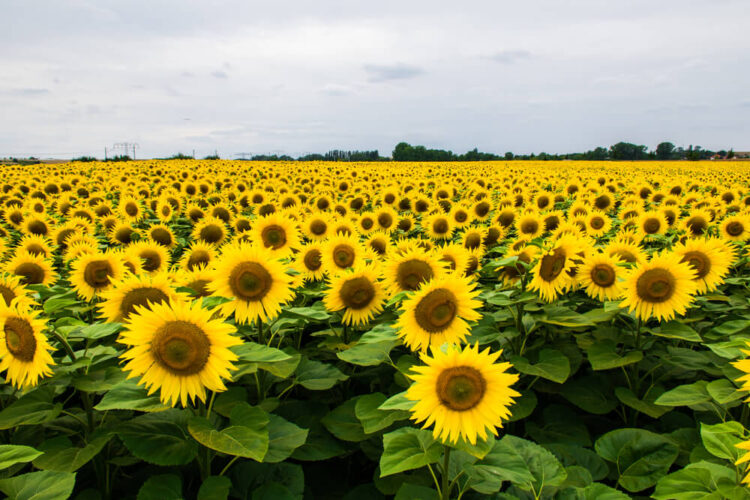 O'Keefe Farms – Sunflower Festival
Address: 17604 NE 182nd Ave, Brush Prairie, WA 98606
Distance from Vancouver, WA: 30 miles / 45 minutes
Dates: Around the 1st week of August
Hours: 9:00 AM – 6:00 PM
Cost: $10 (kids under 6 are free)
During O'Keefe's weeklong Sunflower Festival, enjoy time in the Southern Washington sunflower fields!
For kids, there is also face painting, tractor rides, and an excellent location for a picnic lunch.
Each ticket holder can take home three sunflowers, and children under six will each get one sunflower!
The Best Sunflower Fields in Eastern Washington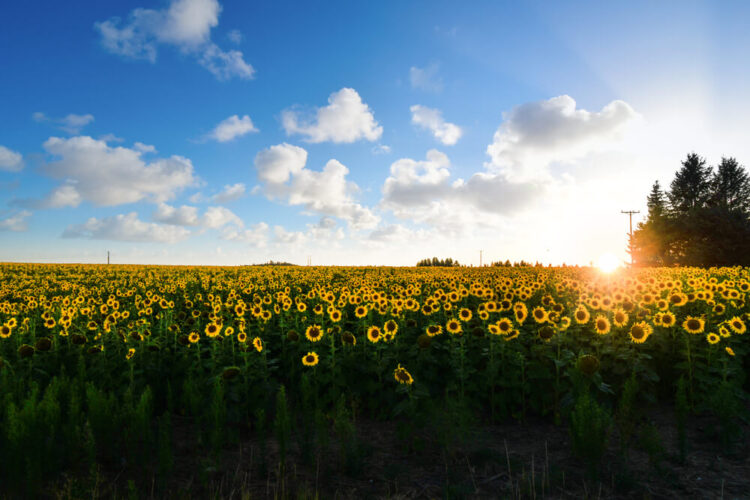 Half Moon Blooms
Address: 1711 W Half Moon Rd, Colbert, WA 99005
Distance from Spokane: 15 miles / 25 minutes
Just north of Spokane, Half Moon Blooms features a half-acre plot filled with summer and fall flowers like asters, daisies, cosmos, zinnias, and sunflowers.
Here you can head to the field to pick your favorites, or they will pre-make a bouquet for you.
Interested in some professional family photos? Give them a call to see what they can set up!
Pin This Guide to Sunflower Fields in Washington!