If you're at all familiar with Seattle, you'll know that there is no shortage of natural beauty here!
Bookended by the Cascade and the Olympic Mountains, adjacent to the wildlife-rich Puget Sound, this pocket of the Pacific Northwest has an outdoor adventure for just about everybody, including some pretty magnificent waterfalls near Seattle.
And whether it takes a day trip to Mount Rainier National Park or an hour-long excursion to a small town, these waterfalls keep people coming back for more, year after year!
Read below to discover some of the best waterfalls near Seattle, from the well-known favorites to delightfully hidden gems.
Best Waterfalls near Seattle
Snoqualmie Falls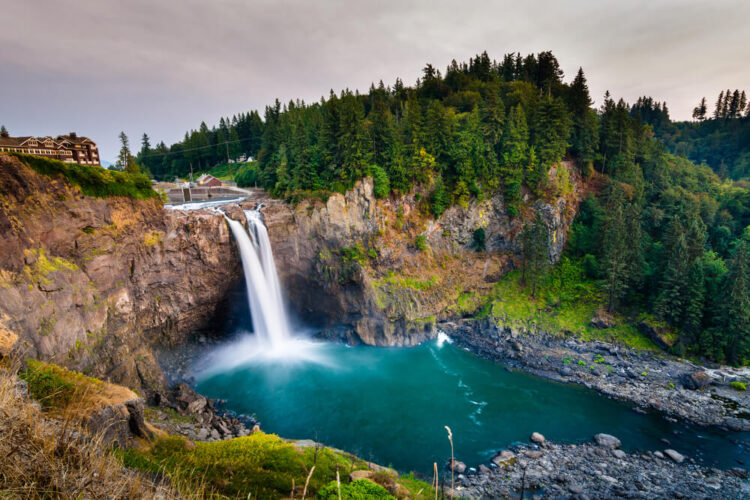 Some links in this post may be affiliate links. If you make a purchase through one of these links, we may earn a small commission at no extra cost to you. Please see our

disclosure policy

for more detail.
Driving Distance from Seattle: 29 miles
Driving Time from Seattle: 32 minutes
Featured in the television show Twin Peaks, the Snoqualmie Falls are perhaps some of the most well-known waterfalls in the state!
But just because you've seen it on the small screen doesn't mean you should skip out on the real-life experience.
These are beautiful any time of year, but I particularly enjoy them during winter, when the crowds are thin and the mist gives everything a quiet mystique.
There are plenty of ways to soak up the 268-foot waterfall, from challenging hikes to well-constructed and informative viewpoints on the side of the road.
Check out the Salish Lodge that crests the falls for tempting food, luxuries, and hotel rooms, all with killer views.
At under an hour from Seattle, the Snoqualmie Falls should be a bucket list stop for any waterfall lover!
Wallace Falls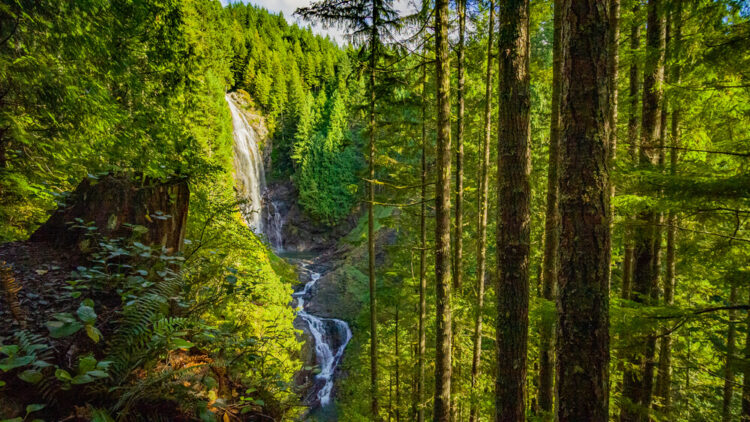 Driving Distance from Seattle: 47 miles
Driving Time from Seattle: 56 minutes
Another superb waterfall near Seattle is Wallace Falls, which lies about an hour east of Seattle.
Tucked within the small town of Gold Bar, you can expect the humbling experience to be jump-started by an old sign with a quote from English poet William Wordsworth: "Come forth into the light of things. Let nature be your teacher."
Looming pine trees, jagged rocks, and a plunging waterfall (well, really 3 waterfalls) of misty white are the rewards of this hike with views at both easily accessible and more challenging vantage points.
If visiting in the winter, a cold weather trip here offers hikers a rare chance to beat the crowds and find some peace and quiet among the wild.
Whatcom Falls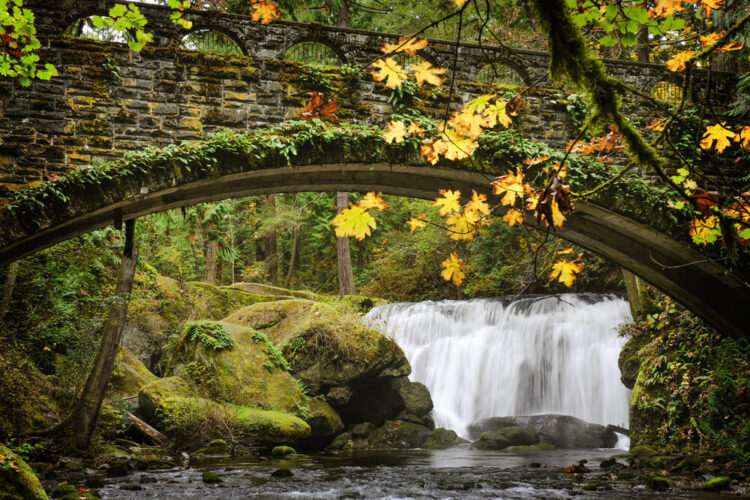 Driving Distance from Seattle: 87 miles
Driving Time from Seattle: 1 hour 30 minutes
Travel north of Seattle toward the Canadian border to find these calming waterfalls.
Less drastic fall heights are more than made up for by the blanket of mossy forest that surrounds this waterfall, with stone bridges and open meadows along the 3 miles of hiking trails.
It's the milder sort of waterfall that is equal parts Bellingham and Middle Earth, and is well worth the hour and a half drive time.
Just be sure to make a day of it and explore all that college town Bellingham has to offer – nature and otherwise! – while you're there.
Boeing Creek
Driving Distance from Seattle: 12 miles
Driving Time from Seattle: 18 minutes
From the more family-friendly or beginner-minded waterfall seeker, look no further than Boeing Creek in Shoreview Park.
This 88-acre natural gem is tucked away in the suburb of Shoreline, mere minutes north of Seattle, making this one of the closest waterfalls to Seattle.
Find endless walking trails, meandering streams, and gentle waterfalls that offer a quick dose of nature's beauty without a long commute, high involvement, or hiking expertise.
Bring the kids, the dogs, and anyone else who is craving a pinch of PNW splendor!
Myrtle Falls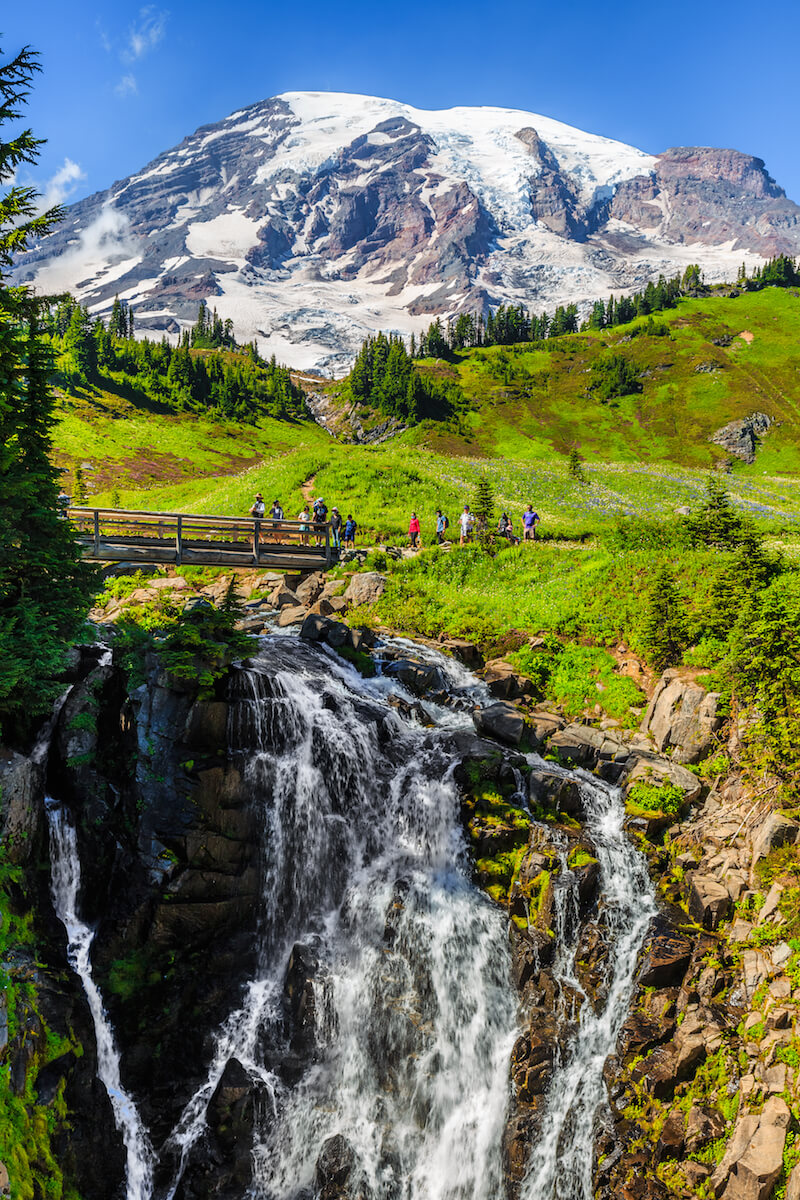 Driving Distance from Seattle: 108 miles
Driving Time from Seattle: 2 hours, 30 minutes
The drama of nature is on full display at Myrtle Falls, which boasts a stunning 72-foot high drop.
Located a walk away from the (aptly named) Paradise area of Mount Rainier, expect to see the wildly melting waters race down rugged rocky terrain near beds of wildflowers and a perfect view of the mountain.
This site is usually only open in spring and summer, and you can be certain to expect having to compete with photographers – both amateur and professional – for views at this picture-perfect spot.
Like the other Mount Rainier-based waterfalls listed here, Myrtle Falls is about a 2-hour-and-30-minute drive from Seattle, which will feel like nothing after a long day of exploring the mountain!
Comet Falls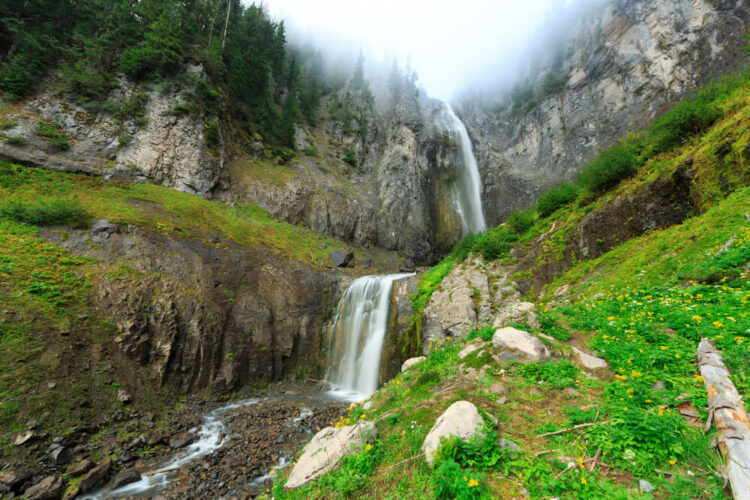 Driving Distance from Seattle: 108 miles
Driving Time from Seattle: 2 hours, 30 minutes
Comet Falls are the true epitome of what one expects when they think of a Washington waterfall.
Dropping over 300 feet, this waterfall in the vicinity of Mount Rainier is a glacier-carved feast for the eyes.
The trek to see it is just under 4 miles; however, do note that the Washington Trail Association warns of somewhat hazardous conditions.
A more challenging and involved hike, this stop is one for those who take their waterfall sightseeing seriously, but it's certainly worth the payoff of catching rainbows in the spray at the waterfall's base.
Christine Falls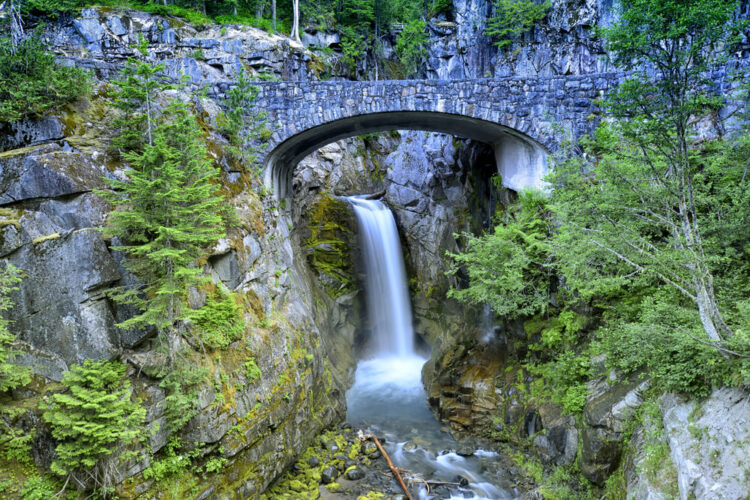 Driving Distance from Seattle: 108 miles
Driving Time from Seattle: 2 hours, 30 minutes
Mount Rainier's endless sights continue with Christine Falls, a stop boasting easy-to-get-to views that'll charm even the most seasoned outdoorsman.
Only a 2-mile hike, even inexperienced hikers can easily take in tiered plunges from a stone bridge, and watch the spectacle of Christine Falls' 69-foot drop.
Victor Falls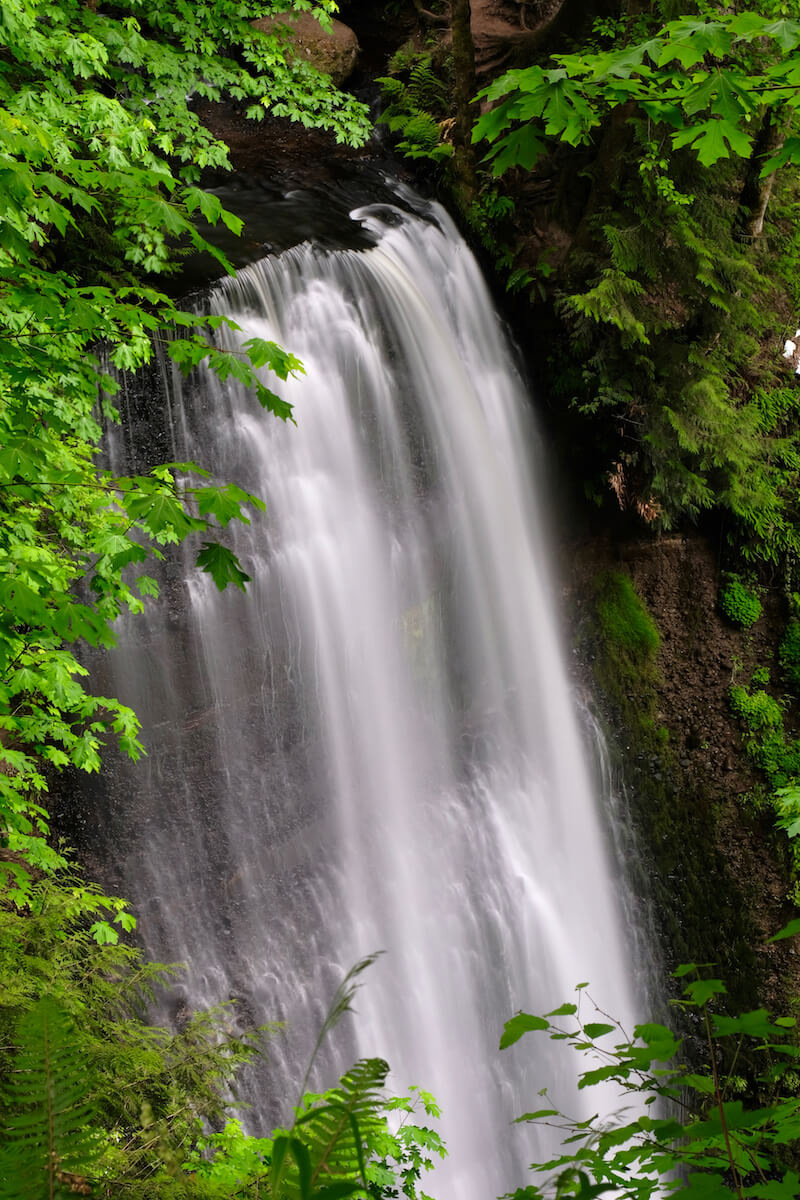 Driving Distance from Seattle: 43 miles
Driving Time from Seattle: 45 minutes
For those who love waterfalls but don't care for the hiking aspect, Victor Falls is the place for you.
Located in Tacoma, less than an hour south of Seattle, Victor Falls features a good-sized waterfall, complete with churning white water plunging some 50 feet — just a few minutes' walk from a sizable parking lot!
It's perfect for a casual day of waterfall-watching followed by lunch at a nearby deli.
Carkeek Park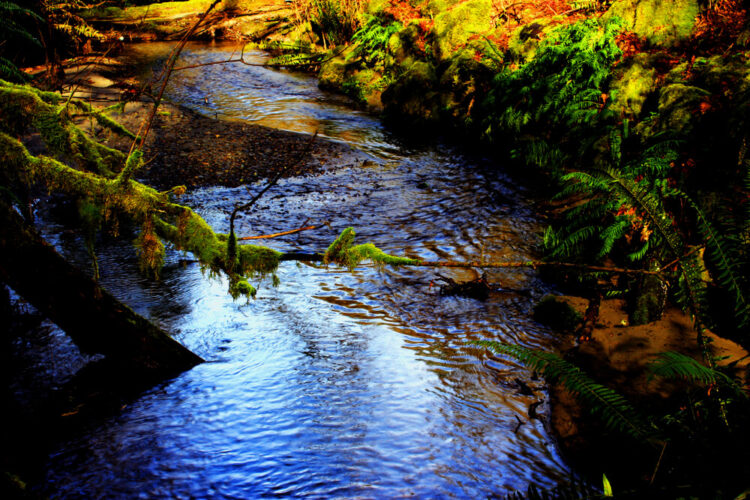 Driving Distance from Seattle: 10 miles
Driving Time from Seattle: 17 minutes
Located in the Seattle neighborhood Broadview, this expansive 220-acre waterfront park has many great features: think dandelion-dotted meadows, beach access, playgrounds, and hikes galore.
Along the many trails and paths, little waterfalls (where, if lucky, one can catch a glimpse of salmon swimming) can be enjoyed.
Try Piper's Creek for a shot at catching the endangered fish work their upstream magic, or just wandering through the endless winding paths, embracing the charm of the kind waters.
Granite Falls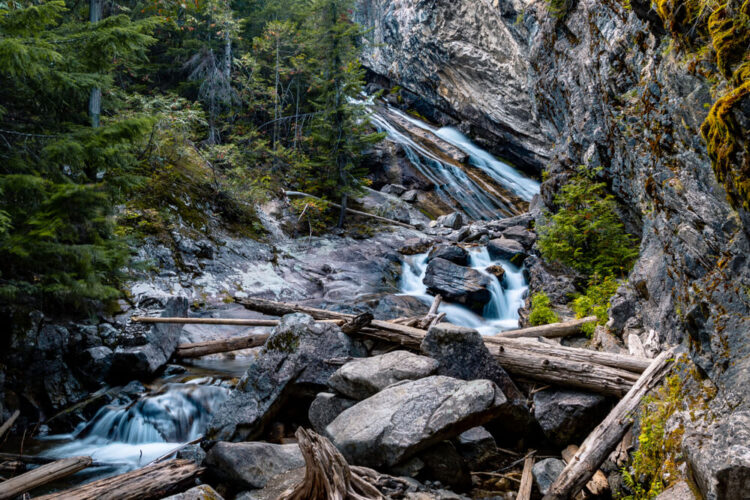 Driving Distance from Seattle: 43 miles
Driving Time from Seattle: 45 minutes
Both a unique town and an impressive waterfall, Granite Falls is a gorgeous slice of Washington.
Just 45 minutes from Seattle, this spot with roots in mining and logging offers a small-town escape from the quickly developing region.
Take in the falls, with whitewater rapids against water-slicked rocks, and find yourself left with plenty of other recreation possibilities: there's an award-winning museum, Mt. Pilchuck is a stone's throw away, and the foothills of the Cascades beckon.
Explorer Falls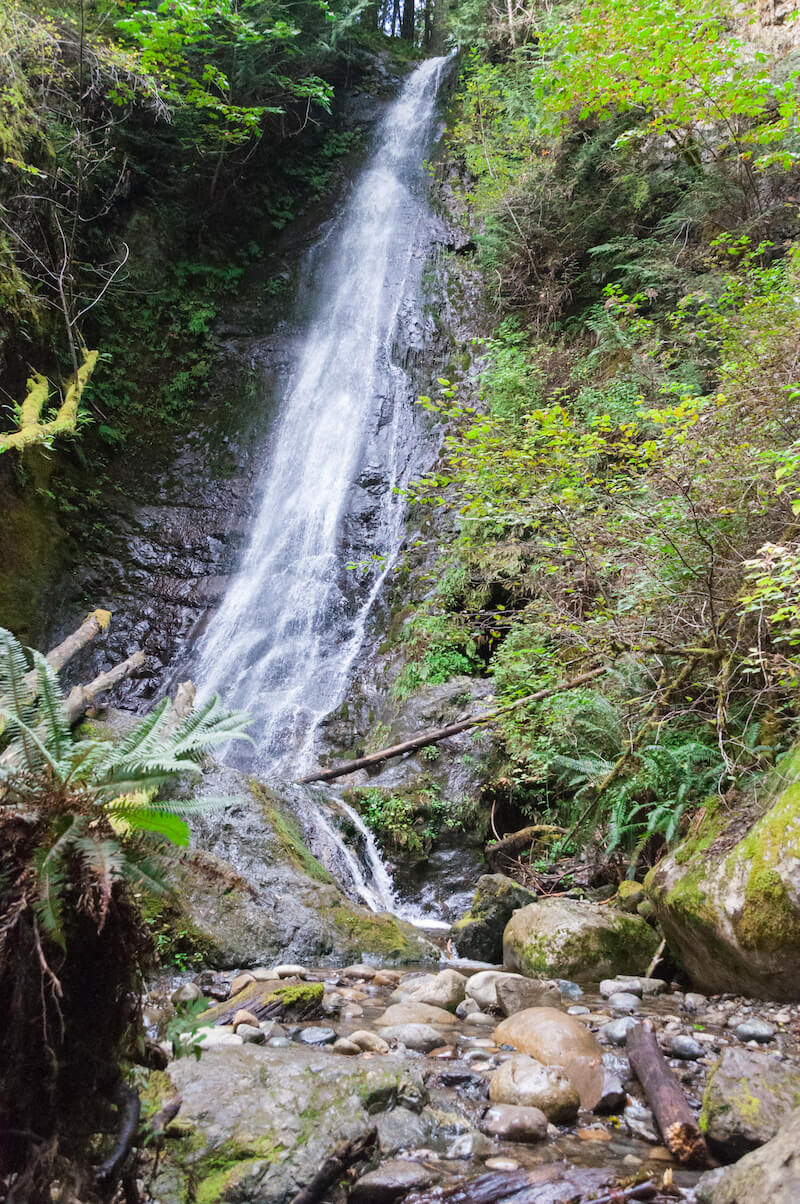 Driving Distance from Seattle: 50 miles
Driving Time from Seattle: 1 hour
Although currently closed due to the ongoing pandemic, Explorer Falls are an exciting all-ages waterfall experience about an hour from Seattle.
A relatively short hike (2.5 miles) is all it takes to reach good views of cascading water, surrounded by mossy logs and nearly neon green foliage.
When open, this trail can be pretty heavily trafficked, and also welcomes on-leash dogs.
Bridal Veil Falls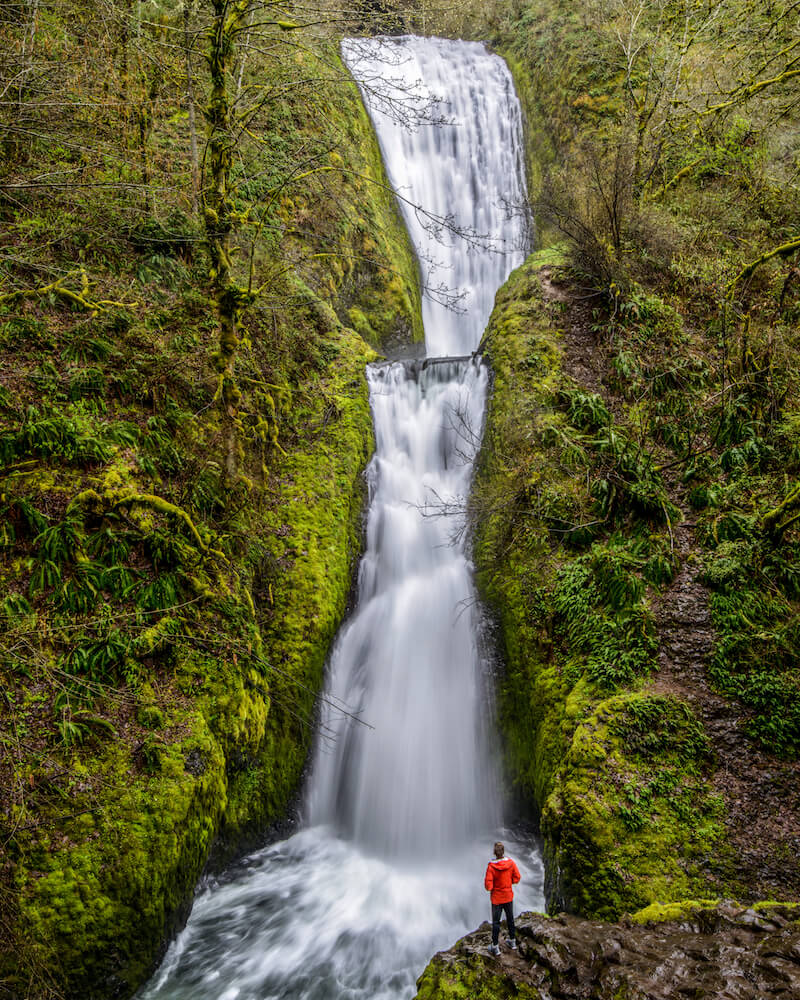 Driving Distance from Seattle: 56 miles
Driving Time from Seattle: 1 hour 15 minutes
Just about the worst-kept secret of Western Washington's natural beauties, this waterfall is a must-visit for those craving a bit of wild.
A somewhat mild hike of around 4 miles leads to the base of a 100-foot rock face, where the water chutes down and mists all, like the delicate tulle of a bride's veil.
There's also an adjacent stairway, allowing visitors a chance to travel the same path as the falls. On the way there, though a mostly unchallenging hike, the trails can often get a little moist and slick, as the WTA warns.
Note that the parking tends to fill up quickly in the spring and summer, so get there early to soak up the grandeur undisturbed!
Teneriffe Falls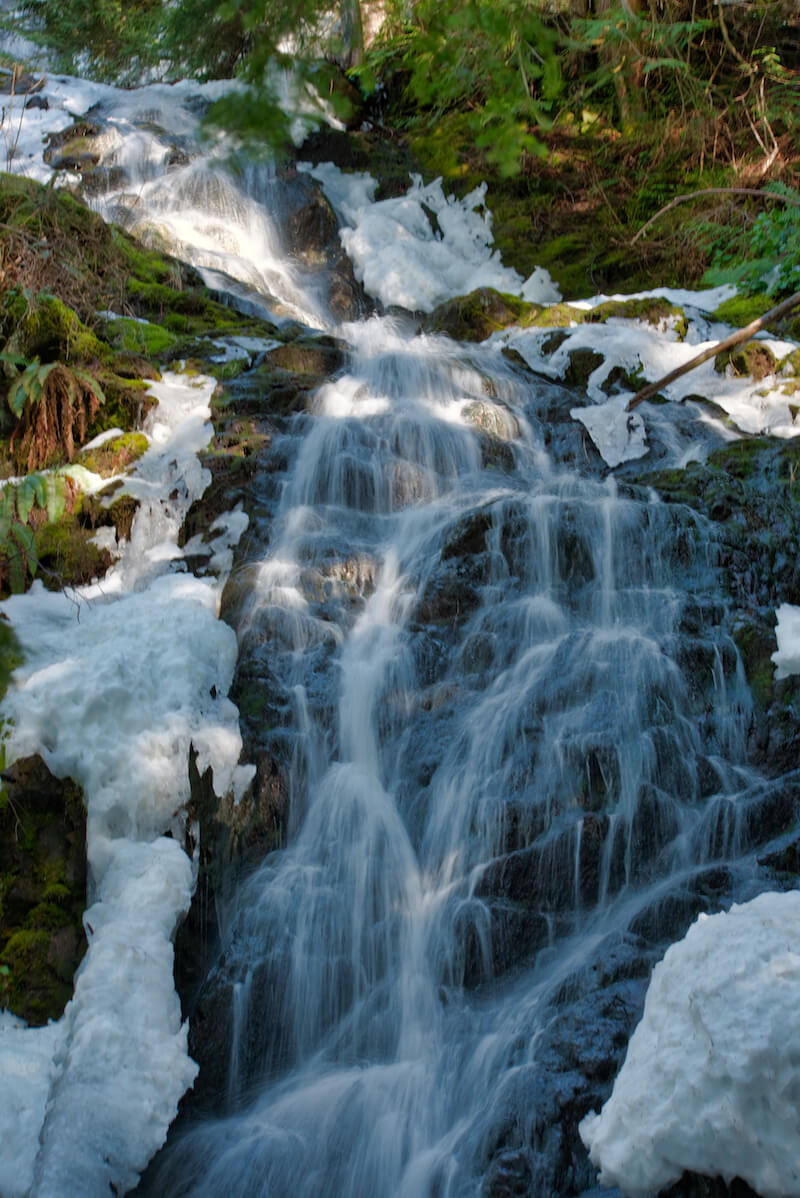 Driving Distance from Seattle: 36 miles
Driving Time from Seattle: 45 minutes
One for more experienced or avid hikers, Teneriffe Falls is a 5.6-mile adventure with some pretty sweet views as a reward.
Enjoy second- and third-growth forests along the way as you head to a first lookout spot.
The second and higher viewpoint is worth a stop for individuals and small groups, but the Washington Trail Association warns that large groups should find larger, more stable areas to take in the sights, and that spring visits are recommended to avoid the snow.
Under 50 minutes from Seattle, it's an exciting excursion to break up the quarantine days!
Murhut Falls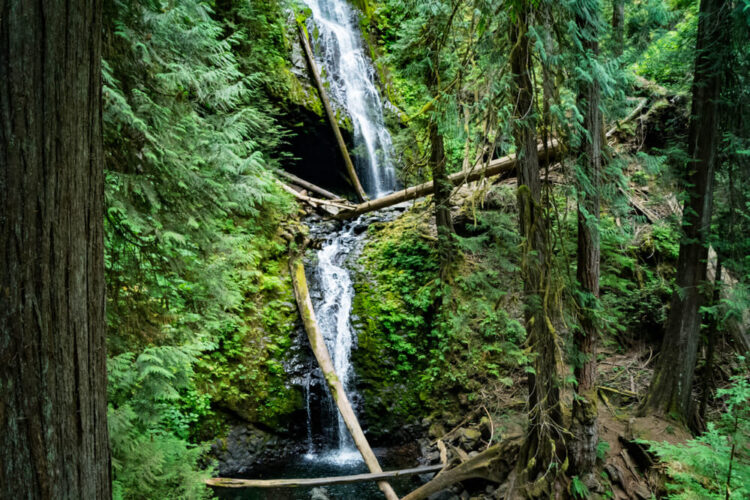 Driving Distance from Seattle: 73 miles
Driving Time from Seattle: 2 hours, 20 minutes
Although this one may be a little bit more out of the way than some of the others (2+ hours), Murhut Falls offers a low-commitment, high-reward waterfall experience in Olympic National Park.
Less than a mile into this easy going hike, you'll find a gorgeous waterfall descending and zig-zagging from 130 feet.
Considered to be less known than some others on this list, it's a great place to picnic and find a little tranquility among blooming rhododendrons.
Contributing Writer: Madison Patterson
Pin This Guide to Waterfalls Near Seattle