Have you ever heard of Deception Pass Bridge? It is the most photographed bridge in Washington State, and there is a good reason!
Its beautiful arched steel structure connects Fidalgo Island and Whidbey Island together (two of the most beautiful islands in Washington, in my opinion!), and it is quite a dramatic sight.
The History of Deception Pass Bridge
The CCC built the bridge in 1934-1935, and it cost $482,000 at the time — much more in today's money!
It has two sections, a 511-foot stretch from Fidalgo Island to Pass Island, and a 975-foot section that goes from Pass Island to Whidbey Island.
So, how did the bridge get its name?
Supposedly, Captain Vancouver named it Deception Pass because he felt it had "deceived" him into thinking Whidbey Island was a peninsula!
Where is Close to Deception Pass Bridge?
The small towns close to the bridge are Anacortes, which is on Fidalgo Island, and Oak Harbor, which is the northernmost town on Whidbey Island.
If you plan to visit one of the many small towns in the Skagit Valley like La Conner, Bow, Burlington, and Mount Vernon, or the towns on Whidbey Island like Coupeville or Langley, you'll want to consider a trip to Deception Pass Bridge.
If you go, here are four epic ways to experience Deception Pass Bridge!
How to Experience Deception Pass Bridge
Drive across the scenic Deception Pass Bridge.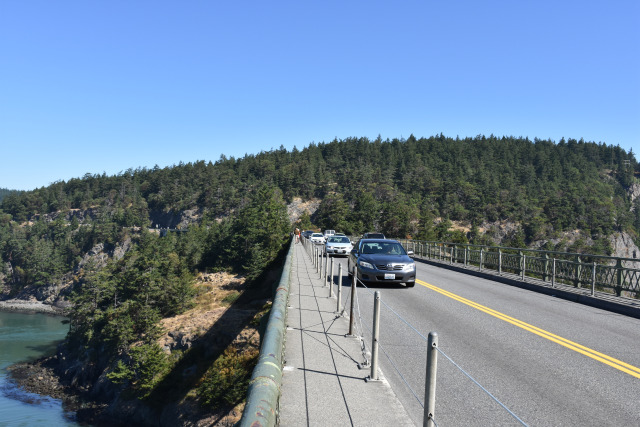 Some links in this post may be affiliate links. If you make a purchase through one of these links, we may earn a small commission at no extra cost to you. Please see our

disclosure policy

for more detail.
Perhaps the most obvious, but bear with me!
Now, this might sound a little boring, but, believe me, it's not.
The bridge is 28 feet wide, with two sidewalks on either side of the road that almost always have people walking on either side.
In either direction, there is an amazing view, and if you are the driver, you'll be fighting the urge to look at the view or watch the road!
Walk the bridge for the best views from above.
Walking on the sidewalk of Deception Pass Bridge can be a trip, and if you are afraid of heights or get any sort of vertigo, this is not the route for you!
There is a ropelike barrier between the sidewalk and the car lane, which can get a little unnerving if there is a lot of traffic.
On the other side of the railing, the sheer 180-foot drop down to the turbulent rapids of Deception Pass ends in an 8+ knot current where almost 900 million gallons of water pour through the pass!
If it is a weekend and sunny, except the bridge to be busy with cars and visitors. If you'd rather experience it with less traffic, then I suggest a weekday visit, or early morning or late evening on the weekends.
Where to Park at Deception Pass Bridge
If you want to walk across Deception Pass Bridge, you'll need to find a place to park.
One of my favorite places to park is on Pass Island, which is in between the bridges. Unfortunately, there are only a handful of parking spots, so if one is open, grab it.
From there, you can access the closest side of the bridge easily. If you want to go over to the other side, take the stairs down the side of the bridge, under and up the other side. Do NOT cross the road!
There is parking before and after the bridge. The Fidalgo Island side has a handful of pullouts, and the Whidbey Island side has a large parking lot with bathrooms and a mounted map with information.
To park you'll need to either pay for day pass parking ($10) or if you already have a Discovery Pass, don't forget to hang it up where it's visible!
If you plan to visit Washington State Parks for more than three days, the $30 Discovery Pass is more economical. Here is a list of ways to purchase one.
Hike Deception Pass with your camera in tow.
Fidalgo Island Side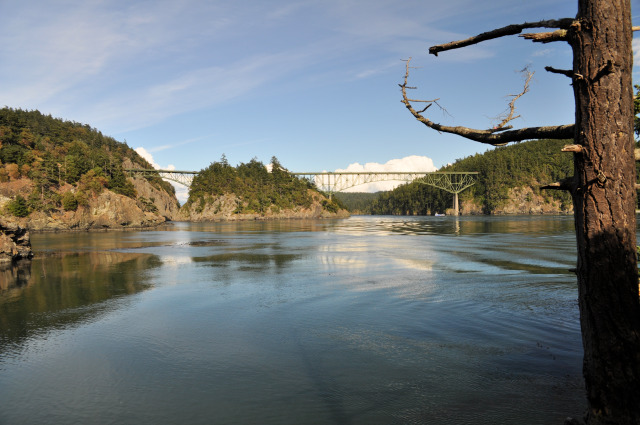 The best way to see the bridge in its entirety is to hike in nearby Deception Pass State Park. Since I live on Fidalgo Island, I am most familiar with hiking on this side.
I usually park at Bowman Bay and get on the 2.6-mile trail there. At one point the trail splits apart. One way goes to Lighthouse Point, and this is the better trail as it has a panoramic view.
Plus there is a small beach, and some shady spots to enjoy a picnic. The other trail is Lottie Point, which gets you closer to bridge but you don't see the bridge in its entirety.
For panoramic views of the bridge from land, you can also hike the Lighthouse Point trail.
Whidbey Island Side
I've hiked this side, but not as much, as I like the Bowman Bay trails.
What the Whidbey Island side does have going for it North Beach – a long stretch of beach with great views of the bridge. It's the perfect place for a picnic!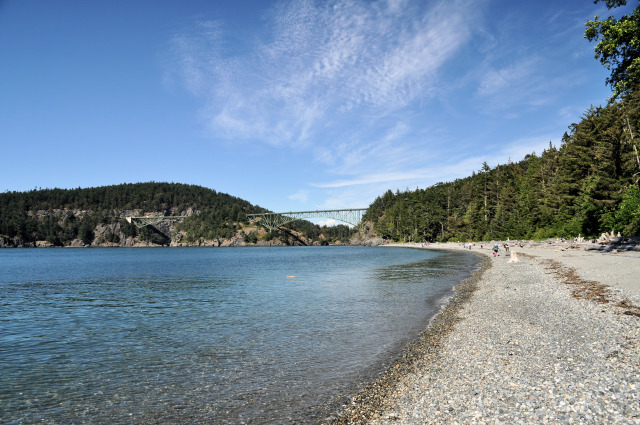 Pass Island
Remember I said to park at Pass Island?
Well, it also has a viewpoint lookout and a few trails.
The most well-worn trail, which also has stairs to the other side, is the one that leads under the belly of the bridge.
The downside to hiking on Pass Island is that that the trails go down, which means you have to go back up, and it's rather steep in parts and at times seems like a goat trail. I suggest only doing this option if you are sure-footed.
Visit Deception Pass Bridge by jet boat tour.
A super fun way to see Deception Pass Bridge up close and personal is by jet boat tour with Deception Pass Tours.
I've done this a handful of times since I've lived here, and my family and I went last week. The staff is super friendly and very knowledgeable about the area and wildlife you will encounter.
What can you expect on a tour? You'll get to see Ben Ure Island and learn how its namesake smuggled rum, opium and illegal immigrants, as well as run a house of ill repute.
Additionally, you can see Strawberry Island and learn how Ben Ure's wife used to signal him if the authorities were en route. And, if it's the right time of year (late summer), you'll see mother seals and their pups.
You'll also see the remains of a mining operation on the cliffside where forty prisoners from Walla Walla State Penitentiary mined for gold and magnesium.
If the tide is high enough, you'll drift through Canoe Pass, which is a especially scenic part of these waters.
You'll also get to stop on the other side of the bridge and learn about its history and snap photos.
Lastly, the coolest part for wildlife enthusiasts is that this tour gives you the chance to also head out into open waters to look for wildlife.
Throughout the tour, you'll most certainly see a range of birds like eagles, oystercatchers, auklets, and cormorants, and depending on the time of the year you might even see whales or porpoises (I've seen them on this tour!).
Finally, you'll head back through large part of the pass at high speed (depending on the current, the boat can go up to 45 miles per hour!)
Where to Get Tickets for the Deception Pass Tour
Deception Pass Tours run between April and October. The tour lasts an hour and starts at $39.95 per person.
Tickets can be purchased online, at their store, or the seasonal kiosk in the parking lot.
Where to Eat After Visiting Deception Pass Bridge
A popular stop is on Highway 20 to the bridge from the Fidalgo Island side is The Shrimp Shack.
Last week, I had the shrimp burger (I never even knew there was such a thing) and it was super tasty. I'd totally order it again!