Coupeville is one of my favorite seaside towns in Washington State!
It has a quaint historic downtown, plenty of great food options, a museum downtown, a blockhouse (more on that later!), a historic wharf where you'll see the town's heritage vessel often docked, and access to the pebble beach!
It also has a historic cemetery that offers heritage tours, incredible walking trails, and so much more.
Come discover Coupeville with us!
Quick Facts About Coupeville
Coupeville is Washington State's second-oldest town and named after Captain Thomas Coupe, who settled the area in the 1850s.
Ebey's Landing National Historic Reserve is named after Issac Ebey.
The local pioneer cemetery, Sunnyside Cemetery, dates back to 1868.
Things to Do in Coupeville
Walk the historic wooden pier and waterfront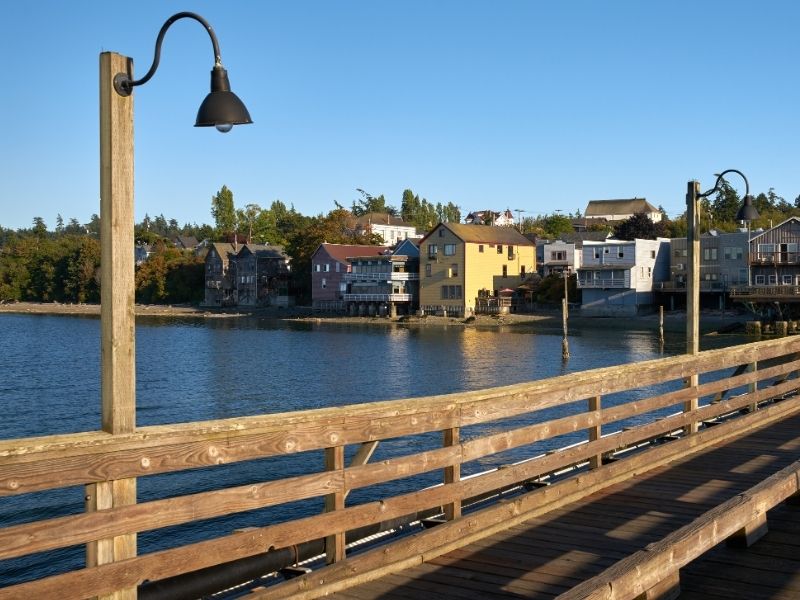 Some links in this post may be affiliate links. If you make a purchase through one of these links, we may earn a small commission at no extra cost to you. Please see our

disclosure policy

for more detail.
Coupeville has a ton of history to it, as one of the oldest towns in Washington State, and nowhere is this more apparent than on its quaint wooden pier and wharf which sits along Penn Cove.
Take a stroll along Front Street, full of bookstores, wine tasting rooms, restaurants, and boutiques — it's a great place to while away an afternoon and then grab a glass of wine to watch the sunset.
Snap a photo of the Wharf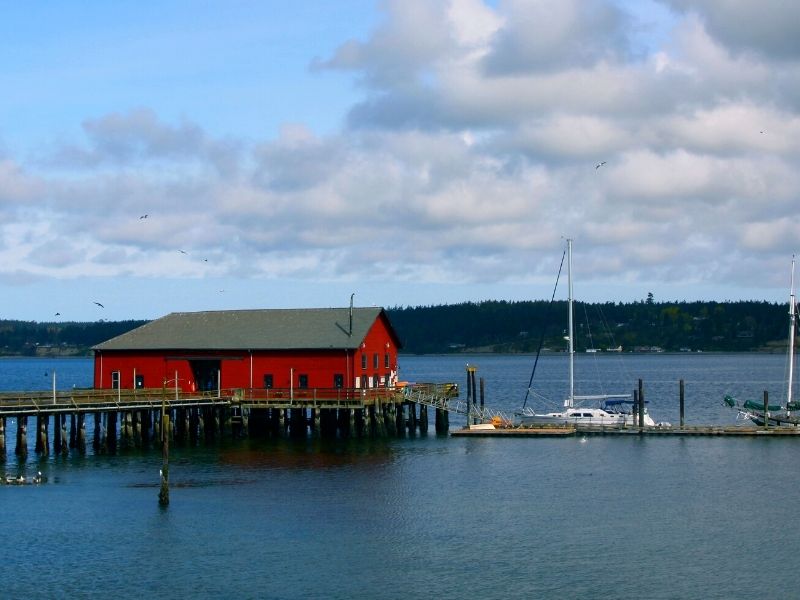 Don't miss snapping some photos of the iconic red wharf, one of the most photogenic spots on Whidbey Island!
This wharf dates back to 1905 and was a very important part of the local economy, and it has been on the list of National Register of Historic Places since 1973.
Learn more at the Island County Museum
Curious about the history of Island County, and specifically Whidbey Island and Coupeville?
Head to the Island County Museum, a well-curated historical museum which covers the period from the Ice Age to the present day with more than 20,000 artifacts.
The museum is located right in front of the wharf on the intersection of NW Alexander Street and Front Street.
Hike the Ebey's Landing Bluff Trail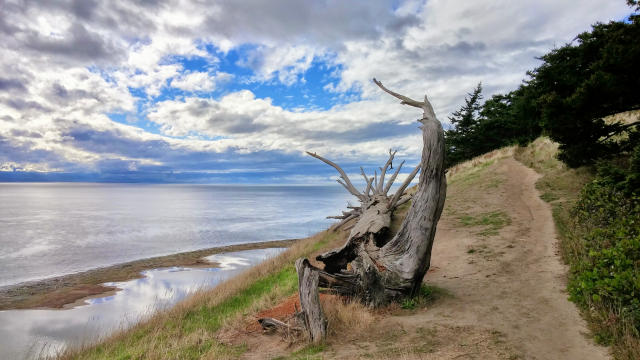 One of the best reasons to visit Coupeville is to hike to Ebey's Landing, one of the most beautiful viewpoints on Whidbey Island.
There are two paths you can take: one departing from the Prairie Overlook in the Sunnyside Cemetery (more on that below!) and one from the parking lot at the end of Ebey's Landing Road. Whichever path you take, you're sure to enjoy stunning views over the Puget Sound and other islands in Washington.
For a longer hike, head to the Prairie Overlook trailhead, whereas if you just want a short walk on the beach, park in the lot at Ebey's Landing Road and hit the trail from there.
On the walk from Prairie Overlook (our suggestion), you'll get the chance to admire Mount Baker and the Cascade mountain range as well as the Olympics.
You can also take a detour on the Prairie Ridge Trail, which will let you pass the Jacob Ebey house and blockhouse.
Another alternative is to add on the Pratt Loop trail, which brings you to a historic sheep barn, an additional mile of hiking.
Finally, when you reach the T-intersection of the trailhead, make a right to hit a small hill where you'll get the best summit views of the landscape below. In spring and summer, you'll find beautiful wildflowers in the area, and this is also a great spot for birdwatching (bring your binoculars!)
From here, you can descend via the switchbacks to the beach, or head back the way you came. Note that a Discover Pass is required, as it always is when you are on State Park land.
Visit the Sunnyside Cemetery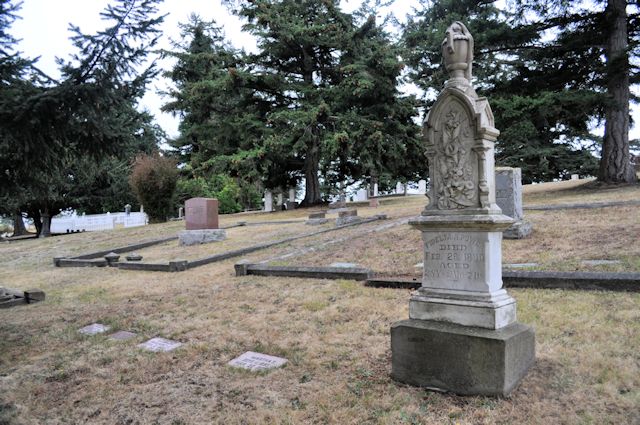 Sunnyside Cemetery is in a stunning location. It overlooks Ebey's Landing National Historic Reserve with views of expanses of prairie that lead to the deep blue waters of Admiralty Inlet and beyond the humpbacked Olympic Mountains.
Cemeteries hold a fascination for me. Not because they are spooky, but because they embody many historical moments. The details of each stone, each chiseled name and inscription tell a story about the person and the times. While the passing years have erased many of those stories, cemeteries hold clues to the lives that came before.
Knowing that, it should be no surprise that I visited the Sunnyside Cemetery while in Coupeville. If you can, time your visit to coincide with the twice-yearly heritage tours — if not, it's still well-worth visiting at other times of the year.
Heritage Tour
The Island County Historical Museum hosts these tours twice a year. There is one on Memorial Day at 1 pm and one on Labor Day at 11 am. You can call the museum to reserve your spot, or show up with cash ($8).
As I drove from Anacortes to Coupeville, I worried I would be the only one to show up since it was a holiday (Labor Day). But I had nothing to worry about. When I pulled in, there were already a handful of cars there, and many of them had two or more people. By the time the tour started, there were around 40 people in attendance.
I knew it was a good sign when our guide Theresa Trebon told us she was a Tribal Archivist, author of Sunnyside Cemetery: The History of a Pioneer Burying Ground, and spent time researching burial practices and visiting cemeteries all over the U.S. However, the tour doesn't always have the same guide, but maybe you'll be as lucky as we were!
The tour cost $8 and lasted approximately 90 minutes.
Heritage Tour Highlights
Learning about Coupeville's earliest settlers and the Ebey family.

Raiding Native Alaskans had come to Ebey's Landing to murder Doctor John Kellog, also known as the Canoe Doctor, but he was out on a call. So instead, they killed and beheaded Issac Ebey. In the 1860s, his scalp was retrieved, and for a while it remained in the hands of family members. Since 1914, its whereabouts are unknown.

Learning about how Sunnyside Pioneer Cemetery started.

In 1865, the random gravesites around Coupeville were becoming a problem. In 1869, the county asked Mary Bozarth, if she would donate a portion of her land for a public graveyard. She sold one and a quarter acre plot to Island County for $1.00. The cemetery's first name was the "County Grave Yard on the Hill."

Learning about the Rural Cemetery Movement.

The Rural Cemetery Movement happened in response to the overcrowding of cities and church burial grounds. The first rural cemetery was Paris's Père Lachaise in 1804. Rural cemeteries are more parklike with natural landscapes and tranquil spaces. In 1831, Boston's Mount Auburn Cemetery became America's first rural cemetery.

Learning about symbols on the gravestones.

If a gravestone has a fraternity symbol on it, like the Masonic symbol, it means they helped with the burial costs and raised funds to support widows and children.

Learning about the history of cemeteries.

The type of gravestone is an indicator of the era. Ex. During the Victorian Era, gravestones were full of symbology and very decorative.
Learn about the intriguing Davis Blockhouse
Also located in Sunnyside Pioneer Cemetery is the Davis Blockhouse, a single cabin fort-like structure that is common to this area. There is another one on the Ebey's Landing trailhead as described above.
This style of home was traditionally used in the past to keep occupants safe from hostile attacks, with a strong foundation and minimal windows.
Eat breakfast at Knead & Feed
Update: Knead & Feed is now closed
When I visit small towns, I like to get advice from the locals. When I stayed in Coupeville, Washington, a local told me that Knead & Feed, a 3rd generation restaurant and bakery, has the best breakfast in town (and the busiest), so I needed to get there early.
The restaurant is under Knead & Feed's bakery, which is known for its fresh-baked treats, breads, and pies. To get there, take the stairs to the left and at the bottom of the second flight, you'll see the door.
The restaurant is very small, so if it's a busy morning, be prepared to wait. If a window table is available, request that so you can look out at the water and Coupeville Wharf.
I arrived at 8:30 a.m. on a Saturday which thankfully got me there before the crowd, who showed up about 15 minutes later.
My take—they serve up one heck of a breakfast! I ordered the Cinnamon Swirl French Toast with a side of sausage links. Next time, I'm ordering one of their hearty Egg Scrambles.
Dine at more delicious restaurants
Though I stayed in Coupeville for one week with an Airbnb with a kitchen, I didn't bother with any cooking during my stay as there are so many great restaurants in Coupeville!
In fact, this small town has my all-time favorite restaurant―The Oystercatcher. It's on the pricey end, but so worth it.
I also suggest Pra Hakorn, Ciao, Knead & Feed, Front Street Grill and Christopher's on Whidbey.
And, if you want cheap beer and a local experience go to Toby's Tavern — their buffalo burger is really good, too!
Stay in a Beachfront Airbnb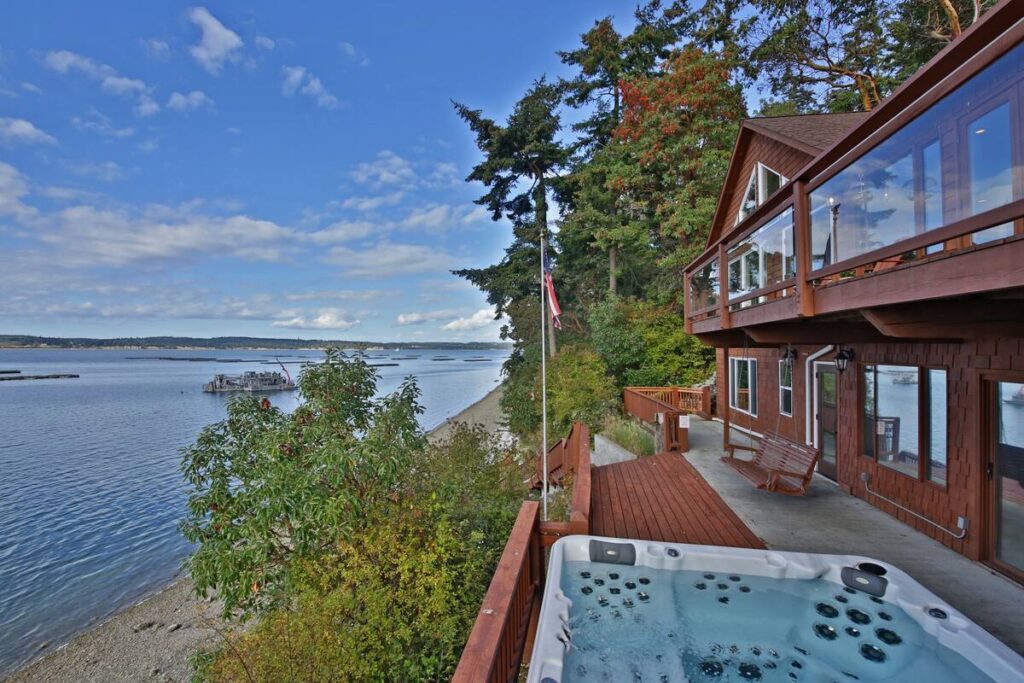 Note: As an Airbnb associate, I may earn a commission if you book using these links.
For a fantastic place to stay when in Coupeville, Washington, consider renting a gorgeous beachfront Airbnb complete with a hot tub right in front of Penn Cove — what a place to take in the sunset on the Puget Sound!
This two-story beachfront house has a fire pit on the deck, stunning views from every window (and there are tons of them!), stairs leading down to a virtually private beach, a porch swing, and a wonderful kitchen and dining area for hosting group meals.
The property can fit up to 8 guests in this 2-bedroom, 2-bathroom house with 5 beds.
Pin This Guide to Things to Do in Coupeville, Washington