Last fall, I made my first trip to Ellensburg and totally fell in love with this small Eastern Washington town.
It has all the things I look for in a Washington small town – very walkable, a unique stay, fantastic food, wine, beer, lots of history, and day trip activities.
You might know Ellensburg for its popular annual rodeo on Labor Day weekend. But it's a lot more than that!
What you might not know is that there are a lot more cool things to do in Ellensburg, WA than first come to mind.
Ellensburg has free museums, a city park next to the Yakima River, art, murals, historic buildings, and a wind farm.
If you are planning a getaway to Ellensburg or need a short break on a cross-the-state trip, here are some of the best things to do in Ellensburg, WA. As a bonus, most of them are free!
Cool Things to do in Ellensburg, WA
Walk around historic downtown.
Some links in this post may be affiliate links. If you make a purchase through one of these links, we may earn a small commission at no extra cost to you. Please see our

disclosure policy

for more detail.
Historic Downtown Ellensburg has a very walkable center.
Some other notable buildings are the Cadwell Building, which was built with one million bricks, the Elmira Block, and Farmer's Bank, and New York Cafe.
If you get hungry or thirsty while walking around there are plenty of places to tempt you like Ellensburg Pasta Company, Valley Cafe, Palace Cafe, Starlight Lounge, Brix Elevage Wine Co., Gard Vintners, and Iron Horse Brewery.
Check out the murals and street art.
One of the coolest things about Ellensburg, Washington is that this small town is jam-packed with lots of street art and murals, many of which are old advertisements.
Taking an art-focused walk around the city is one of the best free things to do in Ellensburg and should be first up on your Ellensburg itinerary.
Its most famous mural is Phoenix Rising by Lynne McCowin on the Davidson Building. The mural depicts the rebirth of the town after the Great Ellensburg Fire in 1889.
Visit the Kittitas County Historical Museum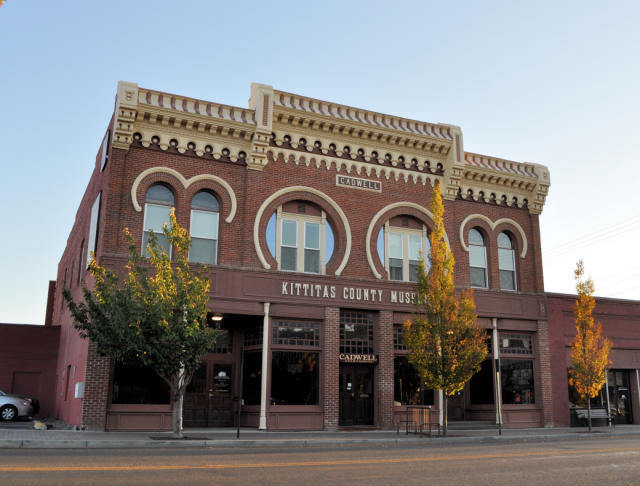 The Kittitas County Historical Museum is one of the highlights of a trip to Ellesnburg, Washington and it should definitely feature on your list of things to do in the city.
The historical museum is in the bottom floor of the famous Cadwell Building. If you are a history buff you'll like its collections from various eras in the county including Native American, pioneer, logging, geological, as well as antique cars, historic photographs, and military objects.
Best of all: it's free!
Check out the art scene at the Clymer Museum of Art.
Yet another free museum in Ellensburg, you shouldn't miss this museum if you're a fan of checking out art while you travel!
The Clymer Museum of Art is dedicated to local western artist John Clymer. Most people are familiar with Clymer's Saturday Evening Post covers.
He is also recognized worldwide and was awarded the Prix de West, Cowboy Hall of Fame and a Rungius Medal. The museum is small but has interesting items and stories from his life, posters, magazine covers, and a few paintings.
Take a photo with the Ellensburg Bull.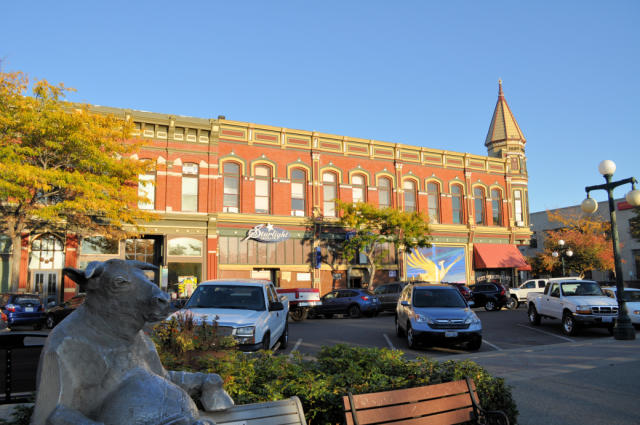 The Ellensburg Bull by Rich Beyer is in Rotary Pavillion, which is right across the street from Phoenix Rising and the Davidson Building.
Snapping a photo with this bull is a must while visiting Ellensburg!
Stretch your legs at Irene Rinehart Riverfront Park.
Irene Rinehart Riverfront Park is the perfect spot to stretch your legs and connect with nature on your trip to Ellensburg, WA.
The 117-acre park hugs the Yakima River and Carey Lake. It has picnic tables, picnic shelters, a kids' play area, large grassy fields, and a trail.
On a recent drive-by trip, I stopped at the park to walk the trail. It took me about 45-minutes and was a welcome change from sitting in the car.
Hike the Umtanum Creek Canyon Trail.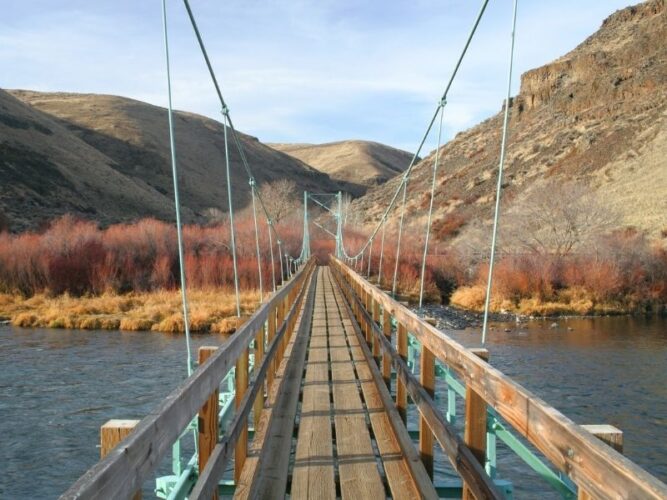 For a great and not to so difficult hike in the Ellensburg area that is sure to give you an incredible day out enjoying nature, head to Umtanum Creek Canyon Trail.
This trail starts with a swinging suspension bridge over the Yakima River, and then you can follow a trail beneath some railroad tracks. In the end, you'll end up alongside Umtanum Creek, a beautiful rushing creek that plays a peaceful melody to hike alongside!
You can continue on however you like, noting different beautiful colors in different seasons. Wildflowers emerge in the spring, and in the fall, there are beautiful yellow aspens. You might see wildlife like elk or big horn sheep any time of year!
Learn about wind and solar power.
I have a fascination with wind farms and Eastern Washington is full of them.
Wild Horse Wind Farm is about a 25-minute drive from Ellensburg, but so worth it. It's worth it even if you just want to go for the view, which on a clear day includes Mt. Rainier!
Visiting the wind farm is free, including the twice-daily guided tours. I'm a fan of tours, so if you can schedule it — do!
At the end, you get to go inside the bottom of a turbine! The visitor center has informative displays that talk about wind power, the environment, and the location. Be sure to watch the video of them putting up a wind turbine.
You can also hike the grounds, and I was told that when the flowers bloom in spring is one of the best times. To do this you'll need to get approval and a recreational permit, which can be obtained online here and at the visitor center.
Tip: The center is open from 9 a.m. to 5 p.m. April 1 to November 15. Tours are at 10 a.m. and 2 p.m.
Take in the view of the town from Reed Park.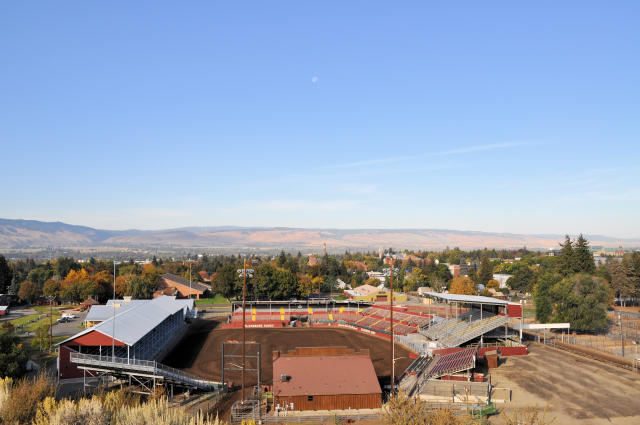 The Ellensburg Rodeo is a huge part of the town, and a trip wouldn't be complete without looking at the stadium — even if it's not rodeo time of year!
Reed Park is up on a hill that overlooks the valley, the rodeo stadium, and you can also see some of the buildings at Central Washington University.
Have a meal at the Valley Café.
There are lots of great Ellensburg restaurants, but my favorite is the Valley Café.
Since 1930, the Valley Café has been an Ellensburg staple, and its authentic art deco décor makes dining there a nostalgic experience.
Its current owners, restauranteurs Alfonso and Marion Gonzalez who also own the Puerto Rican restaurant La Isla in Redmond and Ballard, purchased the café in the summer of 2015.
With the Valley Café, they are focusing on locally sourced ingredients and by doing so, want to create a deeper sense of community.
It's important to be aware that their menu is seasonal and harvest-based, so it changes frequently. Also, their pasta, bread, and dressings are all made in-house.
Their lunch menu offers fresh daily made soups, seasonal salads, a selection of sandwiches, and entrée sized items like spinach lasagna with house-made pasta, and pulled pork with rice and Farmer Bean pink beans.
I ordered the mushroom tacos for lunch and they were delicious. I have to admit mushroom tacos sounded a little earthy, but when the dish arrived, and there were four small tacos loaded with all the fixings I knew they were going to be great — especially with their roasted red pepper/sour cream sauce and pico slaw!
If that doesn't suit your fancy, check out one of these other incredible Ellensburg restaurants you're sure to love!
Where to Stay in Ellensburg, WA
On this trip, I was kindly hosted by Guesthouse Ellensburg, a historic 1888 home that is a boutique two-suite inn. It is the former residence of twice-elected mayor Dr. Pashcal Gray and on the National Register of Historic Places.
Guesthouse Ellensburg has two large suites – Merlot and Syrah – on the second floor. I stayed in the Syrah Suite. It had a queen-sized four-poster bed, an adjoining roomy sitting area with a sleeper sofa, and a private bathroom (in the hallway).
The bed was incredibly cozy with fluffy down comforters. I slept very, very well!
I enjoyed the addition of the separate large sitting room as it allowed me to spread out and gave me a working space, but I wasn't crazy about the floral decor. The bathroom was a good size with a large shower.
While the price is a little steep, you get to stay in unique accommodations and can walk to and from downtown Ellensburg with ease.
Ellensburg is a lively town, which might have to do with Central Washington University giving it a youthful and fun vibe, while still maintaining its historic roots and friendliness.
***
That concludes my list of fun and mostly free things to do in Ellensburg, WA! Do you have any fun Ellensburg activities to add to the list?