Earlier this summer, I'd heard about Double Bluff Beach, which is about one mile south of the small town of Freeland, Washington, and part of Island County Parks.
Double Bluff Beach was described to me as an off-leash dog beach, a huge sandbox, and a great place to play in the water, which got warm because Useless Bay (what a great name, right?) was shallow for long stretches. I was instantly interested!
Visit Whidbey says this is South Whidbey's best public beach. I've only been to a handful of other Whidbey Island beaches, and at this point, I'd have to agree.
Double Bluff Beach is all that and then some: a hidden paradise of beach forts, geological formations, surprisingly warm waters for wading, and long stretches of beach for walking and playing with your pup.
I think everyone should visit Double Bluff Beach in Whidbey Island: here's why!
8 Reasons to Visit Double Bluff Beach
It is home to beautiful geology.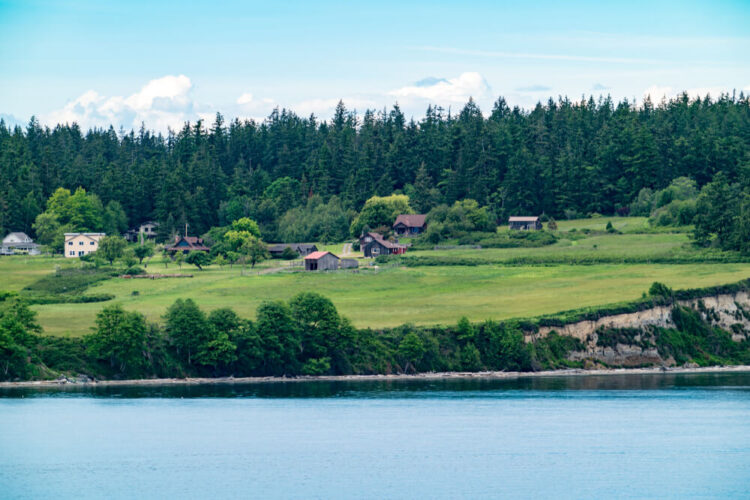 Some links in this post may be affiliate links. If you make a purchase through one of these links, we may earn a small commission at no extra cost to you. Please see our

disclosure policy

for more detail.
As you might be able to imagine from the name of the beach, it features two bluffs.
What is a bluff? A bluff is defined as "broad, rounded cliff [which typically] borders a river, beach, or other coastal area."
The views of these bluffs at the beach are part of what makes it one of the prettiest wild beaches in Washington.
On the far end of the beach, layered geological strata can be seen in the 200-foot bluff. It's absolutely beautiful and the geology alone makes Double Bluff Beach worth a visit!
There are tons of cool beach forts.
When I was researching my visit to Double Bluff Beach, there was no mention of the plethora of beach forts along the beach, which is what struck me the most when I visited.
These beach forts are made of driftwood are really fun to check out and great for kids to play in, and I've since dubbed it the Birthplace of Beach Forts.
It's perfect for long walks and beach activities.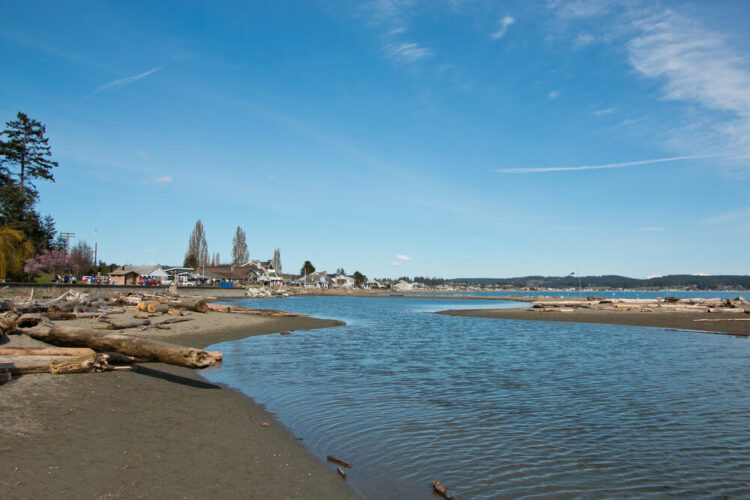 The beach is two miles long and flat.
That means it's easy to walk and find shells and rocks (such as agate and jade) as well as beach glass, or even go clamming!
Double Bluff Beach is super kid-friendly.
The sand and the abundance of drift logs make it a kid and kid-at-heart playground.
Who doesn't want to play in the sand or build a sea fort?
Plus, the shallow section of the beach makes it safer (and warmer) for kids to wade out and splash in the waves — supervised, of course!
The beach features incredible views.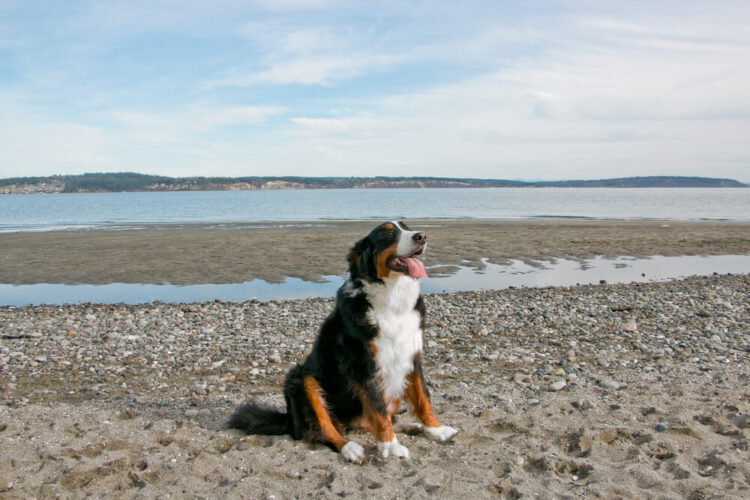 One of the cool things about Double Bluff Beach is all the great views you can enjoy.
The beach faces Puget Sound, and big ships and freighters pass by all day. And, on a clear day, you can see Seattle and Mt. Rainier, as well as, the Olympic Peninsula.
Lots of wildlife visit Double Bluff Beach.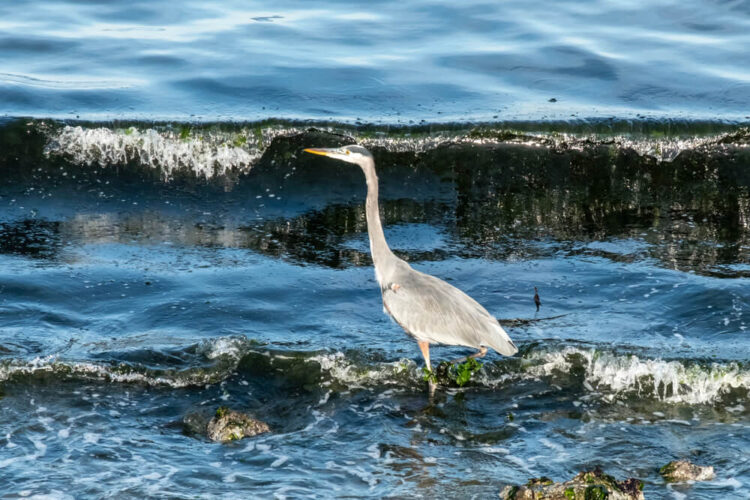 Double Bluff Beach is a great spot for dedicated bird-watchers.
Herons, eagles, and Peregrine falcons are frequent visitors, and I've even heard an occasional gray whale will make an appearance in spring!
Water sports are great at the beach.
Double Bluff Beach is also a favorite spot for kite-boarding in Washington.
Even if you're not personally about to go out there on the waves, it's really fun to watch the kite-boarders go wild out on the water!
Last but not least: It's dog-friendly!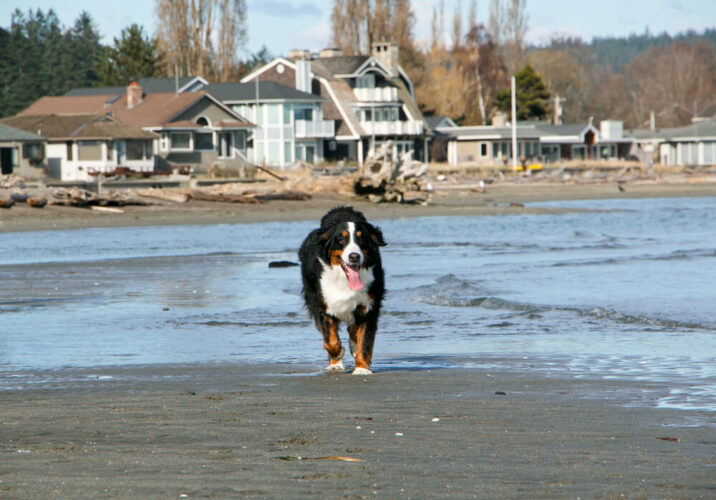 Anyone who loves to travel with their pet knows how awesome it is to find a beach that is truly dog-friendly. And Double Bluff Beach is just that!
Dog owners can let their dogs run off-leash along the beach, and with 2 miles of beach to explore together, there is plenty of space for your four-legged buddy to run without bothering anyone!
Notes for Visiting Double Bluff Beach
It's important when visiting any Pacific Northwest beach to be aware of the tides.
If you are unsure if it is coming in or out, ask a local!
The only downside to visiting Double Bluff Beach is the small parking lot and picnic area, which can fill up quickly. The day I was there, there were only a couple of parking spots open, so I was lucky to snag one!
Directions to Double Bluff Beach
Double Bluff Beach is about one mile from the small town of Freeland. From Highway 525 turn onto Double Bluff Road and follow it to the end.
Other Information on Whidbey Island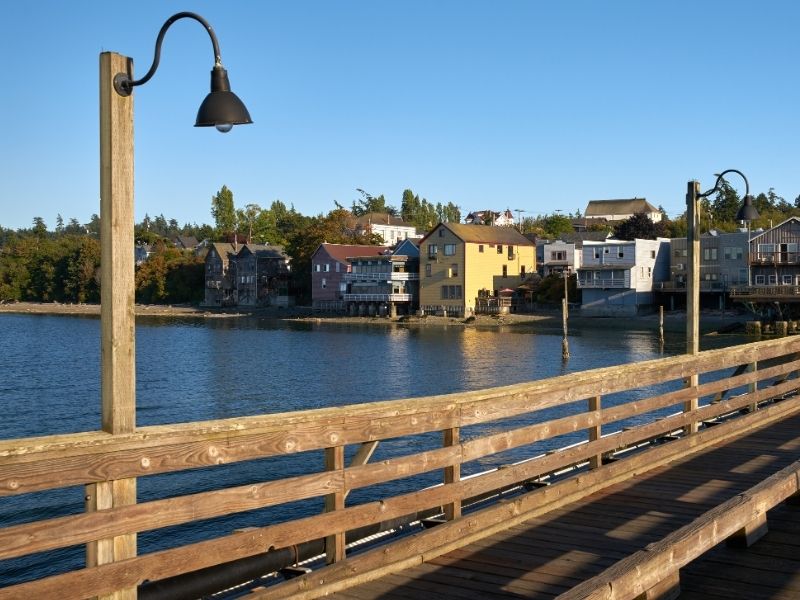 While visiting Whidbey Island, there is a lot of other cool things to do!
Be sure to visit the charming town of Coupeville, Washington — one of our favorite small towns in Washington.
It has a ton of history, including a beautiful historic wharf, that makes it one of the coolest places to visit on this beautiful Washington island.
While in Whidbey Island, you may want to take a side trip to Fidalgo Island and beautiful Anacortes, Washington as well as Deception Pass State Park.
These islands are connected by a bridge and are very easy to visit on the same day trip from Seattle.