Gig Harbor is known for its beautiful views, amazing food scene, epic array of waterborne adventures, and even its gondolas!
Yes, Gig Harbor is the Venice of Washington, and while that may be the town's main claim to fame, there are many other reasons to visit Gig Harbor than just its gondola rides, as fun as they may!
We'll go over all the best things to do in Gig Harbor in this post, focusing on activities, hikes, museums, and cool must-dos in Gig Harbor, as well as giving two personal recommendations for where to stay in Gig Harbor at the end of the post.
But if you're more interested in the foodie side of thing, you can hop on over to this guide of the best restaurants in Gig Harbor to whet your palate and get excited for your upcoming adventure.
The Best Things to Do in Gig Harbor
Walk around Arabella's Landing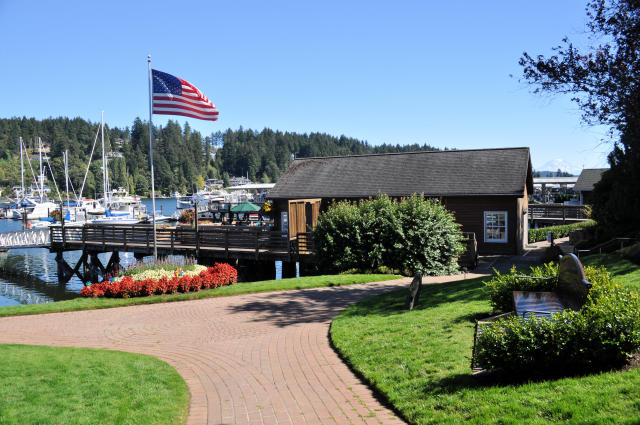 Some links in this post may be affiliate links. If you make a purchase through one of these links, we may earn a small commission at no extra cost to you. Please see our

disclosure policy

for more detail.
The best way to start off this list of things to do in Gig Harbor is by getting the lay of the land!
Start by wandering around the marina and checking out the shops along Harborview Drive. Skansie Brothers Park has recently been renovated, and so the area is beautiful.
Take a scenic gondola ride
There is only one place to ride in an authentic Venetian gondola in Washington State, and that is with Gig Harbor Gondola!
Your ride on Nelly includes a tour of Gig Harbor, history about points of interest, quiet time, Italian song, and a locally prepared box of cheeses, assorted meats, fruits, and chocolates.
The one-hour cruise option is $85 for two people, the 90-minute option is $115 for two people, and additional people are $20 each.
Rent a kayak for a beautiful paddle
Want to get out on the water in Gig Harbor? Renting a kayak is a fantastic way to see the harbor from another perspective.
Head to Gig Harbor Kayak & SUP Rental for affordable rates on single and double kayaks by the hour.
Walk the Cushman Trail
If you want to stretch your legs walk the Cushman Trail.
It's 6.2 miles in length and has 16-foot wide paved sections (great for distancing!), as well as sections near residential and businesses, and lots of uphill slopes which are clearly marked on the Cushman Trail Map.
Try your hand at stand up paddle boarding
Luckily the next awesome thing to do in Gig Harbor – SUPing at Lee's SUP – is right in the heart of town!
If you are a first-timer and nervous, don't be. The calm waters of the harbor make it perfect for beginners and allow for a nice leisurely paddle.
A 2-hour rental for a single kayak or SUP is $20, and $30 for a double kayak or pedal boat. We paddled to Gig Harbor Lighthouse, which is only accessible by water, and back.
Lee said an experienced paddler could get there in 20-minutes. I didn't have a watch on me, or even my phone, just in case I fell in, but we probably took around 35 to 40-minutes one-way. Afterward, take some time to freshen up and chill until the next stop.
Travel Tip: They typically close up shop during the winter months, but if the weather is good, give them a call, and they'll usually work something out.
Visit the Harbor History Museum
If you aren't the adventurous type and don't feel like getting out on the water, and that's okay, there are plenty of more things to do in Gig Harbor to enjoy!
The Harbor History Museum and Donkey Creek Park are also a short walk from the harbor area. The museum's permanent exhibit showcases the area's unique heritage and history.
The material is well presented and includes artifacts, video kiosks, hands-on exhibits, a small theater, and computer interactives.
One of the highlights of the exhibit is the 65-foot purse seiner Shenandoah, which volunteers are restoring. You can walk onboard, and if it's a working day, you can see the volunteers in action.
Afterward, take the trail next to the museum at Austin Estuary Park and meander over to Donkey Creek Park.
Hit the water with Destiny Harbor Tours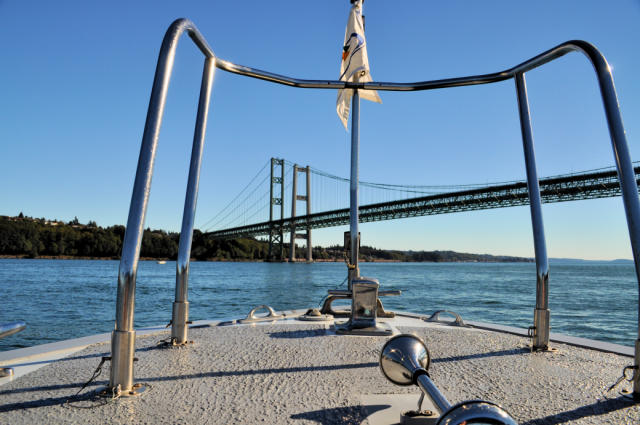 f you want more water time, I suggest a boat tour with Destiny Harbor Tours. The guides on the 2-hour tour talk about Gig Harbor's history, points of interest, and fun facts.
The tour goes to the Tacoma Narrows Bridge, where you'll hear fascinating stories about "Galloping Gertie," which swayed up to 20 feet, and the giant octopus who played pranks on the underwater divers during construction.
You'll also learn about the history of Salmon Beach and Point Defiance. Tours are scheduled daily from June through September, and by appointment from October to May.
Tours leave at 3:30 pm and are $40 adult, $35 senior, $30 children 5-12, children 4 and under free.
Enjoy the Finholm View Climb and a North Harbor Stroll
Not sure what to do in Gig Harbor in the morning?
Start your day with a lovely walk which includes a view of the harbor at Finholm View Climb. It's a great way to build up your appetite before hitting up one of the incredible breakfast places in Gig Harbor!
Enjoy Olalla Vineyard & Winery
Olalla Vineyard & Winery is a 14-minute drive from Gig Harbor. The vineyard grounds are lined with rows of grape vines to wander through, a tasting room that embodies the romance of Tuscan villa with plenty of outdoor seating, views of Vashon Island, and a nearby salmon stream. Olalla ferments their wine naturally in Italian clay amphorae, and sampling their signature Golubok wine, which has an earthy and smoky flavor is a must.
Where to Stay in Gig Harbor
The Maritime Inn
The Maritime Inn has an interesting past. It was built in 1901 by Lee Makovich, a Yugoslavian immigrant and well-known fisherman in Gig Harbor.
Makovich's connection to the water began in 1888 when he went to sea as a deck boy at the age of eleven. Four years later he ranked as an able seaman.
When he landed on the west coast, he made his way up to Puget Sound and settled in Gig Harbor where he married and had children. He co-owned five fishing vessels, helped organize the Fisherman's Packing Corporation, and was one of the signers of the Fraser River Pacific Salmon Treaty.
For over 85-years the house remained in the Makovich family, and a section of the original home is part of the hotel.
Today, The Maritime Inn is a 15 room boutique hotel, and each room honors a historic vessel that operated in Gig Harbor like the Wollochet, the Eagle, and the Shenandoah (which you can see at the Harbor History Museum). Every room has a gas fireplace, Pima bedding, a flat-screen TV, cable/HBO, refrigerator, snacks for purchase, and all rooms but one has a water view. Some rooms also have private decks and jetted tubs.
The inn is not next to the water, but it very close, only a very short walk across the street and through the community park. The inn is within walking distance of Gig Harbor restaurants like Netshed No. 9, Brix 25º, and Tides Tavern, and parts of the Cushman Trail.
The lobby of the Inn is on the backside of the building, and the day you check in you receive a complimentary glass of Washington wine. The day I arrived I had activities planned so that I couldn't enjoy my glass of wine right then. They said it was no problem and to come back later.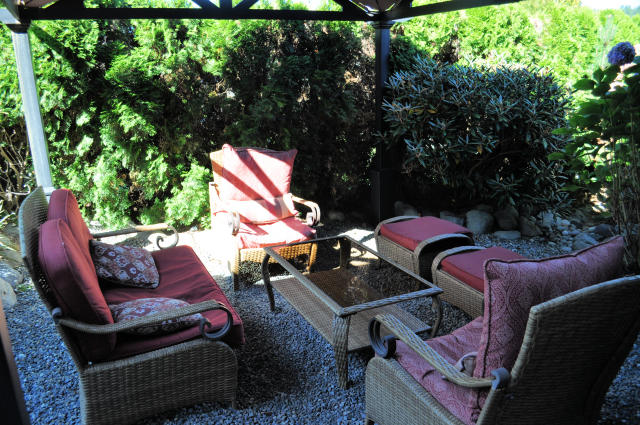 I came back in the late afternoon and since it was such a warm day I decided to relax under the covered patio garden.
I stayed in The Tides room, which is a queen bedroom at street level with a very comfortable bed with soft linens, a gas fireplace, a dresser, flat screen TV, a sitting area with a loveseat, and a small table with two chairs. From my window, I could see the harbor and Skansie Brothers Park and Netshed, which had just gone under construction. (I was busy during the day, so the noise didn't bother me during my stay.) That night, I slept very comfortably, and almost wished it was chillier so I could turn on the fireplace.
The next morning I popped back into the common area (past the lobby) to check out the breakfast.
Breakfast was an array of oatmeal, pastries, fruits, and juices. Guests may load up the trays and take their breakfast back to their room, or enjoy it on the outside picnic tables or the patio garden.
At A Glance
Tasteful rooms with harbor views
Complimentary glass of wine the day of check-in
Garden patio
Complimentary breakfast
Within walking distance of restaurants, museums, tasting rooms, brewery, the market
Within walking distance of Gig Harbor Gondolas and the Cushman Trail
Pros:
Hotel with a neat history
Water view rooms
Rooms with private decks
Rooms with jetted tubs
Complimentary glass of Washington wine
Complimentary breakfast
Within walking distance of restaurants, a distillery, brewery, store, and gondola rides
Free WiFi
Cons:
Not dog-friendly
For a bit longer there will be nearby construction
Some of the rooms are near the street (this didn't bother me, but it might for some)
Would I stay at the Maritime Inn again? Yes! My room was very comfortable and spacious. I also enjoyed the garden patio, and a complimentary beverage always makes a good impression.
One of the advantages of the inn is that it a short walk to some of my favorite restaurants in Gig Harbor like Netshed No. 9, JW at the Trolley, Brix 25°, as well as Tides Tavern and 7 Seas Brewing Company. It is also almost across the street from Gig Harbor Gondola!
The Waterfront Inn
The Waterfront Inn is a 1918 historic fisherman's home that was converted into an inn. The seven guest rooms are tastefully decorated and each has a private entrance, a river rock gas fireplace, a sitting area, large bathrooms with Jacuzzi tubs, flat screen TVs, and free WiFi.
In a common area, the rooms share a small wet bar with wine glasses, mugs, teas/coffee, mini-fridge and hot water. There is a range of bed sizes and spaces, so it's best to check their website to see what fits your group size.
If you are traveling as a couple or solo, I recommend the waterfront rooms – The Regatta Room, The Boathouse, and The Lookout – as they are steps away from the water and have an outdoor red brick patio.
One of the highlights of this property is its access to the water, which includes a dock, an over-the-water lounging patio with lots of chairs and tables, and complimentary kayaks for guests to use (you must sign a release form). The inn is also within walking distance of restaurants, museums, SUP rentals, and a couple of viewpoints that take in the harbor view with Mt. Rainier.
During my hosted stay, I stayed in the Regatta Room, which is the middle room on the ground level. All of these rooms face the water, and one can enter and exit via the patio door. I was the first to arrive, so I got to peek into the other rooms. All of them have a queen-sized bed with a small sitting area next to the fireplace, and everything faces the water. The room behind the bedroom is the spacious bathroom and a door to the lower level common area as well as stairs that will take you to the front door.
On my bed, was a welcome note from the innkeeper, a couple of pieces of chocolate, and a list of restaurants, which also noted nearby eateries that give a discount to inn guests.
At a Glance
Tasteful harbor view rooms
Personalized innkeeper service
Complimentary kayaks
Over the water lounging patio
Within walking distance of restaurants, museums, market, and the Finholm View Climb
Within walking distance to boat tours and water sport rentals
Pros:
Water view rooms
Complimentary kayaks
Lounging deck -think wine/beer in the afternoon/evening and coffee/tea in the morning
Within walking distance of restaurants, museums, store, boat tours, and kayak/SUP rentals
Free WiFi
Discounts to nearby eateries
Helpful innkeeper
Cons:
While it feels much like a B&B, it is not, and therefore does not have breakfast
Not dog-friendly
Tricky parking
With the water view, you won't want to get out of bed! (wait, I think that might be a pro?)
Would I stay at the Waterfront Inn again? Yes! While not in historic downtown, the inn's location in the north harbor has so many things going for it.
First, the view. Then, a stone's throw away is Morso's, Anthony's, Devoted Kiss, Finholm Market, Lee's SUPs, Destiny Harbor Tours, and a little further away, but still within walking distance is JW's, and some other eateries I didn't get to try, as well as the Harbor History Museum and park.
Pin This Guide to Things to Do in Gig Harbor, WA