Exploring wine country is a big part of my small town travels. In the fall, the Idaho Wine Commission invited me to Boise, Idaho to experience more of Idaho Wine Country. Having toured the Lewis Clark Valley AVA, I already knew I wanted to learn more about this wine growing region in the Pacific Northwest.
After spending a couple of days visiting wineries in Garden City and along the Sunnyslope Wine Trail, I discovered why Food & Wine named Idaho "America's Next Must-Visit Wine Region." Here is a list of must-visit Idaho wineries, to get you started.
Disclosure: You can help support my small town travels by using the affiliate links in this post. Using the link is at no additional cost to you, and provides a small commission to me to help support my blog.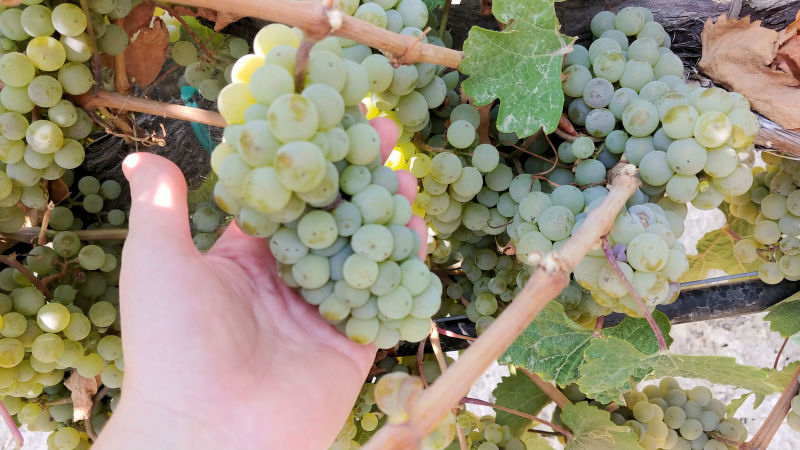 Some links in this post may be affiliate links. If you make a purchase through one of these links, we may earn a small commission at no extra cost to you. Please see our

disclosure policy

for more detail.


Garden City Wineries
Garden City has an interesting history that includes farming, gardens, and gambling. Set along the Boise River, this small town (the area has grown so much it is more like a suburb of Boise) is a short six-minute drive from downtown Boise and has hip craft brewery and wine scene.
Since Garden City is so close to Boise, the best way to experience this area is by Boise Green Bike or scooter. Depending on what winery you visit, it will be a 12 to 30-minute bike ride with much of the trail being along the Boise River Greenbelt.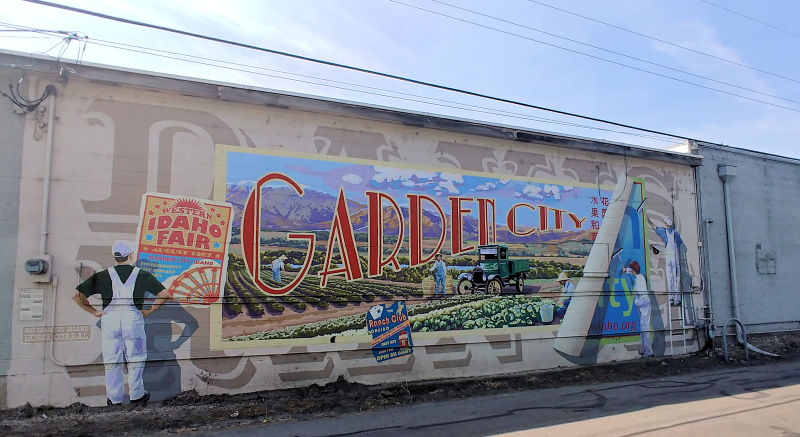 Travel tip: If you want to stay in Garden City, The Riverside Hotel is right next to Telaya Wine Co. and the Boise River Greenbelt.
Telaya Wine Co.
Telaya Wine Co. is loved not only for its wines but for its scenic setting right along the Boise River Greenbelt with an outdoor patio and a gas fireplace. This is a prime spot to sip wines and people watch. The tasting room opens daily at noon, with varying closing times. Bring snacks and make a day of it!
My favorite wines are the Snake River Valley Malbec and Grenache Blanc.
Cinder
Located inside a large warehouse, Cinder has a contemporary industrial vibe. Inside features a long tasting bar and additional seating with tables and chairs. Once you find a wine you like, hang out and pair it with a cheese board. The tasting room opens daily from 11 a.m. to 6 p.m. and stays open to 8 p.m. on Friday nights.
My favorite wines are the dry Viognier and Syrah.
While touring the winery we got to sample freshly pressed grape juice right from the press!
Par Terre Winery
The owners of Par Terre Winery met while dancing at a ballet company and throughout their dancing careers continued to make wine at home. With their dance careers coming to an end, they followed their next passion — wine! The tasting room is cozy and offers views into the production and barrel room. Hours are Thursday through Sunday from noon to 5 p.m.
My favorite wines are the dry Rose and the Syrah.
Travel tip: More wineries in Garden City include Split Rail Winery, Syringa Winery, Potter Wines (who are known for their jalapeno wines), and Coiled (there is a wine bar in downtown Boise too.)
Sunnyslope Wine Trail
The Sunnyslope Wine Trail has over 15 wineries, and you could easily make a 2 or 3-day trip out of touring the tasting rooms. If you do that, stay at a nearby hotel in Caldwell or Nampa, which will save you drive time from Boise. During our trip, we stopped at two tasting rooms and sampled additional Sunnyslope Idaho wines.
Koenig Vineyards
Set on the estate, Koenig Vineyards makes a grand impression with a tower, water fountain, and outdoor seating shaded by pergolas. Find a wine and take it outside to the tower or play a game of giant chess. Open daily from 12 p.m. to 5 p.m.
My favorite wines are the Cabernet Sauvignon, Riesling, and Sangiovese.
Sawtooth Winery
Sawtooth Winery has been producing wines for more than 30 years. The tasting room is elegant and cozy with an outdoor patio. When you find a favorite pour, chill outside and take in the Owyhee Mountains vista. Open daily from 11 a.m. to 5 p.m.
My favorite wines are the Merlot and Tempranillo.
Travel tip: Ste. Chapelle Winery, Idaho's largest winery, is right next door. Visit both and make a day of the experience.
We also sampled wines from these wineries Fujishin Family Cellars, Hat Ranch Winery, Scoria Vineyards, and Williamson Vineyards and I recommend checking out their tasting rooms.
Downtown Boise Capital Table
To sample Idaho's food and wine scene all in one spot in a fabulous location right next to the Idaho Statehouse (How cool is that?!), plan to attend the Downtown Boise Capital Table. The evening starts with a welcome drink and continues with a four-course meal from one of six downtown Boise restaurants, and each course is paired with an Idaho wine.
Tickets are $150 per person for this unique experience. The dining table is long and shared, so you'll have a chance to chat with locals, and if you are nosy like me, ask them about all the places they like to go to in Idaho.
Where to Stay in Boise, Idaho
Idaho's state capital is a vibrant city with fantastic eateries and plenty of lodging options within the heart of downtown.
Hotel 43
During my first visit to Boise, Hotel 43 hosted my stay. The boutique hotel features spacious, stylish rooms with jetted tubs, free WiFi, and charging stations at the desk and nightstand. It is also connected to Chandlers (one of the best steakhouses in Boise).
For three days, Hotel 43 served as the home base for our group. I found my classic boutique guestroom to be very comfortable and cozy and could recharge each night. Wineries ranged from 7 minutes away to 40 and since this city has very minimal traffic compared to other cities like Seattle, we got to our destinations quickly and easily.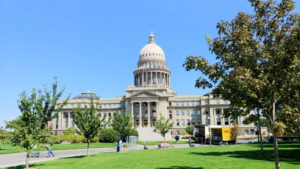 Travel tip: We explored downtown Boise by foot and to give you a sense of how easy it is to walk around, the Idaho Statehouse, which is one of Boise's most iconic landmarks, is six blocks from the hotel and a 10-minute walk.
What other amenities will travelers love about Hotel 43?
Serta Euro-top beds
Free airport shuttle
Complimentary bike rentals
Free WiFi
Charging stations at the desk and nightstand
Every room has a jetted tub
Complimentary Arts Passport (free admission to the Boise Art Museum and discounts with art partners)
Complimentary shoe shine
One pm check-out
A 24-hour fitness room
Coffee and snack bar
Book a room directly with the hotel or use one of my affiliate links such as TripAdvisor or Hotels.com, which is no extra cost to you, but gives me a small commission.
Red Tag Sale - Save Up to 40% at Hotels.com. Book by 8/4, travel by 8/26
Cool fact: What does the number 43 mean in Hotel 43? Boise lies on the 43rd parallel, and is the 43rd U.S. state.
The Grove Hotel
On my second trip to Idaho, The Grove Hotel hosted me for four days. The hotel has a Four Diamond AAA rating, and rooms are bright and large with green accents and fantastic views. Newly renovated the first floor features a lobby with inviting seating arrangements, a U-shaped bar, and a must dine at restaurant named Trillium.
I loved my spacious room and that I could watch the sunset at night from my window. I slept well each night and felt recharged each morning.
What other amenities will travelers love about The Grove Hotel?
Free airport shuttle
Rooms with views
Fitness Club and Spa
A heated indoor pool and a hot tub with a view
Easy access to CenturyLink Arena
Complimentary WiFi
Free cruiser and mountain bikes
In-room Starbucks coffee/Bigelow teas
Book a room directly with the hotel or use one of my affiliate links such as TripAdvisor or Hotels.com, which is no extra cost to you, but gives me a small commission.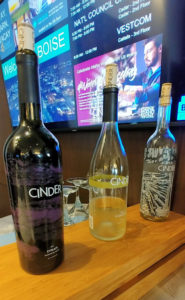 Travel tip: On Wednesdays, the hotel features an Idaho winery, and hotel guests of age receive complimentary tastes.
Both hotels are a short walk to The Grove Plaza, a circular downtown gathering place with a water feature, nearby restaurants, the Boise Centre, and CenturyLink Arena Boise. This section of the plaza is pedestrian (bikes and scooters too) only and runs right through Eight Street, which is an excellent spot to get your bearings for first-timer visitors to Boise and as the locals say, "Any restaurant on 8th Street is going to be good."
Additional Boise Travel Tips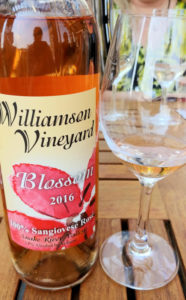 If the purpose of your trip is to experience Idaho wineries in Garden City and explore downtown Boise, there is no need to rent a car. Walking around downtown is super easy, and Uber or Lyft are available for longer distances as well as scooters and Boise Green Bike. If you plan to visit the Sunnyslope Wine Trail, book with Idaho Wine Tours or tour by rental car.
Travel tip: Boise is very bike friendly, and a ride along the 25-mile Boise Greenbelt is a must during your stay. If you stay at Hotel 43 and The Grove Hotel you'll have access to complimentary bicycles. If you are out and about, rent a bike at one of the Boise Green Bike Stations.
If you plan to take wine home with you, wines fly free for certain West Coast destinations with Alaska Airlines. See the fly free destination list here.
Are you ready to taste Idaho wines?
Pin me for later!