The small town of Manzanita is a hidden gem along the Oregon Coast. In fact, I drove by it a handful of times before I even realized there was a town there!
This coastal community has plenty to offer, including a gorgeous seven-mile beach (that is known to have glowing sand) and a small and very walkable downtown with eateries, a bar, a winery, shops, and a spa.
Tucked along the Oregon Coast is the small town of Manzanita – one of my new favorite places in Oregon.
Close to Highway 101, Manzanita can be easily passed by if you are unfamiliar with the area. I actually drove right by it a few times before I realized it had a downtown.
Part of this had to do with most of the small towns along the Oregon Coast like Seaside, Cannon Beach, and Lincoln City having Highway 101 going right through them.
Being off the highway, Manzanita has the benefit of easy access to this popular coastal drive, as well as being out of the traffic it produces. Which, for a small-town lover like me, makes it an ideal choice for a beach getaway.
While the population of Manzanita is around 656, it is not lacking in leisurely things to do.
Manzanita Beach offers 7-miles of sand to stroll, the downtown is easily walkable with shops, eateries, wineries, and bars.
If you want to know more about one of the best small towns in Oregon, here are the highlights from my stay in Manzanita.
Things to Do in Manzanita, Oregon
Walk or ride on Manzanita Beach
Some links in this post may be affiliate links. If you make a purchase through one of these links, we may earn a small commission at no extra cost to you. Please see our

disclosure policy

for more detail.
The big draw in Manzanita is its gorgeous 7-mile beach.
With plenty of soft sand and a nearby Neakahnie-Manzanita State Park, you'll understand why Manzanita has the "third most photographed scenery in all of Oregon."
If you'd rather do something other than playing on the sand, there is horseback riding and Bahama Mama's rents boards, beach fare, and bikes.
One of the many reasons why I love visiting this Pacific Northwest state is that Oregon beaches are public, which means everyone gets to enjoy nature's beauty.
Plus, many beaches are dog-friendly and Manzanita Beach is leash-free, allowing your four-legged family members to join in the beach day fun.
As you can see in the photos below, Hazel, my Australian Cattle Dog, loved running around Manzanita Beach!
Cool facts: Glowing sand – also known as bioluminescence – occurs in Manzanita!
Enjoy some local Oregon wines
I'm a huge wine lover, and on my walk around town, I was thrilled to discover the winery at manzanita.
Only a couple of blocks from the Inn at Manzanita, where I stayed (and recommend you stay as well!), the winery offers glass pours and wine tasting flights of their small-batch wines as well as beer, cider, and gourmet light fare.
There is even a s'more kit for kids (and those with a sweet tooth). Guests can sit inside or outside on the lower patio or upper deck and dogs are very welcome. In fact, Pinot, the owner's dog, is the label for their wine and on their glasses!
Have Breakfast at Bread and Ocean
I was very tempted to get one of their delicious-looking cinnamon rolls, but I am trying to stay healthy while traveling!
I ordered a veggie quiche with a side of fruit and a breakfast sandwich with egg, ham, and cheese (for Hazel – she's a spoiled dog!).
They also have buttermilk waffles, granola bowls, and frittatas.
When your order is ready, they call your name, so I went back outside to get us situated at one of the picnic tables.
Inside, the cafe was packed and the line never seemed to stop so I was expecting it to be some time before I heard my name called, but within several minutes our food was ready.
Hazel gave the breakfast sandwich a paw up and my quiche was delicious! I'd totally eat here again.
Wander downtown Manzanita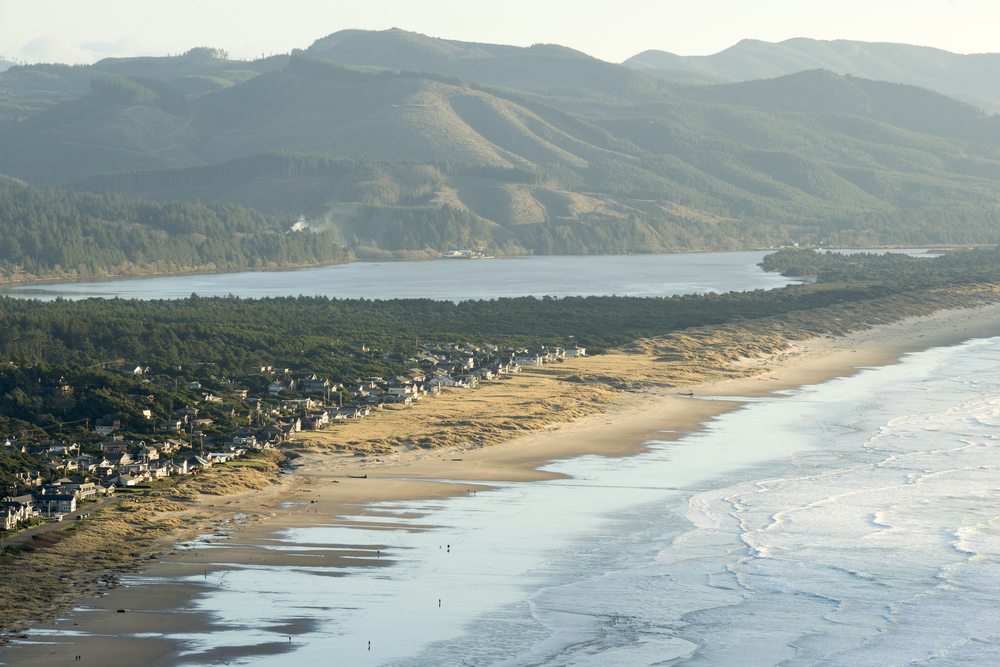 Laneda Avenue is the main drag in town, and it's a great place to go for a mid-morning or afternoon stroll.
Here, you'll find the majority of Manzanita eateries like Sand Dune Pub, Marzano's Pizza Pie, El Trio Loco, and Schwietert's Cones & Candy (every beach town has to have an ice cream shop!).
A popular dining stop that is at the beginning of Laneda Ave is Big Wave Cafe, which is part of the North Coast Food Trail.
If you'd like to pamper yourself on a beach getaway, head to Spa Manzanita.
For shopping, there are boutique shops, gift shops, an independent bookstore, a very cute pet shop called Four Paws On The Beach, and an art center.
Needless to say, for a town of its size, there are plenty of non-beach things to do in Manzanita.
Take a day trip to Cannon Beach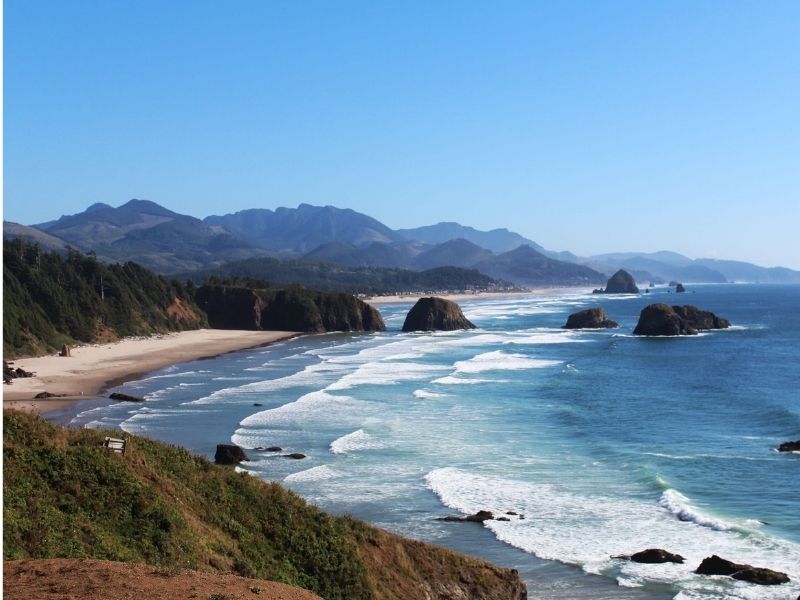 Cannon Beach is just a 20-minute drive from Manzanita, so if you're finding that you want a little more Oregon Coast action, hit the road and head to beautiful Cannon Beach!
This is one of the most famous places along the Oregon Coast and is a favorite stop for people making the drive along the Pacific Coast Highway.
Cannon Beach is also dog-friendly, so long as the dog is either on a leash or is properly trained to respond to their owner's voice.
Where To Stay In Manzanita
While one could easily visit Manzanita for a day trip, you'll definitely want to stay the night in this charming Oregon beach town.
It's friendly and laid-back, and most lodging is within easy walking distance of the beach. For a small town, there is surprisingly no lack of Manzanita Beach rentals or inns.
For the town of its size, you'll find there is plenty of accommodations. However, if you are looking for a touch of luxury and romance, as well as a place to bring your four-legged friend, look no further than the Inn at Manzanita.
Inn at Manzanita
If you are looking for a bit of luxury on your Manzanita Beach getaway, I highly recommend the Inn at Manzanita.
This 13-room boutique inn is a block from the beach and steps away from the main hub of downtown.
The property is unique, with four buildings nestled together amongst towering pine and spruce trees.
They have a variety of room configurations, including rooms with views, and suites with sofa sleepers, kitchenettes, and full kitchens for families or longer stays.
As a hosted guest of the Inn at Manzanita, I stayed in a pet-friendly room with a private deck and a peek-a-boo view of the beach. I thoroughly enjoyed my stay. The room exuded calm with its natural tones and at night I could hear the waves curling onto Manzanita Beach.
Room amenities include cozy robes, gas fireplaces, spa tubs, cable, WiFi, coffee/tea and down comforters.
And, if you have a four-legged companion, many of their rooms are pet-friendly ($15 per night per pet).
Hazel loved hanging out on the porch and keeping an eye on all the people she'd like to herd!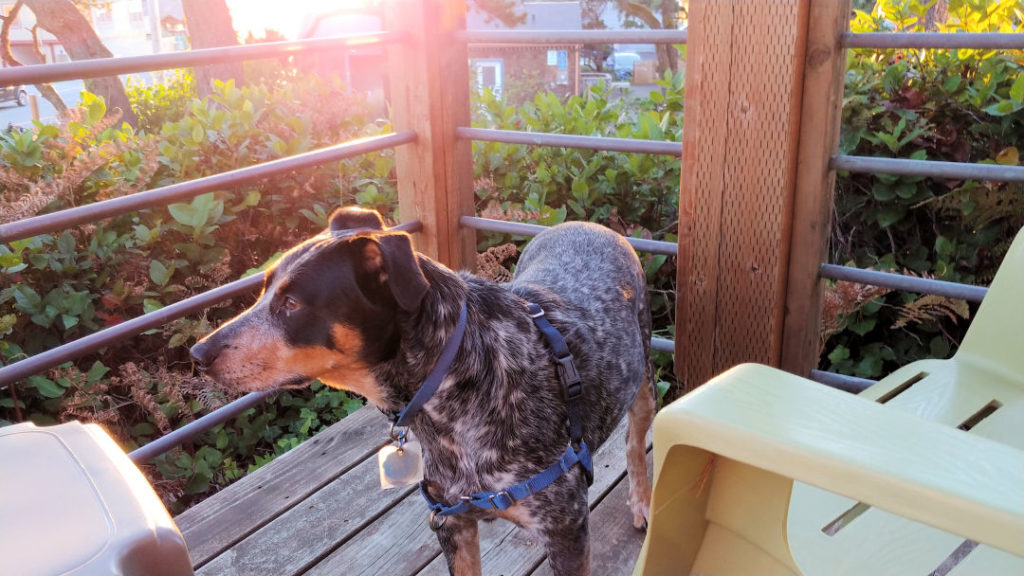 Book direct with the Inn at Manzanita or through one of my affiliate links, such as TripAdvisor, Hotels.com or Expedia.

Using an affilate link is at no additional cost to you, and it provides me with a small comission.