It is easy to believe that if you see one of the best coastal towns in Oregon, you have seen them all… but that is far from the truth.
With beautiful forests, large haystacks, sand dunes, and beaches sandy and rocky each little town along the coast has a charm all its own. Choose your perfect destination from this list of the best beach towns in Oregon.
The weather along the Oregon coast is often wet and cold but doesn't normally freeze.
Summertime brings warmer weather and some especially nice days for soaking up the sun on the sand. But weather changes dramatically day by day, be prepared for sun and heat one day and rain and wind the next.
It is always good practice to be safe near the ocean, bring a tide map and keep an eye out for rogue waves while walking along the shore.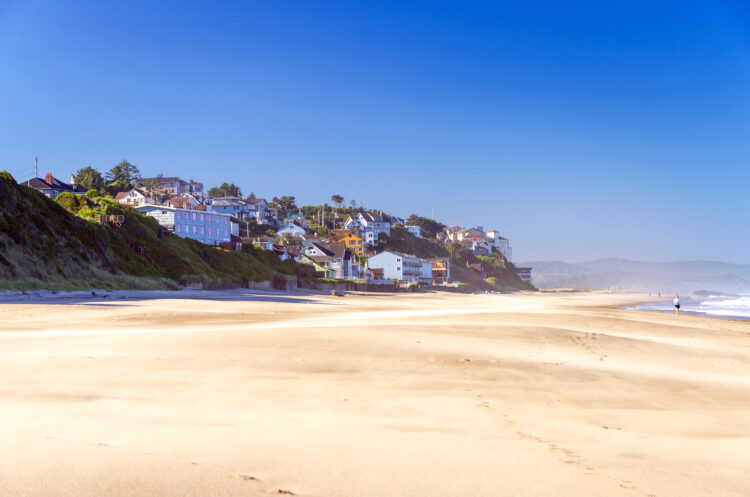 Some links in this post may be affiliate links. If you make a purchase through one of these links, we may earn a small commission at no extra cost to you. Please see our

disclosure policy

for more detail.
Astoria
Astoria is a bit of a larger Oregon coastal town but highly popular for the aesthetic of the architecture as many of the homes are in old Victorian style.
Take a walk along the scenic waterfront and be sure to check out all the wonderful local shops and eateries. Learn the rich history of the area by visiting Fort Steven, Fort Astoria, or one of the many museums.
There is even a historic shipwreck to explore near Coffenbury Lake and outdoor recreation such as swimming, canoeing, hiking, and biking are available here.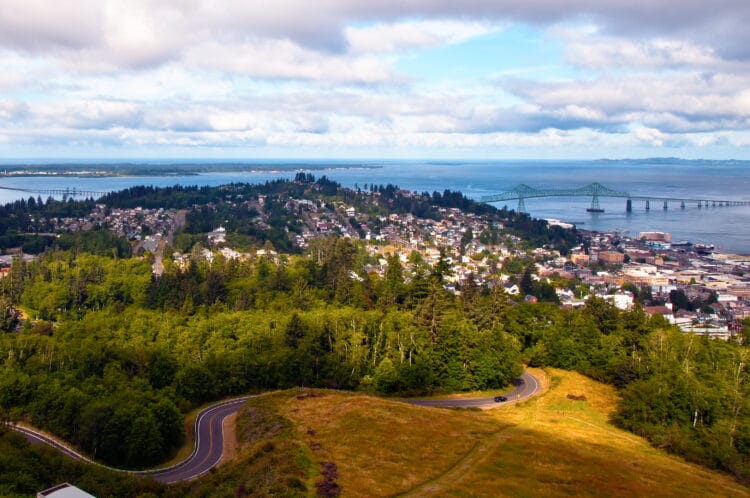 Seaside
This is the place to go for a more luxurious oceanfront stay as large resorts in this Oregon beach town offer great beach views from your room.
Nearby shopping, spas, a mall, aquarium, and a great variety of food ensures a great time without going too far.
Seaside Beach is a must-see while visiting and other great things to do include hiking at Saddle Mountain Trail or a boat tour out onto the water.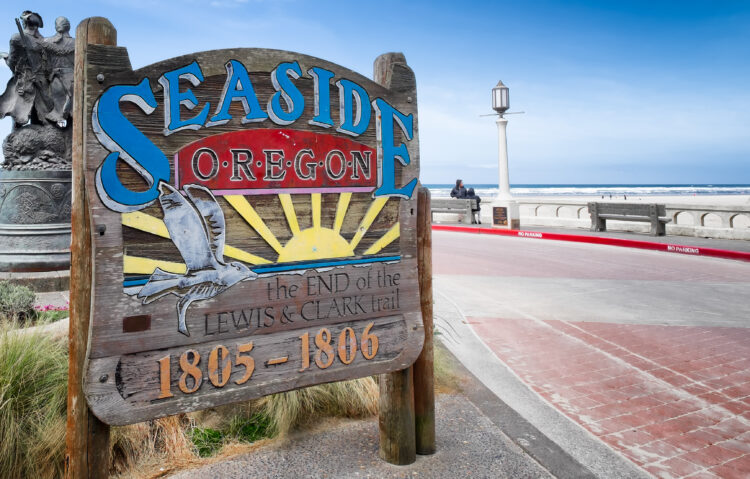 Cannon Beach
Probably the most iconic beach destination in Oregon, Cannon Beach is famous for its large haystack near the town that is home to nesting birds and large tidepools.
This sandy beach is surprisingly large, and many people run or bike up and down it with plenty of room for people casual strolling.
Be sure to check out all the fun little shops and the adorable cafes for good coffee (or hot chocolate) and food.
Cannon Beach is an essential addition to a coastal road trip in Oregon!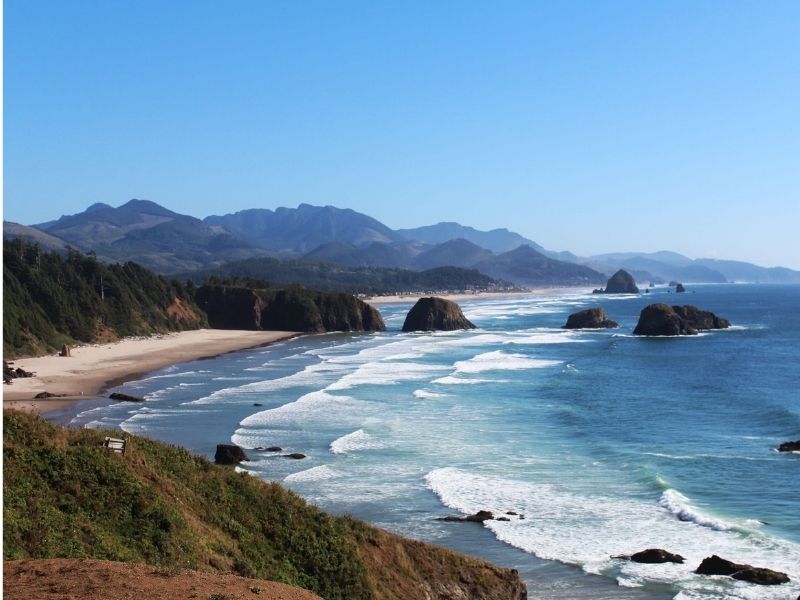 Manzanita
A lesser-known destination, Manzanita is quiet as it is off the beaten trail of coastal towns in Oregon, but it is still very charming.
There are many great food options here such as Bread and Ocean, a bakery that regularly sell out of their famous cinnamon rolls.
The nearby beach is massive and a popular surfing spot. There are also many hikes that wander through forests and climb up knolls to end at beautiful ocean views.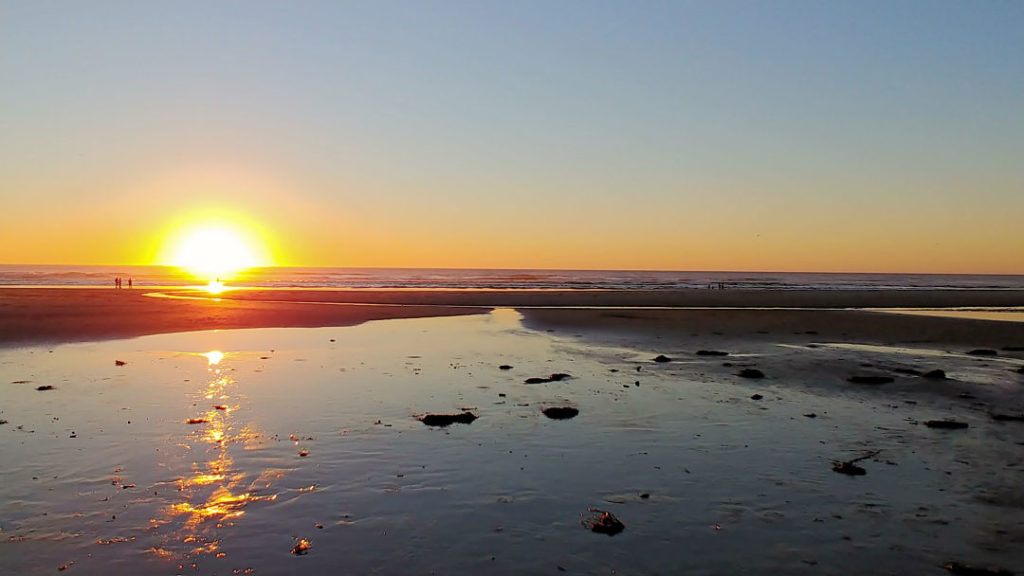 Rockaway Beach
The place to go for a quiet and more secluded beach experience as it is guaranteed to be less crowded than the nearby Cannon Beach.
Rockaway Beach's town can be walked in a few minutes, but this just means more time to enjoy the long sandy shores.
Stay in one of the rentals right on the beach and spend the evenings watching the sunset at this perfect romantic destination.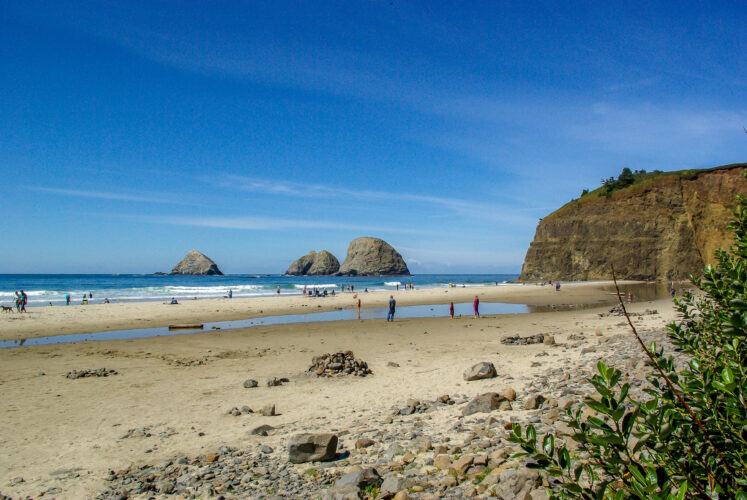 Bay City
Many great activities are offered in this adorable little town, most notably the Oregon Coast Railriders where you can pedal special cycle bikes on an old railroad track.
Stop by Tillamook Bay and Kilchis Point Reserve for beautiful nature views and many hiking trail options.
At the end of the day grab some food at the famous Tillamook Creamery or Tillamook Country Smoker Factory Outlet.
Lincoln City
This is a center for the arts, especially glassblowing, and a great stop for outlet shopping.
And it goes without saying, but great food can be found here too all with beautiful beach and forest backdrops.
Be sure to stop by Prehistoric Museum for some history and the charming Mossy Creek Pottery as the building is as beautiful as the art inside.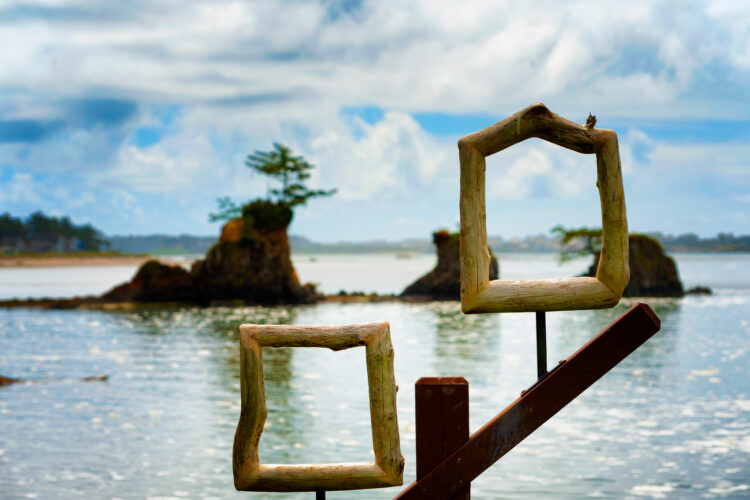 Otter Rock
People come to this Oregon beach town for the nearby Devil's Punchbowl and amazing rock formations constantly battered by the ocean waves and stay for the charming little town.
Visit the unique Otter Crest Marine Gardens and the Whale, Sea Life, and Shark Museum for great wildlife information.
Other activities include fishing excursions, wineries, and multiple parks to enjoy.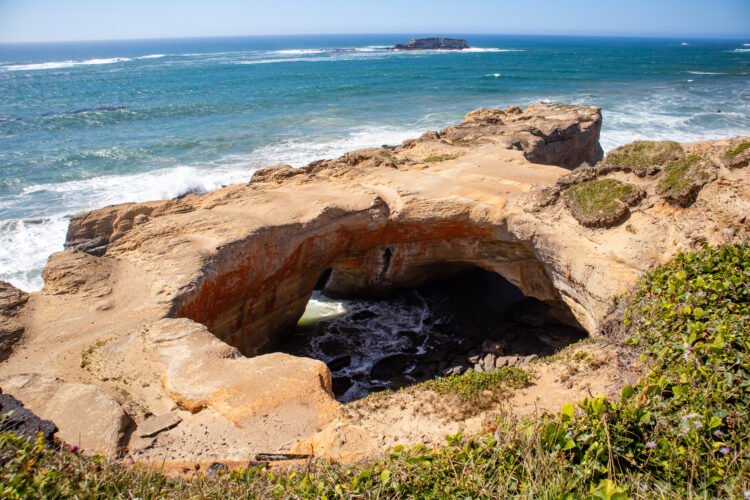 Pacific City
Pacific City is located along a much more dramatic stretch of Oregon coastline with cliff diving right into the ocean, breaking up the large sandy beaches.
This is also the area to see sand dunes at Cape Kiwanda State National Area or meadows bursting with wildflowers in the spring at Nestucca Bay National Wildlife Refuge.
In the town itself, visit one of the many wonderful art galleries and enjoy breweries with ocean views.
Newport
Known as the Capital of the Oregon Coast, this unique and quirky town features great food, modern art, and interesting museums. It's also one of the best small towns in Oregon!
There is great downtown shopping here and multiple great restaurants and breweries to choose from. Many businesses are filled with great local art.
Be sure to stop by the two historic lighthouses and enjoy some relaxing time on the beach.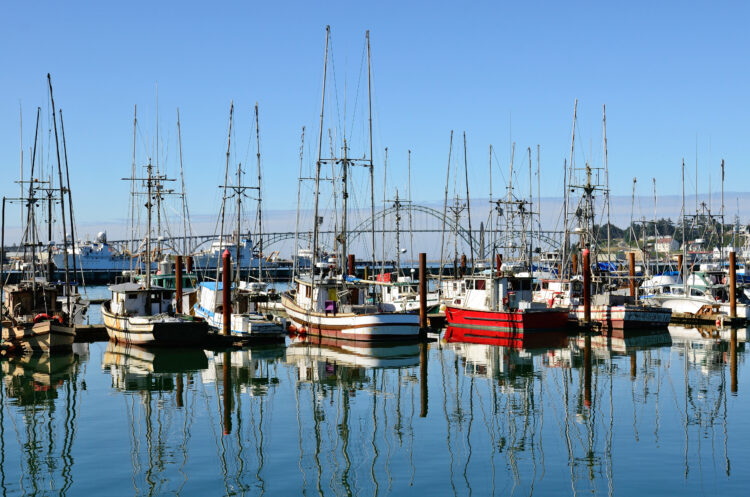 Waldport
Waldport is a quiet and relaxing spot to enjoy the wilderness as this town is nearby to many parks, each with a variety of views from forests, to meadows, and beaches.
Cozy cottages are a specialty here and absolutely worth a say in.
Don't forget to leave without stopping by Pacific Sourdough Handcrafted Specialty Breads for homemade bread.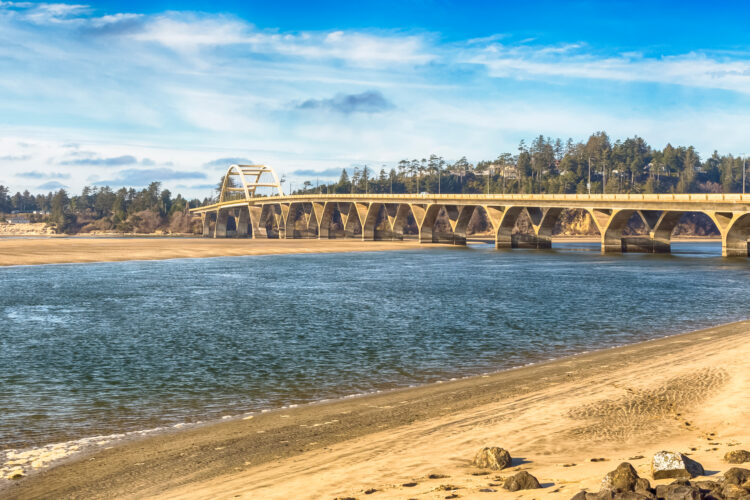 Yachats
Beautiful and luxurious hotels sit on the edge of rocky shores for the perfect view of crashing waves in Yachats, Oregon.
The nearby Cape Perpetua Scenic Area is also the highest point on the Oregon Coast and a beautiful area.
The town itself has plenty of great art galleries and little shops to enjoy.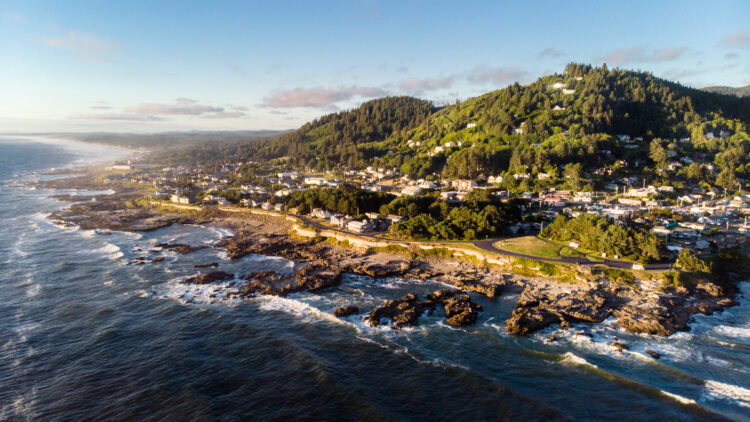 Florence
Florence, Oregon is a very popular spot for its proximity to Oregon Dunes National Recreation Area, the Sea Lion Caves, and Heceta Head Lighthouse. There are many activities to easily fill a few days.
The town itself has a great Old Town and is home to the Oregon Coast Military Museum.
One of the best spots is the Blue Heron Bed and Breakfast, perfect for a more romantic getaway.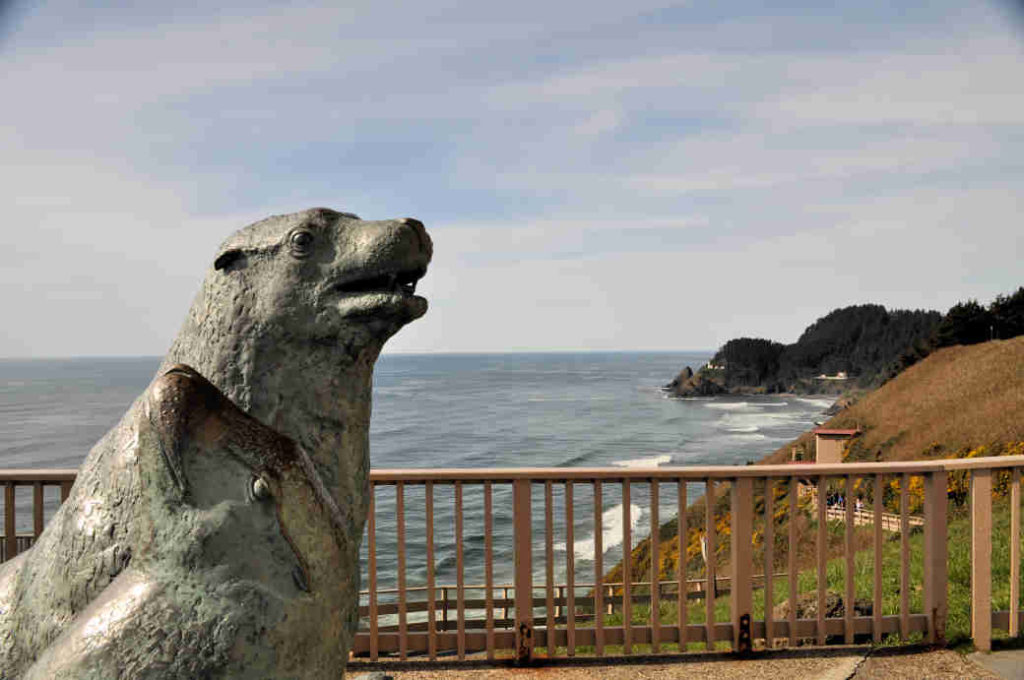 Winchester Bay
This is another great spot to enjoy the nearby sand dunes and many parks while also being of the beaten trail.
Golden and Silver Falls State Natural Area is a great spot to hike and enjoy nature.
At the end of the day, this town has multiple great little bars to have some good food and drinks.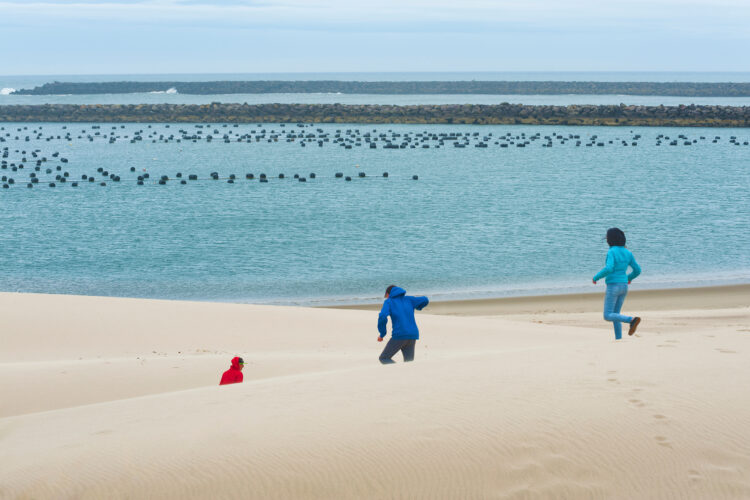 Lakeside
The perfect option for a little bit of everything, with multiple lakes, dunes, forests, and ocean fronts there is something for everyone.
This is a popular area for RV and tenting in particular as the multiple lakes are great for all kinds of water sports.
The town is ready and eager to offer rentals in the morning and food and shopping after a day on the water.
Coos Bay
Charming Coos Bay is a little port town with plenty of activities, including a large beach to fly kites and build sand castles.
The town has a great reputation for wonderful seafood, especially twists on the classics.
There is even a great seafood market to see what is available and to pick up some fresh ingredients.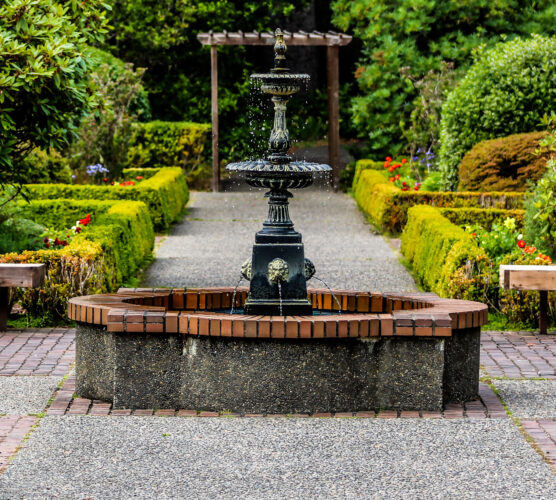 Bandon
Bandon, Oregon is a surprisingly modern and unique spot to stay with many great things to do including Circles in the Sand, an outdoor art attraction.
Visit the nearby and well-kept lighthouse, one of many art galleries, and the local fish market.
A must-do is the Stillwagon Distillery, one of many tasting rooms in town, or the Bandon Baking Company for a family-friendly option.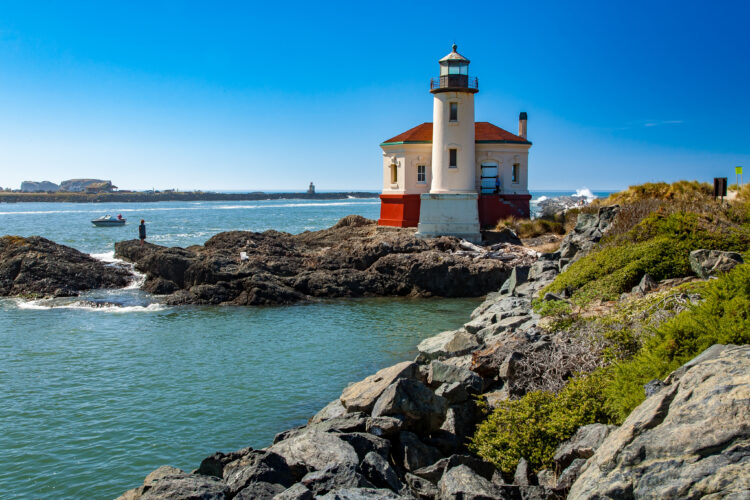 Port Orford
Dramatic landscapes surround this little town as cliffs dive right into the ocean for amazing views and photo opportunities.
The nearby forests and trails offer great hiking while the Port Orford Bandon Art Trail inspires the imagination closer to town.
Be sure to check out the local farmers' market especially during the spring and summer when local flowers are in full bloom.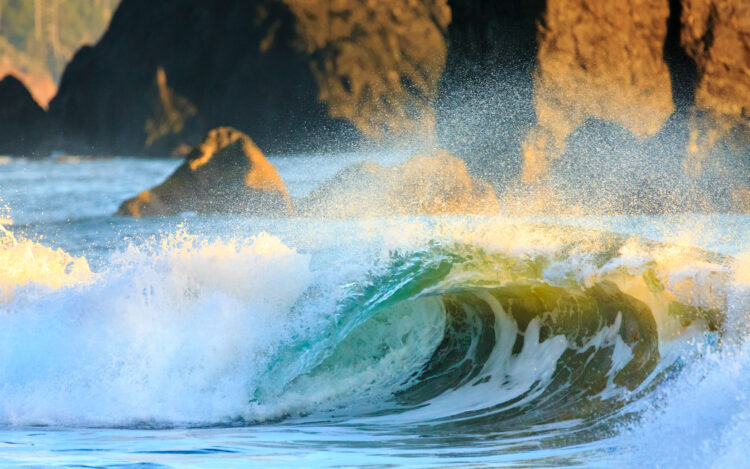 Gold Beach
Unfortunately, there is no gold at this beach, but the long stretch of sand is far less crowded than other beaches in the area and is perfect to enjoy the ocean views in peace.
Also, being closer to California, it tends to be warmer here than many other beach towns in Oregon.
For as small a town as this is, it is also surprising to many when they find the large Gold Beach Book, considered by many to be the Powell's Books of the Oregon Coast.
Brookings
Brookings is the most southern of the best coastal towns in Oregon and a great spot to reach as many haystacks jut out from the sea and the rocky shores create many large tide pools to explore the wildlife.
Many great hikes take visitors to one of many viewpoints after passing through the beginnings of beautiful redwood forests.
Distilleries, breweries, pubs, and restaurants line the streets of this town and all offer great local food and drinks.