Washington State is known for its great outdoor adventures and its often surprising to newcomers to find out there are only 3 official national parks in Washington to explore.
However, these Washington national parks are massive, offering an abundance of activities and natural scenery to unwind and relax. From the rugged peaks of the North Cascades to the iconic Mount Rainier, to the wet climate of the Olympic Rainforest, here are the best national parks in Washington State.
Some tips for visiting the beautiful national parks: weather can change quickly and its often wet, always bring a good rain jacket and invest in sturdy hiking shoes or boots.
Some of the areas and trails have little shade, bring a hat and sunscreen especially during the summer months. Always hike with plenty of water, a first aid kit, and a map of the area.
Help maintain the parks beauty, pack it in, pack it out and leave the area better than how you find it.
Park rangers are always happy to answer questions and help out, they often enjoy talking about the park they dedicate their careers to. Also, don't forget to have fun!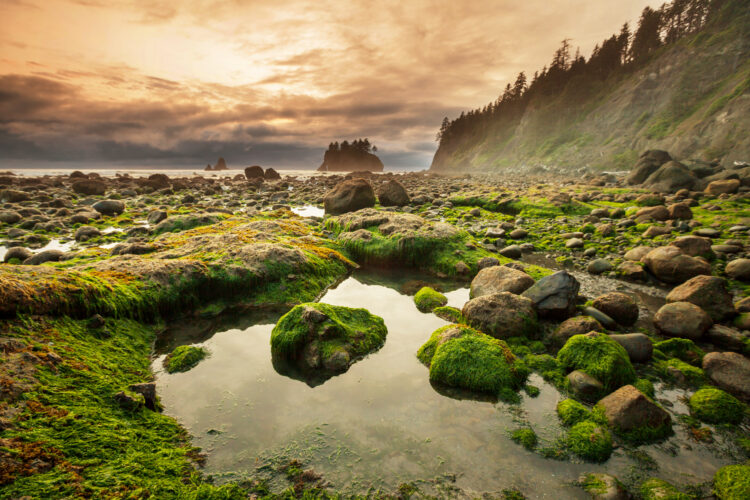 Some links in this post may be affiliate links. If you make a purchase through one of these links, we may earn a small commission at no extra cost to you. Please see our

disclosure policy

for more detail.
Mount Rainer National Park
Visible on a clear day from Seattle, this is the most popular national park in Washington State for visitors and locals.
That is not surprising, as Mount Rainer is the highest peak in Washington at 14,410 feet above sea level. 350 square miles of forest is available year-round for endless scenic views.
Below are some of the more popular activities in the park and definitely worth checking out.
Skyline Trail
If you only have time for one of the incredible hikes in Mount Rainier NP, this is the trail to do.
It's a 5.4-mile loop with an elevation gain of 1,700 ft, but the views at Panorama Point are well worth the climb. In fact, the entire hike is endless meadows and landscape views.
On a clear day, Mount Adams, Mount Saint Helens, and Mount Hood all the way down in Oregon can be seen.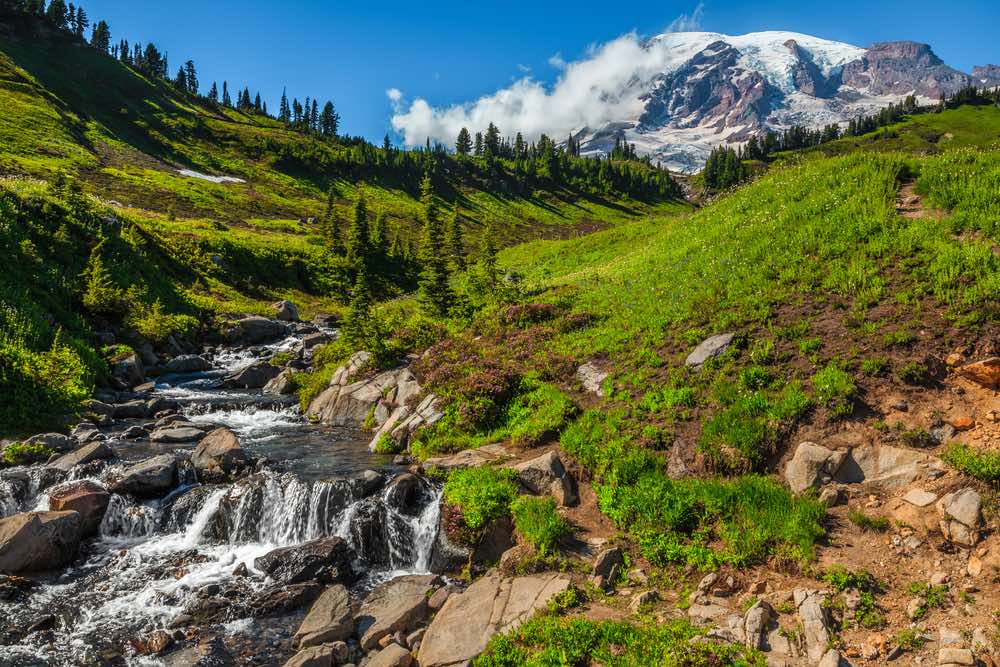 Sunrise
Named for its location on the northeastern side of the mountain, here is where the first rays of morning sunshine hit's the mountain.
Also home to the highest visitors center in the park, this is a great spot to get up-close and personal with Mount Rainier and its glaciers.
Hundreds of acers are available to explore that showcase beautiful wildflowers. This area is open only from June to October as heavy snowfall blocks the road in the winter.
Paradise
The location of the park's main visitors center is situated in beautiful meadows with a mountainous backdrop truly makes this place a paradise.
Lodging is available here in the summertime along with a restaurant.
Paradise is also the main center for winter activities such as sledding, snowshoeing, and cross-country skiing, and a fantastic destination for winter hikes in Washington.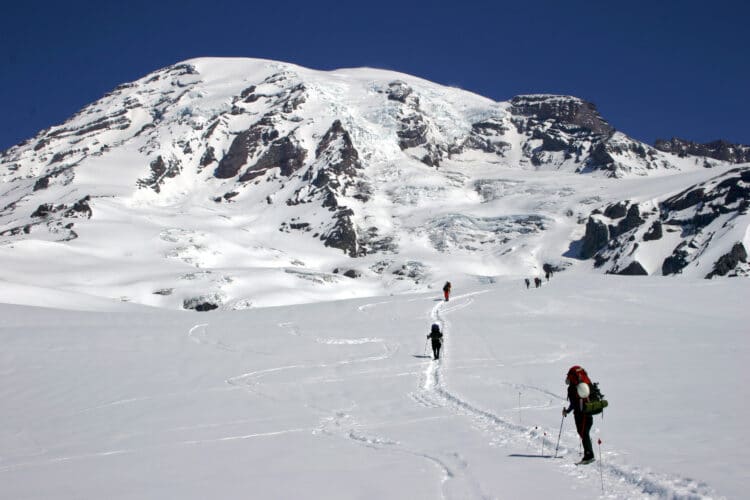 Summit House Crystal Mountain
Crystal Mountain is most well-known for its great skiing and snowboarding in the winter months, but the summer also offers many great activities. Be sure to take the gondola all the way to the Summit
Savor sitting at 6,872 ft above sea level and enjoying the Pacific Northwest cuisine with spectacular views.
Hikes are available from the House for even more views and a disk golf course can guide you back down or take the gondola again.
Myrtle Falls
Myrtle Falls is one of the most photographed waterfalls near Seattle, and for good reason as the 72 ft waterfall lines up perfectly with the massive mountain peak in the background.
Located near Paradise, it is an easy walk to see the water tumble into the gorge below it.
Snow in the wintertime can back access to the fall's viewpoints, so it's best to visit in the early summer when wildflowers complete the scenery.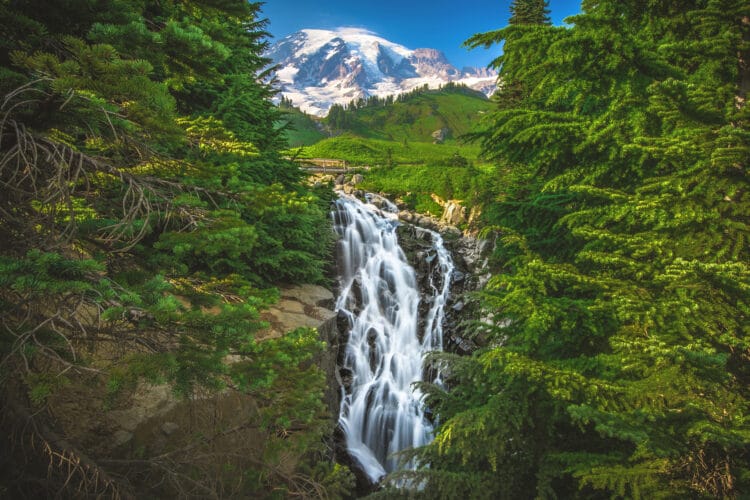 Olympic National Park
Olympic National Park is the most diverse of the national parks in Washingtson State, and one of the most interesting in the country for its highly protected, old growth temperate rainforest.
Within the park, you can also find snowcapped peaks and 70 miles of mostly untouched coastline to enjoy.
It is easy to spend weeks exploring the beautiful park as there are nearly a million acres of it, but here are the best spots to see and must-dos if you are short on time for your Olympic Peninsula road trip.
Hurricane Ridge
No hurricanes have hit this part of the world, but it gets its name from hurricane like winds that came off the Strait of Juan de Fuca.
Don't let that scare you though! This is a highly popular hike, 3.2 miles and 650 feet of elevation gain, as views of the surrounding mountains and Puget Sound are incredible.
Be sure to get to this spot early as parking can be tricky.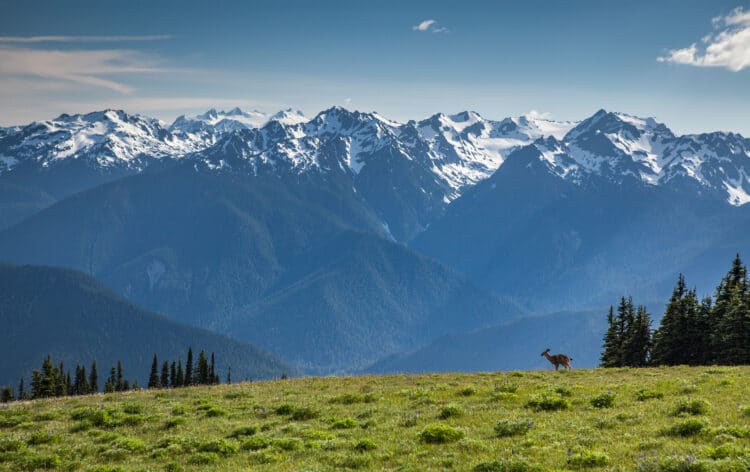 Lake Crescent
A massive and pristine blue glacier-fed lake located near Port Angeles, Lake Crescent offers endless outdoor activities and a relaxing getaway.
Boat launches and day-use picnic areas surround the lake so even though it's a popular spot, it feels quiet and secluded.
A campsite is available nearby and lodging options are available right on the lake for a more luxurious stay.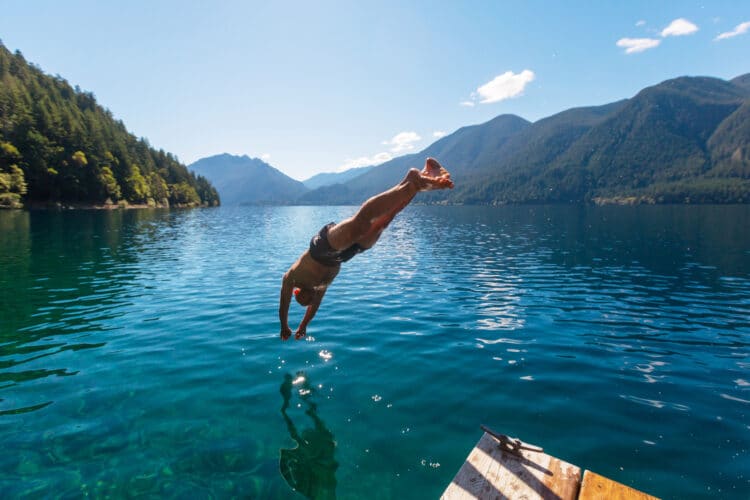 Hoh Rain Forest
The Hoh Rain Forest is the most popular destination in Olympic NP as it is one of the best temperate rainforests in the United States.
The trails here are well maintained and open year-round, all of them are worth doing, but the more popular and scenic ones include Hall of Mosses and Spruce Nature Trail.
Hoh River Trail is the longest at 18.5 miles, but many only do a few miles before turning back.
Camping and lodging are available in the park and just outside it for extended stays.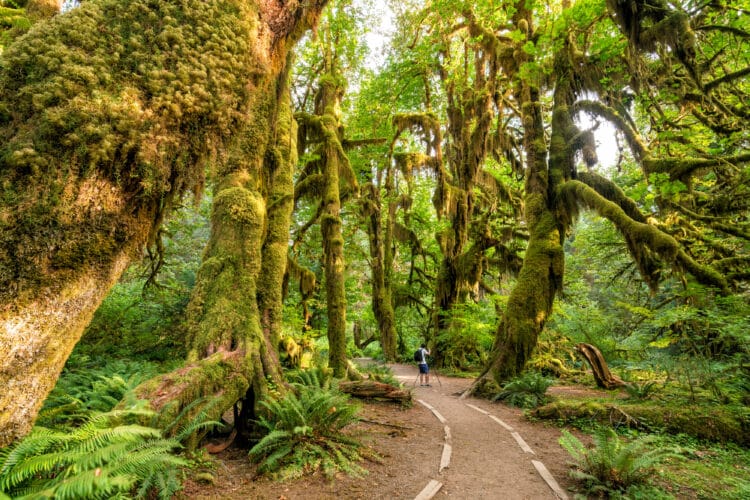 Staircase
Staircase is a great spot for hiking and camping in one of the best national parks in Washington as it is less popular and therefore less crowded than many trails, but the tall Douglass Firs are beautiful and tranquil.
Take the time to learn how wildfires can help a forest system thrive and bring life.
Though open year-round, particularly heavy snowfall during winter in Olympic NP can see the entrance gates close temporarily.
Ruby Beach
Ruby Beach, along with Kalaloch, is the most visited beaches in Washington in for its beauty and nature viewing.
Murres and puffins use the rocks for nesting keeping the sandy beaches open for exploration.
There is so much here, it is easy to find a private spot to enjoy the sound of waves and bird calls while soaking up some sun, building a sandcastle, or flying a kite.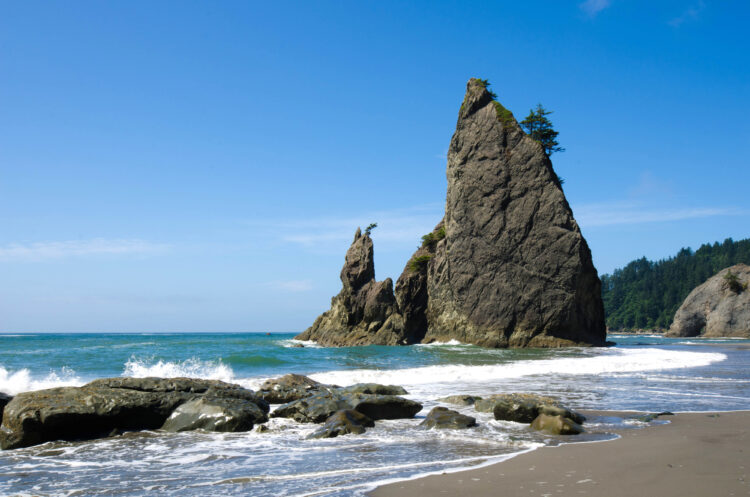 North Cascades National Park
Dramatic is the best word to describe the landscape the North Cascades National Park covers.
Rugged, rock and glacier peaks rise from evergreen forests surrounding clear blue lakes.
Stunning views and fun activities await visitors as there is something for everyone from viewpoints right off the paved road to hikes that take you to the top of the world.
Diablo Lake
You can't miss this large and beautiful lake even if you tried as it can be seen multiple times from highway 20, the only highway through the park.
Viewpoints along the way offer a chance to get out of the car for photos.
Some of the great hikes in North Cascades NP can offer quieter viewpoints of the lake.
Multiple boat launches also give canoe and kayaking access to the famously turquoise water.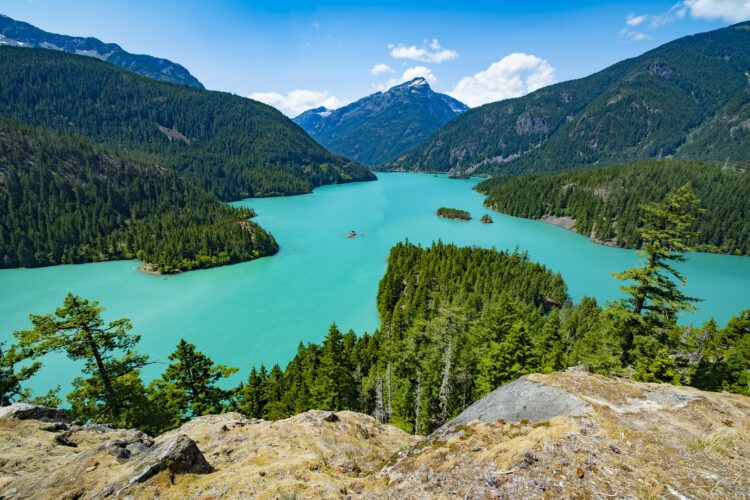 Mount Baker Ski Resort
A relatively small resort, but not short on what it can offer those who take to its slopes. With 1,000 skiable acres and 31 runs, there is a lot to explore.
The two rope tows are also an interesting experience and the two-day lodges offer comfortable resting spots.
This resort also gets some of the most snowfall of any resort in the world averaging 663 inches a year.
Lake Chelan
A long and narrow lake located a bit further east, Lake Chelan sits in the middle of some great wine country.
Visit local vineyards for local wine, beer, and food. Hikes in the area are stunning as they showcase the desert landscape of eastern Washington.
Be sure to take a boat ride to the town of Stehekin, as it is only accessible by boat or hiking it's a quiet and secluded spot and hosts a great little bakery.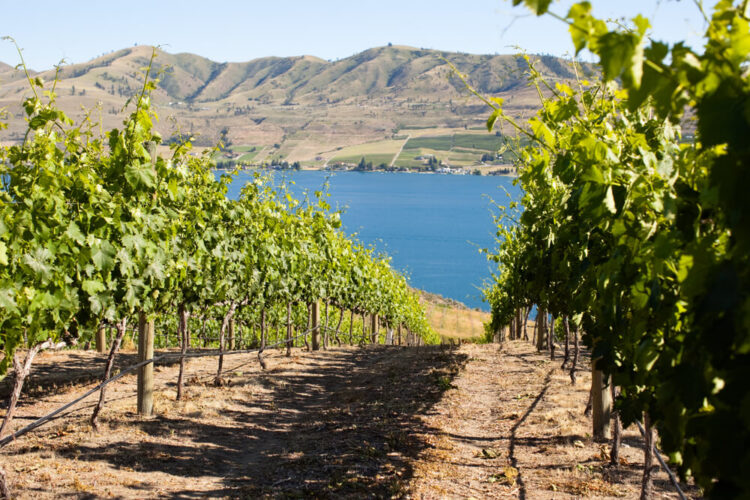 Maple Pass Loop
If you only have one day to spend in the North Cascades, this is the hike to do as it follows a ridgeline showcasing the rugged beauty of the park.
In fact, this tail can be experienced multiple times throughout the year as it transforms into one of Washington's best wildflower hikes in the early summer, golden larches dominate in the fall, and the first of the snow in early winter is beautiful before the roads close for the season.
The hike is a bit more challenging at 7.2 miles and a 2000-foot elevation gain, but it is well worth the experience.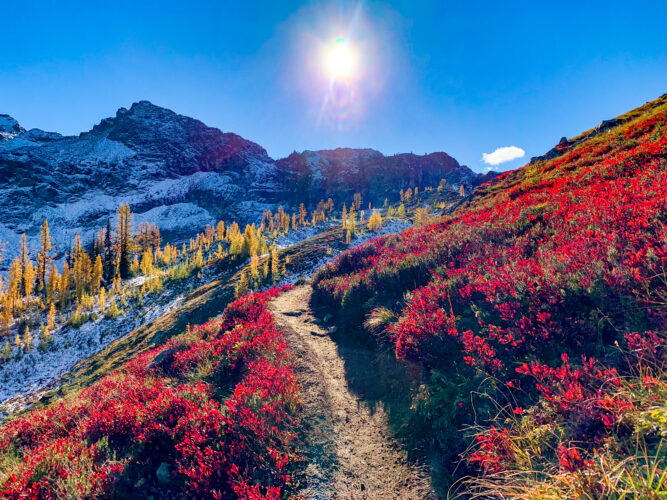 Blue Lake
A bit more of a family-friendly hike, this is another great option for a stretch of the legs in one of the beautiful national parks in Washington State.
Located right off of Highway 20, this easy to access and short hike ends at a beautiful lake.
At 4.6 miles and an elevation gain of 920 feet, the noise of cars dies away as you pass over a ridge and drop into the basin where the lake sits.
On the water's edge is a great spot to sit and eat a snack while enjoying the peaceful scenery.