How does spending the night in a treehouse in Washington State sound?
If it sounds like a fantasy, it can actually be a reality far more easily than you think. It's as simple as just reading this post and finding the perfect one of these treehouse rentals in Washington State for you!
There are so many treehouses in Washington State available on Airbnb, so we've done the hard work of researching the very best ones in terms of price, aesthetics, and location, so you can spend your time doing the important things — like packing and planning epic activities to do on your treehouse getaway in Washington State!
Note: As an Airbnb Associate, I may earn a commission when you book through these links, at no extra cost to you.
Best Treehouses in Washington State
Rockport, WA
The Eagle's Perch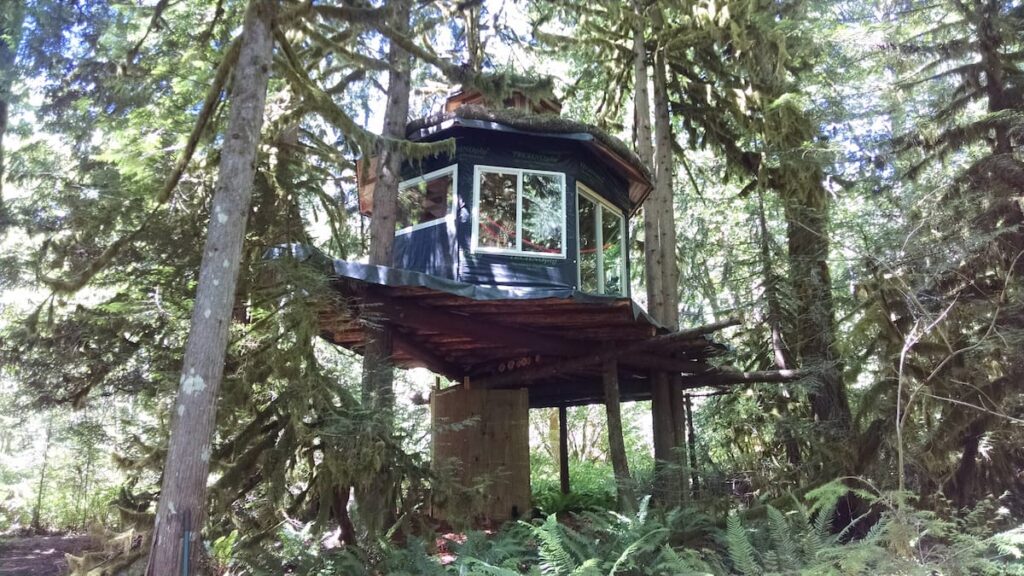 Some links in this post may be affiliate links. If you make a purchase through one of these links, we may earn a small commission at no extra cost to you. Please see our

disclosure policy

for more detail.
If ever you've found yourself underwhelmed by glamping, and looking for more unique experience, The Eagle's Perch is here to give you what you've been looking for!
This unique, octagonal Washington State treehouse is an off-grid rental through and through, as you'll have to bring everything from blankets to hygiene products at this all-natural resort.
None of this is to say that the house isn't comfortable, though – it comes equipped with cots and hammocks, and the campfire area makes this a viable place to stay even when the weather is chillier.
You can see the forest from virtually any part of the house, and the therapeutic noises of the creek will have you falling asleep like a baby, surrounded by beautiful nature.
The nearest town, Rockport, is only a mile away – despite its tiny population, it gives you the option to slightly spice up your trip with a visit to the tavern or the nearby Howard Miller Steelhead Park, which features more camping areas and some great hiking trails.
Goldendale, WA
Secluded Treehouse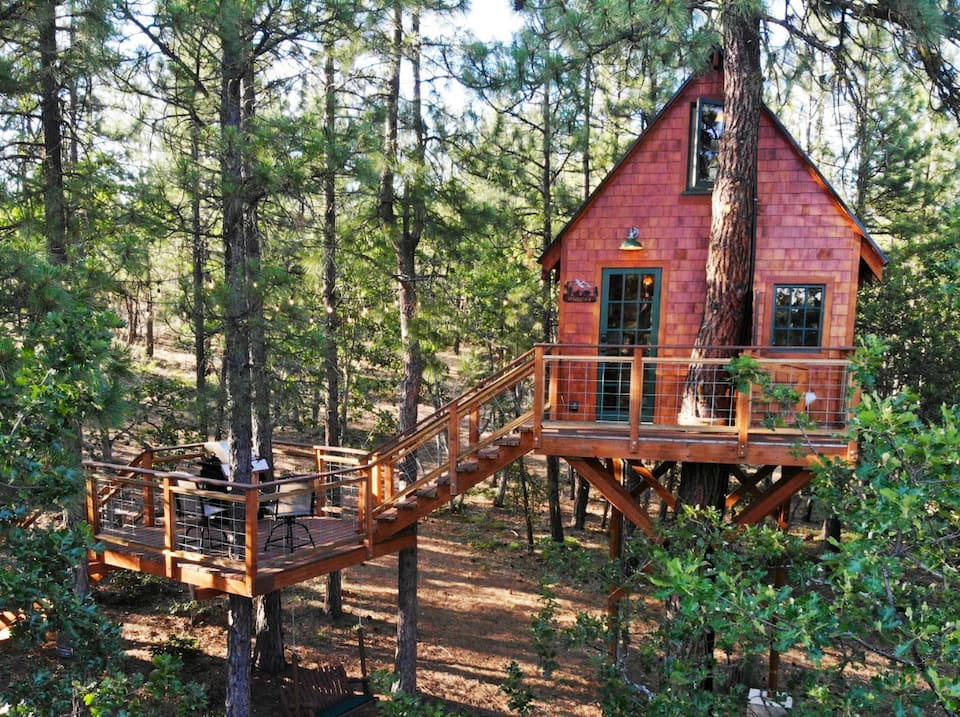 3 guests
2 bedrooms (2 beds)
There's nothing quite like a beautiful nature rental that lets you get away from the bustle of the noisy city, and this secluded treehouse in Washington's charming small town of Goldendale offers just that.
The first thing you'll notice is the deck on the first level, which comes with seating, a barbecue grill and an amazing panoramic view of the surrounding forest.
Stepping inside, you'll see a small but well-equipped interior, which includes a full-on kitchenette and running water. Despite the size, you're in for an abundance of amazing window views, as the entire forest is basically your backyard.
This house is a fair distance from civilization, so your stay will be about as quiet and private as you could possibly imagine: just one reason of many this is one of the top treehouse rentals in Washington State.
Besides the surrounding wildlife, the only other house in the vicinity is the owner's very own cabin (about 500 feet away), so you'll be able to keep things all-natural while still being able to contact them should you need anything.
Snohomish, WA
Sasquatch Cabin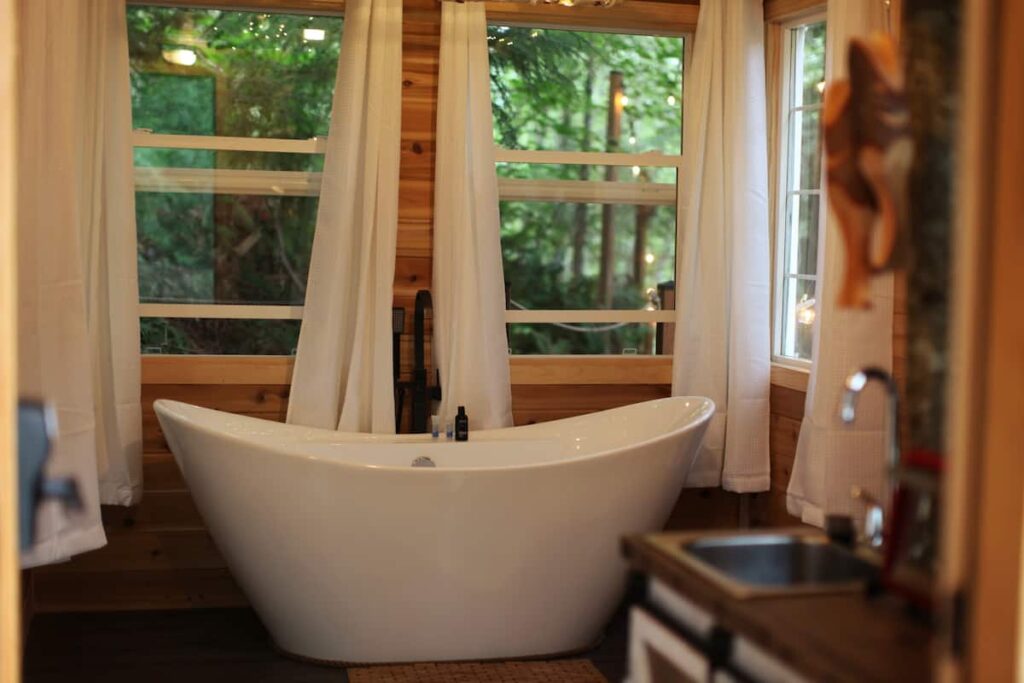 3 guests
1 bedroom (1 bed)
If you're in the market for a Washington state treehouse that's romantic and stylish, yet different from the conventional "room for two", the Sasquatch Cabin is the perfect pick for you.
On top of a seating area and small kitchenette, the first floor comes equipped with a relaxing soaking tub. The second floor has extremely comfortable bedding, and even a children's loft if you're visiting with your little one.
If you want to set the mood, the light bulbs in the house change colors, and the fireplace will help you and your significant other relax like never before.
With that said, the best feature of the treehouse is the surrounding area itself – whichever way you turn, you can expect to see beautiful greenery a slew of animal species.
If you're feeling particularly creative, you can contact the host and prepare a special surprise or decorations for your partner in advance. This is one of the most romantic treehouse rentals in Washington State, so it's easy to set the mood for a special occasion.
As far as recreation goes, you'll find no shortage of amazing hiking trails and vistas in the area (the Centennial trailhead is about 5 miles away). If you so choose, you can even rent out a bicycle and pedal to said trailheads or to the town of Snohomish – there's technically no need to fire up your car here!
The Ole Treehouse Mill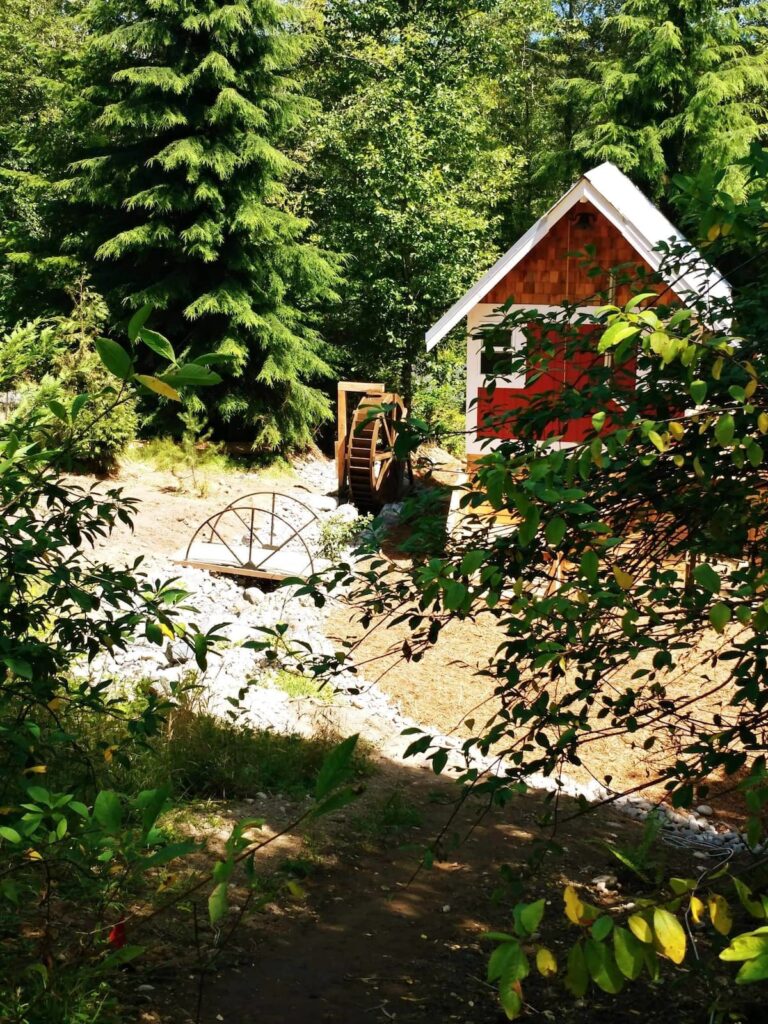 3 guests
1 bedroom (1 bed)
Once a defunct millhouse waiting to be torn town, this beautiful treehouse is now the perfect nature respite for a couple looking for a private vacation spot.
The interior of the house comes equipped with a kitchenette, toilet, and romantic bedding. The deck comes with a barbecue grill, and the surrounding trees provide ample shade and allow you to relax to the sounds of birds and nature in general. If all of this hasn't helped set the mood, the multicolored lights and gorgeous views certainly will.
For the best experience possible, you'll want to spend as much time outdoors as you can, and you'll have no shortage of great excuses to do so – the abundance of hiking trails in the area are just begging to be explored, either by foot or the rentable bikes, and the town of Snohomish isn't far off either.
Also, you can throw the surprise of a lifetime for your partner by calling the hosts and orchestrating a surprise before you've even arrived.
Olympia, WA
Treehouse With Panoramic Views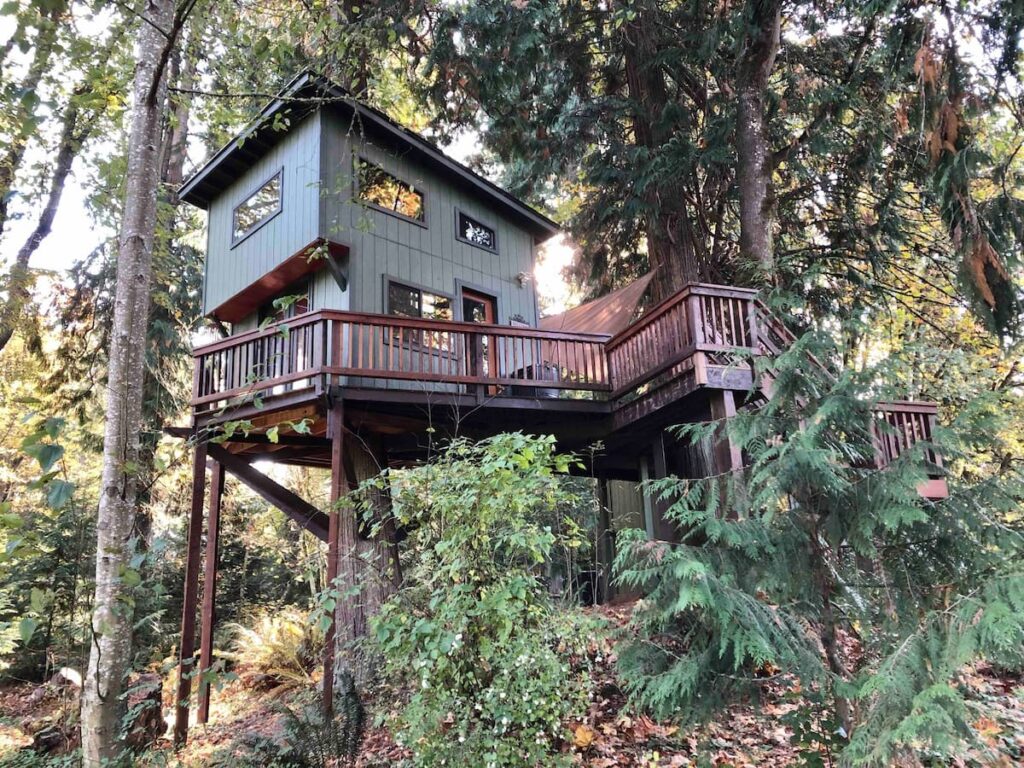 2 guests
1 bedroom (1 bed)
If you want to keep things natural while still having the luxuries of home (and then some), this beautiful treehouse in Washington is perfect for you.
The inside of the house is booming with character, as the trees themselves are an integral part of the architecture and décor of the interior – guests will enjoy an electric fireplace and an incredibly cozy bedroom area right upstairs.
The deck blends seamlessly into the surrounding trees and is equipped with a propane grill, on top of offering amazing views of your surroundings. What's more, you'll be able to enjoy an instant supply of hot water in the communal shower area nearby.
You can definitely keep to yourself during your vacation here, or you can go to the nearby shops and restaurants for a more urban getaway – these locales are so close, in fact, that you can walk to most, if not all of them.
On the topic of walking, the best thing you can do for yourself is to check out the dozen or so miles' worth of hiking trails between the old-growth trees that surround the property.
AirBnTree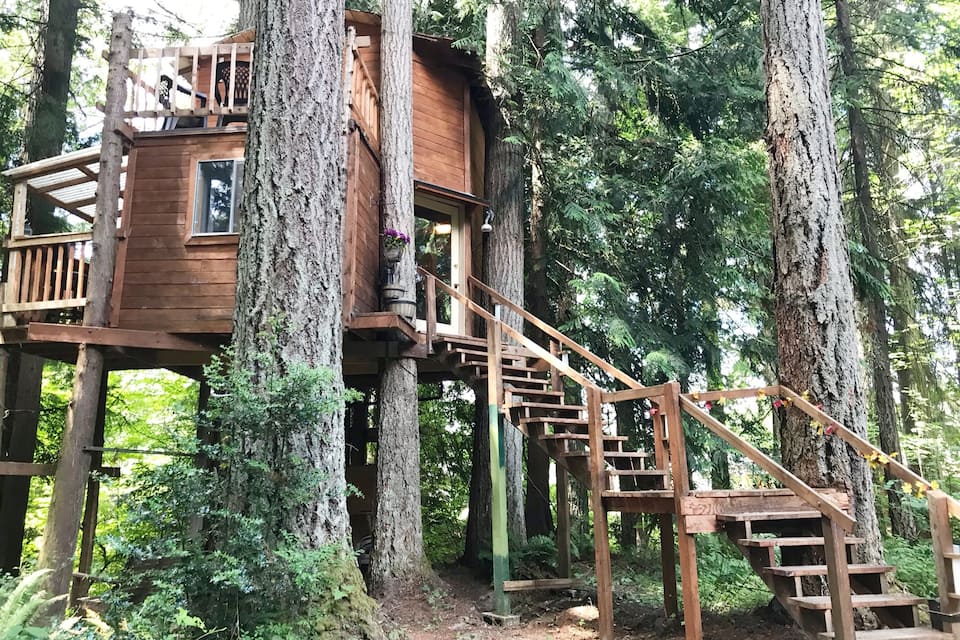 2 guests
1 bedroom (1 bed)
Few places in the area can offer you the peace and serenity of this beautiful, quiet Washington treehouse.
The main sitting area comes with everything you'd expect, as well as a beautiful electric fireplace for those chilly nights.
You can get an amazing view from virtually anywhere on or near the property, but to take advantage of your elevation, grab a seat and relax among the shady trees on the deck with your morning coffee, or better yet, greet the day from the upstairs bedroom balcony.
Then there's the porch swing, the grilling area, and fire pit with ample seating – this house truly has it all.
Also worth noting are the numerous hiking trails in the area, where you can expect to encounter all manner of wild animals. You can unwind to the sounds of the nearby creek, or swim or paddle in Upper Lake.
With about 10 acres of property to explore and only 3 other rentals in the vicinity, your stay will be extremely quiet without making you feel completely isolated.
Port Townsend, WA
The Nest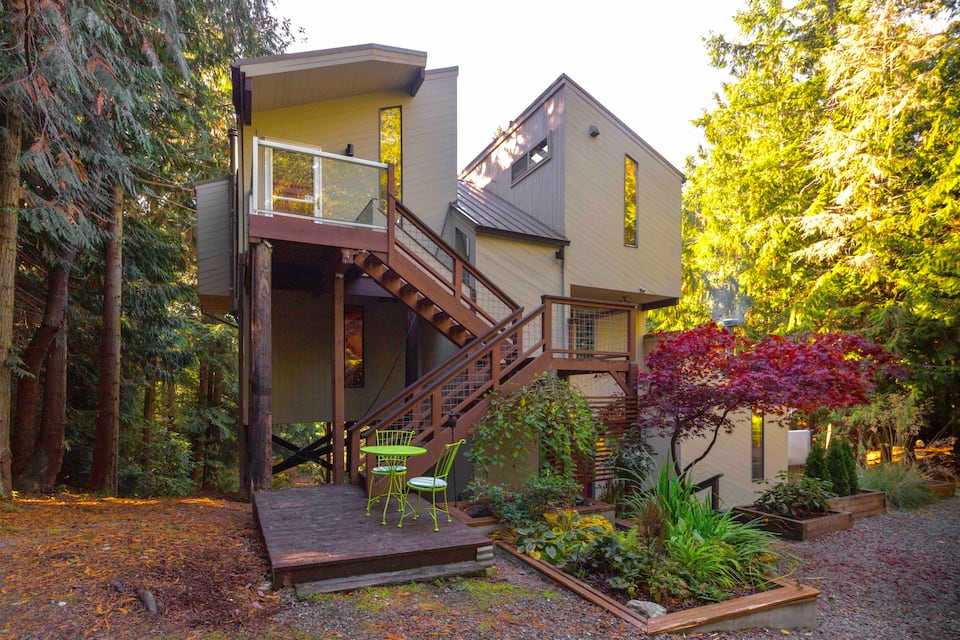 6 guests
2 bedrooms (3 beds)
This amazing Washington treehouse rental takes the idea of the treehouse and takes it to the next level – as opposed to plain wooden walls, you'll be greeted by beautiful, colorful tapestry as soon as you set foot inside, and the furniture will have you feeling like you're in an urban, luxurious hotel.
The house is also equipped with multiple decks, which feature seating areas, propane grills, and incredible views of the beautiful exterior. The 3-floor house also features a gas fireplace, a reading nook, and a family room featuring the always-fun game of foosball.
On top of all that, you'll have access to a 6-person hot tub and outdoor sauna – this house truly is the gift that keeps on giving!
Offering a beautiful view of Discover Bay from virtually any direction, the property is only about a 10-minute drive from Port Townsend, which in itself has no shortage of amazing spots worth looking into.
There isn't much public transport here, but that really lends itself to the Nest – once you're done exploring the 3 acres of land, hop in your car and try to check out as much of the surrounding area as you can.
Redmond, WA
The Squirrel's Nest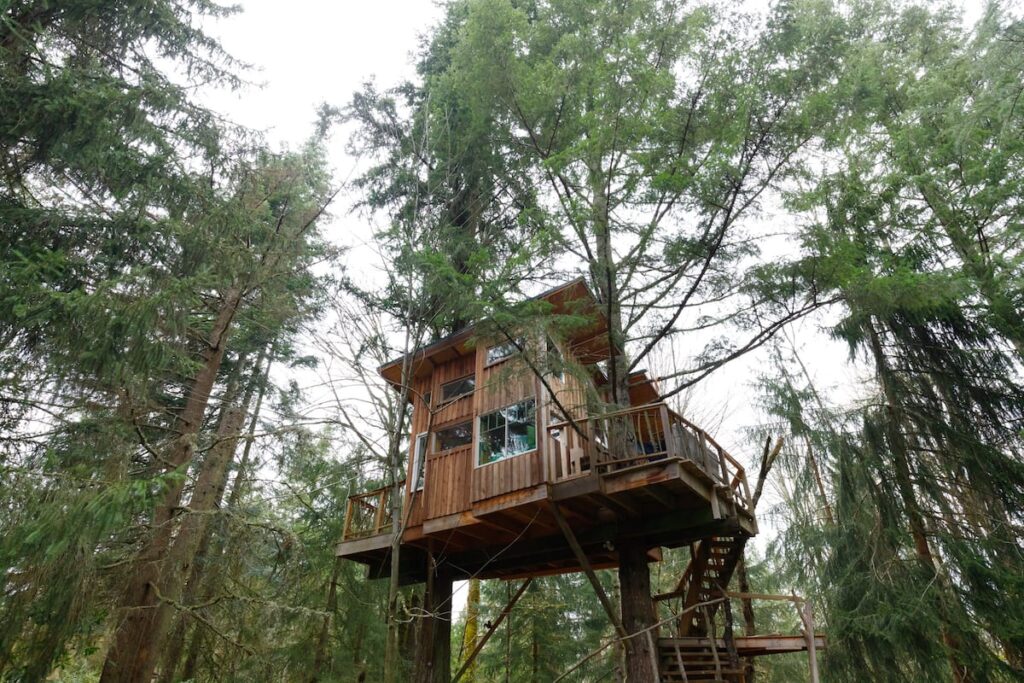 4 guests
1 bedroom (3 beds)
The aptly named Squirrel's Nest is the ultimate treetop retreat – nestled between two fir trees over a dozen feet off the ground, the house offers a spectacular view of the surrounding forest and an ambient you won't soon forget.
While this is very much a nature retreat, you'll enjoy the luxury of a well-insulated and heated stay with running water and electricity to boot.
The homey, predominantly wooden interior is beautifully complemented by the fireplace and light splashes of color here and there, and the abundance of windows will keep the house well-lit all through the day, on top of giving you a scenic sight to wake up to.
Located in Redmond, the house some 20-odd miles from downtown Seattle, meaning you can make a quick and easy drive to a number of great restaurants and big-city attractions. As for the property itself, you'll have access to a number of great hiking trails mere minutes from The Squirrel's Nest, just waiting to be explored.
Pete Nelson Treehouse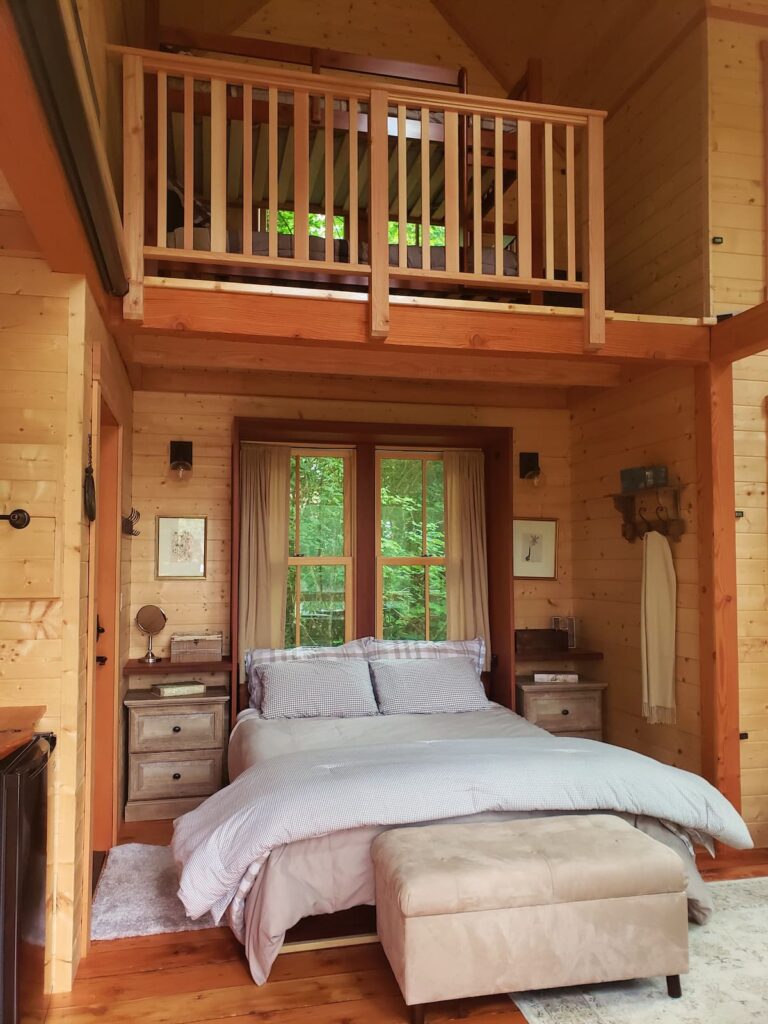 Few full-blown houses can compete with the charm and character of this beautifully illuminated treehouse.
Featuring everything you could possibly need, from a loft and comfy bedding to a sitting area and a large television, the interior will charm you within seconds of you setting foot inside.
Where the house really shines (no pun intended) is the luminous exterior – stepping out onto the suspended deck and walkway below the warm, yellow lights, you'll get a beautiful, unobstructed view of the amazing forest, and climbing to the 'Crow's Nest' amplifies the experience tenfold.
While the view is beautiful year-round, the gilded fall leaves make the entire walkway look like something out of a fairy tale. What's more, you get to enjoy the relaxing outdoor shower in the temperate forest breeze.
If you're into hiking, you can go check out the nearby pond, home and refuge for a variety of forest animals. Chances are you'll have some questions during your stay, and fortunately, the owners' house will be right by your treehouse for your convenience.
Concrete, WA
The Pond Perch Treehouse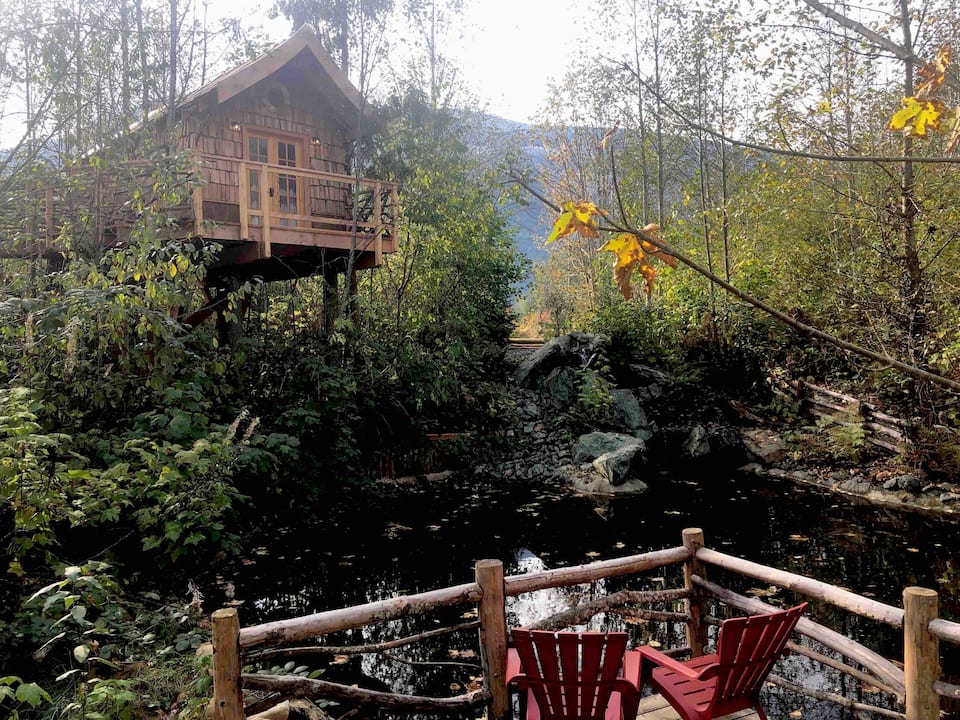 4 guests
1 bedroom (1 bed)
Exploring the North Cascades is a very rewarding but tiring experience, and you'll want a comfortable, inviting place to lay your head when you're done for the day.
With its convenient location and impossibly scenic backdrop, The Pond Perch Treehouse is just that!
The view from the deck is unlike any other, as it beautifully blends the pond, forest, and mountains into a picture-esque daydream. The interior is also beautiful, featuring homely and comfortable furniture, including a fireplace.
Even walking to the showers is an adventure, as the Bird Bath Shower House is a short, yet scenic walk away from the treehouse. Treehouse Junction is beautiful year-round, even in the winter – the surrounding nature looks amazing covered in snow and is perfect for a variety of snow-based outdoor activities.
As far as urban areas are concerned, the house is a reasonably short drive from Seattle, and other places of interest in the area include Baker and Diablo Lakes, Birdsview Brewery, and the entire bank of the Skagit River.
Stevenson, WA
Osprey Treehouse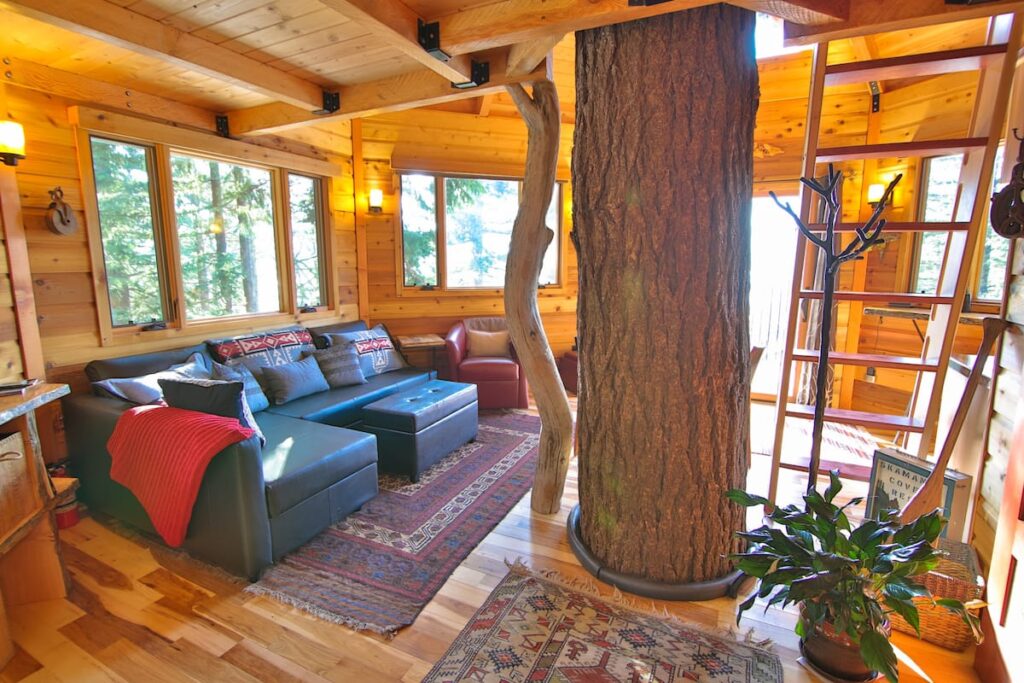 Thanks to its unique take on treehouse design, the Osprey Treehouse is one of Washington's standout nature rentals.
The octagonal shape gives the house a very interesting aesthetic, not to mention it allows for more windows, and ergo, more natural light throughout the day.
From the kitchenette and seating area, you can take a ladder to the loft (which runs parallel to an actual tree trunk, almost like a support beam). Needless to say, the view from the loft and the deck is absolutely breathtaking, featuring both the forest and the magnificent Columbia River.
The entrance to the house isn't a ladder of any kind – it's a suspended walkway that segues into a gorgeous hiking trail with your name on it, and you can catch some incredible sunsets from the nearby coves and cliffs.
A great way to send off the day is to go for a dip in the lake, or soak in the beautiful mountainous backdrop from the private beach.
Mukilteo, WA
Treehouse with a View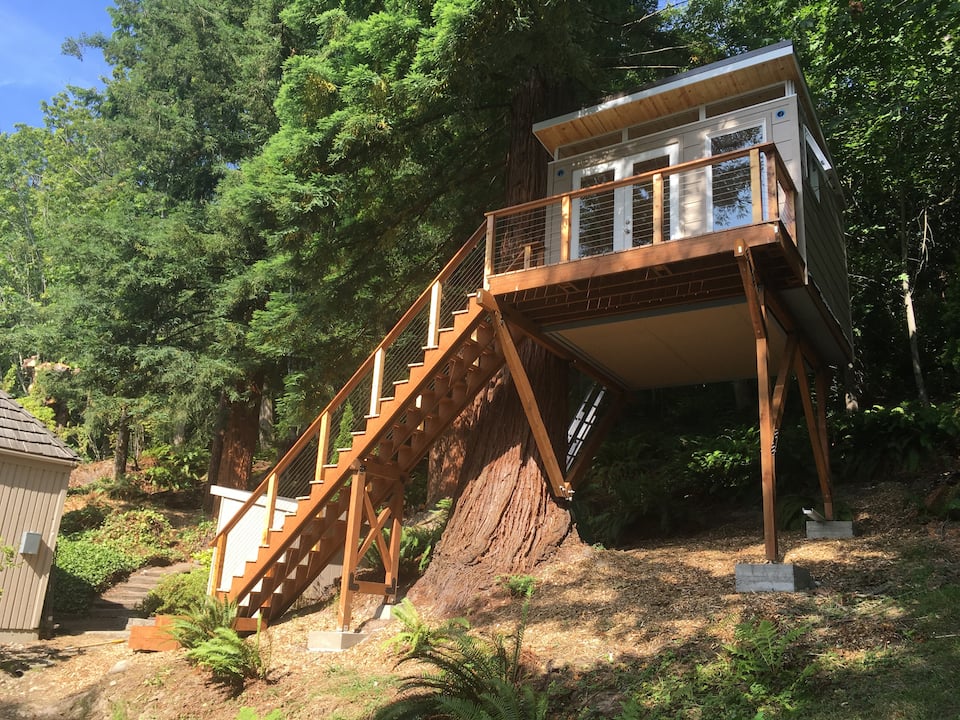 2 guests
1 bedroom (1 bed)
This beautiful little Mukilteo, Washington treehouse offers some of the best views money can buy!
Boasting incredible views of the Cascade Range and the orange sunset over the quaint neighborhood, the house is every height lover's dream come true. The interior is quite nice in its own right, featuring a fireplace for maximum comfort and a private bathroom only a short walk away.
The neighborhood is the epitome of safe and quiet, so if the views weren't enough for you, you're highly incentivized to go out and explore the premises no matter the time of day or night.
On top of a variety of nearby trails, Mukilteo has plenty to offer in terms of food joints (one of the standout places in town being Diamond Knot Brewery), and you can even take a ferry to Whidbey Island and take your vacation to the next level.
Bellingham, WA
Pleasant Bay Lookout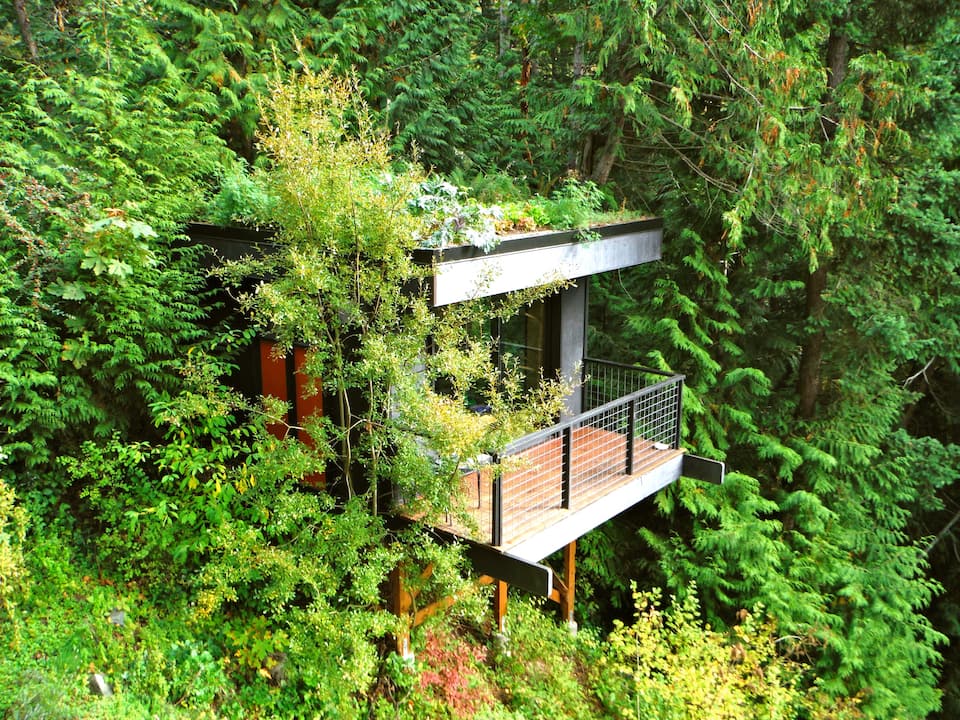 2 guests
1 bedroom (1 bed)
The name of the game with this treehouse is scenery – tucked inside a lovely sea of green, the house offers amazing views of Pleasant Bay and the surrounding mountains and forests.
The deck is separated from the interior by a glass wall, resulting in a seamless blend of a luxurious sitting area and the nature that surrounds it from virtually all sides. It's one of the more unique and lush treehouse rentals in Washington State.
Things get especially scenic when you unfold the sofa – roll around in the bed whichever way you want, you will fall asleep to and wake up to amazing window views every single day.
Anyone with an affinity for the great outdoors should absolutely love Bellingham – the area is perfect for biking, kayaking, and overall exploring, with the Intertuban Trail located mere minutes away.
From here, you can explore the Larrabee State Park, ride your bike downtown, or take a ferry to the San Juan Islands – the options truly are endless when you're staying here.
Bellingham itself has plenty of places worth checking out, and it even has something of a nightlife scene too, if you'd prefer to keep your vacation a bit more urban.
Port Angeles, WA
Eagles Perch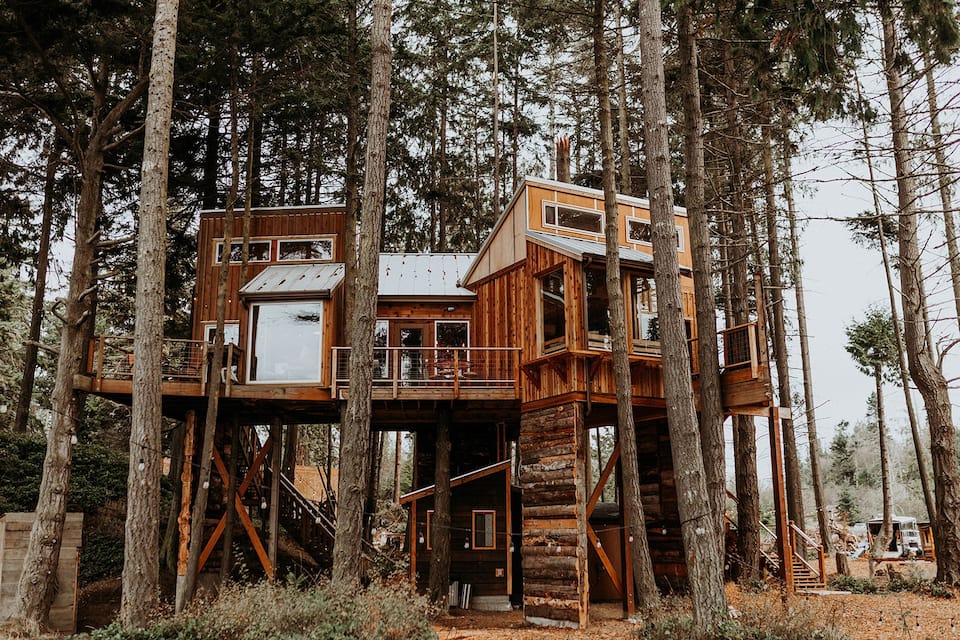 2 guests
1 bedroom (2 beds)
Offering the very best in treehouse accommodation in Washington, this rental is not to be missed if you're visiting the Port Angeles area. In fact, if we had to pick, we'd argue it's our favorite treehouse rentals in Washington State.
The interior is dominated by beautiful wooden textures, and the occasional touches of white and red give the place a beautiful flair of luxury.
Stepping outside from the brown of the interior, you'll be greeted by even more brown – the surrounding forest is beautiful, especially in the fall, where everything just starts to blend together in the best possible way.
You can spend these chilly fall days by one of the two fire pits as you relax and watch the water, or spend a quiet night inside with a good book.
Because it's located on a dead-end road, you can expect your stay to be as quiet as quiet gets – your nearest neighbors aren't even within sight! Do note, however, that this is attached to the next treehouse on this list, so you may have some people in the neighboring treehouse — or you can rent out both for the ultimate in privacy.
Located only 20 minutes from Port Angeles and not too far from Crescent Lake or Sol Duc Hot Springs, your next adventure is only a short drive away.
Water Eagles Nest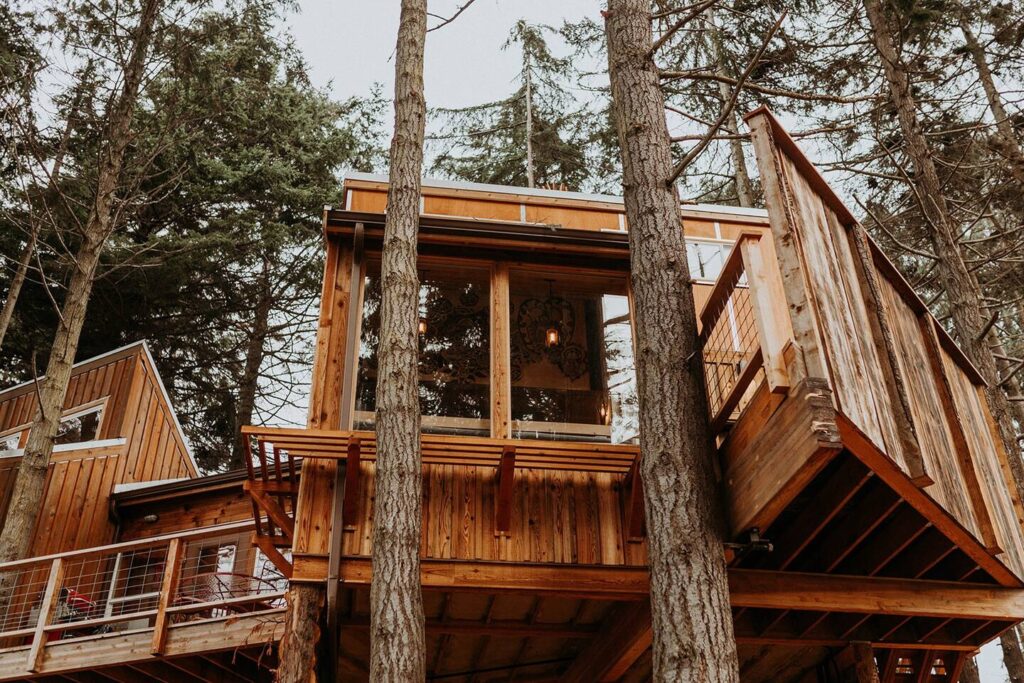 6 guests
2 bedrooms (5 beds)
It's hard to pull off a stylish design when setting up a treehouse, but this incredibly fashionable rental pulls it off, and then some.
The spacious interior is compounded by an abundance of window light, and plenty of decorations that give the place that extra kick – it's the small details like the indoor hammocks and record player that really help this rental stand out.
Stepping out onto the deck/balcony, you get an unprecedented view of the amazing forest whichever way you look – in fact, the best part of staying here is waking up to epic wildlife and forest views to start your day off on a high note.
Thanks to its location on a dead-end road, this house allows for an extremely private stay – no noisy neighbors to be found here whatsoever. Do note, however, that this is attached to the previous treehouse on this list, so you may have some people in the neighboring treehouse — or you can rent out both for the ultimate in privacy.
As far as exploration is concerned, you'll have quick and easy access to Discovery Trail, an amazing hiking and cycling trail that covers around 140 miles of ground.
Lakebay, WA
Luxurious Tree House Suite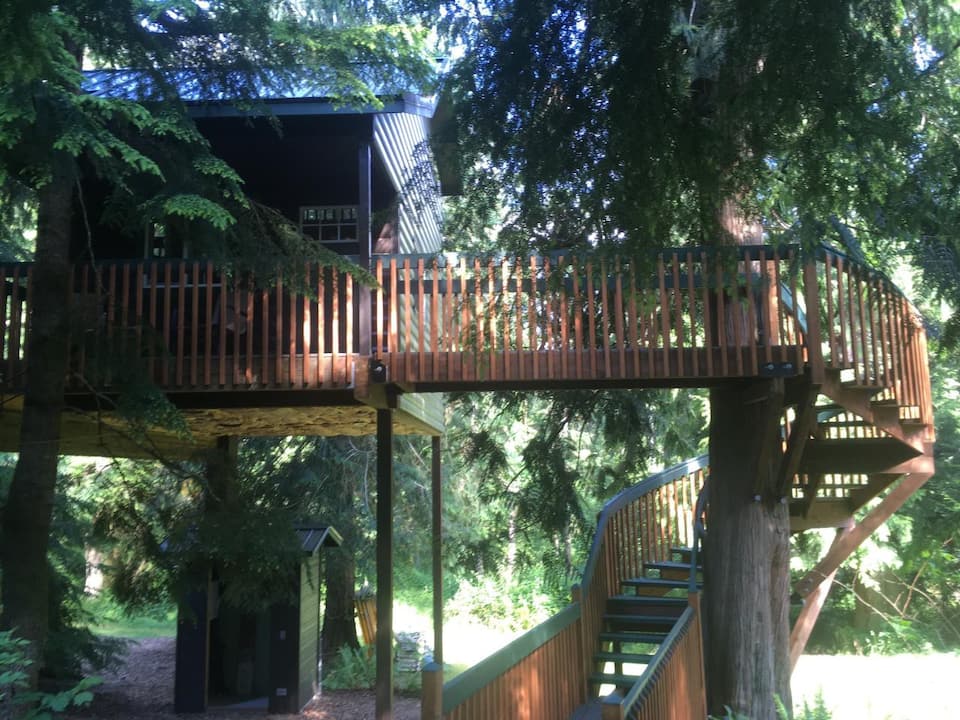 3 guests
1 bedroom (1 bed)
It's a little disingenuous to call this a "treehouse" as it doesn't have the quintessential wooden design, but it technically qualifies as it's nestled among a sea of trees.
The interior of this stylish house features a spacious living area (which has a fireplace), a comfortable loft, and a design you won't soon forget. The highlight of the property would probably have to be the deck and the spiral staircase leading to it, due in no small part to the beautiful view they offer.
Lakebay makes for a great pivot if you plan on doing some exploring, and you'll have your share of state parks and locales to check out while you're here.
You'll definitely need a car to get around, but it's worth it considering how much there is to see – also worth noting is that Seattle is only around 60 miles from here. The property itself spans around 10 acres, and you'll have an amazing hiking trail connecting some of the most scenic spots in the area.
Lake Stevens, WA
A Little Slice of Heaven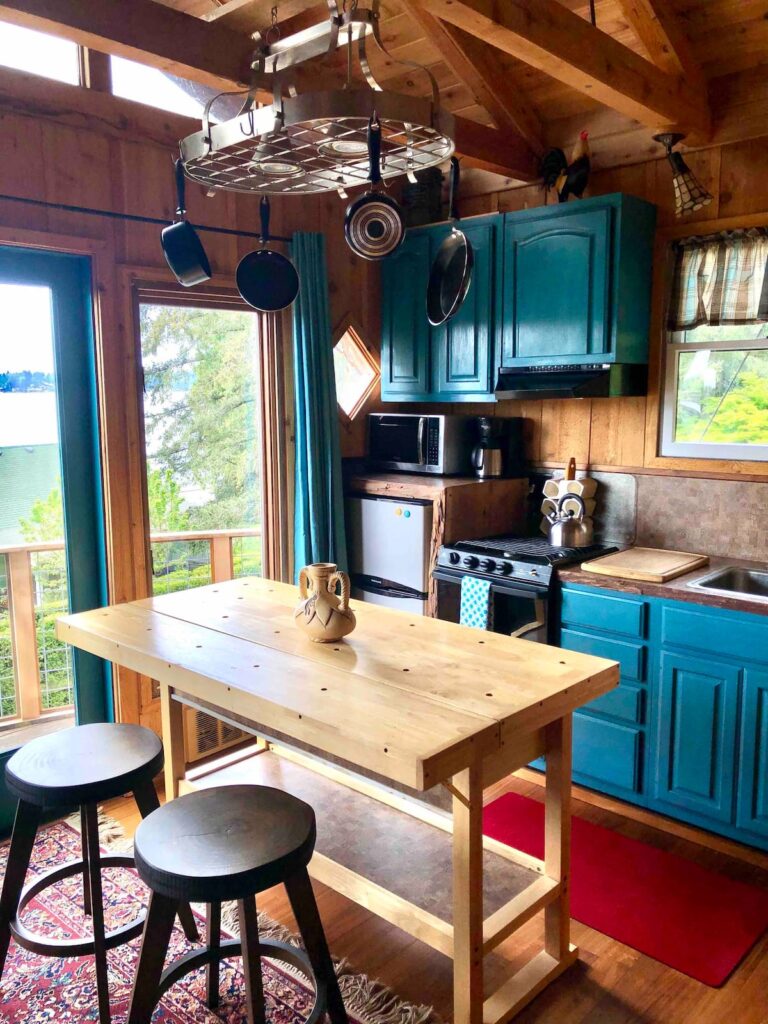 2 guests
1 bedroom (1 bed)
With a name like that, you would expect this treehouse to be exceptional in every way, and it truly is – constructed in 100-year-old cedar trees and nicely tucked in a forest by the lake, this house's aesthetic is second to none.
The interior features a beautiful library, which has surround sound and a guitar if you'd like to set the ambience.
As you relax in bed, you can get a spectacular view of the lake and forest from the reverse V-shaped windows, and you can also fire up the barbecue grill on the balcony and get an even better look as you relax with a glass of wine.
Since both the town of Lake Stevens and the lake itself are just a hop and a skip away, this is the perfect rental for anyone looking to do some water-based activities. This also means you can easily do all your shopping and even enjoy a drink or two at the town's bars and restaurants.
Vashon, WA
Eagles' Bluff Treehouse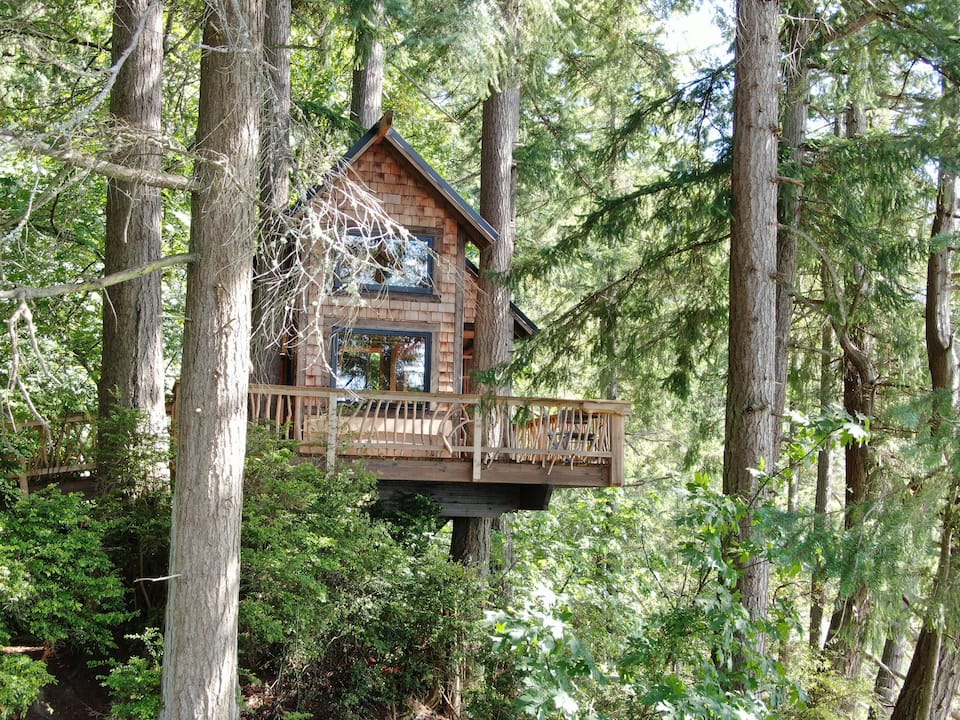 If you're looking to connect with nature like never before, this beautiful treehouse drops you smack-dab in the middle of the forest for one of the most scenic vacations of your life.
The beautiful, off-grid treehouse stands out thanks to the view from its amazing balcony/deck area, which is surrounded by green from virtually all angles.
Facing the west, you're bound to catch some beautiful sunsets and fall asleep to the tranquil sounds of water. Even the kitchen is an outdoor one, giving you every reason in the world to spend every waking moment outside.
With the exception of a few neighbors, there really aren't many people in the vicinity of the treehouse, which allows for a very serene and peaceful stay. You can get to the beach within minutes flat, and you can rent a bike at nearby Vashon and explore the area's main spots of interest at your own pace.
Auburn, WA
Africa in Auburn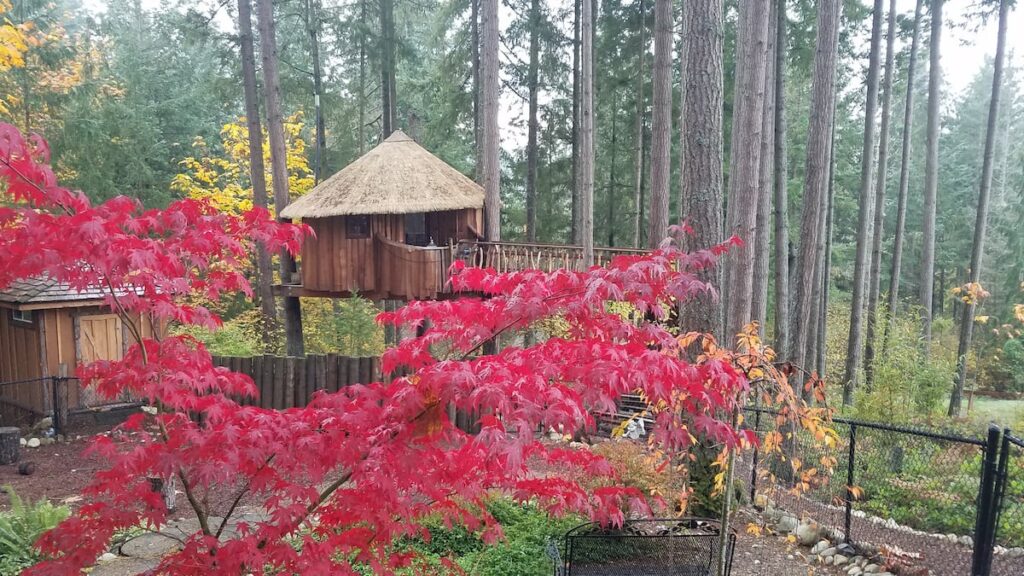 2 guests
1 bedroom (1 bed)
One of the best ways to get a taste of Africa in the States would be to book a stay at Africa in Auburn – this treehouse is also a great pick for creatives who are looking for a unique environment to let loose and let their talent flow.
The beautiful, cylindrical house comes equipped with a kitchenette, sleeping area, and most importantly, an unmistakable African aesthetic.
Stepping out into one of the two garden centers is a delight, as they make for a perfect place to enjoy a meal or just sit and chat while basking in the sunlight.
Also a short walk from the treehouse is the shower and toilet building, perfect after a long day of exploring in the hot sun.
Topping everything off are the surroundings of the property – the green and pink coats of leaves really add to the exotic ambient of the treehouse and make for an amazing backdrop when you're exploring the premises.
White Salmon, WA
Tranquil-a-Tree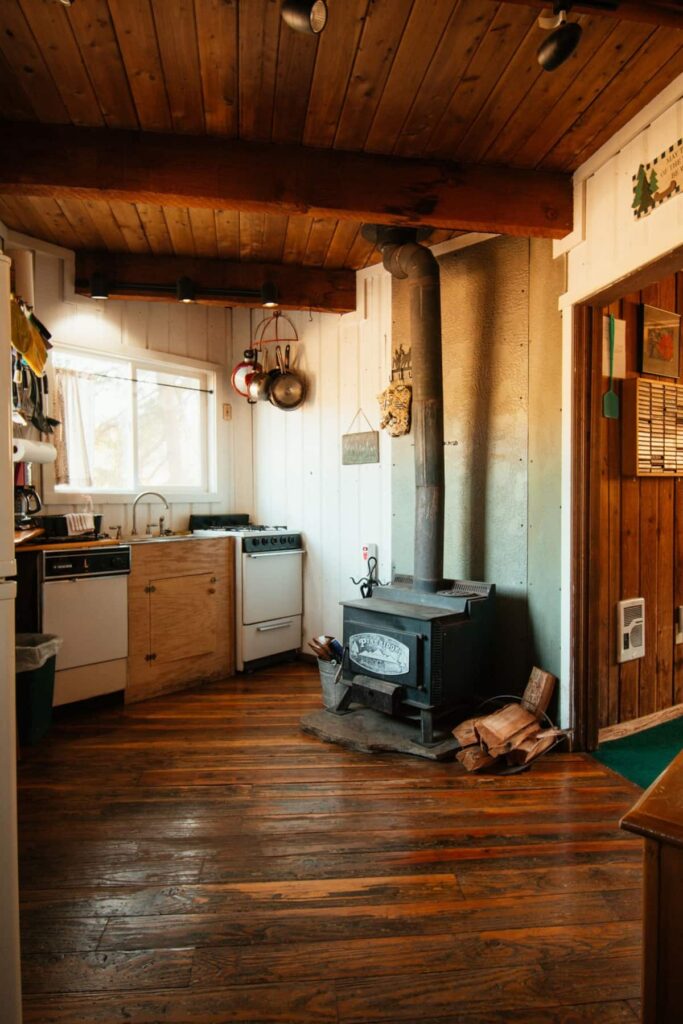 4 guests
1 bedroom (2 beds)
This beautiful, inviting house is miles away from the hubbub of the big city and will hook you in the second you set foot on the property.
Besides its charming interior design, what helps this treehouse stand out are the rather luxurious amenities – you have an incredible deck, which comes equipped with a propane grill for a forest cookout, and more impressively, your very own hot tub with amazing views of the forest, day and night.
You can even bring your dog here, and it's guaranteed to have a good time thanks to all the beautiful nature waiting to be explored.
Located right by the Columbia River National Scenic Area, this house is the perfect hub of operations if you're planning a vacation rich in outdoor activities – from hiking and fishing to surfing and water rafting, nothing's off-limits here.
Further, since you'll be quite close to Hood River, there are plenty of wineries and restaurants in the area worth checking out.
The Klickitat Treehouse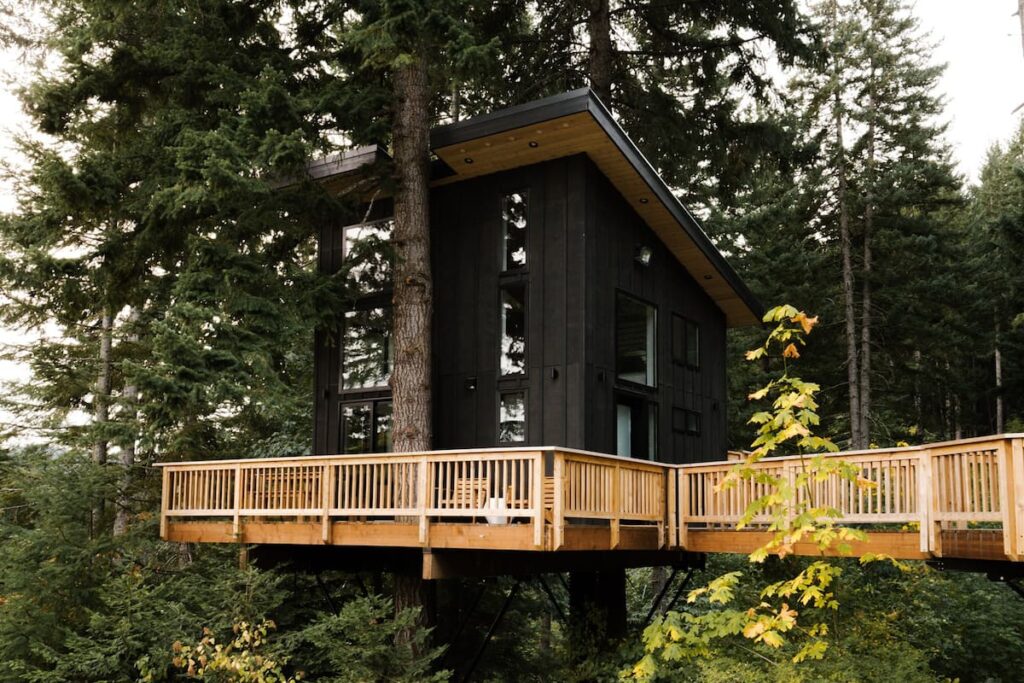 6 guests
2 bedrooms (3 beds)
With a design that gives most 'regular' houses a run for their money, this elevated house is one of the most luxurious treehouses you can hope to find in Washington.
The incredibly stylish interior is inspired by Scandinavian architecture – it heavily features white, and the house gets plenty of natural light, courtesy of the many windows and sunroof.
The cute tapestry works incredibly well in making the place feel like a proper home, and the main sitting area makes for a perfect place to sit and enjoy a board game or just chat.
Aside from that, your very own fire pit guarantees a cozy stay no matter the time of year, and the views from the exterior (outdoor shower included!) are nothing short of spectacular.
The place is only a short drive from White Salmon, so you'll have easy access to some of the best wineries and recreational facilities in the entire state of Washington. The neighborhood is the perfect blend of populated and quiet, ensuring a peaceful stay without feeling secluded in the slightest.
Ferndale, WA
Sir Cedric's Cedar Treehouse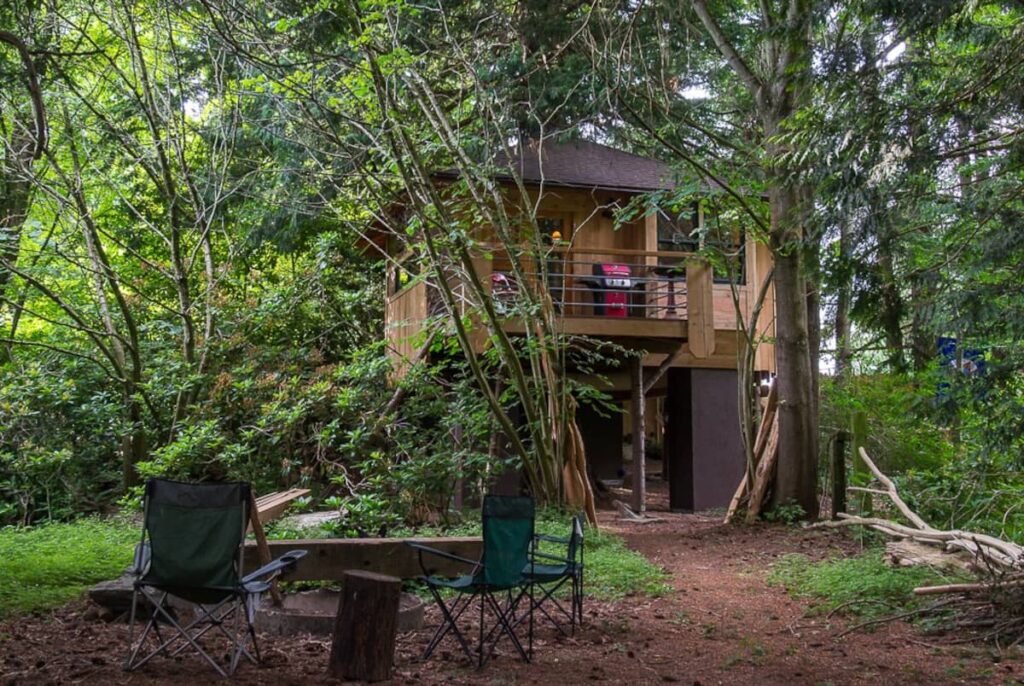 2 guests
1 bedroom (1 bed)
Even if you've stayed at plenty of Washington treehouses before, chances are you've never seen one quite like this.
This particular rental is perfect for a couple looking for a getaway with an old-school aesthetic and surrounded by beautiful nature.
The wood-accented living room is incredibly charming, and adding to the beautiful interior are the deck with a barbecue grill, the outside sitting area, and beautifully lit windows made of stained glass – on that topic of windows, the sunray burst window gives the entire interior an angelic feel when the lighting conditions are just right.
Even the outhouse, which is located about 15 feet from the house itself, beams with character and even makes showering feel extravagant.
The cherry on top is the "pillar" of the house, a large Western Red Cedar that slices right through it and gives it its unique ambient. If you want to stay someplace quiet and remote, you'd be hard-pressed to come up with anything better.
Freeland, WA
Tree Home Suite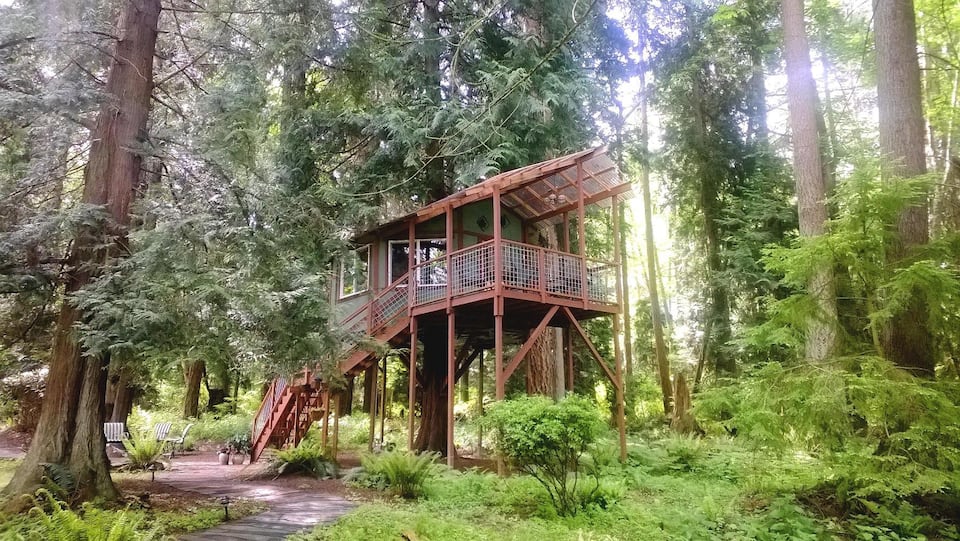 If you'd like to become one with nature while still enjoying comfortable accommodation, then this treehouse is the perfect resort for you.
Besides the beautifully furnished interior (fireplace included), what this house brings to the table is a deck with an epic view and a skylight roof for stargazing and watching the trees swaying in the wind.
You'll also have the option of relaxing around a fireplace and having an outdoor meal, or enjoying a continental breakfast every morning of your stay.
With all that said, the highlight of the stay is arguably the surrounding forest – the gorgeous combination of cedar, hemlock, and maple trees, among others, makes this one of the most breathtaking landscapes in this part of Washington State.
In addition, the location of the house couldn't be much better – Mutiny Bay is a very short walk away, meaning you'll have both a lush forest and a lovely beach at your disposal.
Pin This Guide to Treehouse Rentals in Washington State!