Just a short ferry ride away from downtown Seattle, Bainbridge Island is a no-brainer day trip from Seattle when you're looking to escape the city life.
If you've finished tackling some of the best things to do, but aren't sure where to eat in Bainbridge Island, this guide will lay out our favorite Bainbridge Island restaurants worthy of your stomach's real estate!
Best Bainbridge Island Restaurants
Madison Diner
Some links in this post may be affiliate links. If you make a purchase through one of these links, we may earn a small commission at no extra cost to you. Please see our

disclosure policy

for more detail.
Have you dreamed of eating in a diner you've seen on the Food Network's Diners, Drive-Ins and Dives?
Old-school charm is on your side. The Madison Diner, located in the small town of Winslow on Bainbridge Island, Washington, is in a 1948 Fodero Dining Car. In 2007, Guy Fieri stopped by the diner, which was then called Big Star Diner!
I'd driven by The Madison Diner a dozen times and each time I said, "Next time I'm eating there." That next time happened over the Thanksgiving holidays.
My partner and I arrived a little after 9 a.m. There was only one spot left in the parking lot (there are around a dozen spaces), which means on a busy day it might be a little tricky finding a spot. My suggestions are the movie theatre parking lot, which is a short walk up the road, the parking lot behind Coldwell Baker Bain (right next door) and City Hall across the street.
Every booth was taken, so we sat at the bar, which we like doing anyway. The dining area was a little bigger than I thought it would be and the stainless steel and art deco design brought out that nostalgic atmosphere. The only thing missing―50s music.
The diner was originally located in Willow Grove, Pennsylvania and was in operation until the early sixties. Then it sat in a vacant lot in New Jersey until Al Packard bought it in 1996 and shipped to Bainbridge — piece by piece!
We both ordered Classic Meat and Eggs. I ordered a biscuit instead of toast, and later decided to add-on a side of sausage gravy, which only cost 50 cents Yes, that's right — 50 cents!
It was good too, packed with sausage and pepper to give it some heat. Breakfast was great!
The only thing I would quibble about was the burnt edges on my ham.
Restaurant Details
Where: 305 Madison Ave. N., Bainbridge, WA 98110
What: Breakfast, lunch and dinner
Hours: Daily, 7 a.m. to 9 p.m.
My Favs: Classic Meat and Eggs ($8.99 two eggs with a choice of bacon, sausage links or patties and ham, also you can choose a biscuit instead of toast)
Want to Try: Salmon Hash ($10.99, Pacific salmon sauteed with hash browns, leeks, garlic and mushrooms) and a Wafflewich! ($9.99, Scrambled eggs, cheddar cheese with bacon placed between Belgian Waffle halves topped with butter and powdered sugar)
Service: 3 stars
San Carlos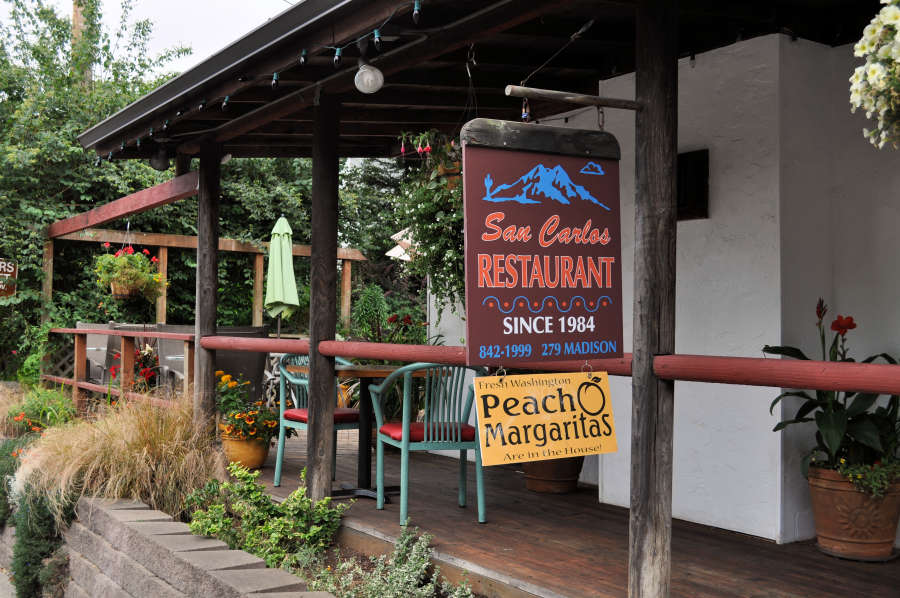 San Carlos Restaurant is one of my parent's favorite restaurants on Bainbridge Island, which means when I visit we often dine there.
The food isn't Mexican, it's New Mexican/Southwest, so don't come expecting traditional Mexican food — but it is delicious and well-worth its accolades as one of the best Bainbridge Island restaurants.
Its 30-year-plus run is a testament to its good food and popularity. For tequila lovers, their 16 tequila creations such as the Santa Fe with fresh-squeezed grapefruit juice, the Skinny with agave nectar, and their fruit margaritas (mango, strawberry, raspberry, peach) makes it a must-visit restaurant in Bainbridge Island!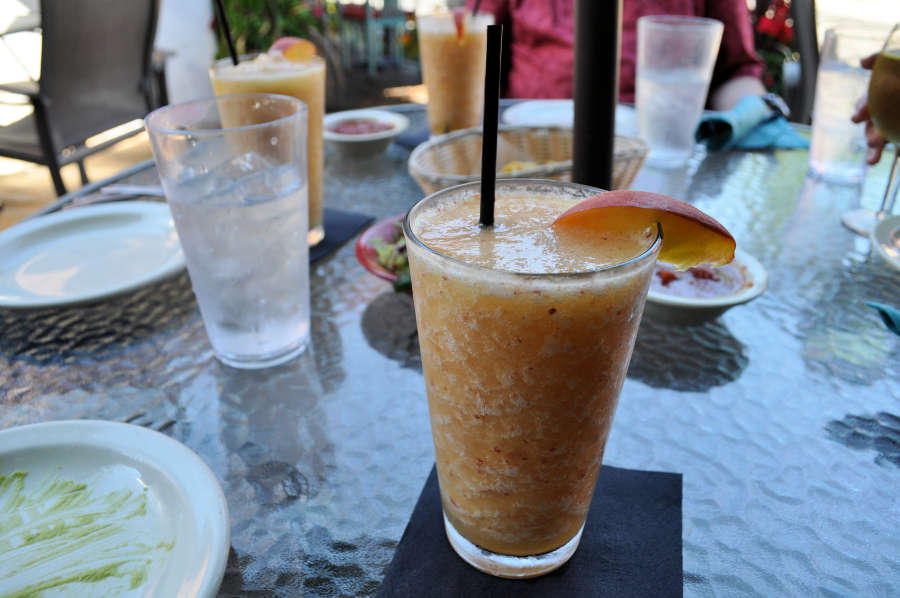 The menu at San Carlos Restaurant includes many dishes you'll be familiar with like enchiladas, tacos, burritos, vegetarian dishes, salad entrees, appetizers. Flavor profiles that play an influential role are mesquite smoked, green chili and tangy sauces.
All main entrees come with black beans and Spanish rice, and you can also substitute a small salad (which is what I do).
Since this is the Pacific Northwest, there are dishes with seafood, like seafood tacos, mesquite-smoked salmon enchiladas, steelhead burritos, and a crab chimichanga. There's also a burger section, which includes a Southwest, black and blue, and cowboy burgers.
I need to admit up front that I always order the same thing when I dine at San Carlos Restaurant. I know, it's boring, but my eyes always land on the grilled steak and goat cheese open-face enchiladas ($20.95). It's so good I can bring myself to try anything else.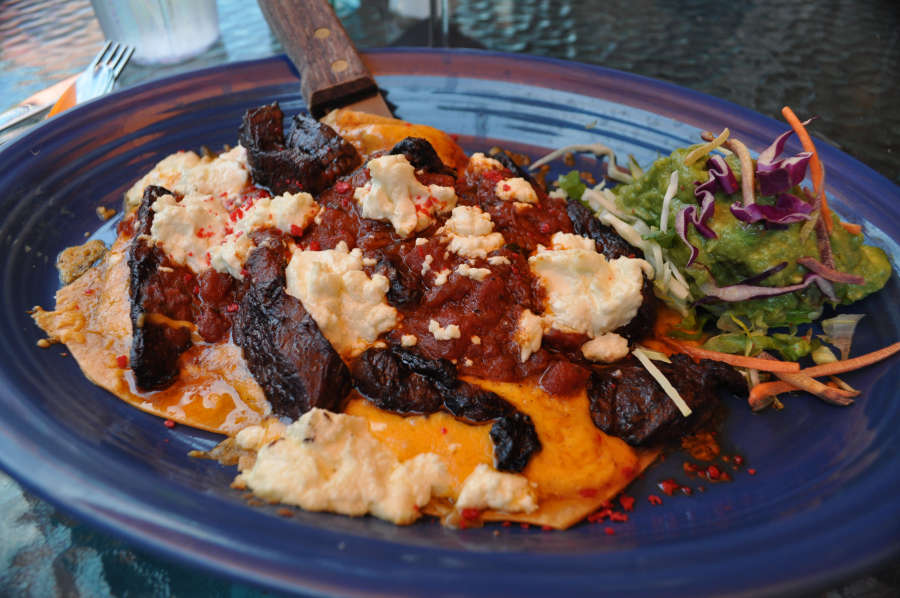 Since I am a tequila drinker, I like their philosophy of scratch margaritas with fresh lime juice, as well as, local and seasonal ingredients. My favorite is the Washington peach margarita ($6) which is only available in the summer.
They also have a seasonal raspberry, and year-round mango and strawberry margaritas. If I'm on the island when the peach margarita is available, I'm for sure stopping by San Carlos Restaurant. It's oh so peachy and refreshing on a warm Pacific Northwest day!
Restaurant Details
Since the small town of Winslow on Bainbridge Island is a 35-minute ferry ride from Seattle it sees a lot of foot traffic, even in the winter months. If you arrive on a weekend and want to sit in the dining area, which has both indoor and outdoor seating, I'd make a reservation. There is also a spacious bar area with a small outdoor patio.
If you are not familiar with Winslow, you might miss San Carlos Restaurant, as it's off the main street‒Winslow Way. For those on foot, walk all the way down Winslow Way until it runs into Madison Ave. Take a right, and San Carlos Restaurant is up the street on your left (across for Bainbridge Island City Hall). It's about a 13-minute walk.
If you are in a car, pull into the drive to the side of the restaurant and park in the back. If the lot is full, you can drive through to the other side and usually find some spots. If you are driving from the ferry terminal, it's a 5-minute drive or less.
Where: 279 Madison Ave. N, Bainbridge Island, WA 98110
What: Dinner and Lunch on Fridays
Hours: Friday from 11:30 a.m. to 10 p.m. Saturday 4 to 10 p.m. Sunday through Thursday from 4 to 9 p.m. Daily Happy Hour from 4 to 6 p.m.
Want to Try: (I will force myself to try something new next time!)
Los Burger with sauteed onions, grilled avocado, and creamy salsa ($14.95).
San Carlos BBQ Ribs (Bite of Seattle winner) are Texas-style mesquite-smoked ribs with a touch of cotija cheese ($19.95).
Herbed Crab Chimichanga (Bite of Seattle winner) with a spiced crab salad and a creamy salsa ($18.95).
The Manor House
I visit Bainbridge Island several times a year as my parents live there.
Last summer, I heard of an area called Pleasant Beach Village and started following their Instagram feed. When they posted a picture of black trumpet mushrooms for their risotto, my foodie senses went into high gear!
In February, I got my chance to dine at the Manor House. The food was delicious, beautifully presented, and we had stellar service. I have to say, it is one of my top favorites restaurants on Bainbridge Island.
For an appetizer, we started off with asparagus fried in a light tempura with miso, hazelnuts, and fried shallots. This item wasn't on the regular menu, and from its description, I wasn't sure of the ingredient combination, but the dish was the perfect starter, light, refreshing, and well balanced.
The mushroom risotto was creamy and earthy, and loaded with lots of mushrooms, including oyster mushrooms―my favorite―and I added on bavette steak.
When our server described the toffee caramel cake made with pureed dates my interest was piqued. Dates are not something I eat a lot of, and I was pleasantly surprised how they gave the cake a spiced caramel molasses flavor.
It made me rethink how unfamiliar ingredients can enhance flavor profiles and also be a healthier sweet tooth option.
Restaurant Details
The history of the Manor House dates back to the 1898 Olson homestead, and the building was once a home. We dined in the former library, which was cozy and warm with lots of wooden embellishments.
The Pleasant Beach Village area is also part of the original homestead property and has an inn, shops, a historic movie theater, a cafe, restaurants (pizza and burgers), a wine bar, and a bakery.
Specials: Mid-week is Wine & Dine Wednesdays from 5-10 p.m., and bottles of wine from a select list are half off with an entree purchase. There is also live music from 5:30 to 8:30 p.m. During the month of April, they have a 3 for $30 menu on Tuesdays, Wednesdays, and Thursdays.
Where: 4611 Woodson Lane NE, Bainbridge Island, Wa.
What: Dinner (Fine Dining)
Hours: Tuesday to Thursday: 5-9 p.m., and Friday to Saturday: 5-10 p.m., closed Sunday and Monday.
Want to Try: Bacon Wrapped Dates ($2 ea.), poached salmon with a butternut squash mash, green beans, and a cider beurre blanc ($32), and smoked half chicken with leek bread pudding, sauteed spinach and mushroom sauce ($26)
Service: 4 stars
Pin This Guide to Bainbridge Island Restaurants