Your room on San Juan Island is booked and you've made your ferry reservation on the Washington State ferries. Now, it is time to figure out what to do on San Juan Island. To help guide you, I've rounded up 15 fabulous ideas that will take you in a general loop around the island. Many of the activities cost very little to enjoy and some are FREE! I've also added in a couple of my favorite San Juan Island restaurants.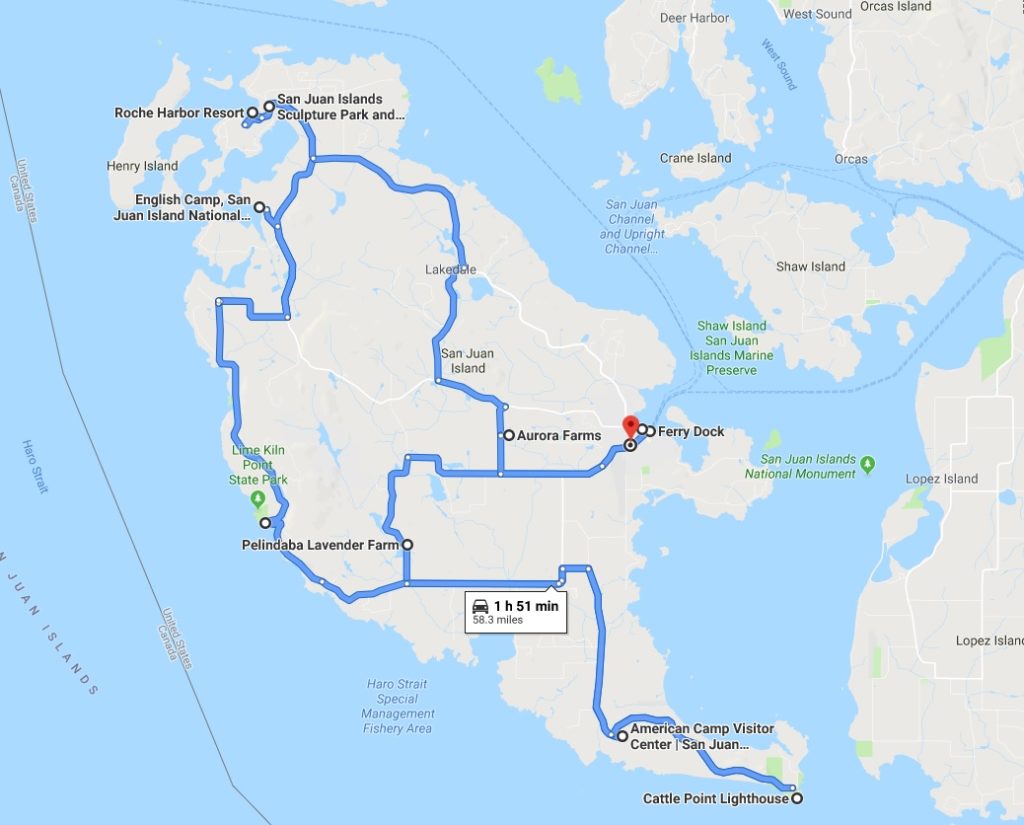 Some links in this post may be affiliate links. If you make a purchase through one of these links, we may earn a small commission at no extra cost to you. Please see our

disclosure policy

for more detail.
Travel tip: Cell reception is great in the small towns of Friday Harbor and Roche Harbor, but can be sporadic on the rest of the island. I highly recommend stopping by the Visitor Center to pick up a free map.
Disclosure: Using the affiliate links in this post. Using the link is at no additional cost to you, and provides a small commission to me to help support my blog.
Find out more about Sand Juan Island on TripAdvisor.
Travel tip: While having your own car is ideal, you can also rent a scoot car or moped or hop aboard the Jolly Trolley in the spring/summer/fall (to most of these locations).
What To Do On San Juan Island
1. The Whale Museum
The ferry disembarks in the small town of Friday Harbor and you'll definitely want to walk around as there are boutique shops, art galleries, restaurants (I'll talk about one of my favorites soon), and fabulous views of the harbor. There is one very important spot here, The Whale Museum, which is devoted to the whales in the Salish Sea, particularly the resident orca whales. The museum has exhibits on two floors and a gift shop. Of note is the 'Gallery of Whales' that focuses on local orca pods J, K and L who live in the waters of the San Juan Islands. They also have an overview of baleen whales, skeletons and much more!
Travel tip: Some additional places I like to visit in Friday Harbor: Arctic Raven Gallery, Griffin Bay Bookstore, and Susan Point's Interaction .
Admission: $9 (adults); $6 (seniors); $4 (students); free for children 5 and under. Give yourself an hour or more.
2. San Juan Bistro
When wondering what to do on San Juan Island for food, there are plenty of choices, including fabulous restaurants and cafes in Friday Harbor. One of my favorites is San Juan Bistro, which is open for lunch as well as special supper club events. On the menu are gourmet sandwiches and paninis, savory soups, and fresh salads all with a focus on locally sourced ingredients. Plus, they have amazing house-made desserts. If it is a nice day sit outside on the back patio!
(Photo credit: San Juan Bistro)
3. Pelindaba Lavender Farm
One of the most popular things to do on San Juan Island is visiting Pelindaba Lavender Farm. The 25-acre farm is free to visit and during bloom (usually July through August) the fields are breathtaking. Onsite is a Gatehouse Farm store with over 200 lavender products that they make onsite as well as ice cream, lavender lemonade, and cookies. I'm partial to the lavender shortbread. Yum! Picnic tables are available if you want to bring some snacks to enjoy while gazing at the fields.
If you don't have time to visit the lavender fields, there is also a store in downtown Friday Harbor.
Travel tip: The fields are open year round. The store is open daily from May to September and during April from Wednesday to Sunday. For hours go here. Pets are allowed on a leash.
4. American Camp
From 1859 to 1873, San Juan Island was occupied by the Americans and the British. Both of their camps remain on the island. Closest to Pelindaba Lavender Farm is American Camp. Unfortunately, the soldiers here had a hard time of things as they were very isolated and the camp didn't get the funding it needed to provide basic things like bedding and food. Many of the soldiers deserted and some even committed suicide.
Near the parking lot is a visitor center with a short movie about the camp and some of the artifacts they found. The parade ground is a short walk from the parking lot and there are more trails around the park. You could spend a couple of hours or more walking around and the views are lovely so don't forget your camera.
Travel tip: American Camp is part of San Juan Island National Historical Park and free to visit. The grounds are open year round. The visitor center is open daily in the summer and from Tuesday to Saturday starting in November. For more infomration go here.
5. Cattle Point Lighthouse
Cattle Point Lighthouse is my favorite spot on San Juan Island. If you pressed me for one place to go, this is where I would send you. First, I love the drive there for a section of the road is along this windswept hill with jawdropping views of the sea (think Ireland!). Second, to get to the lighthouse you hike through this low grassy meadow and then once you get to the lighthouse the view opens up to the rocky coastline.
Travel tip: The trailhead starts near the road and you'll see a couple of pull-offs. The trail to the lighthouse is short and very easy, and if you want to do more exploring, there are more trails.
On my most recent visit, I shared the view with an eagle!
6. Lime Kiln Point State Park
Another popular stop is Lime Kiln Point State Park. This park is known as one of the top land-viewing locations to see whales, so don't expect to be here alone as many people choose this as their top activity when picking out what to do on San Juan Island. From the parking lot, there are a couple of trails down to the shoreline, which is dotted with around a dozen picnic tables.
The century-old Lime Kiln Lighthouse is also a whale research station and during the summer months, researchers and park rangers are on hand to answer questions about whales and other marine wildlife. Be sure to check out the hydrophone outside the lighthouse and listen to sea life.
If you do plan to visit Lime Kiln Point State Park, plan to visit The Whale Center before as it will give you a deeper understanding of the resident orcas and the research that takes place here.
Travel tip: Lime Kiln Point State Park does require a day pass ($10) or a Discovery Pass ($30 annual), which can be purchased onsite. Tours of the lighthouse begin in May and end in mid-September, and talks with Dr. Bob Otis are from mid-June to Mid-August. To see the days and times go here. During the summer months the visitor center is open as well as a snack shop.
7. Roadside Art
Artists abound on San Juan Island and Kevin Roth has turned trash to treasure in the shape of a pineapple and strawberry house, an orange goldfish and yellow submarine. This art is along the roadside north of San Juan County Park.
I have removed the photos of the roadside art per the request of the artist as the sculptures are on private property. Please keep that in mind if you stop to see the art.
Travel tip: If you are looking for a place to camp, San Juan County Park has campsites with sweet views. Reserve a head of time as they fill up fast!
8. English Camp
Out of the two – American Camp and English Camp – the latter is my favorite as there are more buildings and you can get a better sense of what the camp looked like. Much of this had to do with the fact that British Camp had the full support and funding of the British Royal Marines. The camp was more like a small village with a flower and vegetable garden. When they were ordered to leave, many of the soldiers said they were sad to go.
From the parking lot, it's a short walk down a hill to the grounds. There are more trails at the park, including one to an old graveyard.
Travel tip: Visiting English Camp is free. The visitor center is only open during the summer and has a small gift shop and a theater room where they play a movie.
9. San Juan Island Sculpture Park
Another suggestion for what to do on San Juan Island for art is the 20-acre Sculpture Park. Founded in 1998, more than 45,000 people visit the park each year. The property is very peaceful and artwork can be found all over. Take one of the five marked trails and spend some time in this harmonious spot. If you plan to do all of the trails give yourself a couple of hours.
Kids will love the Starfish Project where they can make their own art designs with items provided by the park (shells, driftwood, floats, etc.). There is also a Friendship Totem where guests are encouraged to carve their names into the poles.
Travel tip: The park requests a $5 per-person donation at the entrance (honor system) with children being free. Dogs are welcome!
10. Afterglow Vista
Across the street from the San Juan Island Sculpture Park is the trailhead to Afterglow Vista, also known as the McMillin Mausoleum. The trail leads you through an old pioneer graveyard, through the woods and ends at the mausoleum, which is on the National Register of Historic Places. John McMillin designed the mausoleum and "incorporated symbols taken from Masonry, the Bible, Sigma Chi fraternity, and his own family unity." To learn more about the design go here.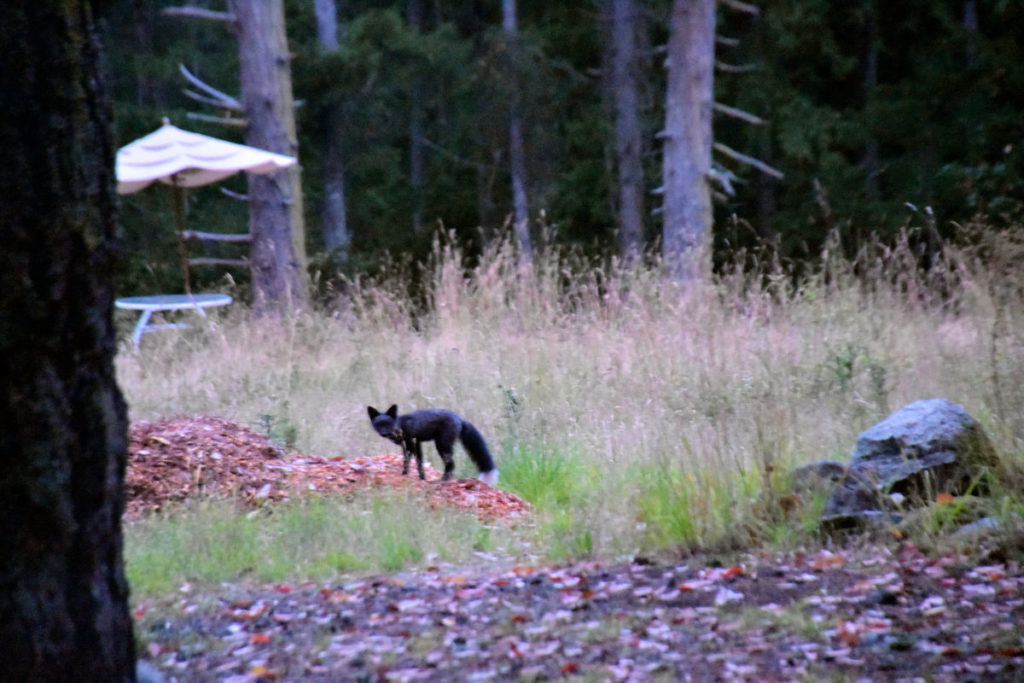 Travel tip: It takes about 15 minutes to get to the mausoleum. If you go in the evening, keep a lookout for the island's famous black foxes.
11. Stroll Around Roche Harbor
The first time I ever went to Roche Harbor we got ice cream and strolled around the waterfront and docks. Now it has become a tradition. When considering what to do on San Juan Island, this makes for a unique spot with the historic Hotel De Haro. the old lime kilns, and The Company Store, which has been in operation since 1886. In front of the kilns are two bocce ball courts and seating for onlookers as well as shops, restaurants and the marina.
12. Colors Ceremony Roche Harbor
I have yet to see the Colors Ceremony myself, but everyone I talk to says it is a must-see. The ceremony happens each summer night before sunset and five flags (Roche Harbor, Washington State, Great Britain, Canada, and the United States) are retired with songs and cannon booms. Watch a YouTube video from Jolly Mon Charters.
Travel tip: Go here to find out more info and the schedule.
13. Duck Soup
One of my favorite places on San Juan Island is at Duck Soup. Tucked in the woods the restaurant is cozy and romantic, and on warmer nights you can sit outside or gather around the outdoor firepit. They feature locally sourced ingredients including meat, produce, seafood and foraged goodies, and hand-crafted cocktails. Every part of the menu is creative and innovative and I've always been happy with what I've ordered.
Below is a strawberry basil margarita, duck breast with a roasted red pepper coulis and black tahini ice cream with ginger snap cookies.
Travel tip: Duck Soup San Juan is open for dinner from 5 pm to 9pm, but the days changes with the seasons. Go here to find out more and make a reservation.
14. Aurora Farms
A fun pick for what to do on San Juan Island is visiting Aurora Farms, a 31-acre organic polyculture farm. The farm is open to the public and visitors can walk around the property to see the farm animals, gardens and view the owner's artistic creations. There is a small store where items are purchased via the honor system. If someone is on hand and has time within their workday, they can chat more about the farm. If you for sure want to talk to someone to learn more about the farm and pet the goats give them a call ahead of time.
Travel tip: Throughout the year the farm offers workshops and soon you will be able to stay overnight at the farm!
15. San Juan Island Museum of Art
As you've seen, the island supports the arts and my next highlight for what to do on San Juan Island takes you to the San Juan Islands Museum of Art. This stop will circle you back to the small town of Friday Harbor where you catch the ferry back to the mainland. The museum itself is a work of art and the exhibits (8 to 10 a year) focuses heavily on artists in the San Juan Islands, the Pacific Northwest, and Southwest British Columbia. Click here to see the current exhibition and lectures.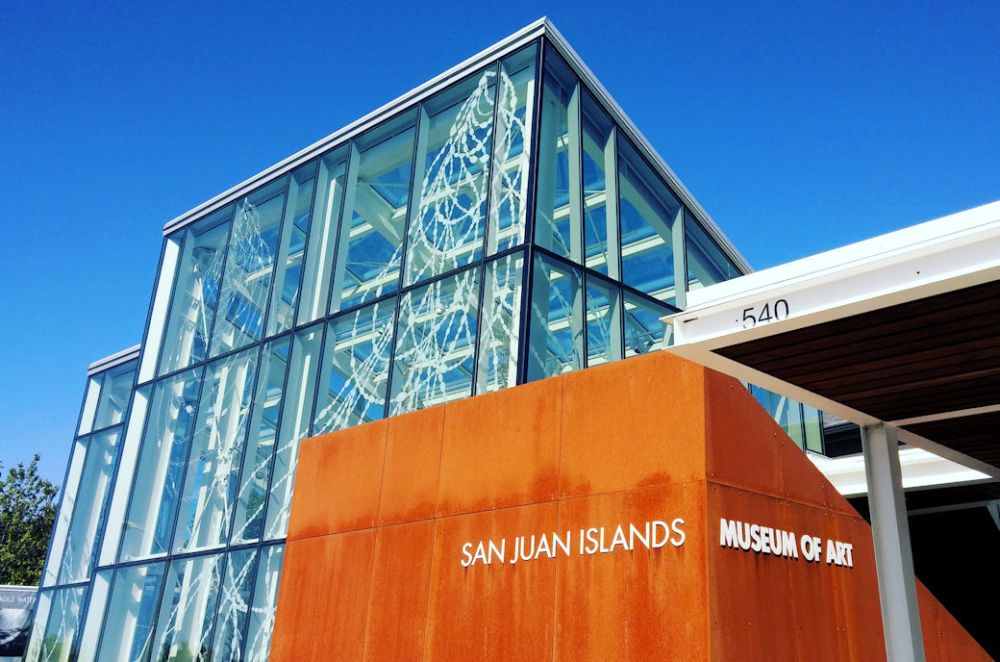 Admission: $10 (adult); children 18 and under free. The museum has winter and summer hours, go here to see the days and times.
Where to Stay on San Juan Island
For accommodations, there are Friday Harbor hotels, San Juan Island bed and breakfast establishments, and Roche Harbor Resort. I can recommend Snug Harbor Resort, Friday Harbor House, Tucker House Inn, and Islands Inn at 123 West.
For more information go to Visit San Juans.

If you plan to spend time in Anacortes (where you catch the San Juan Island ferry) before or after your trip, check out this Anacortes travel guide.
Do you have any other suggestions for what to do on San Juan Island?
Pin for Later!