Autumn is my favorite time of the year and fall in Wenatchee is a must experience when exploring Washington State. There are Pacific Northwest hikes to take in the colors, dog-friendly trails and the added bonus of following up your day with a craft beer at one of the many local breweries.
Last fall, Visit Wenatchee invited me and Hazel (my blue heeler) to experience fall hiking in Wenatchee as well as Brewers Row and Faire Le Pont Winery. If you find yourself in Wenatchee and looking for things to do, here are five ideas to put on your itinerary.
Disclosure: There are affiliate links in this post. Using the link is at no additional cost to you, and provides a small commission to me to help support my blog. 
Some links in this post may be affiliate links. If you make a purchase through one of these links, we may earn a small commission at no extra cost to you. Please see our

disclosure policy

for more detail.
5 Reasons To Visit Wenatchee This Fall
1. A Hike With Fall Colors
The trail to Clara and Marion Lake is 4.5 miles-roundtrip and the terrain is mostly uphill but starts to level out once you get closer to the lake. Hazel and I started early in the morning as reviews said the trail would get crowded later in the day and it did. We only saw four people in the morning, and on the way back, at least 20 with more hikers in the parking lot.
Why do I love Wenatchee? Discover why I am obssesd with this Eastern Washington town!
Reviews also said the larch trees were in full yellow display and I wanted to see what that was all about. We started to see some about 40 minutes into the hike and then more around the lake.
Hiking tip: Near the top, the trail merges with another trail. Go left for the lakes. Read more about the trail here.
Once you reach the lakes, spend some time walking around as the scenery is beautiful. If you brought a snack or lunch, enjoy it here. Hazel and I picked a shady spot under some trees next to Clara Lake to play and rest for a while before hiking back down.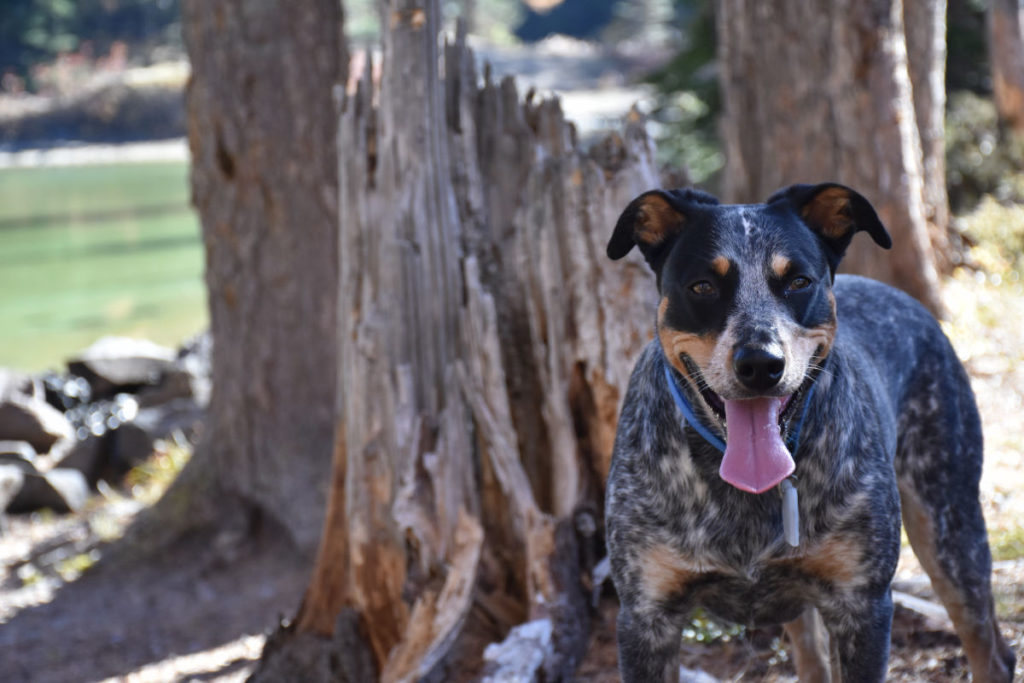 In total, we were hiking for about six hours, but we took our time and made stops for play and photos. Plus, I did make a wrong turn (I went right instead of left for the lakes), so that cost me some trail time.
Hiking Tip: Bring water, a snack, a camera and wear layers. It will most likely be a bit chilly in the morning, but you'll warm up fast as you progress uphill.
2. A Hike With A View
For an easy hike with a view, I recommend the main trail at Dry Gulch Preserve. A former mine site, the trails can be easy or hard depending on which trails you take. For an easier hike, follow the main gravel road up the side of the hill and back down. On your way up, don't forget to turn around and look back at the Wenatchee Valley spread out before you.
The slope is easy and the pace steady. Once you reach the top, the valley becomes more hidden from view.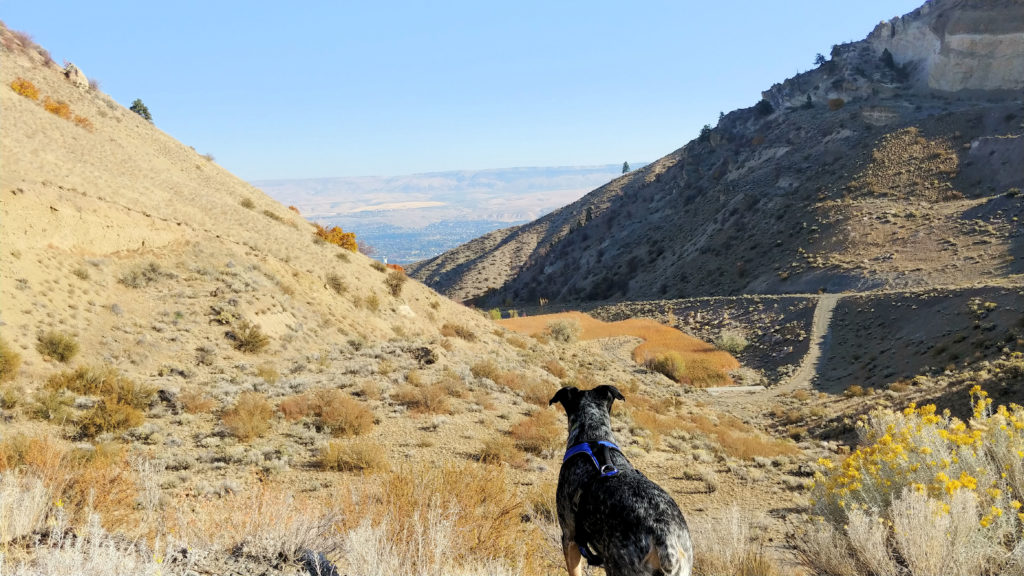 There is also a 3.3-mile loop trail and a 5.6-mile loop trail if you have more time. The trailhead starts near the popular Saddle Rock ( in the video on the left) which also has amazing views of the Wenatchee Valley.
3. Post-Hike Liquid Rewards
For a liquid reward, there are plenty of breweries and wineries to choose from. For beer lovers, I recommend picking up a Brewers Row passport at the Wenatchee Valley Visitor Center downtown. Passports can also be picked up at the breweries, but getting one here is a fun way to start your adventure as they have a tasting bar made out of a 1946 Amigos Orchard truck!
The passport lists the three breweries you need to visit and all are within walking distance. Visit each brewery to get a drink and a stamp and once the card is full, return the visitor center to get your stainless steel pint glass.
Stops on the Brewers Row Passport
Want to learn more about Brewers Row? Check out this article on Scenic Washington!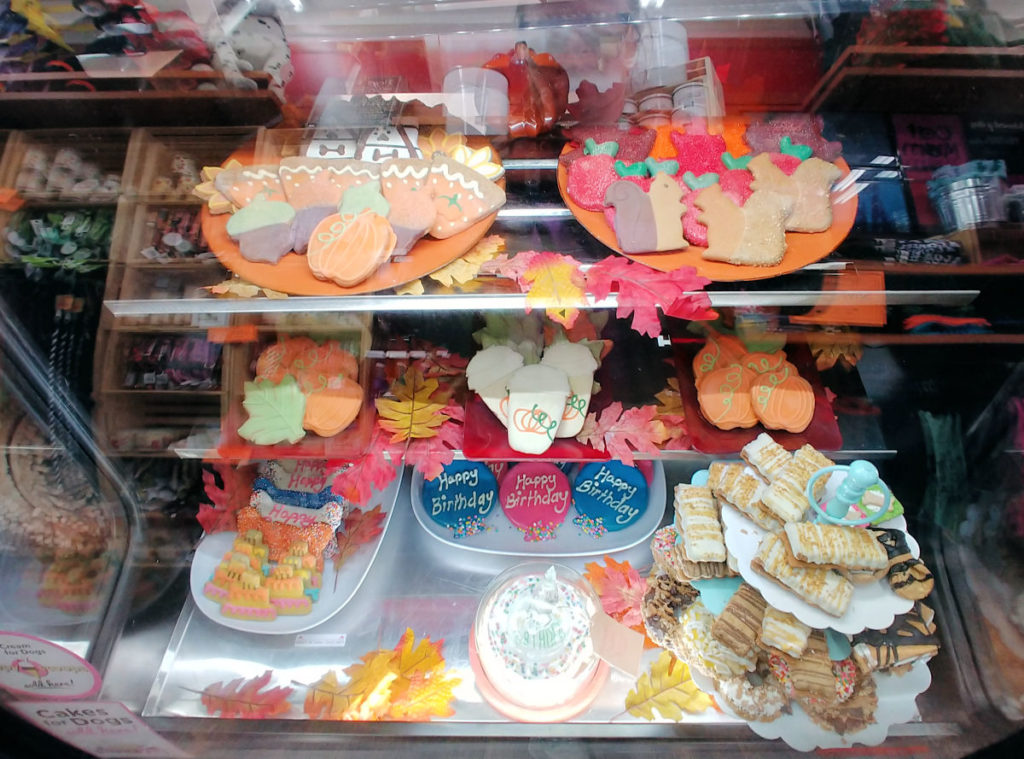 The Perfect Stop For Your Pet!
If you are traveling with your pup, be sure to stop at the Firehouse Pet Shop & Grooming in downtown. The bakery has beautifully decorated cookies (and cakes) all for dogs! If you are in need of a leash or food, they have that too and much more, including a full-service grooming and a self-washing station downstairs.
4. Post Hike Food Options
Saddle Rock Pub and Brewery
For Italian-inspired eats head to Saddle Rock Pub and Brewery. Located downtown, it is within walking distance of the breweries on Brewers Row. If you have your dog with you, there is outside seating at long picnic tables. Great food with a laid back atmosphere.
Chateau Faire Le Pont
For an elegant dining experience head to Chateau Faire Le Pont. The winery is both a tasting room and a restaurant that serves lunch and dinner. There are specific restaurant hours, so be sure to review them here before you drive to the winery as it is outside of town.
When you enter, you'll be inside the tasting room, which features a tasting bar along with tables, chairs and couches. The restaurant is on the opposite end of the tasting bar and is intimate and welcoming. Throughout my dining experience, I had excellent service and an outstanding meal.
Pet tip: Another unique feature of the winery is an outdoor enclosed dog park with a few tables and seating arrangements as well as a nice water feature.
For dining, I also recommend McGlinn's Public House, and in Pybus Public Market, Pybus Bistro and South.
5. The New Off-Leash Dog Park
Wenatchee is a very dog-friendly town and Hale Park Off-Lease Dog Park is their newest furry facility. The 2-acre fenced dog park has an outer walking trail and inner play area. Trees have been planted, but since this is a new park they are small and don't provide much shade yet. If you go on a sunny day, bring a hat and sunglasses.
What else is there to do in Wenatchee? Discover my 7 recommendations to do right now!
Where to Stay In Wenatchee
Springhill Suites by Marriott Wenatchee
The Springhill Suites by Mariott has hosted my most recent stays in Wenatchee. While I have stayed in Mariott brand hotels before, I have not stayed in a Springhill Suites and I have to say I loved my experience both times. The hotel features 108 modern suites that are big enough for families.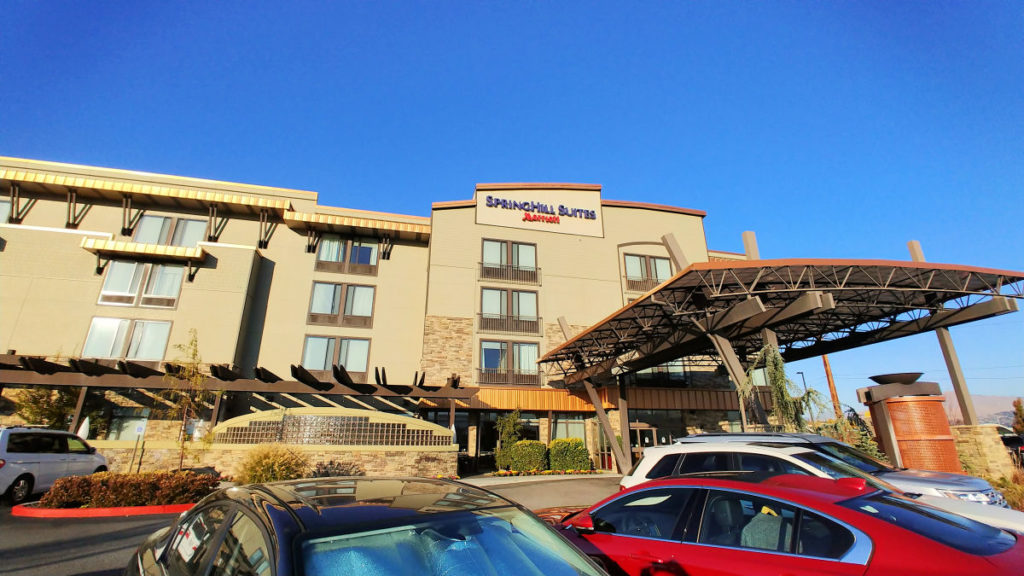 I appreciate spacious rooms and the suites have a ton of space! The bedroom area has plenty of room to move around and includes two bathrooms, one with a shower and sink, and another with a toilet and a sink. To separate the space is a large work desk with a sitting area with a couch and a wet bar with a microwave and mini-fridge.
In the morning, is a great complimentary breakfast with lots of healthy options, hot items, pastries, yogurt, and fruit. On a nice day sit on the outdoor patio and soak up the warm Wenatchee weather.
60+ Million Users Trust TripAdvisor With Their Travel Plans. Shouldn't You?
The hotel also has a pool, hot tub, free WiFi, barbecue grills, and a 24-hour fitness room.
Book direct through the hotel or through one of my affiliates like TripAdvisor or Hotels.com. Booking through an affiliate is at no extra charge to you, however, it does provide me with a small commission.
If you are traveling with your furbaby I recommend the Coast Wenatchee Center Hotel. Located in the heart of downtown Wenatchee, guests can walk around town with ease, and the pet charge is $10 per pet per stay.
Want to read more about my Wenatchee travels? Check out these articles.
Find out what fellow travelers have to say about Wenatchee.