Visiting the San Juan Islands is a top destination for travelers who want to experience island-life in Washington State. From Seattle, the drive is 1.5-hours to Anacortes where you catch the San Juan Islands ferry to some of the coolest small towns in America. Thanks to Scenic Washington State, I visited San Juan Island this summer and stayed at Snug Harbor Resort & Marina. Located on the west side, the resort sits along Mitchell Bay, and its cabins and suites all feature water views.
This resort offers more than an idyllic setting as it is very travel-friendly with full-kitchens and gas grills to prepare meals and complimentary watercraft to tour the bay. If you are looking for a romantic getaway or family-friendly lodging on San Juan Island, here is the low down on Snug Harbor Resort.
(Photo credit (above): Snug Harbor Resort)
Disclosure: Using the affiliate links in this post. Using the link is at no additional cost to you, and provides a small commission to me to help support my blog.
Find out more about Sand Juan Island on TripAdvisor.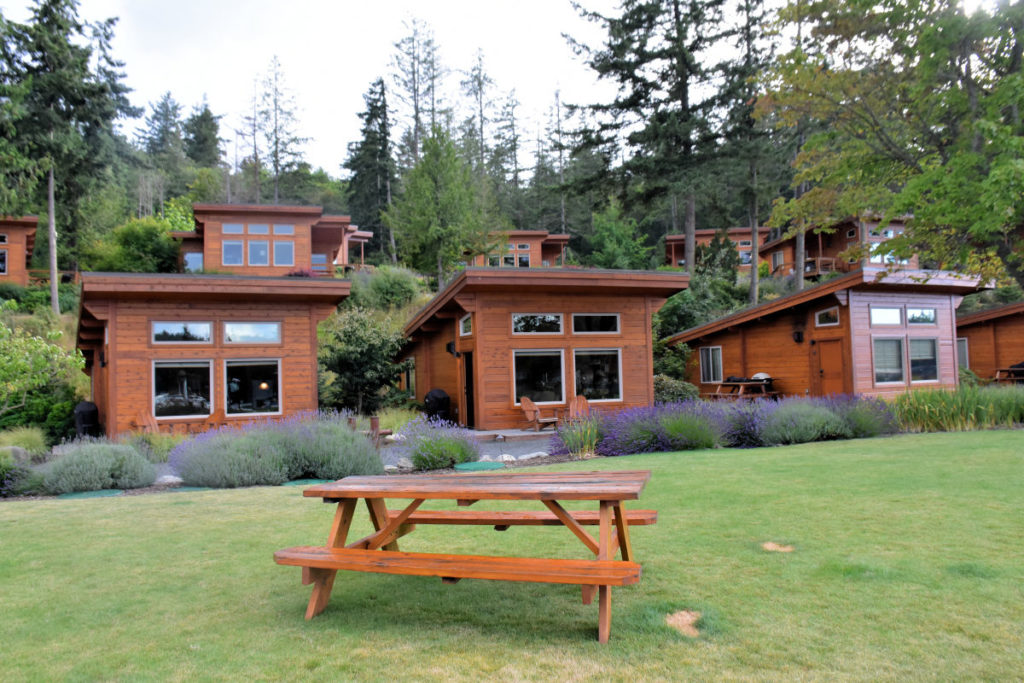 Some links in this post may be affiliate links. If you make a purchase through one of these links, we may earn a small commission at no extra cost to you. Please see our

disclosure policy

for more detail.
Snug Harbor Resort on San Juan Island
Snug Harbor Resort has been a fixture on San Juan Island since the 1960s. Founded as a low-key fishing resort, the resort has undergone a complete overhaul. Cabins (one and two-bedroom) are sleek and modern with the first row about 50 feet from the shoreline, and the rest on a gentle rise behind. Three suites (one and two-bedroom) are the closest to the water and above the reception area which also has a sundry and coffee shop.
To get to reception, park in the first parking lot you come to and then take the path. You can also park behind the reception area, but this way, you get to see the full view of the property, including its amenities like the communal fire pits and complimentary watercraft.
Cabins at Snug Harbor Resort
Each cabin has an outside private deck or patio with a gas grill. Inside is a separate bedroom, fully-stocked kitchen with a dining nook and a living area with a pull-out bed and gas fireplace. As you would expect front-facing windows and the decks/patios are situated to take in the water views.
Cabins are very private and while I did see other guests walking along the road and the paths, I didn't hear them when I was inside my cabin. There is a flatscreen TV in the living room and a BlueRay DVD player and stereo. WiFi is free.
Amenities I Loved
FREE Kayaks, SUP & Canoes
Kayaking and the Pacific Northwest go hand-in-hand, and I can't think of a better activity while touring small town Washington. At the resort, getting out on the water is super easy as kayaks, SUP and canoes are free!
Travel tip: Watercraft rentals are checked-out at reception (you need to fill out a form) and must be returned by 5 pm, so plan accordingly. You cannot take them into Haro Strait, but you can paddle all around Mitchel Bay.
Travel tip: Kayaks are sit on top so plan to get a little wet. Bring a hat and sunglasses. Since my glasses are prescription, I always use a floating sunglass strap just in case. On sunny days, don't forget the sunscreen!
Catch Crab
Another cool thing about the canoe rentals is that you can use them to drop the resorts complimentary crab pots to catch crab (when in season) and then cook the crab in their outside cooking pots! If this is something you want to do, you'll need to 1) get a crabbing license before you arrive and 2) purchase bait. Guests can also drop crab pots off the docks.
Communal Fire Pits
Snug Harbor Resort has a couple of communal fire pits; one with a smaller seating arrangement and one with more seats and picnic tables. Guests start the campfire themselves, however, the staff is happy to assist. The gift shop sells snack items like s'mores, meat and cheese boards, and beverages (soda, juice, wine, beer).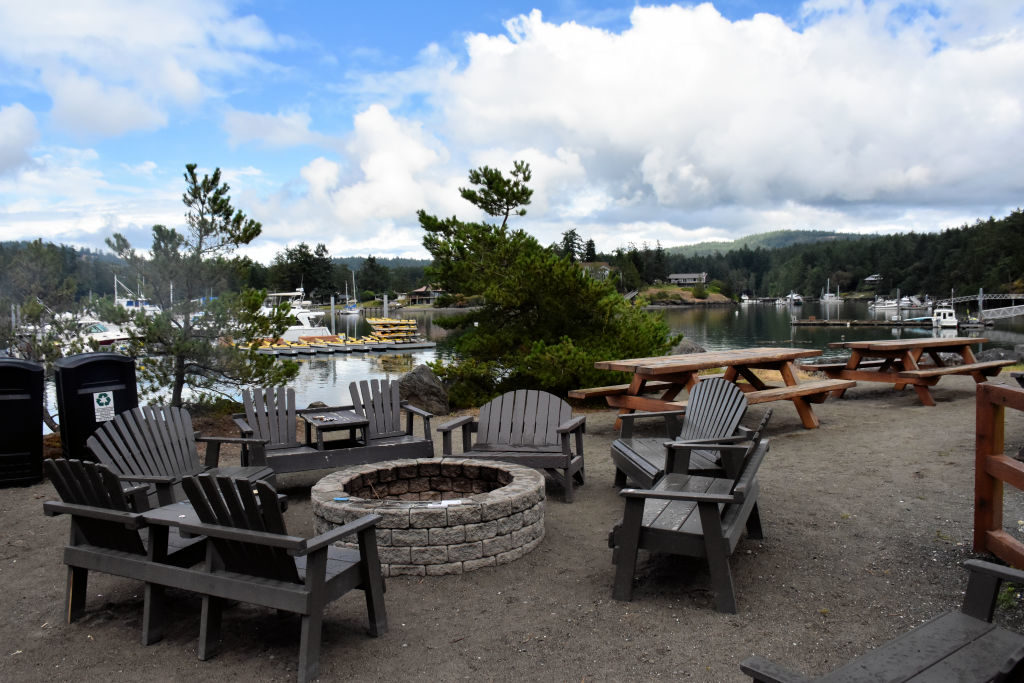 Fully-Stocked Kitchens
Kitchens are stocked with almost everything you need, such as dishware, pans and pots, and utensils. There are limited spices and cooking oils, so you'll need to bring those. I came prepared to make breakfast and enjoyed it on my outdoor deck.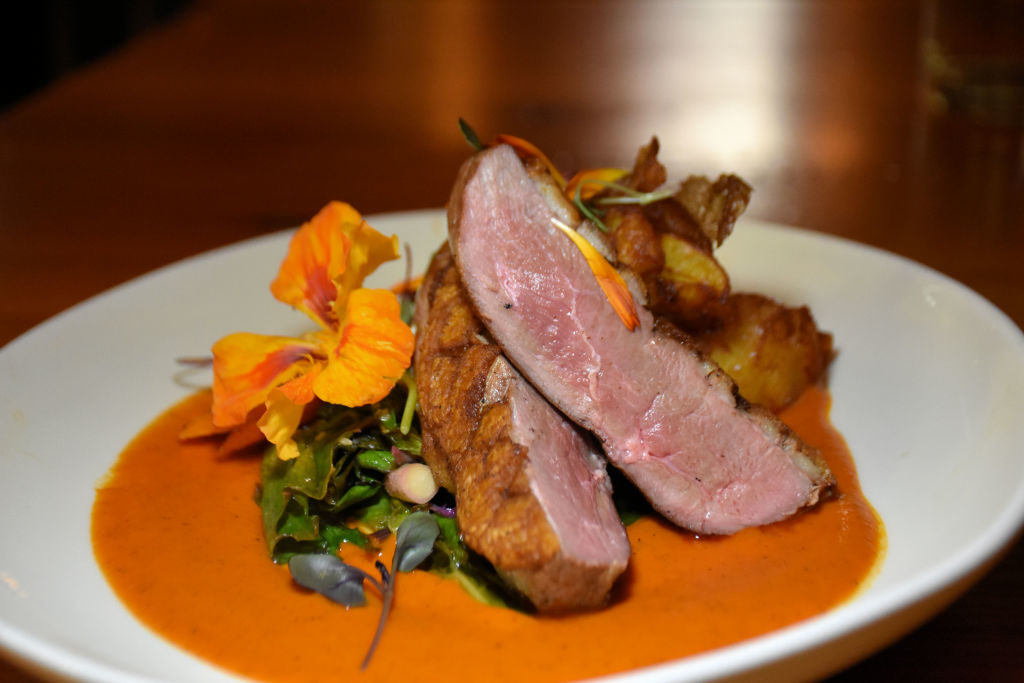 Travel tip: If you plan to dine out, you'll need to drive. Most restaurants and cafes are around 10 to 20 minutes away in Friday Harbor and Roche Harbor (some of the best small towns in Washington). For dinner, I highly recommend Duck Soup, which is in between the two.
Exercise Room
I typically don't exercise while traveling as I hike and walk a lot. If you like to get in a workout there is an exercise room with a view.
More Amenities
There is no restaurant on-site, but there is a small coffee shop that has some light breakfast items like pastries and soups. There is also a small store that has gift items and limited groceries/snacks.
The marina in front of the property belongs to the resort and some local kayaking companies and whale watching tours in the San Juan Islands launch from this marina. Ask the staff at the reception desk for more information.
Final Thoughts on Snug Harbor Resort
How would I describe my stay? Peaceful and relaxing. At night, heard owls hooting and in the morning, all I wanted to do was sip my tea and admire the view. While I did stay here alone, I do feel this is the type of place that is meant to be shared with someone on a romantic getaway or traveling with family and friends.
The one and two-bedroom options provide ample space, the complimentary use of the kayaks, SUPs, and canoes, and being able to prepare meals in your cabin provides significant cost savings.
Book your stay directly with Snug Harbor Resort, or use one of my affilate links at Trip Advisor, Hotels.com, or Expedia. (This is at no additional cost to you and provides me with small comission.)

Discover more information about the area at Visit San Juans Isands.
Travel tip: The price almost doubles during the summer season. If you are looking for a bit of luxury at more affordable prices, stay at Snug Harbor Resort during the off-season. This part of Washington has very mild winters making it a good place to travel year-round. Just keep in mind that restaurants and stores often have reduced hours.
Read More About Snug Harbor Resort
Note: As is common in the travel industry, the writer was provided with accommodations and meals. While it has not influenced this review, the writer believes in full disclosure of all potential conflicts of interest.
Pin For Later!