You know I love exploring wine country and on a recent trip to Lewiston, Idaho for Winter Fest, I got to experience the wineries in the Lewis-Clark Valley. This AVA straddles the Idaho Washington border and two rivers, the Snake, and the Clearwater, which have cut through the landscape to create amazing canyons. The AVA covers 479 miles with almost 100 acres of planted grape vines.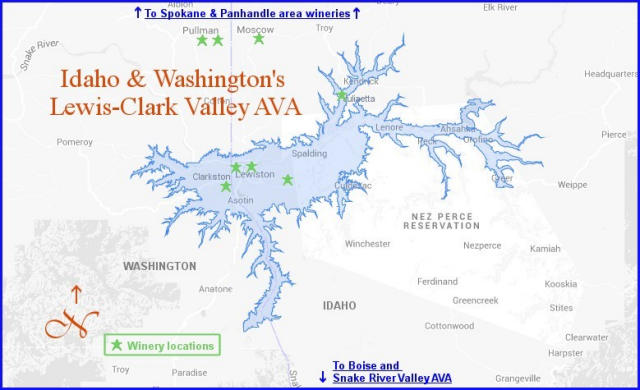 The first vines were planted in 1872, and at one time there were so many grapevines that Clarkston, Washington (which is right across the river from Lewiston) was called Vineland. How cool is that!? Unfortunately, all those original vines were taken out during prohibition, but thankfully, the vineyards have returned, and vintners are making fabulous award-winning wines.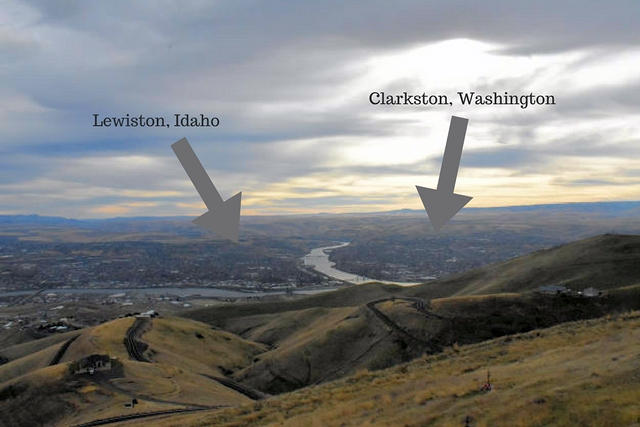 During my visit, I stopped at Basalt Cellars, Clearwater Canyon Cellars, Colter's Creek Winery, and Lindsay Creek Vineyards. While I spent most of my time wine tasting, I did get a chance to check out a couple of the cultural and historical attractions which I will also include below.
Travel tip: If you are interested in touring wine country with someone in the know, Twisted Vine Wine Tours offers a guided winery experience.
Disclosure: You can help support my small town travels by using the affiliate links in this post. Using the link is at no additional cost to you and provides me with a small commission to help support my blog. 



The first vines in the Lewis Clark Valley were planted in 1872. Photo credit: Lewis Clark Valley Wine Alliance
A Wine Tasting Adventure in the Lewis Clark Valley
Basalt Cellars (Clarkston, Washington)
If you are staying at the Quality Inn & Suites, visiting your first winery, Basalt Cellars, is super easy as it is a short walk away. This winery uses estate wines and Washington State grapes to produce a wide selections of wines, many of which are award-winning like the 2013 Rim Rock Red that won 90 points and Editors Choice in Wine Enthusiast, their 2012 Malbec that won a double gold and "best of varietal" at the Tri-Cities Wine Festival, and their 2014 Cabernet Sauvignon "Francine" that won a gold medal at the San Francisco Chronicle Wine Competition.
The winery tasting room is on the smaller side, but that makes for a very intimate experience. Who doesn't want to ask a winemaker about making wines and owning a winery? Depending on the time of year, you might get to chat with Rick and Lynn, the owners, and Holly and Leisha, their dedicated winery staff, who often manage the tasting room. Rick has deep roots in the area, and if you sample the sauvignon blanc be sure to ask about the picture that shows Rick's grandmother harvesting grapes. And, if there is time, ask about their special-built barrel they've named Francie.
Cool fact: Did you know wine will taste different depending on the type of glass you use?
Travel Tips: During the warmer months, tables and chairs are set outside. Throughout the year they also have wine tasting dinners with local restaurants and wine events.

Tasting room hours: Monday through Saturday from 12 p.m. to 5:30 p.m.

Tasting fee: $10, if you buy a bottle, the fee is waived
Clearwater Canyon Cellars
The next three wineries are on the Idaho side. Clearwater Canyon Cellars won Idaho Winery of the year in 2015. In 2017, two of their wines – 2014 Coco's Reserve Malbec (made with grapes from the Lewis Clark AVA) and 2015 Carménère – made Andy Perdue's "The Northwest's Top 50 Wines" in The Seattle Times. The malbec also earned a 'King of Platinum' award and the carménère a double gold from Wine Press Northwest.
The winemakers, Karl and Coco, spearheaded getting the Lewis Clark Valley recognized as an AVA and their education and degrees, are quite impressive. The tasting room and winery are on Coco's century-old family farm. From there, there are fantastic mountain and vineyard views.
During my visit, they invited me to join one of their wine club events (a perk of being a travel writer). The evening was very festive with wine and food stations, where I got to sample wines and meet locals. One of my favorite wines, the Louis Delsol cabernet sauvignon, also had a great story. Delsol, a Frenchman known for planting the first grapes in the Lewis Clark Valley in 1872, opened his winery in the late 1800s, and by 1900 had 80 acres of vineyards!
Cool fact: Coco is "the first head female winemaker and the first Idaho winemaker to accumulate 10 platinum awards."
Travel tip: There is a large patio next to the tasting room, and in the summer guests can lounge in tables and chairs and soak up the view.

Tasting room hours: Friday and Saturday from 12 p.m. to 5 p.m.

Tasting fee: $10, if you buy a bottle, the fee is waived
Activity Option – Chief Timothy Park
A 14-minute drive west along HWY 12 from Clarkston will take you to Chief Timothy Park. This Washington State Park is an island in the Snake River and features campsites, a boat launch, trails, and a swimming area. Why am I listing this as a stop? Because of the art installment by Maya Lin called the "Listening Circle."
To get to the circle, you'll want to park your car in the furthest parking lot to the left of the entrance. From there, it's around an 8 to 10-minute walk to the circle. The scenery from the trail is fantastic, so don't forget your camera. Once you get to the circle, sit down, and listen to the sounds of the water and wind.
"The shape is inspired by a Nez Perce blessing ceremony performed here in spring 2005, at which the women were seated facing north, the men facing south, and the elders facing east, with no one allowed to pass behind them." ~ Conflucence Project
Travel Tip: For any Washington State Park visit, you'll need to pay a day use fee ($5) or if you have a Discover Pass hang that on your rearview mirror. If you plan to visit a lot of state parks in Washington, its a better deal to buy a $35 Discover Pass.
Travel tip: This is rattlesnake country, so be snake aware.
Colter's Creek Winery
A 30-minute drive from Lewiston is Colter's Creek Winery and Tasting Room in the small town of Juliaetta, Idaho, population 582. The sleepy town has a handful of historic buildings, a recreational bike trail, and access to the creek. The main draw is the tasting room and restaurant inside the towns former 1902 pharmacy. Their wines have won many accolades, like a gold medal in the Cascadia Wine Competition for their 2013 Arrow Rim Red, a silver medal in the NW Wine Competition for their 2013 Koos-Koos-Kia, and a gold medal in the Idaho Wine Competition for their 2016 Juliaetta Rose.
Since the tasting room also serves food, I suggest visiting Colter's Creek around lunchtime. Do the wine tasting first, and then sit down for a bite to eat with your favorite glass of wine (or beer). There is an excellent selection of locally sourced dishes, and some ingredients are grown in the gardens at the vineyard. I chose to have the beet salad with beets grown in garden, pork belly sliders, and their house fries. All were great, and I'd order again.
Cool fact: The winery is named after John Colter, who was on the Lewis and Clark Expedition. Colter had some serious hunting skills and was considered to be one of the best hunters and scouts in the expedition, and even he scouted Colter's Creek!
Tasting room hours: Thursday, 4 p.m. to 5 p.m., Friday through Sunday, 12 p.m. to 5 p.m.

Restaurant hours: Thursday, 4 p.m. to 9 p.m., Friday and Saturday, 12 p.m. to 9 p.m., and Sunday, 12 p.m. to 5 p.m.

Tasting fee: $5 (non-reimbursable)
Activity Option – Nez Perce Historical Park
After lunch, I suggest visiting the Nez Perce Historical Park, which is along the route back toward Lewiston (18-minutes from the winery). The park is free to visit and has a short video about the tribe and a small museum. I wasn't allowed to take photos of the objects and artifacts, but you can see some of the items they have on display here.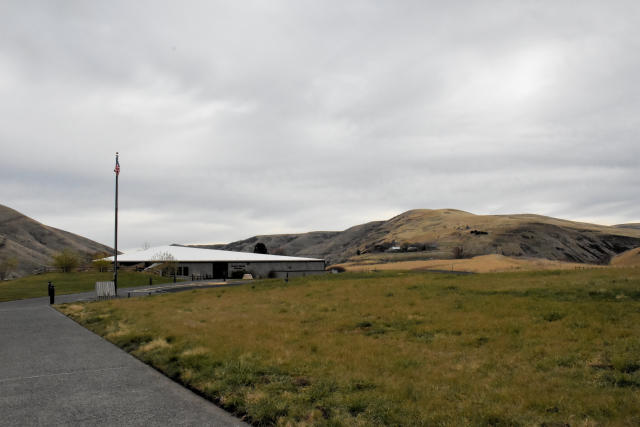 Alternative Road – Lapwai to Lindsey Creek Winery
You know I love off the beaten path roads, and I found one near the visitor center in the town of Lapwai. This road is mostly gravel and takes around 12 minutes to get your next winery stop at Lindsay Creek Vineyards. The best thing about this drive is that you will feel like you are out in the middle of nowhere and most likely won't see anyone. Plus the views at the top are stunning.
Your phone's map app should find it, especially if you input the town of Lapwai and then get directions to the winery. Basically, take Main Street, to get on Bever Canyon Road, follow that road up the hill to Bever Rd., then take a left on 480 Rd. and a right on Powers Ave. which goes right in front of the Lindsay Creek Vineyards.
Lindsay Creek Vineyards
As a girl who has farming in her roots, I love to see farms reinvent themselves, and that is precisely what fourth-generation farming brothers Art and Doug McIntosh did at Lindsay Creek Vineyards. In 2007, they planted their first vines, and now they have a large wine tasting and dining room that serves light fare with indoor and outdoor seating, a small banquet room, an outdoor garden area with a stage, and unobstructed views of the valley. Because of the location of the building and its view, I suggest this winery for late afternoon or early evening so you can take it all in, including the sunset.
Their wines have also won awards, such as  'Best of Class' for their 2013 Merlot, a gold medal for their 2014 Sweet Reisling and a silver medal for the 2013 Cabernet Sauvignon at the San Francisco Chronicle Wine Competition. I'm a huge cab franc fan, and if you are too, be sure to sample theirs.
Cool fact: The farm is also known for their chickpeas, and if you order the hummus plate you'll get to taste them.
Travel tip: During the summer they have live music events.

Tasting room hours: Friday, 1 a.m. to 9 p.m., Saturday, 1 p.m. to 9 p.m.

Tasting fee: $5, if you buy a bottle, the fee is waived

Lewis Clark Valley Travel Tips
Closest Airport: Lewiston Airport (12-minute drive), Spokane International Airport (2-hour drive), Seattle International Airport (5.45-hour drive)
Hotel: There are hotels in Lewiston and Clarkston. During my visit, I stayed at the Quality Inn & Suites in Clarkston. The hotel is close to both towns, has rooms with river views and a fantastic complimentary made-to-order breakfast. The hotel is also within walking distance of Basalt Cellars, and right next door is Riverport Brewing.
Carless Options: The Lewis Clark Valley is beautiful, and you'll want a car to explore the area.
Dining Travel Tip: You'll have plenty of restaurants from both states to choose from. I can recommend Jollymore's. I also heard good things about Saute on 6th, and Roosters Waterfront Restaurant and Hazel's looked like a fun local restaurant.
Activity Tips: The area has lots of outdoor recreation, such as hiking, biking, and fishing. A favorite summer activity is visiting Hell's Canyon and taking a jet boat tour of the river. If you are a budget traveler, on Living Social for $159 is a deal for an all-day jet boat tour with lunch and drinks for one (ends 1/7). History and culture lovers will appreciate the many Lewis and Clark Expedition historical sites.
To find out more about Clarkston, WA, and Lewiston, Idaho visit Visit Lewis Clark Valley. To find out more about the area's wineries visit Lewis-Clark Valley Wine Alliance.
There are plenty of ways to get the local scoop. Check out the best hotel reviews and hotel deals at TripAdvisor, Hotels.com, Expedia, and Travelocity.
---
Note: As is common in the travel industry, the writer was provided with accommodations for the purpose of review. While it has not influenced this review, the writer believes in full disclosure of all potential conflicts of interest. 
---
Are you ready for a Lewis Clark Valley wine tasting adventure?
Pin me for later!