On my trip to Lewiston, Idaho to see the festive holiday lights at Winter Spirit and visit the Lewis Clark Vally wineries, I stayed at the Quality Inn & Suites Conference Center in Clarkston, Washington. It had been ages since I stayed at a Quality Inn & Suites and to be honest I wasn't sure what to expect.
Located along the Snake River, I found the hotel to be very comfortable, the staff friendly, and their made-to-order breakfasts and river view a fantastic amenity. Also, the hotel is close to Granite Lake Park, Basalt Cellars, Riverport Brewing, Roosters Waterfront Restaurant, a short drive to downtown Clarkston and Lewiston as well as Hell's Canyon National Recreation Area.

The Quality Inn & Suites offers its guests:
Rooms with balconies and river views
Made-to-order breakfasts
Seasonal outdoor pool and hot tub
Pet-friendly rooms ($20 per night, per pet)
Onsite restaurant and a lounge with happy hour
Within walking distance of a brewery, winery, and waterfront restaurant
Free airport transportation
Steps away from Granite Lake Park and a driving range
Disclosure: You can help support my small town travels by using the affiliate links in this post. Using the link is at no additional cost to you, and provides a small commission to me to help support my blog. 
There are plenty of ways to get the local scoop. Check out the best hotel reviews and hotel deals at TripAdvisor, Hotels.com, Expedia, and Travelocity.
 First, Enjoy the Drive
If you happen to be driving to the small town of Clarkston, Washington and not flying into the Lewiston Nez Perce Airport (Idaho), my first bit of advice is to enjoy the drive. Eastern Washington's golden hills, basaltic outcrops, and farmlands provide plenty of scenic vistas. If you are like me and like to get off the main highway, you'll find there are plenty of alternative backroads.
Also, the highway to Clarkston runs alongside the Snake River and provides quite a dramatic entrance.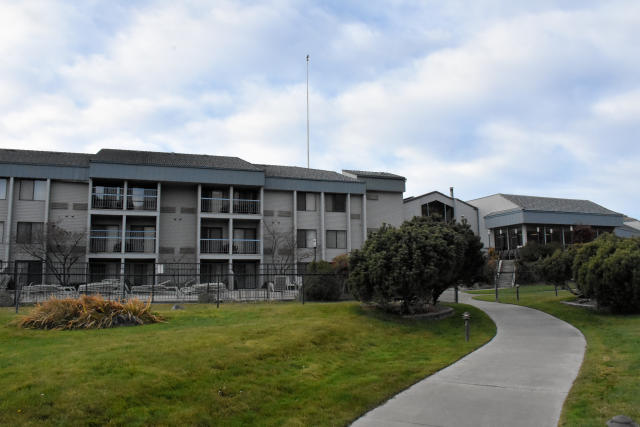 Behind the hotel, a trail leads to a riverside park and a driving range.
Quality Inn & Suites in Clarkston, WA – River Views and Tasty Breakfasts
The Quality Inn & Suites is located next to the Snake River, several blocks from downtown Clarkston. The location is a little unusual as it has an industrial vibe with a few warehouse-style buildings nearby, as well as a Costco with a gas station a short drive away. At first, I wasn't too keen on this, but after spending two days there I appreciated it's location for there was very little nearby traffic which made for a more relaxing experience.
A Room with a River View
Check-in went smoothly and with my key card, I was given two tickets that could be used for a drink in the lounge or breakfast the following morning. Seconds later, I headed to my second-floor room which featured a tastefully decorated room with a king bed, a sitting chair, desk, television, microwave, refrigerator, a bathroom, and a balcony.
My favorite feature soon became the private balcony with a view of the Snake River and Granite Lake Park. If it had been a warmer time of year, I would have spent every spare moment on the balcony taking in the view.
During my two days at the hotel, the room provided all the comforts I needed including a good night's rest, a working space, and a hearty breakfast to start my day.
Room Styles
King Bed ($108 and up)
King Bed Jacuzzi ($123 and up)
King Bed Suite ($113 and up)
King Bed Suite River View ($123 and up)
One-room King Suite ($162 and up)
Two Queens ($108 and up)
One-room Two Queen Suite ($142 and up)
*Please note that rates adjust seasonally, and there might be special discount rates available, such as Choice Hotel's Pay Now and Save option. 
Speical Features of the Quality Inn & Suites
An important feature, particularly for summertime travel, is the seasonal outdoor pool and hot tub. This area also has a view of the Snake River and the landscaped park and trails. Since the pool was closed during my stay, I had assumed the hot tub was also. But one morning I heard the laughter of children outside and saw a parent and their kids enjoying the hot tub.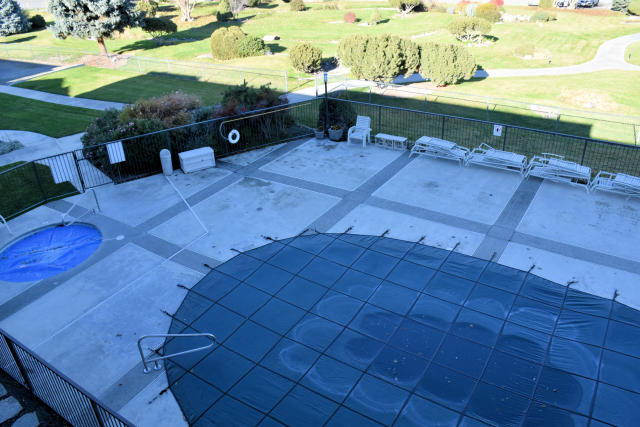 Another feature outdoor enthusiasts and families will like is the hotel's proximity to Granite Lake Park and the driving range at Dave's Golf Shop. From the hotel's pool area, one can access the path that leads to these areas. If you are a history buff, the park trails have Lewis and Clark Expedition historical markers.
Travel Tip and Deal: There are lots of outdoor and watersport adventures to be had in Clarkston and Lewiston, and if you can bring your own equipment. If you need to rent gear, Full Throttle Sports Rentals (in neighboring Lewiston) has a deal on LivingSocial for $20 for $30 worth of watersports-equipment rentals.
Travel Deal: If you are going to the Lewis Clark Valley to experience Hell's Canyon, Beamers Hells Canyon Tours is offering a great deal on Living Social for $159 for an all-day jet boat tour with lunch and drinks for one (normal price $219). Purchases can be used up until 10/1/18 so if you are for sure going to Lewiston or Clarkston this summer it is an excellent deal.

At The Quay most of the tables have a view of the restaurant.
Dining at the Quality Inn & Suites
The Quay
If you opt to use your ticket for breakfast instead of a drink, this is where you'll dine. Their breakfast menu (pancakes, waffles, burritos, omelets, and much more), impressed me, and I'm pretty sure it would please anyone. The first morning I had a Denver omelet with ham, onion, bell pepper and Cheddar cheese. The second morning a California omelet with bacon, tomatoes, mushrooms, avocado and mozzarella cheese. Both were fantastic, the hashbrowns were not greasy and the staff friendly.
Q Lounge
The Q Lounge is off the lobby and you can redeem your drink ticket here. They serve cocktails, beer, wine and appetizers with specials throughout the week. Unfortunately, I didn't have the opportunity to check it out but I snapped a few photos and take in the river view.


Pros and Cons of the Quality Inn & Suites
Pros:
Next to the river with river view rooms
A range of rooms for your group size and budget
Made-to-order breakfast
Restaurant and lounge onsite
A pool and hot tub
Pet-friendly rooms are $20 per day, per pet
Free Wi-Fi
Free onsite parking
Free airport shuttle
Steps away from a park and driving range
Walking distance to a winery, brewery and restaurants
Cons:
In a less developed area off from the main part of town
Seasonal pool
Would I stay at the Quality Inn & Suites again? Yes! As a frequent traveler, I really appreciated the made-to-order breakfast and the river view room. Other features, such as the pool, on-site dining, a lounge, and pet-friendly rooms, are also huge perks, as well as the nearby park and driving range. The hotel is also in a great location, and nothing is too far away.
To find out more about the Quality Inn & Suites visit their website. To help support my blog, book through one of my affiliates such as TripAdvisor
. (Booking through an affiliate is at no extra charge to you, but provides me with a small commission so I can continue to #dreambigtravelsmall.)
Ring in the #holidays at Winter Spirit in Lewiston, #Idaho! They have over 1 million #holidaylights! @VisitLCValley #visitidaho https://t.co/jrZZBViv9e pic.twitter.com/WpdkpsHdHY

— SmallTownWashington&Beyond (@SmallTownWA) November 29, 2017
Clarkston, Washington Travel Tips
Hotel Address: 700 Port Drive Clarkston, WA  99403
Closest Airport: Lewiston Airport (12-minute drive), Spokane International Airport (2-hour drive), Seattle International Airport (5.45-hour drive)
Carless Options: The Lewis Clark Valley is beautiful and you'll want a car to explore the area.
Dining Travel Tip: Clarkston, Washington is right next to Lewiston, Idaho and you'll have restaurants from both states to choose from. I can recommend Jollymore's, Lindsay Creek Vineyards, and a short drive away Colter's Creek Tasting Room and Restaurant. I also heard good things about Saute on 6th, and Roosters Waterfront Restaurant and Hazel's looked like fun local hangouts.
Wineries: If you love wine, you'll want to check out the wine scene. Basalt Cellars is within walking distance of the hotel. Other wineries I visited were Lindsay Creek Vineyards, Colter's Creek Vineyard, and Clearwater Canyon Cellars. I will be writing about these wineries soon, until then, you can learn more about them here.
Activity Tips: The area has lots of outdoor recreation, such as hiking, biking, and fishing. A popular summer activity is visiting Hell's Canyon and taking a jet boat tour of the river. As I mentioned, there is a great deal on Living Social for $159 for an all-day jet boat tour with lunch and drinks for one. History and culture lovers will appreciate the many Lewis and Clark Expedition historical sites and the nearby Nez Pearce National Historical Park.
To find out more about Clarkston, WA check out Visit Lewis Clark Valley.
---
Note: As is common in the travel industry, the writer was provided with accommodations for the purpose of review. While it has not influenced this review, the writer believes in full disclosure of all potential conflicts of interest. 
---
---
There are plenty of ways to get the local scoop. Check out the best hotel reviews and hotel deals at TripAdvisor
, Hotels.com, Expedia, and Travelocity.
Save it! Pin it!