If you're trying to plan a Seattle date night (or afternoon!), we've got you covered!
You may be all out of ideas, but luckily, there are countless romantic things to do in Seattle that are perfect for you and your date, and we've gathered 29 of them, so you're sure to find something for you and your significant other.
Whether your idea of the perfect Seattle date is packing a romantic picnic lunch to enjoy at one of the city's many beautiful parks, checking out a museum and discussing the art, or hiking around a scenic lighthouse in the city, you're sure to find an epic Seattle date idea here.
Active dates, cultural dates, evening dates, afternoon dates: they're all here!
Romantic Afternoon Seattle Date Ideas
Grab lunch at Pike Place Market.
With a huge variety of food vendors, you can find something unique for both of you. Plus, it's an easy place to grabs some flowers!
Best of all, there are plenty of shops to visit after you are done with your meal, such as the Pike Place Fish Market where you can watch the fishmongers throw fish.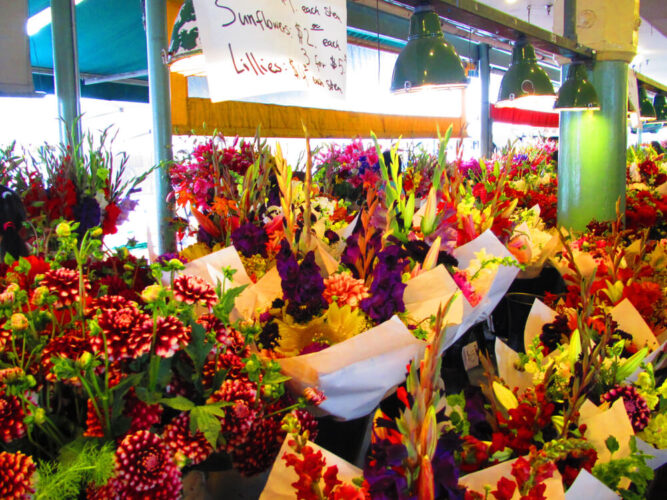 Some links in this post may be affiliate links. If you make a purchase through one of these links, we may earn a small commission at no extra cost to you. Please see our

disclosure policy

for more detail.
Experience the magic of glass at the Seattle Glass Museum.
The Seattle Glass Museum is home to the works of Dave Chihuly, a master glass artist. The museum has many room-sized glass sculptures, all created with intricate detail.
This museum is more conversation-friendly than many museums, so you and your date will be able to talk as you are walking through the exhibits.
Explore the beachside trails at Discovery Park.
A large park with many miles of trails, Discovery Park has it all, including beaches, a beautiful lighthouse, forests, an old fort, meadows, and an education center.
With so many trails to choose from, Discovery Park is a great place for any length or type of walk — great for a first date in Seattle, as you can make it as long or short as you like!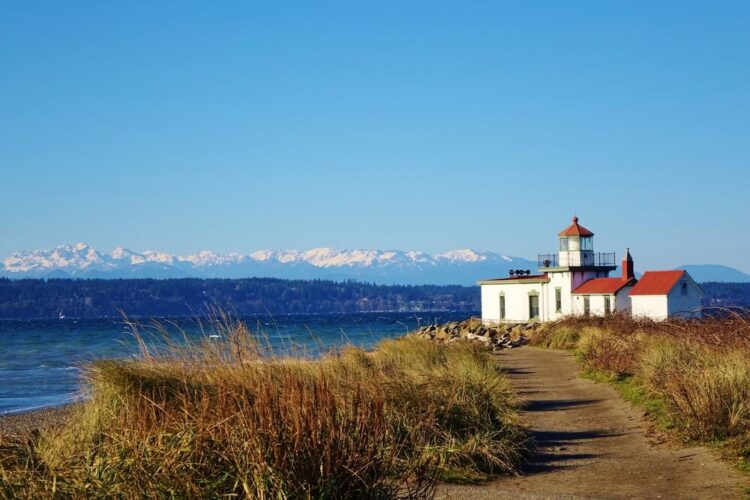 Picnic at Gas Works Park.
The large grassy hill at Gas Works Park overlooks Lake Union and is the perfect location for a summer picnic. There's no more romantic thing to do in Seattle than prepare a perfect picnic and enjoy the views!
While you eat, you can watch the boats sail around the lake, and afterward, you two can explore the old structures from the gas plant that remain in the park.
Watch boats pass through the Ballard Locks.
The Ballard Locks divide Puget Sound from Lake Union and operate daily to allow boat passage between the two waterways.
If you visit the locks you are likely to see boats pass through the locks, and if it is the right season, you can watch fish pass through the fish ladders too! I
Ride the ferry to Bainbridge Island and back.
A ferry ride is a great romantic Seattle date idea, and one of the easiest day trips from Seattle.
You and your date can stand on the bow of the boat in the wind and look at the water until you get too cold, then you can sit inside on the cozy benches and enjoy the view out the large windows.
When you arrive at Bainbridge Island, you can explore the parks and stores next to the ferry dock, or head back to Seattle to enjoy the second half of your ferry adventure!
Not sure how to get to Bainbridge from Seattle? Check out this guide.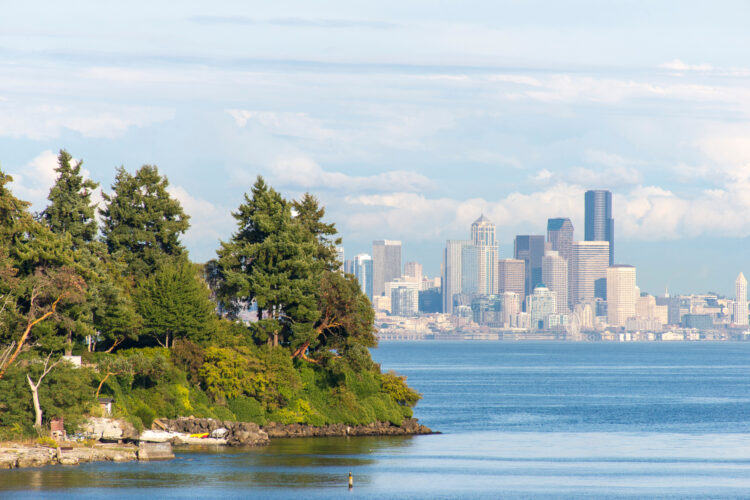 Experience the Seattle coffee scene.
A coffee date is a classic idea, but in Seattle, the home of Starbucks, this is a cultural event.
There are endless possibilities for coffee shops, so pick one or a few and try them out!
Try your hand at glass blowing.
Seattle is famous for its glass artists, and there are several glass studios in the city that offer glassblowing lessons!
During these lessons, the professionals will instruct you in the art of glassblowing, give a demonstration, and assist you in creating your own piece!
The best part of this Seattle date idea is that you get to take your own glass artwork home with you as a reminder of your time together!
Join a whale watching tour.
The wildlife in Puget Sound is great fun to watch, and a whale watching tour will lead you to the best places to find the local creatures, including seals, sea birds, whales, dolphins, and orcas.
Tours depart from many locations in the area, including Seattle, Orcas and San Juan Island, Edmonds, and Anacortes.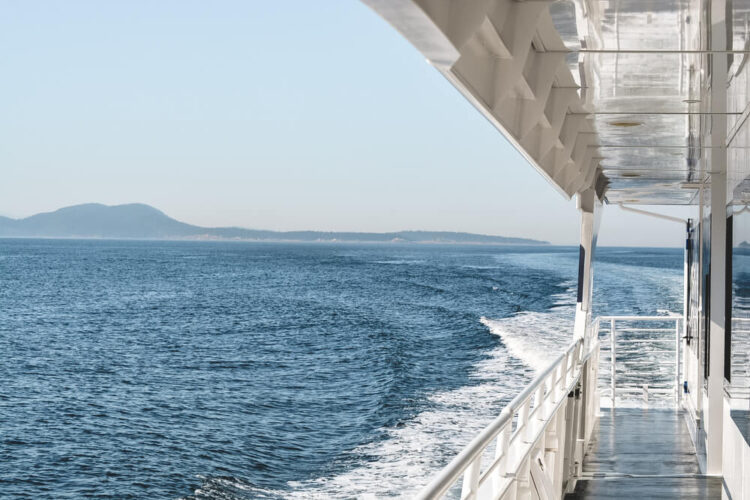 Walk around Green Lake.
Green Lake is a well-loved Seattle Park in the middle of north Seattle. The park has a 3-mile paved trail around the perimeter, the perfect length for an afternoon date stroll!
To extend the date, consider renting boats to take out onto the lake: the perfect romantic thing to do in Seattle!
Paddle around the Arboretum.
The Washington Park Arboretum is home to beautiful walking paths and wetlands that are the perfect location for a paddle date in Seattle!
Boats are available to rent at the arboretum, and the neighboring lake and wetlands offer plenty of space to explore. The Japanese garden is especially beautiful and romantic, particularly in fall!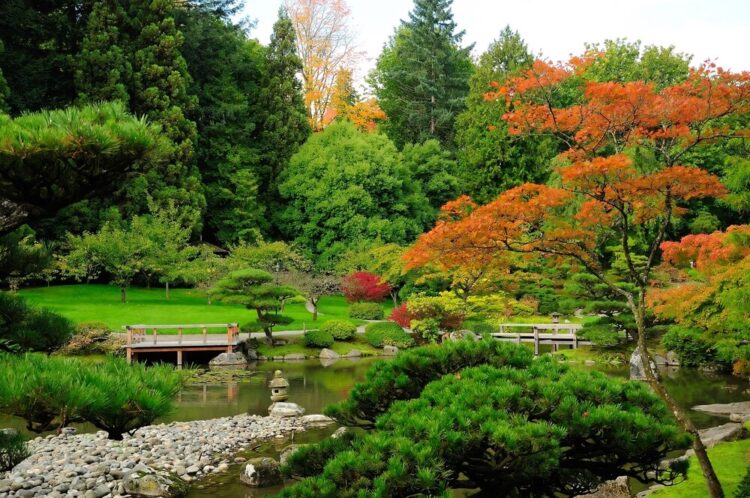 Ride bikes on the Burke Gilman Trail.
The Burke Gilman Trail is a paved bike and walking trail that crosses through north Seattle and then heads up and around Lake Washington.
The trail makes a great place to spin your (bike) tires and join your date for an active Seattle date. Since after all, "couples who sweat together, stay together!"
Soar above Seattle on a sea plane tour.
A tour of Seattle by seaplane is an exciting date idea that you and your date will not forget.
The seaplanes take off on Lake Washington or Lake Union and there are many options for tour itineraries, but all of them provide spectacular views and a romantic atmosphere.
It may be a pricy experience, but it's surely one of the most romantic things to do in Settle and well worth it for a special anniversary or even a memorable first date.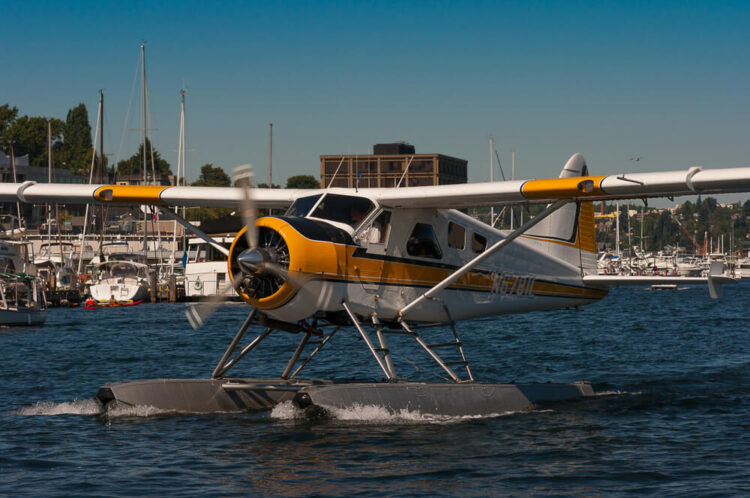 Visit the Seattle Asian Art Museum.
For the museum-loving couple, the Seattle Asian Art Museum is a great museum to visit.
Located within Volunteer Park, the exhibits explore the long history of Asian art and the history of Asian culture in the Pacific Northwest.
Marvel at the exotic plants.
The Volunteer Park Conservatory has five tropical environments, each full of marvelous and exotic plants.
A great shelter from the outside weather (and therefore a great Seattle date when it rains!) and located in the activity-rich Volunteer Park, the conservatory makes a great addition or stand-alone activity for any date.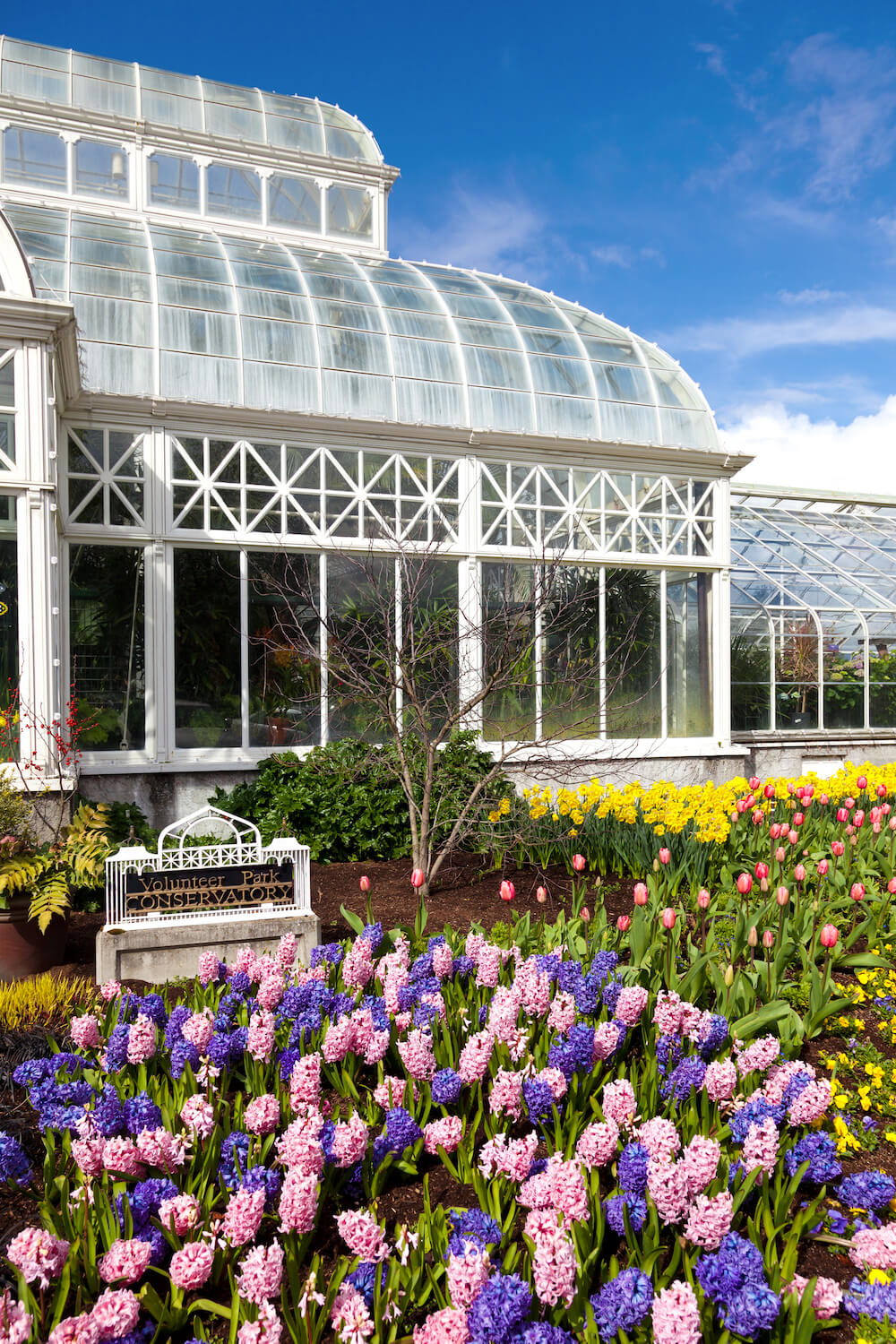 Learn curling.
You may have watched curling during the Olympics, but have you ever tried it yourself?
The Granite Curling Club is one of only two dedicated curling clubs on the West Coast and offers open houses for people to come try out the sport!
They will provide the equipment you need and with the additional trick of rubber bands on your shoes, you won't need to worry about slipping on the ice.
Visit a climbing gym.
The Seattle Bouldering Project is one of the more popular climbing gyms in Seattle and for good reason – you don't need any special knowledge to try bouldering.
This is a great date idea for a rainy day in Seattle where you still want to get some exercise.
Visit the Woodland Park Zoo.
The Woodland Park Zoo is a great place for a walk and a chat, with plenty of animals to look at along the way.
Whether you are more drawn to the gorillas or the penguins, this zoo has enough animals for everyone to find their favorite.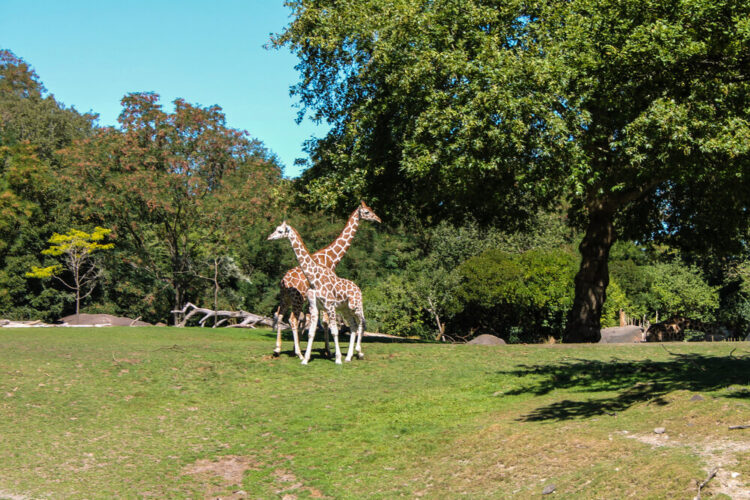 Explore Ballard's Market Street.
This downtown street in Ballard is an entertaining street for a shopping walk!
There are plenty of food places to stop if you get hungry, and enough other shops to keep you entertained as you walk down the main street.
Romantic Seattle Date Night Ideas
Visit Kerry Park at sunset.
Kerry Park has arguably one of the best views of downtown Seattle and Mount Rainier.
This is a romantic location for a sunset date night with a great view and a quiet place to talk.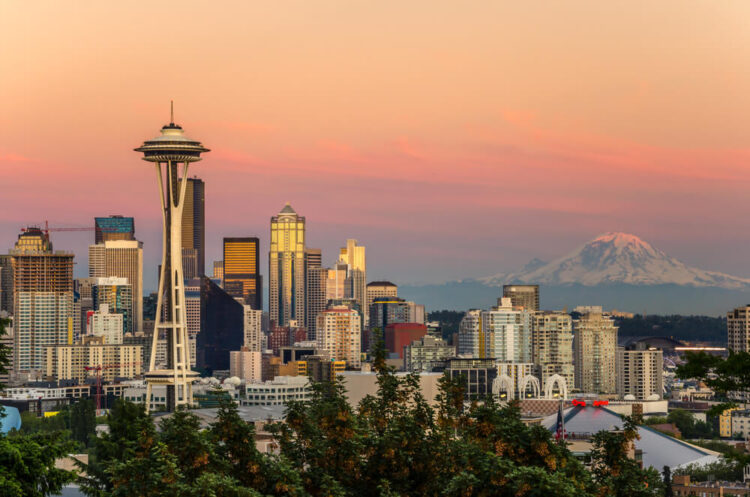 Tour the local breweries.
Seattle is home to many local breweries specializing in stouts, ales, ciders, and more.
Capitol Hill is known as a great neighborhood for bar hopping, or you can head to Fremont and Ballard for lower-key breweries. This is the perfect Seattle date for craft beer lovers!
Go on a Woodinville wine tour.
Just outside Seattle, Woodinville is a world-famous mecca for wineries.
With more than 130 wineries from across the state, you are guaranteed to have plenty of options for wine tastings.
You can either join a formal wine tour or create your own tour. Many of the wineries are located within walking distance of each other, making a wine tasting tour a tasty and easy Seattle date night idea!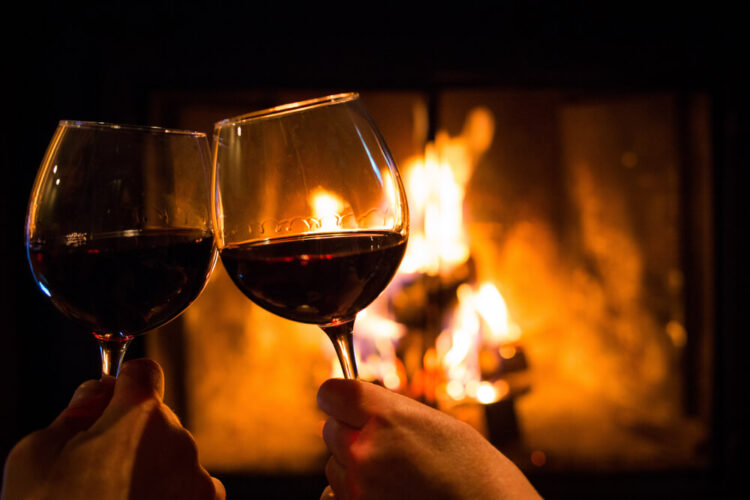 Laugh so hard you cry at Jet City Improv.
Located in the University District, a show at Jet City Improv is sure to make you and your date smile. The improv group has been a Seattle favorite since 1992 and put on many wonderful shows.
Attend their classic show – "Twisted Flicks" – a hilarious re-dubbing of a popular movie – for an especially fun-filled night!
Attend a sports game.
Home to many professional teams, there is always an option to watch a great game in Seattle!
Whether you attend a Seahawks, Kraken, Storm, Sounders, Mariners, Reign, or another team's game, you are sure to have a good time with the enthusiastic Seattle fans.
It's a perfect Seattle date night for sports lovers (so long as you are rooting for the same team!).
Ride the Great Wheel.
Located along the Seattle waterfront, a ride on the Great Wheel may seem a little cheesy, but it is great fun and can be one of the more romantic things to do in Seattle!
The location of the wheel gives you great views of the city, and a ride at night is especially romantic – you might even get a kiss on the top!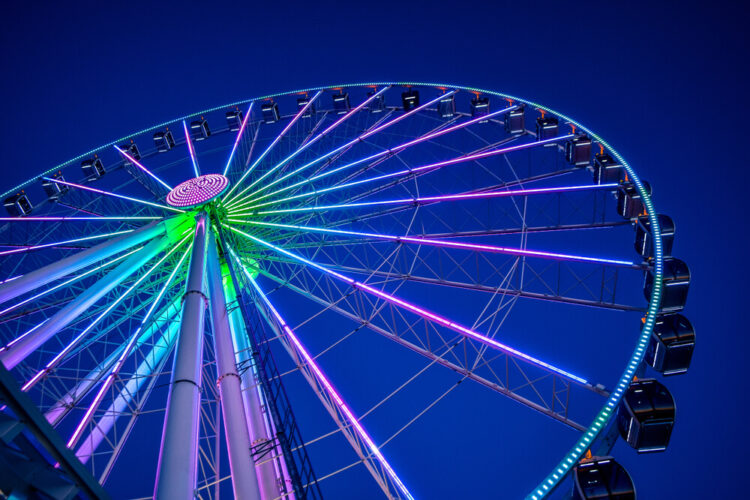 Have a game night.
Several Seattle-area venues offer a fun night of games: a great romantic date night idea for the young at heart.
Try the Seattle Pinball Museum to play vintage pinball, Meeples Games or Mox for an evening of tabletop games, Flatstick Pub for some mini golf, or Rhein Haus for bocce ball and bratwurst, pretzels, and schnitzels!
Attend a laser light show.
The Pacific Science Center hosts laser light shows set to popular music.
The powerful lasers and concert sound system combine to form a unique laser show experience that you and your date are both sure to enjoy, and it's definitely a one-of-a-kind Seattle date night experience!
Ride to the top of the Space Needle
A classic Seattle date idea for those who haven't been, the Space Needle offers the best views of downtown Seattle and the surrounding landscape.
There is also a rotating restaurant at the top of the needle: it's pricy, but the view is impossible to beat!
Pin This Guide to Seattle Date Ideas & Romantic Things to Do in Seattle!