Are you ready to taste and tour Washington's wine country?
Thankfully Washington State has over 900 wineries and is the 2nd largest producer of wines in the United States. One of the best places to get your vino on is in Yakima Valley Wine Country, which is the state's first recognized AVA, home to over a third of Washington's vineyards.
I toured 8 Yakima Valley wineries that need to be on your radar to size up who is serving up the best wine in Yakima! Here are my findings.
9 Yakima Wineries You Must Visit
Gilbert Cellars at The Hackett Ranch
Some links in this post may be affiliate links. If you make a purchase through one of these links, we may earn a small commission at no extra cost to you. Please see our

disclosure policy

for more detail.
Address: 2620 Draper Rd. Yakima, WA 98901. It's a 20-minute drive from downtown Yakima outside of the small town of Ahtanum.
Gilbert Cellars has a tasting room in downtown Yakima (5 N. Front St.), but I suggest making an appointment to do a tasting and tour at The Hackett Ranch where they grow their grapes.
The tasting room is in a large wine barn. Outside is a picnic table area with a view of the vineyards, lavender gardens, and the 1500-foot Ahtanum Ridge.
They do need 48 hours notice, so plan ahead and make a reservation at 1 (509) 249-9049 extension 5. Guests are welcome to bring a picnic lunch to enjoy with their wines and the view. It's important to note there is a 3 bottle minimum purchase per person required!
If you want to listen to live music and drink wine outside then check out their Music in the Vines Concerts Series. On these nights, they serve their wine and have food vendors, all under the Yakima sky.
While their required minimum purchase is a little steep, for those who are serious about wines and having vineyard experience tasting on-site the way to go as it is more personalized. And, it's a great opportunity to learn about their grapes and wines. Also, I'm a lover of outdoor summer concerts, and if I lived closer, I'd be buying a season pass!
Wilridge Winery
Address: 250 Ehler Rd, Yakima, WA 98908, a 15-minute drive from downtown Yakima.
Wilridge has a tasting room in Seattle, but I suggest visiting the Tasting Room Yakima at Wilridge Vineyard while in Walla Walla to see where your grapes come from!
They specialize in organic and biodynamic wines, making it one of the more unique wineries in Yakima Valley.
The tasting room is in a large house and offers plenty of seating chairs and couches, as well as, an outside porch.
The large grassy yard overlooks 80 acres of vineyards and orchards, and there is a hiking trail to Cowiche Canyon.
Visitors can bring a picnic or purchase light menu items to nibble and relax out on the lawn while they sip their wine.
Tasting Hours: Thursday through Monday 11 am to 7 pm, (Sometimes hours are extended during the summer Fridays and Saturdays), Tuesday and Wednesday from 3:30 pm to 7 pm.
Naches Heights Vineyard
Address: 250 Ehler Rd, Yakima, WA 98908. It's a 15-minute drive from downtown Yakima.
When you visit Wilridge Winery, Naches Heights Vineyard is on the same property in a small house next to the tasting room.
During the warmer months, they have a great event line-up that includes Tuesday Nights at the Heights, which features activities like yoga, guided Cowiche Canyon hikes, followed by wine time, and Wine Down Wednesdays with live music, food, wine, and beer.
Both of these Yakima wineries can be experienced in one day if you go when they are both open. The setting, which is up on a hillside, has an excellent view of the vineyards and Yakima Valley. I like that visitors can sample wines, find one they like and sit on the porch or pair it with their own picnic lunch on a blanket in the grass.
As a bonus, it's a kid and dog-friendly Yakima winery!
Tasting Hours: Thursday – Monday 11 am to 5 pm.
Hiking: Cowiche Canyon trail can be accessed easily from these two Yakima wineries, and there is a hiker reward program where every 3rd hike you complete you get a free glass of wine!
Treveri Cellars
Address: 71 Gangl Road, Waptao, WA 98951. It's an 11-minute drive from Yakima in the small town of Wapato.
I have to admit Treveri Cellars is one of my favorite Yakima wineries as I love sparkling wines and that is their focus.
Their tasting room is elegant with stone, marble, and wood. They also have a large patio with plenty of tables with umbrellas and a green yard and views of the vineyards and snow-capped mountains in the distance.
The classy atmosphere of the tasting room made it feel like an outing. Add sparkling wines onto that, and you've got a perfect combo for date night or a girl's getaway!
Their appetizers also make for an excellent early lunch turned wine pairing. (It's important to note that bringing your own picnic lunch is discouraged.)
During June, July, and August they have a Premium Tour and Tasting ($50), in which guests get a behind-the-scenes tour with the winemakers and wrap-up the tour with a seated tasting of four premium sparkling wines.
The tour is fabulous, but be sure to sign up early as there are only 16 spots and it sells out fast!
Tasting Hours: Monday to Thursday from 12 pm to 5 pm, Friday and Saturday from 12 pm to 6 pm, and Sunday from 12 pm to 4 pm.
Owen Roe Winery
Address: 309 Gangl Rd, Wapato, WA 98951. It's a 13-minute drive from Yakima in the small town of Wapato.
Almost next door to Treveri Cellars is Owen Roe Winery, which also has a winery and tasting room in Oregon.
The Washington tasting room is in the barrel cellar hall, and outside is a large grassy yard with picnic tables and views of the vineyards and mountains.
During the tasting, they explained the local terrain and how different varietals grow in certain soils and create certain flavor profiles from the soils. They also offer a ride through the vineyards in a Swiss Pinzgauer where you can see the soil layers up close. This is another kid and dog-friendly winery in Yakima Valley, so bring the whole family!
If you want a more in-depth experience, winery tours can be scheduled at 1 (509) 877-0454.
Tasting Hours: Daily from 11 am to 5 pm
Severino Cellars

Address: 1717 1st Ave, Zillah, WA 98953, a 23-minute drive from Yakima.
Severino Cellars has a wine tasting room located in a turn-of-the-century farmhouse and has lots of charm with an outdoor patio and vineyard views.
They produce wines grown from their own estate and vineyards, and people are more than welcome to bring their own snacks to enjoy on the patio.
They also have seasonal events with food trucks and music!
J Bell Cellars
Address: 73 Knight Hill Rd #9768, Zillah, WA 98953, a 20-minute drive from Yakima.

What started as a hobby turned a passion worth sharing for the owners of J Bell Cellars.
The wine tasting room is elegant and has an outdoor patio with a fountain where you can sit and enjoy your wine with a garden view. They grow pears, cherries, and lavender, but no grapes as they don't have the right soil on the property. However, they do get all of their grapes from the Yakima Valley.
On select weekends they have food, food pairings, and live music.
I had a very unusual wine here – a Grenache Blanc – that I really enjoyed. It is my understanding that there are only three wineries in Washington State that make this type of wine, so be sure to try that as part of your tasting!
Bonair Winery
Address: 500 S Bonair Rd, Zillah, WA 98953, United States, a 25-minute drive from Yakima.
Bonair Winery has 40 acres of estate vineyards and gives winery ($10) and vineyard ($20) tours by appointment.
Their wine tasting room has a European estate look with a patio and landscaped lawn overlooking a duck pond with coy and views of the vineyard and snow-capped mountains.
Guests can bring a picnic to enjoy with their wine, and they also have tapas on the weekends, as well as live music for special events.
Dogs are very welcome at this dog-friendly Yakima winery (there is even an off-leash area where dogs can run). In fact, this winery even sells a bottle, Bung Dog Red, in honor of their Australian Shepherd!
Knight Hill Winery
Address: 5330 Lombard Loop Rd, Zillah, WA 98953, United States, a 22 minute drive from Yakima.
Knight Hill Winery's former horse-barn turned tasting room with a 360-degree view will make an impression.
Their wines are made with grapes grown in the Yakima Valley, and their own estate-grown Cabernet Franc and Syrah.
Outside the barn is a patio with tables and chairs, and a large grassy lawn, which is perfect for enjoying a picnic, a glass of wine and the view. They have special events through the year, and dogs are welcome too.
Where to Stay in Yakima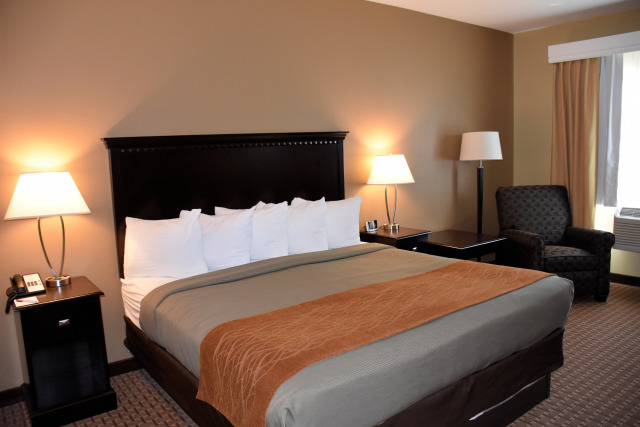 If you're staying near Rattlesnake Hills and/or the charming small town of Zillah, stay at the Best Western PLUS Vintage Valley Inn. It's great for touring the Rattlesnake Hills wine trail!
The hotel's lobby is roomy with high ceilings, modern furniture, and decor that highlights the areas farming and wine heritage. There are 59 king and queen guest rooms. For those that want to be out of the city, its location provides a quieter setting than neighboring Yakima.
I liked the design of the rooms: dark woods and earthy colors, as it reflected the area's landscape of dark basalt, golden hills, and amber fields. I also appreciated the room's spaciousness with plenty of walkable space and room for a desk and lounging chair without running into a sharp corner (one of my pet peeves) and its very large bathroom.
In terms of amenities, the Best Western PLUS also offers a heated indoor pool, a hot tub, a gym, and a free hot breakfast and nightly snack!