Destinations with the word castle attached to them create images of lavish court dinners with royalty in attendance.
It's a romantic vision for sure, and one that is mostly connected to Europe. So, when my editor suggested my next assignment be Alexander's Castle at Fort Worden in historic Port Townsend, I was intrigued.
A castle in small town Washington, it doesn't quite fit, does it?   
My research began and after one look at its three-story rampart-edge brick tower, I was making arrangements for a hosted stay. Rate ranges from $289 to $329.
Compared to Neuschwanstein Castle it's bite-sized, but it wasn't built to be grand!
So what's the story behind Alexander's Castle?
In 1882, Reverend John Alexander made this seaside abode for him and his bride-to-be. Unfortunately, she married another person, but that didn't deter Alexander from making his castle his home!
Now, it can be yours for a night or two or three, and here are five reasons to stay at Alexander's Castle.
Five Reasons to Stay at Alexander's Castle in Fort Worden
 

A Room with a View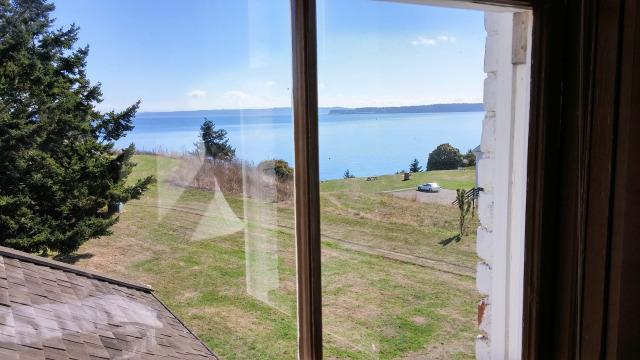 Some links in this post may be affiliate links. If you make a purchase through one of these links, we may earn a small commission at no extra cost to you. Please see our

disclosure policy

for more detail.
The bedroom has a plush king-sized bed with lavish linens, handfuls of soft pillows, a half-bath, and three windows.
The two corner windows look out at Admiralty Inlet, which is a hub of shipping and boating activity.
It's common to see large barges and naval ships entering and exiting the inlet.
Option to Dine In
Alexander's Castle has a full kitchen with a stove, a fridge, an oven, dishes, wine glasses, wine opener, silverware, etc.
The gistis this: it's stocked with cooking basics, which means you can bring your favorite goodies from home to make an intimate home-cooked meal and dine in the dining room or serve up your favorite breakfast in the morning.
If that's not your thing, no biggie, downtown Port Townsend is less than 5 minutes away and has dozens of dining options. There is also an on-site cafe.
Movie History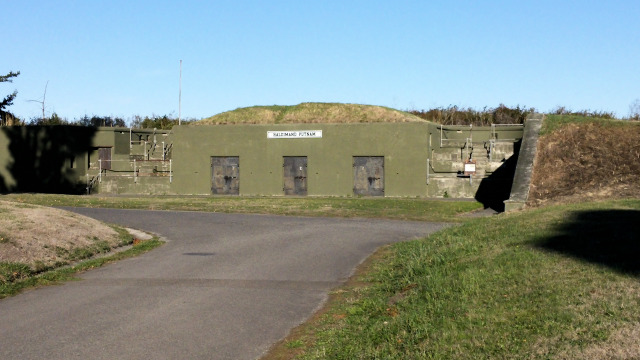 A short walk away from Alexander's Castle is Battery Putnam, which was used in a scene in An Officer and a Gentleman.
In fact, many places in Fort Worden and Port Townsend were utilized in the movie!
If you are into discovering movie-making history, I'd suggest watching it before you come, and then picking up a map at the park office.
Gun Batteries and Historic Buildings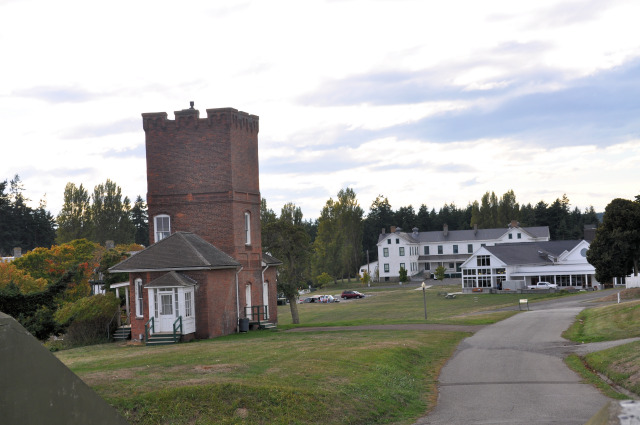 Fort Worden Historical Park is an 118-year-old military complex with dozens of gun batteries to explore.
Some have dark underground rooms and passageways to wander through so bring a flashlight! 
There are also 100 historic buildings, many of which are rentals and active businesses like the Commanding Officer's Quarters Museum, Madrona Mind-Body Institute, as well as two campgrounds and plenty of hiking trails.
The complex reminds me of a Mid-Western campus, and you can easily spend the weekend at Fort Worden exploring the gun batteries, visiting the museums and hiking the trails. For the gun batteries, I'd suggest joining a free guided 2-hour battery tour. The docents help bring Fort Worden's history of guarding the entrance to Puget Sound to life.
Note: Areas of Fort Worden run by the Washington State Parks require a Discover Pass or day-use fee. A pass can be purchased when you check-in. If you choose to walk from Alexander's Castle to the park and lighthouse, there is no need to pay a fee or purchase a pass.
Sunset Walks at Point Wilson Lighthouse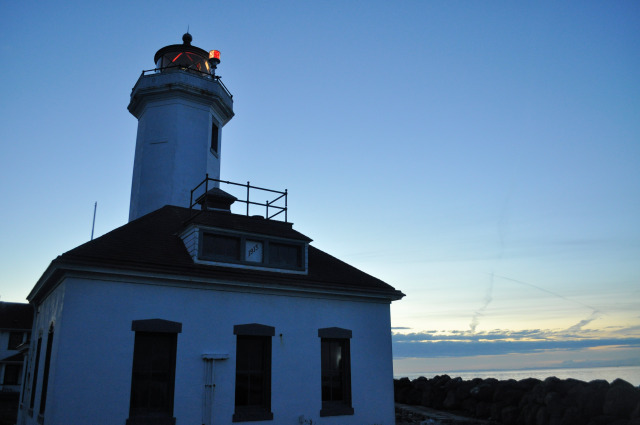 An hour or two before sunset head down to Point Wilson Lighthouse, one of the most scenic lighthouses in Washington State.
Spend some time exploring the beaches and the two seaside gun batteries. When sunset nears, walk to the lighthouse and watch as the colors transform it into different hues.
Be prepared to dress warmly as the winds from the Strait of Juan de Fuca can be strong!
Tip: On Saturdays, May through September from 1 to 4 p.m., the lighthouse offer tours!