Although Washington may be known as "The Evergreen State" for its endlessly enchanting forests, the state also boasts over 3,000 miles of majorly underrated coastline: a coastline that's home to dozens of delightful Washington coastal towns.
Some dot the biodiverse Puget Sound and feature vivacious food scenes, some have big beaches and populations in the hundreds, and some enjoy the remote wilderness that brushes right up against the raging Pacific Ocean.
Below, we've rounded up some must-see coastal towns of Washington that are sure to inspire long after you've left.
Ocean Shores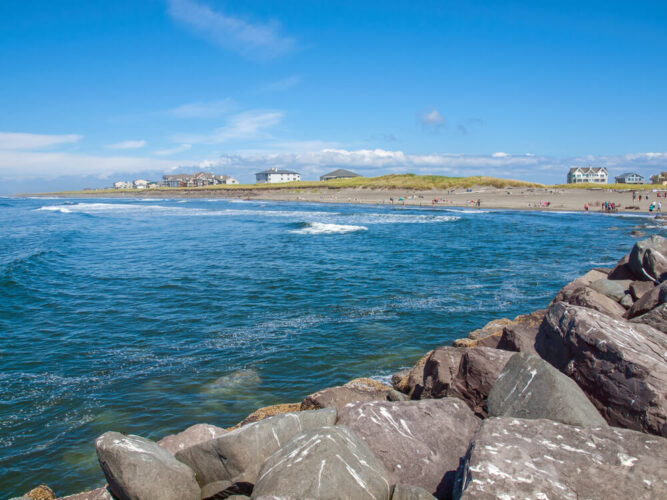 Some links in this post may be affiliate links. If you make a purchase through one of these links, we may earn a small commission at no extra cost to you. Please see our

disclosure policy

for more detail.
Located smack dab on the coast of the Pacific Ocean, this beautiful Washington beach town is true relaxation. Find long, uninterrupted stretches of flat and smooth sand, begging for long walks on the beach.
The town also enjoys a series of navigable lakes and streams, rare bird species, and a small town to suit any practical needs you'll have during stays both long and short.
Scooter and Jeep rentals, kite shops, and a must-see gift shop (featuring the jaws of a giant shark as the entrance) offer creative fun for beach time. In-town go karting, a movie theater, and nearby casino provide bad-weather options for multiple age ranges.
At just under 6,000 residents, one can easily indulge in some fresh oysters and enjoy the glory of the Pacific in peace.
Anacortes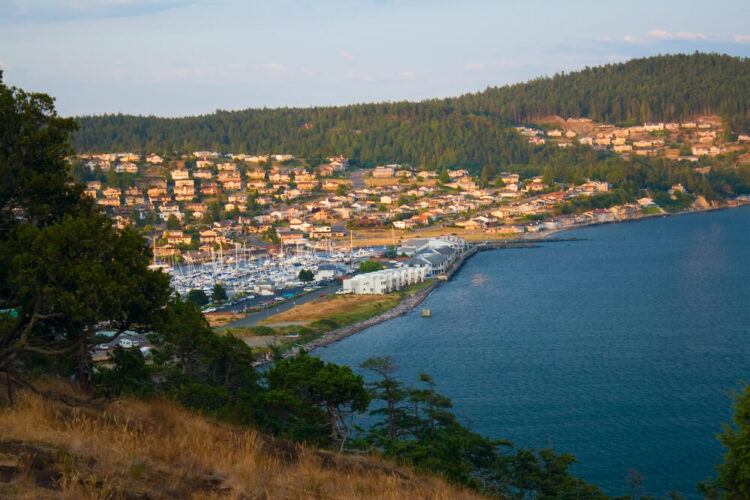 Anacortes is a 3 for 1 deal: come for one day and experience mountains, beaches, and city life. There are so many great things to do in Anacortes that it's really worthy of a weekend trip, if not a longer stay.
There's a farmers market in town– stop by to get picnic supplies before heading to Washington State Park, a 220-acre site with camping options and scenic paths.
Anacortes is also at the base of Mt. Eerie, where hiking trails burst at the seams with mountain and water views.
Grab breakfast at local favorite Adrift restaurant (or any of our other favorite Anacortes restaurants) and spend the rest of your time daydreaming while taking in stunning views from a ferry ride.
Bellingham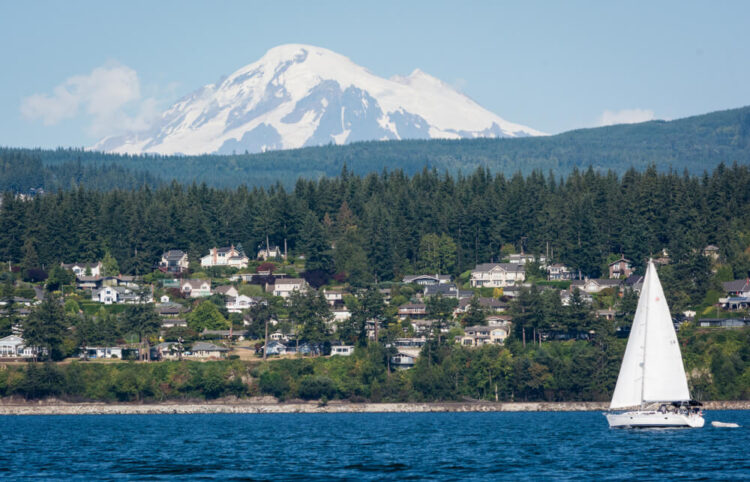 This Washington college town by the sea offers a lively coastal experience!
Once a birthplace of grunge music, Bellingham is now dotted with live music venues, delicious local fare (try Pizza Time to live like the local college students), and dozens of gorgeous hikes by the Sound/Bellingham Bay.
Stroll in Fairhaven historic district to soak up the atmosphere of Old Bellingham, or spend the day watching waterfalls at Whatcom state park.
Between eagle-watching and SPARK, the Museum of Electrical Invention, there's never a dull moment in Bellingham.
Port Angeles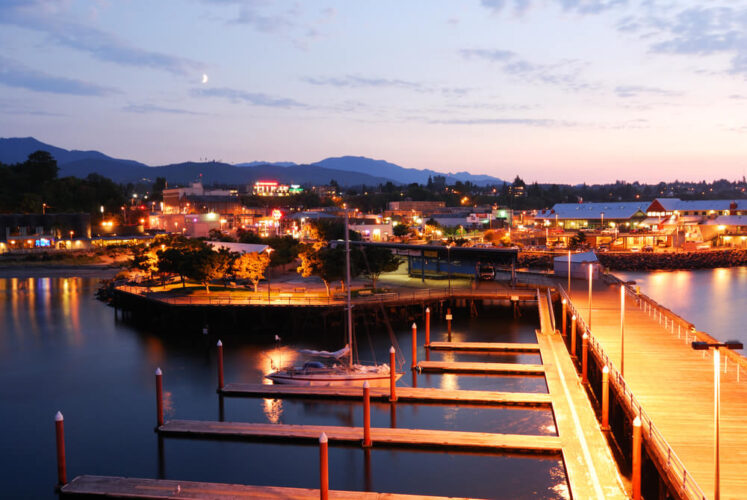 Port Angeles is renowned for its variety of activities, specifically surrounding Olympic National Park.
Over 1 million acres of towering pines, snowy treks, and crystal blue lakes fill the forest behind Port Angeles, as the Salish Sea offers stunning views and maritime recreation.
In town, enjoy unbelievably fresh fish at a local eatery, or take part in the town's celebrations of Native American culture, like the Tribal Canoe Journeys.
Hansville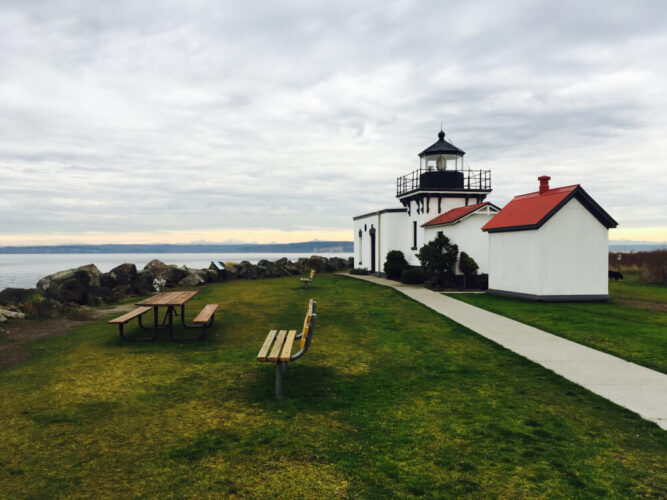 If you want to see the oldest lighthouse in Washington State, Hansville is the place to be.
Built in 1879, the small lighthouse stands above a calm beachfront, where one can enjoy island views and even peaks at Mt. Rainier.
The small seaside town (home to just under 3,500 residents) is a perfect day-cation during the summer months, as it's a ferry ride and a short drive away from Seattle — making it a great Seattle day trip option.
July and August are the best times to come as the Point No Point beach offers soft sand and calm, clear waters.
Stop at a local diner, go bird watching in the protected marshlands, or just spend the whole day sunbathing in one of the Puget Sound's few great spots for swimming.
Port Townsend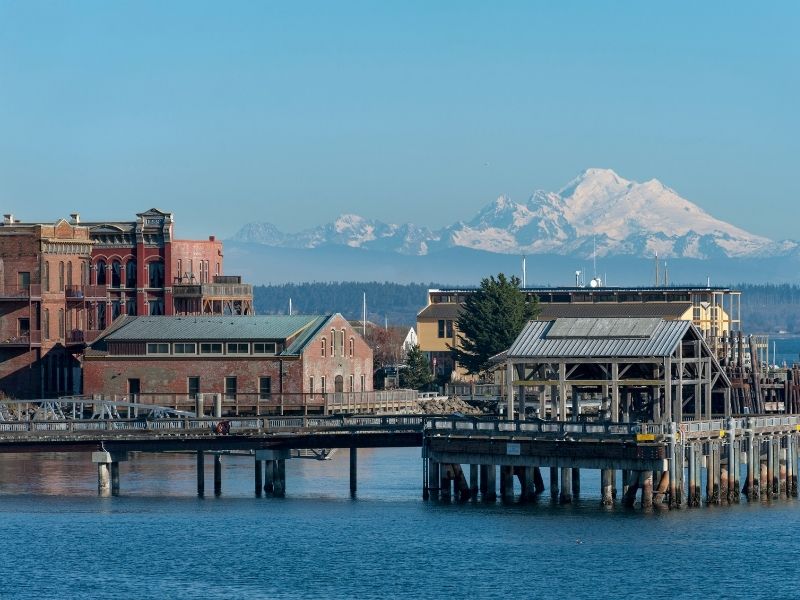 Victorian architecture enlivens the lovely Washington coastal town of Port Townsend.
Its storied maritime history provides enticing recreation and educational opportunities.
Kids can climb aboard a pirate ship in the harbor, families can get up-close-and-personal with marine ecosystems at the local science center, and Fort Worden, a turn-of-the-century military base turned park (with a castle you can stay in!), promises hours of hikes and history.
Camping is available in the waterfront Fort Worden as well, as historical buildings dating all the way back to 1898 offer perspective into a bygone time.
Neah Bay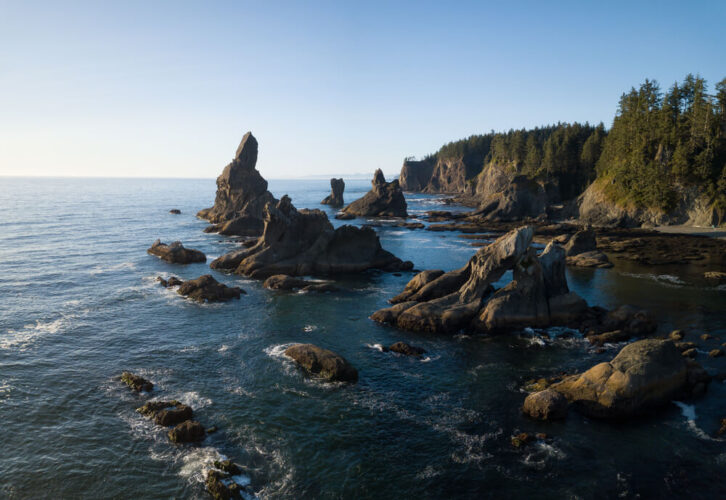 Situated on the northwestern most point of the contiguous United States is Neah Bay, home to Washington's Makah Native American tribe.
To protect the tribe, Neah Bay is not allowing visitors at the moment due to Covid concerns. However, it's worth adding Neah Bay to your Washington bucket list in the future.
Here, you'll find ravishing coastal views, like the ones at Cape Flattery. Rocky cliff sides give way to a turbulent sea, where puffins and Sea Lions are a regularity, and Canada shyly makes its presence known in the distance.
In town, find the Makah Museum to learn the tribe's history, or take an adventurous fishing trip with a local guide.
Seabrook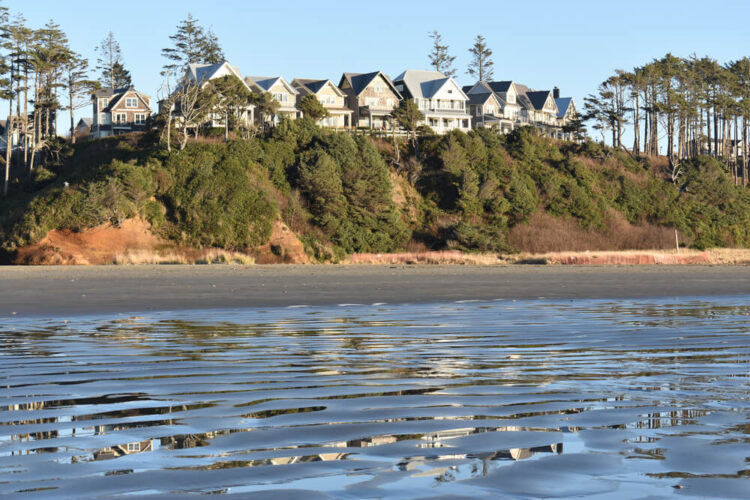 One of the most popular coastal resort towns in Washington is Seabrook, and for good reason!
The rugged coast offers jutting island-like rock formations, a thick forest, and some of the best whale-watching opportunities in the state (orcas, humpbacks, gray whales, you name it!).
Bars, bakeries, and taco spots make this beautiful seaside town in Washington an even better choice.
During the winter, go beachcombing in the mist; during the warmer summer months, walk the Olympic Peninsula Loop for some of Washington's best views, like the Instagram-famous Hurricane Ridge, one of our favorite hikes in Olympic National Park.
Coastal Towns in the San Juan Islands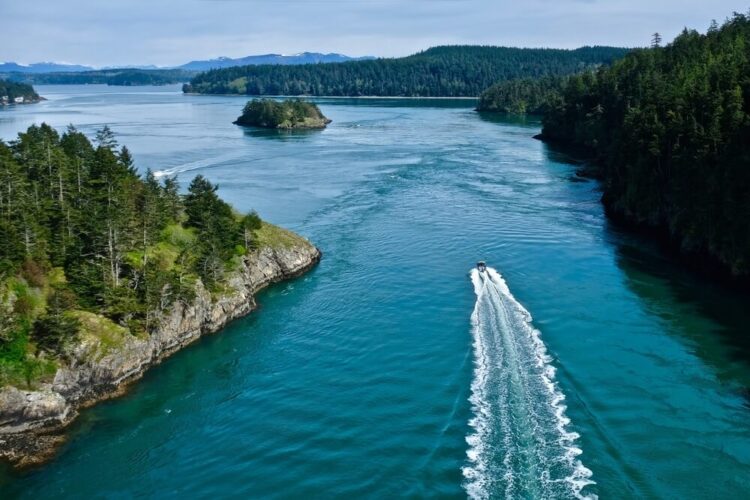 The Puget Sound is home to a number of popular and easily accessible islands in Washington: namely Orcas Island, Lopez Island, and San Juan Island with its lovely coastal town of Friday Harbor.
Each offers its own unique take on coastal living in Washington State.
Orcas Island
Named after the killer whales that populate the waters, Orcas Island's largest "town" is Eastsound, though people are quite scattered here.
You'll find elegant housing accommodations, exquisite natural beauty, and plenty of activities for visitors young and old.
Lopez Island
Once a settlement of Scandinavian farmers, Lopez Island is now a diverse hodgepodge of culture and abundant natural beauty.
Try exploring the vineyards, art galleries, and golf clubs during your visit.
San Juan Island / Friday Harbor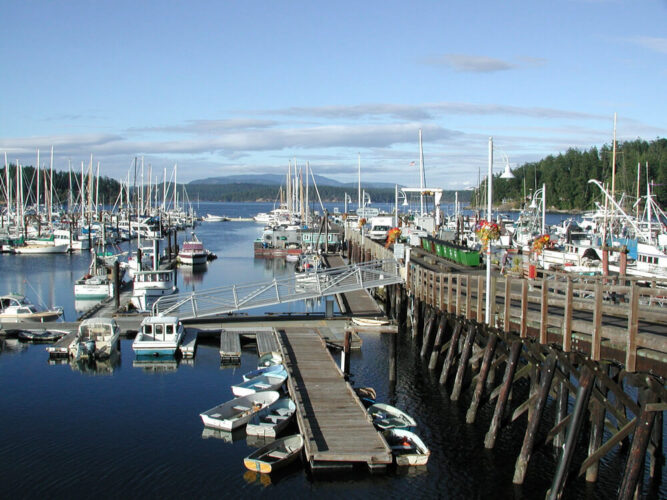 An educational whale museum, a hot spot for local theater, and multiple lighthouses beckon travelers to Friday Harbor, where history and nature collide for an unforgettable coastal experience.
There is truly a little bit of everything on these islands, so prep an itinerary in advance to make the most of these magical towns.
Oak Harbor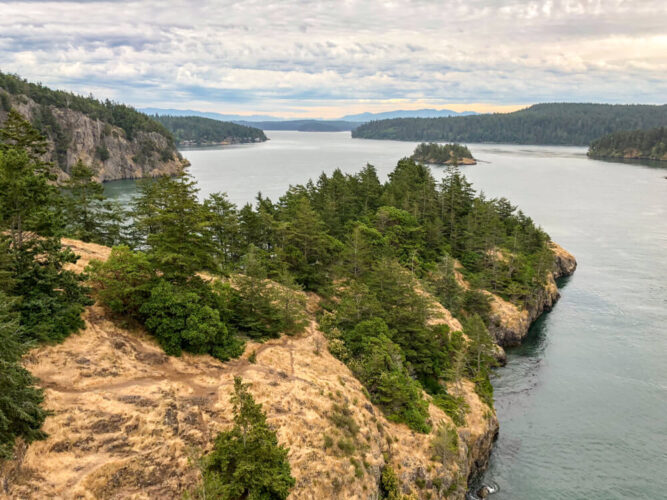 This city, located on Whidbey Island in the Puget Sound, has adventures for all.
One of the best natural attractions in Washington, Deception Pass, is accessible from the island. An expansive bridge overlooking the pass and lots of hiking trails are a must-visit, as a naval museum is as educational as it is enjoyable.
While in town, check out the plentiful restaurant options in Oak Harbor's historic district, or make your way to a fresh fruit farm to get the most out of the local food scene. As Mt. Baker towers over the marina, water views here are something to treasure.
Sequim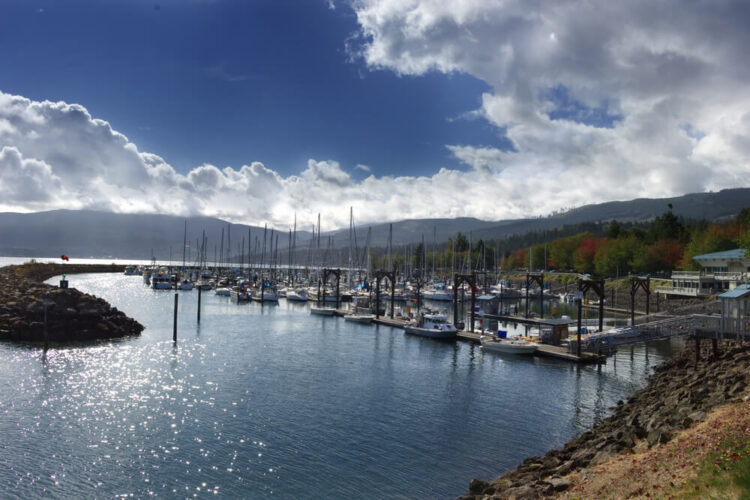 At the base of the Olympic Mountains lies another popular coastal town: Sequim.
Come in July to get lost in rolling hills of fragrant lavender at the annual lavender festival.
Alternately, at any time of year, check out the Dungeness Lighthouse, a new fixture located right on the Strait of Juan de Fuca. Although closed to tours at the moment, it's a worthwhile stop when available.
Sequim also happens to be near the Canadian city Victoria, making it a great spot for a multi-town (and country!) trip.
Blaine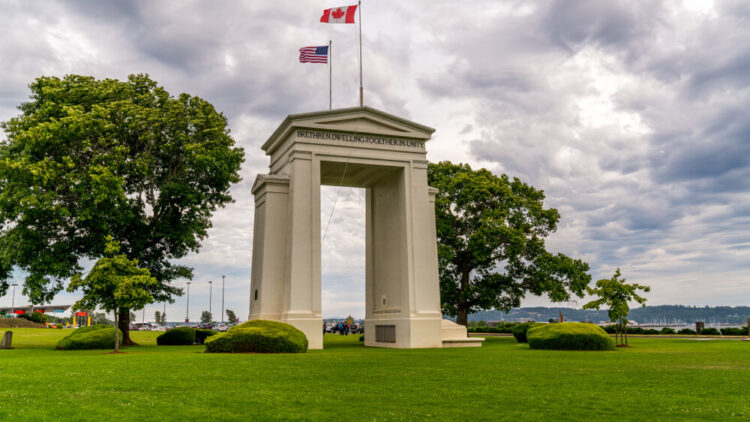 Blaine is one of the most bikeable coastal cities in Washington.
The beaches are soft and calming, and there are exceptional tideflats for a little clam and oyster digging.
Check out the Peace Arch Park International sculpture, which lies on a park that connects Blaine to the Canadian border, and while in town, grab a warm sandwich at the charming and quirky Railway Cafe.
Moclips & Pacific Beach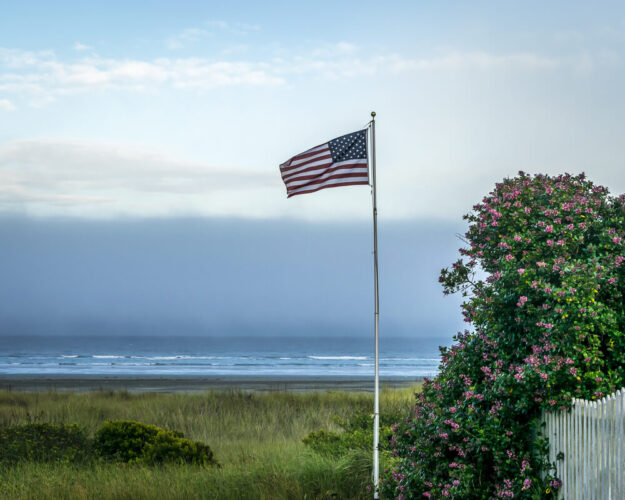 Moclips takes the term small town to a new level! Located near Pacific Beach, come for unique experiences like clam digging and an annual Kelpers parade, which features street vendors, costumes, and family fun, in this town of just over 200 people.
The Moclips River is a wild and hazy 12-mile stretch, great for spotting wildlife and reflecting among the trees and meandering water.
Westport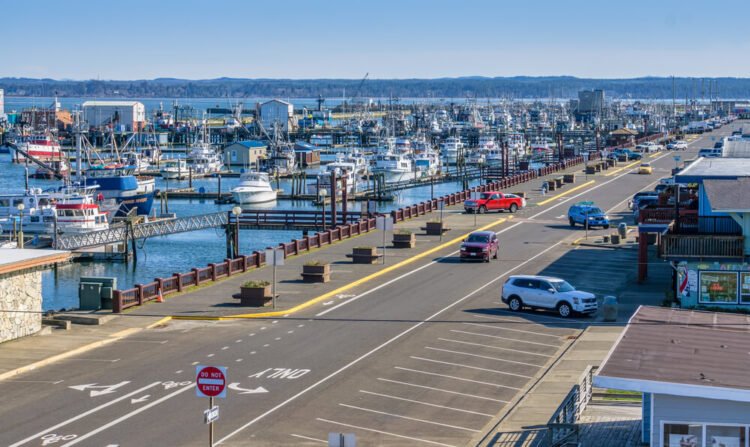 Branding itself as a very dog-friendly town, Westport offers some unique ways to experience a coastal city in Washington State.
Climb atop the observation tower at the Westport marina and hope to get (safely) splashed by up-to 12-foot waves.
Feeling adventurous? Take a chartered fishing trip out on the high seas, or for a bit of California in your Washington, take surfing lessons with some local pros.
For a more calming day, hunt for rare Japanese glass floats that occasionally wash up on its shores.
La Push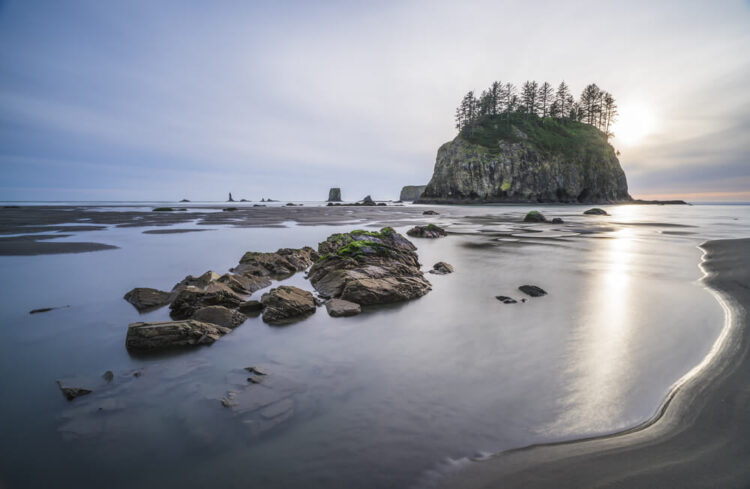 Boasting wild beaches with stunning geological formations, La Push makes an excellent case for itself.
Steeped in both Native American and timber-town history, this tiny village offers quaint accommodations, a few eateries, and most importantly, unbelievable scenery.
Crashing waves and birdwatching are the perfect recipe for relaxation, and for the movie-lovers out there, Forks is only a few minutes drive away (Twilight fans, anyone?).
La Push and the tribal lands are closed due to the ongoing pandemic, but they are worth a visit once available.
Pin This Guide to Visiting Washington Coastal Towns!