Bainbridge Island lies west of Seattle and is a short 35-minute ferry ride from downtown. It's central hub, the village of Winslow, is within walking distance of the Bainbridge ferry terminal. Here you'll find shops, museums, parks, a marina, and plenty of dining options. Because it is easy to get to and has so much to offer, a trip to Bainbridge Island makes for a great small town side trip to escape the hustle and bustle of the Emerald City.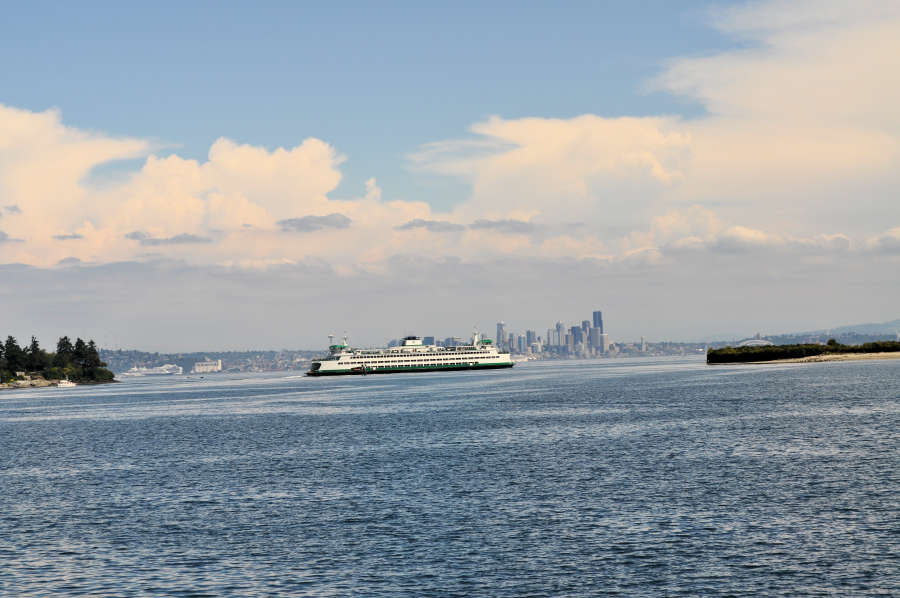 Some links in this post may be affiliate links. If you make a purchase through one of these links, we may earn a small commission at no extra cost to you. Please see our

disclosure policy

for more detail.
I've been to Bainbridge Island many times, as my parents live on the island. It has a great food scene and a fascinating history that includes lumber mills, berry farms, and the Mosquito Fleet. It is also the first place the government evacuated Japanese Americans to be sent to the camps during WWII.
During the summer months, it is more crowded, but if you wander to the park, along the waterfront trail, or slip into one of the museums, you'll find there are plenty of quieter moments.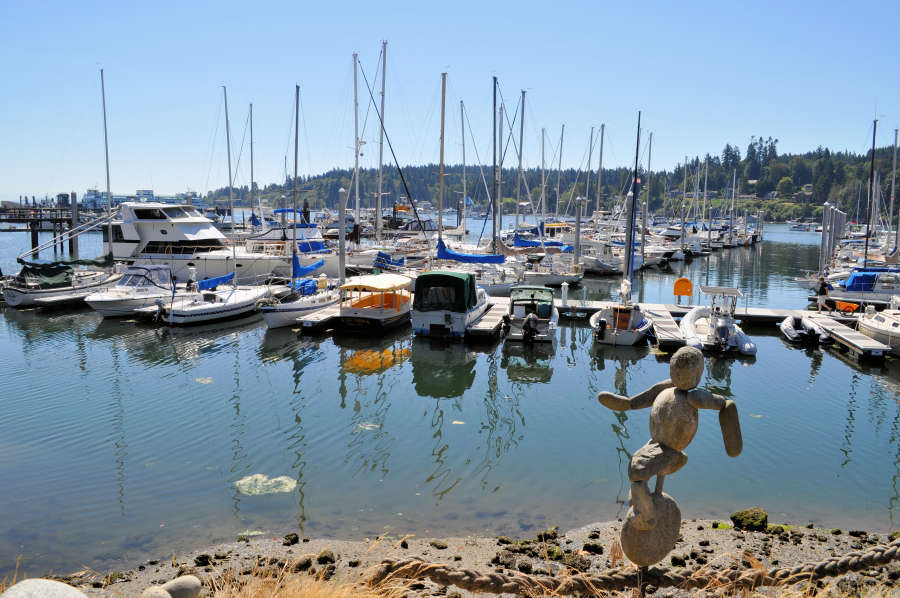 How to Spend the Day on Bainbridge Island
How to Get to Bainbridge Island
Visiting travelers will find walking on the ferry from Seattle to Bainbridge the easiest way to get to Bainbridge Island. Keep in mind, that if you are traveling on a game day, the ferry might fill up quickly with walk-on passengers. Getting on the ferry with a car is another way, but since you cannot make a reservation, you might have to wait through one or two ferry runs, which often happens on weekends and in the summer.
For fares, check the list here, and note that prices change via the seasons with an increase in the summer. Walk on passengers only pay one way, drivers in vehicles will pay both ways, and for drivers, there is a charge for each person in the car. For schedules, check the times here, and note that route times change seasonally.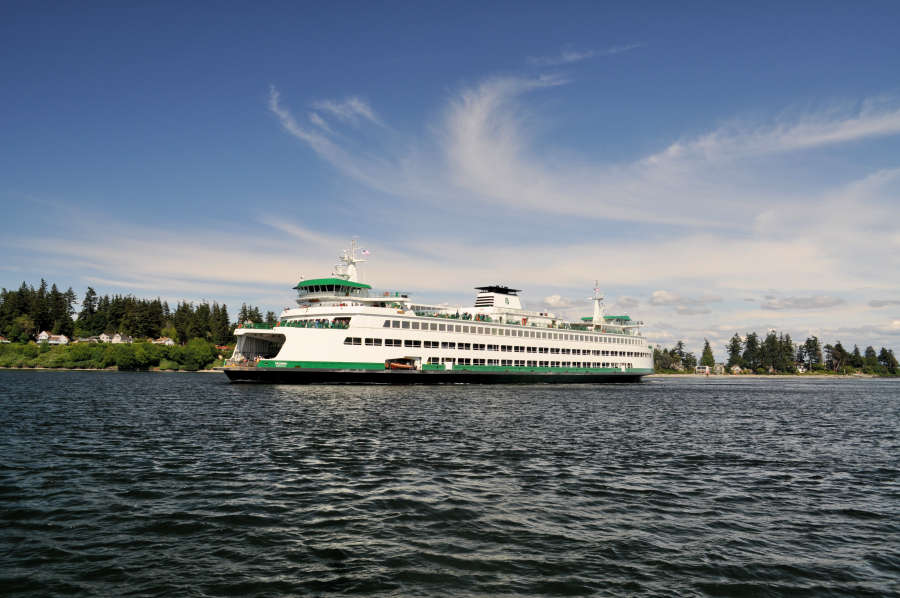 Travelers can also drive onto one of the other ferries and find their way to Bainbridge Island. Since I live on an island north of the city, I often take the Coupeville/Port Townsend ferry, and from there the drive is around an hour. There is also an option that avoids the ferries completely, but it also means driving through Seattle and Tacoma, which both have their own traffic issues. Unless you plan to check out other small towns like Gig Harbor or Bremerton, going via the ferry from Seattle is probably the best way.
The Village of Winslow on Bainbridge Island
As you walk off the ferry, along Winslow Way, and toward town, you'll see three things. The Bainbridge Island Museum of Art, Bainbridge Brewing Alehouse, and Fletcher Bay Winery. Stopping at one of these locations will help get you out of the ferry herd as it makes its way around town. Just keep in mind, that depending on when you arrive they might not be open.
Bainbridge Island Museum of Art
Bainbridge Museum of Art is FREE and opens daily from 10 am to 6 pm. The museum has fantastic exhibits which rotate every three months. Be sure to check out their book room and wander down the hallways as you'll find more art. Outside is a courtyard with a water feature. If you are hungry, inside the museum is BIMA Bistro with indoor and outdoor seating.
Behind the art museum is the Kids Discovery Museum. I haven't been as our kids are grown, but I've heard good things about it. It is for younger kids, not teens.
Bainbridge Brewing Alehouse and Fletcher Bay Winery Tasting Room
Next door to the museum and in the same building is Bainbridge Brewing Alehouse and Fletcher Bay Winery. If you are a beer or wine lover, these are great stops. Bainbridge Brewing Alehouse opens at 2 pm Monday to Thursday and at 12 pm on the weekend. (21+ only). Fletcher Bay Winery tasting room opens daily in the summer at 12 pm.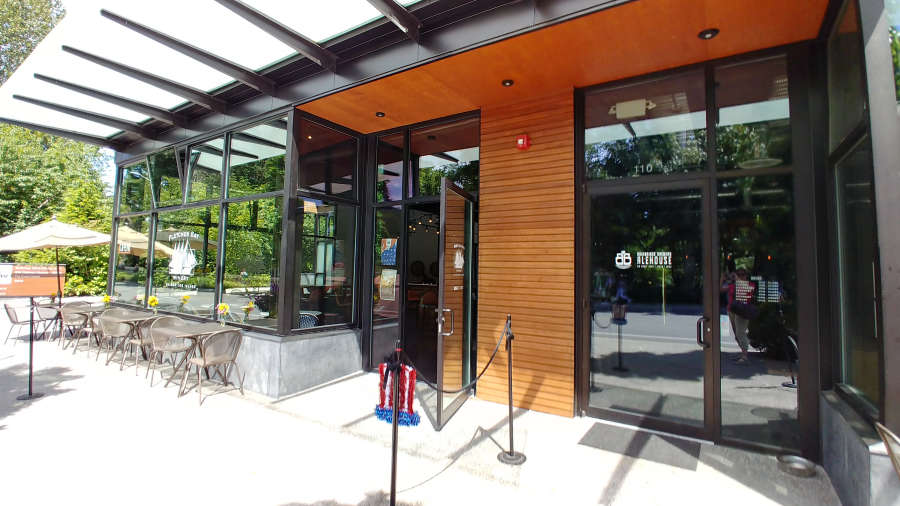 From here, continue your walk into town.
Downtown Winslow is charming with boutique shops, a bookstore, a travel store, a grocery store, bakeries, ice cream, and restaurants. Food-wise, there is quite a lot to choose from, and before I talk about what to do on Bainbridge Island, let's cover where to eat.
Where to Eat on Bainbridge Island
There is no lack of selection of places to dine and drink in downtown Winslow. All of these you can walk to and are found along Winslow Way, Madison Ave., or Parfitt Way. Here are the places I recommend:
Streamliner Diner – diner-style menu and very popular for breakfast; be prepared for a line
Hitchcock Deli – deli sandwiches with house-cured meats
Hitchcock – farm-to-table cuisine
Harbour Public House – pub food, with four poutine choices and views of the marina (21+ only)
Doc's Marina Grill – fresh seafood and pub food with views of the marina
Marché – fine dining inspired by Pacific Northwest and French cuisine
San Carlos Restaurant – Southwest cuisine; if their peach margaritas are in season order one
Madison Diner – diner-style menu in an old 1950s diner car
Blackbird Bakery – baked goods and coffee
Pegasus Coffeehouse – baked goods, limited breakfast menu, coffee, beer, and wine
Mora Ice Creamery – amazing hand-made ice cream
My go-to restaurants are Cafe Nola, Harbour Public House, San Carlos Restaurant, Madison Diner, and the Streamliner Diner. I haven't made it to Hitchcock yet. I am a huge fan of farm-to-table, and it has excellent reviews.
If you have a car, Pleasant Beach Village also has more options:
Treehouse Cafe – pizza
The Beach House Bar – Northwest cuisine
The Manor House at Pleasant Beach – Northwest fare using fresh and local ingredients
Hammy's Burgers – burgers, shakes, fries, has won "best burger" on the island several years in a row
If you have a car, Coppertop Park has:
Bainbridge Brewing Taproom
Storyville Coffee Company
Fletcher Bay Winery
Bainbridge Organic Distillers

What to Do Close to Downtown
Now, let's talk about what to do on Bainbridge Island. In downtown Winslow, along Winslow Way and nearby, there are plenty of attractions you can walk to, such as:
Bainbridge Island Historical Museum
Eagle Harbor Waterfront Park and the Waterfront Trail
City Dock with Kayak Rentals
Kids Discovery Museum
Bainbridge Performing Arts
Bainbridge Cinemas
Bainbridge Island Farmers Market (Saturdays, from 9 am to 1 pm, April 6 to December 14)
Bainbridge Island Historical Museum
I'm a huge history lover, and if you are too, you'll want to stop at the Bainbridge Island Historical Museum. The exhibits cover a wide range of topics and ways of life on the island.
At the time of this posting, they had some interesting feature exhibits. Two of which relate to Japanese immigrants and Japanese Americans on the island.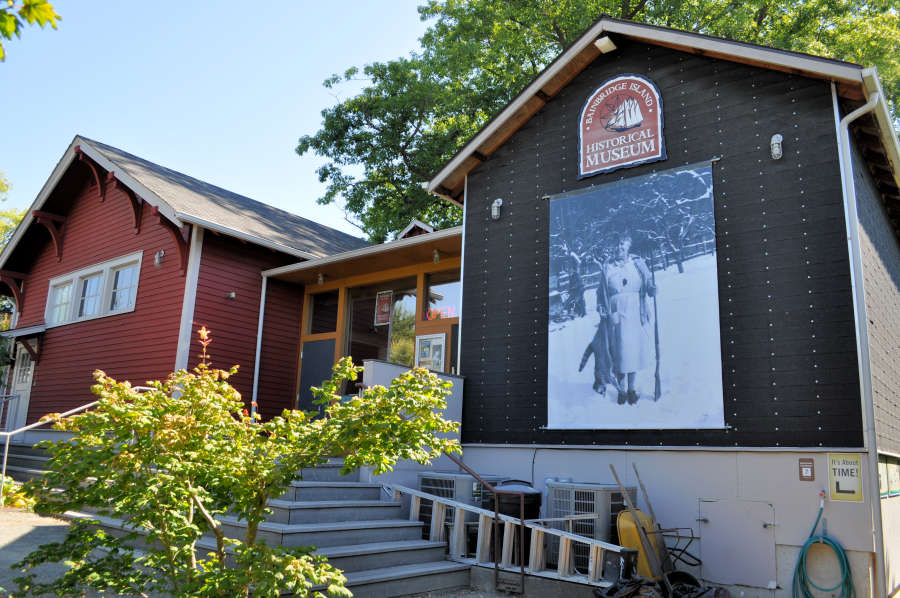 Yama
The first is about Yama, a former Japanese town that had around 300 residents from the 1880s to 1922. The site was abandoned, and the woods took over leaving much of the remains untouched. Over the past several summers students from Olympic College Archaeology Field School have been digging at the site and exhumed around 4,000 artifacts. Some are on display at the museum.
This exhibit does have quite a bit of text, and if you spend some time here, you'll learn about the Japanese immigrant experience. Some interesting characters included the Japanese store owner, Masajiro Furuya. He lived in Seattle and helped recruit Japanese men for the Port Blakely Mill on Bainbridge Island. Another enterprising man was Tamao Takayoshi. At Yama, he ran a grocery store, ice cream parlor, laundry service, tea parlor, watch repair shop, and photography studio.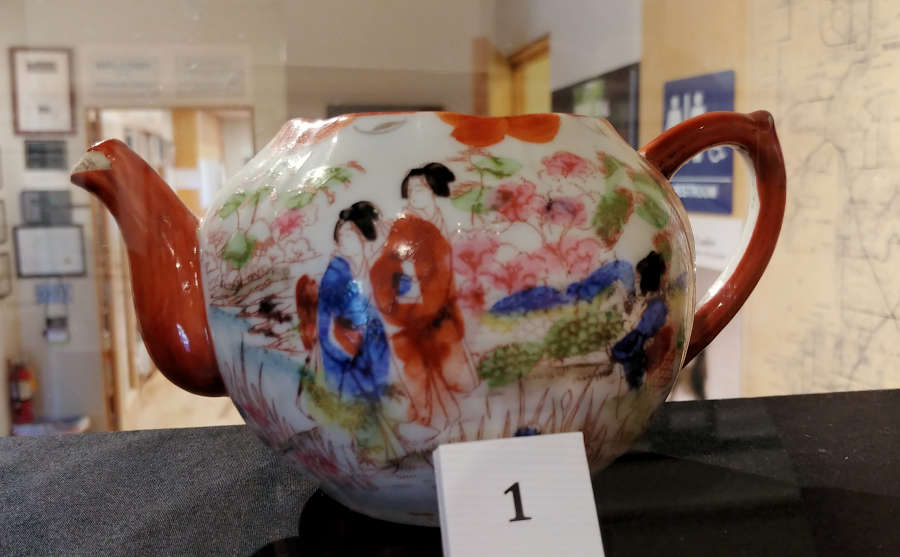 Manzanar and Ansel Adams
You'll find the second exhibit, in the 1908 Bainbridge Island schoolhouse, which houses the majority of the museum's collections. This exhibit is dedicated to the relocation of Japanese Americans living on the island in 1942 to Manzanar, California, and the photographs that Ansel Adams took of the internees. Also, not to miss in this section is information on the newspaper owners (and the community at large), who were upset by the internment and not shy about expressing it.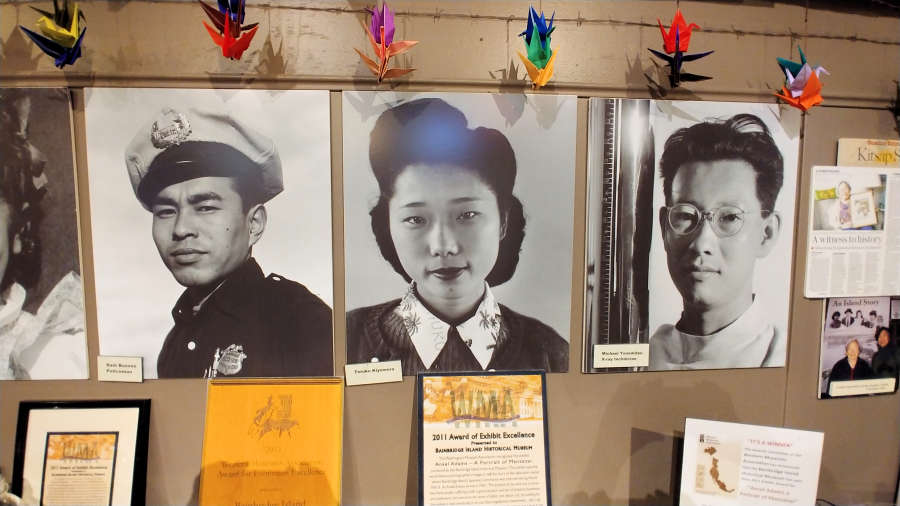 Other items of interest at the museum are the exhibits on the island's lumber industry, Mosquito Fleet, a display and video on the history of captured orca whales in Washington State, and the outdoor patch of Marshall strawberries.
Hours: The museum is open daily from 10 am to 4 pm.
Free admission
Address: 215 Ericksen Avenue NE
Eagle Harbor Waterfront Park and the Waterfront Trail
For a bit of nature and exercise, head to the Eagle Harbor Waterfront. Here you can relax in the shade of large trees, enjoy the water views or opt for one of their walking trails. The west loop is 2 miles and the east loop 1.5 miles. Both trails take around an hour, depending on how fast you walk. The west loop gets more traffic as it includes the Waterfront Park, unique trees, the marinas, and passes by restaurants and museums. The east loop mostly goes through a residential area and along the beach and woods. Both take you past historic sites or structures.
Click here to download the Bainbridge Island Waterfront Trail Map.
If you'd rather explore Eagle Harbor by watercraft head to the city dock for kayak rentals. My first time kayaking ever was in Eagle Harbor. It is well protected and very enjoyable. If you want to experience the island via sailboat, I highly recommend Sail Bainbridge.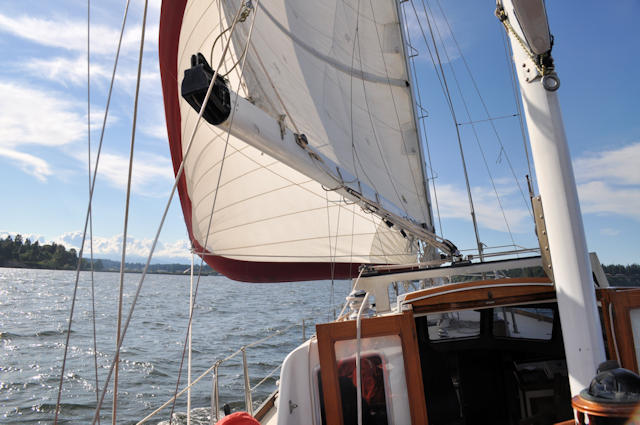 Cinema and Stage
If you like the theater, check out the performance schedule at Bainbridge Performing Arts. They have a wide range of theatrical arts, such as stage theater, symphony, improv, and dance. If a movie is more your thing, check out the movies at Bainbridge Cinemas. I often find discount tickets for the movie theater on Groupon.
Excursions That Require a Car, Bus or Taxi Ride
Bloedel Reserve
Japanese American Exclusion Memorial
Port Blakely Cemetery
Hall's Labyrinth
Grand Forest
Bloedel Reserve (direct bus)
A beautiful spot on the north end of the island is the 150-acre Bloedel Reserve. The manicured grounds have walking trails, streams, ponds, and a Japanese garden with a guest house and the Bloedel's former home turned museum. One can easily spend two to four hours at the reserve walking the paths and exploring the grounds. Throughout the year they have concerts, workshops, lectures, and art shows.
To get to the reserve via bus, take the BI ride from the ferry terminal. It will drop you off right in front of Bloedel. The fare is $2 one way. Runs Monday through Saturday, with limited Saturday service.
Travel tip: There is no picnicking or smoking at the reserve.
Hours: Open year-round at 10 am Tuesday through Sunday, with different weekday and seasonal closure times. Check their website for last admission times on certain days.
Admission: $17 adults, $12 seniors, $10 students, $6 children 5-12, and children 4 and under free.
Address: 7571 NE Dolphin Drive
Japanese American Exclusion Memorial (bus with a short walk)
If you want to extend your history lesson, the Japanese American Exclusion Memorial is on the opposite side of Eagle Harbor and about a 10-minute drive away. The memorial is dedicated to the 276 Japanese American residents who were evacuated from the island and the first group to be taken from their homes and sent to the internment camps. Built along the walk they took to the ferry, the memorial includes the person's name and age, carved wooden images, and lots of origami that people have left. It is FREE to visit.
If you are on foot and visiting during the weekday, you can get to the memorial via Kitsap Transit bus #99. This line picks up and drops off at the ferry terminal during the weekdays only. Get off at the Eagle Harbor at New Sweden stop. Walk east on Eagle Harbor Road. There are two entrances, one at the Pritchard Park turn off. Before that, there is a bus turnaround area and a pathway that leads to the memorial. The fare is $2 one way. Click here to see the schedule. There are also bike rentals at the ferry, but keep in mind the road is windy and hilly.
Address: 4192 Eagle Harbor Drive.
Travel tip: If you'd like a free tour contact the museum. They need at least three weeks notice.
Port Blakely Cemetary (car or taxi ride)
At the history museum, an etching of a Japanese gravestone piqued my interest. I'd never seen a headstone with Japanese writing, so I decided to visit Port Blakley Cemetery. If you have time, a car, and like visiting cemeteries, I highly suggest this side trip. Park in the parking lot inside the wooden gates. Face the central area of the cemetery, and the Japanese headstones are to the left several rows in. A good marker is a very large grave with a crying angel as there are several headstones nearby.
Address: 4375 Old Mill Rd. NE
A trail leads from the cemetery down to the Blakely Harbor Park and trail. Located on the former site of Port Blakely Mill, the trail loops around the wetland with views of the water. An unusual feature is an abandoned building covered with art.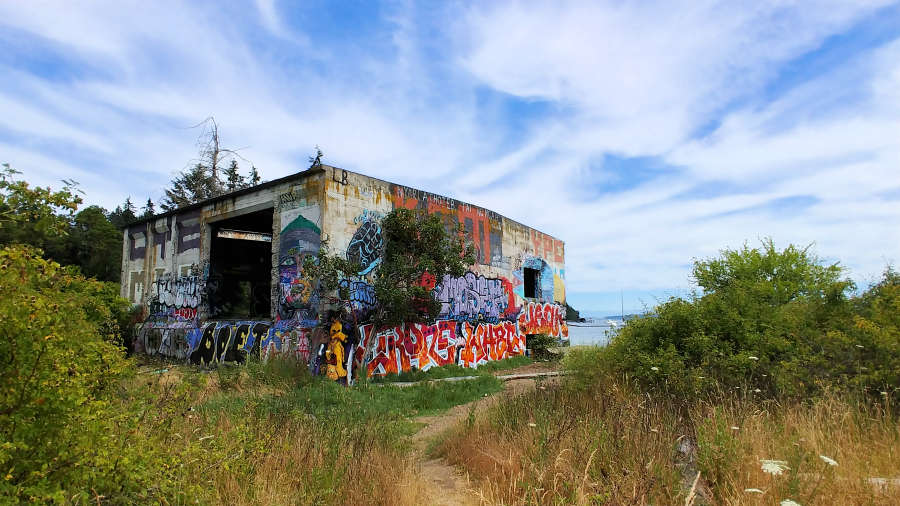 Hall's Labyrinth (car or taxi ride)
I stumbled upon Hall's Labyrinth while driving along Rockaway Beach Rd NE to Port Blakely Park. Set along the road in a wooded area, it makes for a peaceful stop. Next to the stone circle is a pamphlet about the creator of the circle and its meaning. In essence, instead of an 11th circuit labyrinth, he chose a 12 circuit and used Native American astrology for the lunar cycles. Nearby is a large Tibetian bell, that rings after you've turned it nine times. Be sure to say a prayer for good while doing so.
Address: 1113 Halls Hill Rd.
Travel tip: The labyrinth can be easy to miss, especially if there are cars parked in front of it and the signs. Look for a gravel pull-out.
Grand Forest
The Grand Forest is an island favorite for hiking. The 240-acre area is parceled together and has almost eight miles of trails through a second-growth forest filled with firs, cedars, and maples. Trails are easy with a few uphills. On our last hike, we saw an owlet and its parent!
Click here to download the Grand Forest trail map. (Also shows parking areas.)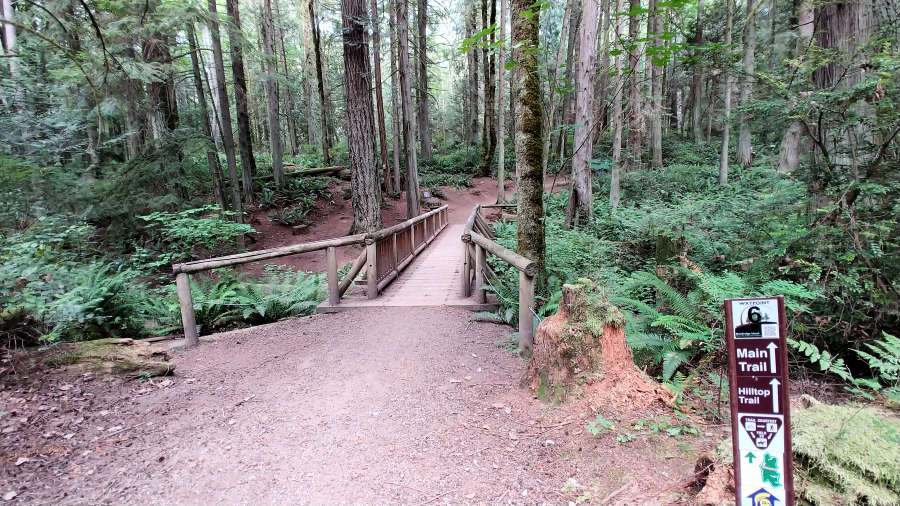 Tour Bainbridge

On my recent trip to the island, I noticed a sign for a new tour company called Tour Bainbridge. They have five different tours, including beer and wine focused tours and one that takes you to the Suquamish Museum and Cheif Seattle's gravesite. I haven't been on a tour, so I cannot personally recommend. Please read reviews.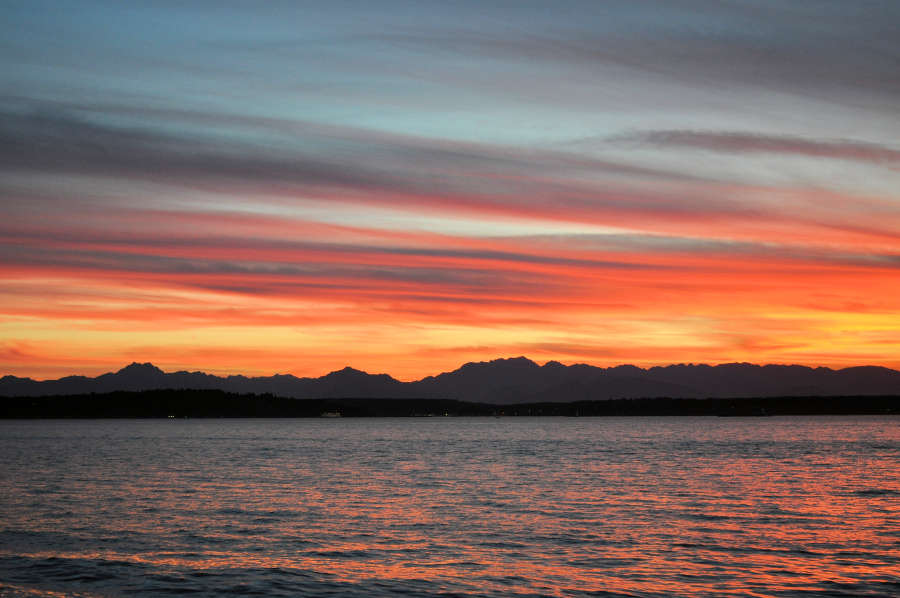 I've seen some fabulous sunsets on the ferry to and from Bainbridge and I highly recommend timing of your ferry ride back to Seattle at sunset.
Where to Stay on Bainbridge Island
If you'd rather stay the night, or want to see more of the island, here are some lodging options. Some do require a taxi ride or a drive.
Some accommodations I recommend:
When doing a Bainbridge Island hotel search, pay close attention to the location of the hotel. Often times hotels in Seattle and Bremerton will show up in the searches. Seattle is a 35-minute ferry ride, and Bremerton is a 45-minute drive.
You can find more lodging options at Destination Bainbridge.
To help support my blog, book through one of my affiliates, such as TripAdvisor, Hotels.com, and Expedia.com. Booking through one of my affiliates is at no extra charge to you, but provides me with a small commission so I can continue to #dreambigtravelsmall.
Have you been to Bainbridge Island?
Pin for later!