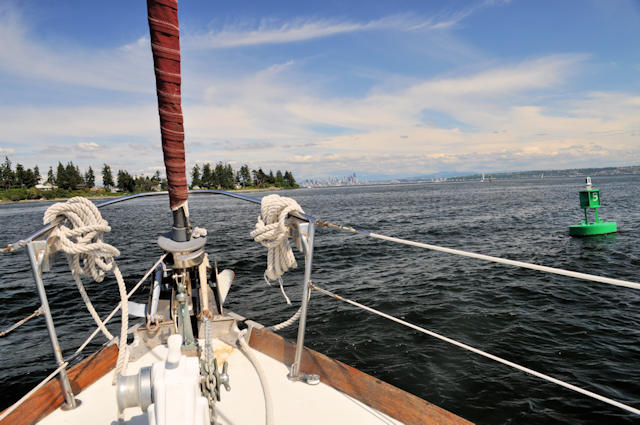 Puget Sound is the probably one of the most iconic bodies of water near Seattle. And, there are plenty of ways to experience it from tour boats, ferry rides, and cruise ships. But, one of the best ways to get a feel for what life on the sea is like is on a sailboat.
On Bainbridge Island (a 35-minute ferry ride from Seattle), in the small town of Winslow is the sailboat company, Sail Bainbridge. A couple of weeks ago, five of us headed out into Elliot Bay for a 3-hour sail on
Ketut
for some serious
sailboat
time.
A Day on Ketut with Sail Bainbridge
The day before our sail the weather was stormy—rainy, gusty—not ideal for pleasure sailing. Thankfully, the day for our sail was sunny and breezy. Our group met at the top of the docks and from there we walked down to Ketut where Captain Ben greeted us, gave us a tour of the boat inside and out, pointed out the head (bathroom) and how to use it, and had us sign waivers. Once we were all aboard and ready, Captain Ben untied Ketut from the docks, and we motored through Eagle Harbor.
Once we got near open water, Captain Ben went to work on releasing the sails, and we cruised toward Port Blakely, a nearby harbor we decided to put on our itinerary before we left the dock. Over a century ago, Port Blakely was the location of one of the largest and highest producing sawmills in the world. Today, it's a sleepy harbor with beautiful homes and at the end of the cove is Blakely Harbor Park. Once we entered the harbor, we pulled out the cheese, crackers, champagne, and cookies.
After we had cruised through the harbor, we sailed back into Elliot Bay with full sails. The wind whipped through our hair, the Seattle skyline glimmered, and Ketut gracefully glided through the sea.
I have to admit, I was thrilled that Captain Ben was such an engaging and charismatic sailor. It made the day, which is fairly intimate (unless you spend the entire time below deck) all the more enjoyable. All of us really liked his energy, learning about his passion for sailing, his family, his band, and the life of a sailor.
Sail Bainbridge Packages
A Three Hour Tour-$360
Full Day Sail-$695
Half Day Sail-starts $540
Sunset Sail-Starts $395
Destination Blake Island-starts $540
Elegant Dinner Sail-$895 (Dinner for 6)
All the Way Around-$695 (All the way around Bainbridge Island)
Destination: A Taste of Scandinavia-$695 (Sails to Poulsbo)
An Elegant Night at Anchor-$270 add-on
Adventure Sail Getaway-starts $1495
Six-Night San Juan Adventure-starts $6800
Build Your Own Adventure-customized trip
Mini-Sails-one and two-hour sails based on availability
Ceremonies and Burials-starts $300
Most packages include up to 6 guests, some less, like the overnight anchor.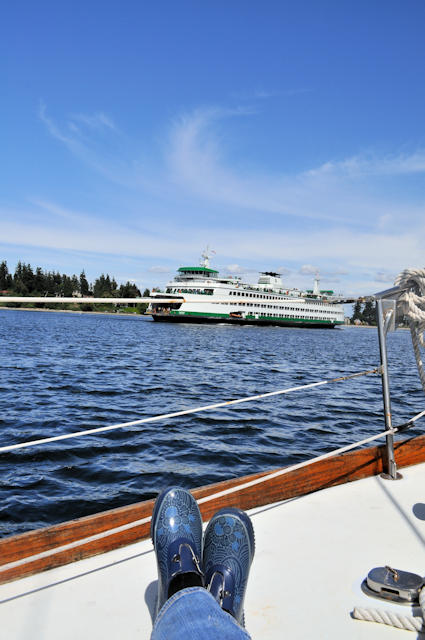 Sail Bainbridge Traveler Tips
"Disclosure: There are some affiliate links below, but these are all products I highly recommend. I won't put anything on this page that I haven't verified and/or personally used."
What to Bring: Camera, sunscreen, Dramamine (I get motion sick very easily so I took Dramamine a couple of days before our sail). You'll want to gauge what snacks you bring depending on what package you choose. For our trip, we brought cheese, crackers, wine, and cookies, and then decided to go out for dinner afterward. For the packages that include dinner, you'll most likely not need anything. Ketut has a boat sized refrigerator for items that need to be chilled. If you want to pick up snacks in town, I suggest stopping at Town & Country Market in the heart of downtown.
What to Wear: After ten years of living in the Pacific Northwest I've found that it is usually about 10 degrees cooler on the water, sometimes more depending on the wind. I'd recommend bringing a windbreaker or jacket. Also, a cap with a visor is nice to have as the sun can get pretty intense on the water. Closed toed shoes are also a good choice. I wore my waterproof Bogs◦ Urban Farmer Shoes.
Address: Harbour Marina, 233 Parfitt Way SW, Bainbridge Island, WA 98110 (Slip #23)
Driving:
If you drive to Winslow, park in the 
Harbour Public House
parking lot, walk toward the restaurant and then take the sidewalk to the right of the building. That will lead you right to the docks. At the boardwalk, there is a sign for Sail Bainbridge on the railing, which means you've found the correct location. In the summer, the parking lot might be full, and the best bet is to find parking along the street or in the next parking lot over. If you do park further down, the boardwalk trail is along the waterfront and will take you to the docks for Sail Bainbridge.
Walk-on: If you walk on the ferry it's about a 20-minute walk from the terminal. You can either walk through town or take the Waterfront Trail.
Dine and Stay in Winslow
If you want to dine before or after your sail, there are plenty of options in Winslow. All of these are within walking distance of the ferry and marinas. Some of my favorites are:
For those that want to stay overnight in Winslow accommodations I suggest are:
Find the best deal, compare prices, and read what other travelers have to say at TripAdvisor & Hotels.com.