Washington is known for its emerald forests, snow-capped peaks, and captivating views. Each region has its charming areas to explore, with hikes that range from easy to hard; and elevations from high to low. No matter what your preference is, you'll find it on at least one of the best hikes in Washington state.
While there are over 1,000 hiking trails in Washington, even a lifetime of exploring is unlikely to let you see them all. Here, we've rounded up the best Washington hikes to add to your bucket list.
Here are the best hikes in Washington state.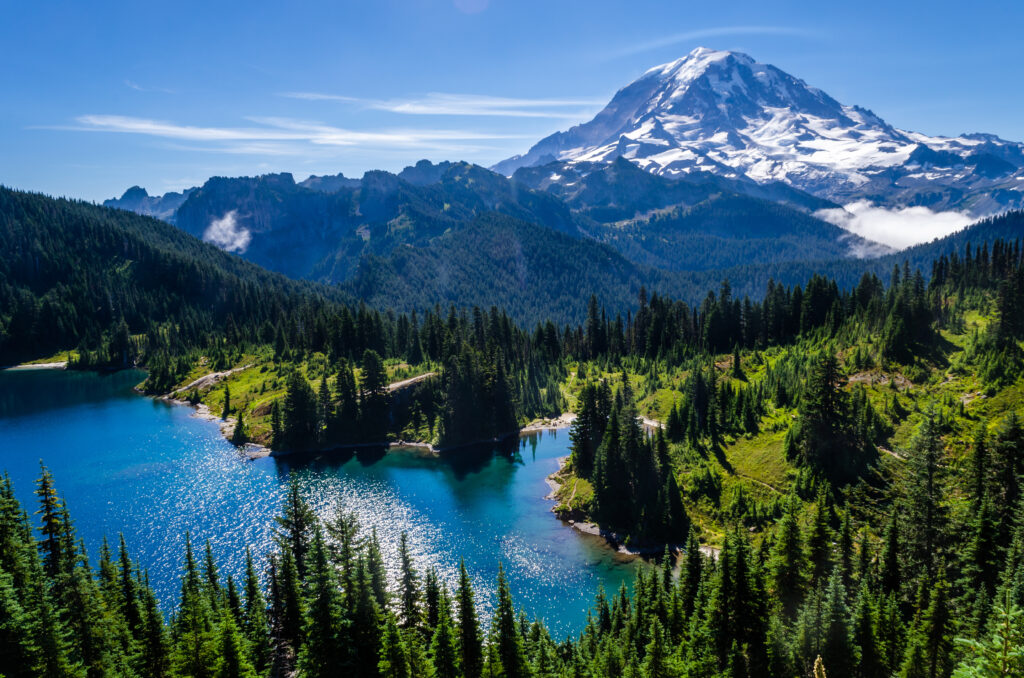 Some links in this post may be affiliate links. If you make a purchase through one of these links, we may earn a small commission at no extra cost to you. Please see our

disclosure policy

for more detail.
Hoh Rainforest Trail, Olympic National Park
With walls of moss and enormous tree trunks located around nearly every turn, you'll feel like you're walking through an enchanted forest when exploring this trail.
While experiencing this beauty, you can challenge yourself to make it to the end of this 30-mile path, or choose a shorter portion to explore in a day.
Keep in mind that it's best to trek through this trail between April and October.
Since mud can overwhelm the paths at times, be sure to pack waterproof shoes to conquer this challenge and to cross the creeks you'll encounter.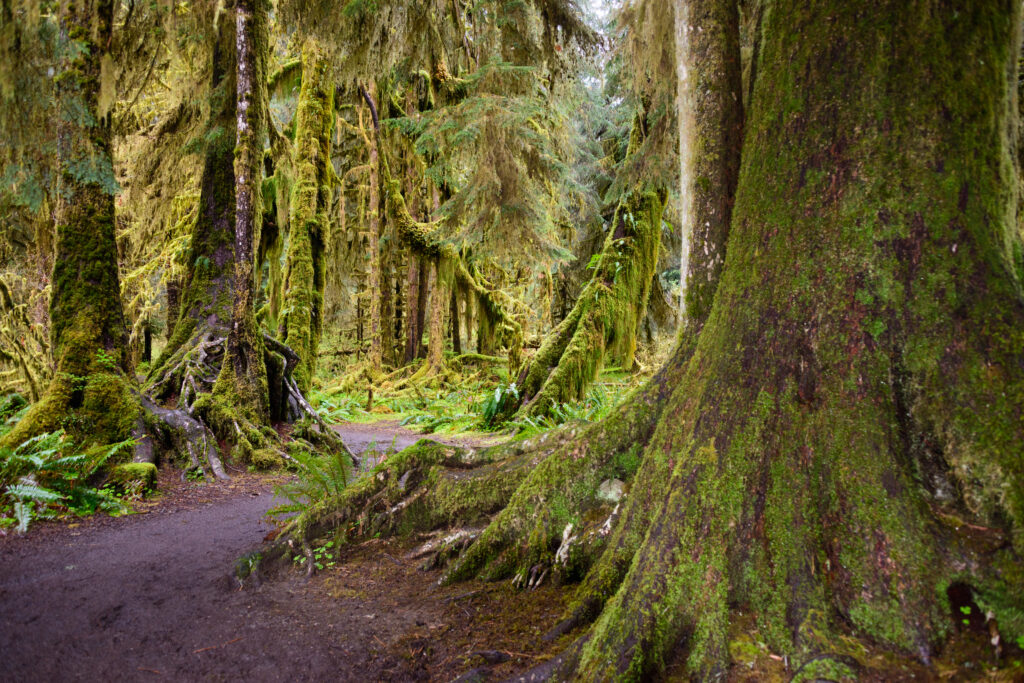 Hall Of Mosses, Olympic Peninsula
Speaking of moss, if a long journey isn't what you feel like taking, the Hall of Mosses is less than a mile roundtrip.
Packed with the lush flora that Washington is known for, you'll also have a chance to spot wildlife such as Roosevelt Elk.
This easy trail is perfect for the whole family, while still providing absolutely stunning views.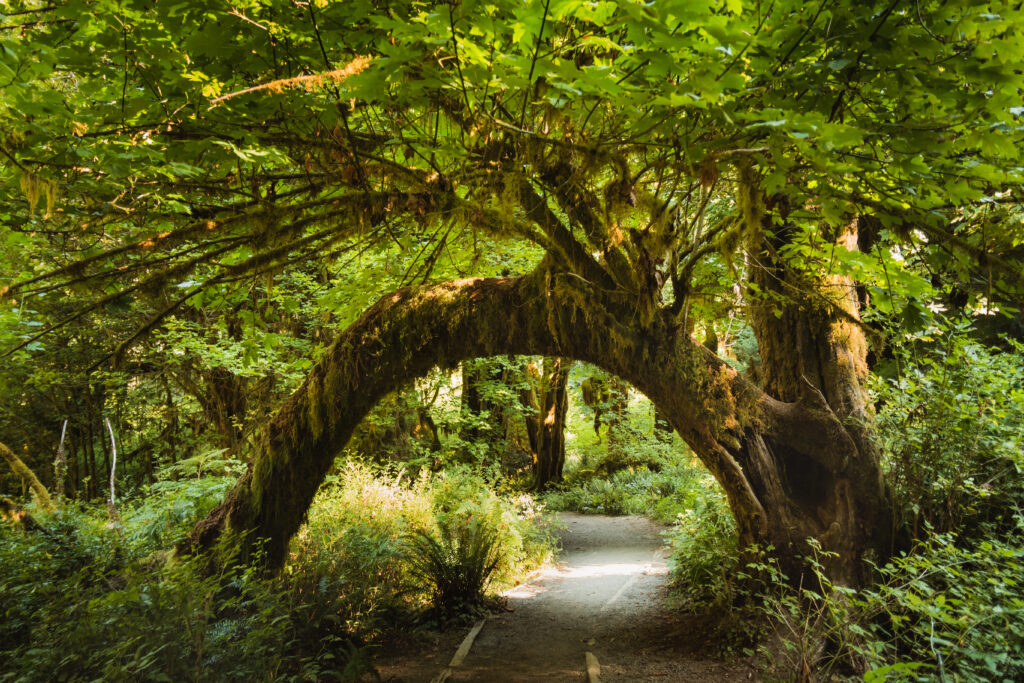 Franklin Falls Trail 1036, Mount Baker Snoqualmie National Forest
Located in Snoqualmie Pass, this hike is a little under 2 miles and is perfect for those who love the snow. With that said, pay attention to the weather and bring some snowshoes.
With plenty of stopping points along the journey, you'll eventually find yourself at a waterfall.
Keep in mind with this path along with others, that there are fees that come with parking. Therefore, be sure to look into the Discover and Northwest Forest passes to avoid anything that'll interrupt your experience.
Furthermore, this path is closed during the winter.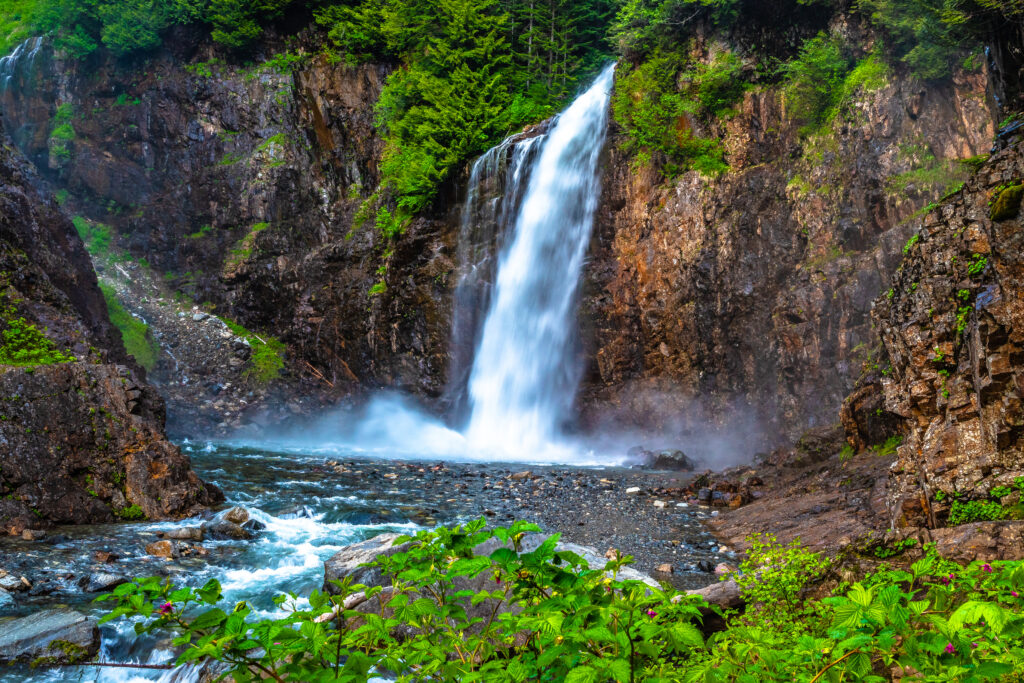 Skyline Trail, Mount Rainier National Park
Best enjoyed from July through October, this Washington hike is another that'll pull you into a winter wonderland—depending on the season.
When trekking through this path, you'll loop around waterfalls, meadows, in addition to the breathtaking peaks this region has to offer.
If you want to do a full journey, expect it to last over 6 miles.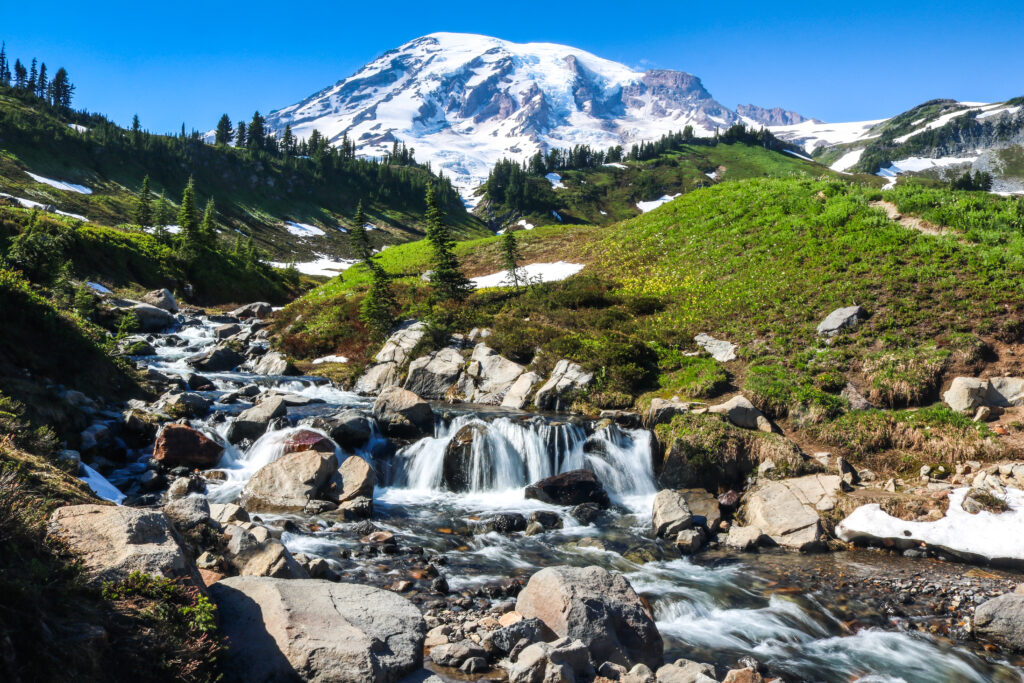 Talus Loop, Snoqualmie Region
Hence the name, Talus, you'll encounter a rocky trail on this journey, which will take you through a growth forest and eventually to a massive talus slope.
From here, you can observe the lower Snoqualmie Valley in addition to a collection of buildings known as "Truck Town".
Be sure to get there early to avoid the crowds.
You can also take this trail if you're interested in a scenic route to Mount Si, a fabled mountain that was once considered to be a body of the moon.
Wallace Falls Trail, Wallace Falls State Park
This trail will definitely give you a workout. When making your way toward a beautiful waterfall, be prepared for a 1,200 foot gain in elevation.
On the way up, you'll run into a variety of fauna in addition to an old-growth forest.
If you don't feel like trekking throughout the entire path, stop at the picnic area at the bottom part of the falls. Otherwise, be ready for a journey that'll take you over 4 miles.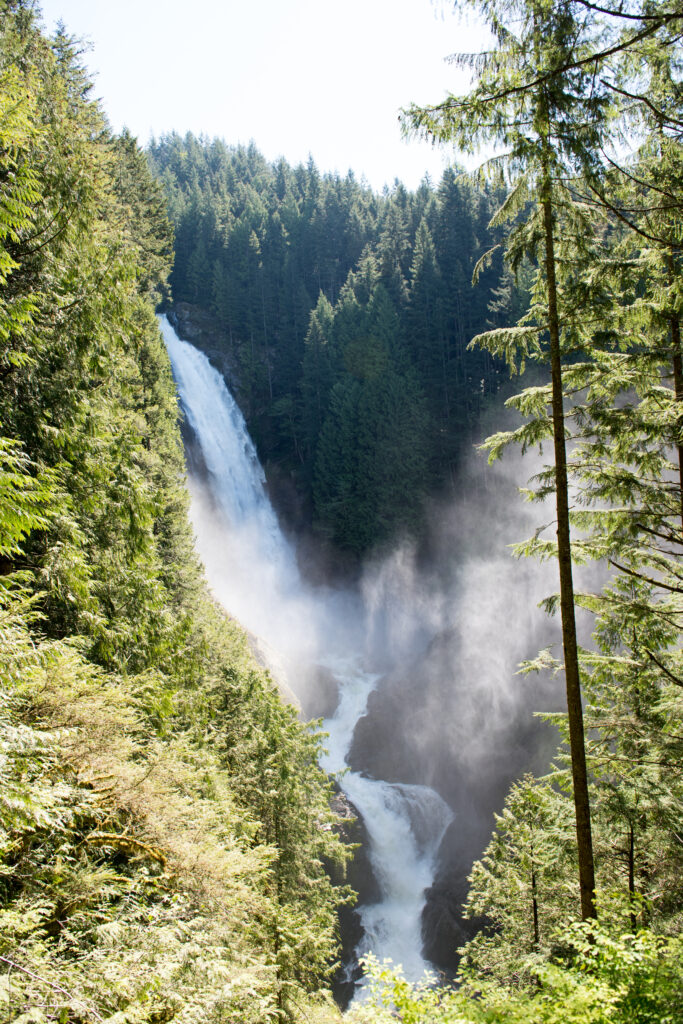 Lake Serene, Central Cascades
Ripe with berries depending on the time of the year and boasting a chance to spot exotic flowers that thrive in the shade, this Washington hike is located around Stevens Pass.
Throughout this moderately difficult trail, you'll encounter a myriad of paths such as roots, stairs, and jaggedy rocks.
You also have the option to take the Bridal Veil Falls path, which includes even more steep stairs. When trekking through this path, the trail will eventually split, leading into a loop.
Don't forget to use caution when you're around the creek, because this could sweep you from your feet and down the hill.
Here, in the winter, you will find snow packed around the base of the path. On the other hand, during the summer months, you may want to jump into the lake for a quick swim before finishing the hike.
Be sure to get here early to avoid the crowds and to relax more on your hike and soak in nature.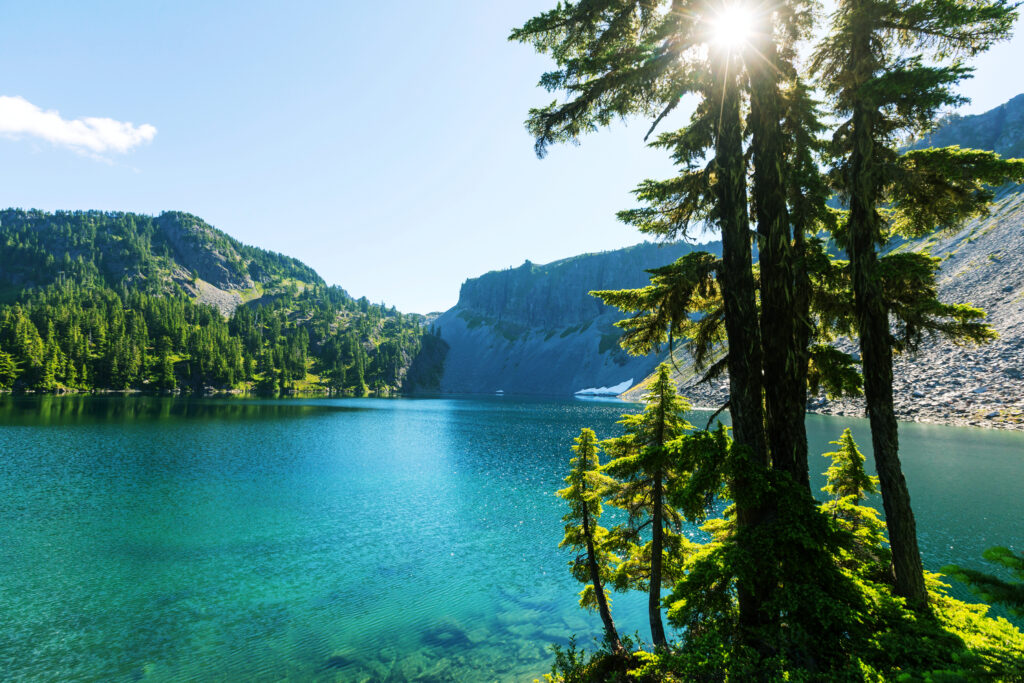 Tolmie Peak Lookout, Mount Rainier Area
If you want an amazing view of Mount Rainier, venture through this seven and a half-mile path to an old lookout stand located deep in the mountains.
Not only that, but you can also watch the glistening Eunice Lake if you look down. A great place to watch nature.
When getting ready to come here, if you want to rest or have a picnic, be sure to be wary of the local bugs, as there are a lot of them here.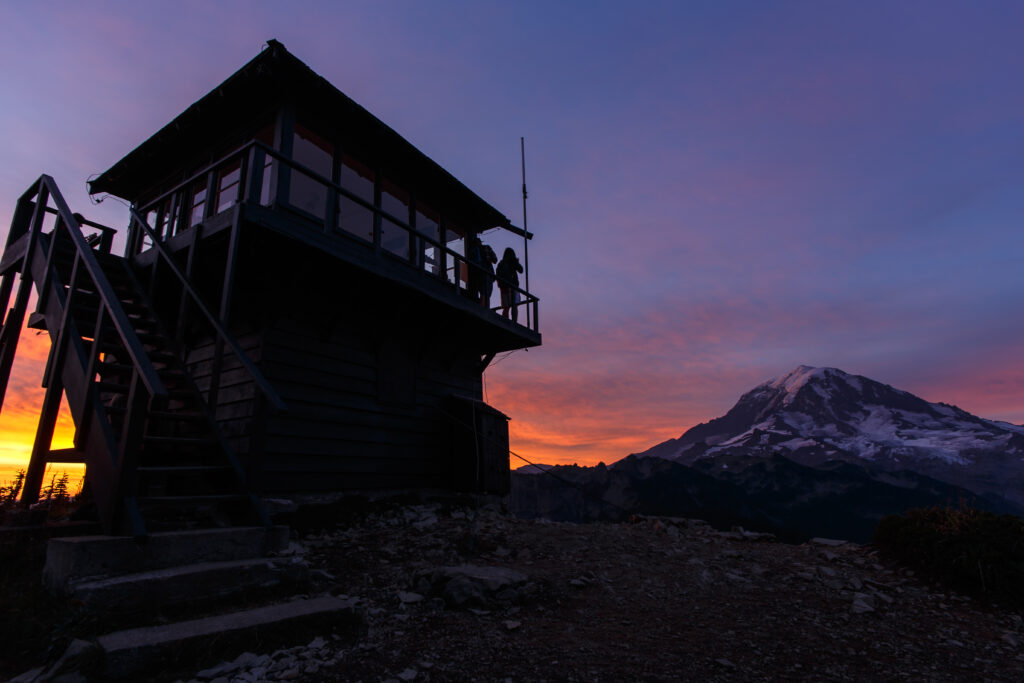 Maple Pass Loop, Okanogan-Wenatchee National Forest
This fairly moderate, 7.1-mile loop trail will take you past a couple of stunning lakes as you make your way around one of the most beautiful hikes in Washington.
Expect nothing but enchanting scenery until you reach the highest point of the trail in addition to copious amounts of snow.
It's recommended to take this path from June until about October.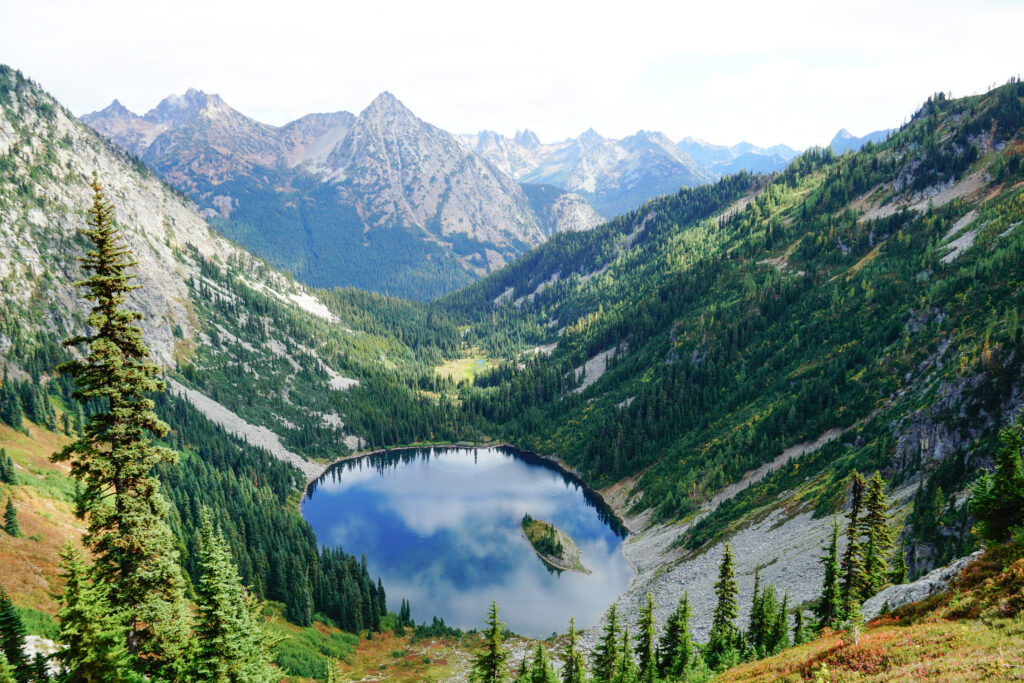 High Rock, South Cascades
This free to enter trail is around White Pass and will take you to a point towering above the surrounding area.
If you happen to make it here on a clear day, it'll give you some breathtaking views.
Also, keep in mind that this path is pretty steep and that there are no fountains along the way, so make sure to bring water.
Throughout this path, you'll only encounter a few obstacles such as rocks, other than that, it's a smooth trail.
Roundtrip, it'll set you back only a few miles.
Be sure to bring snow chains or keep an eye on the weather. Some have aborted the trail in less than ideal weather due to how dangerous it was just to get there.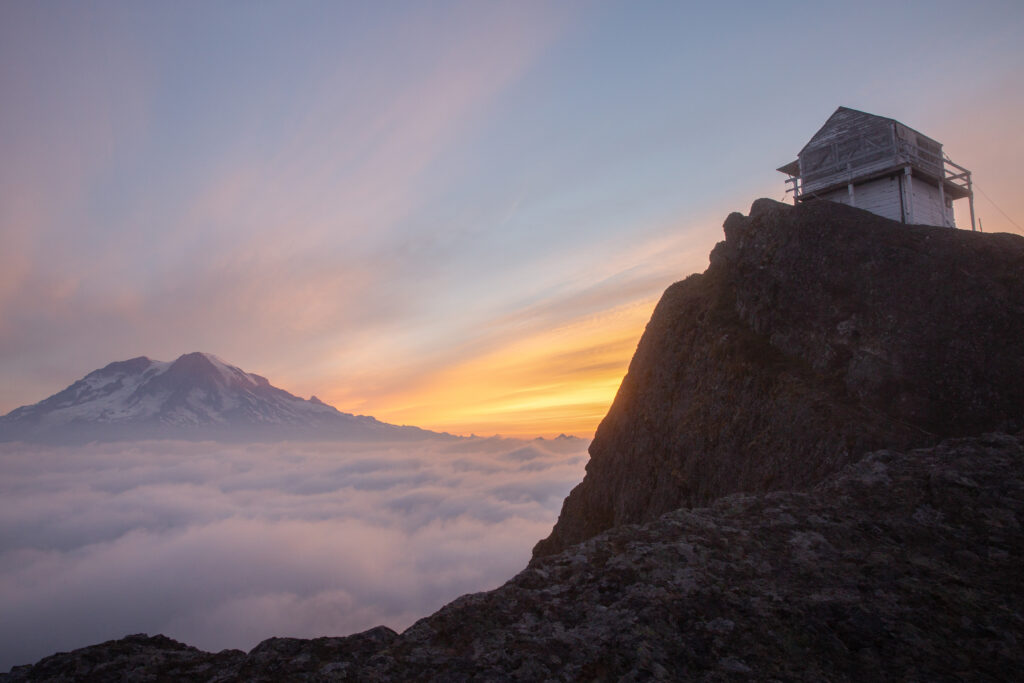 Silver Star Mountain Via Pyramid Rock Trail, Southwest Washington
Silver Star Mountain is located around the Columbia River Gorge.
There are plenty of Washington hiking trails to explore here, and an easy hike overall. The main path is close to 3 miles long.
The first part of this hike is the most difficult; however, your efforts will be rewarded with a lush meadow with a myriad of wildflowers spread throughout the spring.
As you venture further, the trail will fall a bit and then take you to another checkpoint where you can rest.
On a clear day, you can watch the majestic distant snow-capped volcanoes Rainier, St. Helens, and Mount Hood in addition to several other mountains. Furthermore, it will give you a view of the bustling streets and concrete jungles of Vancouver and Portland.
Be sure to keep an eye out for the berries at lower elevations.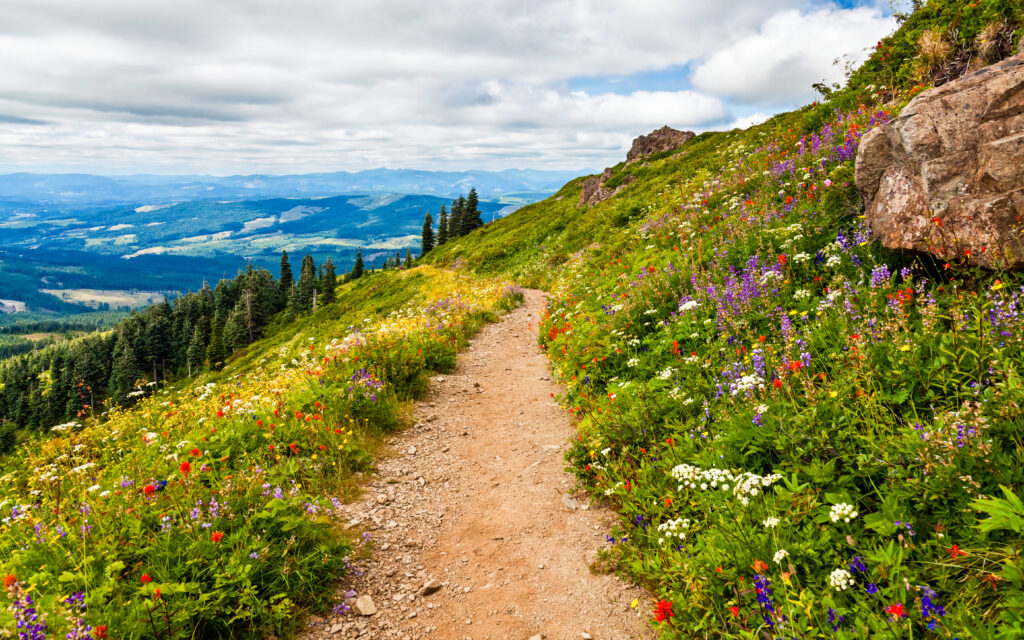 Umtanum Creek Canyon, Central Washington
If you're looking for the best hikes in Washington near Yakima, this is definitely a trail you should look into. Canyons, basalt formations, creeks, local wildlife, and more will give you a chance to explore an entirely different side of Washington.
While it's moderately difficult, the dazzling colors from the flowers decorating the mountains will make this journey worth it.
Furthermore, keep an eye out for the bighorn sheep if you're looking for wildlife to observe.
If you're here in the fall, you can watch the colors fade as the snow arrives.
Once you're a bit further into the trail, it'll split toward a small field with a collection of boulders.
If you turn right, it'll take you across a creek and to an abandoned farmhouse. This is surrounded by more vivid flora such as purple blossoms. This depends on the time of the year.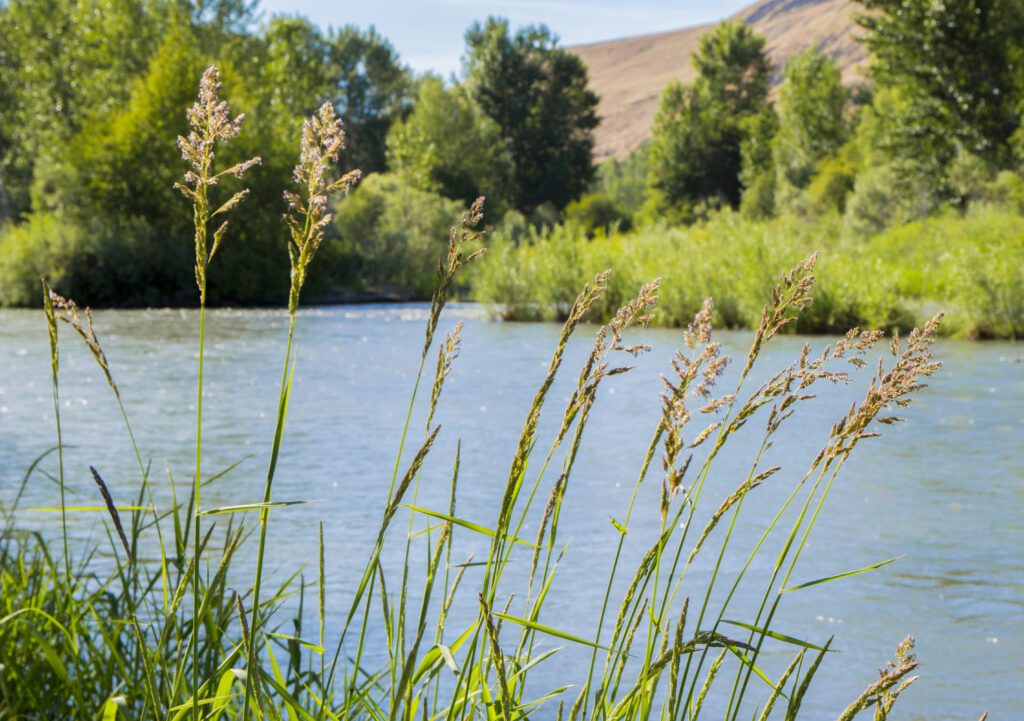 Twin Sisters Rock, Eastern Washington
For those who want to discover a magnificent view without committing an entire day to hiking in Washington, this effortless trail will take no time at all.
What makes it the Twin Sisters rock? A long time ago, floodwaters left behind identical basalt pillars, some temporary lakes, and a path around all of it.
Keep in mind to not climb the rocks, for the county doesn't allow it.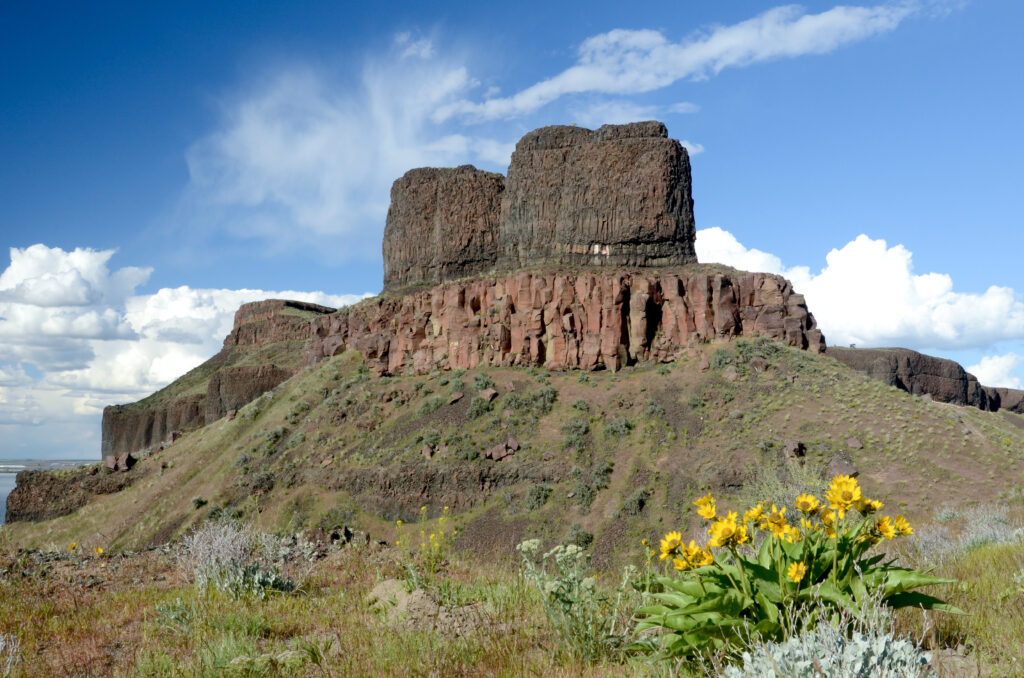 Palouse Falls, Eastern Washington
This hike is a journey the same length as the Twin Sisters, and conveniently in the same region.
As the last ice age came to an end, a barrage of glacial floods, known as the Missoula Floods, rushes through Eastern Washington. They carved the various exotic scablands landscapes here to this day.
Among the plateaus and other scenery, Palouse Falls is one of the few remnants from the glacial floods, and the only major waterfall. As of February 2014, it became Washington state's official waterfall and is easily one of the best waterfalls in Washington.
At over 190 feet tall, this robust waterfall finds itself surrounded by basalt cliffs.
Speaking of snakes, note that rattlesnakes have made their home in this area, so watch where you step.
That's not the only wildlife you'll see, though. Sometimes, you can find yellow-bellied Marmon grazing.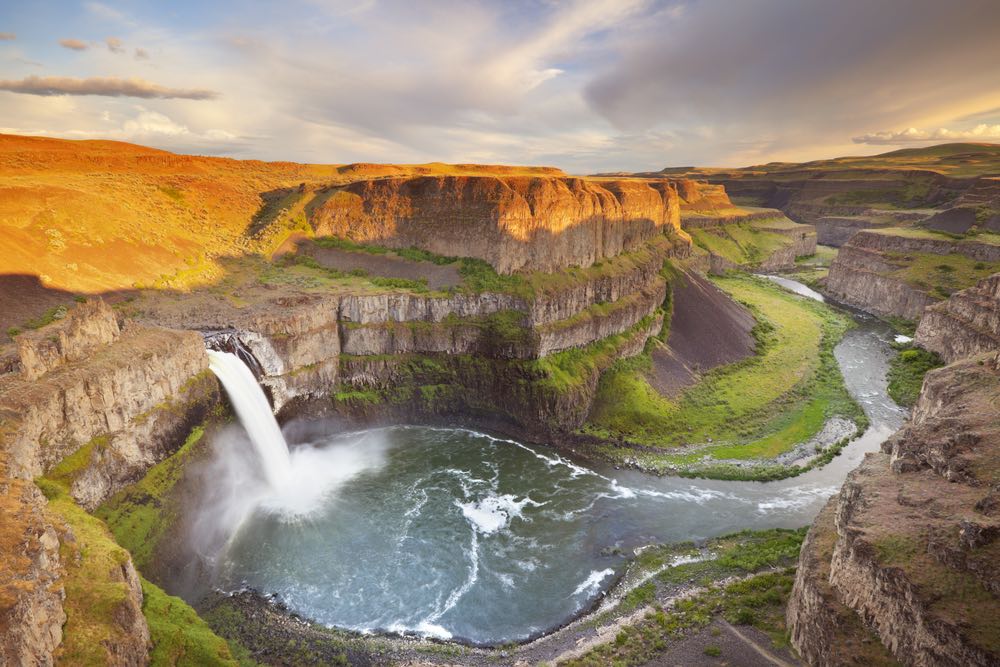 Hamilton Mountain, Beacon Rock State Park
This beautiful hike is in the Columbia River Gorge Natural Scenic Area and around a 7 and a half-mile hike.
Not only are there wildflowers everywhere, but there are also a couple of waterfalls to watch.
As you reach the end of the first mile, you'll more than likely hear them. Afterward, it'll be a bit steep going down.
Over the past 15 million years, the Columbia basalt rock persevered through the landslides and floods that rushes through the gorge.
While it's a well-shaded trail, there have been some sightings of poison oak, so be careful.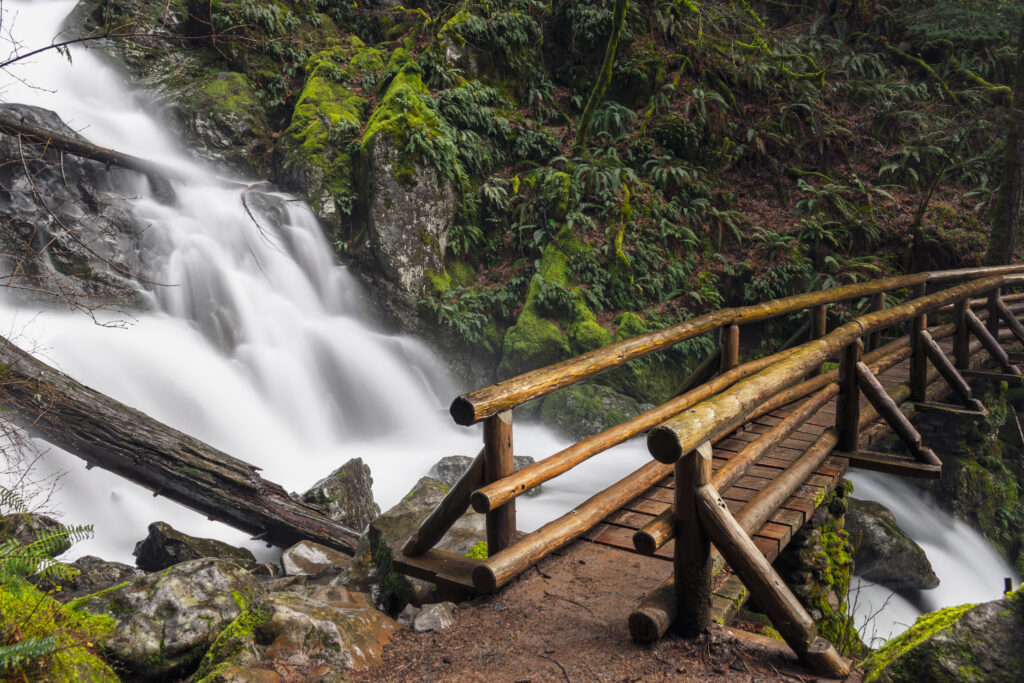 Evans Creek Preserve, Puget Sound And Islands
If you're looking for challenging hikes near Seattle, this moderately difficult path is for you.
This hike is full of wildlife such as black bears; therefore, don't forget to bring pepper spray and make plenty of noise.
In this ecologically diverse hike, you'll find meadows, wetlands, and a nature preserve that's a must-see for birdwatchers.
As you approach the ridge's peak, history will come alive with the massive stumps and rusted relics that'll come into sight.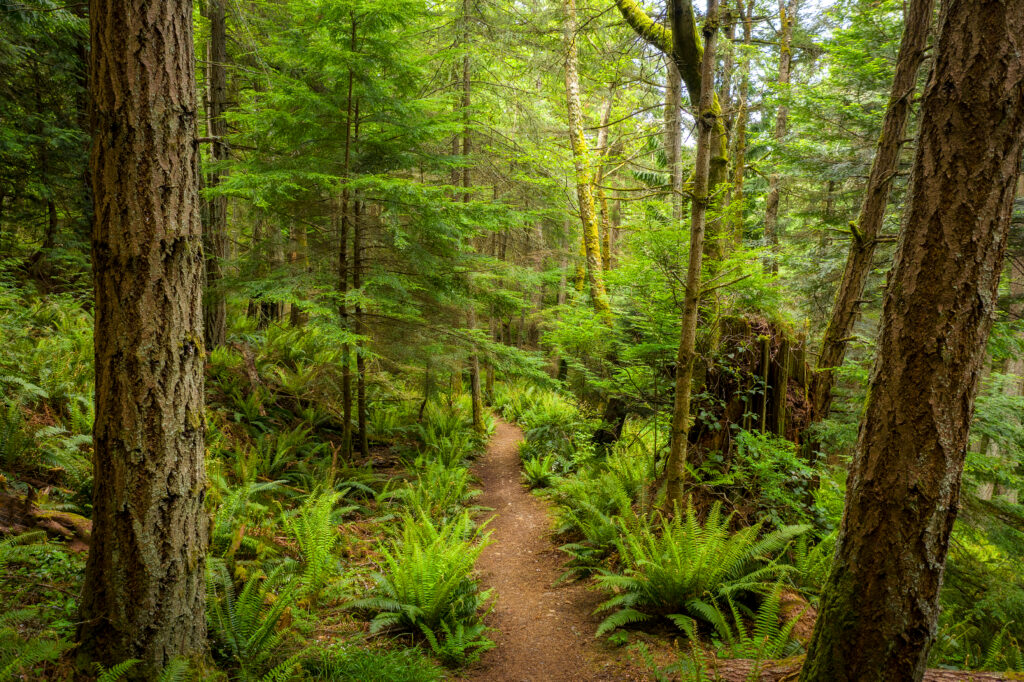 Poo Poo Point, Issaquah Alps
Poo Poo Point is a part of West Tiger Mountain, and one of the most popular hikes in Washington (partially because of its proximity to Seattle).
As you explore this trail, you'll pass an old railroad in addition to a buried gas line.
If you're here later in the summer, keep an eye out for thimbleberries, colorful flowers, ferns, and other various exotic foliage.
If you make it here at the right time, you'll have a chance to watch some paragliders ascend from the steep northwestern part of the Point.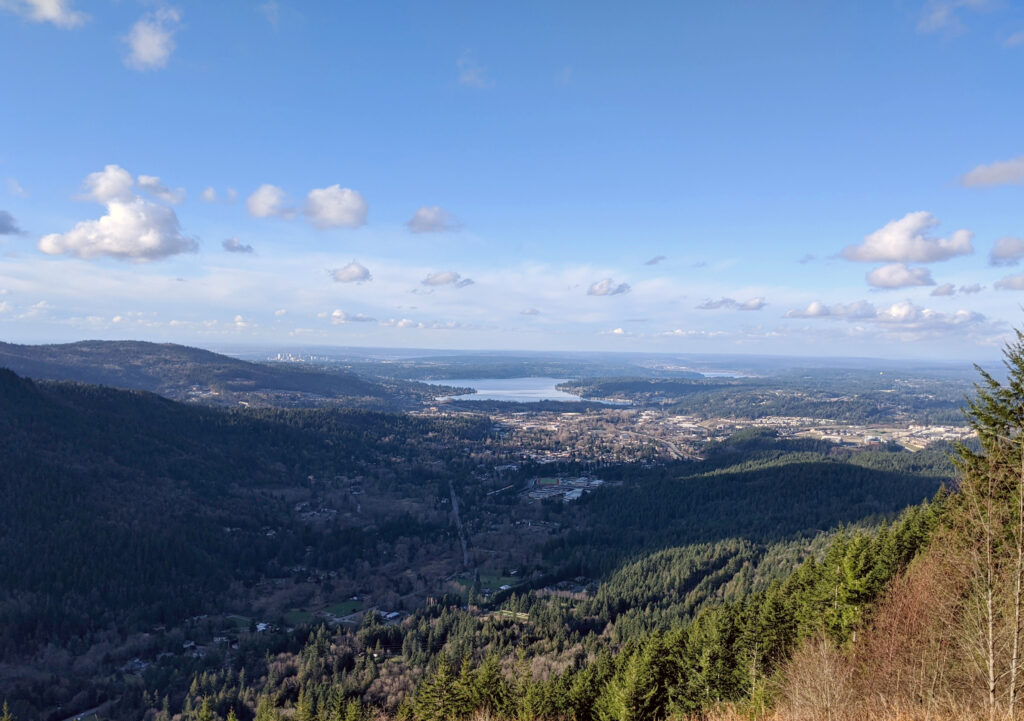 The Enchantments, Central Cascades
Located in the Leavenworth Area, this challenging trail is over 15 miles one-way.
While it can be done as an extremely tough day hike, you can also hike the Enchantments over several days. A multi-day hike requires a permit while a day hike does not.
Once you start, less than an hour into the journey, around 2,500-foot elevation, you'll find bits of snow throughout the path. A little over 500 feet later, you'll run into ice; therefore, pack accordingly.
When you head upstream, there will be an aged log that'll be easy to cross.
Depending on the time of the year, the bottom of Nada Lake will be frozen while a layer of snow rests on top.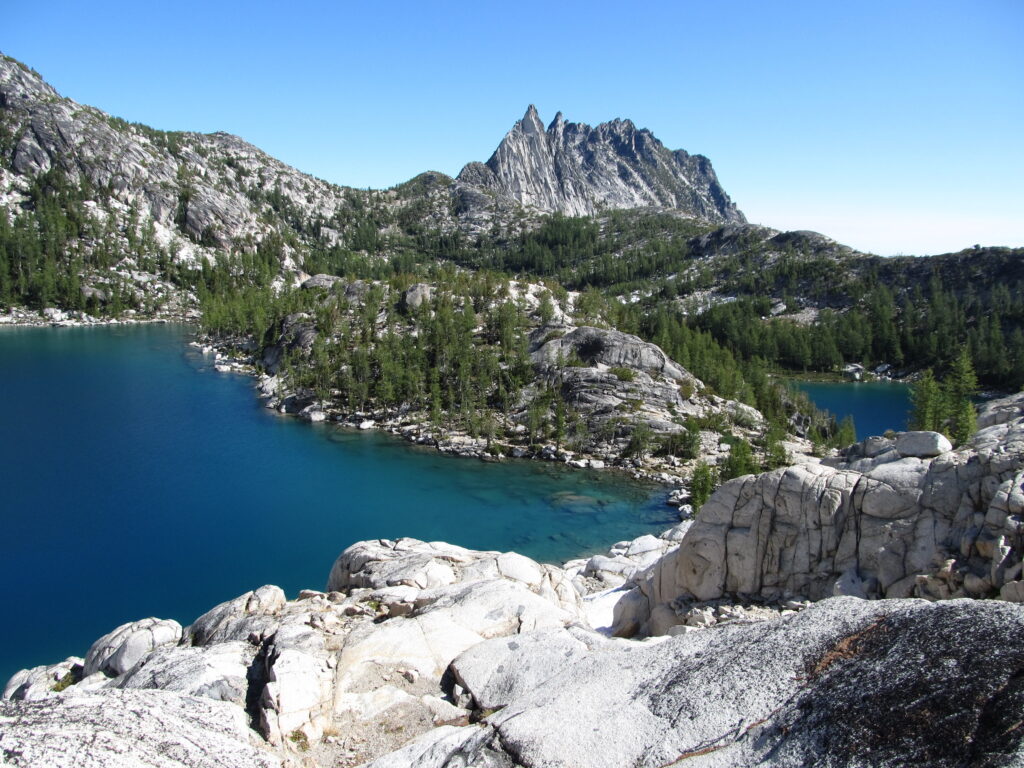 Gothic Basin, North Cascades
One of many hikes around the Mountain Loop Highway, Gothic Basin is one of the best hikes in Washington state.
The beautiful basin definitely a sight to behold after the difficult, 9-mile journey to get there.
Throughout this hike, you'll run into a myriad of obstacles; talus', smooth paths, snow, and creeks. Be sure to pack a variety of equipment to keep you safe from everything you encounter.
Depending on the time of the year, you will encounter snow bridges over crisp glistening waterfalls that'll give you a refreshing mist to counter the exhaustion you've faced from your journey so far.
While the paths aren't laid out for you, there are plenty of opportunities to enjoy nature in all its forms. Wildflowers, lush greenery, and once more, snow.
Once in the Basin, you'll see a lake. Depending on the time of the year, this area will be coated in snow. If you happen to choose a warm day, you'll feel like you're in a car on a hot day with the window open and air conditioning running.
Take a break, relax, and watch the beautiful nature before you as the peaceful sounds of flowing water and nature in general fill the area.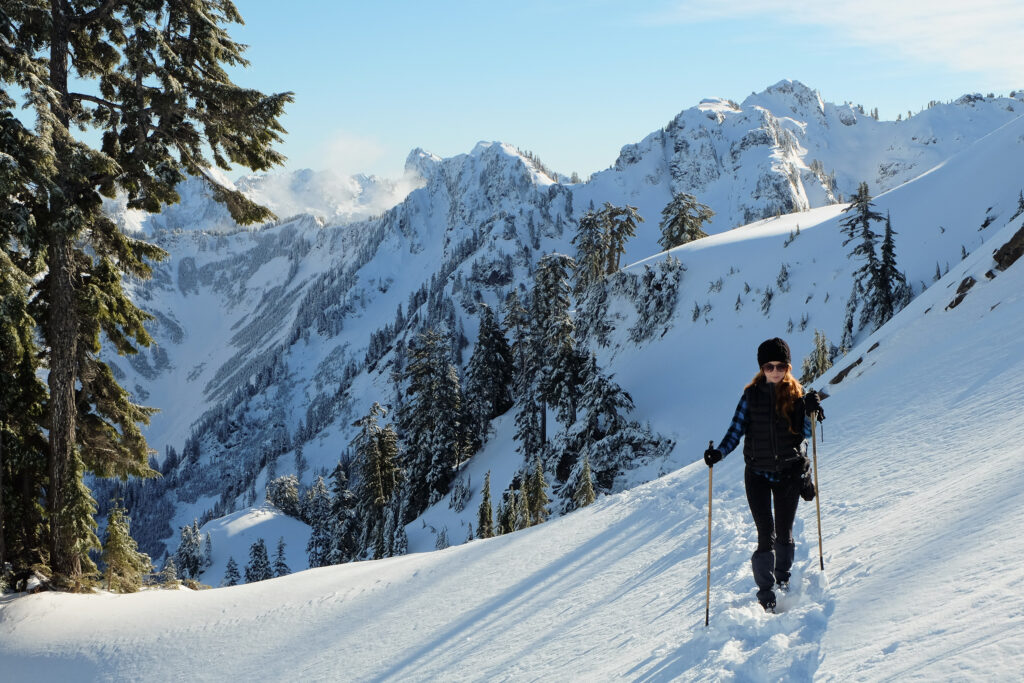 Colchuck Lake via Stuart Lake Trail, Alpine Lakes Wilderness
For this difficult 4-mile hike in Washington state, you'll start at the Stuart Lake trailhead.
Around here, you will find the twin peaks of Dragontail and Colchuck toward the end of the lake.
While this is a rocky hike filled with tree roots, it can be done as long as you're prepared.
Throughout this trail, you'll have perfect opportunities to take photos or soak in nature.