Looking for a great place to stay near Mt Rainier National Park, under the shadow of impressive mountain ranges capped with snow and surrounded on all sides by beautiful evergreens?
Luckily, there is a bounty of beautiful cabins near Mt Rainier, from cozy two-person A frame cabins to luxe cabins with hot tubs, saunas, fire pits, fireplaces, and more.
Here are our favorite Mt Rainier cabins available on Airbnb, for all budgets — curated just for your next stay.
Here's the best of Mt Rainier Airbnb!
Cabins in Mt Rainier: Best Airbnbs
Filmore's Landing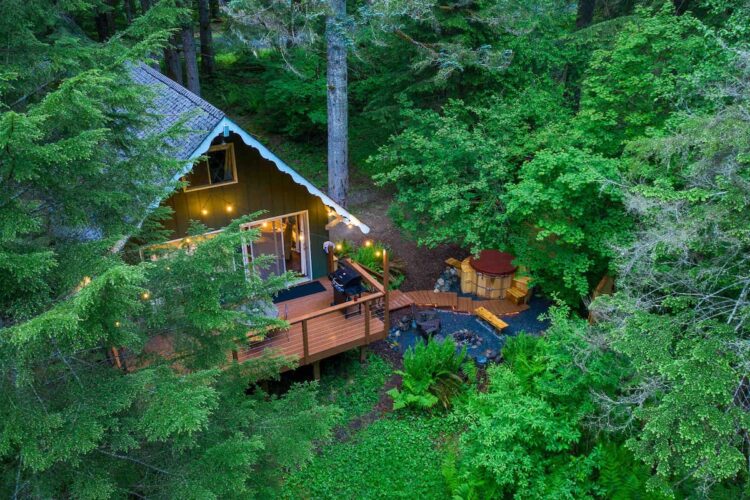 Some links in this post may be affiliate links. If you make a purchase through one of these links, we may earn a small commission at no extra cost to you. Please see our

disclosure policy

for more detail.
There's nothing quite like waking up to a sea of green, as exemplified by this incredible Mt Rainier Airbnb.
Boasting a deck with lovely view of the surrounding forest, this is one of the most scenic locations in the Mt. Rainier area, and the interior is no slouch either – a spacious open floor plan and tasteful decorations make this place feel like a proper home.
The ambiance of the house is further improved by thoughtful little additions like board games and a full entertainment set for an evening of fun after your mountain explorations.
There's also a hot tub in the beautiful forest right on site — plus, this stay is pet-friendly, making it perfect for groups with dogs.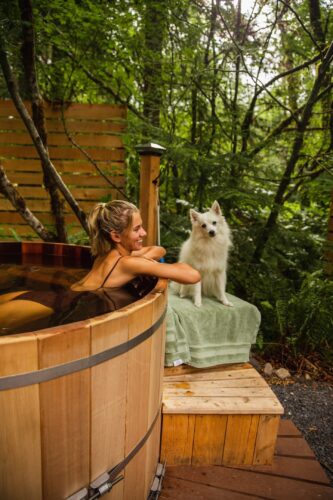 Finally, to make the most of your stay in the Cascade Mountains, visit nature's own swimming pool in the form of a lake within walking distance of the cabin!
Despite being a mountain cabin, Filmore's Landing has perfectly serviceable roads and connectivity to the rest of Paradise Estates.
What's more, Mt. Rainier National Park is around 4 miles away, so only a moderate hike separates you from one of the most scenic locations in Washington and beyond — or you can drive into the park to have more ease of access to all the best hikes in Mt. Rainier.
Blue Ox Basecamp Cabin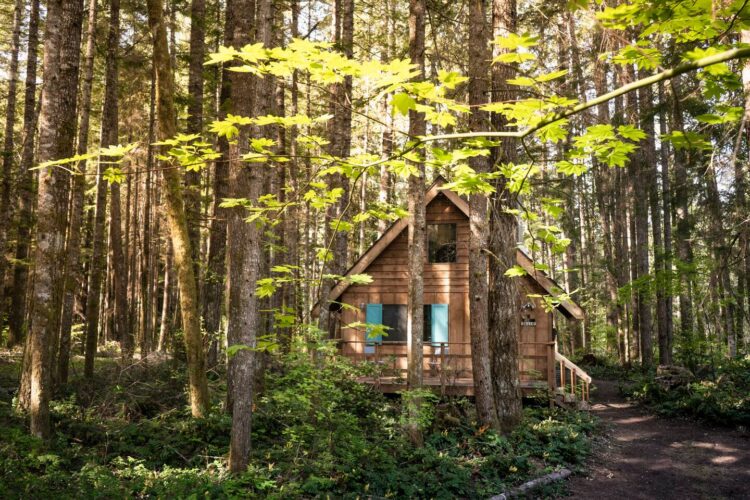 Staying in the forest doesn't necessarily mean your vacation can't be cozy, and this charming cabin near Mt Rainier goes above and beyond to ensure an unforgettable stay.
The interior is everything it needs to be – it's well-stocked, illuminated, and features a fireplace for a cozy visit no matter the season!
The list of amenities doesn't end there, though, as guests will also have access to an incredible hot tub, as well as two great decks, each with an amazing view of the surrounding nature.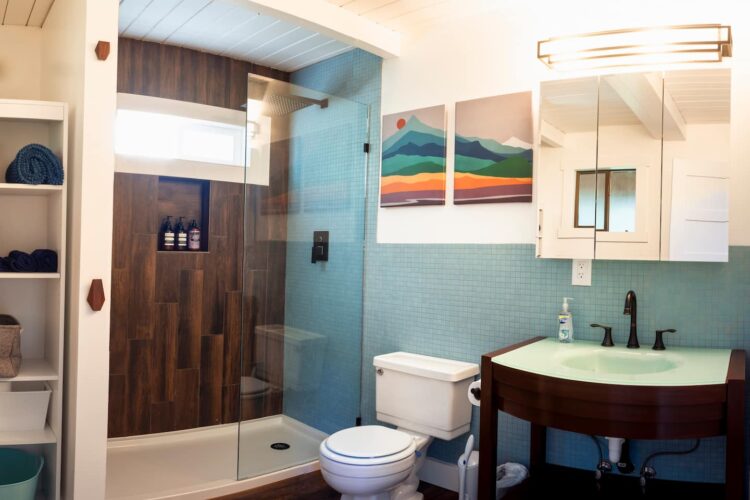 These decks are the perfect place to fire up a barbecue, and the backyard is the ideal picnicking area for an outdoorsy couple.
The cabin is located in Ashford, meaning Mt. Rainier, one of the centerpieces of any Washington trip, is about 5 miles away.
The mountainous terrain does mean you need a car to get around, but being in Ashford means you'll have access to just about every locale and service you could possibly need.
Book this cozy cabin near Mt Rainier National Park on Airbnb!
Totem Lodge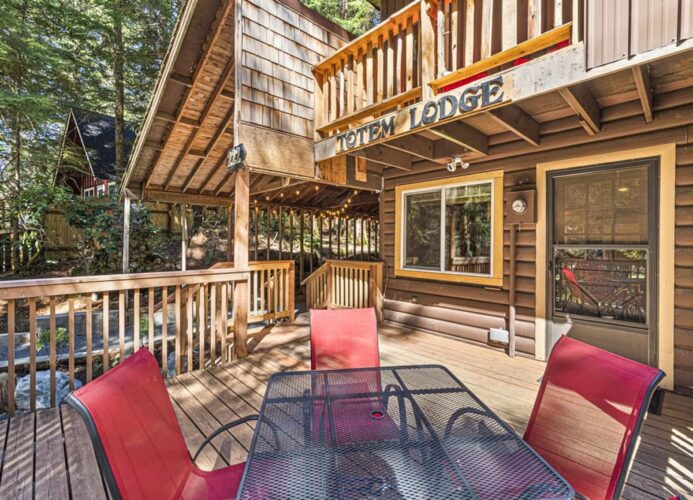 While many mountain cabins in the Mt. Rainier region have a cozy ambiance, the Totem Lodge ups the ante and is comparable to, if not better than, a number of high-end resorts in the area!
This Mt Rainier Airbnb's interior design uses stylish wooden finishes and plenty of light to create a look that's both rustic and modern, and the window view from the bedroom is an absolute delight.
The name of the resort isn't random either – you'll find that the house is decorated with beautiful tapestry and even actual totem replicas, which lend themselves nicely to the quaint, mountainous atmosphere.
Exterior-wise, guests have access to a spacious deck and outdoor seating area ideal for a barbecue, as well as sports areas, a number of scenic trails connecting to the house, and a hot tub that comfortably fits up to 6 people.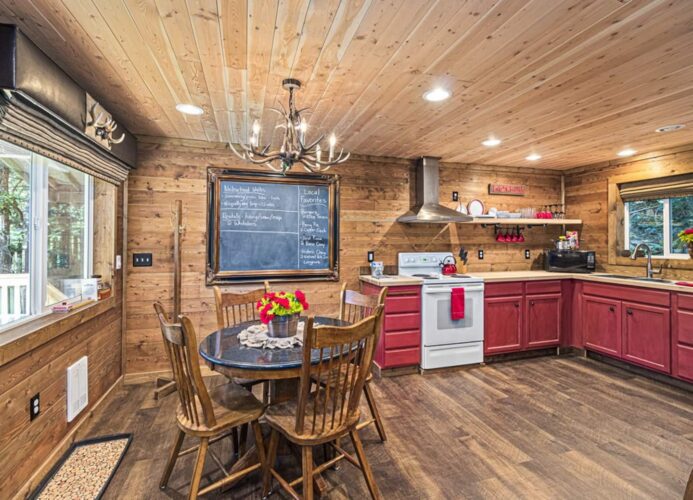 Ashford is a great place to call home during your Washington Vacation, seeing as Mt. Rainier is essentially a hike away, and Seattle isn't too far off either if you're traveling by car.
The lounge is part of the greater Paradise Estates complex, which in itself is perfect if you don't want your vacation to feel too isolated.
Elk Horn Cabin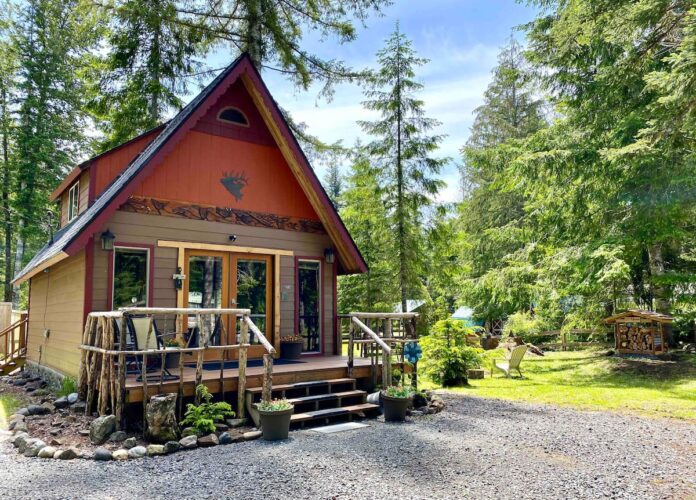 The best cabin Airbnbs are the ones that complement the woods around them, and the Elk Horn Cabin is nothing if not one of those!
The interior has been put together with immense care, and the predominantly wooden design is beautifully accentuated by the wall décor.
Rain or shine, the Elk Horn Cabin is the perfect place to call home during your vacation, courtesy of the fireplace and fully-stocked kitchen.
Perhaps even more impressive are the cabin's surroundings – the "garden" area is sublime and bombards the senses with green and the smell of fresh mountain air, and roasting marshmallows on the fire pit is the ideal way to spend an evening.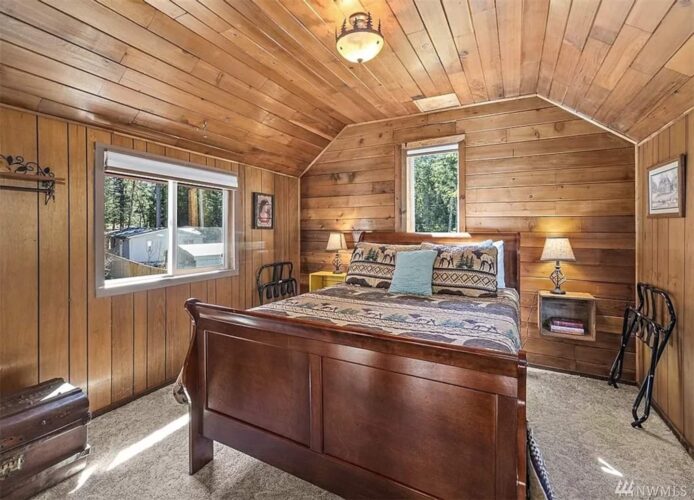 If the weather is particularly hot, you can also take a swim in the nearby lake or just enjoy the spectacular views while sunbathing by the water.
As part of Paradise Estates, the Elk Horn Cabin offers some incredible hiking trails just around the corner, and Ashford is the ideal hub of operations for anyone looking to check out Mt. Rainier, located mere minutes away.
Considering you'll be staying in a relatively small community, the experience is somewhat off-grid, but between the nearby shop and the grill included as part of your stay, you should have little trouble restocking on supplies if need be.
Nisqually Nest
Bringing you the very best in mountain vacationing, Nisqually Nest (aka Rayito's Refuge) is the ideal blend of scenic and accommodating.
The interior comes equipped with everything you need, and more, including a fireplace to ensure you're warm no matter the season, as well as a small library if you want to kill an evening or two with a good book.
The real winner is the back yard, though, as it features an infrared sauna for two, as well as a hot tub with a great forest view and a fire pit.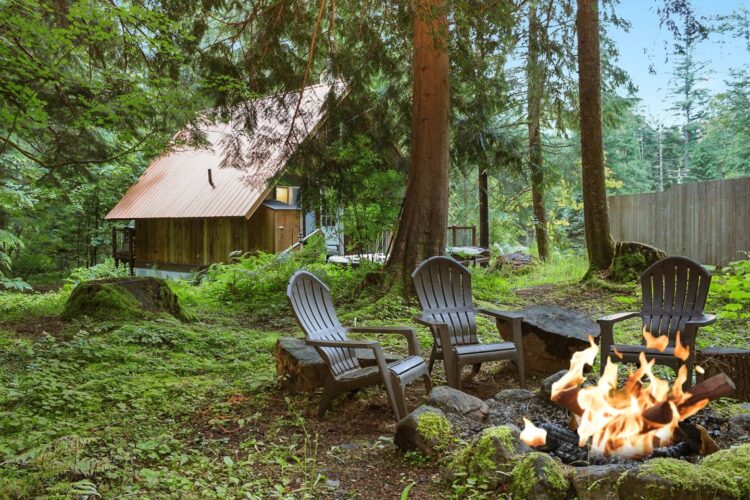 Those who take the time to explore the surroundings will be rewarded with some incredible hiking trails, a great fishing spot in Nisqually River, as well as the pond at Paradise Estates.
Naturally, the main attraction is Mt. Rainier, located only 5 or so miles from the cabin. Considering stores are hard to come by in the area, you might need to pack a substantial amount, even for a shorter stay, but the serene experience more than makes up for that.
Hebe's Hideout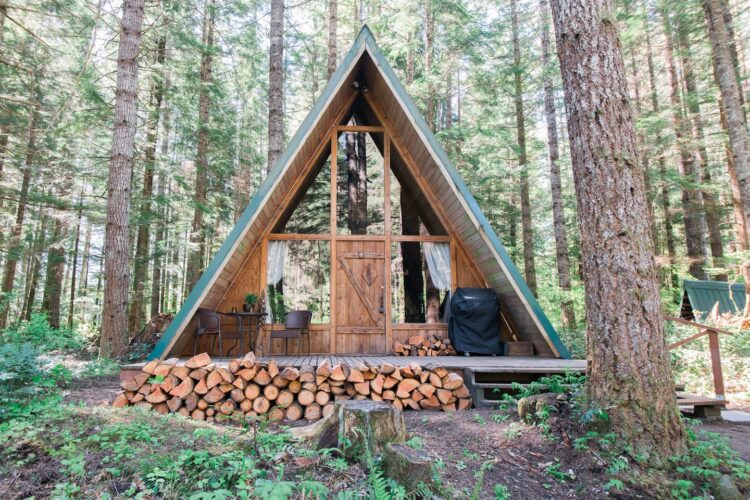 While many mountain cabins are quite minimalistic in their aesthetic, this A-frame opts to go the luxury route.
The moment you step inside, you'll be greeted by an incredibly sleek hardwood design, a cooking area rivaling the kitchen in any full-blown home, and the much-needed fireplace to keep you warm and relaxed whenever you choose to visit.
Perhaps the most alluring part, however, is the outdoor area, which features a fire pit and plenty of seating, making it the perfect spot for stargazing and admiring the beauty of nature in the evenings.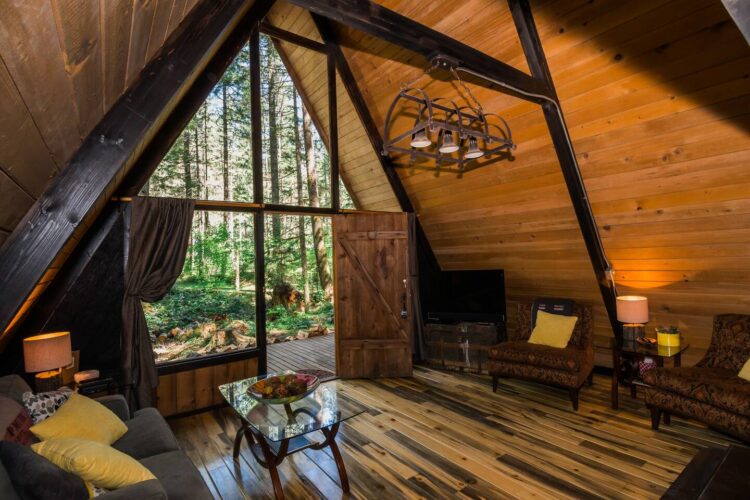 Another great feature of the cabin is its location – not only is Nisqually River moments away from the cabin entrance, but Mt. Rainier is only a short drive away as well.
Best of all, the area has no permanent inhabitants, meaning this is about as remote and peaceful as a stay in the area can possibly get.
Although Ashford is a little lacking in the goods department, the cabin has some kitchen essentials to get you started and lighten the load when packing.
Little Blue A-frame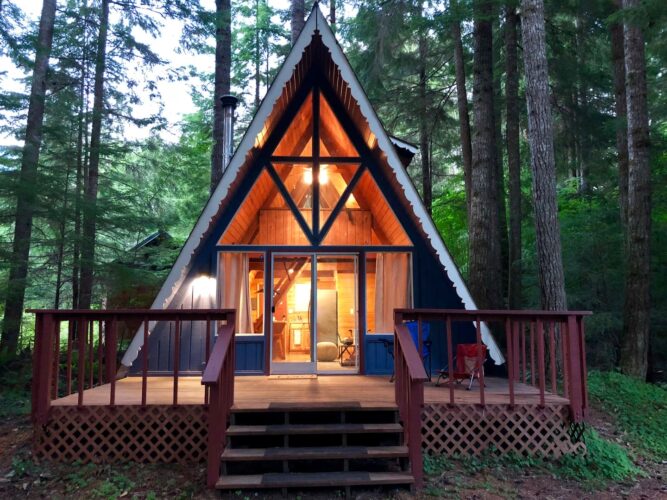 Anyone looking to keep their trip to the Mt. Rainier area simple and minimalistic will love this A-frame.
The relatively small interior manages to fit everything you need for a cozy vacation, and the bedroom is arguably the loveliest room in the cabin, courtesy of the triangular window offering plenty of morning sunlight and a scenic view of the forest.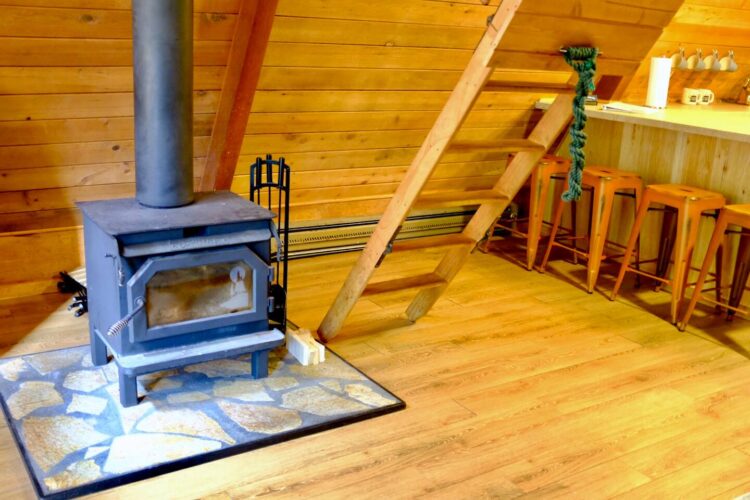 On that note, the woods act as a lovely extension to the property, and just looking out the window at the start of your day is enough to get you motivated to explore the area.
You needn't feel isolated during your stay either – even if you're light on supplies, the selection of nearby restaurants can provide you with a hardy meal before hitting the trails.
The real purpose of your stay, of course, will be Mt. Rainier National Park, which is located just up the road from the cabin.
Cozy A-frame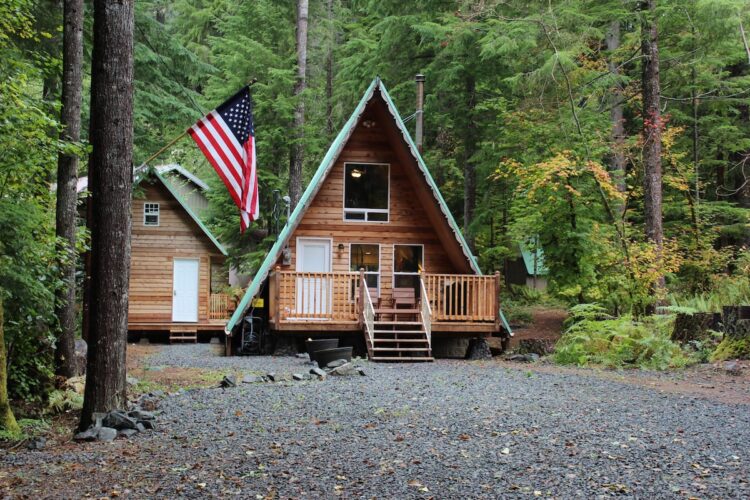 Featuring everything you could possibly want and need in a mountain retreat, this A-frame cabin near Mt Rainier is one of your premier picks in the Ashford area.
Nothing about the interior feels tacked on – everything from the TV area (complete with a fireplace) to the spacious outdoor deck gives off the vibe of a genuine home.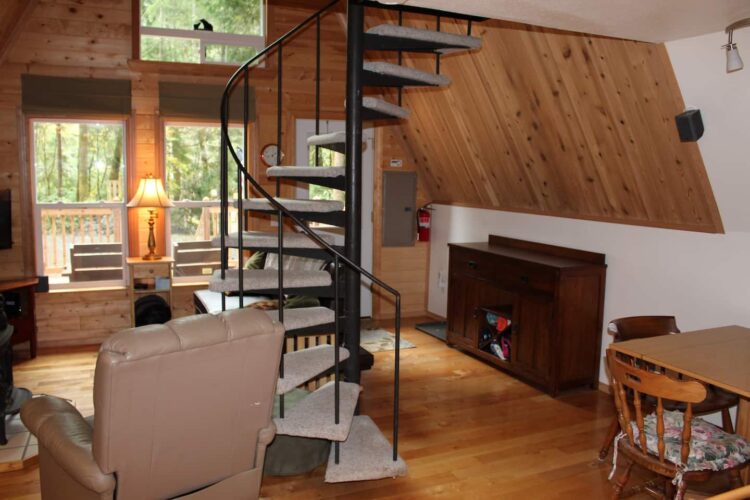 Speaking of the exterior, you'll be able to unwind after hours of exploration in the hot tub and bliss yourself out before bed.
Alternatively, sit around the fire pit and recount your experiences from the trip as you enjoy the cool mountain air.
The area is quite serene and peaceful, but it's also part of Paradise Estates, an esteemed vacation community, making your stay feel private but not overly remote.
You'll be within minutes of the southern entrance to Mt. Rainier National Park, and the nearby grocery stores in the Ashford area can help you restock on supplies if you start running low.
Cabin 135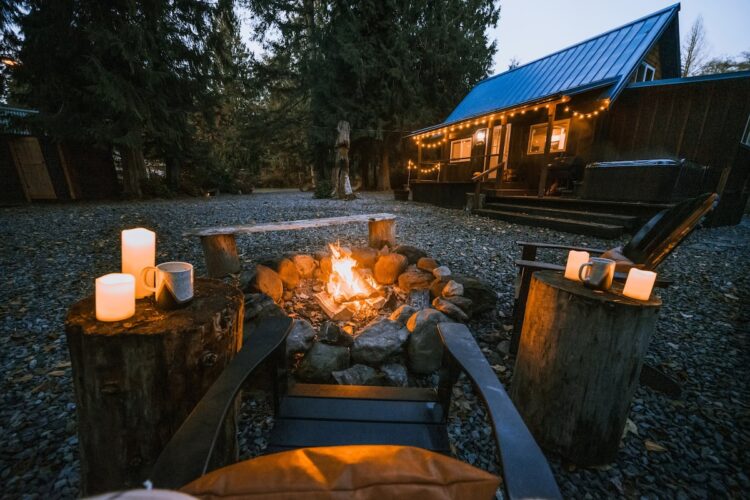 This Mt Rainier cabin was designed with comfort and minimalist luxury in mind, and it shows the minute you set foot on the property!
The interior is a notch above your average mountain cabin, featuring loads of space and seating, as well as a large fireplace to warm your bones in the winter, and even a gorgeous stone shower to relax after a long day's hike.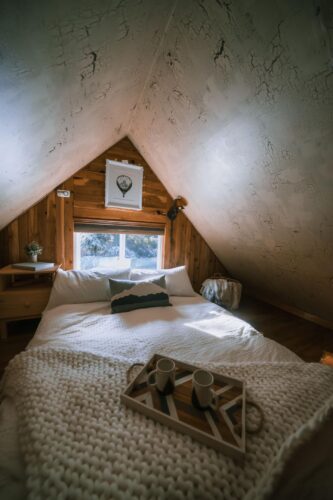 With that said, the real meat of the property would have to be the yard area, which features a fire pit (complete with lawn chairs and a great view of the woods) and a hot tub that's ideal for two people.
Minutes away from the property is the swimming hole, and with a guest pass, you can even take a dip in the nearby lake.
In addition, guests will have easy access to the area's most notable landmarks (chief among them being Mt. Rainier), all located a few miles away.
Be sure to pack as many supplies as you can since Ashford's options are a bit limited, but being part of Paradise Estates means you should have no trouble getting hold of someone if need be.
Knot a Care Cabin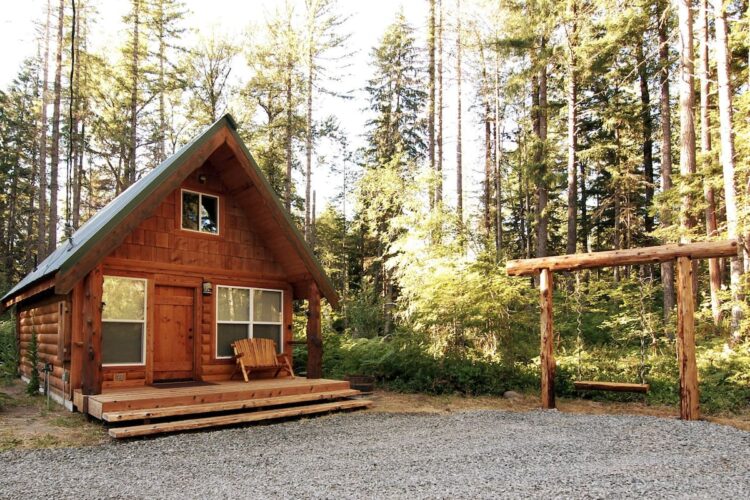 Knot a Care Cabin is best suited for a couple looking to have an authentic mountain experience without the uninspired accommodation that lots of travelers settle for.
While a predominantly wooden design is the norm for mountain cabins, this particular rental doubles down on that with wooden kitchen furniture and bathroom finishes (as well as a walk-in shower with a stone floor!).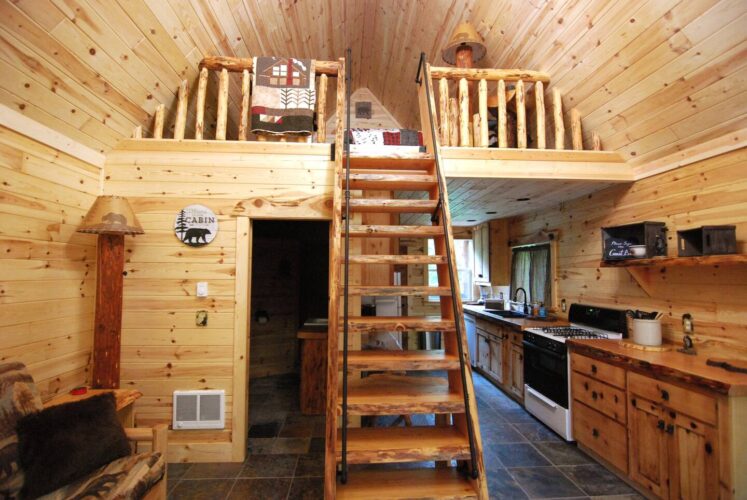 Relax with your significant other by the outdoor fire pit, enjoy the serene mountain ambient while sitting on the swing, or spend an evening soaking in the two-person hot tub – this place truly has everything you need.
Topping off any great resort should be a good location, and this cabin certainly has it – Mt. Rainier National Park is in the immediate area, and Skate Creek and the Nisqually River area are ideal for water-based recreational activities.
Also in the area are a few grocery stores and restaurants, as well as various hiking trails that'll lead you to some beautiful mountain lakes.
Hera's Chalet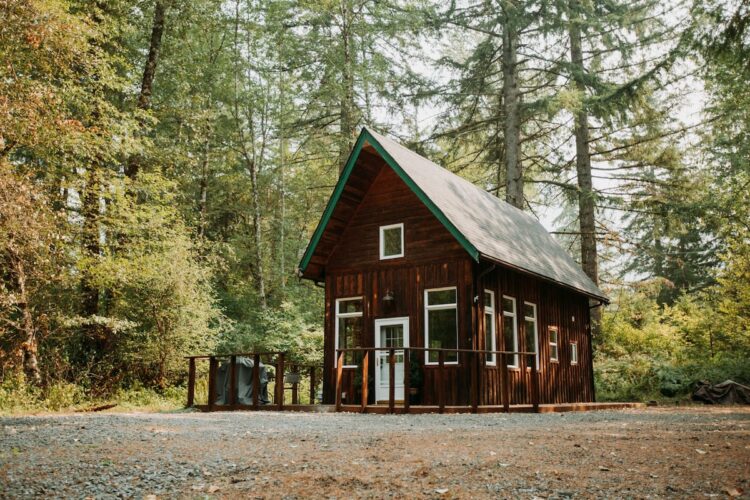 Hera's Chalet will become your home away from home once it reels you in with its beautiful design and long list of amazing amenities!
The living room area is very spacious and features an electric fireplace, and the upstairs area overlooks the front yard thanks to all the windows on the ground floor.
Stepping outside, guests can huddle around the fireplace and relax in the evenings, or unwind in the hot tub before hitting the hay. Also included is a unique, barrel-shaped sauna, a feature not commonly found in your average Airbnb near Mt Rainier!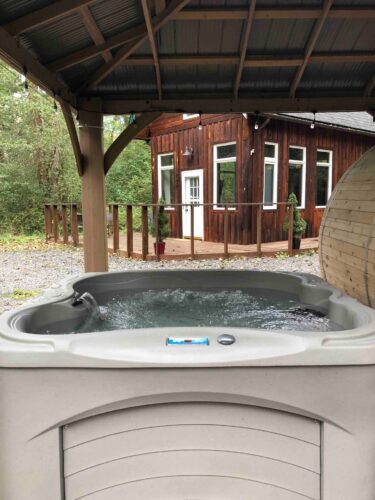 If you're visiting the area, chances are your main point of interest is Mt. Rainier, and Hera's Chalet has you covered.
You'll be situated in the Paradise Estates complex, not far from Ashford (which features a couple of grocery stores) and the aforementioned National Park.
Don't let the "Estates" moniker dissuade you, either – your stay here will be about as private and quiet as they come!
Mt. Rainier A-frame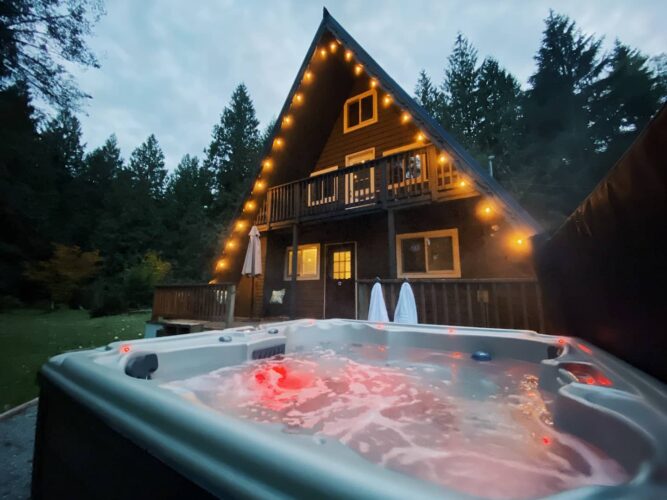 If you're looking to visit Mt. Rainier National Park with a large group of family or friends, you'd be hard-pressed to find a better place to call home during your vacation.
This breathtaking A-frame doesn't come with your run-of-the-mill, antique furniture typical of so many remote resorts – every nook and cranny is well-furnished and decorated.
On top of that, the view from the balcony is divine, and the back yard hot tub is perfect for star gazing and admiring the beautiful surroundings.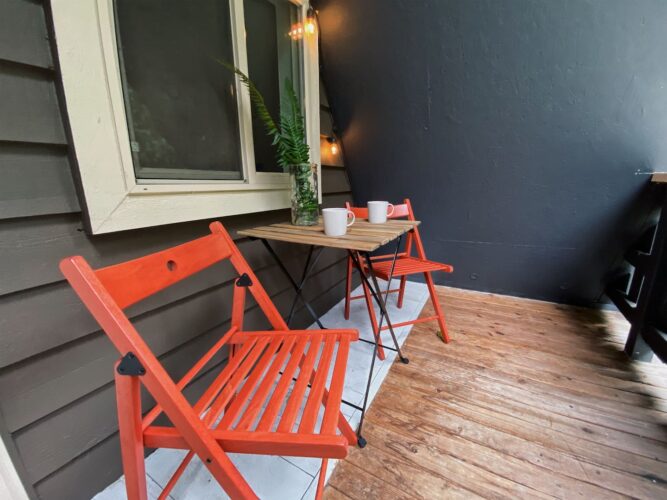 On top of being flanked by gorgeous forests, the resort is only about five miles from Mt. Rainier National Park.
Getting around Ashford is easy no matter the mode of transportation, and the town has a few restaurants and a grocery store for all your shopping needs.
Also nearby is Copper Creek Inn, a beautiful resort in its own right and a great place to enjoy a delicious dessert.
Glowing Pines Log Cabin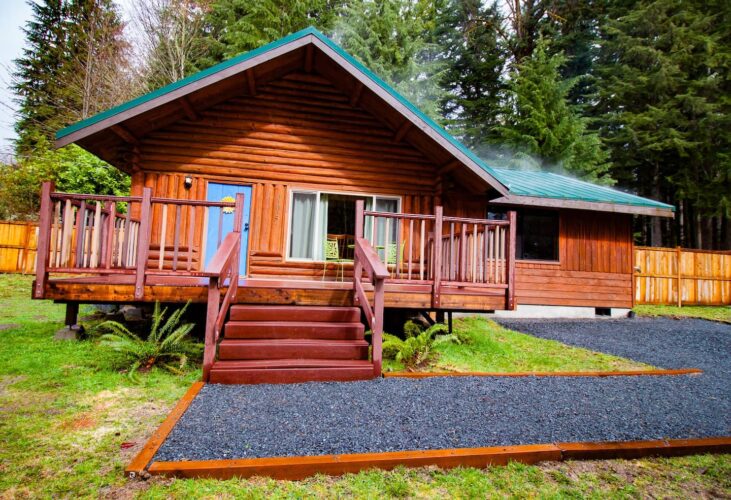 If you've come to associate mountain cabin stays with uninspired, cooke-cutter designs, the Glowing Pines Log Cabin will help you shed your stereotypes.
Featuring a beautifully illuminated interior with a spacious, open-floor plan, this cabin has more than enough room for half a dozen guests, and the fireplace ensures you'll be cozy even in the harshest of winters.
As far as amenities go, the list is quite impressive – from an electric foosball table (!!!) to a back yard with a hot tub, this cabin near Mt Rainier National Park is clearly a notch above most of its local competitors.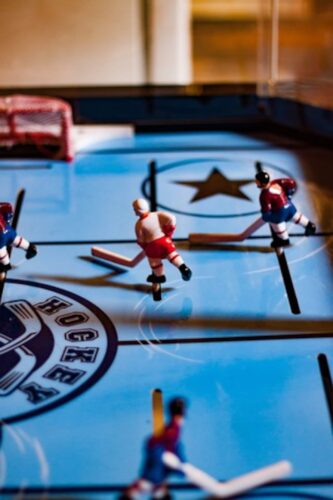 If you're with a large group, a great way to spend an evening is to fire up the barbecue grill in the evening, and gathering your party around the fireplace and stargazing is bound to leave you with some lasting memories.
The icing on the cake here is the great location, as you'll be mere minutes from the center of Ashford, as well as Mt. Rainier National Park and a plethora of scenic hiking trails.
Pin This Guide to Mt Rainier Airbnbs & Cabins!