The small town of Union Gap, Washington is known for its James Beard award-winning tamales, Civil War Battle reenactments, and the Union Gap Mall.
For travelers looking for a day trip from Seattle or a small town Washington road trip, Union Gap makes for a unique and budget-friendly getaway in the heart of Yakima wine country that foodies, families, and outdoor enthusiasts will enjoy.
I've been learning about the sights and flavors of this small Eastern aWashington town. Along the way, I discovered there are plenty of reasons to visit Union Gap, including delicious places to eat, incredible wineries, historical treasures, hikes with sunset views, and much more.
Things to Do in Union Gap, WA
Taste the delicious local wines.
Wine lovers will appreciate that Union Gap is only an 11-minute drive to the wine tasting rooms in downtown Yakima.
Even better? It's only a 6-minute drive from two of my favorite wineries, Treveri Cellars and Owen Roe.
As I mentioned earlier, Union Gap is a six-minute drive from Treveri Cellars and Owen Roe Winery. These two wineries are very close to each other, which makes visiting both in one day very easy.
Treveri Cellars makes delicious handcrafted sparkling wines. The tasting room features indoor and outdoor seating and light bites. One could easily spend the afternoon here sipping sparkling wine and relaxing in the sunshine.
If you plan to go to Owen Roe Winery call ahead to arrange for a vineyard tour in the Swiss Pinzgauer. As you cruise through vines you'll learn about the Missoula Floods and why Washington soil is so good for growing grapes and how soils create different flavor profiles.
I suggest bringing along some snacks and spending the day enjoying a bottle of wine out on the lawn or at one of their picnic tables.
Some links in this post may be affiliate links. If you make a purchase through one of these links, we may earn a small commission at no extra cost to you. Please see our

disclosure policy

for more detail.
Visit for the quirky asparagus festival.
Asparagus is one of my favorite veggies, but when it comes to preparing it, I typically do a mix of grilling, sauteing, and baking.
In Union Gap, people know how to get creative with this stalky vegetable, and the best way to experience this is to come for Asparafest!
This event happens on one day in May and includes an Asparafest Cookoff Contest at The Vine Venue and an asparagus trail where you stop at local restaurants to sample their asparagus dishes.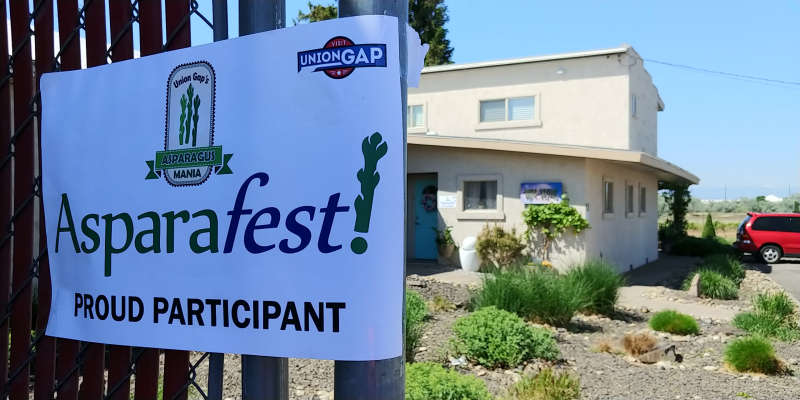 Cool fact: The harvest season for asparagus is March to June. Every year, Washington State produces 53 million pounds of asparagus and is the second-largest producer in the United States (California is number one).
The Aspargest Cookoff Contest is a fun way to kick-off the love for all things asparagus. All are welcome to come and see the judging and the first 30 spectators get to take home 1 lb. of asparagus!
As a judge, I sampled amazing dishes. The top three included an asparagus and crab soup, an asparagus quiche, and soy-sesame asparagus. The winner was the soy-sesame asparagus!
After the cookoff, I headed out to taste more asparagus dishes. Pick up a tasting card at the cookoff which notes all of the locations.
Once you go to a stop, they'll mark your card and at the end, you can enter to win a prize!
Travel tip: While a couple of locations are within walking distance of each other, you'll want to drive from location to location.
Dine your way through the city's best spots.
Nino's Mexican Grill
Nino's Mexican Grill serves up fresh Mexican food customized your way!
The set up reminded me of Chipotle, where you pick and choose everything you want to customize your order to your taste.
Menu items include dishes like carne asada, tacos and their famous monster burrito with sides of your choice like rice and beans and veggies as well as made-to-order crepes for dessert.
I hadn't eaten much that day, so I opted for a large salad with pork and lots of fresh veggies.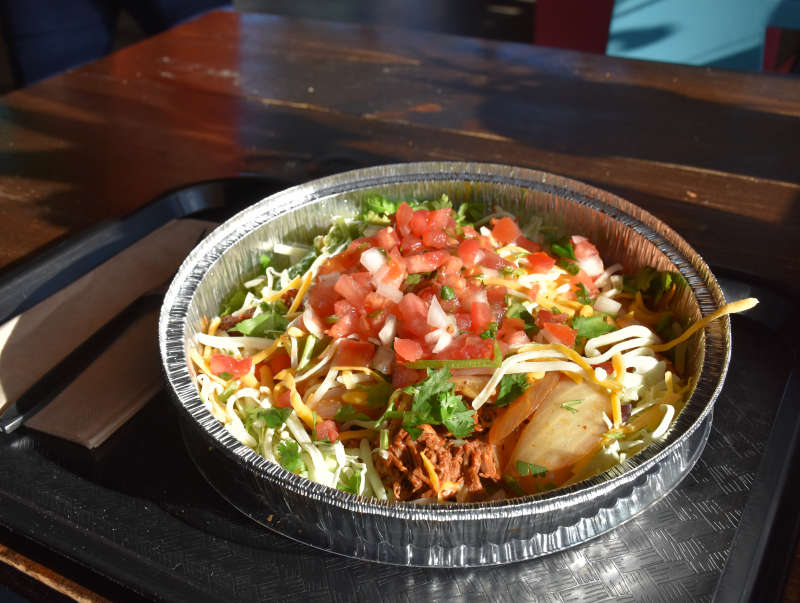 Old Town Station
Old Town Station is the place for a traditional American breakfast in Union Gap.
It has been family owned and operated since 1979. I arrived early and the place was hopping. I had an excellent breakfast and great service!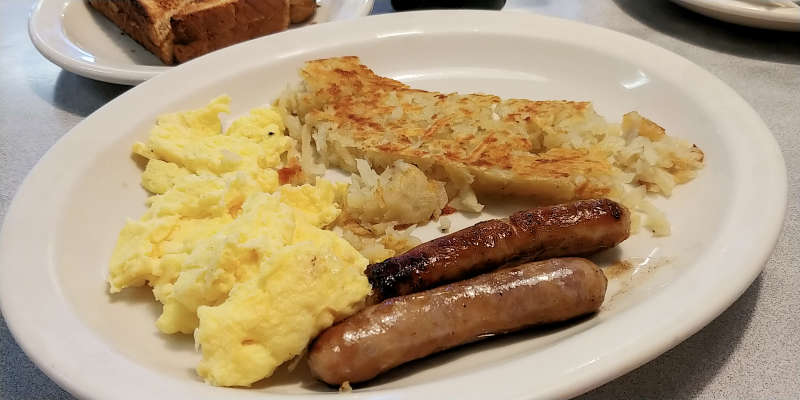 SeaGalley
As a child, I loved when our family would go to Red Lobster, and the atmosphere of SeaGalley with fishermen paintings, fishing nets, and fishing lamps accents brought back those fond memories.
SeaGalley used to be a chain restaurant, in fact! If you grew up along the West Coast, you might remember their slogan: "We've got crab legs!"
Today, Union Gap, Washington has the only SeaGalley left, and visiting is a must to take in a bit of fisherman-inspired nostalgia.
I ordered a side salad, crab and shrimp stuffed mushrooms and fish tacos. I would recommend everything. (I really liked the stuffed mushrooms.)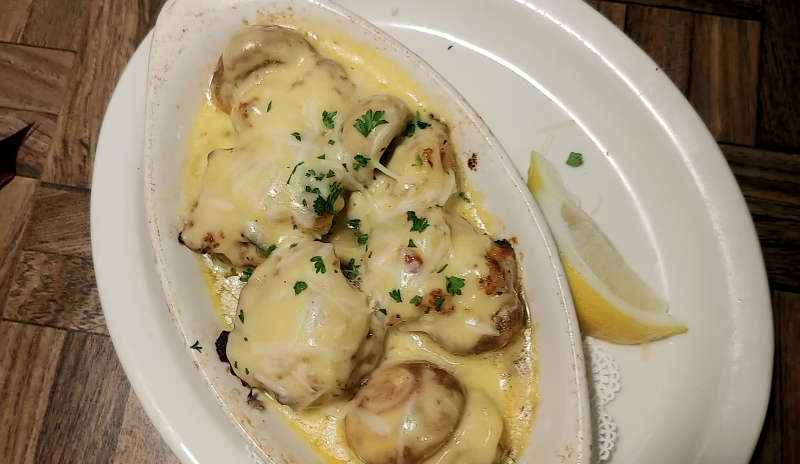 Learn history at the Ag Museum.
Union Gap has two places of interest for history lovers. The first is the Ag Museum, which is the largest agricultural museum in the entire PNW.
The Ag Museum has 15 acres of exhibits with over 1,000 pieces of historic machinery that highlight farming culture over the past century.
It also has early pioneer exhibits like Amos Cabin, a replica of the Keys 1908 Homestead, and the Lindeman Building with its vintage gas station.
The museum features educational tours for young and old and holds small town events such as the Old Steel Car Show.
You can walk the grounds and sign up to drive through. However, there is so much to see, I highly recommend signing up for a tour (suggested donation is $5 per person) as you'll learn so much more about the machinery and exhibits. Learn more about tours here. The museum is open from April to October. Review their hours here.
Pay a fascinating visit to the Pioneer Graveyard.
I've loved cemeteries since I was a young girl and was thrilled to discover that Union Gap has a historic cemetery.
The graveyard is the final resting place for many of Yakima's founding settlers and since it was only used from 1865 to 1891, it is small.
The people of Union Gap have restored the graveyard, and you can easily read many of the headstones.
As you enter the graveyard, read the information on Priscilla Goodwin, who was the first person to be buried here. She traveled to the Yakima Valley in a wagon with her husband and died during childbirth. You can also read how a flood washed away some of the graves in the 1930s.
Many of the headstones have ornate engravings and unique sayings. Be sure to pay attention to the details as you walk through.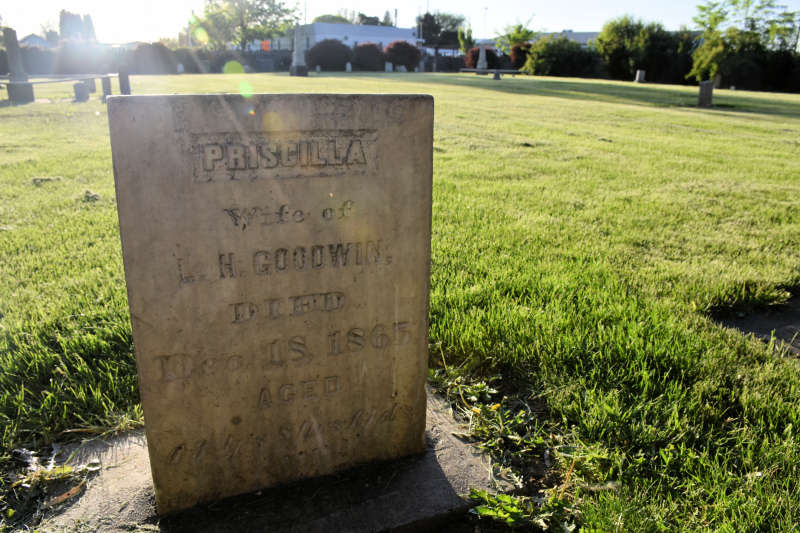 Shop til you drop in Union Gap.
The Valley Mall in Union Gap has over 80 stores (Macy's, Kohl's, American Eagle Outfitters, and much more) and if you like to shop till you drop, you'll be pleased!
Union Gap is also home to a number of thrift stores and vintage shops like That 70s Shop: Somewhere In Time.
This store is a treasure trove of goodies, so give yourself plenty of time to wander around!
Hike Ahtanum Ridge for incredible views.
For views of the entire valley including "the gap" which Union Gap is named for, hike Ahtanum Ridge.
This trail begins behind the Ag Museum and while it is known to locals, it is not so familiar with travelers.
Once on the trail, you have two decisions. Take the short and very steep path (to the left) or the trail with switchbacks up the side of the hill (to the right). No matter which way you choose, the views are breathtaking and worth every ounce of sweat!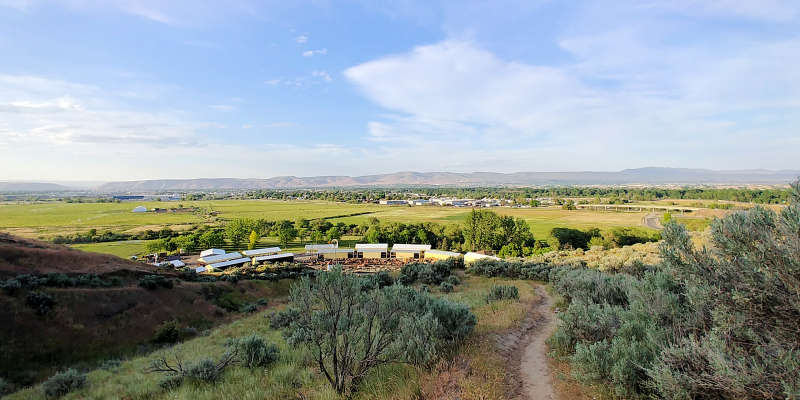 Keep in mind, there are no signs so keep track of where you are if you decide to get off the path. I suggest hiking close to sunset and bringing a headlamp if you do so.
The trail is exposed so you'll want to carefully plan your hike and go early in the morning or in the evening. Hiking gear should include a hat and water. Wear sunscreen and since this is Eastern Washington, be snake aware.
Take a stroll on the scenic Greenbelt Trail.
For travelers searching for a more leisurely stroll, head to the Yakima Greenbelt trailhead in Union Gap.
Take the gravel nature trail to the main 20-mile paved trail that wanders along the Yakima river.
If you want to make a day of it there are playgrounds, picnic areas and fishing ponds along the way. The trail is a mix of shaded and exposed spots.
Learn aviation history at the McCallister Museum of Aviation.
This cool museum is dedicated to Charlie McAllister, a pioneer in aviation who started a flight school in the Yakima Valley. He also had the first licensed glider in Washington State!
The McCallister Museum of Aviation has lots of interesting displays about aviation, wars, and astronauts.
The museum is only open Thursday to Saturday and is FREE. Find out more about the museum here. Give yourself at least an hour — this is one of the coolest things to do in Union Gap, WA!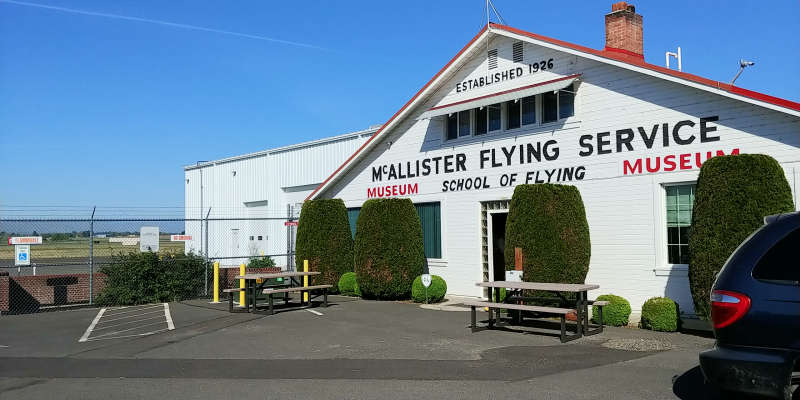 Cool fact: Guess who signed Charlie's pilot's license? Orville Wright!
Take in some greenery at the Yakima Area Arboretum.
The Yakima Area Arboretum covers 46 acres and has over 1,000 species of trees, display gardens, and natural habitat.
I only had about 15 minutes to spend here, but I easily could have spent a couple of hours.
The Arboretum is open every day. Dogs are welcome on a leash. Find out more information here.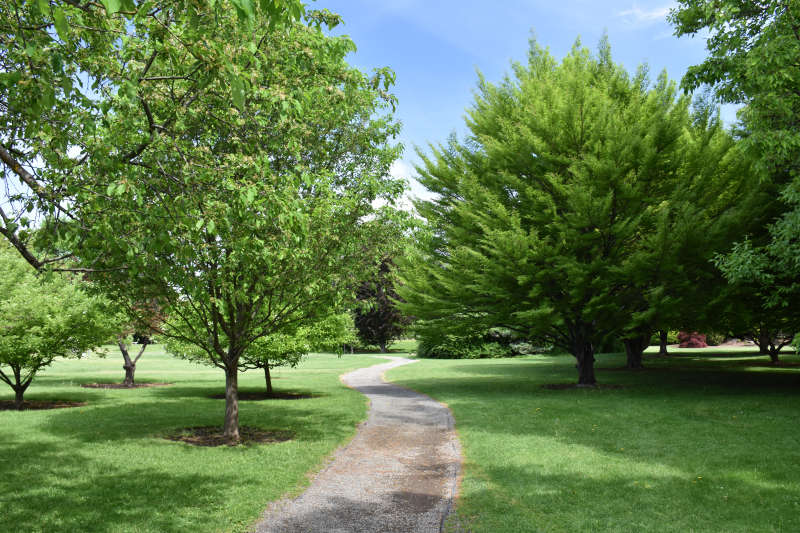 Where to Stay in Union Gap
My Pick: Quality Inn
The Quality Inn hosted me during my visit. For a budget hotel, I was impressed with my renovated room and comfortable bed. Plus, since I had leftovers from my day of tasting all things asparagus, I appreciated the larger sized refrigerator.
Amenities travelers will love include an outdoor pool, a breakfast with hot items and at the nearby restaurant Shari's you can show them your room key you get a free slice of pie.
Other Union Gap hotels of interest include the Best Western PLUS Ahtanum Inn, Holiday Inn Express & Suites and Super 8 By Wyndham.