One of the most unique small town beer festivals in Washington State is Hops on the Rock on Orcas Island in the San Juan Islands. This annual beer festival takes place every November in the small village of Eastsound and includes more than 20 breweries, live music, and tasty eats available for purchase. Last year, Visit San Juan Islands invited me to experience Hops on the Rock with my husband and we had a fantastic time. Here is a recap along with some travel tips for attending this destination beer festival.
In 2019, Hops on the Rock is on November 9, from 11 am to 4 pm. General admission tickets are $35 and include six tasting tokens. Get your tickets here!
Disclosure: There are affiliate links in this post. Using the link is at no additional cost to you, and provides a small commission to me to help support my blog.
Escape Sale! Save Up to 40% on selected hotels
Getting To Orcas Island
Before I dive into the beer festival, let's talk about how to get to Orcas Island.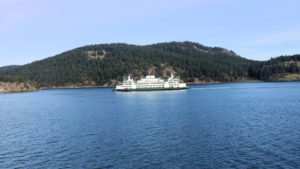 Some links in this post may be affiliate links. If you make a purchase through one of these links, we may earn a small commission at no extra cost to you. Please see our

disclosure policy

for more detail.
The most common way to get to the San Juan Islands is on the Washington State Ferry, which disembarks from the small town of Anacortes. Make a Orcas Island ferry reservation well in advance of your trip. This will alleviate the stress about getting to and from the island. Once you arrive at the Orcas Island ferry terminal it is a 20-minute drive to the small town of Eastsound.
Alternatively, you can also get to the islands by seaplane.
If possible, I suggest staying in an Orcas Island hotel the night before this small town beer festival. That way you'll be able to have a chill morning with no traveling.
Travel tip: Many restaurants on the island have winter hours during November and if you plan to arrive late to Orcas Island on Friday night choices will be limited.
Pre-Beer Festival Festivities Around The San Juan Islands
Beer festivities for Hops on the Rock start well before the day of the event with most taking place in October. If you can't attend the event, but are in the San Juan Islands during this time, check out their Facebook page for the latest beer news.
Doe Bay Wine Co. Friday Night Reception
The wine reception at Doe Bay Wine Co. is one of the official kick-off events for Hops on the Rock. I had planned to attend this event, as I got to taste their amazing wines on the Salish Sea Tour a couple of years ago. However, I screwed up the ferry reservation and we got to the island late. Serious bummer as I had been looking forward to sampling their wines and chatting with the owners Cole and Stephanie.
To read about the Doe Bay Wine Co. reception, pop on over to Beers At The Bottom.
Hops On The Rock On Orcas Island
We couldn't have asked for better November weather – cool, yet sunny. After breakfast at Rosario Resort & Spa, we headed to Hops on the Rock. The event is held on a closed section of Prune Alley and when we arrived around 11:30 am a line had already formed. It didn't take long to get through and soon we were inside the large heated tent roaming from beer booth to beer booth deciding which to sample first. Beer vendors had a wide range of choices from blondes to lagers and stouts.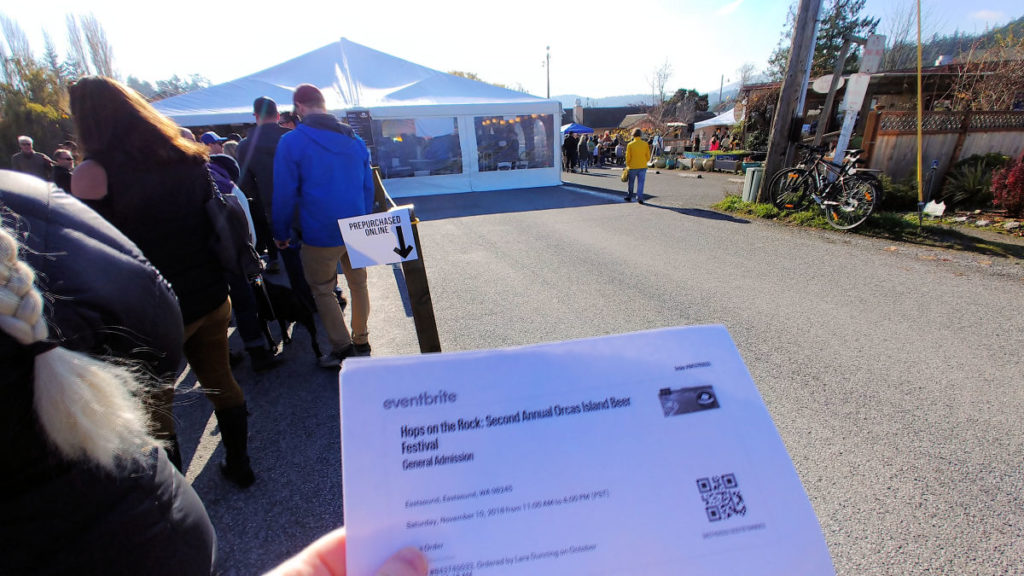 Each general admission ticket comes with six tasting tickets, with more available for purchase. We took our time tasting and chatting with some of the beer vendors. Some had stickers and coasters to snag as well.
On two sides of the heated tent are untented areas for event goers to gather. One side had a stage with live music.
The other side had picnic tables where you could sit down to eat the food available for purchase, a fire pit with chairs and the bathrooms.
Travel tip: Don't forget to drink some water during the event. Last year, water was available for FREE in water coolers inside the tent.
We stayed for the entire event, sampling beer, listening to music, and warming up by the fire. I even ran into some friends, including Pacific Northwest travel writers at Beers at the Bottom. While we didn't buy any of the food, it looked and smelled amazing. A friend let me take a photo of hers, which is what you see above.
Travel tip: Around mid-day it became a little bit cumbersome getting to the tasting booths as it was so crowded inside the tent. I suggest arriving near opening time, to avoid some of that.
Planning to explore more of the islands? Discover my top 15 things to do on San Juan Island.
Where To Eat On Orcas Island
More than 800 people attended the Orcas Island beer festival, and many went out afterwards to drink and dine. I didn't think getting a table at a restaurant would be an issue until after we arrived at Hops on the Rock. Thankfully, I found a restaurant – Mijitas – with an open table. The only problem, it was about 3 hours after the event. Knowing every restaurant in Eastsound would be crowded, we went ahead and made a reservation and then wandered around town until the time came. I highly recommend making an Orcas Island restaurant reservation before the event!
Mijitas
Mijitas incorporates authentic Mexican dishes from the owner's hometown in Mexico with Pacific Northwest ingredients and one of their signature dishes is Dungeness crab guacamole.
With our reservation for two, we were quickly seated and ordered their house margaritas and the Dungeness crab guacamole. Super tasty! For entrees, we decided on the al pastor tacos and enchiladas. Everything was fantastic and I'd recommend them all.
New Leaf Cafe
If you'd prefer to go the finer dining route, I suggest the French-inspired New Leaf Cafe. We dined here on Friday night and had an delicious meal (We still talk about it). We started with the duck mac n' cheese as we both love duck and a Caesar salad. For dinner the risotto and halibut. Everything was amazing, including our server who recommended a fabulous bottle of cabernet franc from Leah Jorgensen Cellars.
Travel tip: New Leaf Cafe also owns the Outlook Inn with rooms in the historic hotel as well as suites with a bay view and along the water's edge. If you want to review more Orcas Island lodging, check out the latest deals on TripAdvisor and Hotels.com.
Read more Orcas Island restaurant reviews on TripAdvisor.
Where To Stay On Orcas Island
Orcas Island has accommodations all over the island. For beer festival goers, I suggest staying in the small town of Eastsound or someplace within 15 minutes. During my two-day stay, I stayed at two different accommodations outside of town.
Otters Pond Bed & Breakfast
Shaded by the woods and set next to a picturesque pond, Otters Pond Bed & Breakfast features five guest rooms, each with a private bathroom and views of the garden or pond. For guest enjoyment is a large outdoor deck overlooking Otters Pond, which is registered with the World Wildlife Federation and Audubon Society, an outdoor hot tub, complimentary WiFi, and a upstairs library.
The owner's let me choose between two rooms and I chose the Chickadee Room on the ground floor. While on the small side, I liked the pond view the room offered and its very cool claw-foot tub. The bed and breakfast was very comfortable and we enjoyed our stay, particularly chatting with our hosts and other guests.
The bed and breakfast has changed hands since my stay, however, with professional chef Amanda Zimlich being the new owner, I'm sure the food is still divine! Here are some photos of what the previous owners prepared for the 4-course gourmet breakfast.
Book direct at the bed and breakfast, or use one of my affiliate links such as TripAdvisor. Using an affiliate link is at no additional cost to you, however, it does provide me with a small commission.
Rosario Resort And Spa
Within 15-minutes from Eastsound, is Rosario Resort & Spa, a destination hotel on the National Historic Register. Built by Seattle shipbuilder Robert Moran as his personal residence, the hotel has a ton of historic charm, including a library with a Tiffany chandelier and a two-story Aeolian pipe organ, and a museum showcasing the history of the family as well as their living quarters.
Travel tip: On Saturdays at 4 pm, Christopher Peacock gives a presentation in the library that includes a silent film, stories of the Mansion's guests, and musical compositions on the 1900 Steinway Grand Piano.
There are a variety of room styles, including bayside, hillside, and harborside as well as suites. We stayed in a harborside room, which featured a king bed and a private balcony overlooking Cascade Bay. Since we arrived late, we didn't get to enjoy the room as much as we would have liked. But, the next morning was quiet and beautiful.
Book direct at the hotel, or use one of my affiliate links such as TripAdvisor. Using an affiliate link is at no additional cost to you, however, it does provide me with a small commission.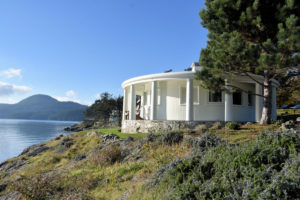 Travel tip: Rosario Resort & Spa's most unusual accommodation is the Moran children's former playhouse called the the Roundhouse Suite. It has a bedroom with a king bed, a living room with a gas fireplace, and a bathroom with a two-head shower.
Want to learn more about Orcas Island? Read more here:
Learn more about this part of Washington State at Visit San Juan Islands.
Pin for later!
---
Note: As is common in the travel industry, the writer was provided with accommodations and some meals for the purpose of review. While it has not influenced this review, the writer believes in full disclosure of all potential conflicts of interest.
---