The Oregon coast is one of the best places in the Pacific Northwest to travel.
 After spending a few days there, both rain and shine, I can say that the Oregon small town of Lincoln City, Oregon is one of the best places on the coast, especially if you're traveling with a pet.
It has plenty of dog-friendly hotel options, a seven-mile beach with ample room to run and play, and nearby hiking trails.
Normally, my dog and I love the beach no matter what the weather, and we would have been perfectly content to play.
But with the strong winds and biting sand, it wasn't time for a beach day, and I had to find alternatives for my high-energy dog.
What I discovered are four Open Spaces minutes from town that make perfect Lincoln City hikes!
The Best Hikes in Lincoln City, OR
Lincoln City, Oregon has over 370 acres of Open Space lands that are a mixture of forests, wetlands and buffer areas.
While there is a blog dedicated to activities going on in the Open Spaces, I couldn't find much information describing the Open Spaces such as acreage and total mileage of the trails.
According to their Master Plan, Lincoln City Parks has plans for improvements to these areas which is good as the Open Spaces have a lot to offer visitors with or without pets.
Tips Before Hiking in Lincoln City
The trails are primitive and maintained, and I found it easy to navigate the trail systems with a map.
Maps are not posted, nor are there map pamphlets at the entrance. I highly recommend downloading a PDF map of the Open Space to your phone before you head out on the trails.
I did notice that some locations had trails that were not on the map, so they might be a little outdated.
In terms of being prepared, be sure to wear the appropriate gear for a hike. Wear hiking boots or sturdy shoes, and don't forget to bring water, or at least have some in your car.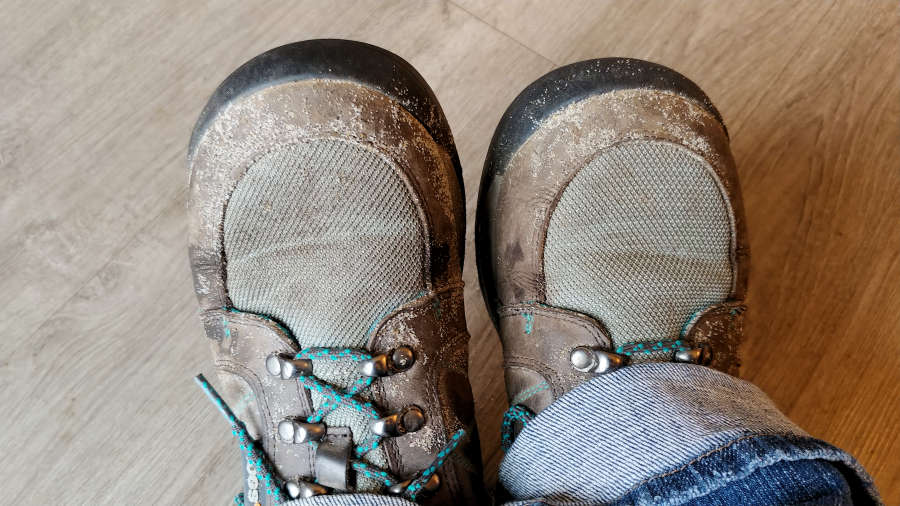 Some links in this post may be affiliate links. If you make a purchase through one of these links, we may earn a small commission at no extra cost to you. Please see our

disclosure policy

for more detail.
My go-to hiking shoes are my Bogs Bend Low Hiking Shoes. They also have high shoes that cover your ankles.
One of the best things about hiking in Lincoln City is that it's good for the budget: visiting Open Spaces is FREE – no pass required!
Best Lincoln City Hiking Spots
Spyglass Ridge Open Space
My favorite Lincoln City hike turned out to be Spyglass Ridge Open Space, which I believe is the largest. The trails weave through an open wooded area with steep hills and towering trees. The elevation gain is 200 feet.
Hazel and I spent a good two hours hiking around the trails and even walked some a second time as we found one trail that meandered along a small crevice with dozens of trilliums (these bloom in the spring).
Click to download a PDF of Spyglass Ridge
Agnes Creek Open Space
If you are looking for a short 20-minute hike in Lincoln City, you'll want to go to Agnes Creek Open Space.
This area, which appears to be the second-largest Open Space, has a north and a south side. 
On the south side is a 1/3 mile loop with an elevation gain of 90 feet. On the north side are two one-way trails that are also 1/3 mile long with an elevation gain of 110 feet.
We walked the loop a couple of times and then took one of the one-way trails that dead-ended next to a marshy area. By doing that, our hiking time ended up being a little over an hour.
The paths are wide and since the trails are short it is probably the easiest of all four hikes in Lincoln City on this post.
Click to download a PDF of Agnes Creek Open Space.
Spring Lake Open Space
Spring Lake Open Space is surrounded by houses and has a short paved trail that is wheelchair accessible, which means you'll most likely see some people.
Trails meander around a small pond, through the forest, and up to a hilltop with partial views of the Oregon coast. Elevation gain is 100 feet.
We explored Spring Lake for about 45 minutes, and it was a great short Lincoln City hike.
Click to download a PDF of Spring Lake Open Space.
The Knoll Open Space
For fabulous views of Lincoln City, Oregon and its beautiful beach, there is no better place than The Knoll Open Space.
There are three starting places for this hike. I took the longer 4-mile round trip route, which started in a cul-de-sac behind the golf course.
I had a tough time finding this trailhead as there was construction going on at the time. Once I got on the trail, I wasn't sure I was heading in the right direction for there were no signs and more trail routes than shown on the map. For a good portion of this trail, I felt nervous and worried.
Thankfully, I passed another hiker with a dog, and they told me I was heading in the right direction. This trail was also very muddy, and if it has rained recently, you might want to avoid the longer route.
For a more direct route, there is a parking lot close to The Knoll viewpoint. This trail is 0.5-miles long and mostly uphill. The view at the top of The Knoll is worth the hike uphill. Don't forget your camera!
Click to download a PDF of The Knoll Open Space.
Pet-Friendly Lincoln City Hotels
My Pick: The Coho Oceanfront Lodge
The Coho Oceanfront Lodge is perfect for an overnight stay with your pet!
Our lower level room had direct access to a grassy area on the beach-facing side of the hotel and had non-carpeted floors — very important as pet owners will likely know!
There were also other dog owners on this floor, so I knew that we'd be in good company and be understanding of each other's dogs.
Pet-friendly amenities include a small bed and treats upon arrival, poop bags, a list of dog-related places such as vets and daycare options, an outdoor fire pit where you can chill with your dog.
Plus, the hotel is a very short three-minute walk to the beach. When in our room, Hazel spent most of the time staring at the window at the ocean.
Note: There is a 25 pound pet limit, and the pet fee is $25 per pet, per night.
What other amenities does the hotel offer? Fresh ground coffee upon arrival, free WiFi, a free weekend shuttle to Chinook Winds Casino Resort, a complimentary deluxe continental breakfast, board games, indoor heated pool and hot tub, and beer and wine for purchase onsite.
More Pet-Friendly Lincoln City Hotels
You won't be hard-pressed to find additional pet-friendly hotels in Lincoln City. Seventeen are listed on their website (in the amenities tab, choose pets allowed). Some I recommend are the Looking Glass Inn, Best Western PLUS Lincoln Sands Oceanfront Suites, and Chinook Winds Casino Resort.