Whenever I visit a small town I am always on the lookout for the best places to eat, drink, and savor mouth-watering sweets!
If you are heading to Lynden, you'll find there are plenty of ways to drink and dine your way around town.
There are tons of Lynden restaurants, cafes, and bakeries to choose from, as well as activities to keep you busy in between meals. If you want to know more about Lynden, click here to read about why I think this town is so special.
If you are planning a small-town weekend getaway from Seattle or even a day trip, here are eight tasty ways to dine in Lynden.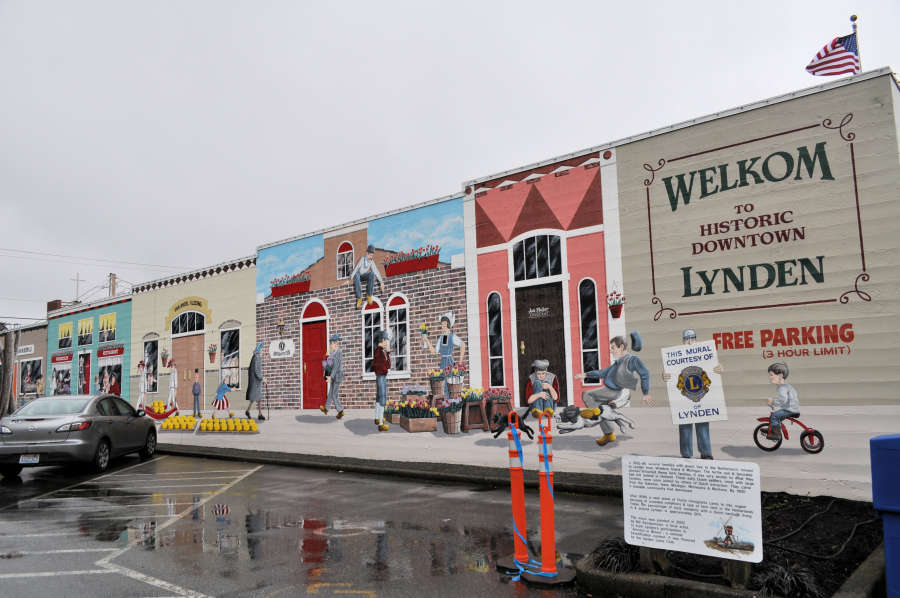 Some links in this post may be affiliate links. If you make a purchase through one of these links, we may earn a small commission at no extra cost to you. Please see our

disclosure policy

for more detail.
Best Downtown Lynden Restaurants & Bars
Many of the best places to eat in Lynden are right downtown, and if you stay at the Inn of Lynden or The Mill, you'll be within walking distance of eateries for every meal of the day.
Here are the downtown restaurants in Lynden that I recommend for your culinary adventure.
Dutch Mother's Family Restaurant
Where: 405 Front St.
When a local told me that Dutch Mother's Family Restaurant had authentic Dutch Pannekoeken, I had to try it.
What is Pannekoeken? It is a thin pancake that is 14-16 inches around and comes with a topping of choice.
The pancake so big, it covers an entire plate and even dangles over the sides!
Options for toppings are either sweet or savory. I opted for sausage and eggs, which was very good. Next time, I'd like to try the pecan apple cinnamon.
Unless you can eat a lot in one sitting, you'll have leftovers, and it is the perfect size to share between two people.
They also have a selection of more traditional breakfast dishes like French toast, waffles, omelets, biscuits and gravy, and more including lunch and pie.

Lynden Dutch Bakery
Where: 421 Front Street (Across the street from the Waples Mercantile Building)
One of my favorite sweet indulgences is cookies!
You can find cookies and much more at the Lynden Dutch Bakery like cinnamon rolls, donuts, and stroopwafel.
During my two trips to the small town of Lynden, I stopped by for an almond cookie and a holiday cookie.
I also went home with an almond stick, which if you love almond, are to die for!
Drizzle Olive Oil & Vinegar Tasting Room
Where: 420 Front St. (Inside the Waples Mercantile Building)
You are probably very familiar with olive oil and vinegar tasting rooms as they seem to be popping up everywhere.
But, at Drizzle Tasting Room & Kitchen they have a perk – food and drink!
If you love charcuterie and cheese platters paired with a glass of wine or craft beer, this is the place to go.
They also have select sandwiches made with bread from Avenue Bread. Can't go wrong there!
Avenue Bread
Where: 444 Front St. (Inside the Waples Mercantile Building)
Avenue Bread is a long-time staple in Whatcom County, and they have three restaurants in Bellingham and one in Lynden.
They make their bread daily and feature breakfast, eggenues (egg and English muffin sandwiches), sandwiches, salads, and soups on their menu.
They are much loved, and it is hard to make a regrettable menu choice.
Overflow Taps
Where: 106 5th St. (Inside the Waples Mercantile Building)
When the time comes to chill with a cold brew, head to Overflow Taps.
They feature Pacific Northwest craft beer, wine, and cider. And, with every pint you drink, 25¢ goes to help solve the global water crisis!
If you'd rather have a non-alcoholic drink, they also have kombucha and root beer. Cheers!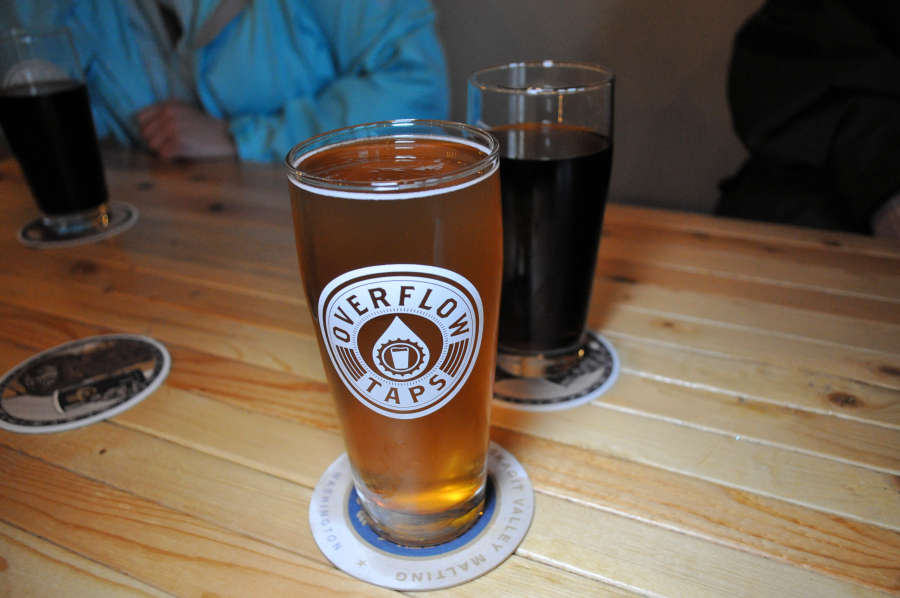 Perfectly Paired at The Mill
For old-world atmosphere, hand-crafted cocktails and upscale pub food, you'll want to stop by Perfectly Paired inside The Mill, which is the windmill downtown.
Their menu features cheese and meat plates, salad, paninis, flatbreads, and housemade desserts.
I ordered a salad, a brie & pear panini, and for dessert the housemade chocolate truffle trio. Delicious!
Where: 655 Front Street (Inside the windmill)
Best Lynden Restaurants Outside of Downtown
The other places to dine in Lyden are anywhere from a five-minute to 13-minute from downtown.
With little to no traffic — after all, this is a small town — you'll find it very easy to get to these locations.
Steakhouse9 Bistro
Where: 115 E Homestead Blvd. Suite A, Lynden, WA
The day I had lunch at Steakhouse9 Bistro I lucked out as it was sunny and warm.
I opted to dine on the outdoor patio and take in the views of the golf course and pond.
Everything is made from scratch and their ingredients are local. If you want to try a few different things stop by for their daily happy hour.
They also have a special 1800 degree broiler that sears your steak perfectly!
During my visit, I ordered the steak salad and would order it again — that's how good it was!
8- Bellewood Acres
Where: 6140 Guide Meridian, WA-539, Lynden, WA
Bellewood Acres is much more than an apple farm! It also is a store, distillery, and cafe, so when you go, plan to spend some time there.
Their lunches are fresh and flavorful, and they have an award-winning apple pie.
I ordered the turkey and apple sandwich and curry apple soup. Both were great!
Unfortunately, I didn't get to sample any spirits while I was there, and that is on my list for my next trip!
If you have kids in tow, there is also a play area outside.
9 – Edaleen Dairy
Where: 9593 WA-539, Lynden, WA (near the Canadian border) / 1011 E Grover St, Lynden, WA (near downtown)
When the mood strikes for more sweets, head to Edaleen Dairy.
They have two locations in Lynden: one close to downtown, and one near the border.
I like the store near the border because you can enjoy your ice cream with views of farm fields and Canada.


Things to Do in Lynden (Besides Lynden Restaurants!)
Of course, you'll need to take a digestion break as you eat your way through the Lynden restaurant scene.
Here are a few of our top suggestions for things to in Lynden, besides eating!
Visit the Lynden Pioneer Museum
Visit the Jansen Art Center (they have classes too)
Take a photo with the Phoebe Judson statue which is lovingly called the Mother of Lynden
Walk along the canal inside the mill
Walk a few blocks to the Lynden City Park, and take the trail to see the thatch-roofed house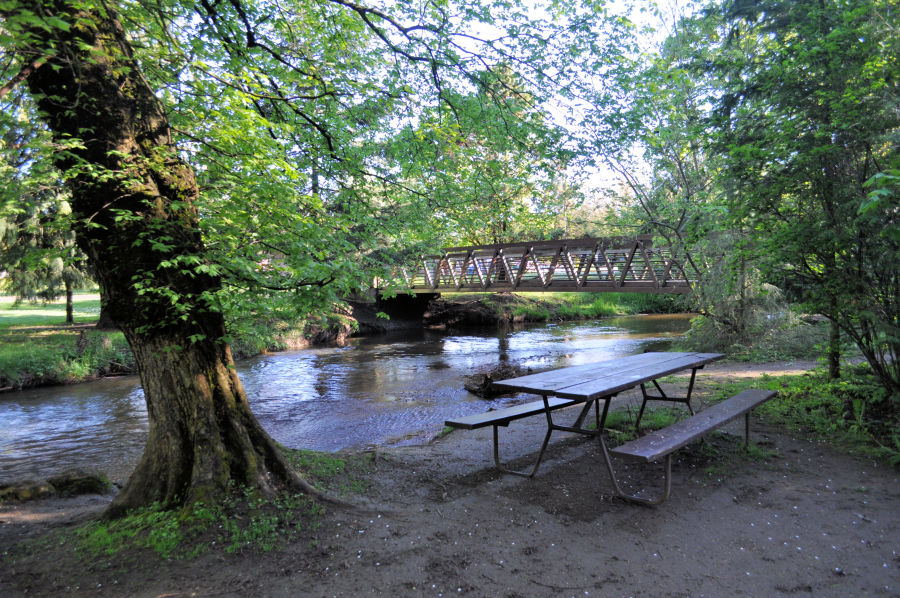 Pin This Guide to Lynden Restaurants!