The small town of Lynden, Washington makes for an ideal getaway from Seattle or anywhere else in Washington State!
Founded by Dutch and Scandinavian settlers and surrounded by farm fields with mountain views, its historic downtown has a windmill, unique inns, restaurants, shops, an art center, and a museum.
As if that already wasn't enough things to do in Lynden, nearby are parks, ice cream shops, and a distillery!
This small town most certainly deserves an overnight stay, but if you only have time for a day trip, it is a 30-minute drive from Bellingham or a two-hour drive from Seattle.
If you are coming in from British Columbia, it is a mere 10-minute drive from Canadian/US border crossing on Route 13: absolutely worth the detour!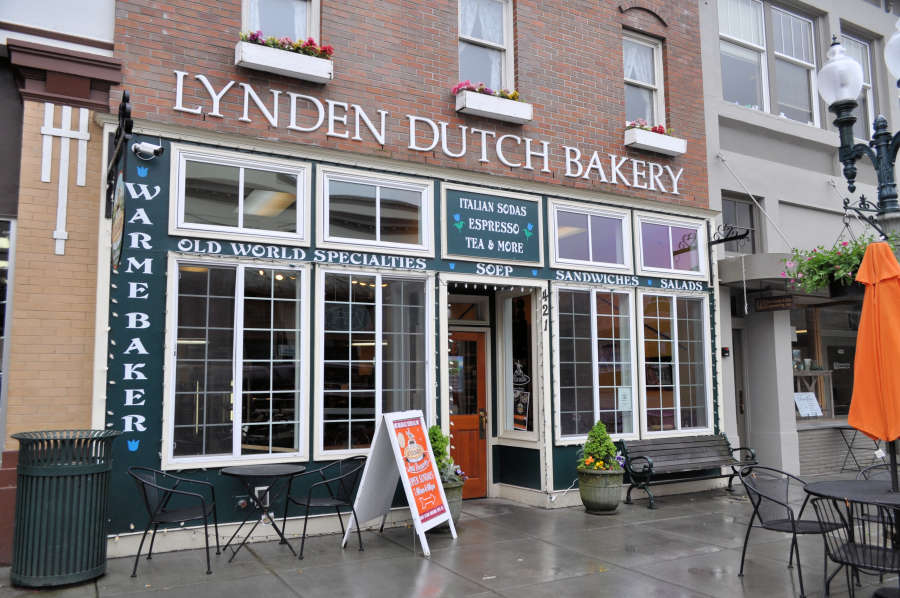 Some links in this post may be affiliate links. If you make a purchase through one of these links, we may earn a small commission at no extra cost to you. Please see our

disclosure policy

for more detail.
10 Lovely Things to Do in Lynden, WA
Learn about the "Mother of Lynden."
Phoebe Judson, lovingly referred to as the "Mother of Lynden" played a key role in Lynden's history.
In 1853, she and her husband made the journey from Ohio to the Washington Territories, and after spending some time on Whidbey Island they moved to the Nooksack Valley in 1870. Their home became the area's first post office.
She was known for her kindness, starting the first school in her house, helping build an official schoolhouse, her midwife services where she'd hike for two days to help someone, and for naming the town Lynden, which was inspired by a Tomaas Campbell poem.
Pay tribute to Phoebe Judson, aka "The Mother of Lynden," by visiting her statue in historic downtown in front of the Lynden Chamber of Commerce.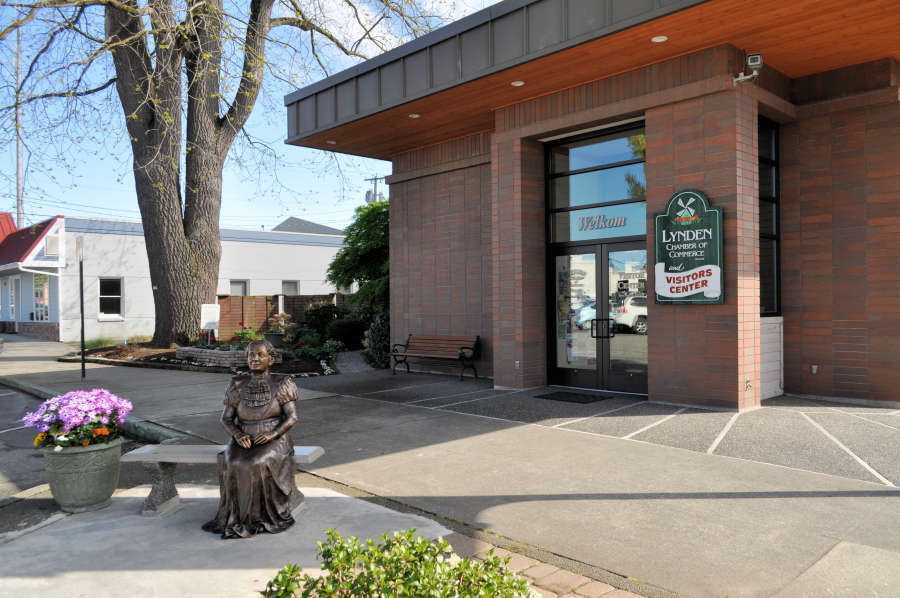 Stay at the unique Mercantile Building.
The Inn at Lynden is in the renovated 1914 Waples Mercantile Building, which at one time was the largest department store in the West and is on the National Register of Historic Places.
The multi-use building includes shops, restaurants, a tap room and the lobby for the 35-room boutique inn.
All the rooms are on the second and third floors and are very stylish and comfortable.
During my visit, I was hosted in the corner suite which had views of downtown, a large living area, and a dining area.
Another perk when you stay here is complimentary bikes!
Stay the night in a real windmill!
The Mill Inn is part of the town's windmill!
The inn has a total of seven rooms with three inside the windmill. How cool is that?!
Each room is shaped differently and has different decor.
On the ground level is the restaurant, Perfectly Paired (a favorite Lynden restaurant), a gift shop and the Inn's lobby.
Eat your way through the city.
For dining, Lynden has plenty of restaurants and cafes to choose from. Here is my list of recommendations.
Steakhouse9 Bistro which has views of the golf course. Their ingredients are local and dishes are made from scratch. During my visit, I ordered the steak salad. Very good.
Bellewood Acres Country Cafe, which is also one of the Northwest's largest apple orchards. Along with fresh deli food, they also make a fantastic apple pie.
Right across from The Inn at Lynden is Lynden Dutch Bakery. Being a lover of all things almond, I ordered an almond cookie (so good), but they also have other baked goods such cinnamon rolls, donuts, and stroopwafel.
At The Mill, is Perfectly Paired, which serves up scratch cocktails and gourmet comfort food. I ordered a salad with a brie and pear panini and for dessert the housemade chocolate truffle trio. Amazing!
Inside the Waples Mercantile building is Drizzle Olive Oil & Vinegar Tasting Room. Here you can sample olive oils and vinegar, and order cheese charcuterie platters and sandwiches, and wine and beer.
Also inside the Waples Mercantile is Overflow Taps. They have Pacific Northwest beers, ciders, and wine.
Eat ice cream with views of Canada.
Another place for those with a sweet tooth is Edaleen Dairy. There are two ice cream store locations in Lynden.
One is a two-minute drive from downtown, and the other is close to the Canadian border.
At the latter, you can enjoy your ice cream with a view of Canada! Pretty cool experience.
Check out an awesome collection of horse-drawn buggies.
The Lynden Pioneer Museum has the largest horse-drawn buggy collection in the state.
It also has a lot of other exhibits including a recreation of downtown Lynden storefronts, exhibits on farming and dairy, and lots of interesting historical items. Give yourself at least two hours to explore it!
Hours: Monday through Saturday from 10 a.m. to 4 p.m.
Admission: $7 adults; $4 seniors/students; children six and under are free
Marvel at a real thatched roof house.
You don't have to go to Europe to see a thatched roof house — Lynden has one of its own!
The best way to see it is to walk or bike the 3-mile Jim Kaemingk Sr. Trail as it goes right by it!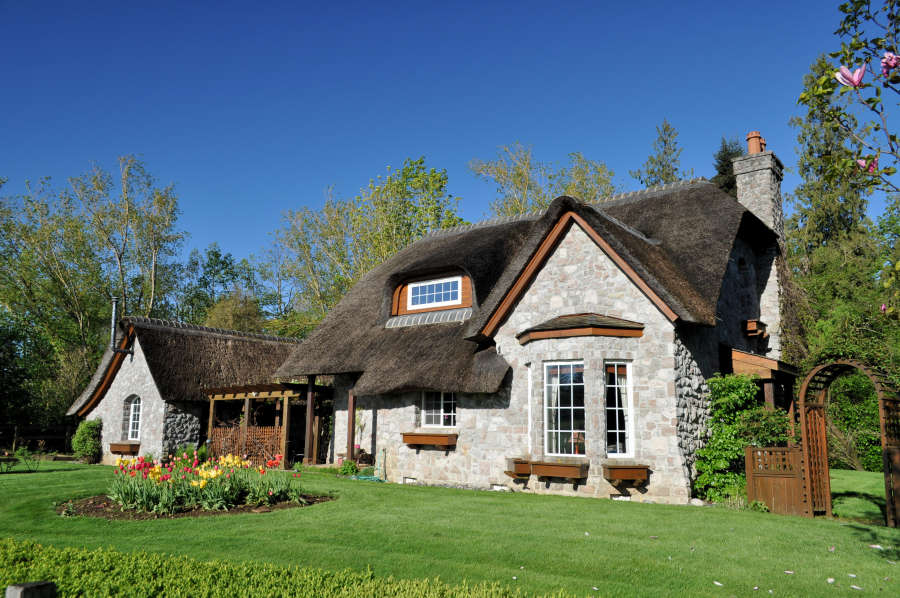 Plan your trip around a fair or festival.
If you are a festival or fair goer Lynden is the home to the popular Northwest Washington Fair in August, and the Northwest Raspberry Festival in July.
And, if you love a holiday parade, the Lynden Christmas parade is one of our favorite ways to celebrate Christmas in Washington State!
In the parade, trucks, buses, bicycles, and farm equipment are decked out in holiday lights and Santa makes an appearance. Meanwhile, the Dutch Bakery sells goodies, including holiday-shaped sugar cookies!
Check out an old-growth forest and historic barn.
Hans Berthusen is one of Lynden's early settlers.
Born in Norway, he homesteaded 160-acres of land covered with timber and brush.
Twenty acres of that land he didn't touch and it has its original old-growth forest.
Today, the land is part of Berthusen Park, which has trails where you see the old-growth forest, his historic barn, and a playground.
Enjoy the many parks and playgrounds of Lynden.
Families with young kids will find plenty of outdoor playground fun in Lynden!
Visit the Million Smiles Playground at Lynden City Park, Bellewood Acres (they also have seasonal activities like apple picking and a pumpkin patch), and the playground and trails Berthusen Park.
Pin This Guide to Things to Do in Lynden, WA