Whether you live in the city or are visiting for a short trip, you'll never run out of things to do in Seattle.
From incredible museums to beautiful day trips to scenic landscapes, there's no shortage of activities to keep you busy and entertained in and around Seattle.
Feeling stuck? We've gathered all the best things to do in Seattle in one place. Consider this your ultimate Seattle bucket list!
The 35 Best Things to Do in Seattle: Your Bucket List
Iconic Seattle Activities
Take in the views from the incredible Space Needle.
There's no better view in Seattle than from the famous Space Needle, the iconic landmark which is practically synonymous with the city.
Soar to the top of this legendary 605-foot-tall building and take in the gorgeous views from the observation deck, and perhaps have a toast at the rotating restaurant!
Money-Saving Tip: Save nearly 50% by buying a Seattle CityPASS, which includes your admission to the Space Needle as well four other places on this list such as the MoPOP, Chihuly Garden & Glass, the Seattle Aquarium, and a Harbor Tour.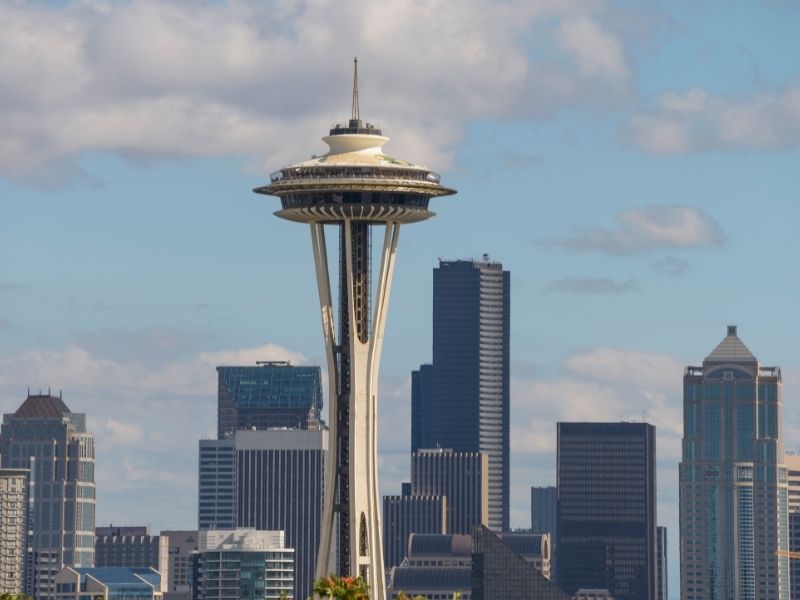 Some links in this post may be affiliate links. If you make a purchase through one of these links, we may earn a small commission at no extra cost to you. Please see our

disclosure policy

for more detail.
See the famous fishmongers at Pike Place Fish Market.
One of the most popular things to do in Seattle for tourists is to check out the kitschy fishmongers putting on a show in front of a crowd of cameras at the Pike Place Fish Market.
Touristy? Absolutely. Good fun, and a can't-miss for your Seattle bucket list? Also absolutely.
Wait in line at the original Starbucks.
Whether you're a Starbucks fiend or just want to see the origins of one of the largest and most successful American franchises, you'll want to hit up the world's first Starbucks when you're in the vicinity of Pike Place.
Yes, you'll almost certainly have to wait in line, but it's a quintessential Seattle experience that tops many visitor's list of things to do in Seattle, so bring a book or a game on your phone and queue up!
Visit the Gum Wall.
Disgusting? Yes. Interesting? Possibly. Whatever your stance on it, the Gum Wall is — for whatever reason — a Seattle bucket list must.
If you must add your own contribution to the wall, be sure to wash your hands after!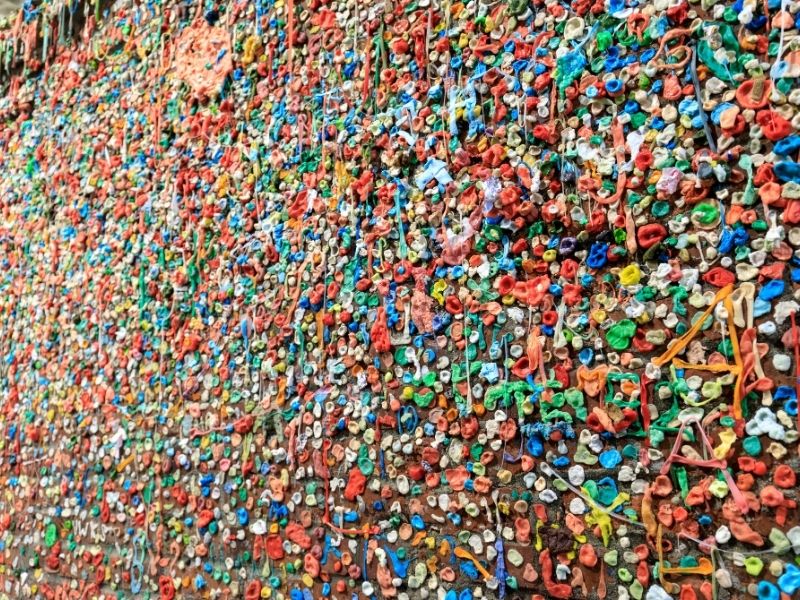 See the skyline from a harbor cruise.
Seattle has one of the most beautiful natural settings of any city in America, and there's no way to better appreciate the beauty of the Seattle skyline than from out on the water.
Take in the view of the skyscrapers, including the Space Needle, juxtaposed against snow-topped mountain peaks and you'll see why Seattle is such an unforgettable place.
Take a ride on the Seattle Monorail.
Take a scenic ride on the Monorail from Westlake Center in downtown Seattle to Seattle Center, where you'll find the Space Needle, Chihuly Gardens, the MoPop, and more.
The monorail was part of the Century 21 Exhibition (which also led to the construction of the Space Needle) and is an important part of Seattle's history. The monorail costs just $3 to ride, and while it only covers a mile, it's a must-do touristic experience nonetheless!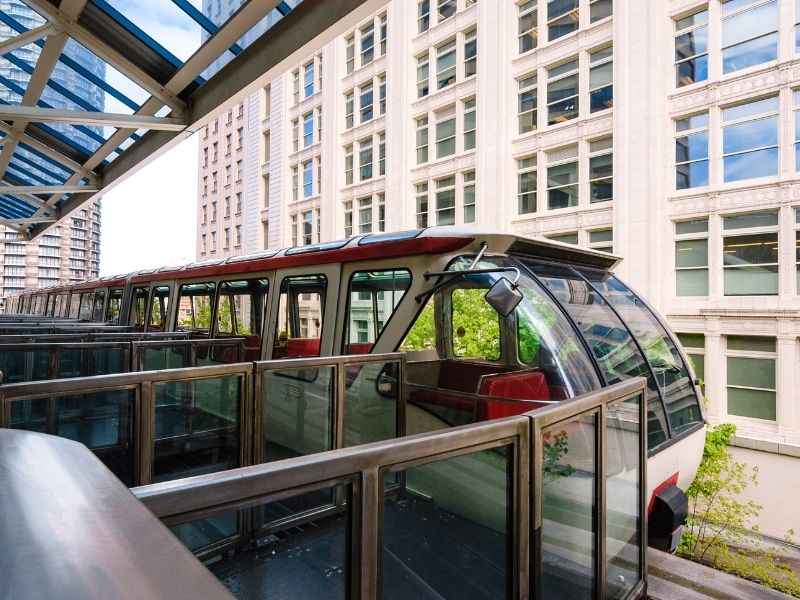 Wonderful Seattle Museums
Visit Chihuly's glass-blown wonderland.
Dale Chihuly is arguably the best glass artist of our time, and it'd be a shame to visit Seattle and not get to see his beautiful works for yourself.
While in the vicinity of the Space Needle, make sure to pop by Chihuly Garden and Glass located in the Seattle Center and be wowed by these blown-glass beauties.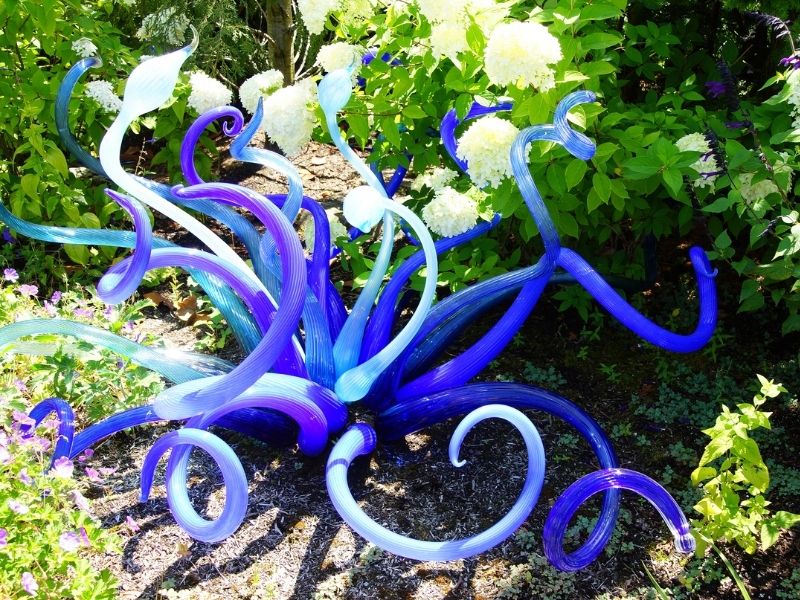 Check out the galleries at the Seattle Art Museum.
The Seattle Art Museum has three branches: its main branch in downtown, the Asian Art Museum in Capitol Hill, and the Olympic Sculpture Park on the waterfront.
The Seattle Art Museum focuses on global art, with collections featuring art from around the world, including African, Islamic, Australian Aboriginal, Meso-American, and Asian pieces.
The Native American galleries are particularly of interest, especially those featuring art from the local Northwest Coast tribes who were the original (and current) inhabitants of the land that is now called Seattle.
Marvel at the Museum of Flight.
This beloved Seattle museum, the Museum of Flight, is the largest non-profit space and flight museum in the world, so there is a ton to see here! It's one of the top things to do in Seattle for families, but frankly, people of all ages will likely be enchanted by it.
Featuring dozens of historical aircrafts dating back to a replica of the 1896 Biplane Glider, as well as several planes from the WWI, inter-war, and WWII eras — plus several modern Boeing aircrafts — you'll be wowed by this testament to human tenacity and curiosity in pursuit of the magic of flight.
Get current with the MoPop.
The Museum of Pop Culture, better known as MoPop, is one of the best museums to visit in Seattle for pop culture freaks.
Featuring everything from Jimi Hendrix's music to Frank Gehry's modernist architecture — and sci-fi, literature, cinema, horror, art and fantasy in between — there's a little bit of something for everyone at MoPop, and there's nowhere else quite like it in Seattle or elsewhere.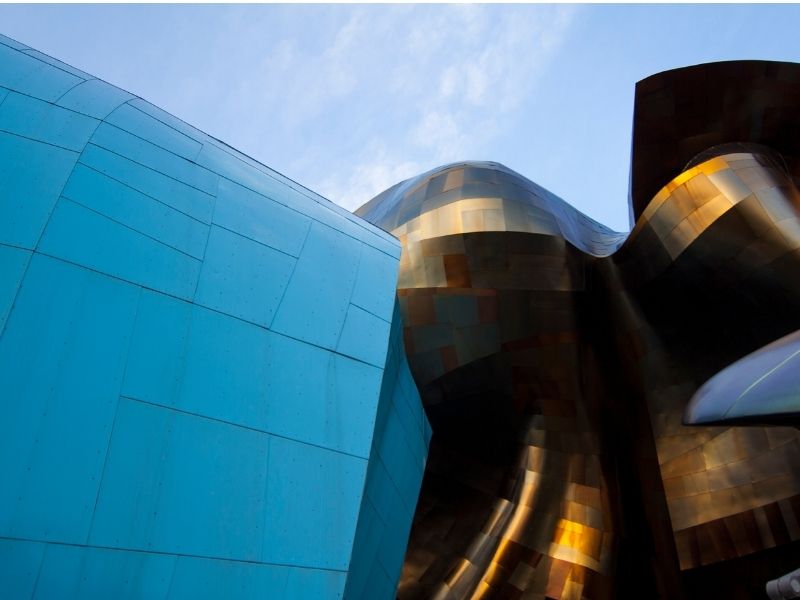 Play a few rounds at the Seattle Pinball Museum.
Want some nostalgia? The Seattle Pinball Machine, opened in 2010, is a great place to head when you feel a pull towards the simple pleasures of a vintage pinball machine.
The museums features 50+ machines, ranging from modern to retro (some are even from 1934!) and just $15 will get you an all-you-can-play experience.
Incredible Seattle Views
Take in the view from the city's first observation deck.
Contrary to popular belief, the Space Needle wasn't the city's first observation deck, even if it now is the most popular.
That honor actually belongs to the Smith Tower Observation Deck, which was the very first skyscraper built in Seattle. It was built in 1914 and measures a whopping 484 feet high!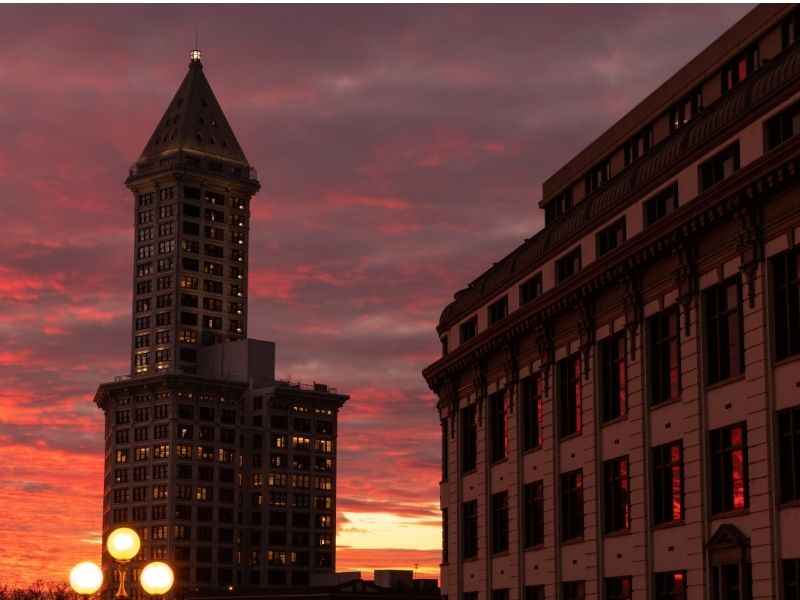 Take in the skyline for free at Hamilton Viewpoint Park.
Many of the observation decks in Seattle cost a pretty penny, but don't worry — there are plenty of stunning views of Seattle that are absolutely free.
One of our favorites is at Hamilton Viewpoint Park, which gives you four epic views for the price of none. See the city skyline, beautiful Elliott Bay, the Cascade Mountains in the distance, and the city harbor all in one sweeping vista. Bring a sunset picnic and enjoy.
Check out the mountain views from the Columbia Tower Observation Deck.
When you have surroundings as beautiful as Seattle has — Puget Sound on one side, mountains on the other — it's no wonder the city has a plethora of observation decks to choose from!
We love Columbia Tower Observation Deck as it's far less crowded than the Space Needle and offers sweeping views of the mountains.
Soar over the skyline in the Seattle Great Wheel.
For epic views in a climate-controlled pods on the Ferris wheel on Pier 57, head to the famous Seattle Great Wheel.
Measuring a whopping 157 feet high, it is once the tallest Ferris wheel on the West Coast, so there's hardly a view you won't be able to see from this beautiful landmark.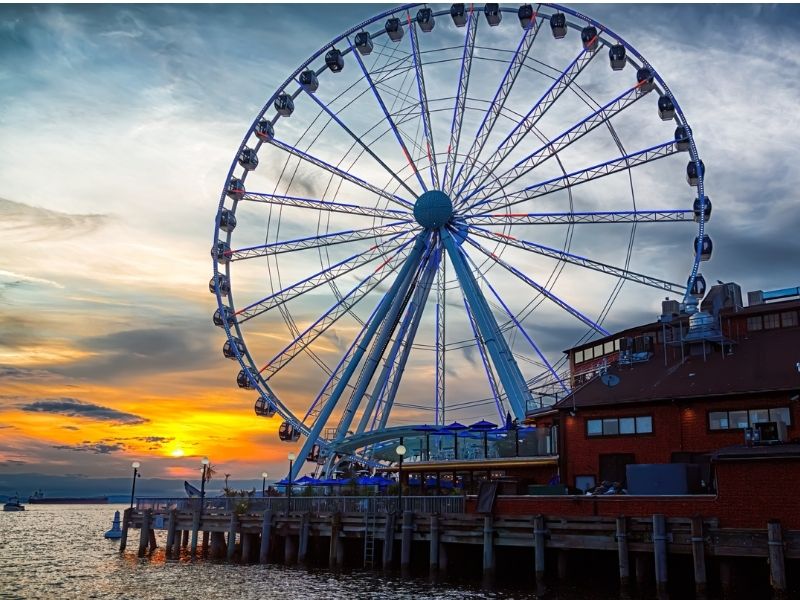 Check out the views from Kerry Park.
While a rather small park compared to others on this list, Kerry Park competes in one major way: it has some of the best views of Seattle's downtown!
On a clear day, you'll see everything from the Space Needle dwarfing the other Seattle skyscrapers to Mount Rainier looming off in the distance.
Seattle Architecture Spots
Marvel at the incredible Seattle Public Library.
The Seattle Public Library is an architectural wonder and one of the top things to do in Seattle for book lovers and architecture fiends alike.
Featuring 11 stories of glass and steel modernist construction, it was opened to the public in 2004 and has been a beloved spot in the city ever since.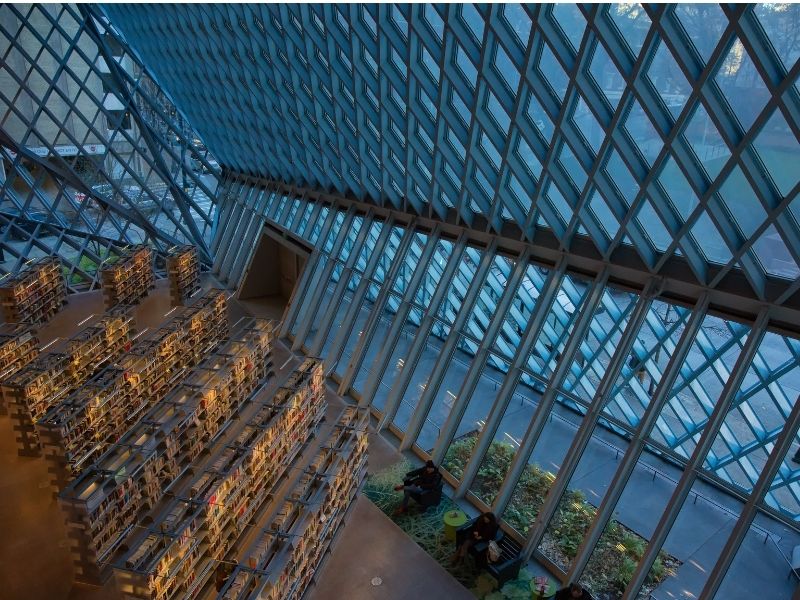 Admire Seattle's most beautiful restaurant.
Canlis, located just before the Aurora Bridge with a stunning view looking over Lake Union, is an absolute stunner of a restaurant, all paned in glass with angular design.
It was designed by Terry and Pete Wimberly in a mid-century modern style, and even if you don't dine there (it's pricey!) it's certainly worth visiting if you have a love for design.
Step into Hogwarts at Suzzallo Library.
One of the most beautiful libraries in America can be found at the University of Washington's Suzzallo Library, which gives off major Hogwarts vibes.
While the exterior of the building is beautiful, the interior is where your jaw drops. The reading room looks like it belongs in Britain, not Washington, with beautiful tall glass windows, gothic arches in the ceiling, stunning light fixtures, and more.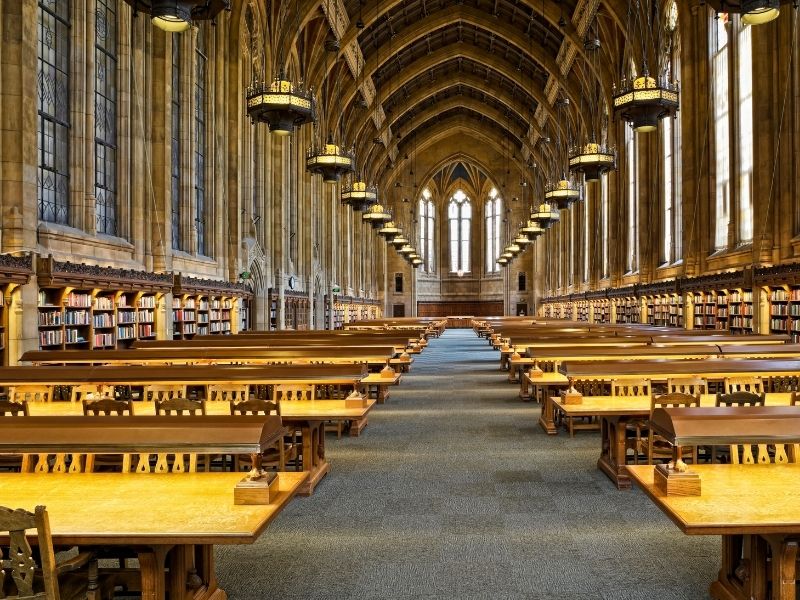 Fantastic Seattle Tours
Get underground and explore the pathways below Pioneer Square.
Seattle has a network of underground passageways dating back to the 1890s which have now largely been forgotten, but it's a really cool thing to do in Seattle to explore them and learn about the history behind them.
Led by an expert history guide, you'll learn about Seattle's early days and what these historical, now largely abandoned passageways were used for. If you're into quirky and alternative things to do in Seattle, put this at the top of your list.
The Underground area is locked to all but licensed tour guides, so this is an experience you can't do without a guide. We recommend this excellent Underground Walking Tour.
Explore Pike Place Market with a chef as your guide.
Pike Place Market can be overwhelming — fishmongers yelling, crowds gathering, cameras flashing — but you can easily cut through the noise of it with a guided tour.
If you prefer to be led by your stomach rather than your eyes, take a Pike Place Market tour led by a local chef! It's the most delicious way to explore the market.
They will happily share with you all their insider tips for how to eat like a chef in Pike Place, skipping the tourist traps and honing in on the expert finds, stopping at 10 artisanal producers. Book your Pike Place Market tour here.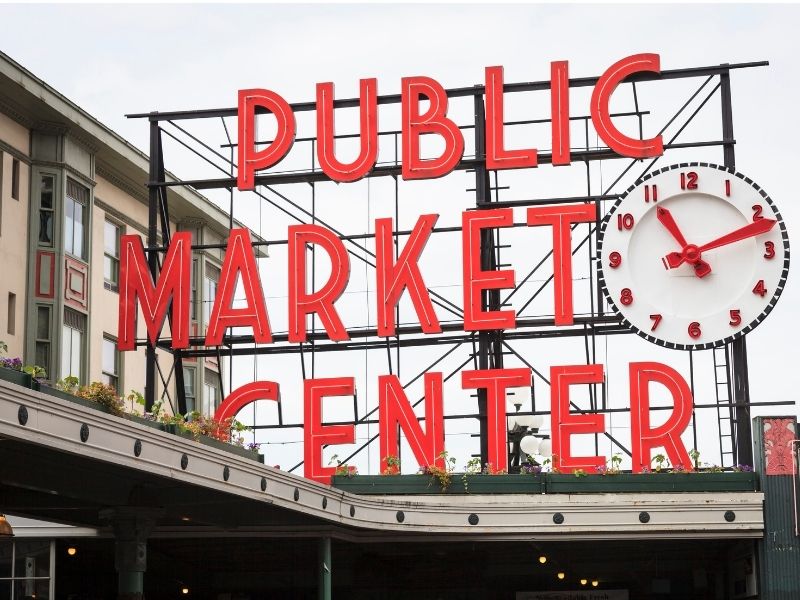 Visit the Boeing Factory with an expert guide.
Seattle is home to the Boeing Factory, and a visit to this incredible factory is absolutely worth of your time in Seattle.
The Boeing Factory is a real working factory and thus can only be visited on a guided tour — we recommend this one, which includes transportation from downtown Seattle, which is great as the factory is 30 miles away from Seattle and hard to get to without a car.
Get spooked on a Seattle ghost tour.
We absolutely love ghost tours, and a ghost tour in Seattle is no exception! Uncover the spooky side of this city's history and explore some of the most haunted places in Seattle on this 1.5-hour walking ghost tour which explores the city after dark.
Learn about the first mortuary in the PNW, the haunted Suquamish Burial Grounds, and more spooky ghost stories about Seattle.
Taste your way through a Seattle food tour.
If you're interesting in getting to know the city through your stomach, luckily, there are countless food tours in Seattle that will help you do it!
We've heard great things about Savor Seattle food tours (they're rated #1 in the city!) and hope to try it out soon.
Seattle Day Trips
There are so many day trips from Seattle to choose from–here are some of our favorites!
Be wowed by wine and waterfalls.
A trip to Woodinville is a must for wine-lovers when visiting Seattle. This is the closest wine country to Seattle, located just 20 miles from the city center.
You could rent a car, but if your whole party plans on drinking, we urge you to book a tour that includes transportation so that no one is driving while impaired.
We suggest this incredible wine & waterfall tour which includes stops at three Woodinville wineries (each allowing 4-6 tastes) and a short hike to Snoqualmie Falls, one of the most beautiful waterfalls in Washington State. Book your tour online here.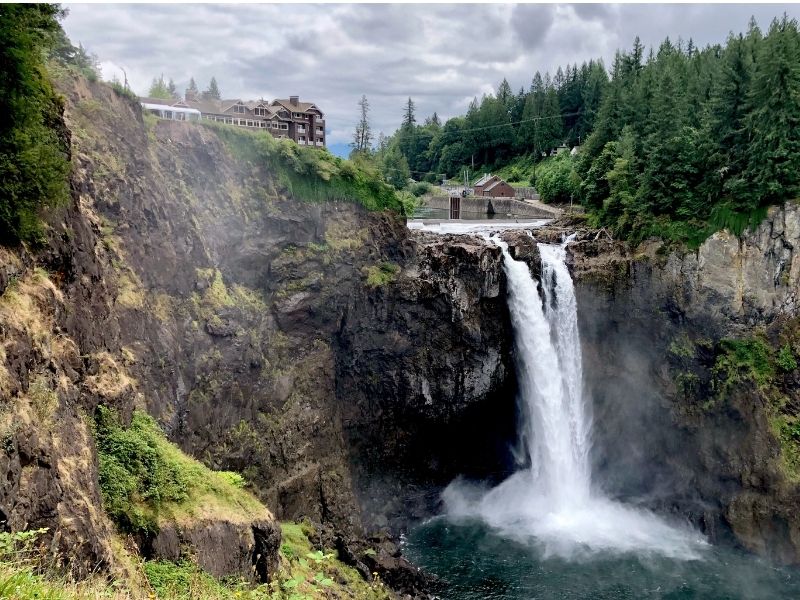 Learn the history and be wowed by Mount Saint Helens.
Mount Saint Helens is the site of one of the most explosive volcanic eruptions in American history. The 1980 eruption killed 57 people, triggered the largest landslide ever recorded, and scattered ash in 11 U.S. states and two provinces of Canada.
Even 40 years later, the landscape of Mount Saint Helens is still remarkably transformed by this explosive event, and it's intriguing to see the magnitude of the devastation caused by this event.
It's quite a drive from Seattle (about 3.5 hours each way), so I recommend going with a guided tour so you won't be so tired by the drive out there as to not enjoy your time at the Volcanic National Monument itself. Book your tour here.
Take the ferry to Bainbridge Island.
Just a short ferry ride from Pier 55 in downtown Seattle, Bainbridge Island is one of the most beloved day trips for local Seattleites.
With gorgeous views of the city along the way, and beautiful houses to gawk at, interesting cultural places to visit, and delicious places to eat once you reach Bainbridge Island, you're sure to enjoy this easy, peaceful day out from Seattle.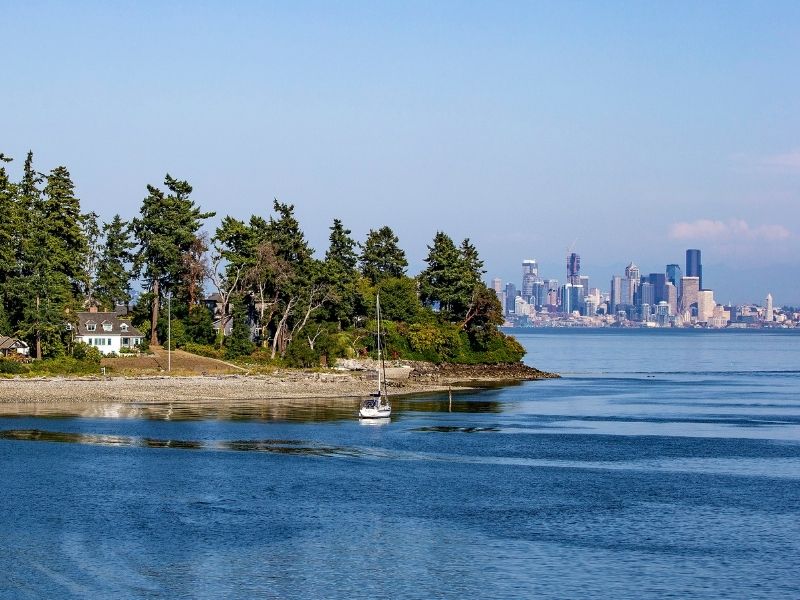 Spend the day exploring Mount Rainier National Park with a naturalist.
If the Space Needle is the manmade icon of the city, Mount Rainier is the city's natural emblem, jutting up into the sky as if it too was a part of the Seattle skyline. In a way, Mount Rainier feels a bit like an extension of the city itself, and so therefore a day trip to Mount Rainier National Park is an absolute Seattle bucket list must.
You can visit the National Park independently, but we suggest going with a naturalist guide in a small group tour who can point out the most interesting flora in the park, lead you to some of the best viewpoints in the park, arrange transportation and lunch, so that all you have to do is get out your camera and enjoy the ride. Book your Mount Rainier tour here.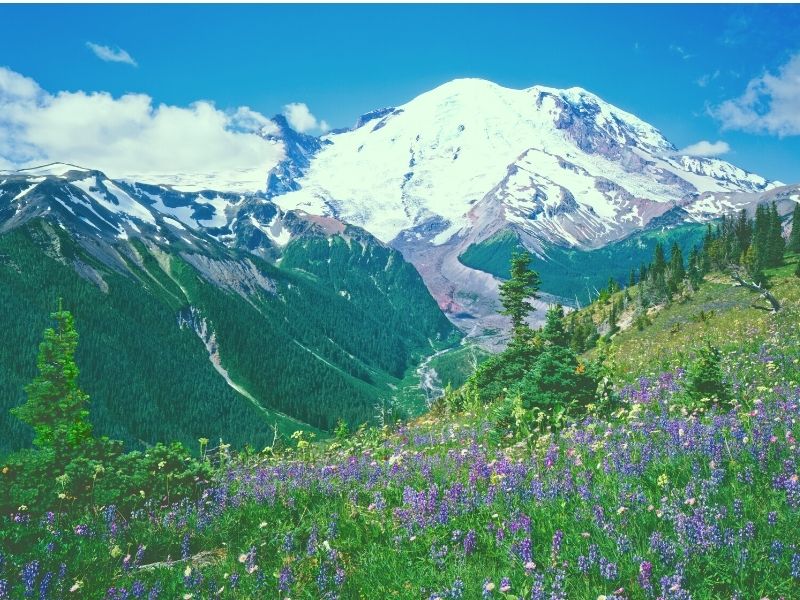 Head out by boat & car to Olympic National Park.
Olympic National Park is located on the Olympic Peninsula, and so to get there, you'll want to take a ferry ride across the Puget Sound to Bainbridge Island, where you can connect to the Olympic Peninsula by bridges.
You can visit the park independently, but we suggest going with a guided tour led by a naturalist who can show you some of the most incredible places in Olympic National Park, like Hoh Rain Forest (the only temperate rainforest in the contiguous USA), Hurricane Ridge, and Lake Crescent, spotting incredible flora as well as local wildlife like Olympic marmots, black bears, and black-tailed deer.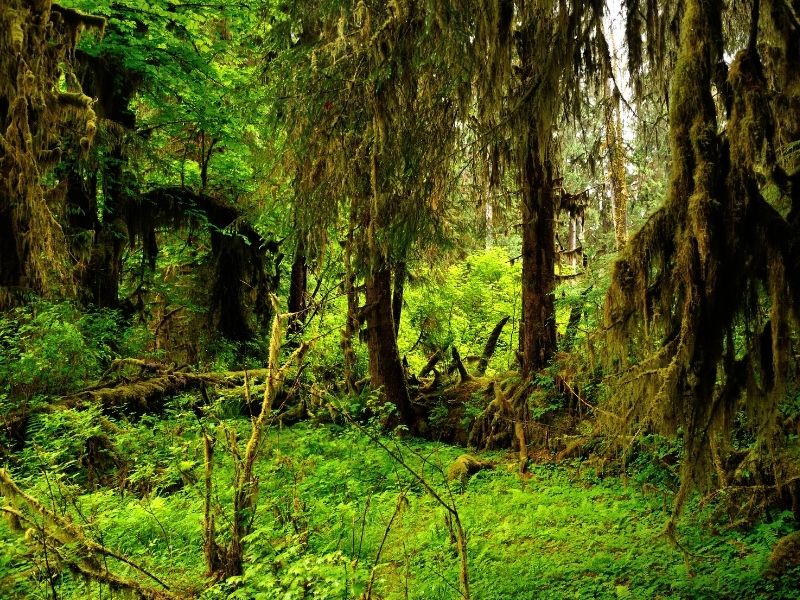 Unusual Things to Do in Seattle
See the colorful Fremont drawbridge.
This blue and orange bride in the Fremont neighborhood of Seattle adds a pop of color to the (often gray, let's be real) Seattle cityscape.
This drawbridge is one of the lower bridges in Seattle, with a clearance of only 30 feet, so it actually gets raised fairly often to let yachts and boats through!
If you're exploring the Fremont neighborhood, stop by this section of the waterfront for a bit and see if you get a chance to watch the drawbridge raise.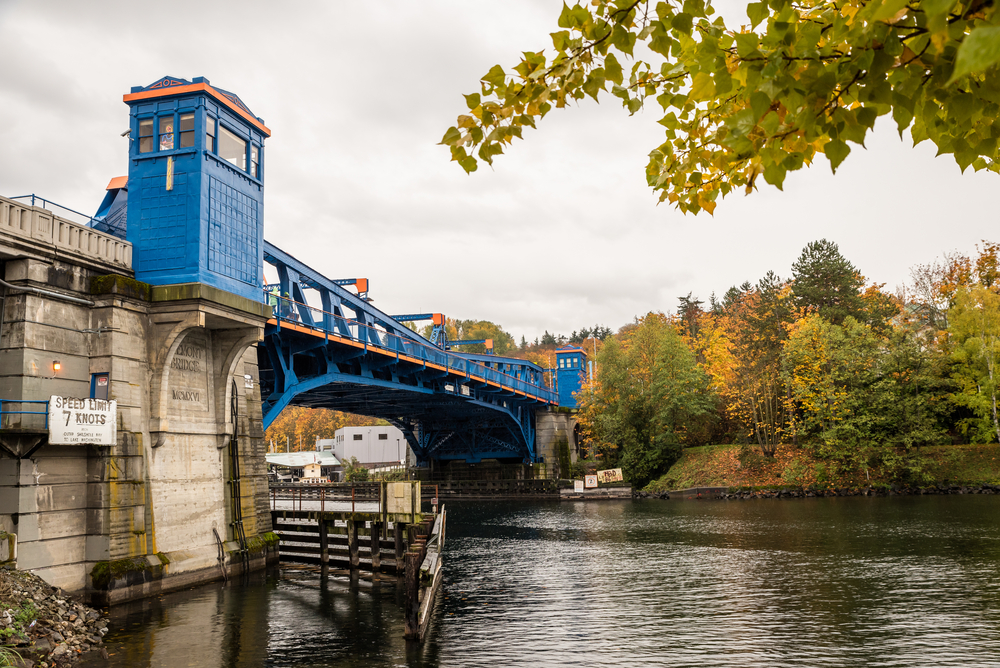 See the bizarre Fremont Troll.
The neighborhood of Fremont is quirky, full of boutiques, bars, and bohemian vibes…. and bridge troll art installations?
Beneath the Aurora Bridge, this massive outdoor sculpture lurks waiting to surprise unsuspecting visitors and put a smile on the face of those to stop to snap a photo.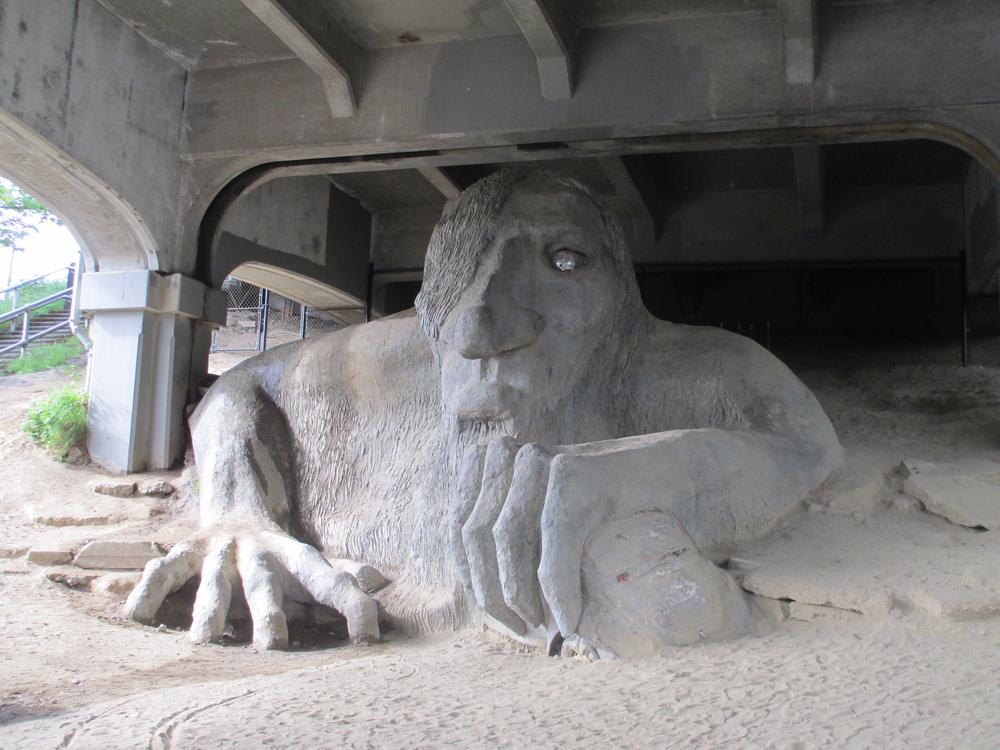 Outdoor Things to Do in Seattle
Stroll the urban Gas Works Park.
This nearly 20-acre urban park used to the site of Seattle Gas Light Company, where coal was turned to gas. In 1975, it opened as a public parkland for all, with beautiful views of Lake Union and downtown Seattle's skyline.
The park has maintained a few elements of its previous life to pay homage to how the site has changed. The boiler house is now a picnic area, and an old building was converted into a play area for children, with the machinery painted in bright colors.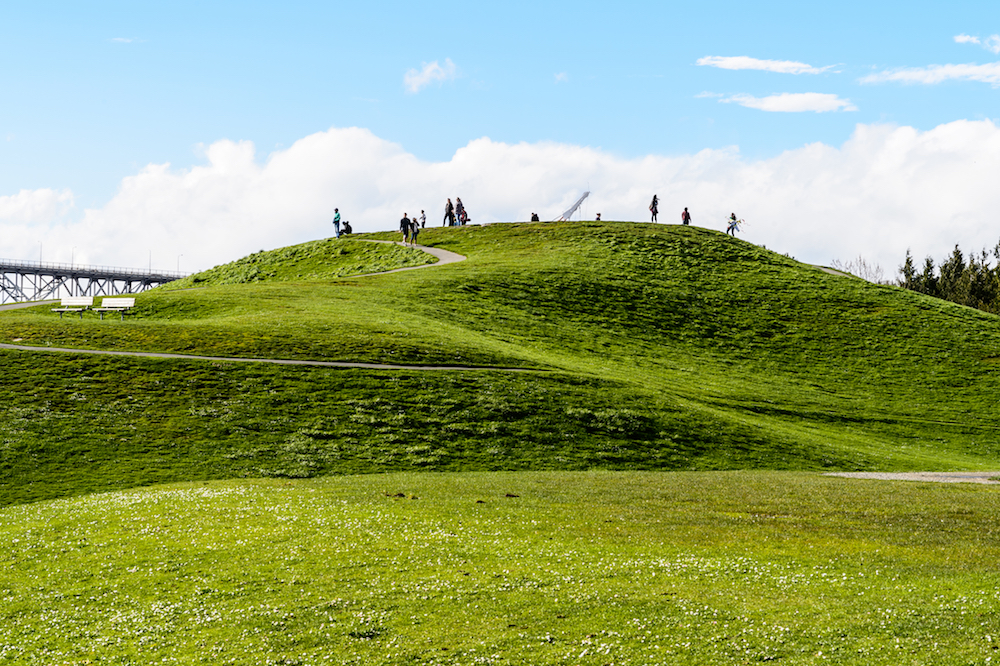 Bike a portion of the Lake Washington loop.
Seattle has miles upon miles of bike paths, but perhaps none is more scenic than the loop which circles Lake Washington — especially in the spring, when there are cherry blossoms everywhere, or in fall, where the trees are all changing colors marvelously.
Unless you're a serious cyclist, you probably won't want to tackle the whole loop — it's 50 miles long — but the path from the Washington Park Arboretum to Seward Park covers a beautiful stretch and isn't too long of a cycle.
See the lighthouse at Discovery Park.
Seattle is a city that's inextricably tied to its waterfront, the Puget Sound, and so it should come as no surprise that lighthouses make up some of the city's skyline as well!
You'll find one in Discovery Park, the largest park in the city at a whopping 534 acres. There are nearly 12 miles of walking trails available for you to stroll, run, or cycle, and it's also a popular place to bring a picnic lunch and check out the Puget Sound and city views.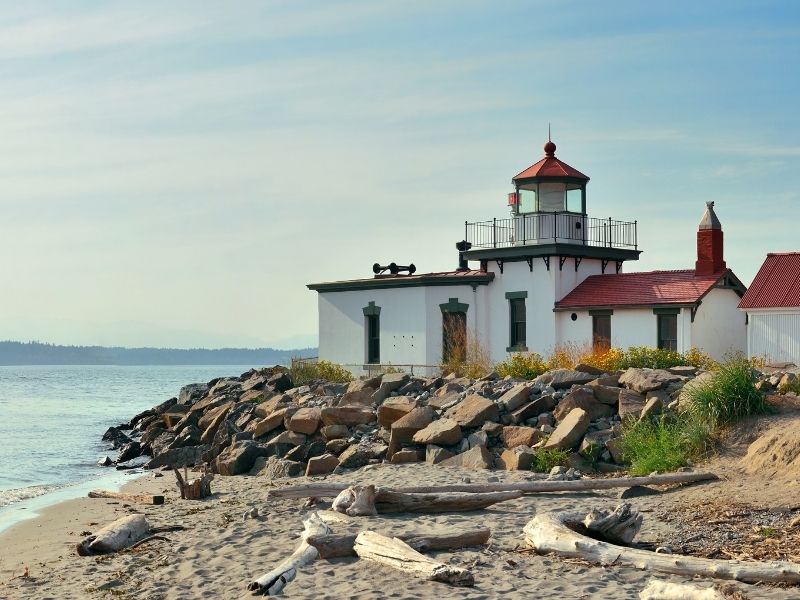 See a waterfall in the city center.
Seattle is a city of surprises, and one such surprise is Waterfall Garden Park, complete with a 22-foot artificial waterfall.
Located right in the heart of Pioneer Square, this is a little-known spot was actually the birthplace of UPS, the United Parcel Service!
Get some sun at Alki Beach.
It's not always sunny in Seattle, but if you're here on a glorious sunshiney day, you'll absolutely want to join the crowds at Alki Beach.
Don't expect white, powdery sand, but do expect gorgeous Seattle views along two miles of coastline, plenty of great places to grab a bite (we recommend Salty's), and a scenic lighthouse worth snapping photos of.