Washington Park on Fidalgo Island is one of my favorite camping locales. Why? It has spectacular views of the San Juan Islands, wooded campsites, a sandy beach, a boat launch, a playground and tons of hiking trails. And, thanks to our mild winter climate, it's open year-round.
Washington Park has amazing views of the San Juan Islands.
Situated on 220 forested acres in the most western part of Fidalgo Island, Washington Park is less than four miles from downtown Anacortes and less than eight miles from Deception Pass Bridge. If you are into camping or RV'ing, it is a great base and economical option for exploring the area.
What's It Like Camping at Washington Park
On our summer camping weekend at Washington Park, we are all about taking it easy, and it looks like everyone else has the same idea. At Sunset Beach dozens of people are taking advantage of the warm weather. An extended family grills in the outdoor covered kitchen. A group of young men throws a football. Families with children blow up water toys, and I'm witnessing a rare sight—swimming in our 50'ish degree Pacific Northwest waters.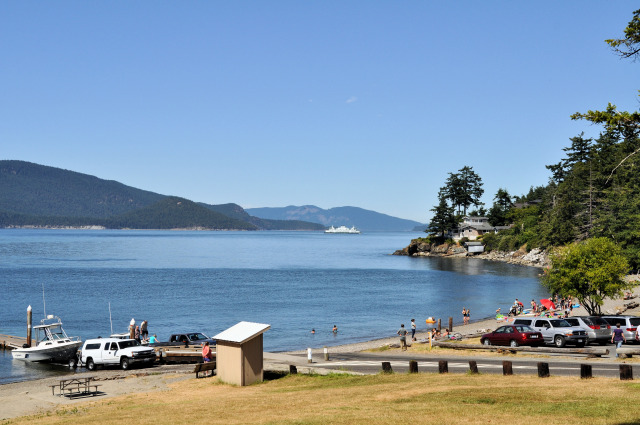 On a sunny day, Sunset Beach is the place to be.
We throw a Frisbee for a while and then cool off in the shade while watching a group of kayakers head out for an afternoon paddle to Cypress Island. When the mouth-watering aroma from the grill becomes too much, we head back to our campsite to prepare dinner. Food always tastes better camping, doesn't it?
Camping at Washington Park
One of the great things about the Washington Park campground is there are plenty of wooded sites to choose from.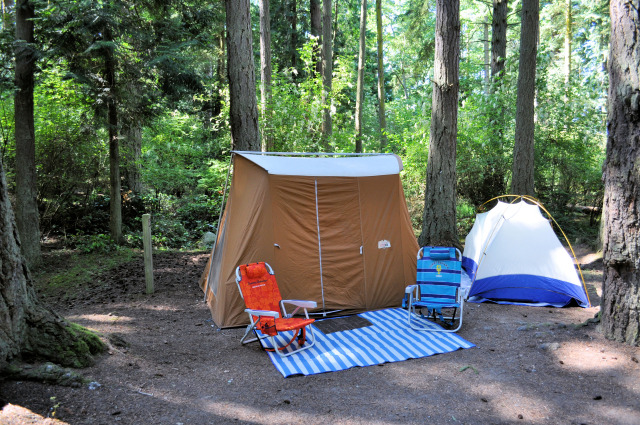 The campsites are spacious with plenty of room for tents and gear.
There are a total of 22 tent sites, 46 sites with water and electrical hookups and group and hiker/biker campsites.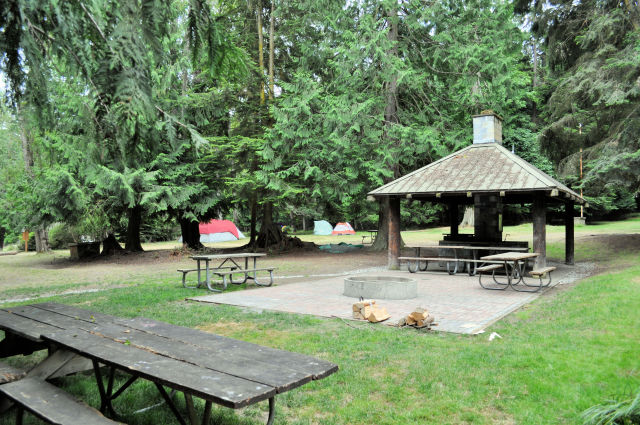 This is the group and biker-friendly sites.
Camping fees at Washington Park are $21 for a non-hookup site and $27 for a hookup site. Residents get a discount. In the afternoon, park attendants drive around in a truck to verify guests and sell firewood. (Prices updated 7/14/18.)
Travel tip: It gets very dry in the Pacific Northwest in August and September, which means there could be a burn ban and no campfires.
Reservations can be made online through the City of Anacortes 14 days in advance, and you can also pay at the pay station, which only takes cash. If reservations aren't your thing, a total of 29 sites are available on a first-come-first-serve basis.
Travel tip: Like most campgrounds, critters are looking for food. In Anacortes its usually raccoons and crows. Be sure to put everything away when you leave your campsite. While we were there, fellow campers left out food and the crows were having a grand time in their campsite.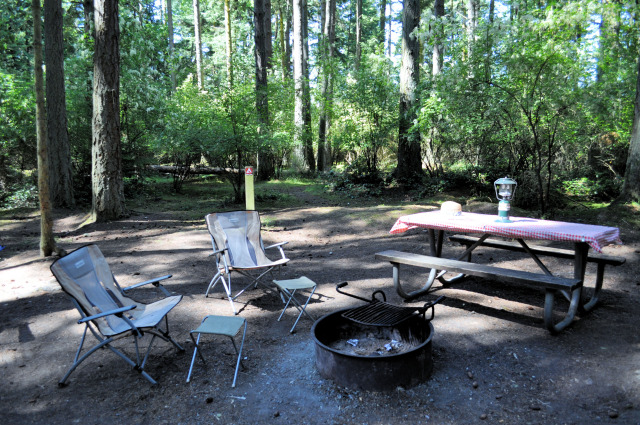 A major perk is the 1 p.m. check-out which gives campers plenty of time to have breakfast and go for a morning hike before tearing down camp. There are two restrooms with coin-operated showers; the one near the parking lot at the beginning of the loop road is newer and the better choice. The one in the campground is being remodeled (check the website for updates).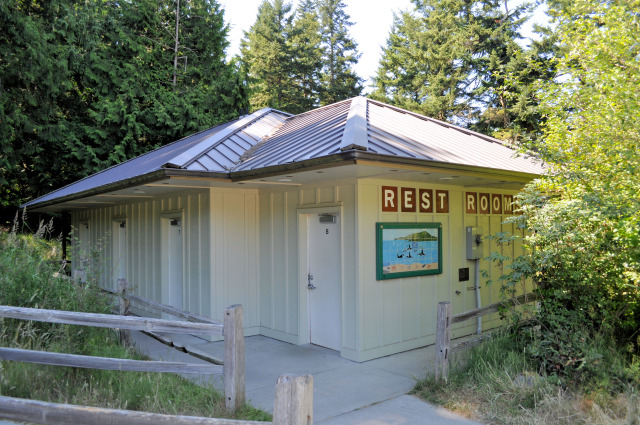 You'll find the new restroom at the beginning of the loop trail near the campground exit.
For those going the RV route, the free sewer dump station is near the park exit. And, for beach lovers, Sunset Beach has large beach fire pits with island sunset views.

The park has many places to take in the view.
Hiking at Washington Park
Hiking trails zig-zag around the coast and through the park to vistas like Juniper Point, where I've seen harbor porpoises curl through the surf, and Burrows Channel Viewpoint, where you can climb a juniper tree and walk on Jurassic-age rocks. Nearby is Havekost Monument, which is the burial site for the parks' founder Tonjes Havekost. (Read more about Havekost here.)
If you'd prefer to drive, a paved 2.2-mile loop road winds around the park, it's open to drivers from 10 a.m. to dusk and 6 a.m. to dusk for pedestrians.
Travel tip: The trails can get a little confusing at the park. I recommend downloading the Washington Park Trail Map to your phone or printing it.
Travel tip: To read more about hiking in Anacortes check out Get Outdoorsy in Anacortes–It's Easy.
Travel tip: To find out where to see the sunset in Anacortes check out The Anacortes Sunset−An Unforgettable Island Getaway Experience. One of those spots, Juniper Point, is in Washington Park!
Nearby Supplies
If you happen to find yourself in need of S'more ingredients or other supplies and the 10-minute drive to Safeway doesn't appeal to you, Old Salt's Deli & Market is a fifteen-minute walk or a 3-minute drive away (1900 Skyline Way). They have light groceries, snacks, beverages, sandwiches, and toiletries.
Another Perk of Camping at Washington Park
One of the park's best-kept secrets is star gazing. One of our favorite things to do is grab a flashlight and blanket, and head down to Green Point to watch the stars twinkle on a black velvet sky and listen to the surf.
For more information about the area visit Experience Anacortes. 
You can also read about my recommendations for hiking trails, dining, wine festivals, activities, and more.