Anacortes is a charming small town located on Fidalgo Island in Washington State.
An easy 1.5-hour drive north of Seattle, the town boasts jaw-dropping views of the Cascade Mountains and the San Juan Islands.
Its historic downtown with eateries, shops, galleries, museums, a marina, and nearby outdoor adventures makes this seaside community an ideal destination for a relaxing and fun Anacortes weekend getaway.
I live in Anacortes, so I've gathered all my favorite things to do in Anacortes for visitors to enjoy. I hope this helps you plan a special trip!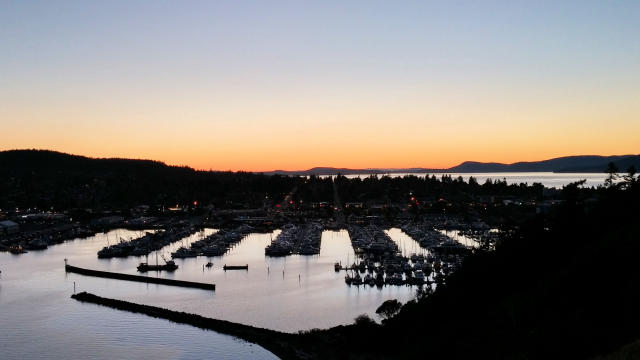 Some links in this post may be affiliate links. If you make a purchase through one of these links, we may earn a small commission at no extra cost to you. Please see our

disclosure policy

for more detail.
When to Visit Anacortes
The most popular time to visit Anacortes is during the spring and summer months.
These months do offer more days of sunshine and blue skies, but always be prepared for some rain — we are in Washington State, after all!
If you do visit during these months, you'll want to plan for hotel and dinner reservations in advance.
However, I encourage you to consider an off-season weekend trip to Anacortes. What most people don't realize is that Fidalgo Island lies in the "banana belt" and Anacortes weather is mild year-round, so you can enjoy all the great outdoor things to do in Anacortes even when a lot of the rest of Washington is damp and dreary.
On average, Anacortes receives around 23 more days of sunshine per year than Seattle, which means more days to enjoy the trails and beaches and even go on a fishing charter. Best of all, off-season travel is more manageable for budget travel.
I recommend visiting in September and the first two weeks of October. This time of year has some of the best weather, fewer crowds, and is more budget-friendly than peak summer travel.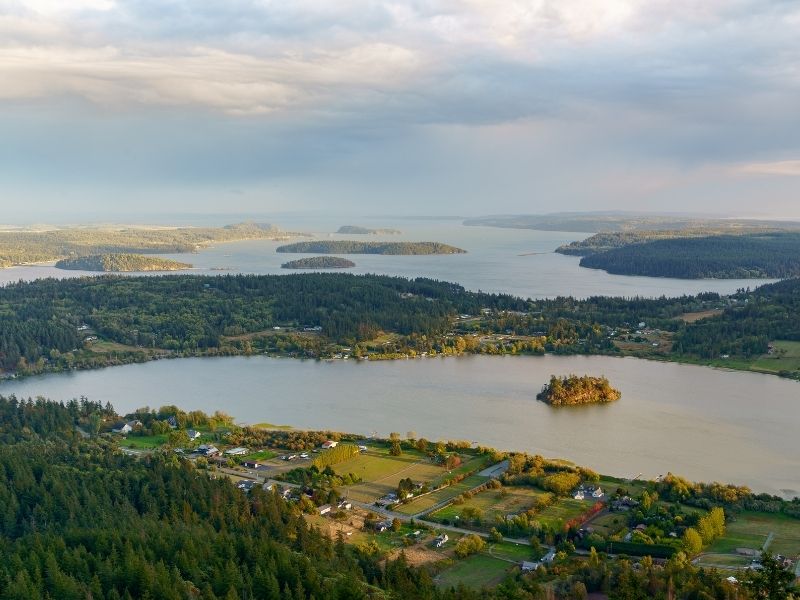 Best Things to Do in Anacortes on a Weekend Trip
Anacortes is an easy day trip from Seattle, Washington, and Vancouver, British Columbia, but I suggest staying at least two days in Anacortes to experience everything this small town has to offer.
Couples, families, and solo travelers will all find that Anacortes has a little bit of something for everyone. Wonderful things to do in Anacortes include farm-to-table restaurants, small town breweries, beaches, parks, 50 miles of hiking and biking trails, fishing charters, whale watching excursions, kayak tours, a walkable waterfront and marina, and stunning sunsets.
And that's just a preview!
Have coffee and a pastry at one of Anacortes' delicious cafes
There are several great cafes in Anacortes to start your day at! I'll list two my favorites below.
For a third-wave coffee shop with an urban, hipster vibe, visit ACME. They use Slate Coffee Roasters coffee beans, which uses a rotating selection of imported coffee beans from all over the world. In terms of pastries, they source all their delicious pastries and other goodies from nearby Knock Out Bakery on Guemes Island. I recommend their cortado, pour-over, and cold brew.
To enjoy books and coffee simultaneously, grab a cup of coffee at Pelican Bay Books & Coffeehouse located historic downtown. They use Olympia Coffee Roasters beans and make freshly baked goods in-house — my favorite is the tasty rosemary roll. Try a cortado if you like coffee or a Harmony Chai if you're more of a tea drinker.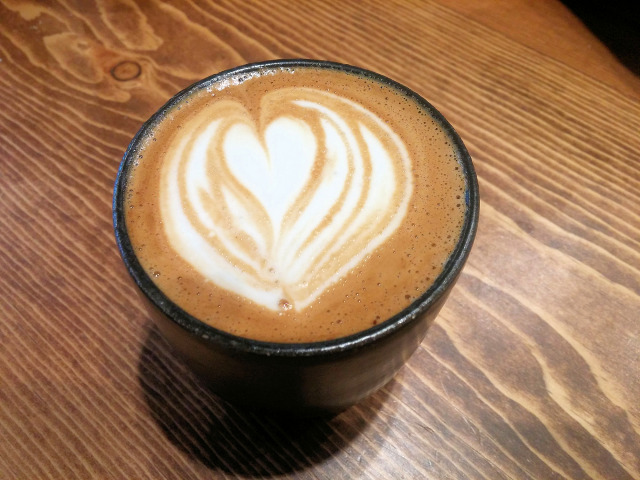 Walk the Ship Harbor Interpretive Preserve (SHIP) Trail
One of my favorite walks in the small town of Anacortes is the Ship Harbor Interpretive Preserve Trail.
If you are short on time, the trail can be easily walked in 15-20 minutes, and it's both family and dog-friendly. If you have longer, take advantage of reading the interpretive information that shows vegetation and wildlife you might encounter.
The SHIP trail has 2,000 feet of sandy beach: yes, sand, not pebble! Part of the boardwalk leads you through a portion of wetlands, where you'll see birds, birds, and more birds! Expect to see cormorants, hummingbirds, and waterfowl, because the saltwater and the freshwater marsh creates a lot of birding activity.
You can also watch the ferry scoot around the waters, transporting passengers between Washington islands and various Washington small towns. On a clear day, you'll even get views of beautiful Mt. Baker.
Travel Tip: It can be a little tricky for a non-local to find. Going west on Hwy 20/Oakes Ave. turn right on Glasglow Way (this will lead you through a housing development), then turn left on Edwards Way (second street). Drive down the road until you reach a cul de sac and park. The trail is part of the Anacortes City Park system, and there are no fees.
You'll notice there are two trails. The one to the east is Guemes Channel Trail. The one to the west is Ship Harbor Interpretive Preserve Trail. In the cul-de-sac is a doggie bag station and a port-a-potty.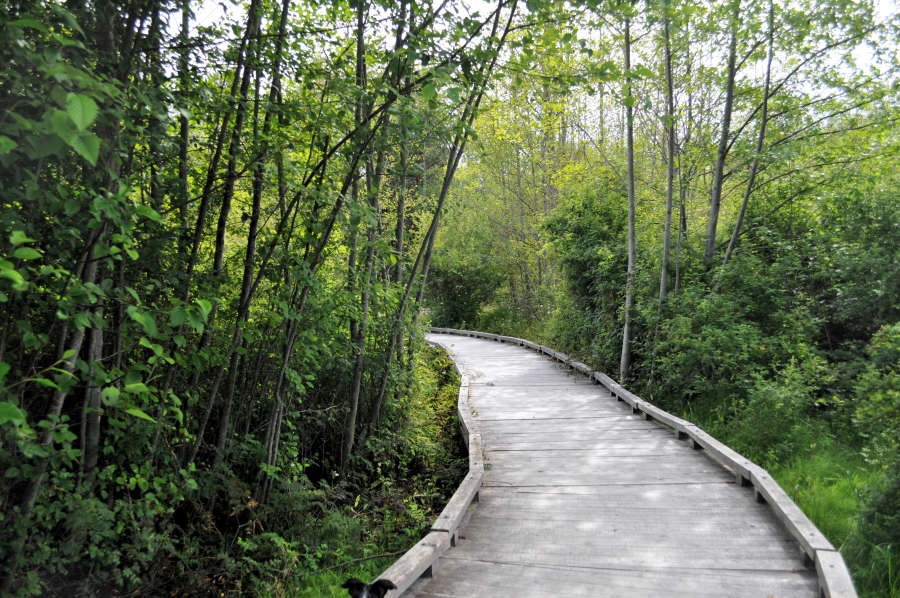 Experience Deception Pass Bridge
Deception Pass Bridge is the most popular attraction in the area and the most photographed bridge in Washington State.
The bridge is part of Deception Pass State Park, and there is a fee parking lot on the Whidbey Island side.
The bridge is 1,486 feet long; one section spans from Fidalgo Island to Pass Island and the other section from Pass Island to Whidbey Island.
Most visitors choose to drive or walk across the bridge, but you can also hike next to or nearby ride under the bridge in a jet boat with Deception Pass Tours.
The jet boat tour includes a little bit of history, wildlife and a thrilling ride under the bridge!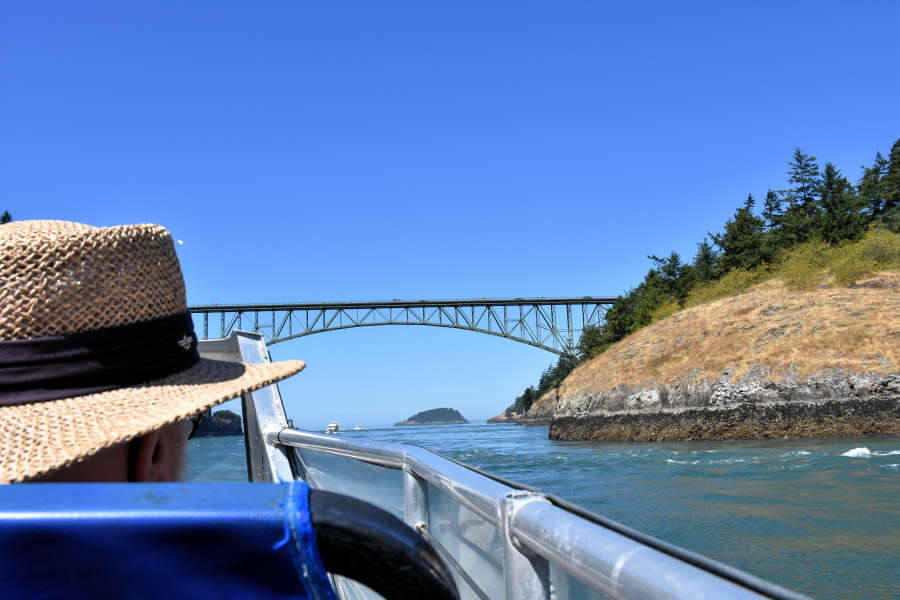 Check out the Anacortes Farmers Market
If you're spending the weekend in Anacortes, you'll definitely want to pop by the Farmers Market on Saturday to grab some produce and maybe even some lunch.
It's a great way to get a sense of the community, see all the foods that are produced in the Skagit Valley, and see arts and crafts made by local artisans.
There are food vendors (some have samples!), fresh-baked goods, arts and crafts, and live music. It's a great place to start a weekend trip to Anacortes!
The Anacortes Farmers Market runs every Saturday from 9 AM to 2 PM from May through October, with seasonal openings during the rest of the year. A fun event to attend is the Pie Festival in September! You can see the schedule on their website.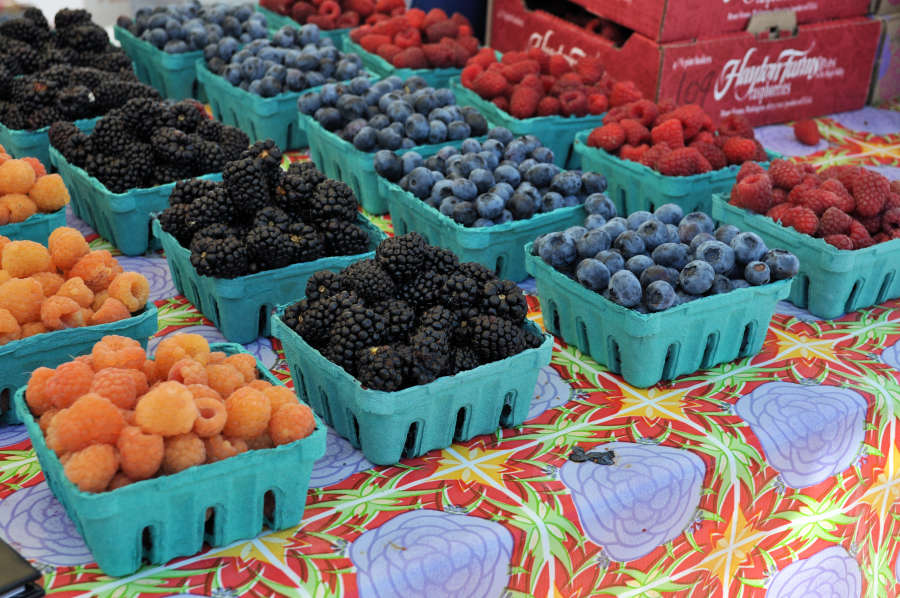 Hike or bike the trails
My favorite thing to do in Anacortes is hiking in the Anacortes Community Forest Lands (ACFL) and Deception Pass State Park — both of which are dog-friendly, in case your four-legged friend joins you on your Anacortes weekend trip.
There are 50 miles of multi-use trails. Some are for hikers and bicycles only, and others allow for motorcycles and horses. The trails wander through wooded forests, near the shores of lakes, and along rocky seaside outcroppings with amazing views.
Some of the most popular trails are Mt. Erie, Sugarloaf Mountain, and the paved loop at Washington Park. We've also gathered a list of the best Anacortes hikes here!
Before you head out on an ACFL trail, be sure to download a map. Numbers mark the trails and even though I hike them all the time, I still find the maps helpful when navigating the trail system.
My favorite hikes are at Bowman Bay, Washington Park, and Sharpe Park.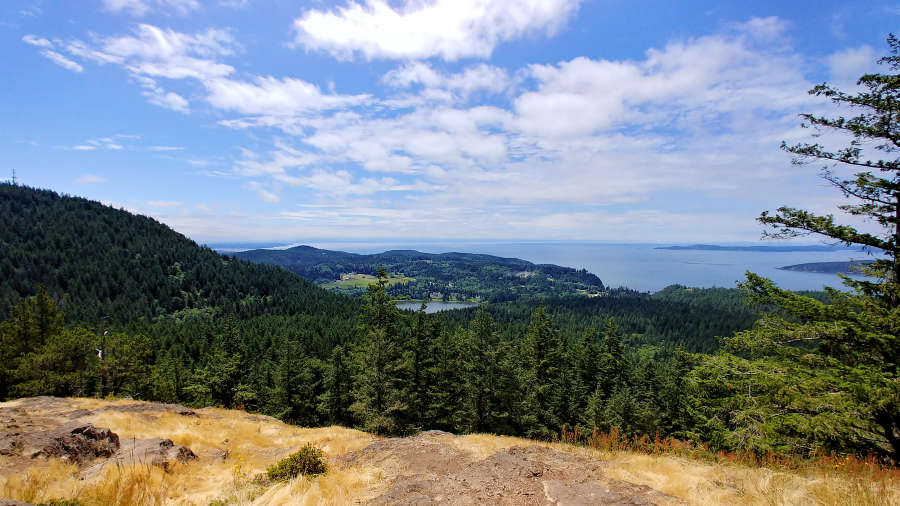 Find a favorite mural
One of the first things you'll notice about Anacortes is its figurine murals placed on buildings throughout town.
Created by local artist Bill Mitchell, most are of historical figures from the town's past, but some are more recent like former Mayor Dean Maxwell.
Pick up an Anacortes Mural Tour map at the Visitor Center. There are over 150 murals, and many are Instagram worthy. Some of my favorites are the Sasquatch murals created by local artist Christine Olsen.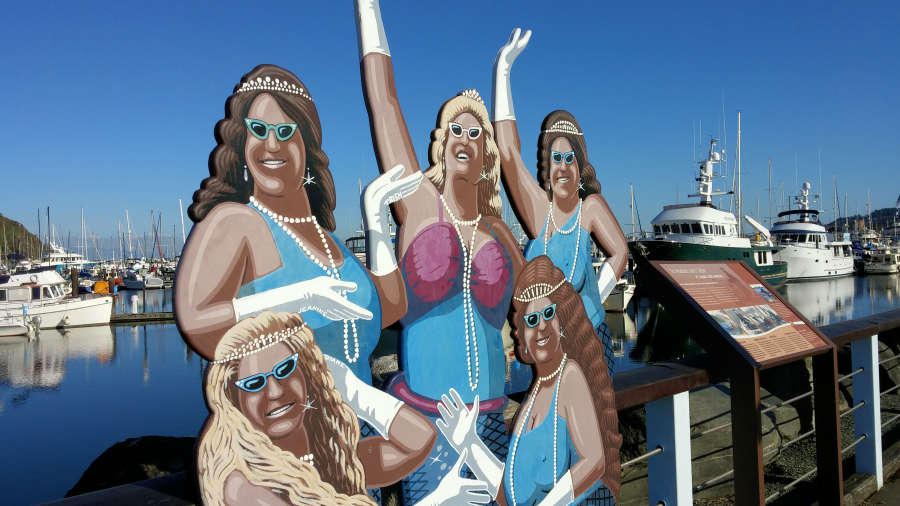 Take a whale watching cruise
One of the most popular activities in Anacortes is going on a whale watching cruise. I have been three times, and they did not disappoint.
There are two companies, Mystic Sea Charters and Island Adventures. Both are long-time businesses in Anacortes, and each has different boat styles.
Travel Tip: If you are prone to seasickness (I get it horribly) book with Island Adventures and choose the Island Explorer 5 Catamaran, which has more stability on the water.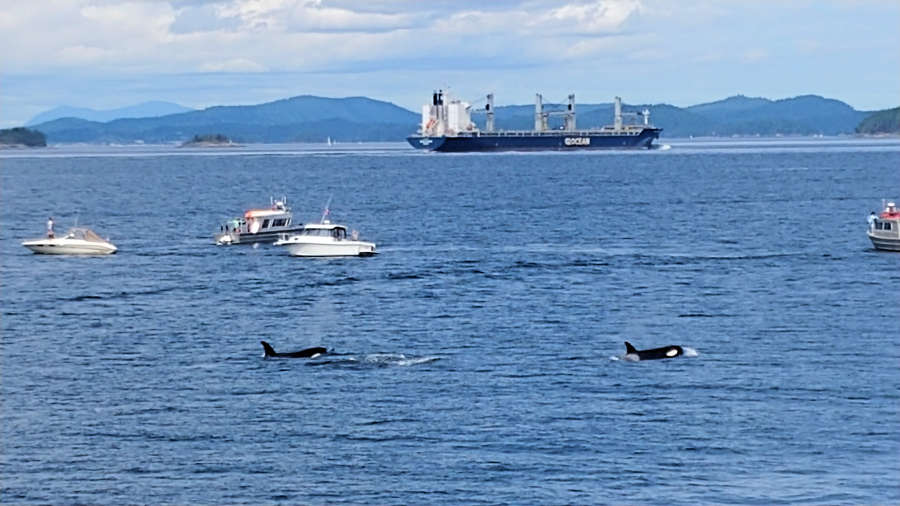 Enjoy the beach
Anacortes is on an island, and islands mean beaches — and Anacortes has a handful of great beaches!
Many of the beaches are pebbly, but there is a nice sandy beach at Ship Harbor Interpretive Trail near the ferry terminal.
There's also another sandy beach along the trail to Lighthouse Point, which has lovely views of Bowman Bay.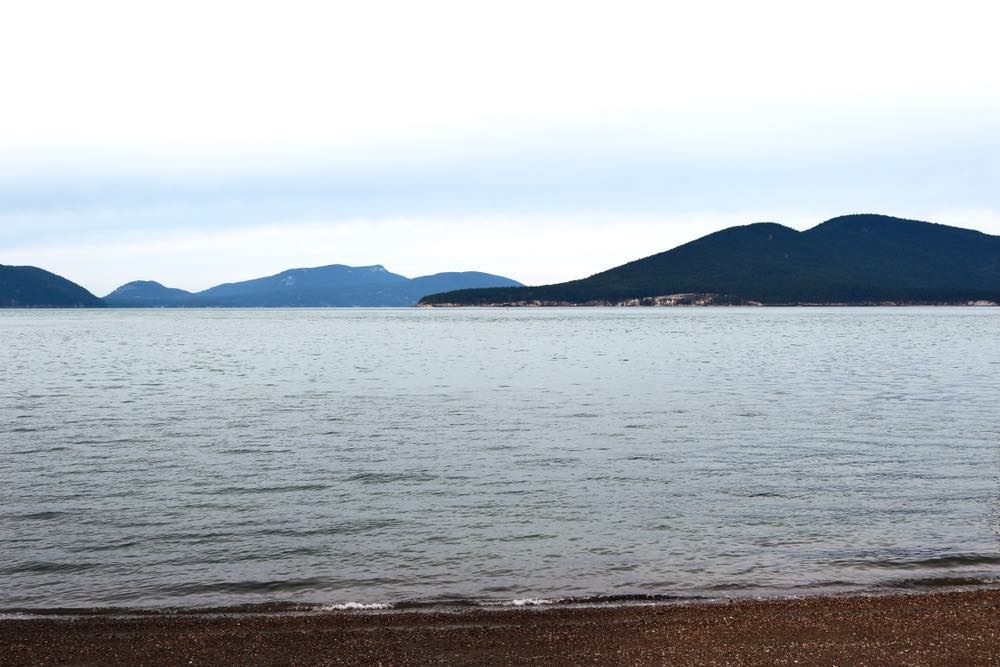 Hit the waters on a kayak
Kayaking is an exciting way to experience local life and see Fidalgo Island from a unique vantage point.
Most Anacortes kayak tour companies depart from Skyline Marina, but during the summer months, a rental stand is set up at Bowman Bay as well.
If you have never gone kayaking before, I recommend kayaking in Bowman Bay. It is one of the calmest bays on the island and makes for an easy first-time experience.
I also recommend going with a kayak tour if you want some guidance. I did a tour with Anacortes Kayak Tours where we kayaked past Burrows Island Lighthouse. I'd seen the lighthouse from boats quite a few times, but with a kayak, you can get much closer!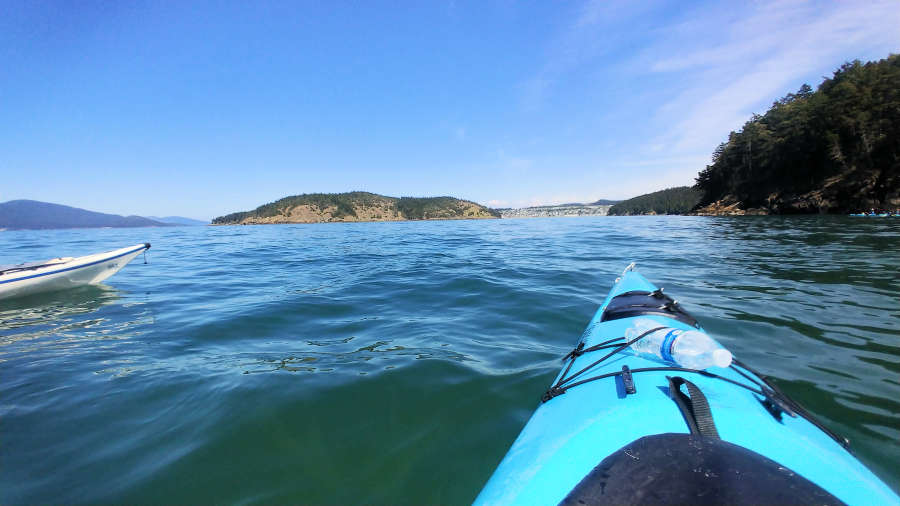 Catch your dinner!
Having a freezer stocked with salmon, halibut and lingcod is always good thing!
Fishing charters are a very hands-on way to catch your dinner and since this part of Washington has mild weather, many of the fishing charters run into the winter months.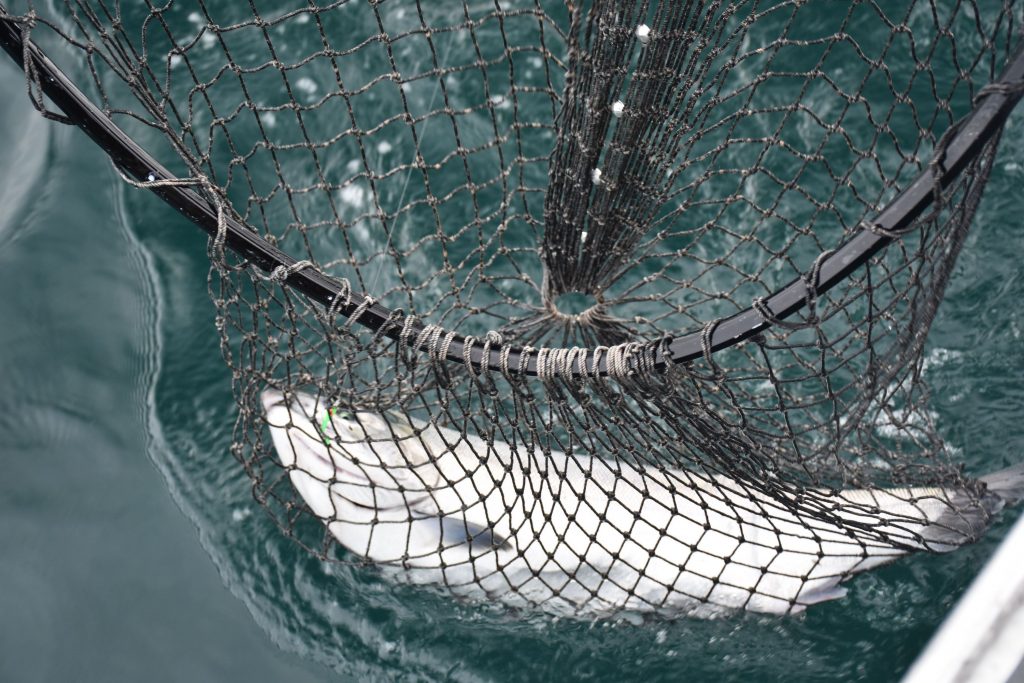 Discover the town's fishing heritage
Especially after trying your hand at fishing, learning more about the town's fishing history is a great thing to do in Anacortes.
The best way to discover the town's history is at the Anacortes Museum and the Maritime Heritage Center — as a bonus, both are free!
In its heyday, lumber mills lined the shores of Fidalgo Bay and a dozen canneries along Guemes Channel turned Anacortes into the "Salmon Canning Capital of the World."
While Anacortes maintains a working waterfront with one of the largest marinas in Western Washington and a fishing fleet, the days of milling and canning are long gone.
If you want to know more about Skagit snag boats, you can also tour the W.T. Preston Steamboat for a small fee.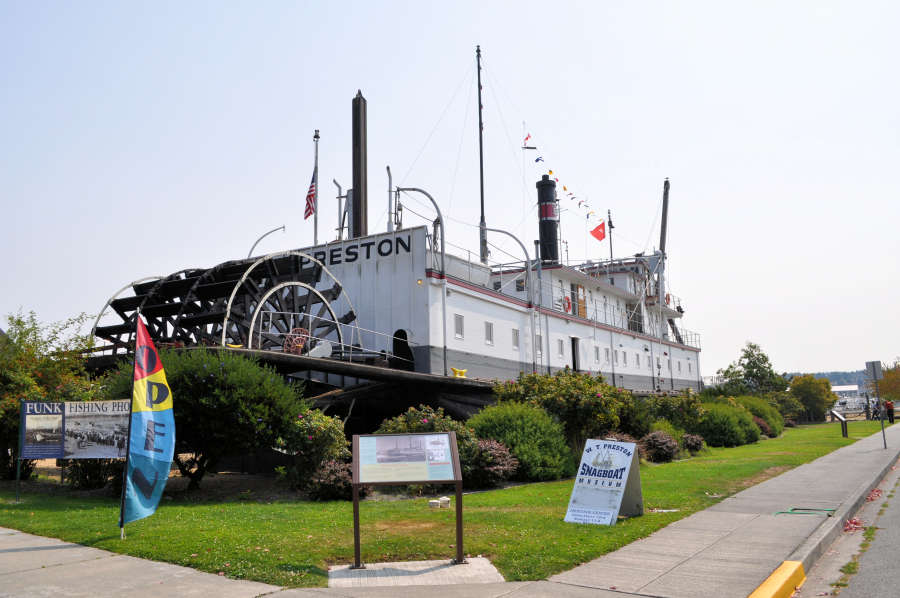 Sample wild smoked salmon
SeaBear Wild Salmon is a long-standing Anacortes business dedicated to producing amazing smoked salmon and other seafood-related products like chowders, fillets, and ready-to-eat dinners.
SeaBear's founder Tom Savidge invented a special pouch that preserves the smoked salmon naturally for up to four years! This makes it easy to travel with, store, and ship — a must-buy Washington souvenir!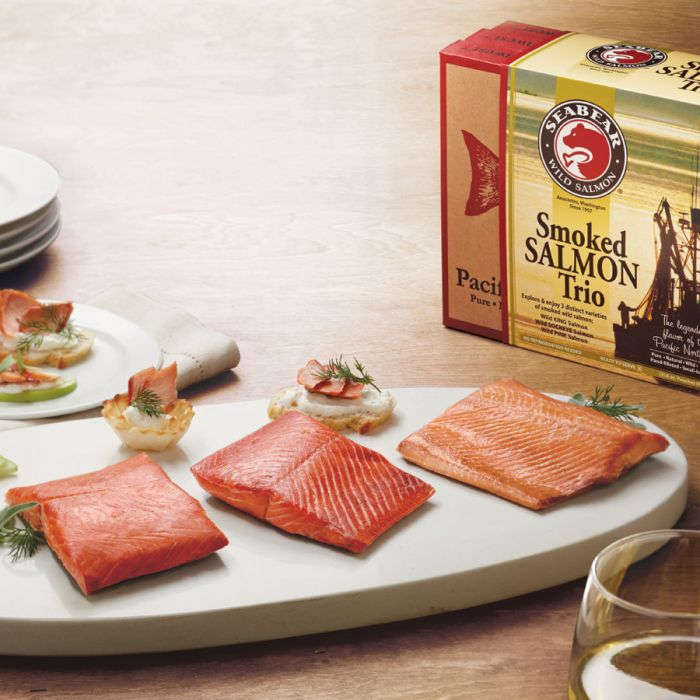 Hike for an epic sunset
Cap Sante Viewpoint, Washington Park, and Mt. Erie are the most popular places to watch the sunset in Anacortes and are the most accessible.
My favorite place to watch the sunset is at Sares Head, which requires a 20-minute hike. Watching the sunset here is one of my favorite things to do in Anacortes.
Watching the sunset at Sares Head Viewpoint is probably Anacortes's best-kept secret. It offers 180-degree views which include Whidbey Island, the Olympic Peninsula, Olympic Mountains, the San Juan Islands, and Victoria, Canada in far the distance.
To get there, park at the Sharpe Park Montgomery-Duban Headlands trailhead. From there, it's a 25-minute hike through 37-acres of marshlands, woods, and coastline. The trail is well-maintained, with an elevation gain of 150-feet, and a handful of marked trail offshoots. Be sure to stay on the Sares Head trail.
As you get close, the waters of Rosario Strait will peak through the trees, and the trail will head up onto Sares Head's large bald rock face. Near the top is a bench, but there are plenty of spots to sit or have a picnic while you wait for the sun to set.
From here you'll see Whidbey Island, the Olympic Mountains, the San Juan Islands, and even Vancouver Island in the distance.
You can also see the sunset from Washington Park.
Washington Park is Anacortes's most well-beloved park, and the location of Fidalgo Island's most western spot–Juniper Point–which view has views of Burrows Channel, Burrows Island, Rosario Strait and the San Juan Islands.
You can hike to Juniper Point in about 25-minutes from the main parking lot, or if the parking spot near trail 515 is open its a very short hike. Like Sares Head, the rock face at Juniper Point is bald and there is a bench.
If you'd prefer not to hike at all, park at Sunset Beach, which is in the photo below, and watch the sunset while chilling on the beach.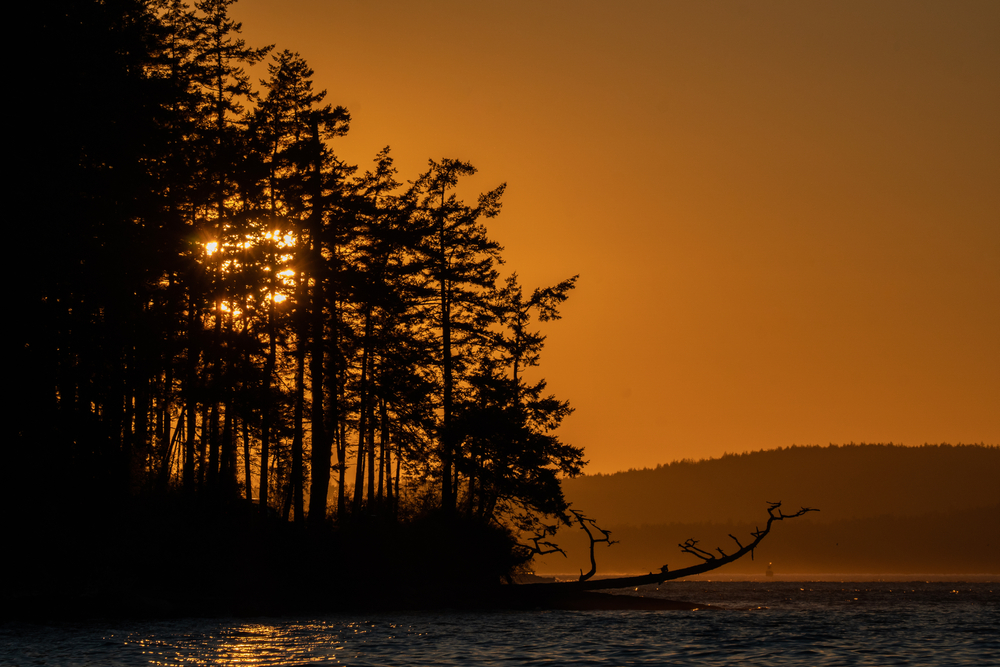 Drive to the top of Mount Erie for the best sunset views
At 1,273 feet, Mt. Erie is Fidalgo Island's highest spot and has views of Whidbey Island, Olympic Mountain, Skagit Valley, Mt. Baker, and even Mt. Rainier on a clear day.
The easiest way to get to the top is to drive. It's got some hairpin turns, so be prepared and take your time.
One of the best spots to see the sunset is not at the top, but very close to it. As you approach the top, park in the pullout that fits three cars. Walk up the concrete stairs to the viewing area which has excellent San Juan Island views.
Across the street, a trail leads to another viewing area and up to the top.
To watch the sunset from the top of Mt. Erie, head to the southern viewing area and watch as the colors shift over the humpbacked Olympic Mountains.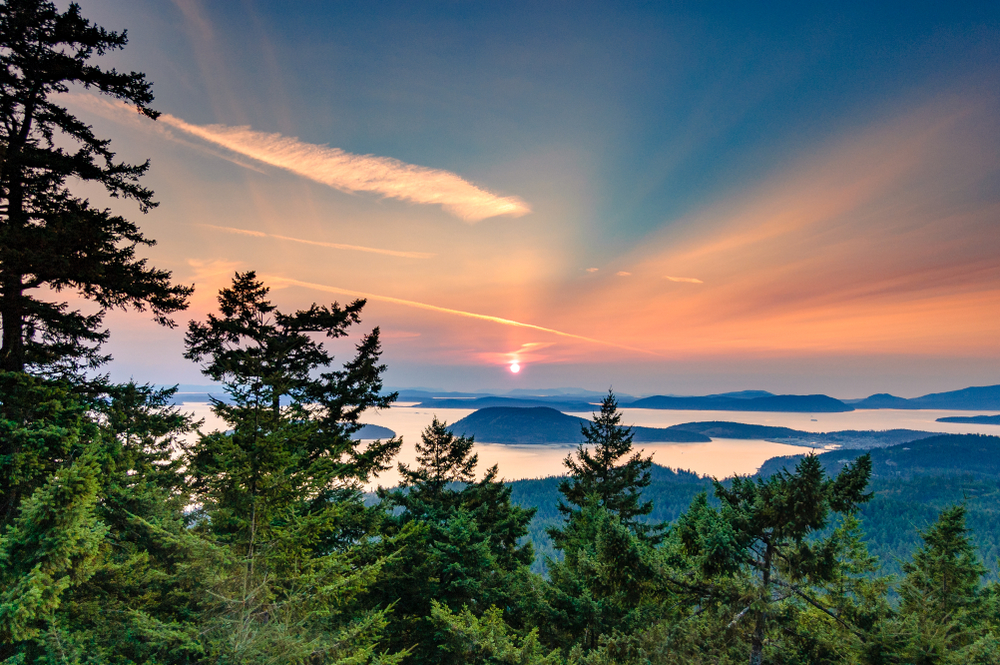 Have a tasty dinner
I could go on and on about the dining scene in Anacortes, but you can find my favorite Anacortes restaurants here.
As a quick list, my favorite restaurants are A'Town Bistro, 13moons, Adrift, Dad's Diner, Bob's Chowder & BBQ Salmon, and Vagabond.
If you love muffins or cookies, The Store Grocery has the best in town!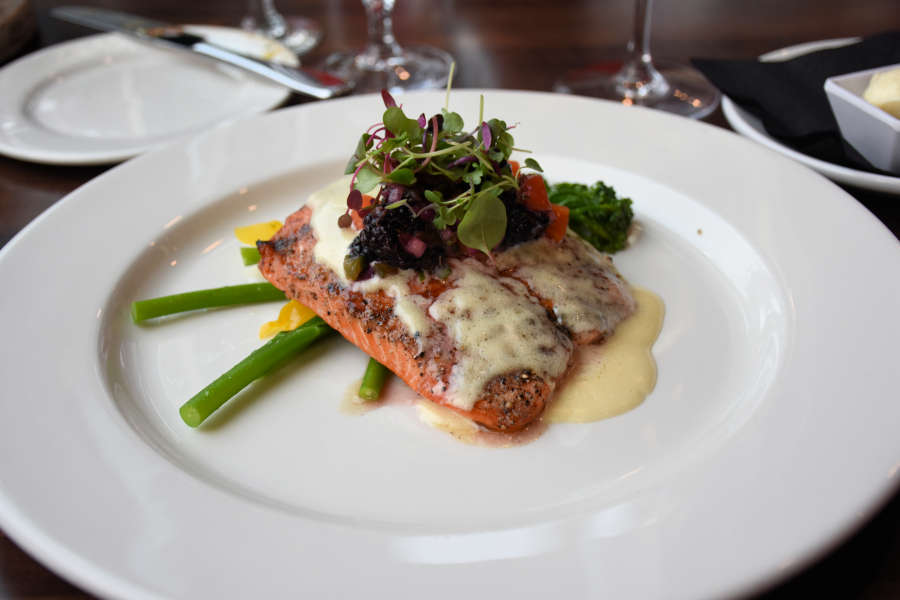 Yearly Events in Anacortes
Anacortes has year-round events that include festivals and live entertainment.
Throughout the year, you'll find live music at Rockfish Grill and The Brown Lantern and in the summer at The Heart of Anacortes.
Here are some yearly events you can plan an Anacortes weekend trip around:
Spring Wine Festival (April)
Skagit Valley Tulip Festival (April)
Waterfront Festival (June)
Port of Anacortes Summer Concert Series (July through August)
Shipwreck Days (July)
Bier on the Pier (October)
Brewgrass! (November)
Anacortes Coastal Christmas (December)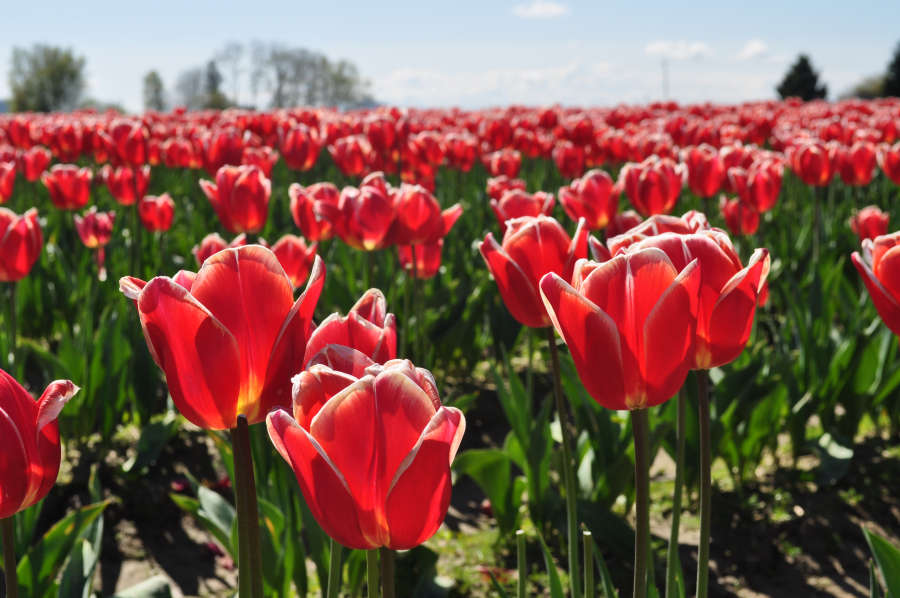 What to Pack for Anacortes
After living in Western Washington for over 10 years I've experienced all sorts of weather from endless days of sunshine and weeks of rain.
Snow is rare in Anacortes, but the white stuff will occasionally fall and stick around for a day or two — so do keep that in mind if you're planning a winter weekend trip to Anacortes.
Be prepared for whatever Mother Nature brings by packing layers.
Breathable fabrics, a lightweight jacket for spring/summer and a heavier coat for fall/winter. If you plan to hike, bring hiking boots/shoes and shoes that can handle the rain.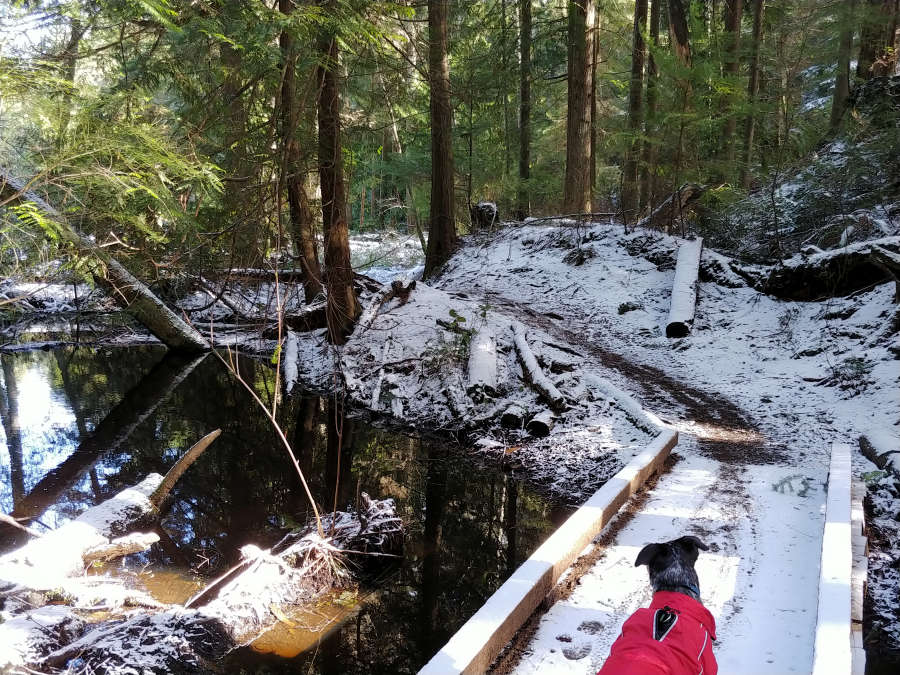 Where to Stay for Your Anacortes Weekend
As a local, I've gotten to know many of the best hotels in Anacortes — here are a few of my top picks
You can also camp at Washington Park!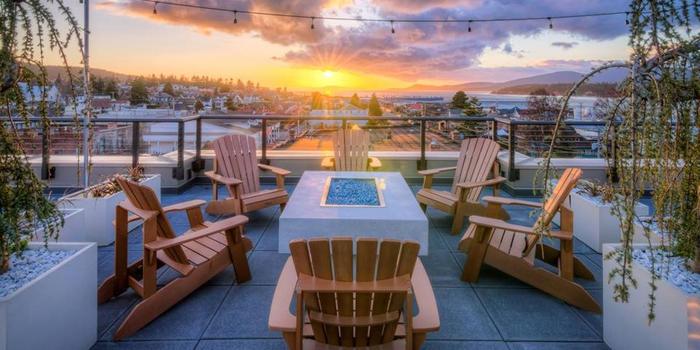 If I had to pick, I'd suggest the Majestic Inn & Spa.
It's no secret that the Majestic Rooftop Lounge has the best view in downtown Anacortes. On top of the second tallest building in downtown, guests get a bird's eye view of historic downtown and fantastic views of the San Juan Islands and Guemes Channel.
The only catch is, the rooftop bar is only open during the summer months. May, June, and September it's open Wednesday through Saturday from 4 PM to sunset. In July and August, it is open every day from 4 PM to sunset.
Book your stay at the Majestic Inn & Spa here.
Pin This Guide to Things to Do in Anacortes!