Looking for a unique way to celebrate Christmas in Washington State this year?
Several places throughout Washington have delightful Christmas celebrations that are great for the entire family.
While of course there are well-known things to do in Seattle in winter to the beloved Bavarian ski town of Leavenworth at Christmas, there are also some delightful under-the-radar places to celebrate Christmas in Washington!
Here are our hidden gem favorites for celebrating Christmas Washington-style!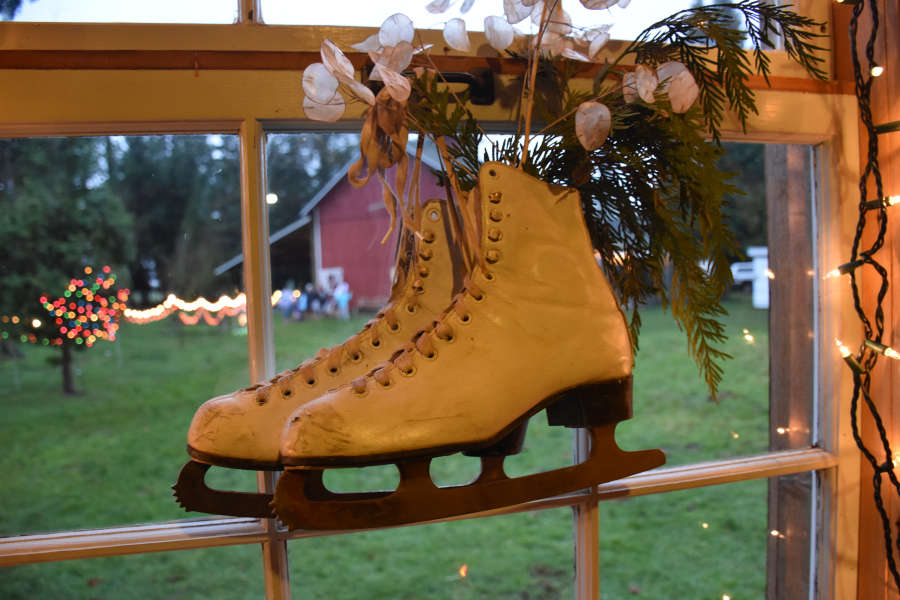 Some links in this post may be affiliate links. If you make a purchase through one of these links, we may earn a small commission at no extra cost to you. Please see our

disclosure policy

for more detail.
Ferndale
Looking for an old-fashioned Christmas getaway in Washington? Head to Ferndale for its festive celebrations at the Pioneer Park!
Olde Fashioned Christmas Pioneer Park features historic cedar log cabins filled with antiques and collectibles from the area and it's sure to get you in the holiday spirit.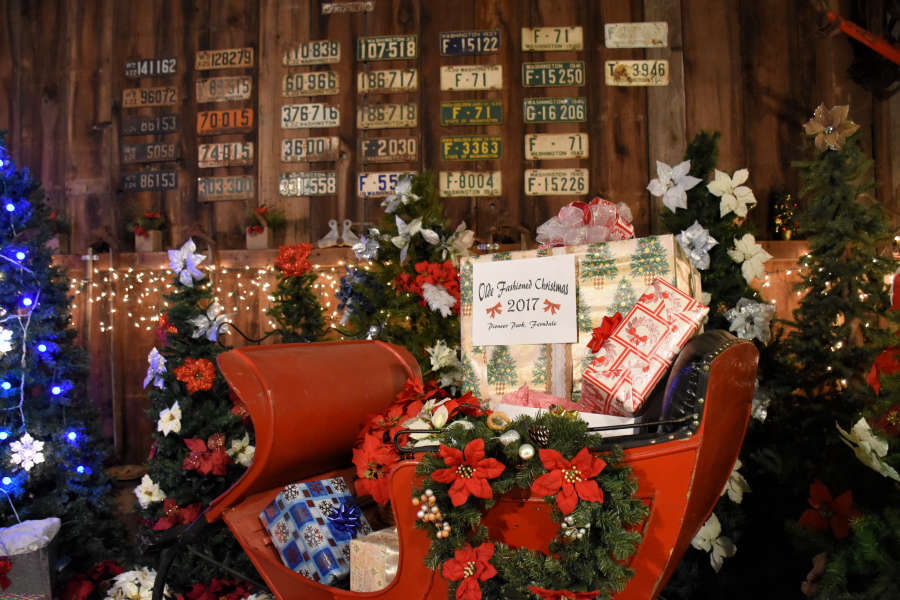 During this time, the park opens to the public from November 30 to December 2, for visitors to explore its decorated cabins, each with a costumed host that has information on the cabin and its displays!
Some things of note are the piggy bank collection, the model train, and petting the horses in the barn. Younger kids will like the hands-on activities stations such as grinding corn, ornament making, and writing a letter to Santa and mailing it. Oh, and, Santa is also there to hear your Christmas wish!
Near the entrance, in the Tillicum House, there are snacks and warm drinks. Some of the cabins have freshly baked cookies and finger foods to sample. Once you've toured the cabins and had a refreshment, jump aboard the horse-drawn carriage and ride through downtown Ferndale.
Price: $4 for adults and $3 for children

Hours: November 30, from 5 .m to 9 pm, December 1 from 1 pm to 9 pm, and December 2 from 1 pm to 5 pm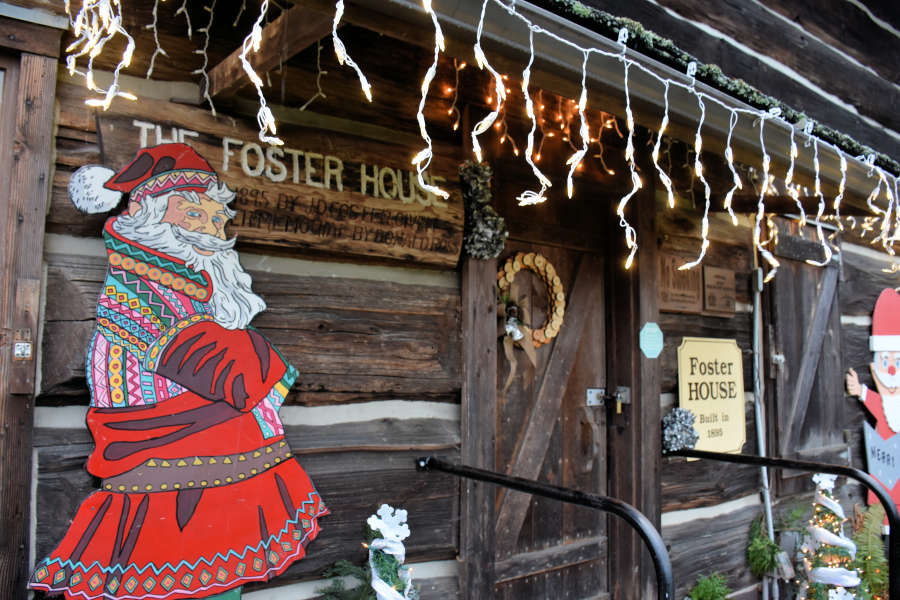 Where to Stay in Ferndale
There are only a handful of hotel choices in Ferndale. I've stayed at the Silver Reef Hotel Casino Spa and recommend it highly!
There is also Ocra Inn Suites, Super 8 by Wyndham Bellingham Airport/Ferndale and Motel 6 Ferndale.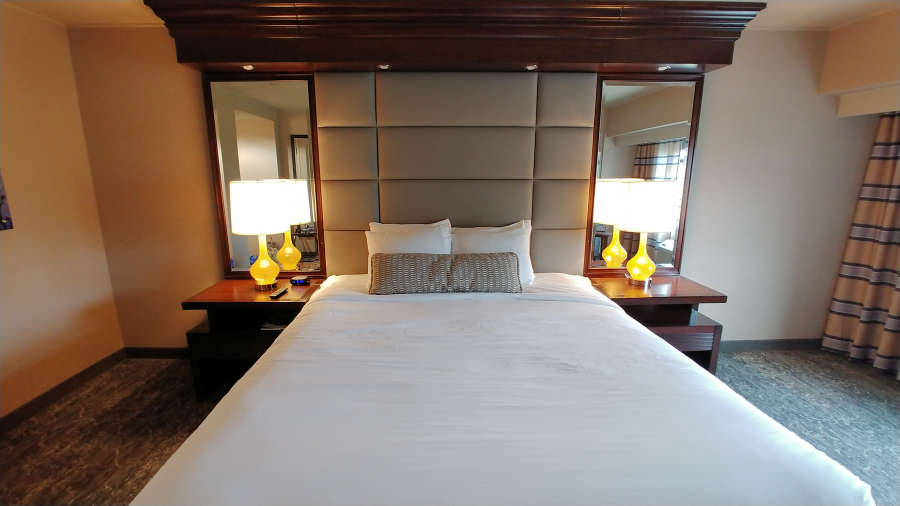 If you are traveling as a couple, I highly recommend The Steak House at the Silver Reef Hotel Casino Spa for dinner. 
They also have lots of tableside services to choose from including a tableside Cesar salad and Steak Diane.
Lynden
For a colorful way to celebrate Christmastime in Washington State, the Lighted Christmas Parade in Lynden is where it's at!
Lynden is known for its surrounding farming community and its Lighted Christmas Parade is all about brightly lit big farming equipment and vehicles!
The rodeo queen and Santa make an appearance. The parade is around 30-45 minutes so be sure to dress for the weather. Many shops along Main Street are open, so if you need to warm up you can pop inside for a bit.
Some of the local businesses such as Lynden Dutch Bakery sell cookies, donuts and warm drinks on the sidewalk.
Since parking downtown can get full before the parade, I suggest arriving early, and dining at Drizzle Olive Oil and Vinegar Tasting Room, Avenue Bread, or Perfectly Paired at The Mill Inn.
For beer, head to Overflow Taps in the back of the Waples Mercantile Building.
Where to Stay in Lynden
Even better is staying at one of the two inns in downtown Lynden. 
This makes it super easy to see the parade. I have stayed at The Inn at Lynden and recommend it.
Kingston
One of my favorite things about the Christmas season in Washington is holiday lights. In Washington State, there is no shortage of ways to experience the twinkle and glow of the holiday season!
In the small town of Kingston, Washington is Kingston Cove Christmas. Put on by the Port of Kingston and the Kingston Chamber of Commerce, the event kicks off the first Saturday of December with a gift fair, family entertainment, hot cocoa and cookies, and Santa who does a countdown to light the town's Christmas tree and the holiday light displays.
However, the holiday lights are on through the first week of the New Year, which gives you plenty of time to experience this Christmas display that boasts half a million lights!
Kingston Cove Christmas holiday light displays are in Mike Wallace Park, which is right next to the ferry terminal and the Port of Kingston. A sidewalk leads visitors around the perimeter of the park and it is along this walkway you experience much of the displays which include snowmen, lighted trees, presents, flowers, snails, octopus, flowers, and dragons.
More than 30,000 visitors come to see holiday lights in Kingston each year; a number that keeps growing. The paved sidewalk around the park makes for an easy (even for smaller children) stroll to see all the holiday light displays. Near the center of the park's grassy area is a stage and lighted Christmas trees.
I suggest taking your time and wandering around for at least 45 minutes. Don't forget to look over at the marina, as some boats are decked out with festive lights.
The small town of Kingston, Washington is super cute and there are shops and restaurants in its main downtown core. Once you arrive, you don't need a car as the town is very walkable and Mike Wallace Park is right next to the ferry terminal. If time allows, arrive early to check out downtown and get something to eat.
A short walk from downtown is Mossback Cafe. Located inside a former farmhouse, the creative menu highlights locally sourced ingredients from the Kitsap Peninsula. And, since everything is based on available ingredients, the menu changes regularly.
Where to Stay in Kingston
The holiday lights can easily be experienced in one night. If you do want to stay overnight, nearby hotels include:
Anacortes
It's no surprise that small town of Anacortes, WA is a joyful place to spend the holidays. After all, Burl Ives, known for his beloved seasonal classics, retired in this seaside hamlet!
Each year, the City of Anacortes, local businesses, and organizations decorate Washington Park campsites with festive lights, decorations, and holiday cheer for the annual Winter Wonderland Walk!
There are many reasons the Winter Wonderland Walk is my favorite Christmas in Washington holiday event.
First, it is unique and very Pacific Northwest. Where else can you walk down a lit path through the woods to campsites decorated with holiday cheer?
Second, are the local businesses, organizations, and groups who put their heart into making these two nights special. Each year it grows, and more holiday fun is added.
What can you expect at the Winter Wonderland Walk? Roasted chestnuts, s'mores, hot cocoa, campfires to warm fingers and toes, reindeer poop donuts, peanuts, Christmas carols, lights and more lights, karaoke singing, live music, and, the Grinch in Whoville and Santa!
Address: Washington Park, Anacortes, WA 98221
Another thing not to miss in Anacortes at Christmas is the Biz Point Road Holiday Light Display.
Each year the Noltensmeyers decorate their yard with around 500,000 lights, and they happily share this delightful glittering display with others. There are dozens of scenes that light up the yard, like the nativity, dinosaurs, and the candy cane village.
Address: 3820 Biz Point Road, Anacortes, WA 98221
Finally, there's also the Anacortes Cool Christmas Lights celebration! These lights dazzle drivers with a jubilant synchronized holiday light show with hundreds of cosmic, strobe and LED lights that dance to twenty-two songs on station 101.7 F.M.
The display is a wonder to behold with its cosmic light ribbon tree, eight-point star, and a seventy-foot-tall mega tree with over 1,000 feet of lights!
Address: 8232 State Route 20, east of the Shell Station and Blue Cow Carwash.
La Conner
Don't miss the community tree lighting ceremony which happens annually in the cute small town of La Conner!
The tree lighting in the small town of La Conner takes place in Gilkey Square, which overlooks the Swinomish Channel. Santa arrives at 6 PM in an old-fashioned fire truck, but there are plenty of festivities before his arrival so arrive early.
One of my favorite things about this event is the incredible sugar cookies made by La Conner High School culinary students as well as its smaller size.
Before the main event, which, of course, is the arrival of Santa by old-fashioned fire truck, are live music and refreshments!
If you are traveling with younger kids, this event is an excellent choice since before lighting the tree, Santa has children gather around the tree, and he sprinkles fairy dust into their palms. Then they collectively countdown to one and sprinkle the tree with the dust, which magically lights it!
Mount Vernon
The parade in the small town of Mount Vernon starts at 5 pm. Compared to the other two events, this is the most crowded, and I'd advise to arrive early and stake out a spot.
This parade is well-worth seeing as it is full of lighted floats, marching bands, cheerleaders, horses and motorbikes, and of course Santa. It is a sure kid-pleaser!
The tree lighting ceremony and visits with Santa happen in Pine Square after the parade.
Honestly, unless you like fighting the crowd, I would not bother with this part of the event as everyone ascends on Pine Square and it gets congested. The main focus of this event would be to experience the parade!