After living in Washington State for over a decade, September and October have become my favorite months of the year!
Why? For their spectacular weather, smaller crowds, festivals, fall colors, and scenic fall drives: these are the things that make fall in Washington State an absolute dreamscape.
Here are my top 7 reasons to visit Washington State in fall.
Why Visit Washington State in the Fall?
You'll find fewer crowds in Washington in fall.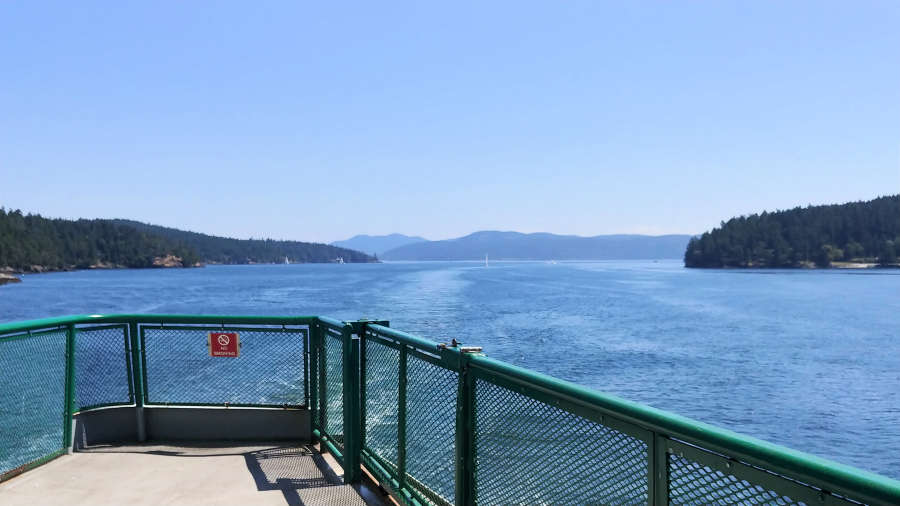 Some links in this post may be affiliate links. If you make a purchase through one of these links, we may earn a small commission at no extra cost to you. Please see our

disclosure policy

for more detail.
"I want to wait in a ferry line!"…. said no one ever.
I've done my share of summertime traveling in Washington State, and that usually includes waiting in the dreaded ferry line.
Waiting is especially painful on busy holiday weekends where you can wait through two ferry runs (no, this isn't a joke).
Thankfully, some ferries you can make reservations on like the Port Townsend – Coupeville and the Anacortes – San Juan Islands.
However, if you visit Washington State in the fall, the lines are not as long, and even on weekends, you most likely will not have to wait or worry about making an advance reservation.
Be aware, though, there are a few reasons you might have to wait even if you are visiting Washington in the fall. Those include game days and holidays like Thanksgiving, a ferry breakdown, or you arrive too late to get in the ferry line (it is always better to be early. Bring a cup of coffee to warm your hands and watch the beautiful views — you may even spot a whale!)
Travel Tip: If you are traveling during the summer months, I strongly recommend not procrastinating about making a reservation.
School in session = fewer crowds.
One of the reasons it is so nice to travel around Washington in September and October is that school starts in September, and for other areas of the country kids have already been in school since August.
What does this mean for travelers? Fewer people on vacation equal less crowds almost everywhere you go!
Sure, on weekends in Washington in the fall, you will probably still have to wait in the line at some of the Seattle attractions like the Space Needle or Seattle Great Wheel, but it won't be nearly as long a wait as if you were waiting in the peak of summer.
And, if you plan to travel to other areas like Mt. Rainier, the San Juan Islands, or Woodinville for wine tastings, you won't be one in a throng of people trying to have the same experience.
Of course, though, if you have kids and you are traveling with them, this can easily become a negative, not a positive!
Fall in Washington means beautiful weather!
Wait… Washington and beautiful weather can go together?
Yes, in summer and early fall, the weather in Washington is at it's best-behaved, making trips around Washington in the autumn extremely pleasant and beautiful.
Here's a quick breakdown of the different regions of Washington in fall in terms of what you might expect in terfms of weather.
Western Washington
Our recent Western Washington summers have been usually sunny and warm, but people often refer to June as June-uary, and I've experienced many a cold June days!
While July and August usually have good weather, the crowds make it not so fun to travel, and if you plan to camp, you'll need to plan in advance.
But by September and usually the first two weeks of October, there are sunny, cooler days with no crowds, which make it ideal for exploring. Late September is my personal favorite time of year to explore Western Washington.
Eastern Washington
If you are planning a holiday to the Eastern side of Washington in fall, there is plenty of good weather to go around!
However, note that in June, July, and August, it can get pretty hot in some areas… and I'm talking triple digit hot. Not pleasant at all!
In September and October, and depending on where you are, you can expect the daytime temperatures to be in the 70s, which is delightful — the perfect weather for sightseeing places like Washington's state waterfall!
Visiting Washington in the fall is great for your wallet!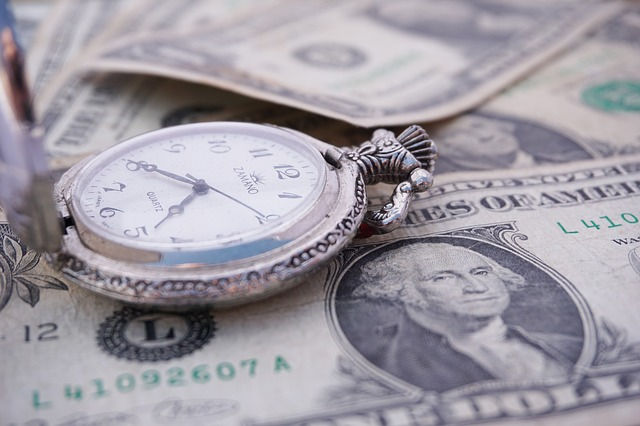 You know what they say: time is money! And in the case of visiting Washington in the shoulder season (that is, fall) — that's absolutely the case!
September ushers in the start of the decrease in off-season lodging rates, which is always a good thing on the pocketbook.
Sometimes you'll find as much as a 40 dollar difference, maybe even more in some locations!
Plus, if you push your dates out for traveling from October through April, the rates are usually even better then… though of course, that comes with some more unpredictable weather patterns.
Since Western Washington has such a mild winter, traveling during the offseason makes a lot of sense. If you do decide to travel during the winter months, I suggest bringing an insulated weatherproof jacket and rain shoes.
It may not get that cold in fall in Washington State… but it is sure to be wet!
Fun fall festivals in Washington abound!
There are several great fall festivals in Washington State absolutely worth marking on your calendar and even planning a getaway around.
Here are our favorites festivals for wine, beer, and cider, respectively!
Wine and Wine Festivals
Washington is the second-largest producer of wines in the U.S. after California, and throughout the year there are wine tasting opportunities and events.
Spring is a big time for wine festivals, but so is fall in Washington — for this is when harvest and crush begins!
All over the state, there will be events in October like the Lake Chelan Crush, harvest parties in Woodinville, and Catch the Crush in Yakima.
In November there is  Fall Release Weekend in Walla Walla and in the Tri-Cities there is the beloved Tri-Cities Wine Festival.
Interested in seeing more wine events? Here is a list of wine events in Washington State!
Beer and Beer Festivals
Washington is known for its hops production, and the Yakima Valley grows around 78% of hops in the U.S. — a pretty wild number!
Knowing that, it shouldn't be surprising that fall in Washington is the time we raise a pint or two and indulge in German food at Oktoberfests around the state!
There are plenty all over the state, and some notable ones are Leavenworth's Oktoberfest (I mean, it is a Bavarian-inspired town, so why not?), Bier on the Pier in Anacortes, Brew on the Slough in La Conner, Puyallup's Octoberfest Northwest, and Yakima's Fresh Hop Ale Festival.
Interested in seeing more beer events? Here is a list of beer events in Washington State.
Cider and Cider Festivals
If you are partial to ciders, you won't be disappointed with Washington's cider scene which explodes in fall!
There are plenty of ways to sample ciders like the 10-day celebration during Washington Cider Week, Whidbey Island Cider Festival in Coupeville, the Cider Swig in Gig Harbor, and Cider Summit Seattle.
Mushroom hunting is the perfect Washington fall activity!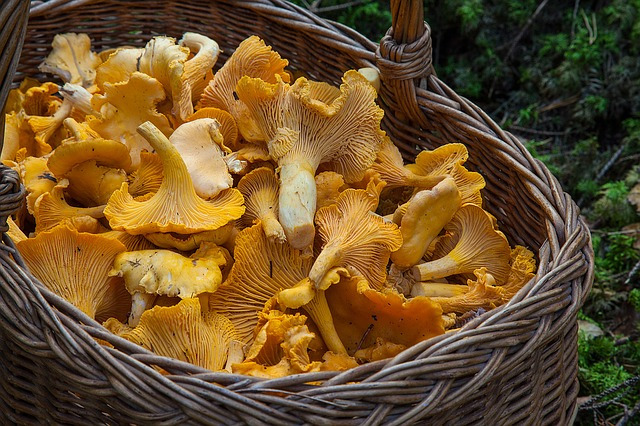 In much of the U.S., fall is synonymous with pumpkin patches and apple-picking. But we do things a little differently in the PNW, and fall in Washington State is all about mushrooms!
Since living in Washington State, I have become a huge mushroom lover. There are many ways to experience all things mushroom, including taking advantage of opportunities to forage, looking for special mushroom-focused cooking classes, finding special mushroom menus at local restaurants, and learning to identify wild mushrooms.
The best way to get knee-deep in mushroom foraging is during the Wild Mushroom Celebration in Long Beach, WA.
Many lodgings will have room specials, and restaurants such as [pickled fish] at Adrift Hotel and Spa will have specialty mushroom dishes!
For more educational-oriented mushroom festivals, there is the Mushroom Festival in Olympic National Park's and the Wild Mushroom Show in Bellingham.
Autumn in Washington State means beautiful fall foliage.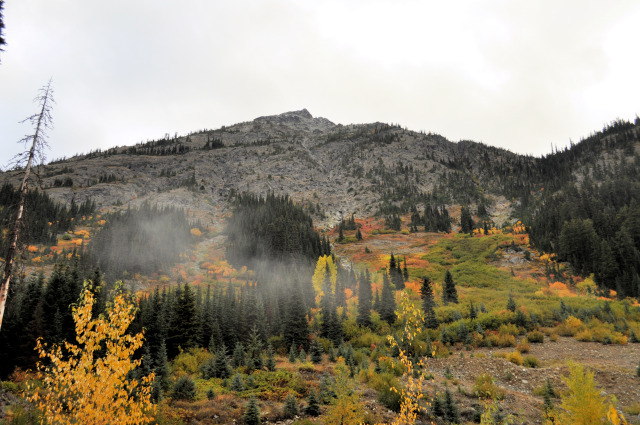 And, lastly, fall colors in Washington are a big draw to the shoulder season.
Washington state has some highways and roads that meander through the mountains where you'll see golds, oranges and reds tucked in between evergreen and jagged rocky mountains.
As the air gets crisper in the mountains in fall in Washington State, you'll find the trees and wild brush start to change color in a dramatic fashion.
There are many ways to celebrate the beautiful fall colors of Washington State, whether that's finding a fall-focused wildflower hike (where the wildflowers tend to turn a brilliant, blazing red) or looking for larch hikes and other epic Washington fall hikes.
Not much of a hiker and prefer to see your fall foliage on the go from the comfort of your own car? We've gathered some of the best fall drives in Washington. Some of the best highways for fall foliage in Washington include SR 20, US 2, US 97, and US 12.
Pin This Guide to Fall in Washington!