The beautiful and wild Pacific Coast of Oregon is unique and special. Since 1967, the entire Oregon coast has been designated as free and public, comprising 363 miles of pristine coastline.
Within those 363 miles of coast, there is an incredible variety of activities for visitors to enjoy. Whether you're looking for water sports, fishing, trails, shopping, or just beautiful views, the Oregon coast has it all.
Read on below for everything to know about the Oregon coast and the top ten places to visit on your Oregon Coast road trip.
Preparing For Your Road Trip
The entire coast of Oregon can be traversed using U.S. Route 101, also known as the Pacific Coast Scenic Byway. The length of this highway features beautiful views of the ocean, forests, and mountains of the Oregon coast.
Be aware that there are occasional landslides that may cause detours along the route. In addition, you may encounter slow-downs and traffic, as U.S. 101 is often the main street of coastal towns.
Take your time and follow your instincts – if you see a beautiful view, an interesting sight, or an adorable town, stop and look, you won't regret it.
Best Time Of Year To Visit
The Oregon coast is beautiful any time of year, but don't expect the warm sunny beaches of Florida or Southern California. Temperatures year-round range in the 50s to 60s, with occasional summer days in the 70s.
This is a wild coast, and winter storms are frequent. As you travel south, the climate will warm. Summer is a wonderful time to visit any part of the coast to escape the higher temperatures inland. Wear layers to adapt to the changing temperatures of the coast, and trade your bikini for a wetsuit if you'd like to take a dip in the cold Pacific waters.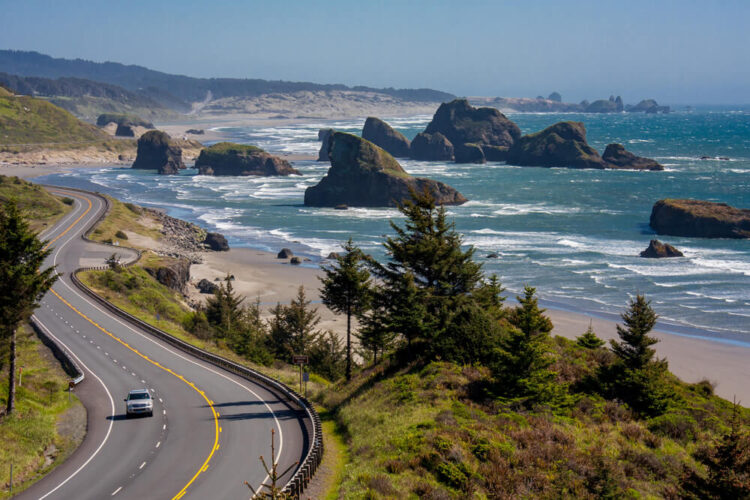 Some links in this post may be affiliate links. If you make a purchase through one of these links, we may earn a small commission at no extra cost to you. Please see our

disclosure policy

for more detail.
Things To Know
Aside from the weather, here are a few things you need to know to plan your Oregon coast road trip.
Many areas along the route are rural and cell phone service can be spotty. You're never too far from civilization and the route is well-traveled, however. While on the beach, follow the rule of thumb: never turn your back on the ocean. The Pacific Ocean is wild in these areas, and sneaker waves are a risk which can cause sudden death or injury.
Also, remember that the coast is public for all to enjoy, so don't litter or cause damage to the beautiful natural surroundings. Enjoy the natural setting and make sure it lasts for future generations.
Read on below for a road trip itinerary, taking you down all 363 miles of the majestic Oregon Coast.
Oregon Road Trip Itinerary
Astoria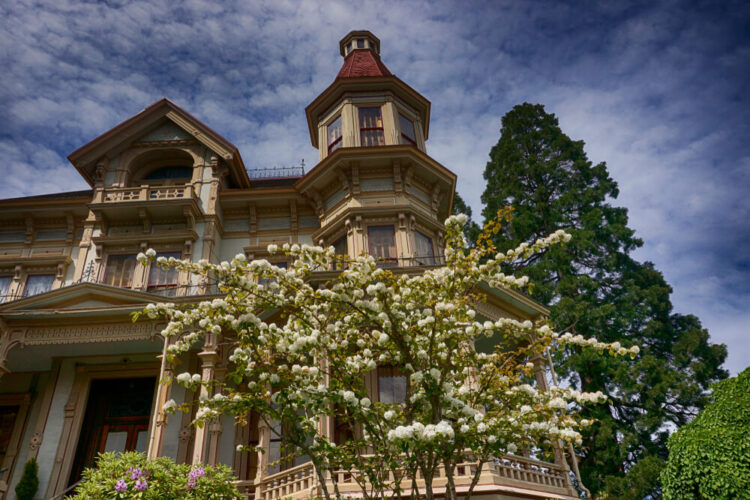 Your Oregon road trip starts in the north of Oregon at the mouth of the Columbia River, just inland from the open ocean.
Astoria is a quaint small town with beautiful Victorian homes on steep hillsides overlooking the river. You can easily spend a day enjoying the sights and sounds of this town.
Walk down the beautiful river walk and you'll find history plaques, shopping, restaurants and more. Stop for a meal and a locally brewed beer at one of the many riverfront restaurants and watch the cruise ships, barges, coast guard ships, and more.
Further inland, you can visit the Astoria Column, high atop the city, and get unforgettable 360-degree views of the entire area. Astoria holds a wealth of activities for you to discover, and it's a great way to start off your Oregon coast road trip.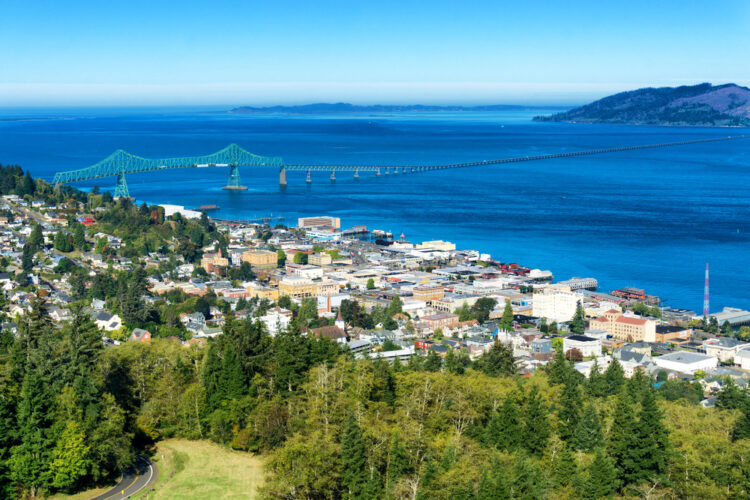 Seaside
Under 30 minutes away from Astoria along Route 101, you'll find the charming town of Seaside. This town's most prominent feature is the Promenade, a 1.5 mile oceanfront path for pedestrians and bikers. This popular area is well developed with shops, restaurants, and bars.
Water sports lovers will enjoy activities in the area along the Necanicum river or at the Neawanna dock. You can explore the wildlife at the Seaside Aquarium or by spontaneous encounters with seals, elk, and birds across the area.
Hikers will love the Tillamook Head National Recreation trail where they can experience peaceful walks in dense coastal rainforest.
Last but not least, view one of the best lighthouses in Oregon, the Tillamook Rock Lighthouse, otherwise known as "Terrible Tilly".
You'll find that Seaside holds a wealth of wonders to explore.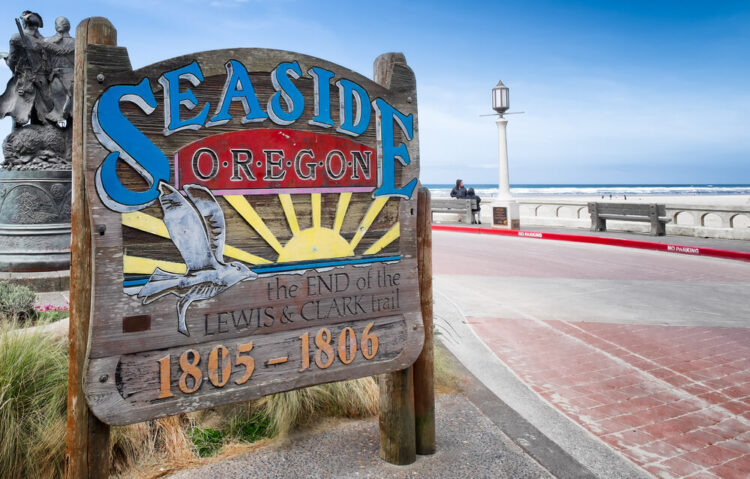 Cannon Beach
Just 15 minutes south of Seaside, you'll find one of the Oregon Coast's most popular beach destinations. With its iconic haystack rock along the beautiful coastline, this is one beach you won't soon forget.
You'll find multiple lodging options here that make the most of the beautiful views, and you'll have plenty to entertain and satiate you. Wandering the streets of charming Cannon Beach, you'll find a wide variety of restaurants, brew pubs, and seafood spots.
While Cannon Beach is a major tourist destination, you won't find traditional tourist traps with lower quality fare, but you'll enjoy delicious meals, quality lodging, and a charming small town feel.
Cannon Beach is also a great destination for art lovers, who will discover many great art galleries, glassworks, history, live theater, and more. In short, Cannon Beach is a vibrant town with beautiful sights and plenty to enjoy.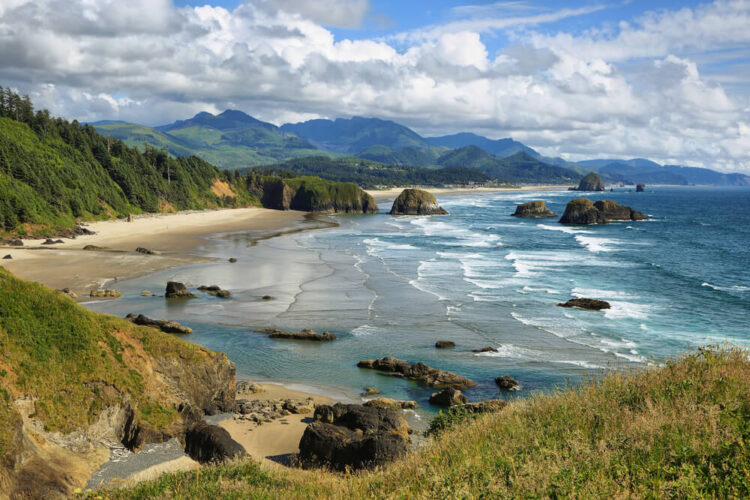 Cape Kiwanda At Pacific City
After taking in the views at Cannon Beach, your next stop is an hour and a half away. Take your time to enjoy the drive or stop at several coastal towns along the way such as Manzanita, Rockaway Beach, or just inland to Tillamook.
Arriving in Pacific City, you'll find a cute small town with shops and restaurants to enjoy. Directly on the beach, you'll find Pelican Brewery, one of the top restaurants/breweries of the whole Oregon coast, featuring delicious food and unique locally brewed beers.
Also at Cape Kiwanda, you'll find a companion to Cannon Beach's haystack rock, as another large rock formation lies just offshore and provides majestic views in the area.
Wandering down the beach at Cape Kiwanda, you'll find a massive dune to climb if you're feeling fit and ready for a challenge. Along the shore, you'll love seeing the multiple tide pools lying along the far side of the beach, full of fascinating and colorful sea creatures and plants.
At Cape Kiwanda in Pacific City, you'll see sights you won't soon forget.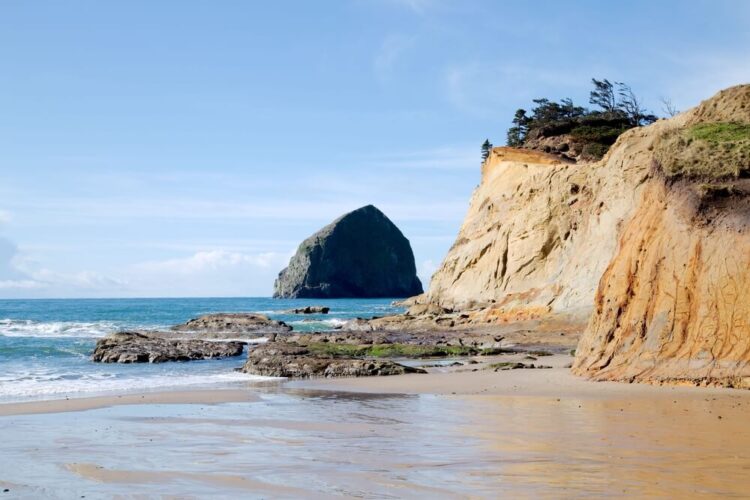 Lincoln City
Just 30 minutes south of Pacific City, you'll arrive at the bustling small town of Lincoln City.
Lincoln City is a popular coastal destination as it features many beachfront hotels and condos. Here you'll find a wide variety of activities and plenty of coastal fun.
Each year, over 3,000 glass floats are hidden among the coast in Lincoln City for visitors to find. These glass floats highlight the local artists in Lincoln City and around the Oregon Coast. In addition, Lincoln City holds an annual kite festival where visitors can enjoy the colorful kites floating in the brisk coastal winds.
For a little bit of luxury, Lincoln City also features resorts such as Salishan Resort or the Chinook Winds Casino and Resort.
As this is a somewhat larger city than many coastal towns, you'll also find plenty of amenities such as grocery stores, restaurants, shops, and more. All the while, Lincoln City maintains its small-town coastal charm and dazzles with its colorful and exciting events.
Yachats
You'll arrive at Yachats (pronounce YAH-hots) just over an hour after leaving Lincoln City. This beautiful area is nestled between lush green mountain foothills.
Take time while you're here to visit the Heceta Head Lighthouse, perched atop a cliff overlooking the wild ocean below. Also, stop at the highest viewpoint on Route 101 in Oregon at Cape Perpetua, at 800 feet above sea level. While in the area, hike in Siuslaw National Forest and enjoy the lush coastal rainforest.
Yachats also has plenty to enjoy in town, with restaurants, pubs, and live music. Shoppers will also enjoy the boutiques and art galleries in town.
Unique events in Yachats include the Village Mushroom Fest and the Celtic Music Festival. You'll love soaking up the lush green scenery during your time in Yachats.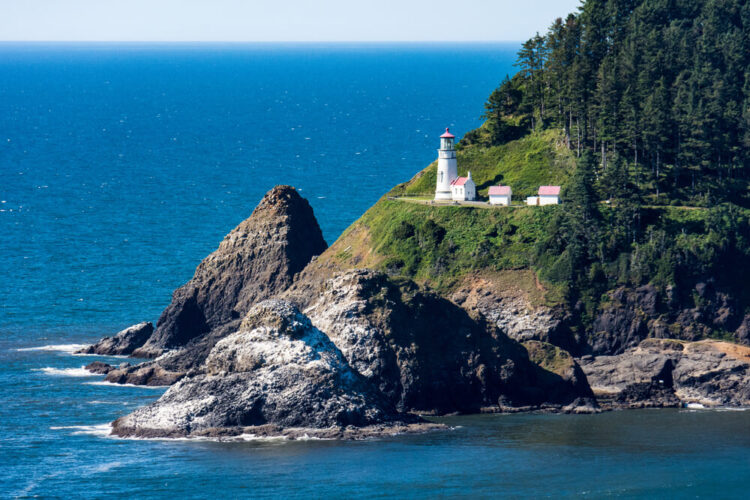 Coos Bay
An hour and forty minutes south of Yachats, you'll arrive at a peaceful protected bay along the coast, a unique sight after all the wild open coastland you've experienced so far.
Coos Bay is the largest city on the Oregon Coast, but with a population of under 17,000, you won't find a bustling metropolis.
Coos Bay does have a wide variety of amenities for its citizens and for visitors. The inland location of this town makes the weather a bit more calm, and you'll have plenty of opportunities to enjoy the beautiful climate.
Another unique feature of Coos Bays is its dunes – adventure lovers can visit 40 miles of dunes rising up to 500 feet. Tourists love to rent dune buggies, go sandboarding, or just hike the dunes.
Coos Bay is also a great place to stop and learn some history – with several museums and interpretive sights, this is a great place to discover the history behind your trip.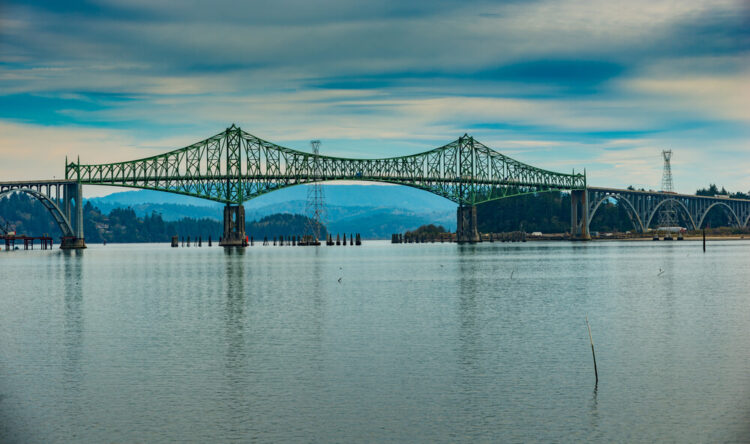 Bandon
Bandon is only 30 minutes down the road from Coos Bay. This far to the south, the coastal climate is a bit warmer and is known as the "banana belt."
You can enjoy activities here year-round such as camping, hiking, or just lounging on the beach, and shed a few of the layers you needed further north.
Bandon is a unique place to enjoy new experiences. You can continue your lighthouse visits at Coquille River Lighthouse, and take in the views on the rocky southern coast. Golfers can enjoy a course known as one of the best in Oregon at Bandon Dunes Golf Resort.
For some unique and fascinating lessons in art and environmentalism, stop by the Washed Ashore Gallery to view artwork made of coastal trash. For bird and wildlife watchers, a stop by Bandon Marsh Wildlife Refuge will reward you as you kayak or hike around saltwater marshes and mudflats.
With the variety of unique experiences in Bandon, you'll want to take your time here.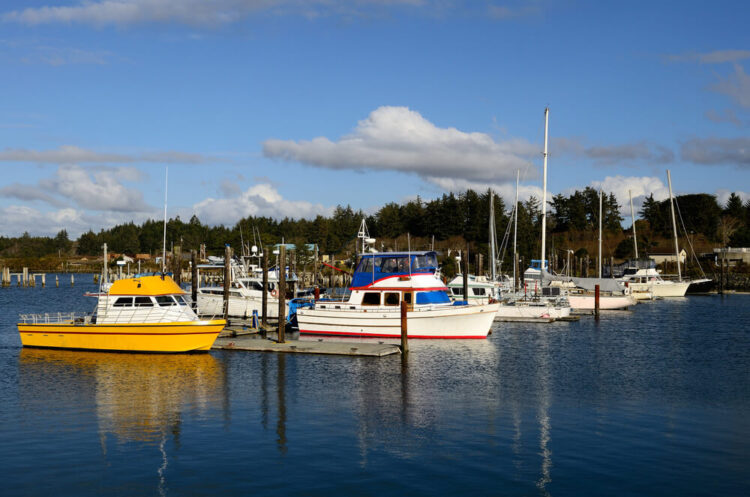 Gold Beach
Traveling down the southern Oregon Coast, an hour south of Bandon, you'll arrive at Gold Beach.
Driving down the 101, you arrive in town by crossing the beautiful Isaac Lee Patterson Bridge, a historic Art Deco Bridge opened in the 1930s. This bridge crosses the mouth of the Rogue River, and thus Gold Beach offers the features of both a river town and an ocean town.
Fishers will love the opportunity to catch a huge variety of fish here. While you're at Gold Beach, enjoy the possibilities for treasure hunting, geocaching, or beachcombing along the warm beaches.
Camping is a year round option here, and you can enjoy the mild weather right in the great outdoors on the beach or in the nearby forests. While in town, make sure to pick up a gift made of myrtlewood, a local specialty found in many town boutiques and galleries.
You'll find plenty to explore in Gold Beach while enjoying the warm weather.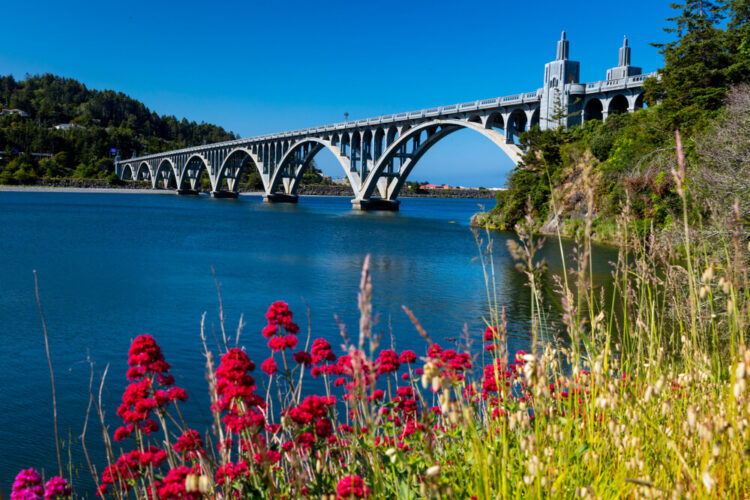 Brookings
Thirty minutes down the road, and you're nearing the end of your trip while entering Brookings. Here you're only six miles from the California border, but there's still plenty to enjoy in Oregon.
In the Brookings area, you'll find the only redwoods north of California. Take a hike in the Redwoods Nature trail to see these unforgettable towering and ancient trees. Brookings also features local flowers such as azaleas and rhododendrons due to its warm climate.
To further enjoy the beautiful natural sights of this area, visit Samuel H. Boardman State Scenic Corridor, where you'll see amazing sea stacks, Arch Rock and Natural Bridges, and other coastal wonders. With some of the warmest temperatures along the coast, outdoor recreation is king in Brookings.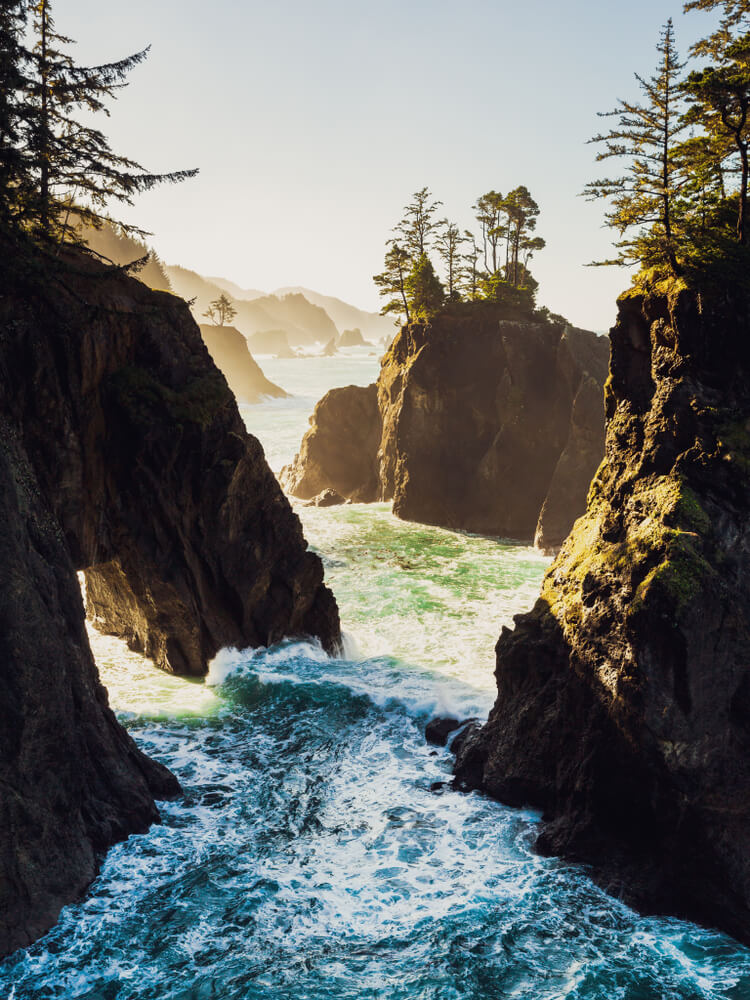 You'll find plenty of options to enjoy the beautiful beaches of Brookings as you close your Oregon Coast road trip.
As you can see, there are such a range of sights and activities along the Oregon Coast that you'll want to take your time on this road trip.
Bring your camera and a sense of adventure to ensure you make the most of your trip. When you're done, you can continue your 101 road trip down to California, or turn around and hit another ten (or more) amazing spots on the way back — including stops in some of these beautiful Oregon coast towns.
In short, your Oregon Coast road trip isn't a vacation you'll soon forget!
Writer: Cathy Love
Pin This Guide to an Oregon Coast Road Trip