If wine is your jam, Oregon's 18 American Viticultural Areas (AVA) are a great place to explore.
Known for its red wines, Oregon is regarded as one of the premier Pinot-producing regions in the world.
Seventy percent of Oregon's 725 wineries produce less than 5,000 cases of wine each year. Small production often means you must visit the tasting rooms to enjoy the wine.
So grab a glass of your favorite wine and take a trip through Oregon's five distinct wine regions with us. Cheers!
Oregon Wine Regions
Willamette Valley
Just outside of the largest metro area in Oregon, Willamette Valley wineries are a popular destination for wine enthusiasts. This region is perfect for an easy day trip with friends or a quick destination for a long weekend trip from Portland.
Upon arrival, you will find the largest concentration of wineries in Oregon! Known as "Oregon's Wine Country", the Willamette Valley AVA and home to more than 19,000 acres of vineyards and more than 500 wineries.
From small tasting rooms to pet and family-friendly locations to the perfect spot for a picnic you are sure to find great options in the Willamette Valley.
Atop the rolling hills, you can sit back and relax with a glass of Oregon Pinot Noir and enjoy the beautiful views!
Notable wineries in the area include: Domaine Drouhin, Sokol Blosser Winery, and Willamette Valley Vineyards.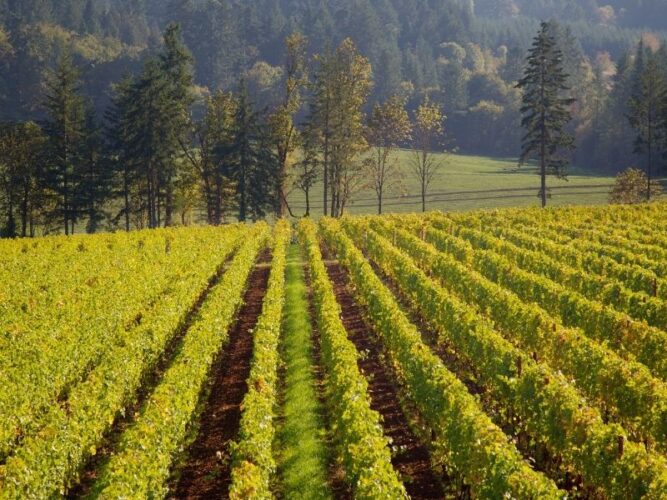 Some links in this post may be affiliate links. If you make a purchase through one of these links, we may earn a small commission at no extra cost to you. Please see our

disclosure policy

for more detail.
Southern Oregon
Deep in the southern part of Oregon, wine regions have quietly flourished.
The area is known for its headline-making Shakespeare Festival in the city of Ashland and for the stunning views of Crater Lake (the deepest lake in the US!). But you will also find incredible wine!
You will definitely want to build in an extra day or two to enjoy the local wine.
Notable winery: HillCrest Vineyard, Oregon's oldest winery.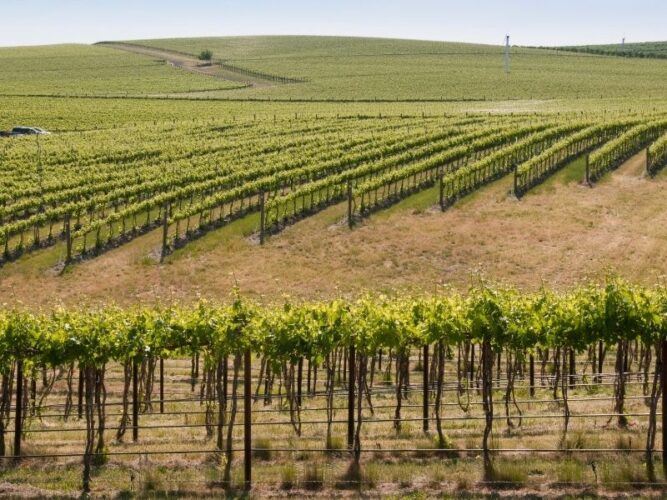 Columbia Gorge
Home to the Historic Columbia River Highway and Oregon's Fruit Loop, the Columbia Gorge is a great place for wine lovers!
The region has nearly 40 vineyards and produces a wide variety of grapes including Syrah, Zinfandel, Riesling, and Sangiovese.
With its close proximity to Portland, it's the perfect place to enjoy a glass of wine after a hike at Multnomah Falls, Oregon's 611-foot-tall waterfall (one of the most recognizable waterfalls in Oregon!).
Be sure to make time to stop at the local fruit and vegetable stands along the way to collect some of Oregon's locally grown produce.
Have a beer lover in your group? You're in luck! The Columbia Gorge region is also home to serval craft breweries.
Notable: The area encompasses Oregon and Washington wineries.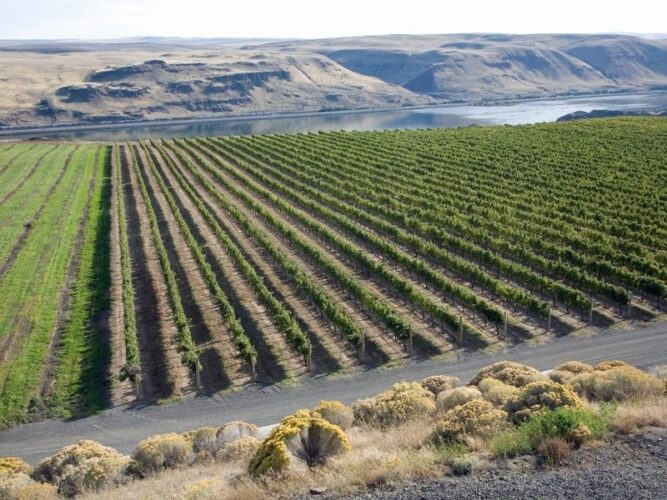 Columbia Valley
When one thinks of Columbia Valley wineries, the area that most likely comes to mind is the Walla Walla Valley. While the vast majority of the wineries are located in Washington, it also encompasses Oregon vineyards and wineries.
With a delightful downtown area, Walla Walla is a great place to visit. You'll find a bounty of small shops, restaurants, and tasting rooms to enjoy.
Cabernet Sauvignon is the most widely planted grape in the region. The region is also well known for it's other big, bold reds: Merlot, Syrah, Sangiovese, and Cabernet Franc.
Notable wineries: Leonetti Cellars, Woodward Canyon Winery, and L'Ecole No. 41, the original three wineries in the area.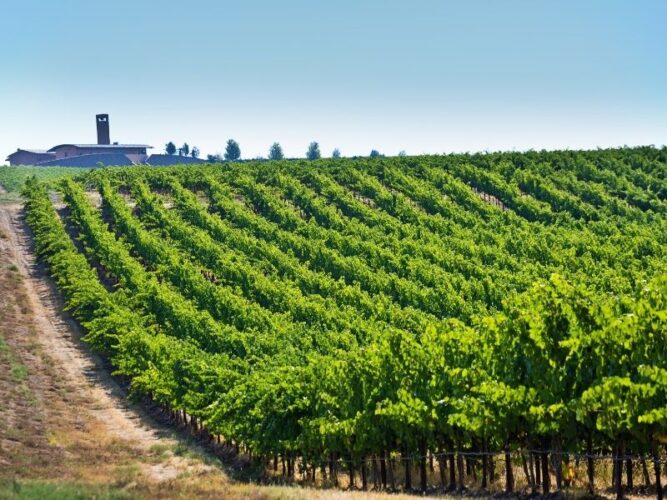 Snake River Valley
Snake River Valley runs along Oregon's eastern border and includes more than 8,000 square miles. Eastern Oregon counties of Malheur and Baker join with 12 Idaho counties to complete this region.
The recent growth of wineries in the region is a sure sign that Idaho's wine industry is maturing and expanding. It is a great chance to try new wineries and help support the growth of something unique!
With four distinct season climates, this region allows for grapes to thrive! The region is home to 15 wineries and 46 vineyards.
Notable: In the heart of the Snake River Valley, you will find the Sunnyslope Wine Trail. With 17 wineries and panoramic views, this is a must-see!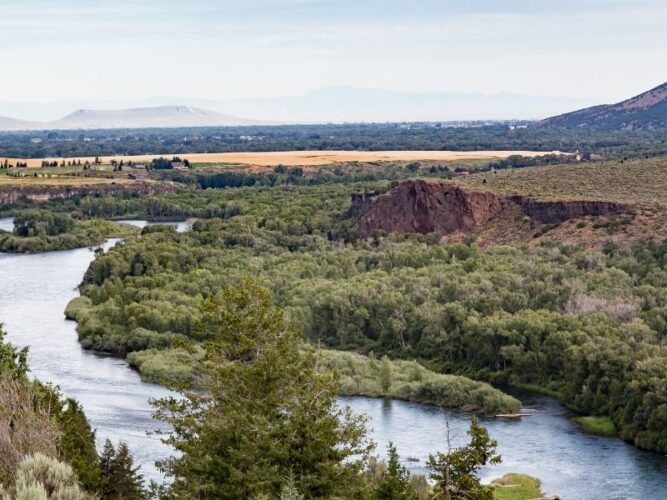 Getting Around Oregon Wine Country
Wine country is best (and most safely!) explored with a designated driver.
One popular option is to hire a professional driver. Many drivers are well versed in wineries and can offer great tips and insider information. Bonus you get to kick back and enjoy the beautiful scenery while someone else navigates the roads!
With a rental car service, you can keep it low-key or go all out for a celebratory event. It's not uncommon to see limos or small buses filled with groups celebrating milestone events.
In some areas, you can also use rideshare companies like Lyft or Uber. Note of caution, rideshare services are not available in all areas and can have limited hours of operation. Make a backup plan so you don't get stranded!
Some wine regions have set up their downtown areas with multiple tasting rooms. This is perfect for visitors staying overnight and who to walk from tasting room to tasting room. Bonus – it's the perfect way to earn your fitness tracker's active minutes.
And many groups designate a driver to chauffeur their party about. Make sure to say thanks to your designated driver!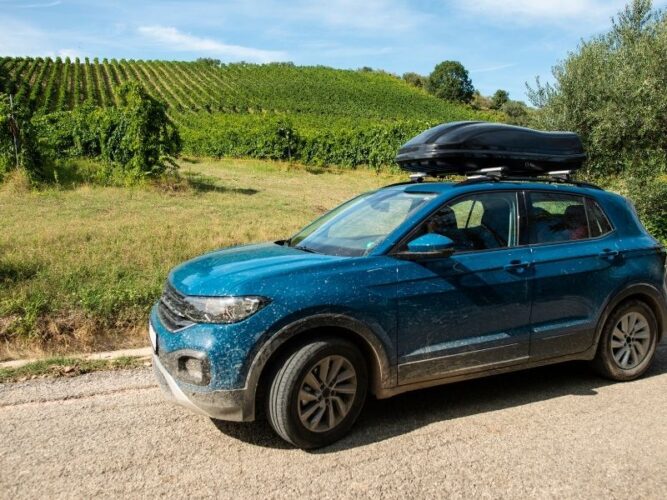 Where to Stay in Oregon Wine Country
The natural beauty of wine country makes it the ideal location for staying overnight at a bed b Breakfast. The charm of a B&B is the perfect pairing for a day of wine tasting.
In most of the wine regions of Oregon, you will find a hotel for any budget. Stay with a brand you know and trust or branch out and try an independent property. You are sure to find accommodations to meet you needs!
You'll even find vintage trailer rentals, in select areas, complete with onsite fire pits, BBQs at each site, and a pool and hot tub. These refurbished accommodations are a perfect way to travel back in time!  
Private vacation rentals are also plentiful throughout the wine regions. Private rentals can be a great way to support the local economy!
Notable hotels include: The Allison Inn & Spa (Newberg, OR), McMenamins' Hotel Oregon (McMinnville, OR), and the Dundee Hotel (Dundee, OR).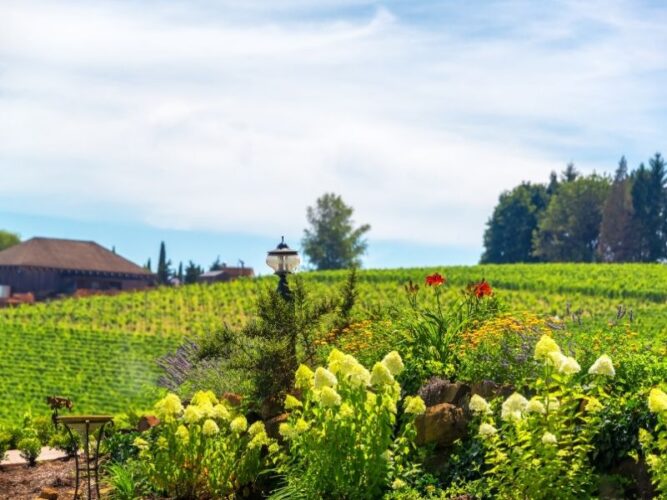 The Dining Experience
You are sure to find a variety of culinary delights during your visit to Oregon's wine country. With tourists coming from all over, the local food scene in these small communities often rivals that of the big cities.
It's not hard to find restaurants specializing in farm-to-table experiences or multi-course meals. You'll also find a variety of picnic options for those looking for a less traditional approach to dining.
Tasting rooms will generally provide light snacks such as crackers and cheese. On rare occasions, you might find a small menu of food for purchase.
A good rule of thumb is to plan for lunch or dinner at a nearby restaurant. Winery staff are often willing to provide recommendations to their favorite local spot.
Notable restaurants include: Jory Restaurant & Bar (Newberg, OR), Dundee Bistro (Dundee, OR), and Sammich (Ashland, OR).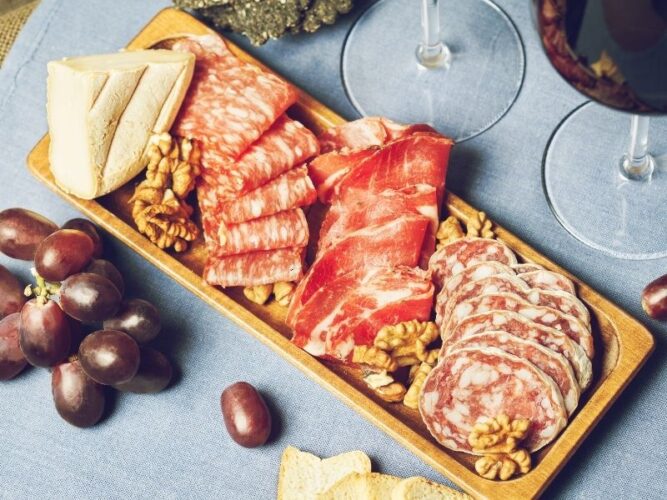 Reservations and Planning Ahead
Reservations are highly encouraged at tasting rooms, especially during the COVID-19 pandemic. Some tasting rooms do allow for walk-ins.
During the summer months, tasting rooms will often extend their hours and can seat additional guests outdoors. Summer also brings live music and concerts to the sprawling lawns of the wineries.
The holiday season and harvest season are a special time in wine country. Many wineries host special events like library tastings, special food pairings, and live music during these seasons.
The day after Thanksgiving is one of the most popular days for wine tasting. Fall and Spring Releases are also a festive time in wine country.
Note: Some events will be restricted to wine club members.
It's always best to call ahead or visit their website to verify their current hours of operations, safety precautions, and reservation requirements.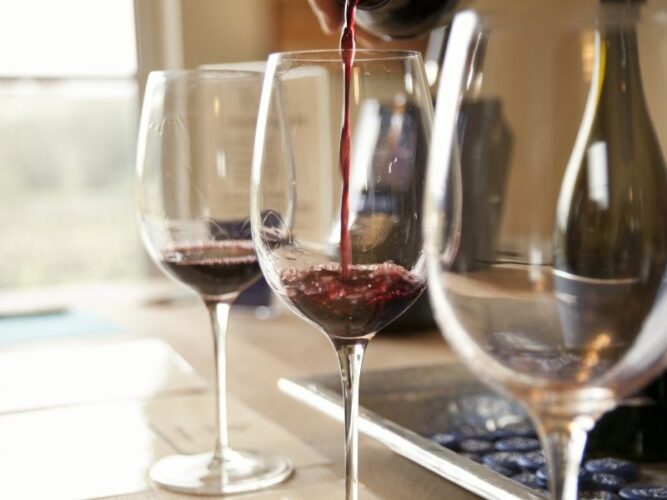 What to Expect for Costs
Tasting fees vary from location to location. It's not uncommon to pay $10 to $25 per tasting.
Most wineries will waive the tasting fee with a purchase of one bottle. But be prepared… at some wineries, it will require a purchase of two or three bottles to waive the tasting fee.
Wine club members generally receive a limited number of complimentary tastings at the winery. And if you join the Wine Club that day and have your tasting fees waived.
Special events do often come with an additional fee. Expect to pay anywhere from $15 to $100 depending on the nature and timing of the event.
Due to Oregon wine country being a popular destination of choice, prices for overnight accommodations and meals can be on the pricey side. While it also ways possible to find budget-friendly options, do be prepared for a little sticker shock.
Prices are often more expensive during the more popular months. Visiting wine country in the off-season can be great if you are looking for smaller crowds and feeling less rushed during your tasting experience. During the off-seasons, you can also often find specials on accommodations or accommodation packages that offer perks.
Writer: Danielle Schneider
Pin This Guide to Oregon Wine Country!