Washington's Long Beach Peninsula is known for many things.
From its cranberry bogs and fall mushroom foraging to having the longest beach in the United States (30 miles!) to being the end of the road for famous explorers Lewis & Clark, there is so much to do in Long Beach!
What you might not know, though, is that the food in Long Beach, Washington is delicious. This small coastal city in Washington has tons to offer the foodie traveler: a craft brewery, fresh seafood, and fabulous restaurants.
Here is a list of five amazing restaurants in Long Beach, WA!
The Best Restaurants in Long Beach, WA
The Depot Restaurant
On our first night in Long Beach, we dined at The Depot Restaurant.
We had spent the afternoon exploring the beach trails with the complimentary bikes from our hotel and had built up quite an appetite! Luckily, the Depot is one of the best restaurants in Long Beach, so we were in for a treat.
The Depot is a historic railway station, and if you've been following me, you know I love to connect with history on my small town travels!
From the outside, the building looks quite small, and I was surprised how spacious it was inside. Our table – the Chef's Table – had a view into the kitchen and throughout our meal, we could watch the chefs working hard at their craft
We started with two glasses of wine (a red and white) and warm bread with blue cheese drizzled with balsamic. My husband is a huge blue cheese fan ( me not so much), so he pretty much ate every bite!
On the appetizer menu, the Carne Asado Negro with marinated rib eye on cumin-scented black beans topped with peppers and cilantro and served with fried tortilla chips caught my attention, so we ordered that. It didn't disappoint, but be aware it is on the spicier side.
For dinner, my husband ordered the Fresh Local "Catch of the Day" which was salmon served with wild mushrooms and a cream sauce. I ordered the Ribeye Special (did they know I was coming?) with seasonal vegetables.
We were too full and passed on dessert, although later on when that sweet craving hit me, I wished we had. Throughout our meal, we had excellent service and would order these dishes again.
Hours: Opens every night at 5 p.m.
Address: 1208 38th Place Seaview, WA 98644
The Shelburne Inn
For our first breakfast, we went to the historic The Shelburne Inn.
The inn is beautiful, and visitors can tour the property and peek into unoccupied rooms that are roped off!
Since we went during mushroom season, I ordered the Innkeeper's Wild Mushroom Herb Scramble with four kinds of cheese, wild mushrooms, watercress and herbs.
My husband had the Buttermilk Biscuits and Elk Sausage Gravy with a poached egg. I liked the elk sausage and thought it gave a unique flavor to a traditional dish.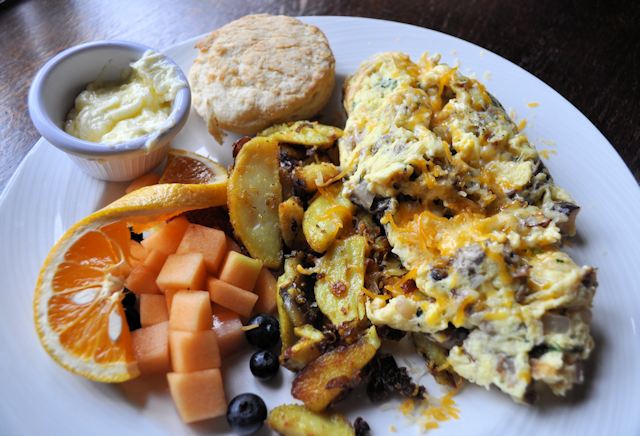 While this didn't turn out to be our favorite breakfast in Long Beach, we liked the presentation, historic vibe, and antiques.
If we had more time I would have liked to try their Malted Waffle and Classic French Toast, as well as check out the Happy Hour in the pub.
Tip: As the server which table you can see the ghost from, and sit there if you dare!
Hours: Breakfast 8 to 11 a.m. (closed on Wednesdays), Pub and Inglenook open from 11 a.m. to 8 p.m. (closed on Wednesdays through April), Main Dining Room open from 5 to 8 p.m. (closed Wednesdays), Happy Hour in the pub is every day except Wednesday from 4 to 6 p.m.
Address: 4415 Pacific Way Long Beach Peninsula, WA 98644
North Jetty Brewing
If you are a beer lover, a stop at North Jetty Brewing is a must. Their tap room features 12 of their own beers, a few Washington ciders and a couple of guest taps.
There is a variety of seating, including a. bar, tables, and a lounge with a fireplace. We each did a sampler flight. The hubs decided he liked the North Head IPA, and I liked their Kolsch.
Tip: Children are welcome until 6 p.m.
Tip: A food truck is in their parking lot during certain hours.
Tip: 42nd Street Cafe & Bistro is right across the street.
Hours: Sunday & Monday noon to 7 p.m., Wednesday & Thursday noon to 9 p.m., Friday & Saturday noon to 10 p.m., closed Tuesday.
Address: 4200 Pacific Way, Seaview, WA 98644
42nd Street Café & Bistro

We dined at 42nd Street Café & Bistro twice — that's how good this Long Beach Restaurant is!
We went once for dinner and once for breakfast, and both times were impressed with the service and the food.
I think that had to do with a lot of foodie firsts for us! For drinks, we had a North Head IPA and a Dark & Stormy. Their version of the Dark & Stormy is made with housemade ginger beer, which had a fantastic deep gingery flavor.

Since we are both mushroom lovers, we started with the king bolete appetizer special with sauteed red onions and a red wine reduction.
Neither of us had tasted king boletes before and were hooked on that first bite. It was so good; I could have happily ordered that for dinner too.
For dinner, we ordered the small Northwest Razor Clams flash-fried with a buttermilk flour and Saltine crust with fried red potatoes and housemade parsley and caper mayonnaise and Dungeness Crab Beignets with a Creole-spiced apricot marmalade with greens and balsamic vinegar.
This was the first time either of us had a razor clam, and we both loved it, and I'm not a clam person.
For the crab dish, I was a little confused why they were called beignets as the texture was more like a hush puppy or a fritter.
Regardless, they were packed with crab meat, and the apricot marmalade enhanced all the flavors. We wrapped up our meal with an Old-fashioned Northwest Fruit Crisp.
For breakfast, we had Housemade Waffles with blueberries and whipped cream and Eggs & Meat. Everything was great, and we'd order it again.
Tip: The restaurant features local, seasonal items so be sure take advantage of their specials.
Hours: Breakfast and lunch from 8 a.m. to 2 p.m. Dinner begins at 4:30 p.m. Closed most Mondays and Tuesdays.
Address: 4201 Pacific Way, Seaview, WA 98644
[pickled fish]

The restaurant and bar [pickled fish] are on the top floor of the industrial chic Adrift Hotel & Spa. 
For views, it can't be beat, as it faces the ocean– perfect for sunset!
Each night we were here well after dark, so we only saw the shadow of the curling surf. We didn't dine here, but had drinks and listened to live music, which packed the house each night.
Tip: If you are there as a couple, pick a seat by the window.
Hours: Brunch from 8 a.m. to 2 p.m. Dinner from 4 p.m. to 9 p.m. Sunday through Thursday, and from 4 p.m. to 10 p.m. Friday and Saturday. Late Night Dining from 9 p.m. to close Sunday through Thursday and to 10 p.m. Friday and Saturday. Happy Hour from 2 p.m. to 4 p.m.
Address: 409 Sid Snyder Drive, Long Beach, WA 98631
That wraps up my five favorite restaurants in Long Beach, WA. Have any suggestions for where to eat in Long Beach on my next trip?
Pin This Guide to Long Beach Restaurants