When most people think of Woodinville, Washington it's most likely for the wine, not an aerial adventure park. With over 100 wineries it is one of the best small towns to visit for a wine vacation. While working on an aerial adventure article, I discovered Adventura, an aerial obstacle course in the heart of the Hollywood District in Woodinville. While chatting with the owner, it sounded like so much fun, they invited me and a friend (the hubs) on a playdate.
On a sunny Sunday, we drove to Woodinville for our aerial adventure with Adventura. I have to admit until we arrived, I didn't think about how high the course would be. Then, I saw what 50 feet off the ground looked like with my own eyes. That's when the nerves set in.
I've found some great deals on LivingSocial, including deals from Adventura.

 Check out their latest deal on LivingSocial.com.
Disclosure: You can help support my small town travels by using the affiliate links in this post. Using the link is at no additional cost to you, and provides a small commission to me to help support my blog. 
Adventura Aerial Adventure Park in Woodinville
We had around ten minutes until orientation, which meant there was plenty of time to gaze up at the aerial obstacle course and ponder its dizzying height. I snapped photos to keep my mind occupied until everyone in our group arrived, and we could gear up and go through orientation.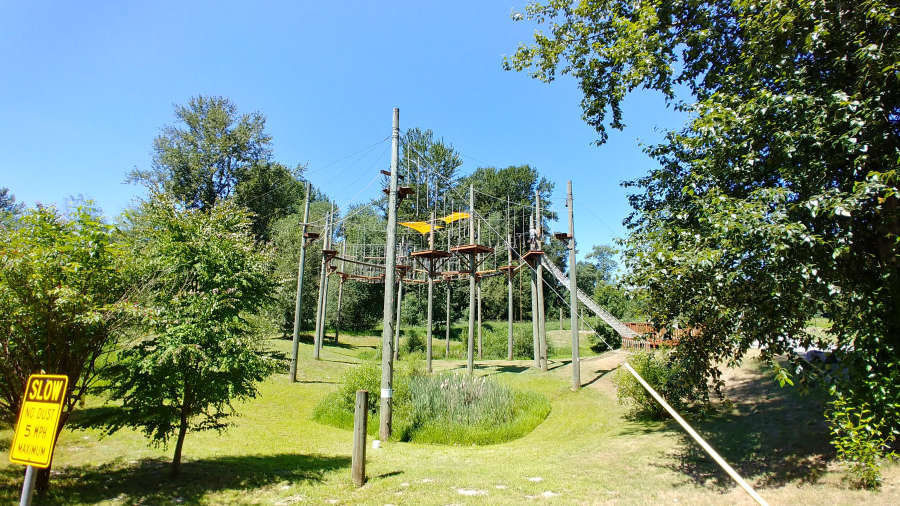 Adventura Orientation
Your guides do not speed through orientation. In fact, they repeat things, and it's not to be annoying, but to make sure what they are saying sinks in. I'm assuming they know that everyone has their own fear factor, and by repeating key phrases and words, one of those times, you'll hear it.
The process is around 30 minutes, and it includes putting on your gear, learning about the ropes, how to use carabiners, how to work with your buddy to make sure you stay safe on the aerial course, and the best way to climb the rope ladder to get up to the course.
Time is allowed for hands-on and interactive demonstrations, so you are comfortable with your gear and each other before going up on the course.
The Course at Adventura Aerial Adventure Park
Once you've made it through orientation, its time to play! The hubs and I were the first up on the course, so we plotted our direction and moved our way through the aerial obstacle course and its challenges.
There is no pressure to do the aerial challenges. You can do as many or as little as you want. There is no pressure to complete the aerial course, and you can leave at any time. The guides stay up on the course and are spread out in various locations. They are there for direction, help, and support.
We did most of the challenges and found most to be fun, and of course, challenging. One, neither of us liked, as it demanded a lot of physicality from your upper and lower body. I'm not sure what that challenge is called, but it is next to the zip line and has spaced ropes with single pieces of wood at the end. None of the ropes or wood are connected to each other, so it is easy to get tangled as you make your way from one to the next.
Adventura Tips
You'll get a work out on the course, so drink water beforehand, and bring a bottle of water with you. They put all waters in a bag and bring them up to a centralized location on the course, so you don't have to worry about lugging it up there yourself.
Wear comfortable clothing and fabric that breathes.
Wear closed toed shoes, like tennis shoes.
Bring a hat. Most hats will fit under your helmet and help to keep any glare from the sun out of your eyes.
Put on sunscreen at least 30 minutes before your scheduled time. That way it has absorbed into your skin and will not grease up your hands.
While you might be tempted to have a glass of wine or a pint of beer before your adventure to calm your nerves, don't. You'll need all your wits and coordination.
Celebrate Completing Adventura Aerial Adventure Park
After you've completed the course, one of the guides will ask if you plan to check out the area's libations. If you are, they'll give you a card for a dollar off a glass of wine or beer at a nearby location. We stopped by Sumerian Brewing Company and then headed to Tavern on the Square at McMenamins Anderson School for a bacon cheeseburger.
Would I recommend Adventura?
Heck, yes! You are up high, and it does make your stomach flutter, but once you work through a couple of the challenges, that fades (slightly) and the thrill sets in. Plus, with the buddy system, it is a fun way to bond with your friends or family. We had such a great time and were still talking about days after. Thus far, it is one of the most fun and scariest things I've done.
Playday pass price: $100 per person for 2.5 hours
I've found some great deals on LivingSocial, including deals from Adventura. Check out their latest deal on LivingSocial.com
.
Where are Woodinville and Adventura Aerial Adventure Park
Woodinville is a 30-minute drive from Seattle and a 50-minute drive from Seattle-Tacoma International Airport. Adventura is at 14300 Northeast 145th St., and almost directly across from Chateau Ste. Michelle. If you are staying in Seattle, you can easily make a day trip to Adventura, just keep in mind the morning and afternoon traffic.
If you are looking taste wines after your time at the course, I suggest staying overnight.
Where to Stay in Woodinville
For a luxury stay in Woodinville, look no further than the Willows Lodge. It is a short walk from Adventura, The Herbfarm, Chateau Ste. Michelle, and a wine tasting walking trail, that also includes breweries and distillers. The hotel is pricey, but it puts you in the heart of the everything you'll want to explore and Woodinville wineries, so you don't really need to drive anywhere. They also have free bicycles for guests. For a brand hotel, the Hampton Inn & Suites is a 10-minute drive away. And, if you prefer B&Bs, the Hideaway Lodge Bed and Breakfast is a five-minute drive away.
In Bothell, is another fun place to stay – McMenamins Anderson School. It is around a 15-minute drive away, and once you are there, you'll most likely not want to leave as it has a few dining and bar options, outdoor patio with fire pits, a movie theater, and pool.
To find more hotels and read reviews go to TripAdvisor, Hotels.com, and Expedia.com.
~
---
As is common in the travel industry, the writer was provided with a playdate for the purpose of review. While it has not influenced this review, the writer believes in full disclosure of all potential conflicts of interest.
---
~