Tulips bloom in every color imaginable, and some shades you didn't even know existed.
You don't have to travel to Holland to see this iconic flower of spring: tulips in Washington State are some of the best in the world.
Where to find them? There are fields and fields of them to enjoy at the Skagit Valley Tulip Festival!
Here's the top things you need to know to make your trip to the Skagit Valley Tulip Festival a success.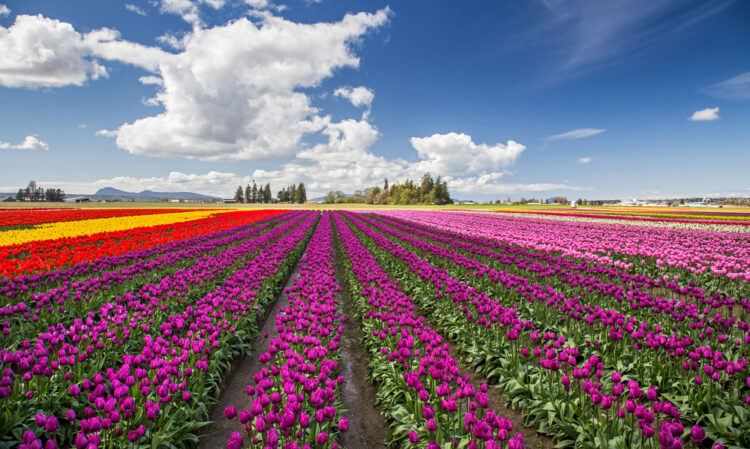 Some links in this post may be affiliate links. If you make a purchase through one of these links, we may earn a small commission at no extra cost to you. Please see our

disclosure policy

for more detail.
When Is the Skagit Valley Tulip Festival?
For more than 3 decades, the Skagit Valley Tulip Festival has been showing off this vibrant flower to hundreds of thousands of visitors each year!
The Tulip Festival runs during the entire month of April, from April 1-30. Of course, tulips follow no such human schedule, so while the festival runs during that time, the tulips will be in various states of bloom during the month of April.
As the organizers of the festival say, plan for the festival to occur during the entire month of April "with the blooming of the tulips according to their schedule (yes, we say the same thing every year), and various events and activities according to our schedule."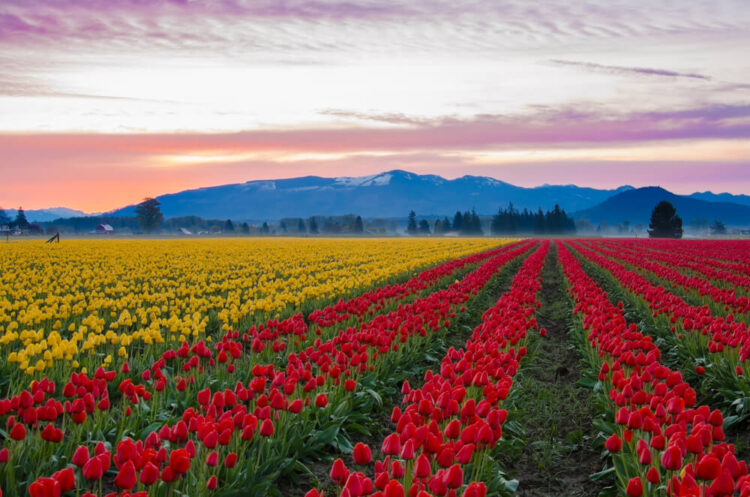 Coronavirus Restrictions for the Skagit Valley Tulip Festival in 2021
Of course, this year the Skagit Valley Tulip Festival will be a little different this year. There will be far fewer events planned and there will be restrictions and rules in place in order to prevent the spread of Covid-19.
However, the tulip fields are outdoors where it is possible to maintain a social distance, and the team who runs the Skagit Valley Tulip Festival is working tirelessly to plan a safe and fun way for Washingtonians to appreciate the blooming tulips.
That said, many things are out of the organizers hands, such as certain state or county-wide restrictions, so make your plans for the 2021 Skagit Valley Tulip Festival the same way you would any travel in 2021: responsibly and prepared to change it up at a moment's notice.
Of course, your best chance to have as "normal" a tulip festival as possible in 2021 is to do whatever is in your power to slow the spread of Covid-19.
Continue to follow social distancing guidelines, restrict socializing indoors with people who aren't members of your household, and practice good hygiene practices, especially wearing your masks properly so they cover your nose and your mouth.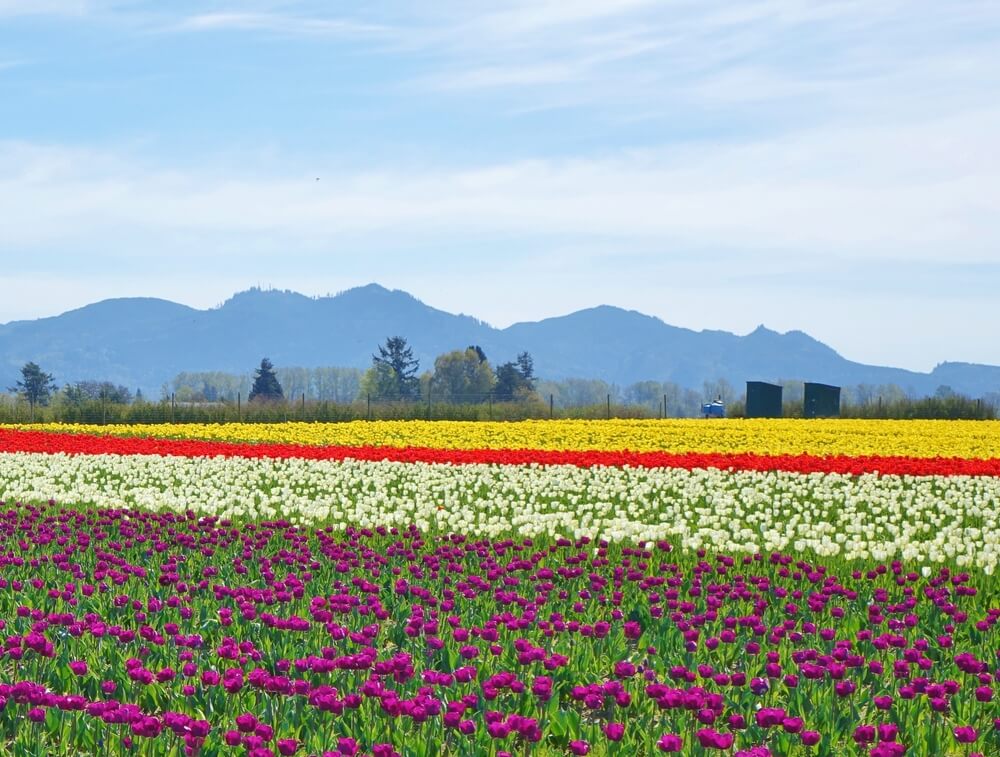 How to Find the Best Blooms at the Tulip Festival in Skagit Valley
If your springtime travels include a trip to tiptoe through the tulips in the Skagit Valley, here are some tips.
Before you go, check out the RoozenGaarde Bloom Map. This super helpful map shows you which Washington tulip fields are blooming at what time. It also has road names, which makes them easy to find.
It also notes the daffodil bloom fields, which happen in March.
Want to see those too? Check out our companion post on the best daffodil fields in the Skagit Valley.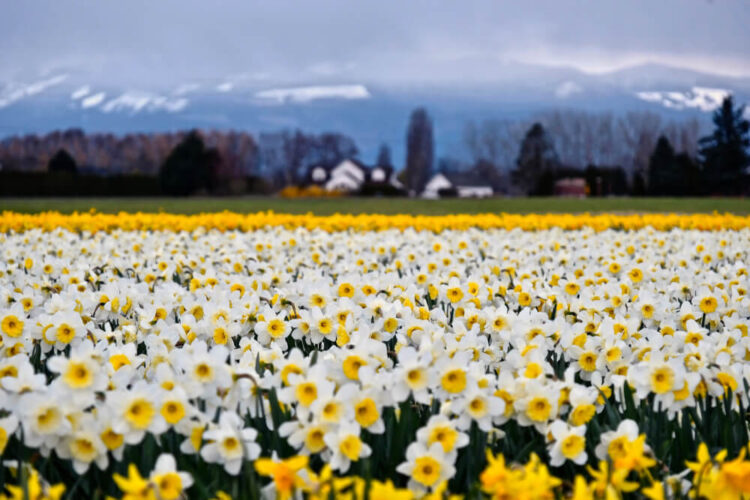 Parking at the Skagit Valley Tulip Festival
If you are lucky, you can find parking on the side of the road. However, note that there are hundreds of thousands of visitors to the festival in any given year, so don't count on finding free parking.
Otherwise, there is paid parking in designated areas in the fields between La Conner and Mount Vernon.
Parking at the RoozenGaarde Display Gardens is free if you have an admission ticket from these gardens for the same day, and $7 without an admission ticket.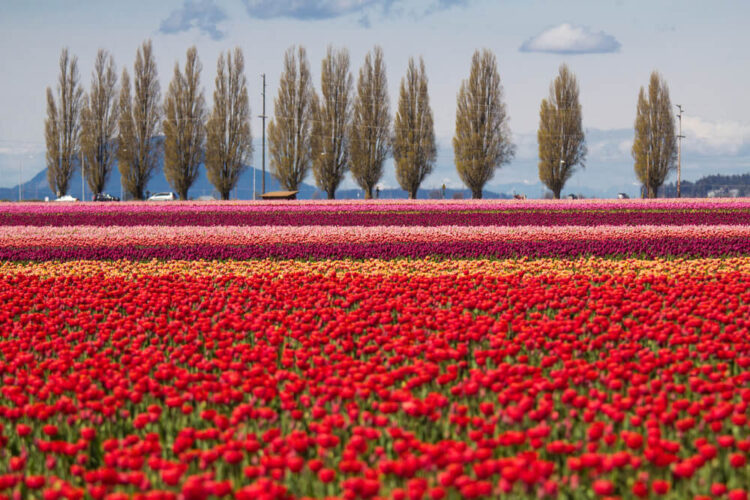 What to Bring to the Skagit Valley Tulip Festival
Be sure to bring rain boots or rain shoes as the fields are muddy, even if it is sunny out.
You might want to bring some snacks as well in case you get so wrapped up in exploring the tulip fields that you don't want to to break for lunch.
A lot of the nearby restaurants in the La Conner area can get busy at this time, so it can be a bit of a hassle to plan for lunch, especially if you are visiting on the weekend.
And of course, this should be obvious, but don't forget your camera!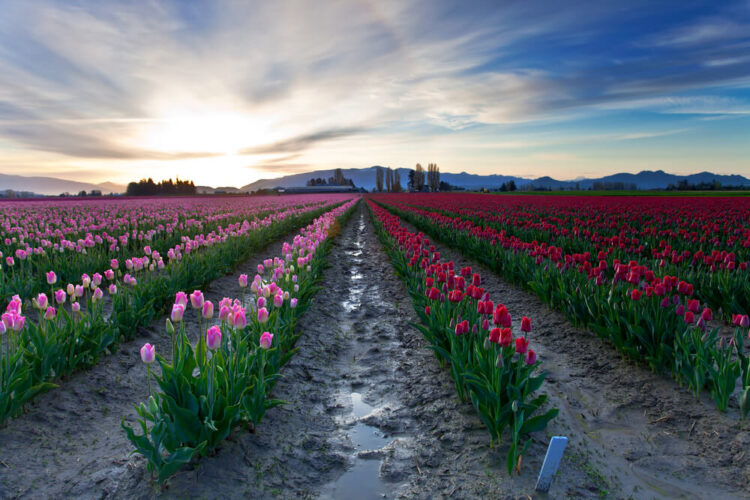 Skagit Valley Tulip Festival Display Gardens
If you want to see tulips in a display garden (rather than an agricultural field) or buy bulbs, I suggest visiting Roozengaard or Tulip Town.
This information is not specific to 2021 yet as the information regarding specific venues has not been released, so please do further research to confirm whether or not these businesses will be open to visitors in 2021. Of course, when we find out more, we will update the post.
RoozenGaard: The Roozen family grows tulips, irises, and daffodils, and their operation, which consists of 1,000 acres of field blooms and 16 acres of greenhouses, is the largest in the world! Each year, their 3-acre show garden displays around 300,000 spring flowers.
Price: $7 per person, children 5 and under no charge.
Hours: 9 AM to 7 PM.
Tulip Town: This is a great stop for families. Most years, they have face painting, "Dream Walk" fairies, professional kite fliers each weekend, trolley rides every day, a windmill, a cafe with ice cream, as well as, an indoor flower and garden show, display gardens, and local arts and crafts. However, of course, many of these activities won't be operating in 2021, so do keep that in mind.
Price: $7 per person, children 6 and under free.
Hours: 9 AM to 5 PM, sometimes later depending on the weather.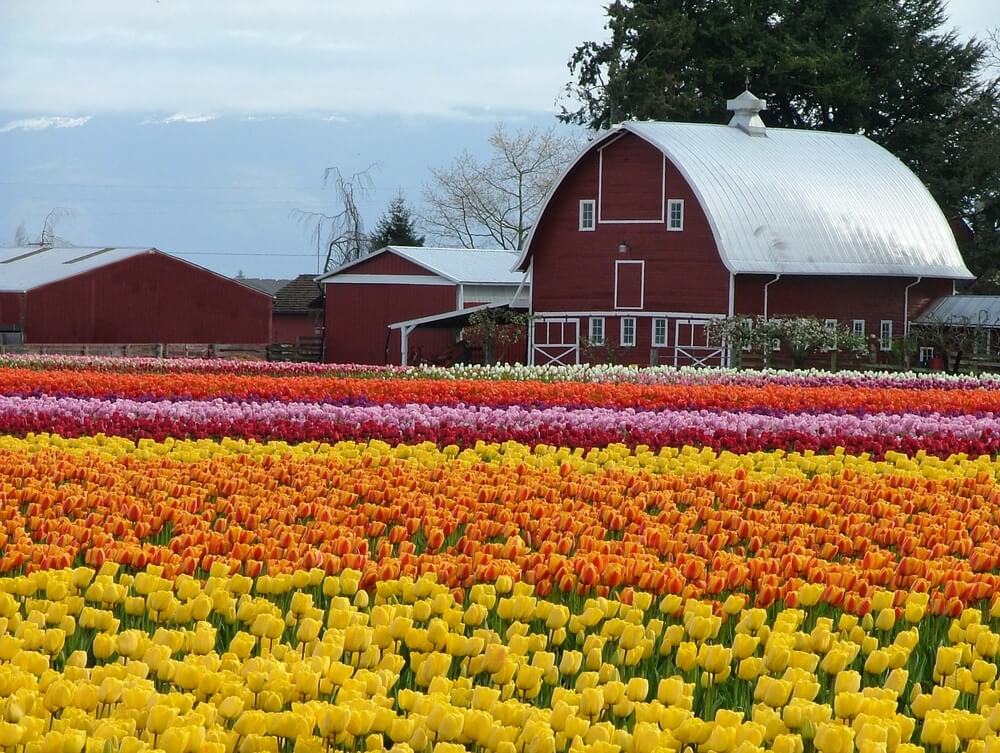 Skagit Valley Tulip Festival Helicopter Rides
Want a true Washington State bucket list must? Checking out the tulips from above by helicopter is an incredible way to see the tulip fields!
Here are a few companies which may be offering helicopter and/or small plane rides over the Skagit Valley tulip fields this year.
Again, please confirm with each individual company before making a plan in the 2021 context!
Fun Tulip Facts
Even though we often associate tulips with Holland, tulips were originally cultivated in Turkey!
They were only brought to Holland in the sixteenth century. In the mid-seventeenth century, tulips were so popular their bulbs were used as currency!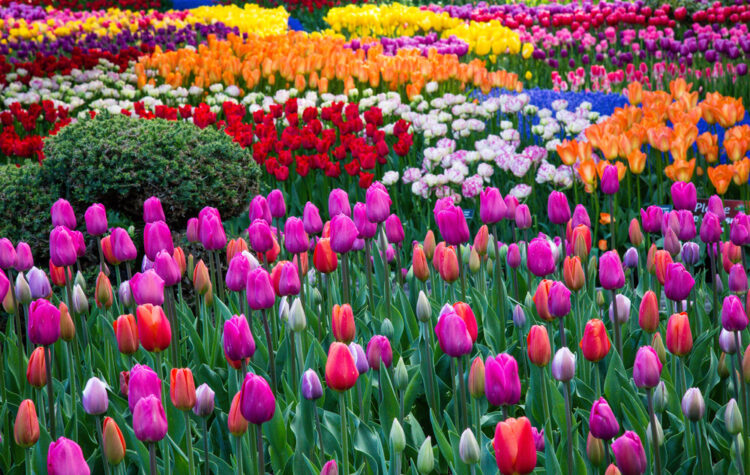 Events During the Tulip Festival
Typically, throughout the month of the Tulip Festival, there are additional events, like art shows, galas, concerts, and farm tours. That likely won't be the case in 2021, but it's good to note for future travels.
This brochure is an excellent reference and has ideas for stops, like Snow Goose Produce, Silver Belly Winery, and Farmstrong Brewing Co., as well as, places to stay and eat in Mount Vernon, La Conner, Anacortes, Burlington, and Bellingham.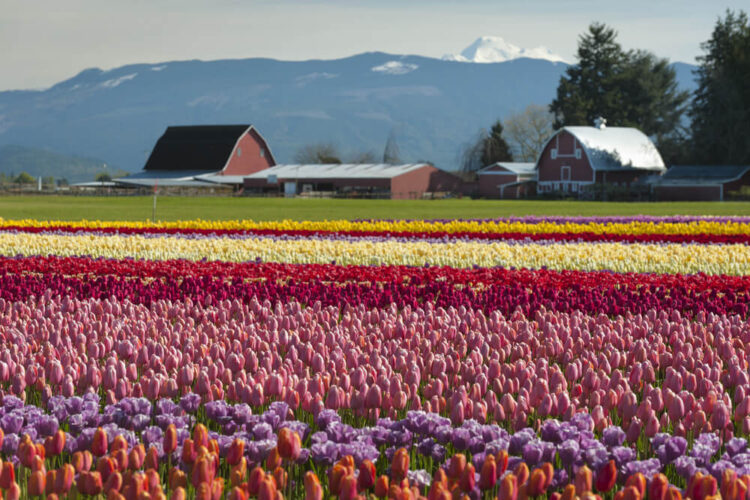 Where to Stay for the Skagit Valley Tulip Festival
While it's possible to visit the Skagit Valley Tulip Festival on a day trip from Seattle, why not make it a weekend getaway?
Mount Vernon and La Conner are the two closest small towns to the Tulip Festival, and most of the flower fields are between these two towns. That makes them excellent places to stay for the festival!
I love La Conner and have stayed at the La Conner Channel Lodge — I can highly recommend that to readers, and you can check my review for more information.
Other nearby places to stay include Anacortes, Burlington, and Bellingham, as well as countless other cute small towns in Skagit County.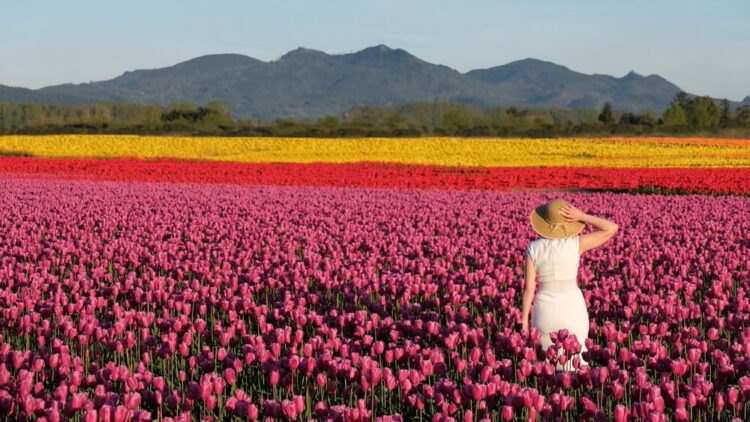 Pin This Guide to the Skagit Valley Tulip Festival!