Winter in Washington causes most people to stay inside, avoiding the cold weather with rain and snow that the PNW is famous for.
However, if you bundle up and venture outside, there is a great wintry world to explore! In this guide, we'll cover the best winter hikes in Washington.
It's important to be prepared when hiking at any time of year, but especially so in the winter. Winter hiking requires the same 10 essentials as in the summer, but with more warm clothes to layer and more caution. 
Awareness of avalanche risk is an important skill for any winter adventures on or near steep, snow-covered slopes.
Free avalanche awareness classes are offered each year through NWAC (and this year they are virtual via Zoom!) NWAC also provides a daily avalanche forecast in the winter. 
The Best Winter Hikes in Washington
Gold Creek Pond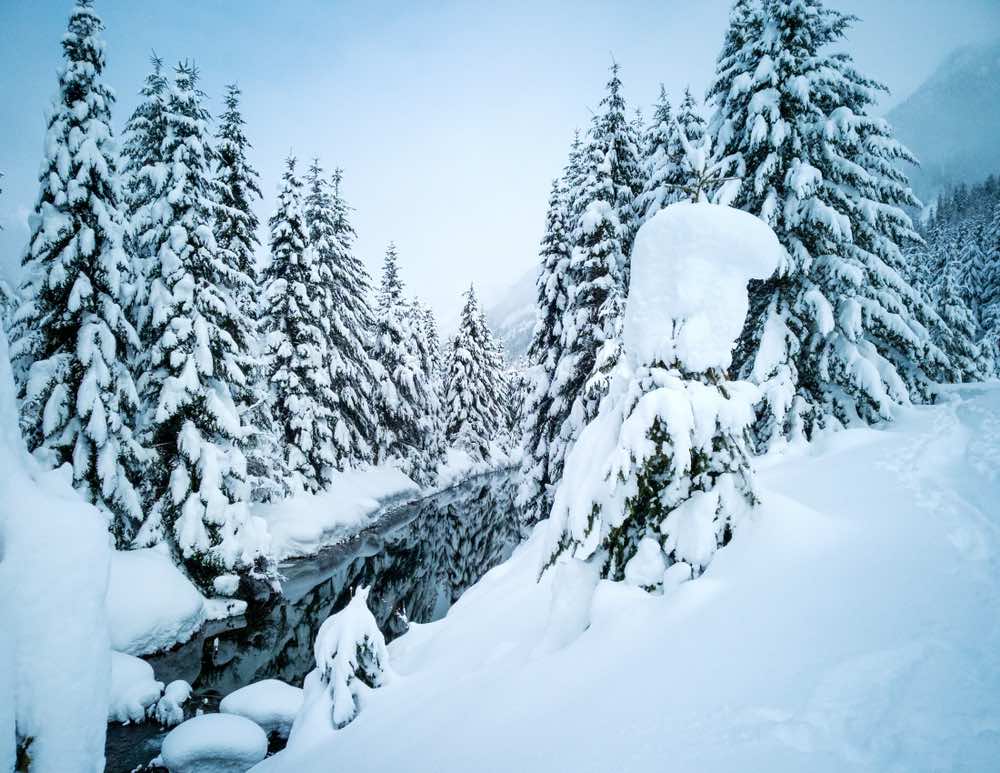 Some links in this post may be affiliate links. If you make a purchase through one of these links, we may earn a small commission at no extra cost to you. Please see our

disclosure policy

for more detail.
Driving Directions: Gold Creek Pond is off of Exit 54 from I-90. Coming from the east, cross under the freeway after exiting, and shortly after, turn right into Gold Creek Sno-Park. Follow the road, Forest Road 4832, parallel to the freeway for 1 mile. The summer parking lot for the pond is not plowed in the winter, so park along FR 4832 and hike the remaining 0.3 miles to the turnoff. 
Rating: Easy
Roundtrip Distance: 1 mile
Elevation Gain: 10 feet
Permits Required: Sno-Park permit
Special Gear: Snowshoes
Gold Creek Pond is a beautiful Washington winter hike and a great beginner-friendly snowshoeing trail.
A flat 1.0-mile trail around Gold Creek Pond is an easy snowshoe, as it is a wheelchair-accessible, paved trail in the summer. 
While walking around the pond, enjoy the mountain views and the surrounding forest. Just make sure not to walk onto the lake, as temperatures in this region aren't cold enough to thoroughly freeze lakes!
For your first trip or if you want to gain some confidence in snowshoes, there are ranger-led snowshoe trips from the Snoqualmie Pass Visitor Center. 
Starting a couple times a day on Saturdays and Sundays, these 90-minute snowshoe walks include ranger-provided snowshoes and are great for beginners.
For a slightly longer hike from Gold Creek Pond, you can follow the trail through the forest on the east side of the lake. This trail passes by a few viewpoints, including a nice view at 2 miles from the trailhead (4 miles roundtrip).
If you venture out to Gold Creek Pond on a clear winter day, staying until sunset will also provide you with a beautiful view of the stars, as there is minimal light pollution in this area.
Franklin Falls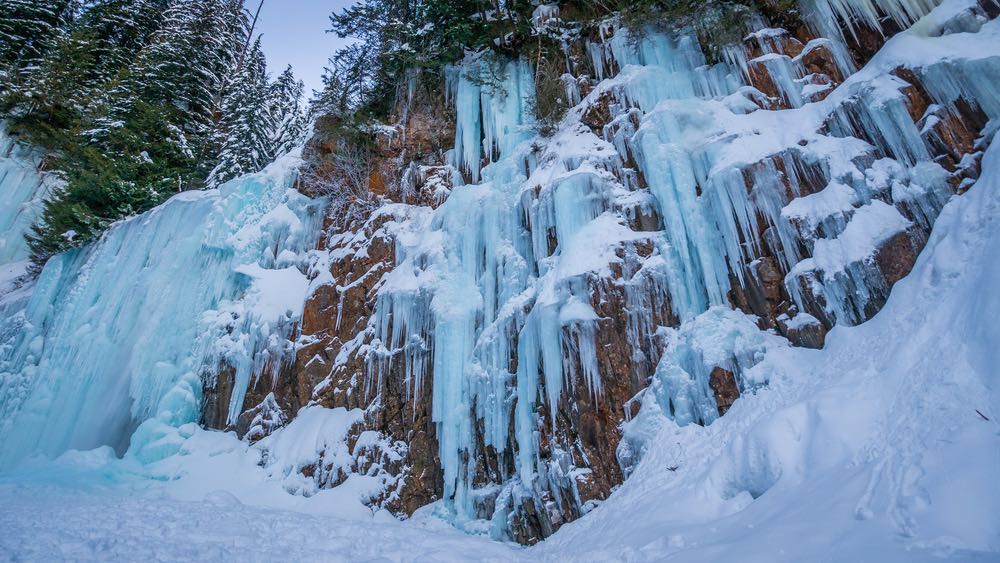 Driving Directions: Take exit 47 from 1-90 east from Seattle. Cross the freeway, and then turn right at the stop sign onto Denny Creek Road/Forest Road 58. Take the first left after crossing the freeway, and continue until impassable. In early winter, the road will likely be passable to the summer trailhead, 3 miles until the parking lot after Denny Creek Campground. Mid-winter, you may want to park close to the I-90W entrance, making this an 8-mile hike.
Rating: Easy 
Roundtrip Distance: 2 miles 
Elevation Gain: 400 feet
Permits Required: NW Forest Pass
Special Gear: Microspikes/ Snowshoes
Franklin Falls is a rushing 70-foot waterfall that requires just a short hike to reach.
The trail meanders through the forest until it reaches the waterfall. The trail has benefitted from much trail work, and is a very well-constructed trail, safe for kids.
When you reach the waterfall, there is a viewpoint from the trail that lets you gaze at the waterfall from a distance. If you want to get closer, there is also a narrow trail to walk closer to the waterfall.
The waterfall has the most flow between April and July, but in the winter, the waterfall will partially freeze, displaying large icicles, which is why we love this Washington hike in winter.
After especially cold weather, when the waterfall freezes enough, you may even spot people ice-climbing at Franklin Falls!
Microspikes are helpful in the winter, as the traffic on this trail can make some of the sections icy. Snowshoes may also be helpful, depending on snowfall and conditions.
Umatilla Rock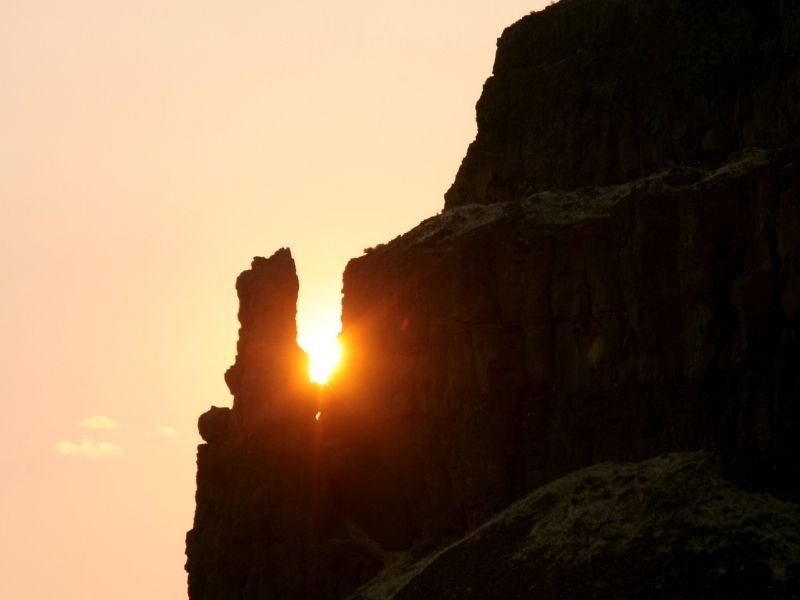 Driving Directions: Navigate to Sun Lakes-Dry Falls State Park. South of the Dry Falls Visitor Center on SR 17, turn into Sun Lakes State Park. Continue 1.5 miles, then turn left towards Deep Lake. Continue another 1 mile, take a left towards Perch and Dry Falls Lake, then drive 0.5 miles and park at the trailhead for the Umatilla Rock Trail. 
Rating: Easy 
Roundtrip Distance: 5 miles
Elevation Gain: 100 feet
Permits Required: Discover Pass
Special Gear: None
Umatilla Rock is a narrow rock formation below Dry Falls. This hike circumnavigates the rock, giving you full views of the area.
The formation and the nearby falls and lakes were carved by melting glaciers around 15,000 years ago. When the glaciers of the last ice age began retreating, 800-foot deep floodwaters shot over Dry Falls carving the rock into its current formation.
There is also a campground in this State Park that is open for use in the winter. If you have time, Dry Falls and the Sun Lakes are other great attractions within the park.
Artist Point Snowshoe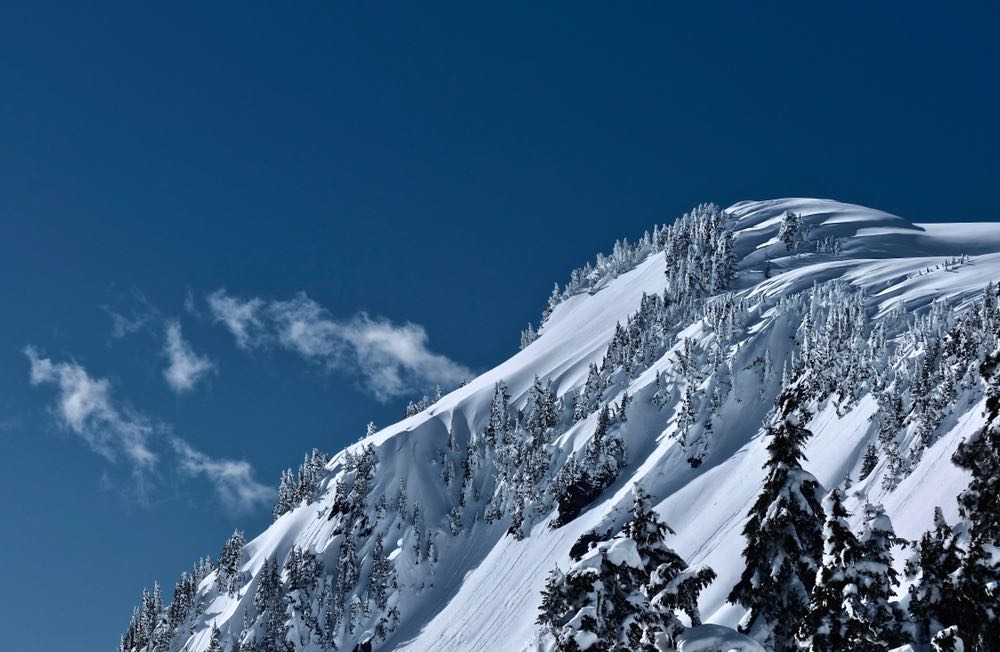 Driving Directions: Drive up the Mount Baker Highway, SR 542, until the Bagley Lakes Trailhead. The road is closed here in the winter, and you will park here to begin your snowshoe.
Rating: Moderate 
Roundtrip Distance: 4 miles
Elevation Gain: 1,000 feet
Permits Required: None
Special Gear: Snowshoes
Artist Point is a recreational center during summer, but in the winter when the road is closed, it makes an excellent destination for a wintry Washington snowshoe hike. 
The view from Artist Point is unbelievable, looking out on Mount Shuksan and Mount Baker, and many more peaks in the distance. In the winter when everything is covered with snow, this lookout is even more beautiful.
The area around Artist Point receives very large amounts of snowfall, even holding the world record of season snowfall at 95 feet.
With such a large amount of snowfall, you will definitely want to bring your snowshoes for this popular Washington hike during the winter. 
The trail is well-traveled and usually easy to follow, but in bad conditions it is possible to wander in the wrong direction, so make sure you are prepared with a map and route-finding skills.
When traveling out to Artist Point, be sure to check the avalanche forecast, and choose a route that avoids the steepest slopes. Like any winter adventure, be prepared for changing conditions and be careful to stay within your skill level.
Hole-in-the-Wall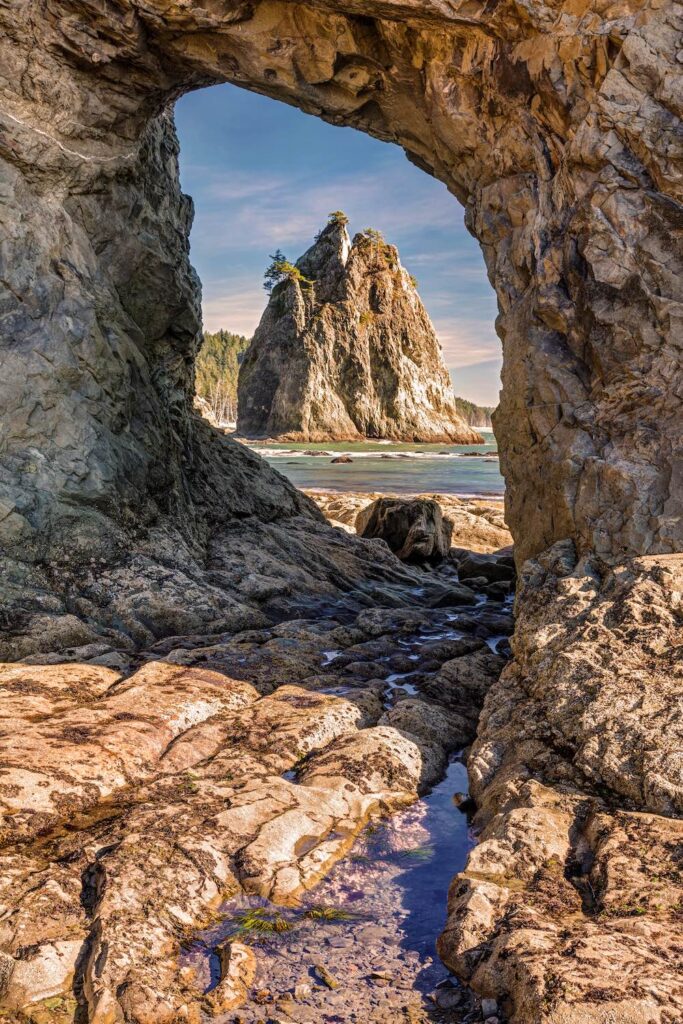 Driving Directions: Drive west along US 101 from Port Angeles for 55 miles. Then turn onto SR-110 west, continue 8 miles, take a right onto Mora Road, and drive 5 miles to the Rialto Beach parking lot. 
Rating: Moderate 
Roundtrip Distance: 4 miles
Elevation Gain: 0 feet
Permits Required: None
Special Gear: None
Rialto Beach is one of the most accessible beaches along the Olympic Coast, as there is no walk from the parking lot down to the beach. However, if you are looking for a hike, a hike to Hole-in-the-Wall is a great adventure along the beach. 
During the winter, you are not likely to experience a warm beach day on this hike, but if you embrace the damp winter mood of the Washington coast during winter, this is a great Washington winter hike without snow. 
Hole-in-the-Wall is a rock formation along the ocean headwall that sticks out into the water, with a hole in the rock large enough to walk through. The rocky surroundings of this feature are also full of tide pools with a great variety of species. 
The trail follows the shoreline from the parking lot until you reach your destination.
This hike is best done at a low tide, which provides more beach to walk on, low enough water to walk through the Hole-in-the-Wall, and the best viewing of the tide pools. 
While walking through the Hole-in-the-Wall and through the tide pools, take caution to avoid sea life growing on the rocks, as this sea life may be adapted for surviving powerful ocean waves but can not survive repeated trampling.
Rattlesnake Slope Wildlife Area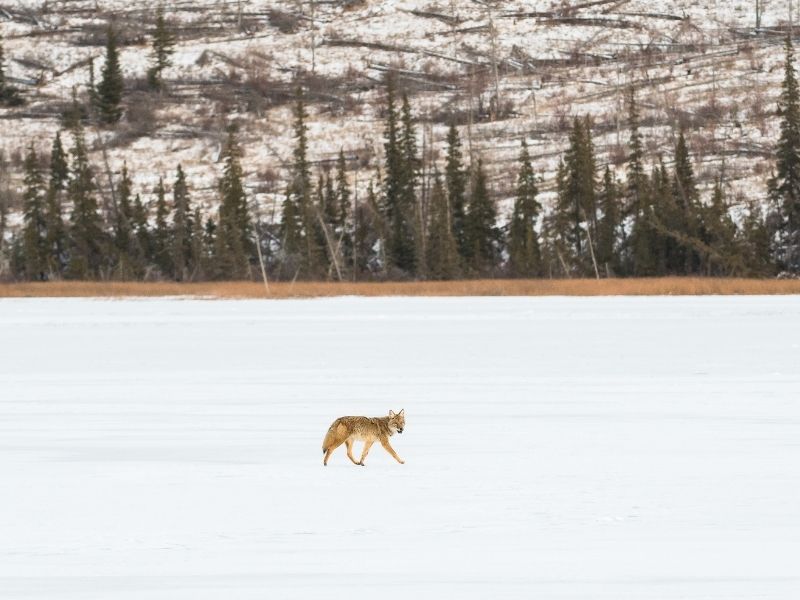 Rating: Moderate
Roundtrip Distance: 5 miles
Elevation Gain: 1600 feet
Permits Required: Discover Pass
Special Gear: None
Driving Directions: From Yakima, take Highway 82. Take exit 96 from highway 82, then take a left through Benton City. Continue north on SR 225 for 7.5 miles until you find a fenced parking area on the west side of the highway. 
Located in Central Washington near the Tri-Cities, Rattlesnake Slope Wildlife Area is an open desert landscape with abundant wildlife.
Most notably are many species of birds, including ground-living birds such as pheasants, quail, and partridge. With the open skyline, you may also be able to seek hawks flying above you. 
This wildlife area is also home to many coyotes. They are most active during early morning hours, when you may hear them howling back and forth, but you may spot them here during the day as well. 
There is an official loop hike in this area, starting in the location described above. However, the trail is not well-used and may be hard to follow. This is a great location to wander around as you like, although the very top of the hill is closed for public access.
What to Read Next
Winter in Seattle: 17 Cozy Things to Do in Seattle in Winter
Winter in Leavenworth: 13 Magical Things to Do in Leavenworth in Winter
Other Hikes in Washington: The Best Hikes in Washington State
Pin This Guide to Washington Winter Hikes