The Olympic Peninsula is home to beautiful mountains, rainforest, and ocean coastline: all the makings of a magical PNW road trip!
The region is the perfect location for a road trip, with tons of hiking, sightseeing, wild beaches, and one of Washington's beautiful national parks to explore.
Here is a three-day itinerary for an Olympic Peninsula road trip!
Your 3 Day Olympic Peninsula Road Trip Itinerary
Day 1: Olympia to Lake Quinault
Drive through Olympia towards Lake Quinalt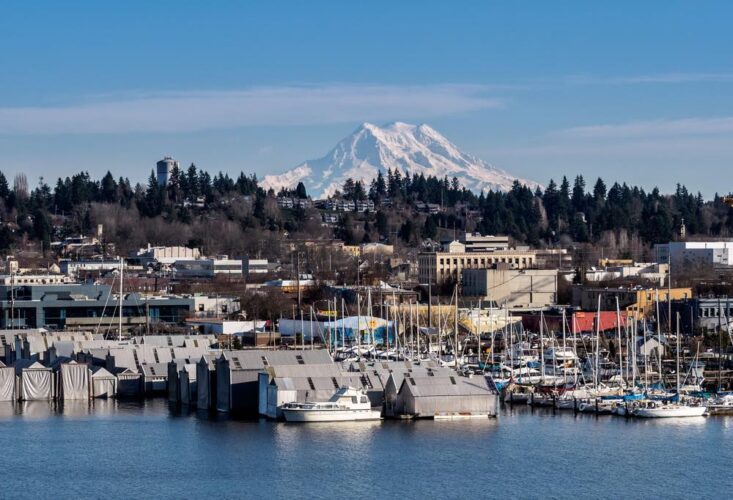 Some links in this post may be affiliate links. If you make a purchase through one of these links, we may earn a small commission at no extra cost to you. Please see our

disclosure policy

for more detail.
To start your Olympic Peninsula road trip, make your first stop in Olympia from wherever you started your journey.
Olympia is a fun city to explore, but for now, pass through and drive west on Highway 8. From Highway 8, continue onto Highway 12.
Once you enter the town of Aberdeen, Highway 12 becomes Highway 101, which you will follow through town and continue west.
Continue on Highway 101 until you reach Lake Quinault, where you will take a right onto 93400/S Shore Road to Lake Quinault. From Olympia to Lake Quinault, the driving time is 1 hour 45 minutes.
Lake Quinault is the largest lake in the Olympic Peninsula. It is also the entrance to the Quinault Rain Forest, and there are plenty of activities to do in this area to easily fill a day.
Visit the world's largest Sitka Spruce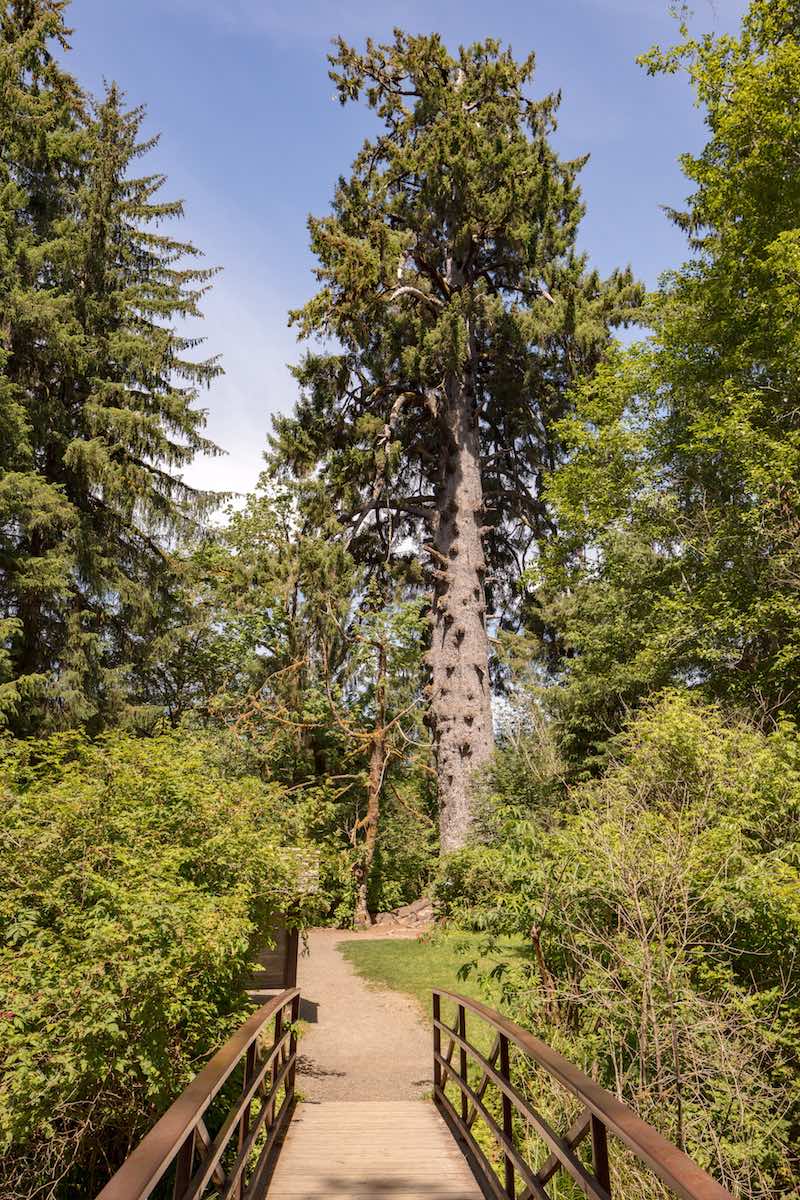 One of the can't miss activities while you are here is seeing the large trees!
You may have visited the large Redwoods in California, but while you in the rain forest, you need to stop and see some of the record-breaking trees located in this area.
One of the most incredible trees near Lake Quinault is the world's largest Sitka Spruce tree (determined by the American Forestry Association). This tree is estimated to be about 1,000 years old and is 191 feet tall and about 18 feet in diameter!
This Spruce tree is located a 0.3-mile walk from South Shore Road along the south shore of the lake, along a gravel trail and is marked by a large sign.
The world's largest red cedar is also nearby, but this will be a stop tomorrow.
Immerse yourself in rainforest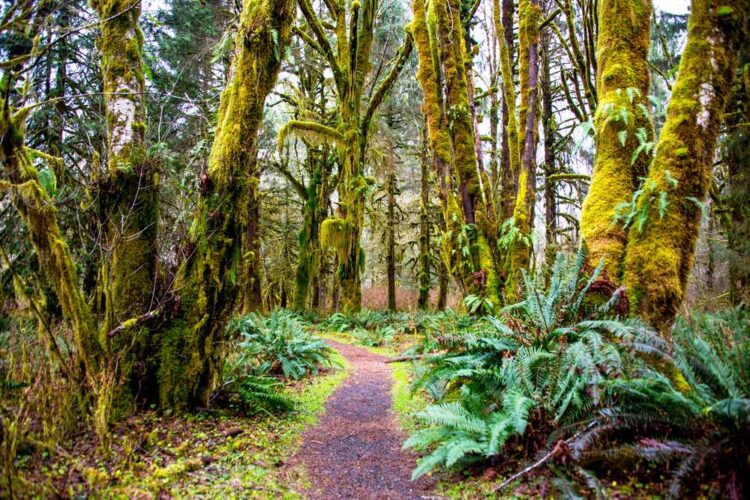 There are several hike options from Lake Quinault, suitable for all types of adventures.
If you are looking for a short hike, take the 0.5 mile Quinault Rainforest Nature Trail. This trail features interpretive signs introducing visitors to the surrounding temperature rainforest.
While walking this trail you will also overlook Willaby Gorge and Willaby Creek, which gushes with water most of the year. To start this hike, park at the Rainforest Nature Trailhead on the south side of the lake along South Shore Road.
For a longer hike, the Gatton Creek trail is a 3 mile loop through moss-covered old-growth trees. To do this trail, begin at the Gatton Creek trailhead and follow the loop trail back to South Shore Road. Walk along the road for the last half mile to complete the loop.
Relax on the lake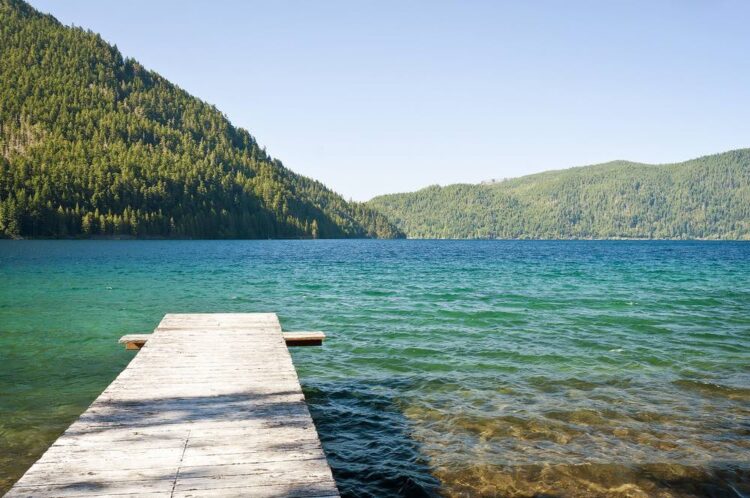 Since you are after all, at Lake Quinault, spending time relaxing on or by the lake is a can't-miss activity.
There are lake tours offered by Olympic National Park throughout the day. These tours are 1.5 hours long and offer a spectacular view of the beauty and wildlife of the surrounding nature.
These tours often have sightings of Bald Eagles, river otter, and osprey, and are led by a guide knowledgeable about the Quinault tribal life, fisheries, and National Park.
In lieu or in addition to a boat tour, the shore of Lake Quinault is a relaxing place to sit and watch the waves on the shore. Sunsets at Lake Quinault can be especially beautiful.
Day 2: Lake Quinault to Port Angeles
From Lake Quinault, take Highway 101 north towards your next stop at Ruby Beach, a 45-minute drive.
However, before you reach Ruby Beach, you will be treated to lovely coastline views right off the road!
Marvel at the islands off Ruby Beach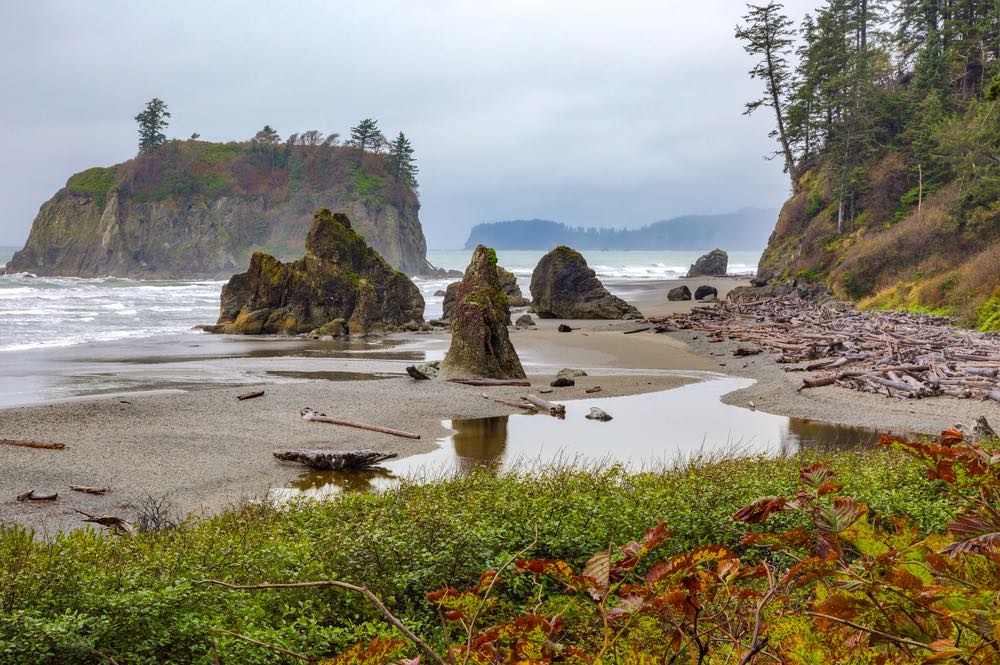 There are several beautiful beaches along this stretch, but the rocky coastline near Ruby Beach makes it the ideal place for a stop.
The parking lot for Ruby Beach is well-marked and located right off the highway, but there is a short walk (1/4 mile) down from the parking lot to reach the beach.
The trail down to the beach is wide and well-maintained. Once you reach the end of this path, you will need to navigate around driftwood to reach the beach.
During low tide, it is possible to reach Abbey Island without getting too wet and view the many tide pools located in the rocks off the shoreline. However, if your visit doesn't line up with a low tide, this is also a beautiful place for a beach walk. If you head north, you will be able to continue for at least 3 miles until you reach the Hoh River.
Gaze upwards at the largest cedar tree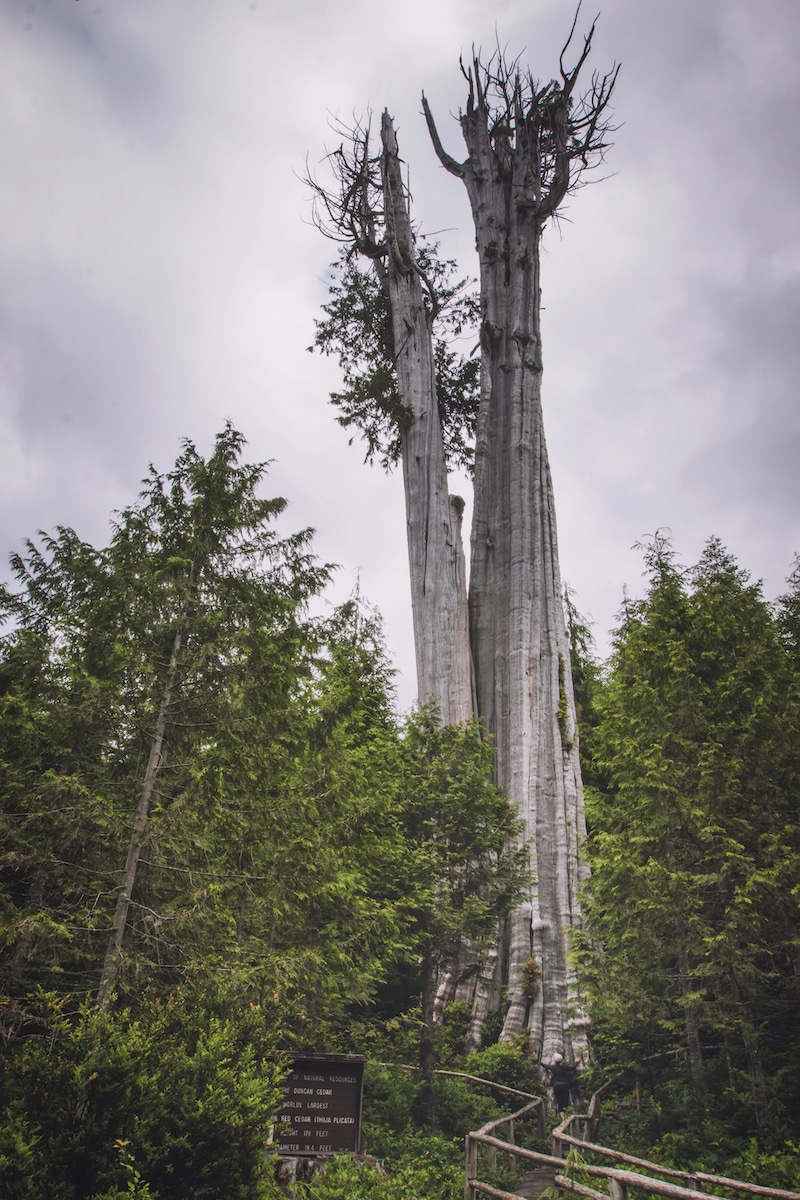 After visiting Ruby Beach, continue along Highway 101.
In about 6 miles, you will find a sign indicating the way to the world's largest red cedar tree. Turn onto Nolan Creek Road follow the signs to Duncan Memorial Cedar Tree for approximately 4 miles.
Standing alone, this tree is larger than all of the surrounding trees as the others have all been logged.
Although not lush and green, there are branches at the top, making it feel like a miracle that it is still alive, and definitely worth a stop.
Wander beneath moss-covered trees
Return to Highway 101 and continue for 8 miles until Upper Hoh Road. Follow this road until you reach the Hoh Rainforest visitor center. From the tree, this is a 50-minute drive.
The Hoh Rain forest Visitor Center is full of interesting exhibits on the area, explaining the weather (the yearly average of rain is 140 inches!), the plant and animal life, and offering suggestions on activities in the area.
The Hall of Mosses Trail is a 0.8-mile loop that wanders through old-growth forest and maples loaded with hanging mosses.
For a longer trail, take a walk on the Hoh River Trail, an out-and-back trail along the Hoh River. This trail is mostly flat and there are plenty of interesting stops accessible within a few miles.
Hike to a massive waterfall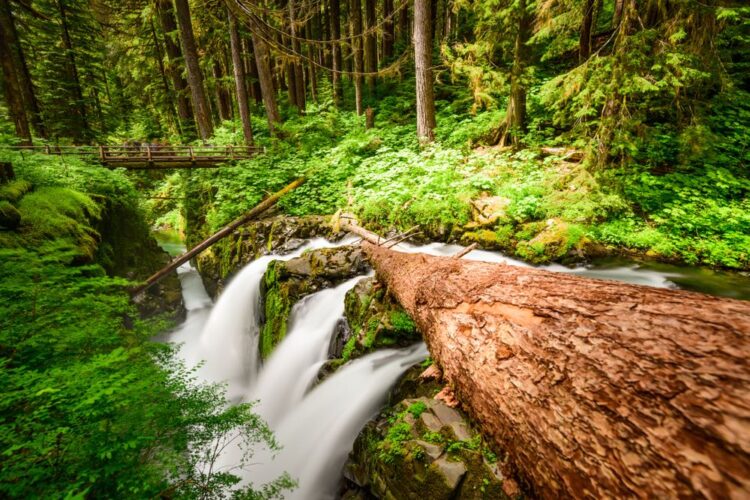 After your visit to the Hoh Rainforest, drive back out to Highway 101 and continue north. On this leg of your trip, you will pass through Forks, the setting for the Twilight series.
There are tours and landmarks in town related to the series if you are interested in visiting, otherwise, continue along the highway.
Your next stop is Sol Duc Falls, a 1 hour, 45-minute drive from the Hoh Rainforest. To reach the falls, continue on Highway 101 until you reach Sol Duc-Hot Springs Road. You will drive 15 miles to the end of this road.
Sol Duc Falls is a massive waterfall, and one of the most popular destinations within Olympic National Park.
The hike to the falls is 1.6 miles with 200 feet of elevation gain. The trail to the falls begins at the end of the road to Sol Duc Hot Springs and Resort.
The water at the falls tumbles down 48 feet into the narrow canyon and splits into as many as four channels when the water is at peak flow.
From the falls, continue to Port Angeles, an hour drive, where you will begin your trip tomorrow.
In this section you will pass by the site of the Elwha River, the site of one of the largest ecosystem restoration projects within a National Park, when the dam was removed.
As you drive through the town of Elwha and over the Elwha River, look for signs of the old river path and the restoration efforts.
Day 3: Port Angeles to Olympia
From Port Angeles, you will want to visit Hurricane Ridge, one of the centers of Olympic National Park.
Drive up to Hurricane Ridge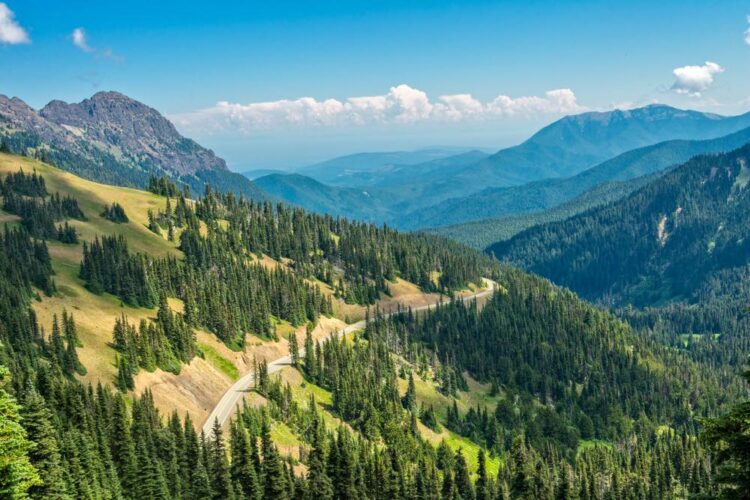 Hurricane Ridge is 17 miles south of Port Angeles on Hurricane Ridge Road, off Mount Angeles Road.
The road is open throughout summer, but access can be tricky during winter, when you will want to call to confirm the road is open before visiting.
The visitor center here offers information about the area, and great views of the surrounding mountains. There are plenty of hiking trails here too worth visiting if you have the time.
One great option for a hike is the Hurricane Hill trail. This is a 3.2-mile hike on a paved trail with 650 feet of elevation gain that ends with a panoramic view of the Olympic Mountains and the Strait of Juan de Fuca.
Another option is the Klahhane Ridge trail, a 5-mile trail with 1500 feet of elevation gain. This trail passes through brilliantly-colored wildflowers during summer, and is home to a variety of wildlife.
Wondering about other Olympic National Park hikes? We've got a full guide here.
Visit a historic fort
After returning to your car, continue along Highway 101 east to Port Townsend, a 1 hour and 35-minute drive.
One of the most iconic spots to visit in Port Townsend is Fort Worden Historical State Park. This fort was built to protect the Puget Sound from potential invasion in the late 1800s/early 1900s.
Today, Fort Worden has the remains of the fort: large lawns, restored Victorian-style buildings, and hidden gun emplacements. It's also home to Alexander's Castle, which you can stay the night in.
Point Wilson Lighthouse is also on the property, a historic and photogenic lighthouse on the coastline, which is also one of the most beautiful lighthouses in Washington State.
The self-guided history tour will give you a thorough understanding of the buildings you find in the park. Exploring the state park is a great stop for a change of pace during your road trip.
Drive along Hood Canal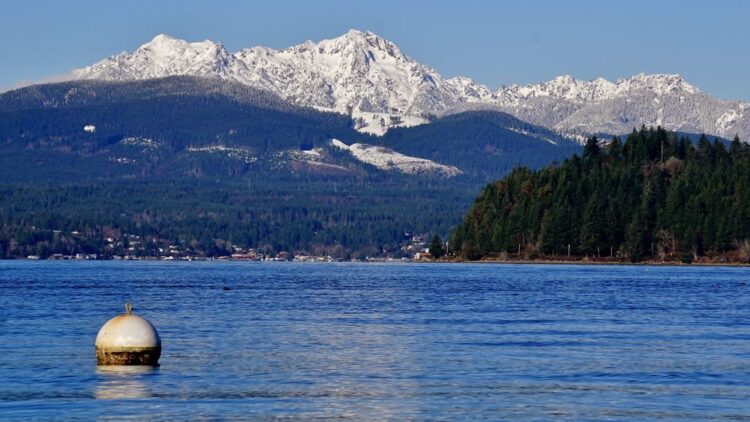 For the last leg of your journey, head south from Port Townsend on Highway 101.
This stretch of highway is a scenic shoreline drive along Hood Canal, a branch of Puget Sound between the Olympic and Kitsap Peninsulas.
It is a 2-hour drive from Port Townsend to Olympia, and your trip is best spent enjoying the beauty of Hood Canal as you return to where you started.
Pin This Olympic Peninsula Road Trip!