The West Coast has Laguna Beach, the East Coast has Nantucket, and the Pacific Northwest has Cannon Beach!
Cannon Beach is smack dab on the coastline of Oregon state, facing some pretty terrific stretches of Pacific Ocean. It's about an hour and a half from Portland, and is right near the Washington/Oregon border.
This little stretch of the Oregon coast is famous for its hauntingly beautiful coastline, punctuated by jutting rock formations, mossy forests, and thrillingly alive tide pools.
But what distinguishes Cannon Beach is that the town's abundance of activities, culture, and good food rivals the beach itself, making it one of the best beach towns in Oregon.
Here are all the best things to do in Cannon Beach!
Things to Do in Cannon Beach, Oregon
Marvel at Haystack Rock at sunset.
It's the rock that made this charming Oregon beach town famous!
Perhaps that's an exaggeration, but there isn't a more iconic symbol of Cannon Beach than this 235-feet-high sea stack made of ancient, volcanic basalt.
Snap a picture and take in its majesty at sunset for particularly magical views.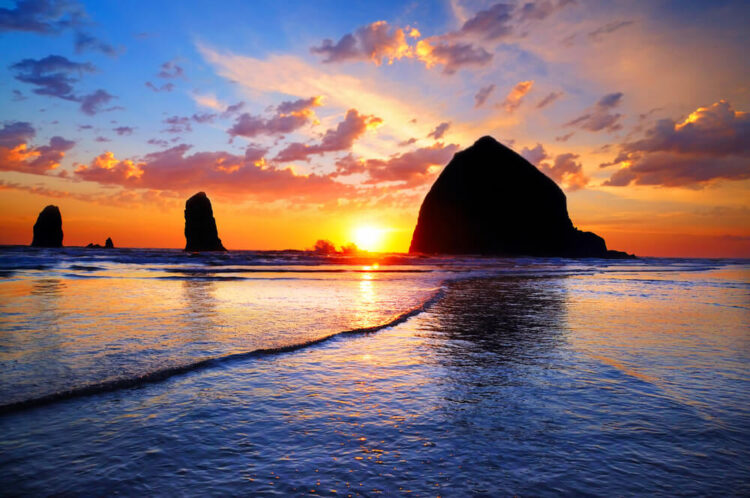 Some links in this post may be affiliate links. If you make a purchase through one of these links, we may earn a small commission at no extra cost to you. Please see our

disclosure policy

for more detail.
Stay at the Surfsand.
The Surfsand Resort comes highly recommended from locals as a wonderful, pet-friendly hotel right on the beach at midtown Cannon Beach.
Ocean views from private balconies offer moments of quiet and repose, while the hotel's ice cream socials and weenie roasts allow for some old-fashioned fun!
Visit Hug Point State Park.
Five miles south of Cannon Beach sits this popular local beachfront: little picnic tables, a super sandy beach, and plenty of forest prime for exploring make for a perfect spring and summer picnic destination!
Just be sure to check the tides before you head out for the safety of everyone in your party: waves here can be treacherous at high tide.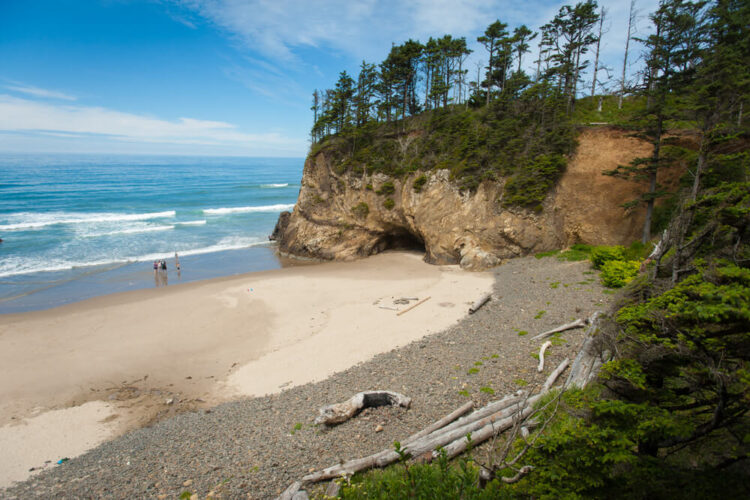 Check out the magic at Icefire Glassworks.
For your creative fix, head to Icefire Glassworks, the number one spot in town for surreal art and functional materials made from local glass artists.
Trust us: it's hard not to leave with something!
Have a luxurious stay at the Stephanie Inn.
If it's luxury you're after, look no further than the Stephanie Inn and Dining Room. Perched impossibly close to the beach, the hotel and world-class dining room make a compelling case for a splurge stay here.
Explore the caves of Hug Point.
During low tide, intricate cave formations in Hug Point State Park reveal themselves along the rocky coast.
Explore these unseen passageways and prepare to feel like one of the Goonies!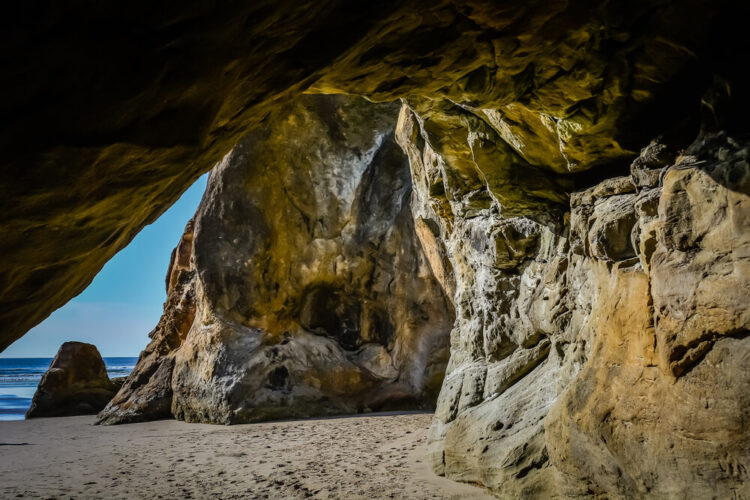 See a show at the Coaster Theater.
What's the perfect way to end a night of exploring Cannon Beach's local fare? A night at the theater!
Located within a 1920s roller rink, the Coaster Theater Playhouse is a delightfully quirky way to enjoy the local arts scene!
There aren't scheduled performances at the moment due to the pandemic, but once live theater is back in full swing, this locale is worth a stop and should figure highly on your list of things to do in Cannon Beach!
Grab something sweet.
For the kids — or adults with a sweet tooth, let's not judge — head to Bruce's Candy Kitchen for every flavor of saltwater taffy under the sun.
After all, t's not a beach trip without saltwater taffy, is it?
Peruse the local events.
In Cannon Beach, there is a shocking number of festivals and events, ranging from art shows to bicycle celebrations.
Though they are somewhat limited at the moment due to Covid-19, usually the events offer something for every kind of Cannon Beach visitor.
Browse the racks at the Cannon Beach Book Company.
Portland may have the reputation for being a book-lover's paradise, but the Cannon Beach Book Company makes for a compelling alternative!
Bought by former owner Valerie Ryan's beloved employees Deb and Maureen, it's still a destination for readers and lovers of all things book-related.
There's a wonderful kids' section, plenty of backlists and current reads, whether you're looking for the latest food blogger's cookbook or a NYT bestseller. If they don't have it, they'll order it!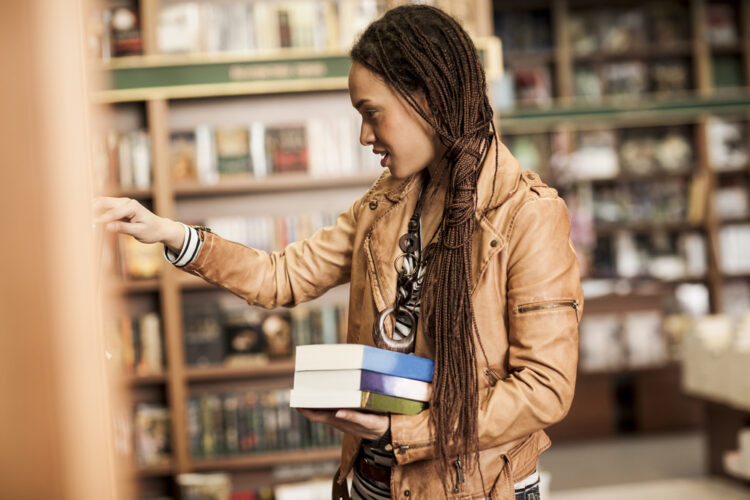 Indulge your sweet tooth.
Cannon Beach Bakery offers an excellent selection of goodies, perfect for a snack or dessert.
While here, try their most famous offering: Haystack Bread, named for the famous Haystack Rock off the beach!
Sip some suds at Pelican Brewing.
Food tells you a lot about a town. One of the best places to learn about Cannon Beach through the local flavors is Pelican Brewing.
The stars of the menu are their chowder, burgers, and flatbreads… and the smoked tri-tip is alone worth the trip!
And of course, being a brewery, there's no shortage of fantastic ales and brews!
Soak up the storms.
Cannon Beach is rare in many aspects. One of its most unusual qualities is its penchant for winter storms. This means that high winds, cold temperatures, and precipitation can sometimes lead to a snowy beach!
This strange sight is as beautiful as it is uncommon in beaches around the world. Summer storms provide an equally stimulating alternative, offering big waves and hazy sunsets.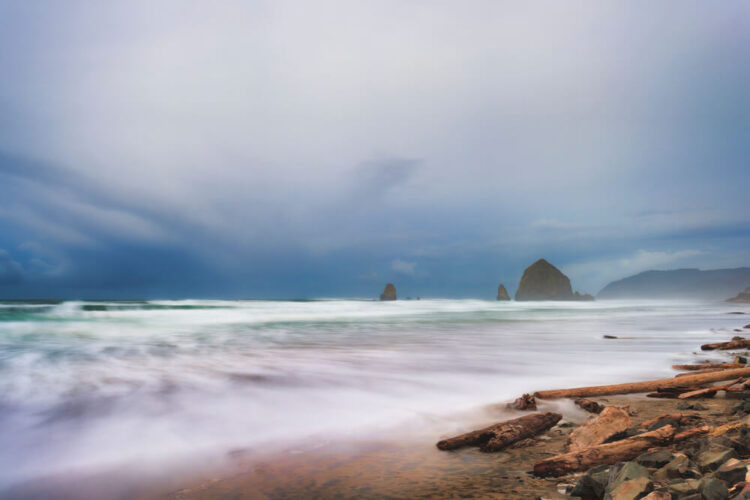 Have breakfast at the Lazy Susan.
The scones are delicious and the menu is extensive at The Lazy Susan!
Savory or sweet, this breakfast joint serves seasonal deliciousness in a cozy atmosphere.
Take a hike.
Walk the Old Growth Trail from the south end of Cannon Beach to Short Sands.
You can surf there or just have a picnic: choose your own adventure.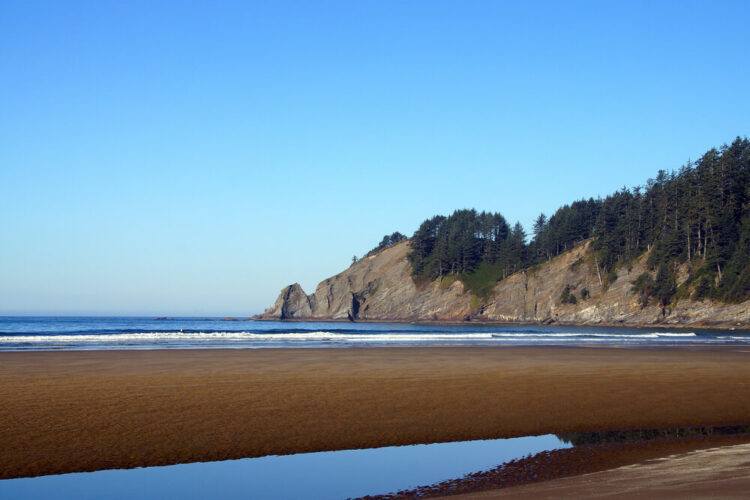 Grab some goods at Fresh Foods.
After many businesses (mostly restaurants) have come and gone at this site, this upscale grocery store looks like a keeper!
It features a wonderful wine and gourmet food selection (including some Oregon coast wines), along with all the basics.
You don't have to pack an entire cooler to spend a weekend in Cannon Beach anymore! Everything you need is here.
Wander in Ecola State Park.
Ecola State Park on the north end of Cannon Beach is the perfect choice for a beautiful hike and private beach.
There are so many hikes here it deserves its own post!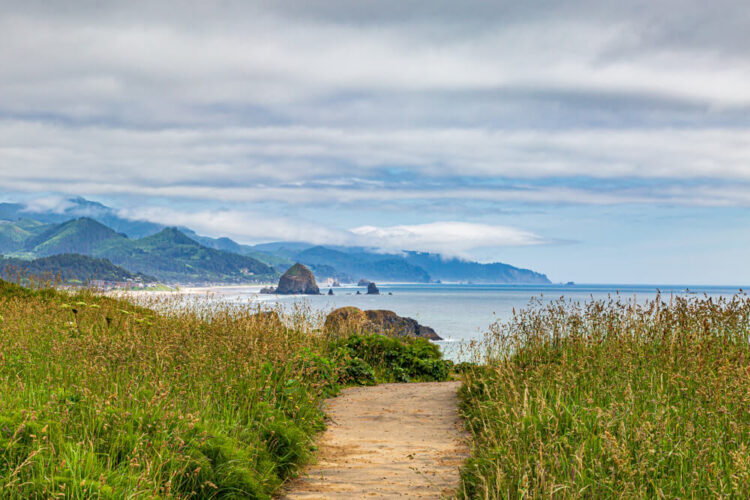 Browse some bottles.
A stop by the Wine Shack is a must for all gourmet picnic plans.
Not only does the Wine Shack have an excellent selection of wines, it also boasts a friendly and knowledgeable staff.
Find some art to keep at the White Bird Gallery.
Absorb the attitudes of coastal Oregon in this pioneering art gallery!
Walk amongst the sculptures and paintings of both new and established artists, or maybe even fall in love with a piece and take home a little piece of Cannon Beach with you.
Have a fantastic steak dinner.
A true Cannon Beach institution, the Driftwood Inn is one of the most popular restaurants around.
If you're a meat eater, take note: this restaurant serves up some of the best steaks in town!
Savor the best coffee shop in town.
Don't come to the Sleepy Monk expecting lightning-fast Wifi or cell reception! Rather, enjoy the superb coffee and ambiance of a local favorite cafe.
Be sure to get there early or risk getting stuck in a long line! The secret is out and this is a popular spot.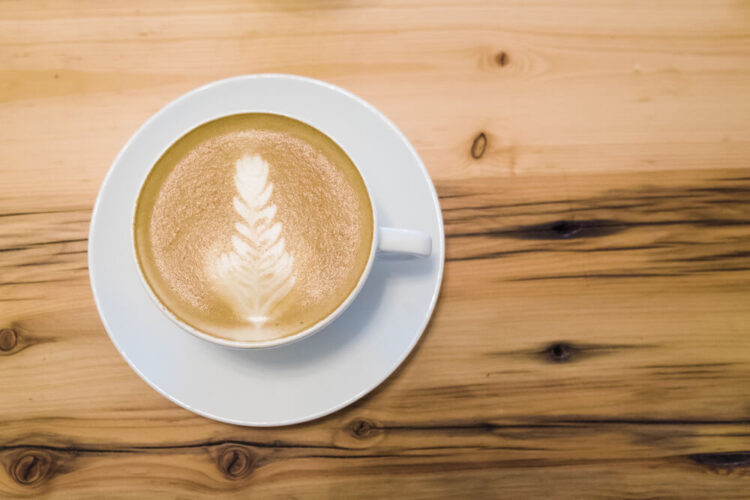 Look around at Found Gallery and Shop.
This place has an eclectic selection of new creations and "found" items!
It's wonderful for gifts and non-kitschy souvenirs — if you're into kitsch, head to Dueber's!
Shop for your favorite little old.
Kids will never face a dull moment thanks to these two shops!
Geppetto's Toys and Once Upon a Breeze Kite Shop are separate but near each other, and provide a well-thought-out collection for kids of all ages and beach fun.
Grab a gift for your favorite pup.
More into dogs than kids? We get it.
For travelers looking to include their four-legged friends on their adventures, Puppy Love makes sure that is possible! This specialty shop has all your dog's needs covered and more.
Walk the beach from end to end.
There is (arguably) not a more beautiful beach between the Canadian and Mexican borders.
Walk for miles, sit up on the dunes and wait for the green flash, have a bonfire, or wander the tide pools around Haystack Rock.
The main attraction and pièce de résistance here is the beach– you won't be disappointed.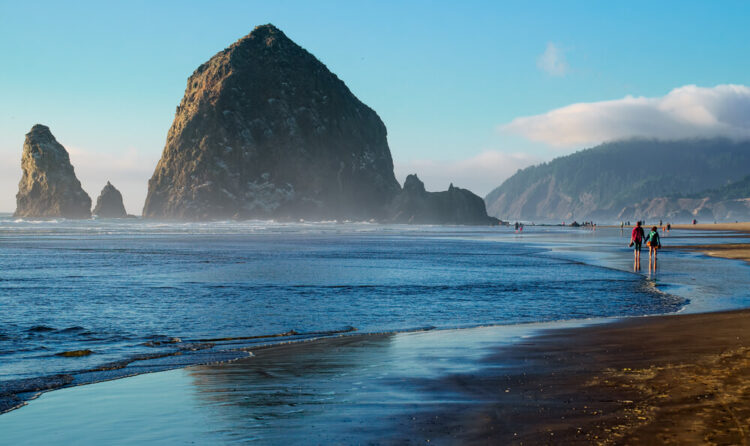 Take a cooking class.
For the true cuisine connoisseur, EVOO Cooking School is the palace for you! Witness chefs prepare your meal with finesse and drama right in front of you with ingredients that are as fresh as they come.
The pandemic has affected its offerings, and the experience can be a little pricey, but this experience is simply unmissable.
Grab some surf gear.
This long-standing surf shop at Midtown, across from the fire station, is the ultimate stop for wave-chasers!
They can get surf newbies or veterans set up easily, and as a bonus, they peddle some pretty cool T-shirts!
Contributing Writer: Madison Patterson