Washington State can give you a taste of any climate or environment!
Whether you're looking for a snowy place to go skiing or sledding, a beautiful beach to relax at, or an incredible metropolitan area, Washington state has a place for you.
But why limit yourself to seeing just one aspect of this amazing state? You should see as much as you can and the best way to do that is on a road trip through Washington.
Of course, it would be tough to see every single thing that Washington has to offer in just one road trip, so we have provided a few different options and highlights to get you started on planning that perfect Washington road trip that hits all the right spots for you.
Our itineraries include everything from just a night or two on the road decided on a whim to that week-long trip you planned a year in advance!
Tips for Road Tripping in Washington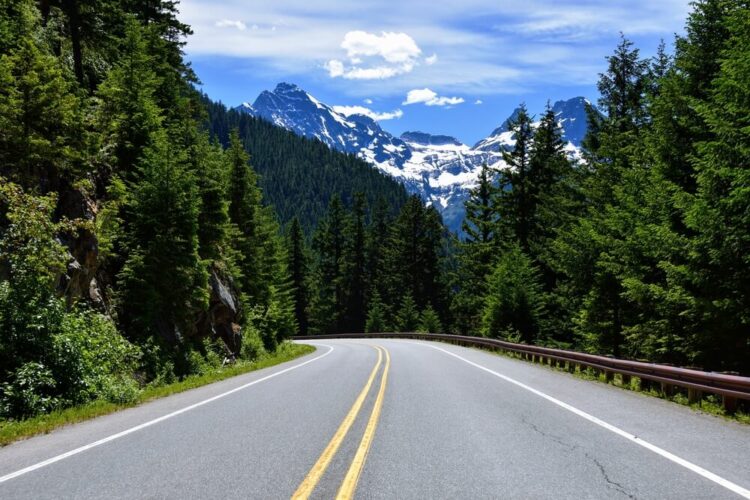 Some links in this post may be affiliate links. If you make a purchase through one of these links, we may earn a small commission at no extra cost to you. Please see our

disclosure policy

for more detail.
There are a few things to consider before heading on the road, especially if you'll be going on a long road trip and we'll cover them here.
Rest up!
You should feel a satisfied exhaustion after your road trip, not an anxious exhaustion before the road trip!
Try to get at least 7 hours of sleep the two nights leading up to your trip and it's best to start in the morning unless you're planning to take a break early in the trip.
Also make sure that you're taking regular breaks throughout, roughly every 100 miles. Another thing to consider is planning a break between 1 and 3 pm because that's when people become naturally drowsy — not a good time to be driving!
Chew some gum.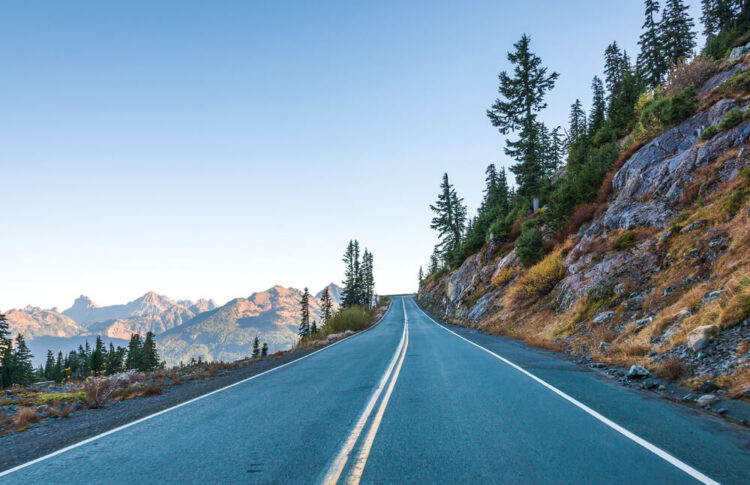 The repetitive process of chewing gum, of any kind, increases circulation along with alertness.
If you feel yourself nodding off, you can have a pack of gum handy to keep your body up for the drive, or you could use something with a peppermint scent to keep you alert and attentive.
Expect to get wet.
If you've heard one thing about Washington State, it's probably that it gets lots of rain.
That's true, and if you're planning your road trip over a weekend in the summer, you'll probably be safe and dry.
But, if you're going to be doing your trip at any other time of the year, you should have water-resistant clothing on hand.
The Best Washington Road Trips
And now, time for some Washington road trip itineraries!
Here are our favorite drives in Washington State and where to stop along the way for each.
The Cascade Loop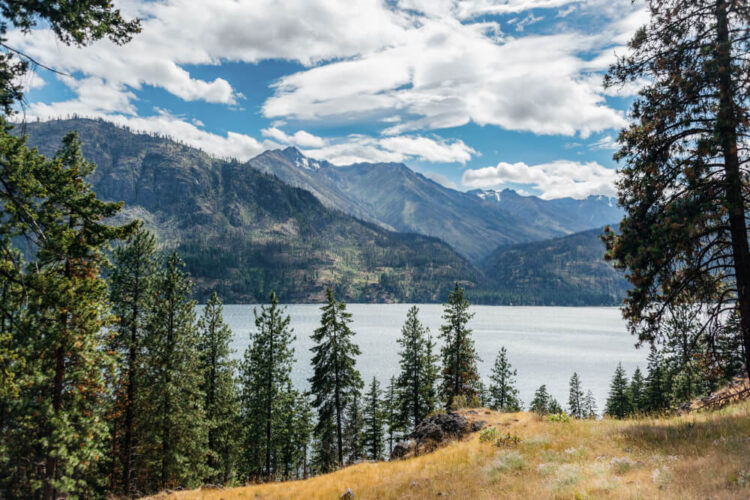 The pinnacle of Washington State road tripping is The Cascade Loop!
It's about 11 hours total of driving, and while you could do it in 2 days, we really recommend at least 5 to take it all in properly.
The loop starts in Seattle and from there you head east over to Leavenworth on Highway 2, which is a great place to stop for a beer and some food in a unique setting.
Continue from there past Wenatchee and get on Highway 97 to pass Lake Chelan, the deepest lake in the state.
From Chelan, things get especially scenic going through the Methow Valley and over the Cascades on the North Cascade Highway.
Heading back west, make sure you go through the Skagit Valley – if it's the right time of year, you can see the famous Tulip Festival – and then drive along Whidbey Island.
The highlight of the trip is the North Cascades and there are plenty of excellent hikes to check out, but one we recommend is the Cascade Pass Trail, which is an easy trail with a gorgeous view at the end.
Driving Distance
440 miles.
Recommended Road Trip Length
Plan for at least 5 days to take everything in.
North Cascades Highway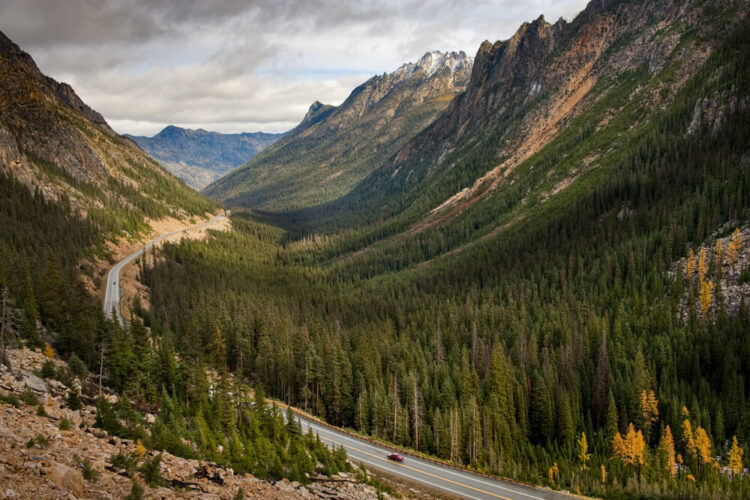 If you don't have the time or patience for the whole Cascade Loop, try shortening your tour of the Cascades by hitting the North Cascades Highway!
You won't be missing much, because even though it's shorter, it still packs in a ton of fun and amazing scenery.
The one thing to keep in mind is that the highway is closed during the winter – from November into May, so this is best as a summer road trip or fall scenic drive.
You start in Sedro-Wooley on the west side of the Cascades and take State Route 20 until you arrive in Twisp on the east side. It's the perfect way to get a more concentrated trip through the North Cascades National Park!
The highlights include driving along the Skagit River and stopping in the town of Newhalem.
Driving Distance
250 miles.
Recommended Road Trip Length
You could do this road trip over the course of a three-day weekend.
Olympic Peninsula Loop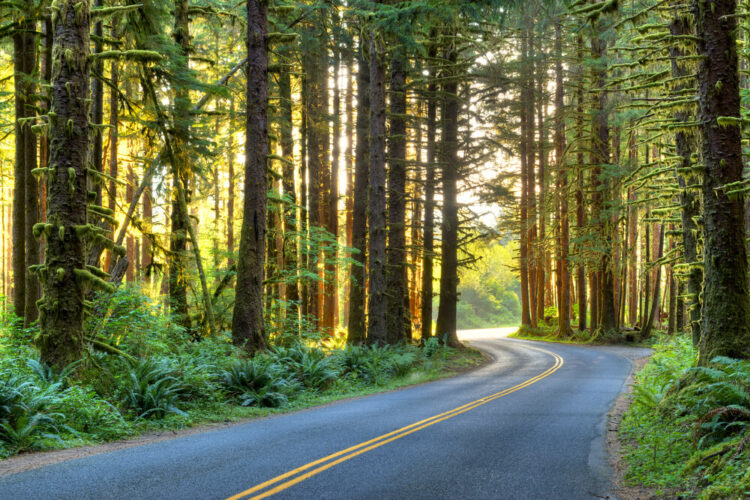 A bit of a shorter trip, but very much worthwhile, is the Olympic Peninsula Loop!
It's especially beautiful in the summer when you can enjoy some time on the beach checking out some of the best beaches in Washington State!
The Olympic Peninsula is Washington's most northwestern point, and the north side of the peninsula faces Victoria, Canada across the Salish Sea.
Cover the whole peninsula by using Highway 101 and make sure to stop at the Olympic National Park. The most popular parts of the park are Lake Crescent, Hurricane Ridge, and the Hoh Rain Forest.
The park isn't the only place to stop, though. Make time to see Cape Flattery as well as the Dungeness Spit.
If you or someone on the trip with you is a fan of Twilight, stop by Forks, just off Highway 101 to see where Bella, Edward, and Jacob live.
There's excellent lodging in and around the park, so take your time and enjoy everything that the Olympic Peninsula has to offer.
Driving Distance
300 miles.
Recommended Road Trip Length
Plan to for this trip to take about five days, though it can be done in as little as 3 days.
Bellingham and Mount Baker Highway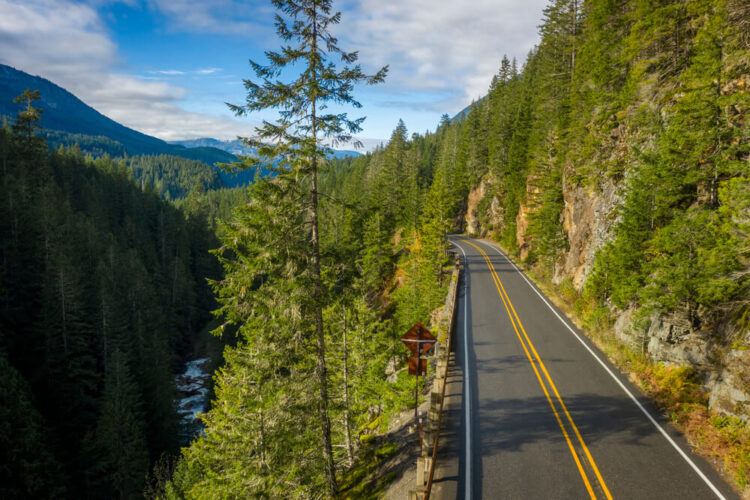 For a shorter Washington road trip, head to Mount Baker Highway!
It only spans about 70 miles, but you should head there from Bellingham, a small city in the northwestern part of Washington that has lots to offer.
There are excellent restaurants and breweries, and the beautiful Bellingham Bay provides a great place to take a whale-watching tour.
From Bellingham head toward Route 542 aka Mount Baker Highway to get away from the city and soak up the beauty of northern Washington's forests.
It's a lovely drive any time of year, but especially wonderful in the fall when you can admire the bright autumn foliage.
Another great time of year to hit the road is during the summer when you can go all the way up to Artist Point and get stunning views of Mount Baker and Mount Shuksan.
If you're a camper, there are plenty of spots along the highway to break out a tent!
Driving Distance
70 miles.
Recommended Road Trip Length
You could do this trip on a weekend.
Coulee Corridor National Scenic Byway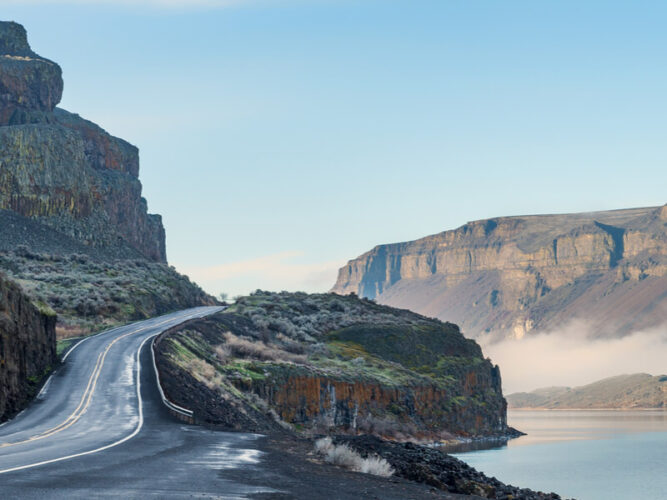 The eastern side of Washington doesn't get as much love and attention as it deserves.
Sure, it might not be as green as the western side and it can get its fair share of uncomfortable heat in the summer, but don't let that deter you from making your way over the Cascades!
Specifically, plan a road trip on the Coulee Corridor National Scenic Byway for gorgeous views, awesome geologic landmarks, and great camping and hiking.
The corridor gets its name from the "coulees" that were carved out by floods during the ice age. They're deep channels that are now home to lakes of many sizes along with some beautiful birds and other wildlife.
It's best to do the trip on a weekend and start in the town Othello and the Columbia National Wildlife Refuge. Head north on Highways 17 and 155, and make sure you stop at the Grand Coulee Dam, which has guided tours, and it ends at Omak.
Driving Distance
146 miles.
Recommended Road Trip Length
Take two or three days for this road trip.
Mount Rainier National Park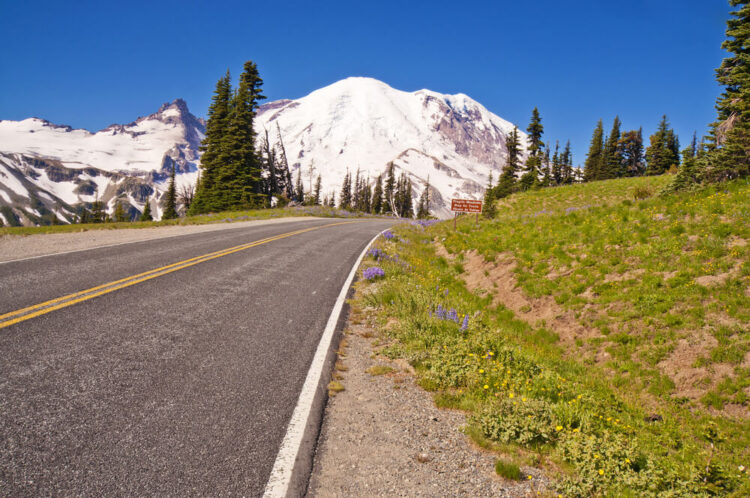 A short 63 miles from Seattle is Washington's highest peak – Mount Rainier.
There's no perfect loop that encompasses the whole National Park that surrounds the mountain, but you can make a pretty satisfying loop yourself.
Leaving Seattle, head southwest on Highways 164 and 410, bringing you around the east side of the park.
Don't take the entrance on Sunrise Park Road, instead follow Highways 123 and 12 to the south side of the park and then turn north onto Highway 7. This connects you to Highway 706 where you can go west toward Paradise and Longmire.
The whole route is around 270 miles and seven hours of driving, so you can easily make a weekend out of it and stay at one of the park's historic lodges in Paradise and Longmire.
Driving Distance
270 miles.
Recommended Road Trip Length
You could do this trip in 3 days.
Small Town Road Trip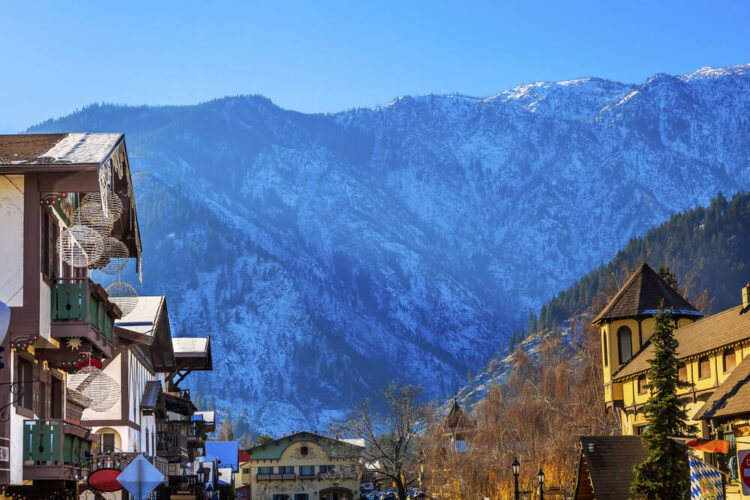 If you'd rather stay in a quaint hotel or bed and breakfast than a tent and spend your time shopping in unique local stores rather than hiking through national parks, Washington still has plenty to offer!
This small town Washington road trip will take you through many of the best towns that the state has to offer!
Start in Chelan, check out the lake, and make sure you take a morning stroll in the Chelan Riverwalk Park and enjoy some breakfast at the Riverwalk Café.
From there, head west on Highway 2 toward Leavenworth, stop for a bratwurst or a hike, and then stop in Gold Bar to take in the beauty of the Cascades.
For the evening, stop in Snohomish where you'll have no shortage of options for dinner and consider staying at the Countryman Bed & Breakfast.
In the morning stop in La Conner, a beautiful blast-from-the-past waterfront town with buildings that have remained unchanged from the late 1800s.
From there, head to Sedro-Woolley on Highway 20 East before going on the Cascade Loop Highway and finally arrive at Winthrop, a little town that comes straight out of an old Western movie.
Driving Distance
337 miles.
Recommended Road Trip Length
Take a weekend for this road trip.
Washington Lighthouse Road Trip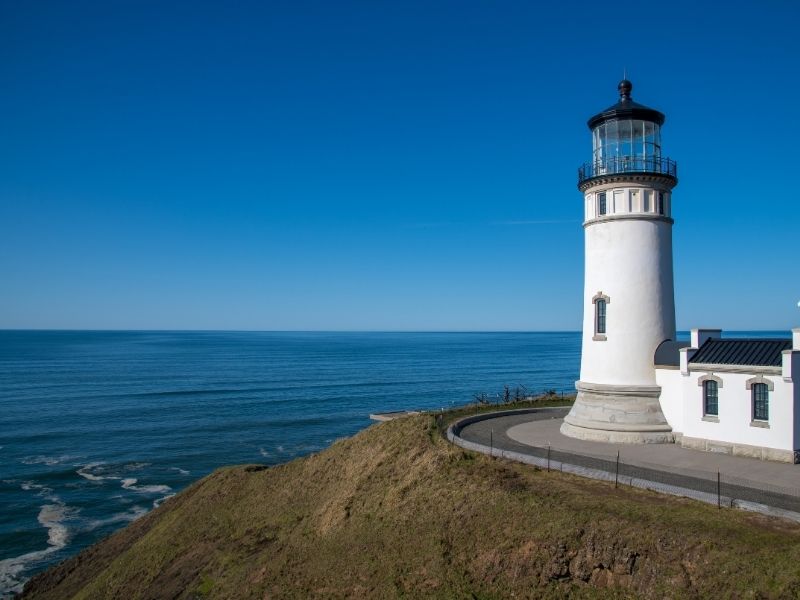 There's something magical and eerie about lighthouses that makes taking the time to see them always worth it.
Being a coastal state, Washington has plenty of lighthouses. This trip covers over 700 miles, so make sure you're prepared and give yourself lots of time to check out the beautiful coasts that Washington has to offer!
Start in Seattle at Alki Point Lighthouse, which is across Elliott Bay from downtown, giving you a picturesque view of the Space Needle and the rest of the Seattle skyline. From there, head south to the Browns Point Lighthouse in Tacoma on Commencement Bay.
Leaving Tacoma, you can head toward Port Townsend, but stop at Marrowstone Island to see the lighthouse at Marrowstone Point.
The lighthouse isn't the most spectacular, but the island more than makes up for it with some gorgeous views. Next, go to the Point Wilson Lighthouse in Port Townsend for sunset and get some magical pictures.
Spend the night in Port Townsend, a beautiful town with lots of characterful Victorian architecture.
In the morning, drive on Highway 101 past the New Dungeness, Ediz Hook and Slip Point lighthouses until you get to Cape Flattery.
Cape Flattery is the northwesternmost point of the continental United States and there's a nice hike to the lighthouse there!
After that, head south to Westport where you'll find Grays Harbor Lighthouse, the tallest lighthouse in Washington.
Finally, head over to the Cape Disappointment State Park near Long Beach to find both the Cape Disappointment Lighthouse and the North Head Lighthouse.
Driving Distance
716 miles.
Recommended Road Trip Length
Set aside a week for this trip.
Natural Wonders Road Trip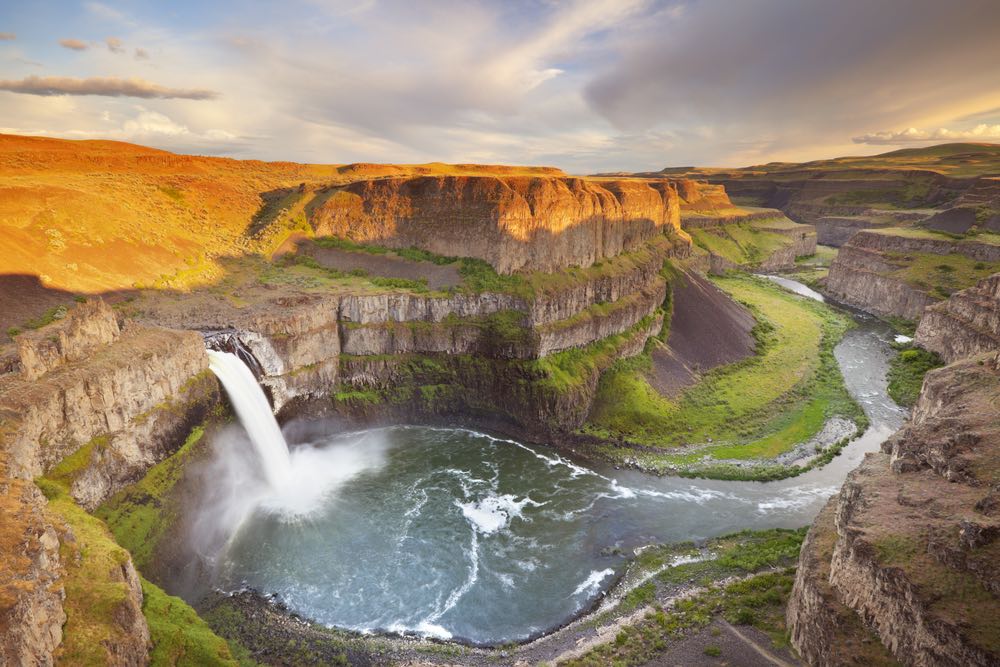 If you want to see the most awe-inspiring parts of Washington state all in the same road trip, then this Washington road trip itinerary is for you.
Start at Mount Rainier National Park and then head east toward Lake Chelan for a pristine swim or take a boat ride on Washington's deepest lake using Lady of the Lake.
From Lake Chelan, head to Palouse Falls, one of the last active waterfalls from the Ice Age flood paths and one of Washington's prettiest waterfalls. Try to get there during sunset to see a spectacular natural lightshow.
From there, drive south along Washington State Route 14 and take in the breathtaking views of the Columbia River Gorge.
Finally, keep going south toward Mount St. Helens, the most active volcano in the Cascade Mountain Range, and check out the massive power of a volcano for yourself by seeing the crater from its last eruption in 1980.
Driving Distance
666 miles.
Recommended Road Trip Length
You could do this trip in four or five days.