This article originally appeared on WanderWithWonder.com.
Nestled along the scenic banks of Washington's Wenatchee River lies Warm Springs Inn & Winery. Built in 1917 by Fred and Ilona Grill, it started its life as a pioneer family home. Since then it has been many things—an infirmary, a ranch house, and a boarding kennel. But, for the last 26 years, it has been a bed and breakfast.
On a recent trip to Wenatchee Washington, I had the pleasure of being hosted by Warm Springs Inn & Winery. During my stay, I discovered this historic home had undergone extensive renovations and its current innkeepers, Ludger and Julie Szmania, have created a luxurious inn that offers guests wine tastings, culinary delights and plenty of opportunities to relax next to the river.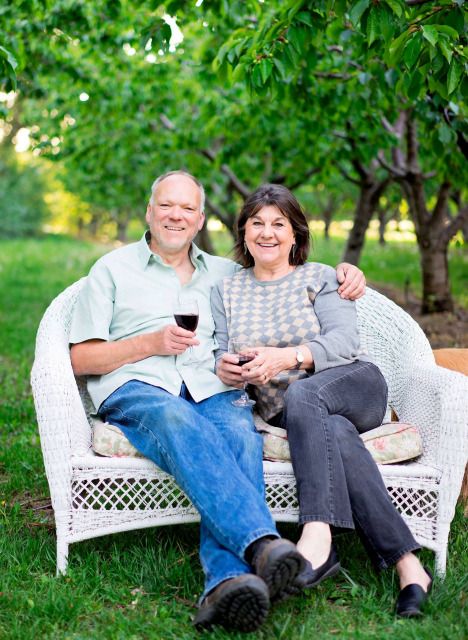 Riverfront Elegance at Warm Springs Inn & Winery
As I drove down the driveway to Warm Springs Inn & Winery, I was immediately drawn to the Colonial style brick inn surrounded by 10-acres of lush green lawn, towering trees, and neighboring orchards.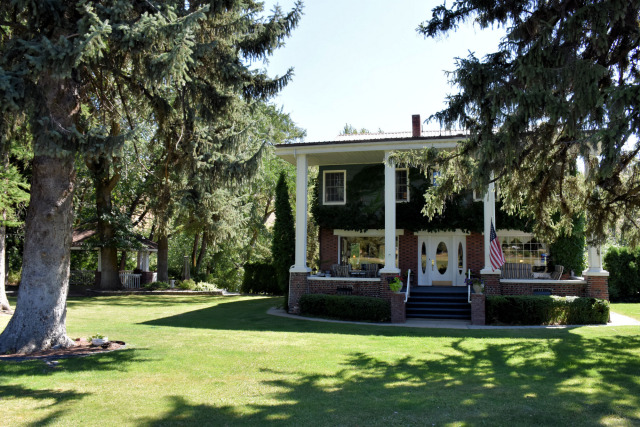 Once inside, Ludger greeted me and took me on a property tour. On the first floor, every space invited the natural setting in with rows of large windows. The living room with plush couches and chairs provided a more formal gathering area.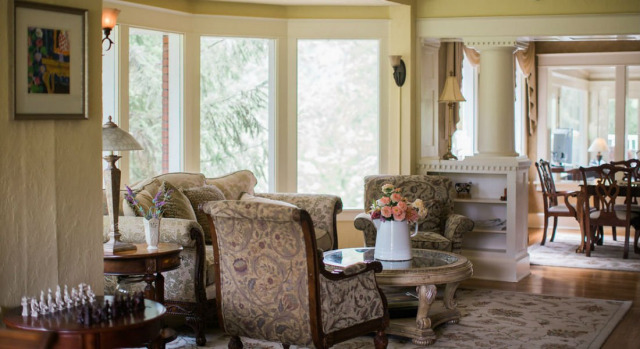 In the back of the Inn, guests can cozy up in front of a fireplace, and enjoy breakfast at one of the many tables.
A large deck adjoined this room, and from there the view consisted of more lawn, the river, and golden hillsides. The lawn below also offers plenty of places to sit and take in the magnificent view.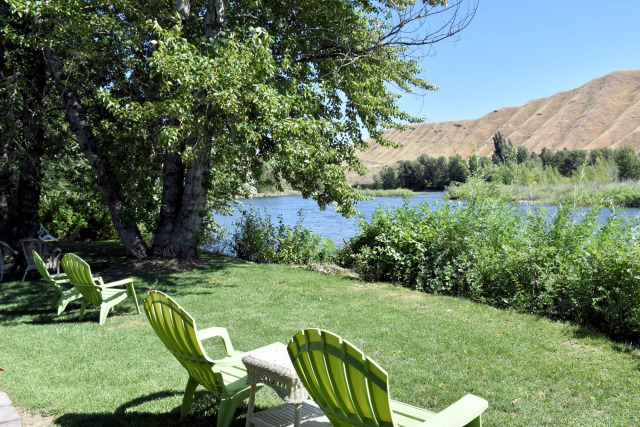 The night of my stay, I was lucky enough to sit with Julie on the deck and watch as the sky shifted into the deep blue colors of evening. We chatted about the history of the house, their renovations, and the area. Ludger also made me a tasty dessert of espresso ice cream, Wenatchee cherries, and apricots.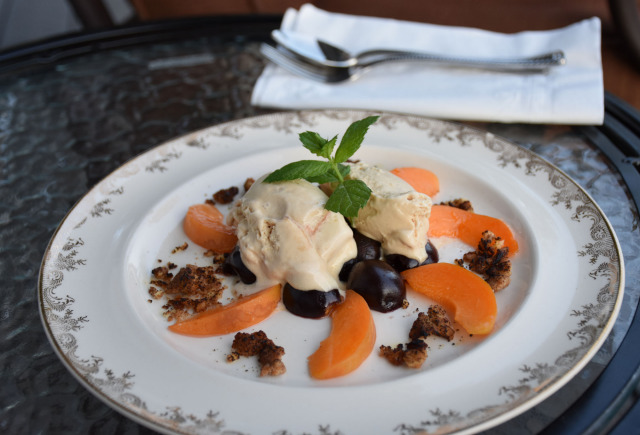 Wine Tasting at the Inn
The wine tasting room is next to the breakfast room, and guests may request to taste the line of wines made from the Szmania's sister property, Brender Canyon Vineyard.
During my stay, I was able to sample their three blended wines made from Sangiovese, Merlot, and Syrah. For six years, John Patterson of Patterson Cellars in Woodinville has processed their grapes and blended their wines. I particularly liked the Infrared.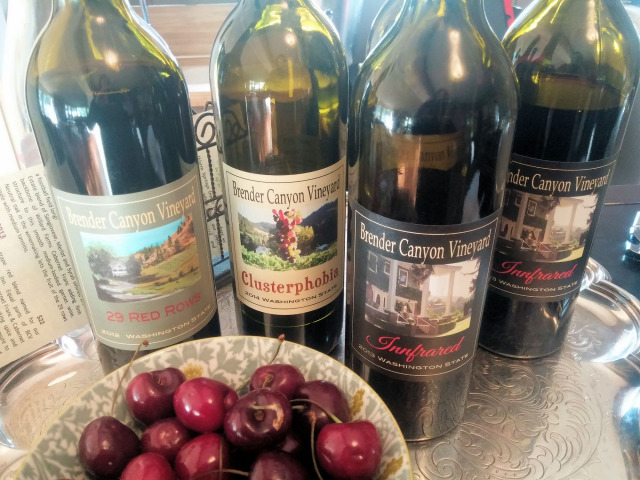 On weekends, from 1 to 5 p.m., non-guests may also enjoy a wine tasting, or arrange for a tasting by appointment. Anyone can purchase a glass or a bottle to enjoy, and may call ahead to pre-order appetizers and snacks.
My Room—The English Room at Warm Springs Inn & Winery
My room at Warm Springs Inn & Winery featured buttercream colors with aqua accents, a queen sleigh bed, monogrammed robes, slippers, a wingback reading chair, walk-in closet, a spacious bathroom with a tub and shower, a flat screen television and complimentary WiFi. This elegant room brought in lots of natural daylight and offered views of the Wenatchee River and Sleepyhollow Ridge.
Click here to read the rest of the article on WanderWithWonder.com. For more information about the area go to the Visit Wenatchee website.