The Coast Wenatchee Center Hotel takes in Wenatchee's impressive setting. Set along the banks of two rivers and surrounded by hills this small town in Eastern Washington offers plenty of year-round recreation from skiing in the winter to river time fun in the summer. After visiting Rattlesnake Hills wine country, I found myself in Wenatchee for two days. While exploring, I tasted wines, hiked and biked trails, and took in the local scene.
The hotel provides its guests with the perfect escape with large, comfortable rooms with fantastic views. And, for travelers who like to explore an area by foot (me!), it is steps away from dining, shopping, recreation, and the Columbia River. Plus, if you have kids in tow, they will be super jazzed about the indoor/outdoor pool.
The Coast Wenatchee Center Hotel offers its guests:
Rooms with mountain, valley and river views
Onsite restaurant and a lounge with panoramic views of the Wenatchee Valley
An indoor/outdoor pool and hot tub
Excercise room
Pet-friendly rooms ($10 per stay!!!)
Free local shuttle service
Free airport transportation
Free WiFi
Free parking
Within walking distance of shops, restaurants, wine tasting rooms, Pybus Market and the trail along the Columbia River
Disclosure: You can help support my small town travels by using the affiliate links in this post. Using the link is at no additional cost to you, and provides a small commission to me to help support my blog. 
There are plenty of ways to get the local scoop. Check out the best hotel reviews and hotel deals at TripAdvisor, Hotels.com, Expedia, and Travelocity.
Want to learn more about Wenatchee? Read about my obession with this Eastern Washington town.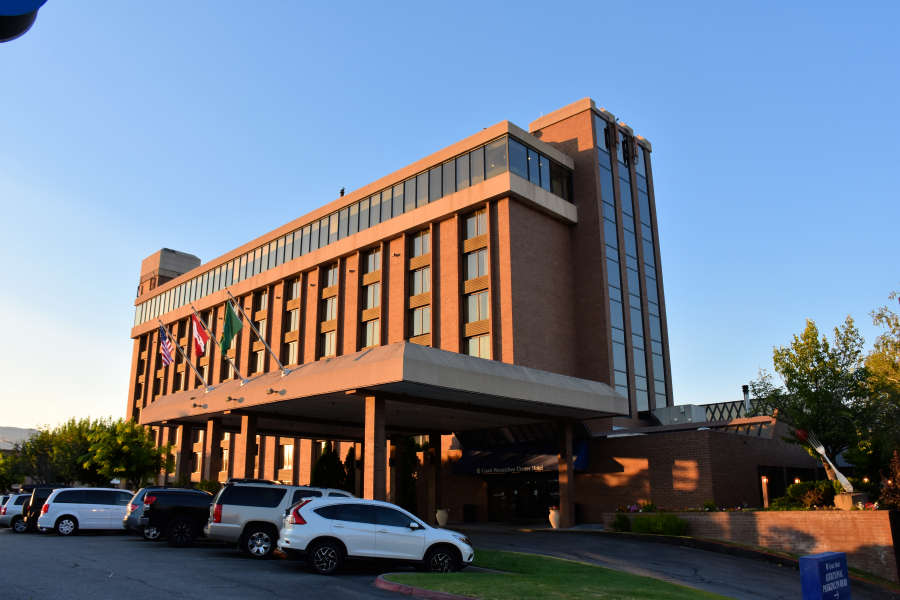 Escape to Eastern Washington at the Coast Wenatchee Center Hotel
Want a View – You Got It!
Have you ever been to a hotel where the good view is only on one side? Maybe you didn't know that before you arrived, and ended up on the viewless side. That is not going to happen at the Coast Wenatchee Center Hotel for both sides have a river or mountain view; in some cases both.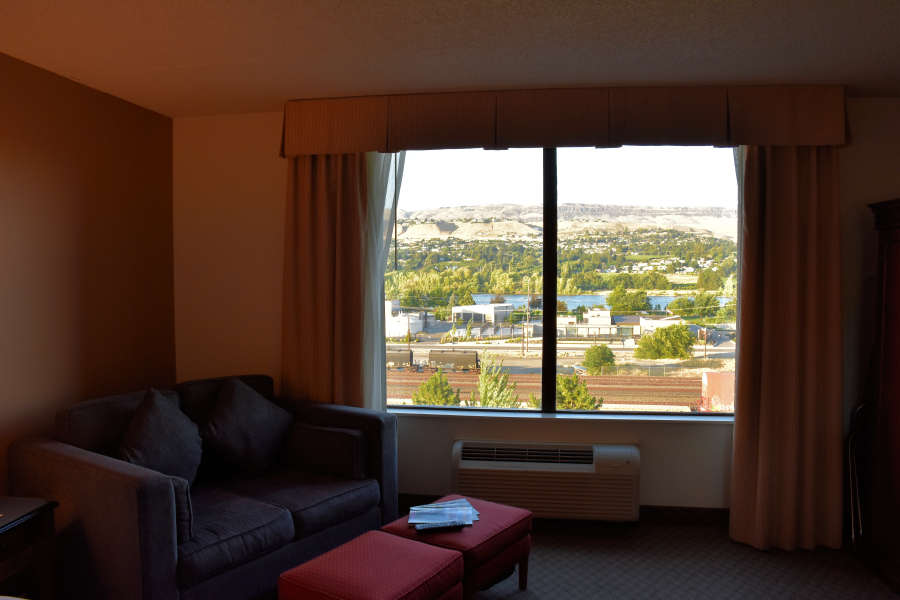 But, before I get ahead of myself, let's start with my late arrival induced by tiny bubbles and octopus dreams.
Earlier in the day, I'd made my own bottle of sparkling wine at Treveri Cellars in Yakima Valley Wine Country. Afterward, I hopped on over to Owen Roe for the grand tour of the vineyards. During our conversation, the winemaker and the chef told me about a new restaurant called Crafted that prepared a mouth-watering octopus dish. As a lover of octopus, I had to give in to my taste buds. Unfortunately, my favorite seafood wasn't on the menu, but since the restaurant had such glowing recommendations, I decided to wait an hour for the restaurant to open. I'm glad I did, but it meant, I arrived in Wenatchee later than I had planned.
First Impressions, The Coast Wenatchee Center Hotel
After dinner and a two-hour drive, I found myself pulling under the porte cochere at the Coast Wenatchee Center Hotel. The outside of the building is very modern with a sleek square design and lots of windows. The lobby also has lots natural light, and the decor is inviting and cozy with seating areas, a fireplace, and a piano.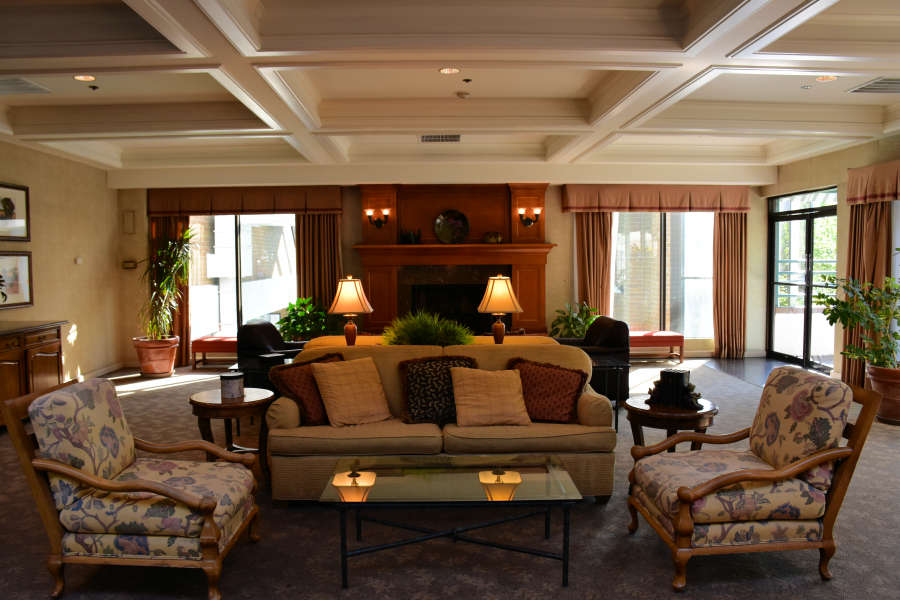 If your kids are begging to see the pool. Tell them to head to the windows next to the fireplace, to get their first glimpse!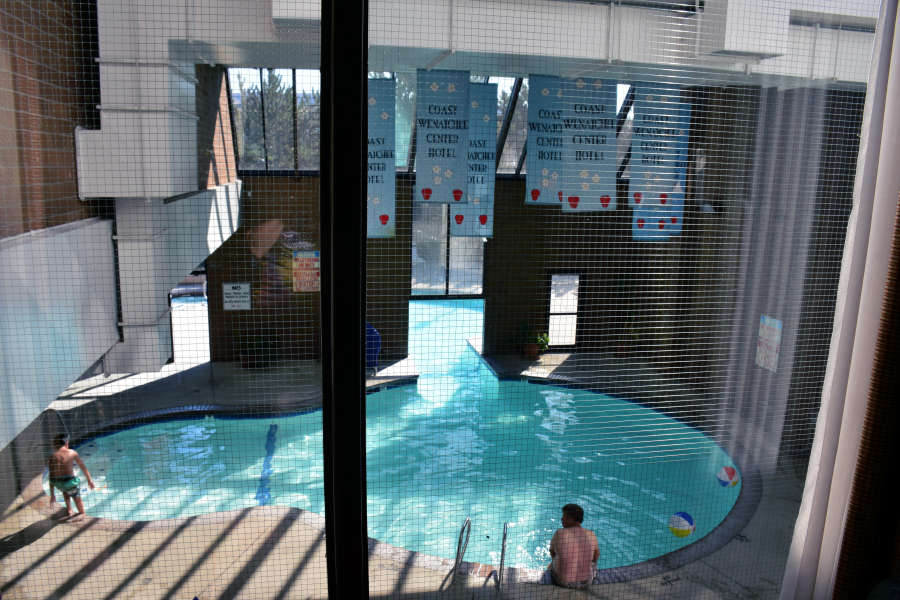 A Room With River and Mountain Views – I Could Get Used to This
After a quick check-in, I headed up to my seventh-floor room. My room had views o the Columbia River and the surrounding mountains. I also had a view of the train tracks and parts of the park along the waterfront. The hotel has two room types, a deluxe double queen room, and a deluxe king room. I had the later, and the room featured a king bed with a Sealy mattress, a lounging couch with an ottoman, a work desk, flat screen TV, and a spacious bathroom.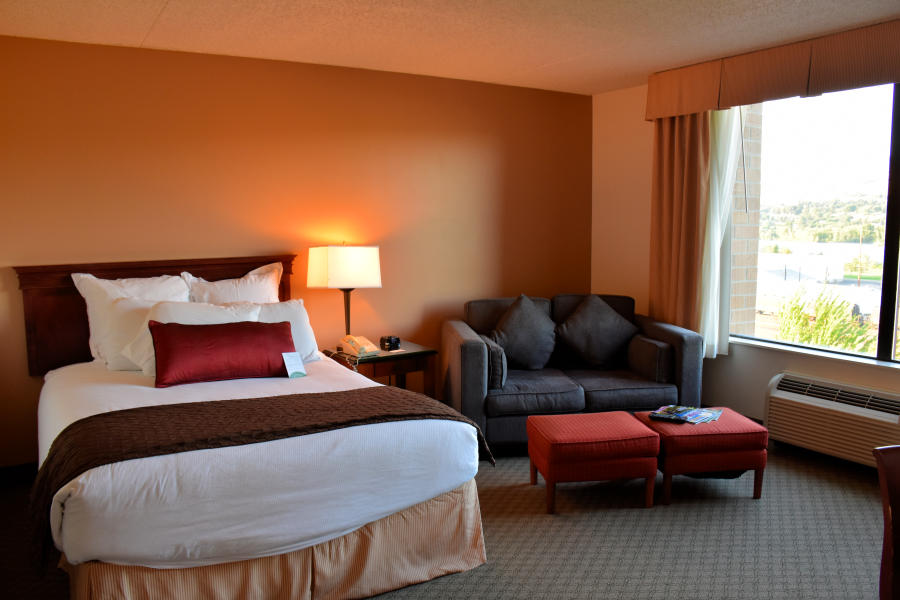 It also had all the other necessities you need while traveling, like Starbucks coffee, an in-room refrigerator, hair dryers, iron and ironing board, a small closest, drawers, and most importantly free WiFi.  I'm a huge fan of spacious rooms, and that also extended to the bathroom. While there weren't two sinks, there was plenty of counter space to lay out your toiletries. Perfect for a solo traveler!
Travel tip: Rooms generally range from $109 to $169, depending on the season, and there are a few days with a higher price range.

Travel tip: The hotel is pet-friendly and charges $10 per stay.
Where to Eat and Where to Play at the Coast Wenatchee Center Hotel
Rivertop Bar & Grill
For dining, the hotel has the Rivertop Bar & Grill. Located on the ninth floor, it has panoramic views of the valley and focuses on Northwest cuisines. The restaurant serves breakfast and dinner, and there is a bar with happy hour. I didn't get a chance to experience the restaurant or bar during my stay, but I did go upstairs in the morning, and it looked like a popular place. If you'd rather dine in your room, the hotel also provides room service.
Rivertop Bar & Grill Hours:

Breakfast: Monday through Friday from 6:30 p.m. to 10 a.m. Saturday and Sunday from 7 a.m. to 11 a.m.

Dinner: Monday through Friday from 4 p.m. to 9 p.m. Friday and Saturday from 4 p.m. to 10 p.m.

Bar: Monday through Saturday from 4 p.m. to 11 p.m.

Restaurant closed on Sundays.
Indoor/Outdoor Pool & Whirlpool
It's not too often that I run into a hotel pool that isn't your typical rectangular pool unless I'm someplace warm and tropical. So needless to say, the hotel's pool impressed me.  Another unusual aspect of the pool is that is an indoor and outdoor pool. During the winter months, they close the outdoor pool.
There is also an exercise room with equipment and free weights.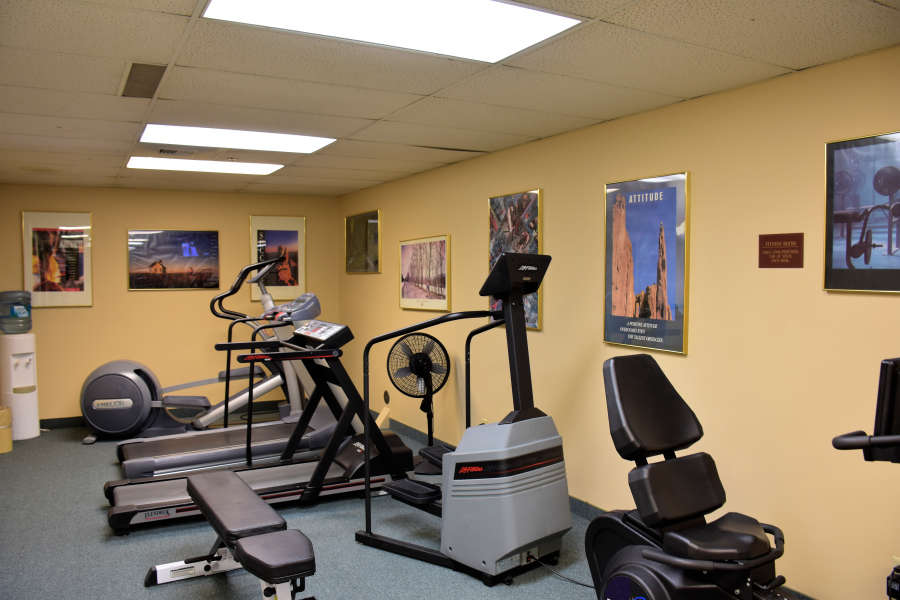 Final Thoughts
Would I stay at the Coast Wenatchee Center Hotel again? Definitely! Some of the features I loved were the spacious rooms and bathrooms, the views from the rooms, and the pool which was both indoor and outdoors. While I didn't dine at the onsite restaurant, having an onsite dining option and a bar is always a plus. Also, the hotel's location in the heart of downtown Wenatchee is perfect for those who want to spend less time on the road and more time checking out the local Wenatchee scene.
To find out more about the Coast Wenatchee Center Hotel visit their website.
To help support my blog, book through one of my affiliates such as TripAdvisor
 or Hotels.com. (Booking through one of my affiliates is at no extra charge to you, but provides me with a small commission so I can continue to #dreambigtravelsmall.)
Want to learn more about Wenatchee? Read about my obession with this Eastern Washington town.

Wenatchee Travel Tips
Closest Airport: Pangborn Memorial Airport (15-minute drive), Spokane International Airport (2.45-hour drive), Seattle International Airport (2.40-hour drive), and Vancouver International Airport (4.30-hour drive).
Carless Options: If you plan to spend most of your time downtown, fly into the local airport and use the hotel's free airport shuttle. If you want to explore the area and the Columbia River Gorge, you'll need a car.
Dining Travel Tip: You'll have plenty of restaurants to choose from, and I only got to sample a few. I can recommend McGlinn's Public House and Pybus Bistro. Many of the other restaurants in Pybus Market also looked tantalizing.
Wine Tasting: Right across the street from the hotel is the Wenatchee Valley Visitor Center. This is no ordinary visitor center. Inside they have a tasting room with local wines, beers, and ciders. This is a great place to start your adventure. Other locations within walking distance of the hotel are Stemilt Creek Winery and Jones of Washington at the Pybus Market. There is also Norwood Wine Bar that serves Washington wine and light fare.
Activity Tips: The area has lots of outdoor recreation. I'm not much of a skier, so I recommend biking the ten-mile loop Apple Capital Loop Trail along the river. You can rent bikes at Arlberg Sports, which is in Pybus Market and right next to the trail. A cruiser is $15 for two hours. If you are more of a walker, then stroll the trail and enjoy the sculptures. Be sure to put on sunscreen and bring a hat. A short drive outside of town is the beautiful and serene Ohme Gardens. In the summers, they often have music concerts here. There are lots of hiking trails, and some favorite areas are Peshastin Pinnacles State Park History, Wenatchee Confluence State Park, and Wenatchee National Forest.
History: One of the coolest things I did in Wenatchee was learn about the pilots and their plane the Miss Veedol that made the first nonstop Pacific Ocean flight. If you are a history geek too, I suggest visiting the Wenatchee Valley Museum & Cultural Center and then arranging to see the Miss Veedol, which also has the nickname the Spirit of Wenatchee. The museum also has other interesting geology and history tours. You can see the full list here.
B&B recommendation: If you are more of a bed and breakfast type of traveler, I highly recommend Warm Springs Inn & Winery. It is a short drive outside of Wenatchee, and in a very serene setting along the banks of the Wenatchee River. This location also my 10 Romantic Getaways You Must Take Your Sweetie to in Washington State.
To find out more about Wenatchee go to Visit Wenatchee.
Looking for deals while you travel? I'm a huge fan of Living Social. Save up to 70% on travel deals at LivingSocial.
There are plenty of ways to get the local scoop. Check out the best hotel reviews and hotel deals at TripAdvisor, Hotels.com, Expedia, and Travelocity.
---
Note: As is common in the travel industry, the writer was provided with accommodations and meals for the purpose of review. While it has not influenced this review, the writer believes in full disclosure of all potential conflicts of interest.
---