My obsession with Wenatchee, Washington started after I visited last year and stayed at the Coast Wenatchee Center Hotel and Warm Springs Inn & Winery. As you can see from the photo above, Wenatchee has a very scenic setting with the Columbia River along its banks, and behind it, the Cascade foothills stretch up toward blue skies. And, they often blue for this area receives 300 days of sunshine every year!
Before I get too carried away, let me share why Wenatchee has bewitched my soul.
Disclosure: You can help support my small town travels by using the affiliate links in this post. Using the link is at no additional cost to you, and provides a small commission to me to help support my blog. 
There are plenty of ways to get the local scoop. Check out the best hotel reviews and hotel deals at TripAdvisor, Hotels.com, Expedia, and Travelocity.
~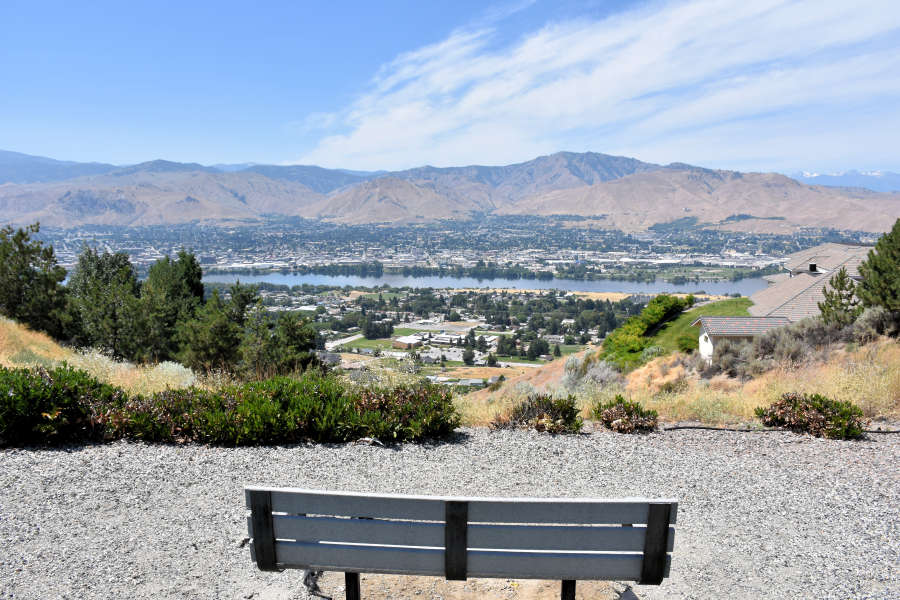 Why I Am So Obsessed with Wenatchee, Washington
All The Sunshine and Sunsets You Can Handle
Okay, I know I've kind of already covered this. Wenatchee gets A TON of sunshine. Since I live in a part of Western Washington (Anacortes) that has gets an average of 111 mostly sunny days and 116 partly sunny days, 300 days of full sunshine is pure bliss. And, the more I live in a less sunny area, the more I realize how good the sun makes you feel. What does this mean for a traveler? If you are in need of a sunny small town destination, Wenatchee is sure to bring on the sunshine. And, if you like to take in the sunsets, they won't disappoint, especially along the river.
~

Apples, Apples, Everywhere
As you drive through the Wenatchee Valley, you'll see small orchards, big orchards, and lots fruit stands where you can see how productive this area is. Since its earliest settler days, Wenatchee has been known for its orchards, particularly its apple orchards. The first trees were planted in 1872, and today this small town is known as the "Apple Captial of the World."  If you are in downtown Wentachee, you can see what the area produces all in one location – Wenatchee Valley Farms Market at Pybus Market along the Columbia River.
On my visit, they had delicious Honeycrisp apples as big as a softball, probably even bigger!
~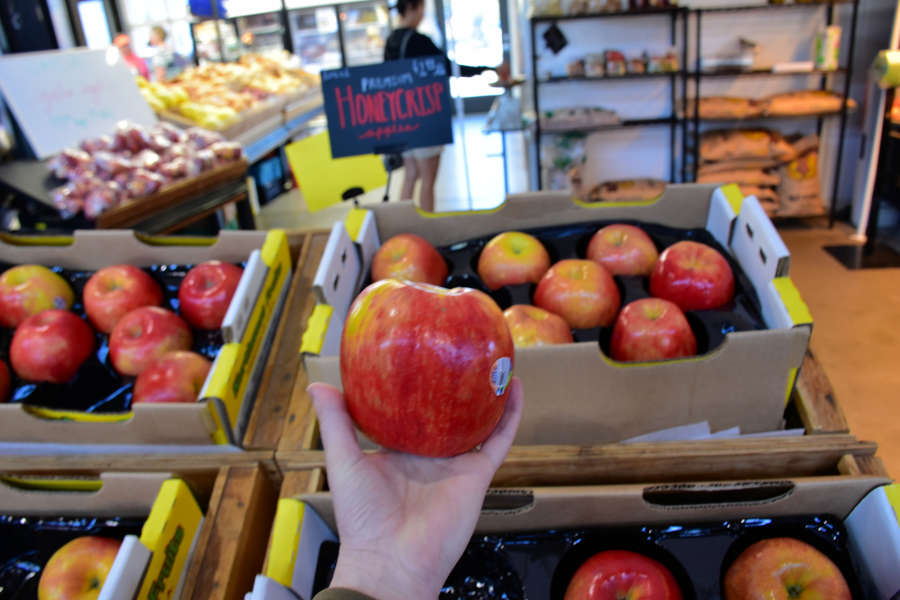 Travel tip: If you want to learn more about Washington apples stop by the Washington Apple Commission Visitor Center in Wenatchee (2900 Euclid Avenue). They show a short film about the apple industry, have apple juice tastings, apple orchard and production information, and a gift shop.
Looking for deals while you travel? I'm a huge fan of Living Social. Save up to 70% on travel deals at LivingSocial.
~
A Market Better than Seattle's Pike Place Market
I live in Washington, so I'm supposed to love Pike Place Market, right? Wrong. While it is interesting and for many a must see, I cannot deal with the crowds. Being squashed into a tight place with tons of people pushing at you from all directions is not my idea of a fun morning. And, yes, I have been there when it is not as crowded, and that is more pleasant for sure. But, I'd rather have a truly enjoyable experience and not be stressed out by the atmosphere.
You can have that at Pybus Market.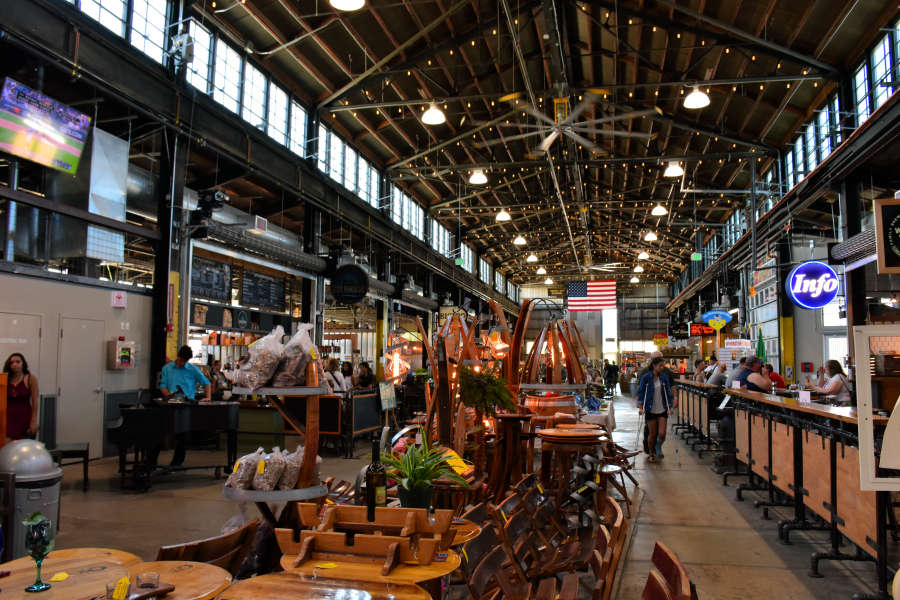 Pybus Market does have busy, especially during special events and market days, but its nothing like the endless crowds at Pike Place Market. Set along the Columbia River, steps from the park and historic downtown Wenatchee, the market has all the things you'd want in a market experience. There are artisans booths, locally-grown fruits, flowers, oils, wine tastings, restaurants, bike rentals and so much more.
~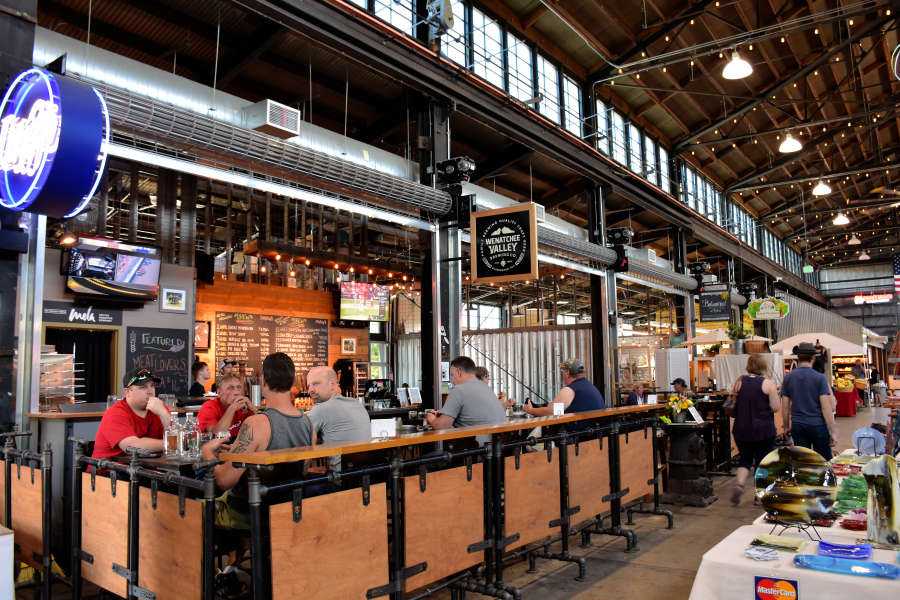 Travel tip: If you are driving through the area and only have an hour or two to spend in Wenatchee, Pybus Market will give you well-rounded taste. You can grab a bite to eat, check out local vendors and then take a short stroll along the Columbia River.
Like to Ride Bikes? Like to Ski? Wenatchee's Got You Covered
With Wenatchee's fantastic year-round weather it is perfect for opting outside. If you want to bike or hike, there are trails. If you want to fish, there are charters. If you want to cruise the river, there are boats, kayaks, canoes. For wintertime fun, Mission Ridge Ski & Board Resort is a 30-minutes  away. No matter the time of year, there are adventures to be had.
In all honesty, I'm not much of a winter sports person. I'd much rather drink a Peppermint Patty and watch skiers and snowboarders as they come down the mountain. I like to hike and bike, so my ideal time to visit Wenatchee is spring and fall. In April, May, September and October temperatures are in the 60s and 70s, and therefore very pleasant.
During my visit, Arlberg Sports outfitted me with a cruiser, and I biked the 10-mile Apple Capital Loop Trail. Great way to spend the morning, before grabbing lunch or brunch at Pybus Market.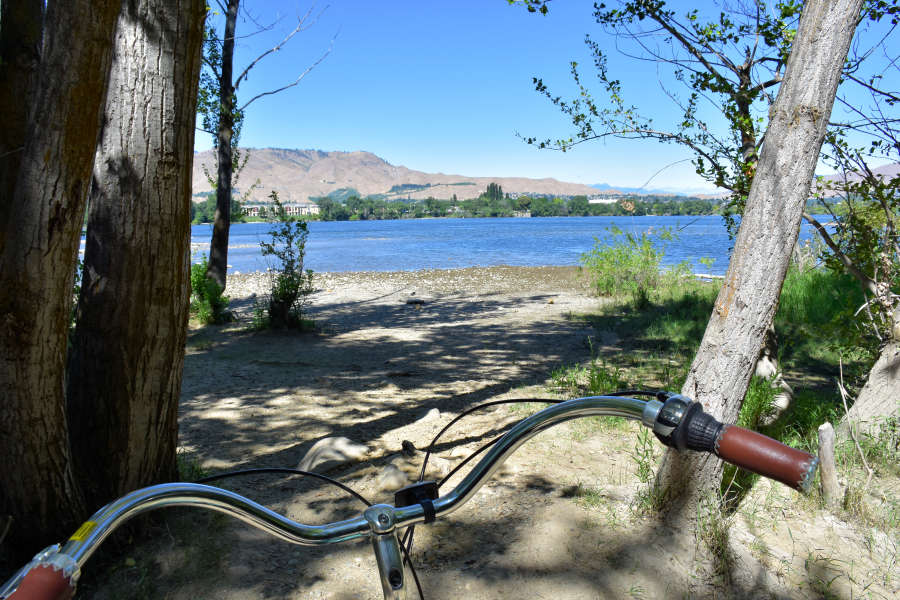 Travel tip: The sun is intense in Eastern Washington, so if you do anything outdoors have sunscreen, sunglasses, and a hat.
A Bite of This, A Taste of That
As you know, I'm a  wine lover and a foodie. When I can combine both of these passions in my small town travels, I'm thrilled. A great place to start is the wine tasting room at Jones of Washington in Pybus Market. The market also has a great selection of restaurants like Pybus Bistro, Fire and Wenatchee Valley Brewing Co.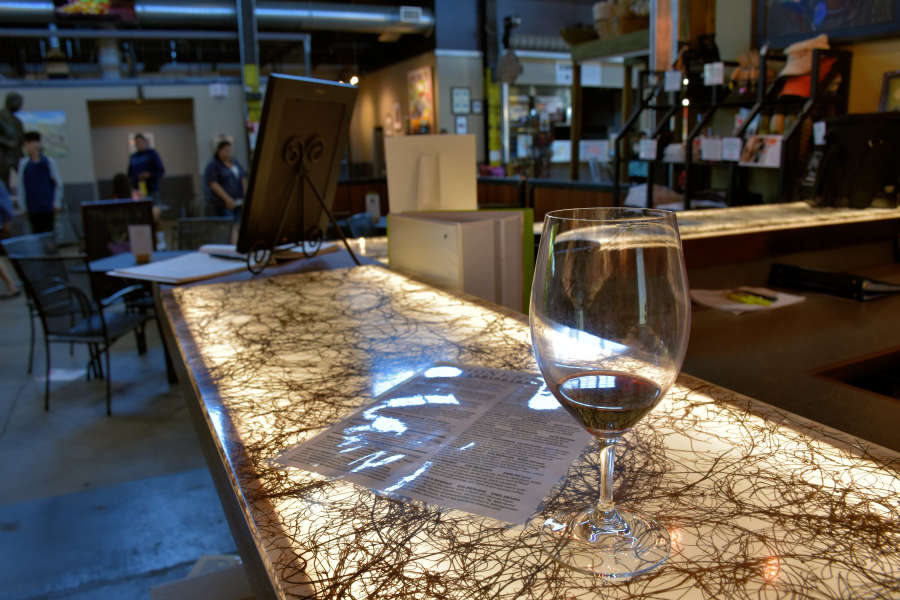 A short walk away, you'll find Stemilt Creek Winery, Saddle Rock Pub & Brewery, and the Wenatchee Valley Visitor Center has a tasting room with samples of local wines, beers, and ciders! In downtown, you'll find more restaurants like McGlinn's Public House, Norwood Wine Bar, and Rail Station & Ale House.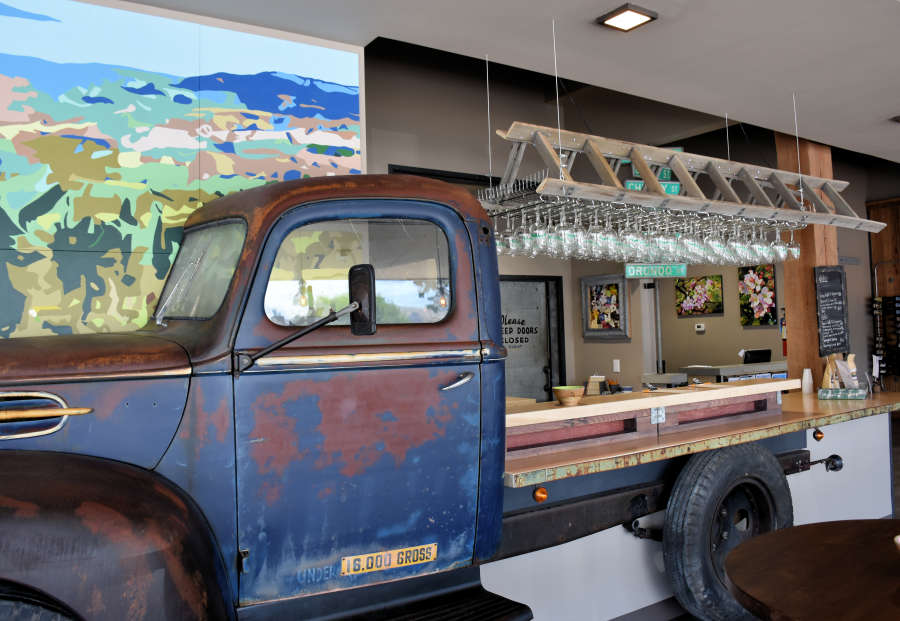 The Greatest Story Never Told – The First Nonstop Pacific Flight
One of the top reasons I became so obsessed with Wenatchee was because of Miss Veedol. She isn't a person; she's a plane. One that made the first nonstop Pacific flight with pilots Clyde Pangborn and Hugh Herndon at the helm. The plane is a replica, as the original was lost at sea, but that doesn't matter because it is a such a cool story.
Born near Wenatchee, Pangborn made a name for himself as a stunt pilot and was known as "Upside-Down Pangborn." During his days at Gates Flying Circus, he met Herndon. Together, these aviators had lofty goals. The first, break the record flying the airship Graf Zeppelin. Unfortunately, they didn't finish this flight due to weather conditions. The second, make the first trans-Pacific nonstop flight and win the $25,000 prize.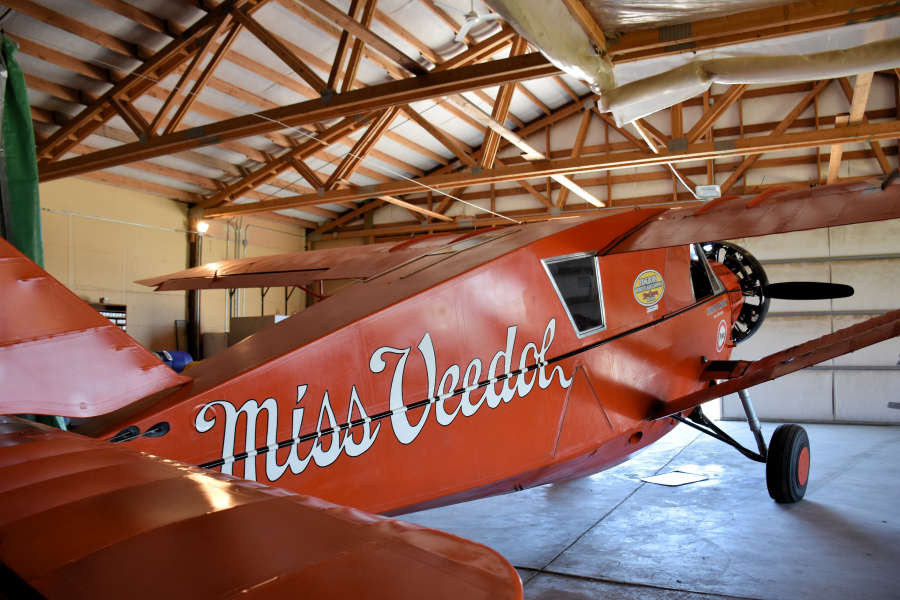 There is so much more to this story than I can write here, but it has all the classic ups and downs with romance, arguments, and government detainment. Even on their way from Japan to Seattle, they encountered severe setbacks with the landing gear (they could not land the plane) and some technical issues. When they arrived in Seattle, the entire city was fogged in. Other nearby major cities were also fogged in. En route, Pangborn decided to crash land the plane on a runway he knew very well – Fancher Field in what is now East Wenatchee.
Both pilots survived, and the propeller is on display at the Wenatchee Valley Museum and Cultural Center.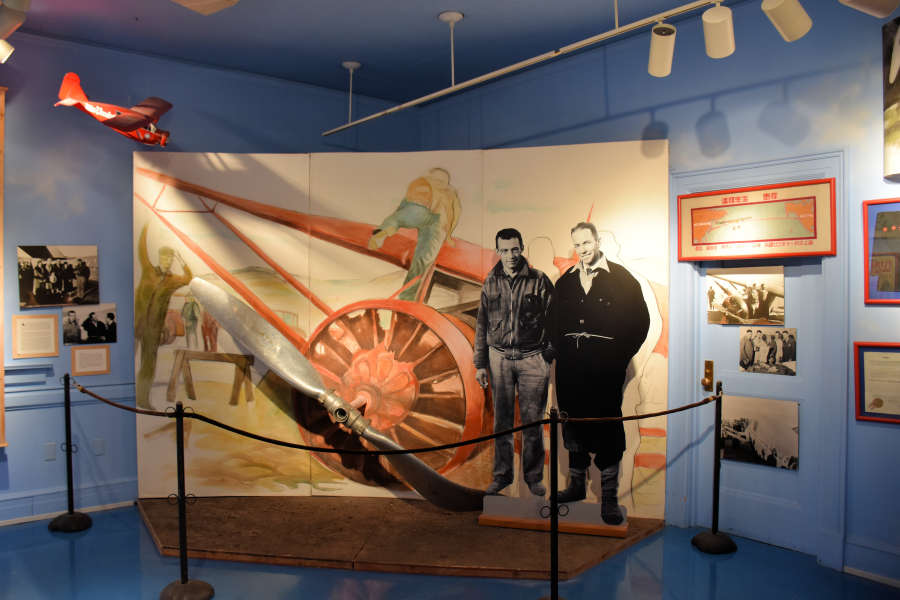 The site of the former airplane field is now a housing development. Near the location of the crash, is a memorial to both pilots, and, of course, a fantastic view of the Wenatchee Valley.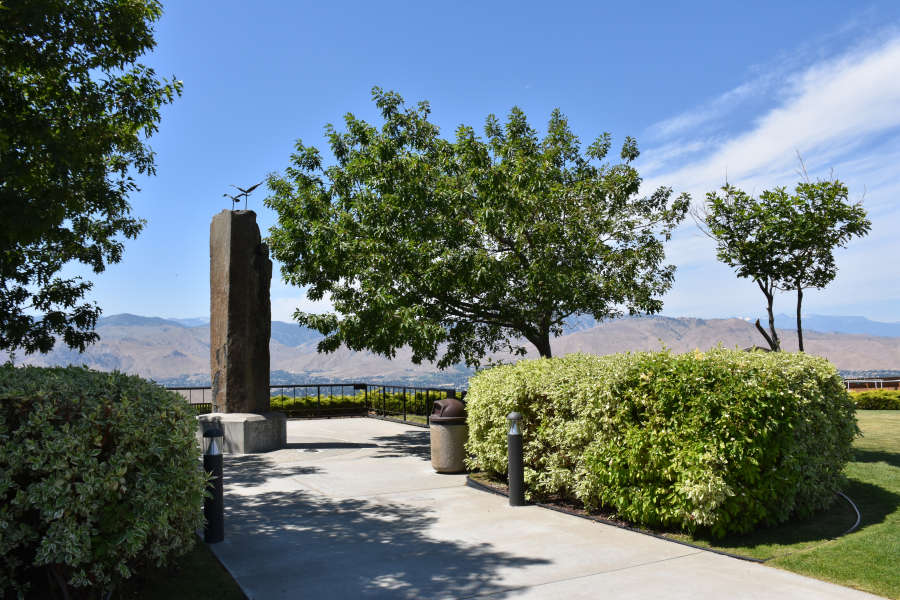 Travel tip: To see the Miss Veedol you'll need to make arrangements via the Wenatchee Valley Museum and Cultural Center. I suggest, visiting the museum first, and then arranging to see the plane, which is in a hanger at the airport.
Are you ready to get obsessed with Wenatchee?
To find out more, go to Visit Wenatchee's website.
There are plenty of ways to get the local scoop. Check out the best hotel reviews and hotel deals at TripAdvisor, Hotels.com, Expedia, and Travelocity.
---
Note: As is common in the travel industry, the writer was provided with accommodations, activities, and some meals for the purpose of review. While it has not influenced this review, the writer believes in full disclosure of all potential conflicts of interest.
---