Packwood, Washington is in the heart of all things mountainous – Mount Rainier, Mount Saint Helens, and Mount Adams – with a glacier-fed river, pine-scented forests, roaming elk, and plenty of outdoor recreational opportunities. The town has a handful of more traditional hotels, but when going on a mountain town adventure, staying in a cabin is the way to go, and that's where Millard's Cabin comes into the picture.
Tucked within a wooded neighborhood and surrounded by parks and national forests, Millard's Cabin lives up to its motto of "Hike, Explore & Soak." This Airbnb cabin rental a mix of rustic charm with modern amenities like a cedar soaking tub, a stocked kitchen, full-sized refrigerator, free WiFi, Amazon Firestick, washer and dryer, outdoor grill, and outdoor fire pit. Plus, it is minutes from town.
With sleeping configurations for up to 8 people, this Airbnb cabin rental makes for an ideal romantic getaway for two or a fun-filled escape from the city with adventurous friends. If you have a dog, bring your four-legged friend along!
Disclosure: You can help support my small town travels by using the affiliate links in this post. Using the link is at no additional cost to you, and provides a small commission to me to help support my blog.
Find out more about things to do Packwood, Wa on TripAdvisor.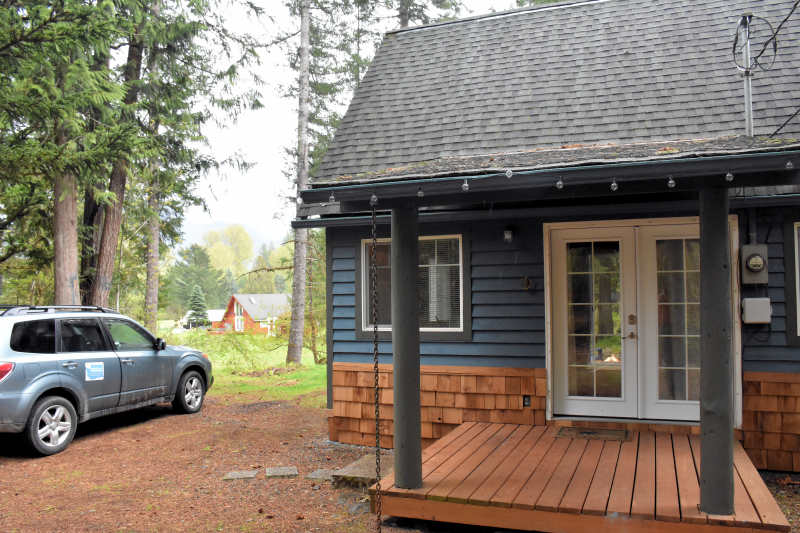 Millard's Cabin is available on Airbnb. To get a feel for the cabin, check out their Instagram page.
Millard's Cabin offers its guests:
Multiple sleeping arrangements (up to 8 people)
Cedar soaking tub
Stocked kitchen with a full-sized fridge
Record player and a handful or records
Free WiFi
Amazon Firestick
Games and puzzles
Pet-friendly ($35 fee)
Refillable growler
Military discounts
Close to hiking trails, golf course, two swimming pools ($10 for guests of the cabin)
Close to town (restaurants, brewery, history museum, gas station)
Millard's Cabin in Packwood, Washington
Millard's Cabin is 700 square feet of cozy with a living room with a gas fireplace, kitchen with all the necessities you'd need such as dishware, pots and pans, silverware, cutlery, a French coffee press and regular coffee maker, some spices, a reusable growler, and more. There are even a few food staples that previous guests have left for others to use. I added to the mix with a box of tea.
The sliding glass door in the living room leads to a deck with the cedar soaking tub, the bunkhouse, and the outdoor fire pit.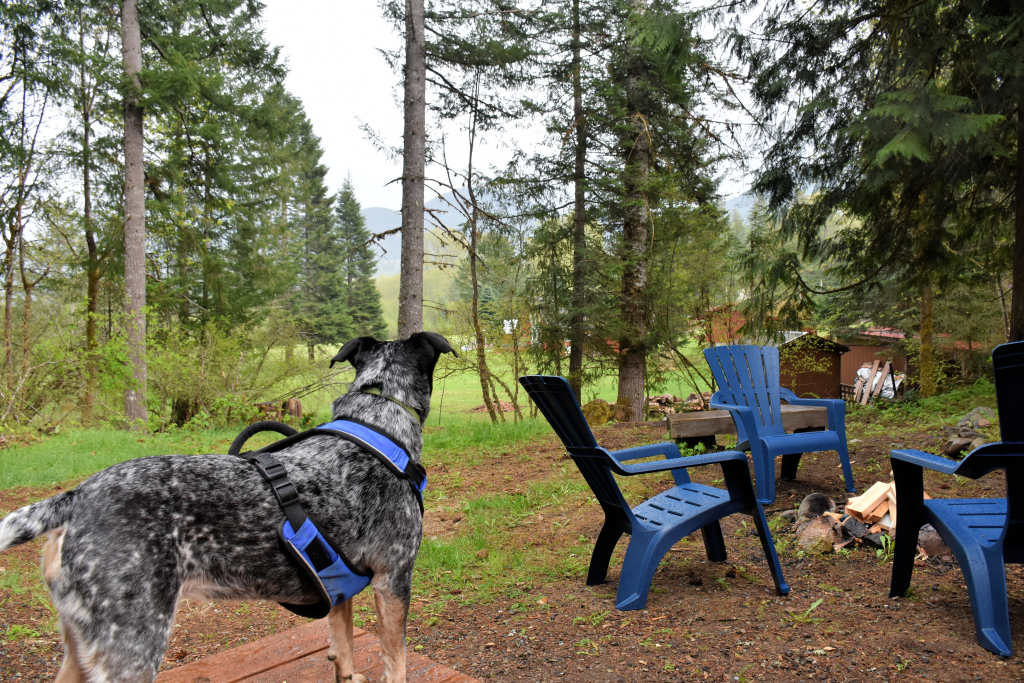 Sleeping Arrangements at Millard's Cabin
One of the nice features of the cabin is its variety if sleeping arrangements for up to 8 people. On one side of the loft is a queen bed. On the opposite side, is a full bed and a single bed. In addition to the loft is a bunkhouse with a twin bed and a full bed. The bunkhouse is outside of the cabin in its own building.
Check out things to do and see in Packwood, Wa on TripAdvisor.
Millard's Cabin Amenities I Loved
I could not get a signal in the area at all and was super thankful the cabin had excellent WiFi. Another fab feature is the Amazon Firestick with Netflix, which came in handy when it rained and we couldn't hang by the outdoor fire pit. There are also games, puzzles, a record player with about a dozen records.
As a lover of the great outdoors, we love the experience includes being able to enjoy nature. On Sunday, after hiking at Packwood State Park, we purchased wood at the grocery store ($4 a bundle) and ate our pizza next to the fire.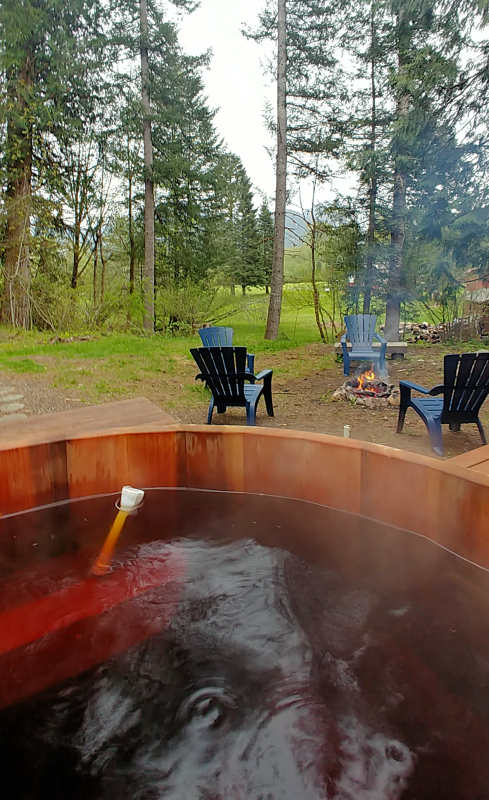 Throughout our stay we soaked in the cedar hot tub. So many stars at night!
Love cabin stays? Check out these cabin rentals Washington State:
Final Thoughts on Millard's Cabin
Traveling for me is part of my job and that means work comes along with it in the form of checking emails, social feeds, etc. At Millard's Cabin I didn't open my laptop once! We brought breakfast with us to prepare one morning, and instead of hoping online, I played records, made omelets, brewed coffee and lived in the moment.
Our Airbnb superhosts, Luke and Sarah, made us feel very welcomed all through the modern conveniences of email conversations.
Overall, I found it to be a very relaxing getaway. We had sunshine, rain, and even a little bit of snow (when we were close to Rainier National Park). If you love hiking and time to chill, this is the Airbnb cabin rental for you!
A couple of items of note. The stairs to the loft are a little steep. If there are people in your party with mobility issues or if your pup has difficulty with steep stairs, then you'll want to inquire if it is possible to sleep in the the outside bunkhouse. Also, the neighbor has chickens, so be prepared to hear the crowing of a rooster in the morning.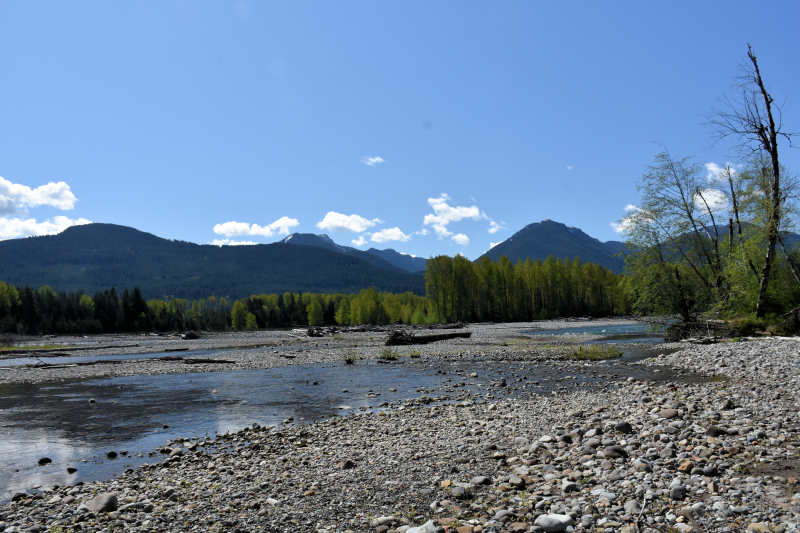 Packwood Travel Tips
Drive times: 2.5 hours from Seattle, Washington and Portland, Oregon
Where to Dine and Drink and Things to Do in Packwood, Wa
Dining and Libations: For a small town of around 1,000 people Packwood isn't lacking for restaurants. At Millard's Cabin they have a chalkboard list of places they recommend. We had burgers at Cliff Droppers, pizza at Cruisers Pizza, and beer at the new Packwood Brewing Co.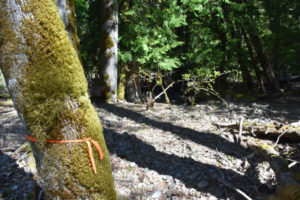 Activities: The area is known for its winter sports, hiking and fishing. We opted to hike at Packwood State Park. There is a main trail that is smooth and easy. Smaller trails meander next to the creek and river and to stay on course look for orange colored ribbons tied to branches and trees.
Another popular hike is Packwood Lake. This hike is 10 miles roundtrip so hike prepared with the Ten Essentials.
Travel tip: Purchase a Northwest Forest Pass before you arrive. Locations in town do sell them, but it is easier to have that all sorted before hand. The annual pass is $30 and covers both Washington State and Oregon. A day pass is $5.
Find out more about the area at Destination Packwood.

Book your stay at Millard's Cabin on Airbnb and tell them Small Town Washington & Beyond sent you! For more reviews, check out A Perfect Blending of Rustic Elements And Modern Amenities
by Pacific North Wanderers.
Note: As is common in the travel industry, the writer was provided with activities for the purpose of review. While it has not influenced this review, the writer believes in full disclosure of all potential conflicts of interest.